Spanish cookies are somewhat less popular compared to desserts from other Mediterranean countries. That's because Spain's next-door neighbor, Italy, seems to attract the most attention with its colorful and exotic list of desserts.
However, I am here to change that perception of yours. Due to Spain's unique regional cultures, the country also has a diverse selection of desserts, particularly cookies, to choose from. You can get baked cookies, or you can get deep-fried cookies; the choice is limitless.
If you're interested in discovering this side of Spanish cuisine, you've come to the right place. I have prepared the recipes for Spanish delicacies below to help you recreate some of the most authentic cookies. Let's get right into it.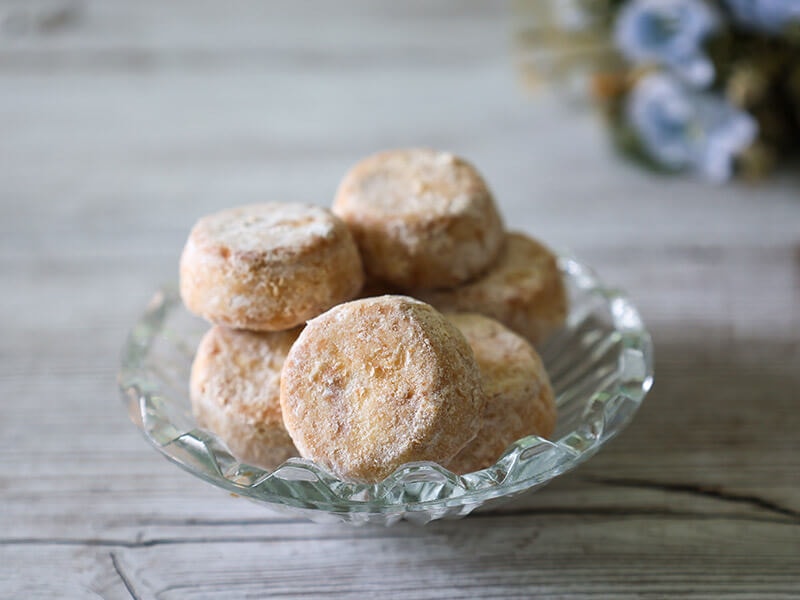 Not only are these the most amazing cookie recipes you'll come across, but they're also simple if you want to make them yourself. There is a big selection of these Spanish treats to choose from. It's time to head onto the first entry.
Total time: 40 minutes
Churros are by far the most popular Spanish sweet treat in the world, especially if you frequent any amusement parks. The treat's origin was rather unclear. Some speculated that it was from China due to a similar delicacy called Youtiao.
Basically, Churros are just sweet deep-fried dough that has a lot of sugar on top. These snacks are already super tasty, but how can you make Churros better? The answer is that you make them into cookies.
The ingredients for Churro Cookie are the same as the normal Churros. You will need sugar, eggs, and butter to make the dough. But instead of deep-frying, you bake the Churros until they are firm and crispy. This will save you time and prevent you from getting splattered with hot oil.
The result is that Churros will be just as good as deep-fried versions. You can sprinkle a little bit of powdered sugar on top. Churro Cookies also go really well with a cup of hot chocolate and hot coffee.
Want to test your baking skill? This spiral Churro Cookie will be perfect for you.
Total time: 30 minutes
If you prefer traditional Churros, I would like to offer an alternate recipe. This Rosquillas, or Spanish Donut, is a classic Spanish snack with the same ingredients as Churros. Many variants also exist in other Spanish-speaking countries.
The main components that make up this dish are sugar, eggs, and flour. You still need to mix everything in a bowl. However, instead of turning the dough into sticks, you make the dough into a ring like a donut. The last step is deep-frying the dough.
When you see that the dough has crisped up, take the Rosquillas out and sprinkle powdered sugar on top. When you bite into the cookie, it is airy and very light. Combined with the crunch, you can't get any better donuts than that.
Total time: 30 minutes
Mantecados are a type of shortbread, similar to a biscuit. This particular treat is a very well-known Christmas food in Spain. The name of this particular dessert comes from the word "manteca", which means "lard"
The reason is that people used lard to make Mantecandos in the past. Nowadays, lard is mostly replaced by butter or oil.
In order to prepare the dish, you will need sugar, flour, and eggs. First, mix the dry ingredients. Then, pour in either melted butter or oil. After that, you whip the eggs and pour them straight into the mixture as well. Stir everything until you form a dough.
While you wait for the oven to heat up, you need to separate the dough into rough pieces of dough. Once that is done, place the dough inside the oven. When Mantecados start puffing up, you take them out.
You can sprinkle the finished cookies with sugar or cinnamon. Since this is a winter treat, you can pair it with hot drinks like chocolate or coffee.
Total time: 20 minutes
The second dish, Yemas De Santa Teresa, or Saint Theresa's Yolks, is rising in popularity in both Spain and other countries. This type of cookie comes from the region of Avilla. Don Isabelo Sanchez, the local owner of La Dulce Aviles pastry shop, started selling Yemas in 1860.
The ingredients you will need to make this dish are eggs, syrup, and juice from half a lemon. In order to make the syrup, you need to heat up water and sugar. You can also add a cinnamon stick to the syrup mixture.
The second stage is to add lemon juice and zest (skin of a lemon) to the egg yolks. Then, slowly pour this egg yolk mixture onto the syrup. Continue stirring the mixture on low heat before it thickens up. After that, pour it onto a cooking tray and leave it in the fridge overnight.
The final step is to take the pastry out, cut it into strips, and roll each strip into a ball. Since it's cold, these are perfect hot summer days cookies.This dessert tastes very creamy and sweet. The lemon zest adds a bit of tanginess to the overall aroma.
Total time: 50 minutes
This homemade Tortas De Aceite, or Spanish Olive Oil Flatbread, will taste just as good, if not better, than the store-bought version. The history of this snack is unclear. The earliest reference of Tortas De Aceite came from a 16th-century Spanish novel called "Guzman de Alfarache".
For the ingredient list, you will need flour, olive oil, and fennel seeds. First, you have to mix the ingredients inside of a bowl. Then, make a hole in the middle of the mixture and add yeast into it. The yeast will help the dough increase in size.
The next step is to separate the dough into small balls and roll them into thin sheets. Place the sheet on a baking tray and start baking them. When the dough inside the oven rises, you can take the tray out.
The texture of this sweet Spanish starter is very flaky. With a single bite, this flat cookie will crumble in your mouth and release all of that mild sweetness. You can have this treat with sugar or dip it in hot chocolate.
Tortas De Aceite are such airy and flaky cookies that you must try.
Total time: 1 hour 15 minutes
Pastissets are a specialty from the region of Catalonia. In most of Spain, Pastissets look like a turnover pastry, with a piece of dough and filling inside. However, in the town of Amposta, Pastissets look more like cookies without filling instead.
In order to make this snack, you will need sugar, flour, and butter. The first step is to preheat the oven. Then, add everything inside of a bowl and mix until the ingredients turn into dough. The next step is to roll the dough into separate balls and place them on a tray.
Once you start baking, the dough will turn from soft to brittle. This helps the Pastissets to be crunchy but not too hard. There will also be a buttery aroma to let you know that the dessert is done. Before serving to others, you need to sprinkle some sugar on the dessert.
Total time: 1 hour 20 minutes
In this recipe list, you will notice one recurring ingredient, and that is almonds. Fun fact, Spain is the second largest almond producer in the world, behind only the U.S. Since almonds are abundant in Spain, Spaniards love to create desserts with them, including Almendrados.
For the preparation of this dish, you will need almond flour, eggs, and sugar. Like a normal cookie recipe, you will need to preheat the oven and combine all the ingredients into a bowl. Then, you scoop the dough into balls and put them into an oven.
When you smell that almond aroma wafting around the kitchen, you will know that the cookies are done. You can wait until the cookies cool down, or eat them immediately. The cookies do not have any flour, so you don't have to worry about measuring carbs. It's tasty, too.
Total time: 40 minutes
If you're not just someone who would enjoy a plain Polvorones, may I interest you with another variant? This variant is called Polvorones De Canele, which means Cinnamon Cookies. This is a delightful treat that will brighten up your day.
What you will need for this recipe are flour, sugar, and butter. Aside from these ingredients, you also need both cinnamon and vanilla to give this cookie a sweet, fragrant, and somewhat herbal smell. You start by preheating the oven and mixing the ingredients into a single bowl.
After you form the dough, separate the dough into smaller round portions. Line these smaller pieces on a baking tray. When the oven is ready, you bake the pieces of dough until they turn a little brown in the oven.
Before you eat, sprinkle a little powdered sugar on top of the cookies. Both cinnamon and vanilla give this snack a very pleasant smell. The cookie is very puffy and spongy.
Total time: 1 hour 30 minutes
Another Spanish biscuit that you want to look out for is the Carquinyolis. This is the Spanish version of a more popular Italian snack called Biscotti. Carquinyolis is widely available in many Catalan-speaking regions of Spain.
To prepare this amazing vegetarian-friendly recipe from Spain, you will need dough and toasted almonds. Combine the eggs, flour, and sugar to make a dough first. Once you have the dough, you can start adding the almonds.
After that, you separate the dough into sticks. Before baking the Carquinyolis sticks, brush a layer of olive oil to prevent the sticks from burning. When you see a crust is forming around the biscuits in the oven, take them out.
Carquinyolis is often an afternoon snack. They go well with either tea or coffee. The texture is very light and soft. The almonds add a bit of a nutty aroma. Since it contains nuts, it would be a great dessert for your vegan diet.
Total time: 60 minutes
Polvorones are another popular cookie in many Southern Spain regions. In Andalusia alone, there are up to 70 factories producing this dessert. Once a popular snack during holidays, you can find Polvorones being sold every day now.
For the ingredients, you will need butter, sugar, and flour. If you want to make a gluten-free version of this, replace all-purpose flour with almond flour. You need to mix everything in to create a dough. Then, you cut the dough into small circles and bake them in a preheated oven.
When the dough rises inside the oven, take them out to rest. Polvorones are very light. The cookie that crumbles when you bite into it. The buttery and nutty flavors blend together to create a unique experience.
Polvorones are great if you'd like an airy type of biscuit.
Total time: 1 hour 30 minutes
Marzipan is a traditional dessert across Europe. Mazapan, the Spanish version of Marzipan, used to be called Postre Regio during the Middle Ages. In the book "One Thousand and One Night", there were several references to a similar almond-based snack.
In Andalusia, Mazapan is a very popular Christmas snack. In order to prepare this special cookie, you will need almond flour, sugar, and eggs. The first step is to mix the same amount of almond flour and sugar with the eggs. Then, knead the mixture until you form a dough.
The next step is to roll the doll into a cylindrical shape. After that, you cut the dough into smaller portions and place them on a baking tray. The baking process will involve putting the tray into a preheated oven. When the Mazapans turn a little golden brown in the oven, take them out.
This snack has a very similar texture to the Polvorones, which are a little crumbly. The snack is sweet and nutty due to the almonds. There is a great Spanish Christmas tradition where they would make Mazapan into different shapes.
Total time: 1 hour 5 minutes
Bunuelos is a very old Spanish cookie that you can still find in the country. The first known people who ate this snack were the Spanish Morisco, a group of Christian converts from Muslim settlers. Nowadays, different Spanish regions make their own version of Bunuelos for holidays.
Instead of just fried dough, this Bunuelos recipe looks a little bit more eye-catching. The ingredients are flour, sugar, and milk. You mix the ingredients to make a wet batter. Then, you heat the oil until it turns really hot and dip an iron rosette mold into the oil.
When the mold is hot enough, dry it on a paper towel to get rid of any excess oil. Then quickly dip the mold into the batter (make sure that the batter does not reach the top) and transfer the mold with the batter to the hot oil. Do this several times and wait for the Bunuelos to fry.
When the snacks turn crispy, take them out. As a result, you will have a plate full of crunchy and tasty fried dough. Most Spaniards would serve this up along with a coating of powdered sugar.
Total time: 35 minutes
Alfajores, or Alfajor, are a common snack in Spain and other Spanish-speaking countries like Chile, Colombia, and Ecuador. Alfajores is normally one of the staple Christmas foods in Spain. Most of the Alfajores come from the southern city of Medina Sidonia.
In order to make this delicacy, you will need all-purpose flour, syrup, and of course, crushed almonds. To make the syrup, add sugar to hot water and keep stirring. Then, you add the flour and crushed almonds into the hot syrup. Keep stirring until the syrup thickens.
Once the above step is done, you pour that mixture into a baking tray and shape it into multiple cylinders. With this recipe, you can add a bit of honey top. Since Alfajores is very sweet, you can have a cup of tea alongside the snack.
Total time: 60 minutes
Pestino cookies are very popular in Andalusia and many other Southern Spain regions. Most people enjoy Pestinos during the Holy Week (the week before Easter Sunday) or Christmas. Depending on the region, you will get different variants of this dessert.
In order to make the Pestinos, you will need the following main ingredients: flour, olive oil, and cinnamon. Like many other dessert treats on this list, you will need to combine the ingredients into a single bowl. Then, you separate the dough and mold each section into thin strips.
You slowly dip the strips of dough into the hot oil. When the strips puff up and turn crispy, place them on top of paper towels to absorb the remaining oil. The finished products are very crunchy and tasty cookies that go well with sesame seeds and sugar.
Total time: 1 hour 30 minutes
This next dish comes from Malaga in Southern Spain. Borrachuelos are very similar to Pestiños. The name of this dessert comes from the word "borracho", which means "drunk" in English. That's because Borrachuelos contains wine as one of its main ingredients.
In order to make the dessert, you will need flour, wine, and orange juice. First, you need to combine the flour with the wine and orange juice with your hands or with a food processor. When the dough is formed, you knead and roll it on a smooth surface.
Then, you cut the dough into strips and deep-fry them. When the strips turn crispy and puffy, take them out of the pan. When you get all the strips onto a plate, dust them with a little sugar. This is a popular snack during holidays and carnival seasons in Spain.
Total time: 30 minutes
Turron is a popular Southern European nougat consisting of sugar, honey, and egg whites. In most cases, Turron includes almonds as well. Turron is delicious on its own, but what if you could make it better by turning it into cookies? Let me show you how with this recipe.
For the ingredient list, you will need blanched almonds, sugar, and flour. The first thing you need to do is to preheat the oven. Then, you blend the blanched almonds with the sugar and flour. You can add a bit of baking powder to the mixture.
When you're done with the dough, roll them into small balls and bake them. When the dough flattens in the oven, and you smell a hint of nuttiness coming out, you know the cookies are done. Turron Cookies can be a great replacement for your regular chocolate cookies.
Total time: 1 hour 10 minutes
This is a type of Spanish snack that you will see most on All Saints' Day, which is a day to celebrate all Christian saints, on the eastern side of Spain. The name of the snack is Panellets. In the 18th century, people used to share Panellets after religious gatherings.
In order to recreate this dish in your kitchen, you will need almond flour, potatoes, and sugar. First, you need to mix all of the ingredients into a single dough. Then, you roll the dough into balls and dip them into chopped almonds. Finally, you bake the Panellets until they turn firm.
The finished cookies will be very sweet, starchy, and crunchy due to the almond coating. In Spanish tradition, you can also sprinkle cocoa powder or sugar on top of the Panellets to add a bit of richness to this treat.
Panellets are great bite-sized cookies to energize yourself.
Total time: 25 minutes
The last entry to this list is a return to tradition when it comes to cookie recipes. Peanuts are a very popular ingredient in many desserts. There are peanut candies and peanut cakes. But today, let me introduce you to the Spanish Peanut Cookies.
To make this dish, you will need standard cookie ingredients including butter, sugar, and flour. And of course, you also need to add in peanuts. Just like any cookie-making process, you need to combine the ingredients into a bowl of dough.
After the dough is done, roll the dough into small balls and place them on a baking tray. When you put these balls into the oven, the dough will flatten and harden. When the time is up, get the cookies out and let them cool.
The sweetness, nuttiness, and a hint of saltiness from the cookies blend perfectly with each other. You can eat a lot of these cookies without feeling sick the next day.
Whether you want a light snack in the afternoon or a sweet dessert after dinner, cookies are always the most sensible choice. But sometimes, you also need to change up the menu a bit to improve your palate. And I hope that my list above will be able to help you with that.
Spain has a very diverse culinary world, from savory dishes to pastries and even desserts. That is also why Spanish cookies also carry the same sense of distinction to their recipes. And cookies are just a small part of the wonderful world of Spanish cooking.
If you like what you read, make sure to leave a like and share this article on your social media accounts to let others see it as well. As always, have a nice meal!
Nutrition Facts
30 servings per container
---
Amount Per ServingCalories105
% Daily Value *
Total Fat 0.7g

2

%
Cholesterol 17mg

6

%
Sodium 10mg

1

%
Potassium 57mg

2

%
Total Carbohydrate 22.5g

8

%

Dietary Fiber 0.6g

3

%
Sugars 9g

Protein 2.4g

5

%
---
Calcium

21

%
Iron

1

%
Vitamin D

2

%
* The % Daily Value tells you how much a nutrient in a serving of food contributes to a daily diet. 2,000 calories a day is used for general nutrition advice.