For many Spaniards today, Spanish Christmas foods not only usher in a time of celebration but also represent a sense of familial bond. Family members would sit together, say a prayer and enjoy a great feast on this important holiday.
Regional cultures might have their own distinct menu during Christmas. However, there are a few delicacies that many Spanish regions share together, ranging from savory main dishes to scrumptious desserts.
And as your unofficial culinary guide, I'd love to introduce you to many beloved Spanish specialties during Christmas. I hope that these recipes will inspire you to create your best-ever Christmas dinner. With that said, let's get into this!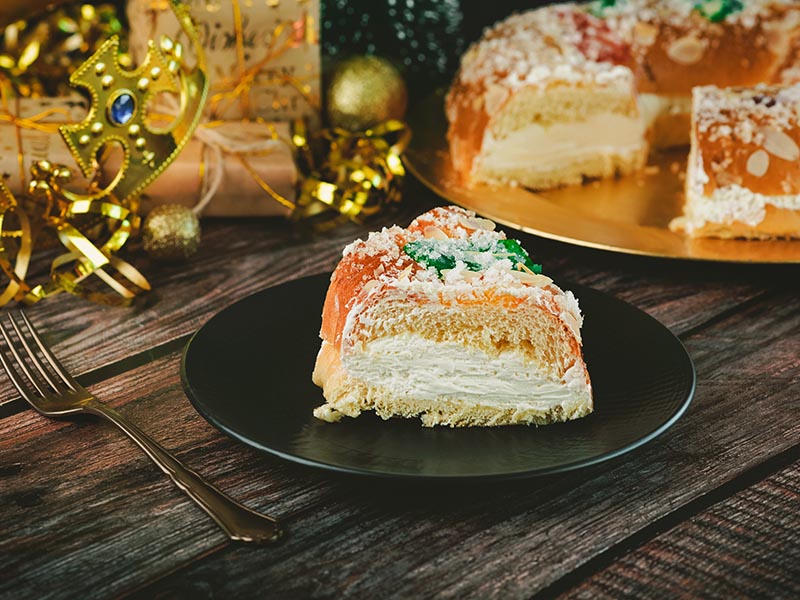 Spanish-Styled Feast For Christmas
The Christmas feast for many Spaniards can consist of either everyday recipes from Spain or more elaborate regional delicacies. And of course, it is not a true religious holiday without the plethora of delightful Spanish desserts.
Total time: 50 minutes
For many families, a religious celebration is incomplete without the classic Spanish starter, Tortilla de Patata, or Spanish Omelet. The exact birthplace of Tortilla De Patata is unknown, but this iconic specialty soon spread all over Spain.
Thanks to its simplicity, Tortilla De Patata offers the true Spanish experience. The main ingredients are just eggs and potatoes, yet this combination yields such a successful result that many Spaniards consider this their national food.
When you make the Tortilla De Patata to perfection, the true flavors will come out. You can taste the spongy and airy omelet-style eggs. The crispy potato slices offer a starchiness that gives you a boost of nutrients.
It's not a true Spain-themed feast without the Spanish Omelet.
Total time: 1 hour
Coca, which looks similar to Italian pizzas, is another popular Spanish starter that you might want to consider. This specialty comes from the eastern region of Catalonia. This pastry has many variants across Spain, including sweet and savory ones.
In this particular recipe, I want to show you the savory version, which is suitable for a Christmas dinner. The bread portion is similar to pizza, consisting of yeast, flour, and sugar. The toppings are just cherry tomatoes and zucchini.
Before you start baking, make sure to brush the bread with olive oil to give the outer layer a nice brown sheen. This also keeps the vegetables from drying out under high heat. As a result, the texture will become a perfect blend of crunchiness and tenderness.
Total time: 1 hour 10 minutes
Starting out as part of French cuisine in the 17th century, Croquette soon found its way to the Iberian peninsula, specifically in Spain under the name of Croquetas. This adopted delicacy is currently available in many places across the country, from restaurants to bars and home meals.
The biggest difference between the Spanish and French versions is the binder. While the French use a simple mixture of mashed potatoes, Spaniards go a step further by using Bechamel sauce. This rich and creamy sauce is created by combining flour, butter, and milk.
This version is straightforward to make: Just saute the Serrano ham and onions until they are brown. Mix this with the Bechamel sauce and leave it overnight. After it thickens up, you deep-fry each portion with bread crumbs until they are golden brown and crusty.
Total time: 45 minutes
You will come across this particular Spanish mixed vegetable specialty in many celebratory feasts. Ensalada Rusa, also known as Olivier or Russian Potato Salad, was created by a Russian Belgian chef in the 19th century.
Of the many variants, they all have the same core ingredient, which is potatoes. This starchy vegetable helps this salad become more filling. Aside from that, you can add other components like asparagus, peas, and carrots to make this salad more refreshing.
Mix these vegetables together with mayonnaise that provides creaminess and a bit of sweetness. You can serve this salad as it is, or you can toast a slice of Spanish bread. The crunchy texture from the bread improves the salad even more.
Total time: 2 hours 30 minutes
Conchinillo Asada, or Spanish Suckling Pig, is a world-renowned pork recipe from Spain. Its history dates back to the time when the Romans conquered Hispania.
However, Conchinillo gained much of its prominence during the 17th century as a celebratory dish for Christmas. Today, you'll find it in various cookbooks on Spanish cuisine. This recipe doesn't require a fully-grown pig. Instead, a piglet makes the roasting process easier.
Brush lard, or any fat of your choice, around the pig. Season it with salt and pepper. Due to the fat, the skin of the pig will crisp up inside the oven. The fat also creates a glossy sheen that makes the dish more delectable to your guests.
Since Conchinillo has a very fatty texture, you can serve it with a side of salad to reduce the greasiness. A single bite of the meat reveals all of its tenderness. Not only that, the crackling skin feels almost like crunchy and fatty potato chips.
Total time: 1 hour 30 minutes
What is a Christmas meal without chicken? Pollo En Pepitoria might be a good Spanish chicken recipe to add to your Christmas menu. The original recipe supposedly came from the Moors (which were Muslim inhabitants of old Spain).
For starters, you will need chicken and almond sauce as the two main ingredients. First, you sear the chicken until all sides are brown. Next, using a mortar, you can pound a mixture of egg yolk, almonds, and bread until everything turns to a pulp. Add the saffron for the herbal aroma.
The final thing to do is to mix the chicken with this almond sauce. Pollo En Pepitoria is best when you eat it with a source of carbs like rice or bread. The nuttiness from the almond and the savoriness from the chicken are just irresistible.
Pollo En Pepitoria perfectly represents Spanish cuisine.
Total time: 45 minutes
When it comes to holidays like Christmas, you can count on the appearance of Seafood Paella. From a Valencian delicacy, this seafood-based recipe from Spain has spread all over the world. In Spanish, "paella" is the special flat-bottomed pan that Spaniards cook this in.
One of the biggest reasons why Paella has gained such a massive following is the incredible mix of ingredients. Most of the essence comes from the mix of seafood and fish broth. The rice soaks up all of that flavor. With every bite, you feel a blast of aroma in your mouth.
Of course, the addition of vegetables also puts another layer of freshness to the Paella. Without the acidity and umami from the tomatoes, the richness of the seafood will be too overpowering. The paprika adds a kick to your taste buds to improve your overall appetite.
Total time: 40 minutes
Sopa De Mariscos or Spanish Seafood Soup is another option you can consider for the next Spanish-themed Christmas feast. It's a warm, filling and easy seafood delicacy that your friends and family will appreciate during a chilly winter night.
For the seafood portion of Sopa De Mariscos, you can put in squids, fish, and prawns. Add fish broth for that extra savoriness from the sea. Other than the seafood, there are ingredients like tomatoes, red chilies, and saffron.
The tomatoes and chilies can balance the rich broth with umami and spiciness. The saffron enhances the smell with a bit of earthiness. This comforting Spanish soup would go well with rice or bread, which can absorb the flavors even further.
Total time: 15 minutes
Keeping with the theme of Spanish-style seafood for Christmas, there is another staple you might be interested in. Spanish Clams In Sherry combines various tasty ingredients to create a delectable appetizer. And the best part, it's not that hard to make.
Most of the savoriness comes from both the clams and the ham, in this case, the Iberico ham. When you saute the ham, its fat melts onto the skillet. This fat will then mix with the juice you get from steaming the clams, creating a unique sauce.
This sauce contrasts greatly with the fino sherry (a less sweet version of standard sherry). This gives the clams a hint of almonds, with a slight acidity to keep the sauce from being too overwhelming. To fully blend the flavors together, steam the fino sherry along with the clams.
Total time: 35 minutes
A true Spanish Christmas experience is not complete without the country's sweet treats. From cakes to cookies and custards, you will find all sorts of delights for the holiday. To start it off, I want to introduce you to Arroz Con Leche, or Spanish Rice Pudding.
The delicacy dates back to the Moors ( Muslims of ancient Spain). The consistency of Arroz Con Leche is similar to a creamy congee. In order to achieve that effect, a chef needs to boil the rice in both water and milk. The rice absorbs the milk to get that creaminess.
Another unique element of the rice pudding is the inclusion of cinnamon. This aromatic gives a herbal scent to Arroz Con Leche. It contrasts perfectly with the milk and the sweetness of sugar. To cap it off, grate a bit of lemon zest to add a bit of color for presentation.
Total time: 1 hour
Also known as the San Sebastian Cheesecake, the specialty from the Basque Country region is going to add a Spanish flair to your Christmas meal. Thanks to its fluffy and airy texture, the cake is super light compared to other Christmas desserts.
To make this cheesecake, you will need to get cream cheese, heavy cream, and sugar. The technique to get your cheesecake to become light is to mix all the ingredients very thoroughly. This creates little air bubbles inside that will make the cake spongy.
It's not a true Basque Burnt Cheesecake without its signature caramelized top. This layer blends greatly with the taste of the batter. It adds a slight bitterness that will tone down the sweet and creamy cheesecake.
One of the most delicious Spanish desserts is Basque Burnt Cheesecake.
Total time: 60 minutes
Polvorones, or Spanish Almond Shortbread, is a traditional Spanish cookie that's commonly available during the Christmas season. Due to the spread of Spanish culture across the world, you will see other versions of this dessert in Latin America and the Philippines.
In Spanish, the word "polvo" means powder or dust. This perfectly describes what Polvorones are: a very crumbly pastry that you will shatter once it gets in your mouth. And that brittleness actually helps the flavors spread even further.
Most of what you will taste consists of a very strong hint of almonds, a slight butteriness, and a note of fragrant vanilla. Nothing is too overpowering, and these essences will reveal themselves one by one to your taste buds. It's similar to unwrapping your gifts on Christmas Eve.
Total time: 1 hour 30 minutes
For many Spaniards living in the region of Andalusia, the smell of Mazapan signals the coming of Christmas. This pastry arrived in Spain during the 8th century alongside Muslim invaders. However, this delicacy soon cemented itself as a core of Spanish cuisine.
Mazapan is a suitable replacement for normal cookies if you want a gluten-free diet. The recipe does not require wheat flour. Instead, you use almond powder as a base for the dough. This type of dough gives the pastry a lot of nuttiness with a slight sweetness.
As a snack, you can have Mazapan at any time of the day. The southern specialty goes very well with a cup of hot chocolate. Fun fact: Pastry shops in southern Spain make this pastry in various Christmas-inspired shapes, like Christmas trees, snowflakes, and snowmen.
Total time: 1 hour 5 minutes
Next, I will introduce another almond-based Spanish Christmas confection called Turron. It is a type of nougat consisting of almonds, egg white, and honey. If you want Turron to be a little sweeter, you can also add in sugar.
In Spain, there are two types of Turron you will come across. First, the Alacant version is harder, but it is also brittle since the almonds stay intact. On the other hand, the Xixona version is chewier because it uses ground almonds instead.
This current recipe is for the Alacant version. Despite being harder, the woody smell and texture of almonds are apparent in this type of Turron. It combines well with the sweetness of both sugar and honey.
Total time: 55 minutes
Aside from cookies, Spaniards also use almonds to make cakes. One of the biggest examples is the Tarta de Santiago, or simply Spanish Almond Cake. This delicacy came from the Galicia region during the medieval era.
With the combination of almond powder, sugar, and eggs, Galician bakeries manage to create an incredibly moist and soft cake. The inner dough is very light and spongy. Aside from the sweetness, you can smell a bit of zestiness from the lemon skin.
And of course, the design of Tarta De Santiago is the most eye-catching with an imprint of a cross. The name of the cross is "Cross of St.James", which signifies the religious background of this sweet treat from Spain. And it's also delicious since the symbol is made from sugar.
Total time: 1 hour
Traditional Christmas snacks in Spain don't just consist of almond-based pastries. There are other simpler recipes you can follow as well. Pestinos is one such example since you can make this with a simple combination of flour, white wine, and citrus zest.
Yes, I did say wine since it gives this deep-fried pastry a slight dryness. If you have kids, don't worry since the heat will evaporate most of the alcohol, so it's safe for them to eat. The rest of the flavor is zestiness from the citrus fruits (lemon and orange).
After you're done with the frying, sprinkle the top of the Pestinos with cinnamon sugar. To make it, you mix cinnamon powder and sugar. The heat from the fried pastries will bind the seasoning. This adds a layer of sweetness and herbal scent to the dough.
Total time: 30 minutes
You can't have a Spanish celebration without a plate of Churros. This is possibly the most popular Spanish dessert around the world. According to popular belief, this snack might have arrived in the Iberian Peninsula thanks to Portuguese explorers.
One of the biggest reasons why Churros are so beloved around the world is how easy it is to make them. You only have to mix flour, sugar, and water to get the sough. You can add baking soda to help the dough puff up and create an airy texture.
You can serve the finished Churros with a dusting of powdered sugar. Or, if you want to eat them the Spanish way, get yourself a cup of hot chocolate or coffee. Dip the Churros into the drink and let this pastry soak up all of that rich goodness. The first bite will blow your mind.
Churros are a quick and easy Spanish snack to make for a holiday.
Total time: 15 minutes
Within the Andalusia region, there's no shortage of sweet treats during important holidays like Christmas. In this entry, I want to introduce you to Bolitas De Coco from the city of Malaga. These little balls of wonder will make you salivate upon a single look.
This delightful dessert consists of chocolate, shredded coconut, and condensed milk. You melt the chocolate and mix in the condensed milk. After that, sprinkle in the shredded coconut. The final step is to refrigerate this mixture until it hardens and roll it into small balls.
These chocolate balls have a bitter taste. However, the condensed milk reduces the bitterness with its own sweet taste. That balances out the flavors. On top of that combination, adding the coconut will enrich the dish with a slight creaminess.
Total time: 20 minutes
Another sweet and creamy Spanish snack that you can consider making for your friends and family on Christmas is the Crema Catalana. This Spanish Custard recipe came from the region of Catalonia in the 14th century at least.
The essential ingredients for this recipe are milk and egg cream (made from cornstarch, sugar, and egg yolks). You have to season the milk correctly to get that tangy and cinnamon flavor. Other than the milk, the egg cream complements the milk with its rich consistency.
To get the custard to thicken up, you need to refrigerate it for a few hours. This is where you will get to do the best part: toasting a layer of sugar on the Crema. This creates a caramelization process that enhances the custard and gives it a crispy top.
Total time: 4 hours 30 minutes (Including 1-2 hours of leavening time)
Roscon de Reyes, or Three Kings' Cake, is a typical Christmas dessert. Instead of being served on December 24th, Spanish bakeries often serve this on January 6th. The reason is that the date coincides with Three King's Day.
Many Spaniards consider Three King's Day as their true Christmas since it honored the three kings who witnessed the birth of Jesus. Also, on January 6th, children get to open their Christmas presents.
At a glance, the cake looks like other standard cakes. The dough consists of flour, eggs, and orange zest. However, the cake's sweetness comes from the addition of candied fruits (dried fruits coated in sugar). There's also a hint of spice from the rum or brandy.
While the appearance and taste of Roscon de Reyes are very normal, it's the tradition that makes this cake special. People will usually hide a toy model of Jesus Christ within the dough. If you manage to find the toy, you will be lucky for an entire year. Pretty cool, right?
You can make Roscon De Reyes for your own Christmas dinner.
Good Food, Good Time, Good Christmas With Spain
As a majority Christian nation, many Spaniards treat Christmas as a way to remember their roots. This holiday is also a time when family and friends gather around and appreciate each other. Of course, you can't have a celebration without a feast.
As you can see from the entries above, Spain has a wide menu to choose from. From salads to main dishes and desserts, there are many ways to make your own delicious Spanish-themed Christmas party. With a little effort, you will be able to make a memorable meal for the holiday.
And with that, this article has come to an end. But before you go, make sure to give this post a lovely little like and a share on your social media. See you next time on another informative Spanish culinary exploration!
Nutrition Facts
6 servings per container
---
Amount Per ServingCalories740
% Daily Value *
Total Fat 22.4g

34

%
Cholesterol 44mg

15

%
Sodium 721mg

31

%
Potassium 515mg

15

%
Total Carbohydrate 56.9g

19

%

Dietary Fiber 1.8g

4

%
Sugars 2.3g

Protein 70.6g

140

%
---
* The % Daily Value tells you how much a nutrient in a serving of food contributes to a daily diet. 2,000 calories a day is used for general nutrition advice.