Many Spanish chicken recipes have been gaining a lot of attention lately. Thanks to the country's creative use of spice and aromatics, chicken dishes from Spain contain a lot of flavors and impact that you wouldn't see anywhere else.
From authentic cooking methods to creative interpretations, you will always find a delicacy that fits your taste buds while still helping you explore a hidden side of culinary greatness. That's what is amazing about Spanish cooking.
Now that I have your attention, you might as well check out these great recipes from Spain. I can assure you that you will not regret making them, and your whole family will possibly appreciate a new and unique course. Let's just get started!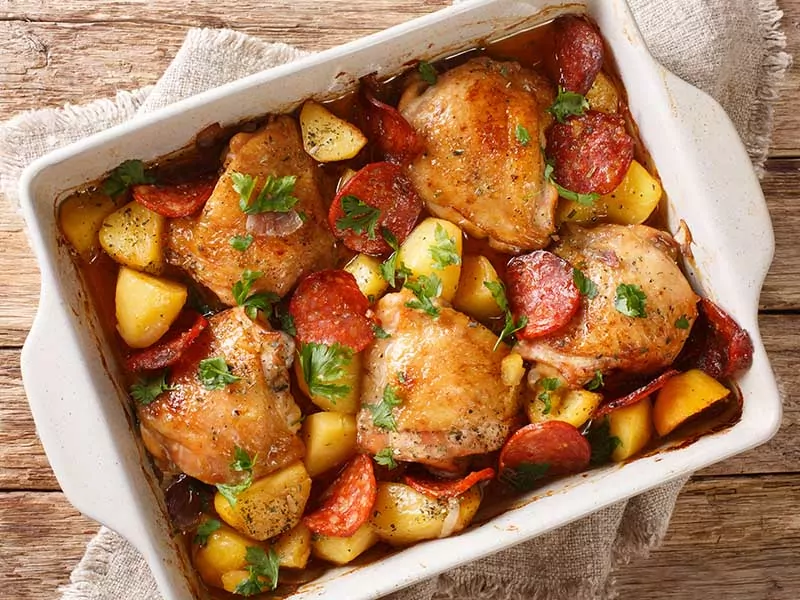 From an endless selection of scrumptious Spanish specialties, I have picked out some of the best and most iconic ones from Spain. These recipes can be easy to make, but it won't be easy to get these foods out of your mind after a bite.
Total time: 1 hour 10 minutes
When it comes to Spanish cuisine, nothing is comparable to Tapas, which are Spanish-styled starters. And there is Tapa that stands above all: Patata Bravas, or Pan-Fried Potatoes. It is available in many bars and restaurants across Spain.
Usually, you will only find Patata Bravas with just potatoes. However, I will show an interesting variant of the delicacy. To prepare the dish, you must get chicken thighs, potatoes, and tomatoes. First, place the potatoes on a baking tray with garlic.
Then, you marinate the chicken thighs with paprika and place them on the tray as well. Drizzle a bit of olive oil and bake for 30 minutes. After that, continue to add chorizo (Spanish spicy sausage) and tomatoes before putting the tray back inside the oven.
When you see the potatoes turn golden brown, then it is done. The outer skin of the potatoes crisps up very nicely. The marinated chicken is spicy but not too overwhelming. The roasted tomatoes also release a lot of umami aroma.
Total time: 1 hour
In this entry, I will introduce Pollo En Pepitoria, or Chicken In Almond Sauce, a traditional Spanish chicken delicacy. No one knows exactly where it came from. However, the earliest recorded recipe was quite old, coming from around the 18th century.
In order to recreate Pollo En Pepitoria, you have to get the following ingredients: chicken thighs, cinnamon, and seasoning. First, you brown the chicken and the onions. Then, you simmer them with chicken stock and a little seasoning.
Finally, you make a special almond paste and add it to the simmering chicken. You can eat this chicken with rice or bread. The sauce is thick and creamy, with a little hint of nuttiness. The chicken becomes tender due to the sauce infiltrating the skin and the meat.
You can make Pollo En Pepitoria for dinner through this tutorial.
Total time: Approximately 30 minutes
Milanesa De Pollo, or Chicken Milanese, is a meal that many Spaniards like to enjoy thanks to its irresistible crispiness. Due to the interconnected nature of Spanish-speaking cultures, this particular delicacy is widely available in Mexico as well.
Milanesa De Pollo receives a lot of influence from a similar dish called Veal Milanese from Milan, Italy. Instead of chicken, the Italians use the meat of a baby cow.
To make Milanesa De Pollo, you should get chicken breasts, egg batter, and bread crumbs. First, dip the breasts in egg batter and bread crumbs before deep-frying. In the meantime, make a side of refreshing Spanish salad with cucumber, vinegar, and radish.
After the chicken breasts turn golden brown, strain and put them on a plate. Then, top the Milanesa De Pollo with cucumber salad and mayonnaise sauce (mayonnaise, lemon juice, and garlic powder). The salad and sauce balance out the greasiness of the fried chicken.
Total time: 45 minutes
This is a fantastic breakfast delight from Spain that you might want to try your hand at. Pollo Con Tomate, or Chicken In Tomato Sauce is not only an easy recipe, but the combined taste of tomatoes and chicken will also leave you in awe.
Sounds awesome? Let me show you how to make it. First, the ingredients for Pollo Con Tomate are chicken breasts and tomato sauce. With the breasts, you only need to sear until they turn brown on both sides on a skillet. After that, you remove and cut them into smaller pieces.
For the sauce, you have to combine crushed tomatoes, aromatics, and seasoning on the same skillet. Once the sauce is bubbling, add the chicken breasts and simmer for a bit before serving. The simmer helps the chicken meat absorb all of that umami and sweetness from the sauce.
Total time: 45 minutes
There is some controversy surrounding whether Arroz Con Pollo, or Spanish Chicken & Rice, came from Spain or Latin America due to the ingredients. However, no one can deny that if you want some Spanish comfort food, Arroz Con Pollo is the way to go.
First, you have to prepare chicken thighs, white rice, and saffron. Sear the chicken thighs in a heated skillet first to release all of that juicy fat. Then, add the seasoning alongside the rice. Finally, pour in both chicken stock, tomato sauce, and saffron before closing the lid.
Wait until the rice is fully done, then you can finally serve it on a plate. The saffron will give Arroz Con Pollo a pretty yellow appearance. Aside from that, there is a hidden grassy aroma that blends well within the tender chicken thigh.
Wanting to try out Arroz Con Pollo yourself? This recipe will help you.
Total time: 2 hours 30 minutes (Resting time: 1 hour)
In this entry, I would like to introduce another staple snack from Spain. Empanada, or Spanish Turnover Pastry, has existed for quite a long time. Its true origin is unclear, but there was a written mention of this specialty from Catalonia in 1520.
For this variant, you should make a dough and a type of chicken filling. To form the dough, combine flour, butter, and cold water. Onto the filling, you need to precook the chicken and shred the meat. Combine the shredded chicken and seasonings on a heated pan.
Flatten the dough with a roller and cut out smaller round portions. After this, you wrap the chicken filling with the Empanadas dough. Seal the edge with your finger or a fork so nothing will spill out during the cooking process.
The final step is to brush the top of the Empanadas with egg yolks and bake until the Empanada turns a crunchy golden brown. The outer shell offers a contrast in texture with the soft and juicy chicken.
Total time: 55 minutes
Hailing from Valencia, an eastern Spanish region best-known for orange cultivation, Pollo A La Naranja, or Chicken With Orange Sauce, combines two different styles together to create such a unique delicacy.
If you want to spice up your taste bud, you might as well try making this. First, brown the chicken with olive oil in a pan before taking it out. Then, you saute carrots and onions in the same pan. Once the vegetables are soft, pour in orange and lime juice.
Simmer the sauce for a bit and blend it until the sauce turns smooth. Finally, add the chicken back to the pan with the sauce and cook for a while. You can serve this with white rice. The citrus juice has a special tanginess that goes well with the savory chicken.
Total time: 1 hour 45 minutes
Putting aside Valencia, I will continue to show you another specialty from the east of Spain. Chicken With Romesco Sauce is chicken breasts cooked inside a traditional sauce from a Catalonian city called Tarragona.
To prepare the sauce, you have to roast tomatoes, chili, and various aromatics in an oven before blending everything together to make a smooth paste. For the chicken breasts, season thoroughly and brown them on a skillet. When the chicken breasts are done, take them out.
Deglaze the fat on the skillet with lemon juice, butter, and wine. The final step is to plate the chicken on top of the Romesco sauce. Pour in the lemon wine sauce at the end. You can eat the tender chicken meat with a little bit of the sour Romesco sauce to enhance the savoriness.
Total time: 30 minutes
Despite being created in Mexico, this specialty soon caught on in Spain thanks to the use of similar ingredients that both countries enjoy. Pollo En Salsa, or Chicken In White Wine & Garlic Sauce, will surely capture your heart with its fantastic blend of flavors.
For the ingredients, you will need skinless chicken breasts and the accompanying sauce. First, you pan-sear the chicken breasts to get a brown outer layer. Take the chicken out and saute the garlic. When the garlic is done, you blend it with chicken stock to create a smooth sauce.
Place the chicken back in the pan and pour the garlic sauce. Add the white wine and bay leaf to the sauce. Let the dish simmer for a bit before serving. In the end, you will have a great plate of tender chicken meat. The white wine & garlic sauce adds a bit of kick to the whole flavor.
Total time: Approximately 40 minutes
This following specialty combines both popular Spanish ingredients, Chorizo (a type of spicy pork sausage) & white beans into one single dish. But a word of warning: this is not for those who have a low spice tolerance due to the heavy use of paprika.
For starters, the recipe requires you to get these components including paprika, Chorizo, and white beans. Of course, there is also chicken meat. You need to marinate the meat with paprika and aromatics. In the meantime, you can cook the Chorizo with the white beans.
Finally, after around 10 minutes, pan-fry the chicken until it turns brown and crispy. You serve the chicken on top of the Chorizo and white beans. The paprika-infused chicken and the Chorizo provide a lot of heat. However, the white beans neutralize it with their starchiness.
Total time: 45 minutes
For the next entry, Pollo Al Ajillo, or Spanish Garlic Chicken, is a fantastic way if you want to add a bit of Spanish flair to your meal. Pollo Al Ajillo comes from the southern side of Spain, specifically in the Andalusia region.
These are the core ingredients required to cook Pollo Al Ajillo: chicken, garlic, and white wine. The first step is to coat the chicken with flour and seasoning. Then, you sear the chicken and garlic in a skillet. After a while, add in the white wine.
Wait until the white wine reduces to a thick sauce before plating the chicken. As a result, you will have a nice steamy southern delicacy. Since the heat evaporates the alcohol, everyone in the family can enjoy Pollo Al Ajillo with its creamy and rich sauce.
This tutorial will teach you how to create a filling plate of Pollo Al Ajillo.
Total time: 50 minutes
If you want a Spanish-inspired specialty that you can serve to many people at the same time, look no further than the Spanish Chicken Stew. It is a hearty type of stew that is both delicious and nutritious.
For the preparation, you must get the following ingredients: boneless chicken thighs, vegetables, and chicken broth. First, you chop up the vegetables into cubes. The next step is to season the chicken thighs and sear them in a pot. When the thighs turn brown, take them out.
Next, you add the chicken broth and white wine to deglaze the pot. Add back the chicken and vegetables. Simmer until you see the veggies become tender.
You can serve this with cilantro as a garnish and a slice of toasted Spanish bread. The meaty and rich broth is full of that chicken flavor: it's fantastic on a cold day.
Total time: 55 minutes
Pollo Con Champinones, or simply Spanish Mushroom Chicken, is another traditional specialty. It is a good example of what true comfort food looks like in Spain, from the creamy mushroom sauce to the perfectly seasoned chicken.
Before cooking, you need these ingredients: chicken thighs, mushroom sauce, and chicken stock. At the start, coat the chicken with seasoning and sear until the thighs turn brown. Remove the thighs, add sliced button mushroom and deglaze the pan with the wine.
When the wine is reduced enough, saute onions and place the thighs back. Finally, pour in the chicken stock and close the lid. When you start smelling a nice fragrance, the food is ready. The chicken thighs absorb a lot of the flavors from the sauce to keep them from being too dry.
Total time: 1 hour 50 minutes
In the southern side of Spain, there are so many unique and little-known dishes. One of them is probably Sopa De Pollo Con Fideos or Chicken Noodle Soup. This is an appetizing Spanish-style soup to help get through a cold winter month.
For the preparation, the ingredients you should have are chicken, angel hair pasta (a type of short pasta noodle), and vegetables. Firstly, chop the veggies into bite-sized cubes and saute them in a pan. Secondly, brown the chicken and pour in water with a little bit of seasoning.
While the soup is simmering, you remove the bones from the chicken meat. The final step is adding the angel hair pasta. You can serve this on a plate with a slice of toast. Nothing feels better than a warm bowl of chicken soup. It's rich and full of chicken goodness.
Total time: 4 hours 40 minutes (Soaking time for dried fruits: 4 hours)
For another special delight, I will take you back to the eastern side of Spain, where the region of Catalonia resides. Pollo A La Catalana, or Catalan-Styles Chicken, is a must-have whenever you visit there. But if you can't, I will gladly show you how to recreate this delicacy.
First of all, you will need to buy chicken, prunes, and chicken broth for the sauce. To prepare, you soak the prunes and raisins in water for 4 hours. In the meantime, brown the chicken in a skillet and take it out. Next, saute the prunes with onions. Add chicken broth to deglaze.
Finally, simmer the chicken meat with the sauce in a larger pot until the dish is ready to be served. You can have Pollo A La Catalana with rice. The prunes and the chicken stock create a very unique sweetness.
Total time: 20 minutes
Due to the influences of Moorish (early Muslim inhabitants in Spain) culture, southern Spanish cuisine is similar to its Middle Eastern counterpart. This is why Spain has a specialty called Pinchotos, or the Spanish-styled kebab.
In this entry, I will show you the chicken version of this delicacy. In order to make it, you must get chicken breasts, seasoning, and olive oil. Slice the breasts into strips and marinate them. Leave the strips for several hours or overnight in your refrigerator.
When it's time to cook, skewer the chicken and grill using a flat pan or griddle. If you see that both sides are crispy, take them off the heat. This is a quick and perfect outdoor meal. The seasonings have time to penetrate the meat, giving you an explosion of flavors.
Total time: 45 minutes
For this next one, I want to introduce you to a special type of stew consisting of familiar ingredients in a lot of Spanish cooking. The Spanish Chicken With Chorizo And Chickpea Stew is a nutritious yet tasty one-pot delicacy that you must try.
These are the things you will have to buy to prepare the dish: precooked chicken, Chorizo, and chickpeas. First, you saute the Chorizo with onions. When both turn slightly brown, you add seasoning and shredded chicken. Then, add white wine and vegetable stock.
When the broth thickens up, add the chickpeas and wait for them to turn tender. You can have this with any type of carbs, but it would be more authentic with Spanish bread. The Chorizo has a bit of spiciness, but the chicken broth and chickpeas balance it out really well.
Keep yourself warm with homemade Chicken With Chorizo & Chickpea Stew.
Total time: Approximately 1 hour 20 minutes
In this recipe, I want to show another great combination of Spain's popular cooking ingredients. The Spanish Chicken With Chorizo & Potatoes, made in an oven, is an overall fantastic and filling dish that you can make for many people.
The ingredients you should get are chicken thighs, Chorizo, and potatoes. At the start, brush the thighs with olive oil on a tray. Then, place the chopped-up Chorizo and potatoes with the chicken thighs. Grate some orange zest (shredded orange skin) on top and start baking.
When you see the chicken skin forms a crunchy layer and starts glistening, take the baking tray out. This delicacy has it all, from the juicy chicken thighs to the starchy potatoes and the spicy Chorizo. Each in your mouth is a perfect tsunami of flavors.
Total time: 1 hour 30 minutes
Spanish Croquette, or in Spanish "Croquetas", is a popular type of snack for many Spaniards. The first Croquette recipe came from France in the 17th century. Soon, the deep-fried specialty started spreading all over Europe and landed in Spain as the Croquetas.
Different from the French version, which uses mashed potato, Croquetas utilize a type of binder called Bechamel sauce. To make the sauce, combine milk and flour on a heated pan until both become creamy white liquid.
The recipe requires chicken breasts, Bechamel sauce, and bread crumbs. First, cube up the breasts and saute them. Then, mix the chicken with the Bechamel sauce and onions. Refrigerate the mixture. Before frying, scoop each spoonful and coat it with bread crumbs.
When the Croquetas turn crunchy yellow in the pan, take them to dry. The outer shell gives this snack a great texture to bite on. When the inner core gets revealed, you can feel all of that creamy goodness flow onto your tongue.
Total time: 1 hour
Paella is arguably the most famous Valencian dish around the world today. Whenever you mention Paella, it will invoke a sense of nostalgia in many Spaniards. In the Valencian language, "paella" means the flat pan that locals use to make this delicacy.
In this entry, I will show you how to cook the variant with both chicken and Chorizo. Aside from those two, you must get rice, veggies, and seasoning. First, saute the Chorizo, and veggies, then pour in white wine and seasoning. After that, you continue with broth, chicken, and rice.
If you see that the rice puffs up, carefully add the green peas. Once the peas are done, you can serve this Paella on a plate. When you take a bite of the rice, you can feel that it has nicely sucked up all of the flavors. The chicken and Chorizo complement the Paella really nicely.
Chicken & Chorizo Paella is Spain's best comfort food.
Total time: 1 hour
For this entry, I would like to introduce a warm Spanish-inspired delicacy that you can make and serve in a single pot. Spanish Chicken Casserole uses a lot of popular ingredients in Spanish cuisine to create this spectacular dish.
So what is casserole exactly? This method of cooking is similar to stewing. But for stewing, it will require a stove-top. On the other hand, you make a casserole with an oven.
For starters, what you must acquire for Spanish Chicken Casserole is chicken meat, vegetables, and aromatics. Brown the chicken on a casserole tray and remove it. Next, cook the vegetables and aromatics on the tray. When both are done, add the chicken meat and chicken stock.
Transfer the casserole to an oven and bake. In the meantime, you can cook the beans. Finally, serve the chicken with the beans. The chicken meat is super juicy from the broth. Not only that, the aromatics seep into the broth, creating an unforgettable taste.
Total time: 9 hours 30 minutes (Marination time: 8 hours)
For this recipe, I will take you back to the south of Spain, particularly the Marbella region. The Chicken Marbella is one of the prime representatives of unique southern Spanish cooking. The delicacy is savory, sweet, and strange all in one.
The ingredients you should get are chicken, prunes, and sugar. First, marinate the chicken drumsticks, prunes, and other vegetables overnight. To prepare for baking, place the chicken and vegetables inside a tray. Pour in white wine and sprinkle some brown sugar.
Bake in an oven until you see both sugar and white wine caramelize. This creates a sweet crust on top of the chicken and vegetables. The crust offers a very unexpected yet delightful contrast with the savoriness of the chicken drumsticks.
Nutrition Facts
4 servings per container
---
Amount Per ServingCalories712
% Daily Value *
Total Fat 59.1g

91

%
Cholesterol 243mg

81

%
Sodium 542mg

23

%
Potassium 581mg

17

%
Total Carbohydrate 7.3g

3

%

Dietary Fiber 2.5g

8

%
Sugars 2.2g

Protein 38.6g

76

%
---
Calcium

82

%
Iron

2

%
Vitamin D

10

%
* The % Daily Value tells you how much a nutrient in a serving of food contributes to a daily diet. 2,000 calories a day is used for general nutrition advice.