Every country in the world gets its ideas for desserts and Portugal too. The Portuguese desserts are diverse and incredible to make. However, most recipes are easy to make with simple available ingredients in your kitchen.
Portuguese desserts sometimes are from the adaptation of other countries to make better dishes and maintain distinctive features.
When it comes to Portuguese desserts, they can be sweets, cakes, beverages, pudding, etc. You can get a lot of options from such a good diversification. Check my post here to know what are the best Portuguese desserts to finish your meals.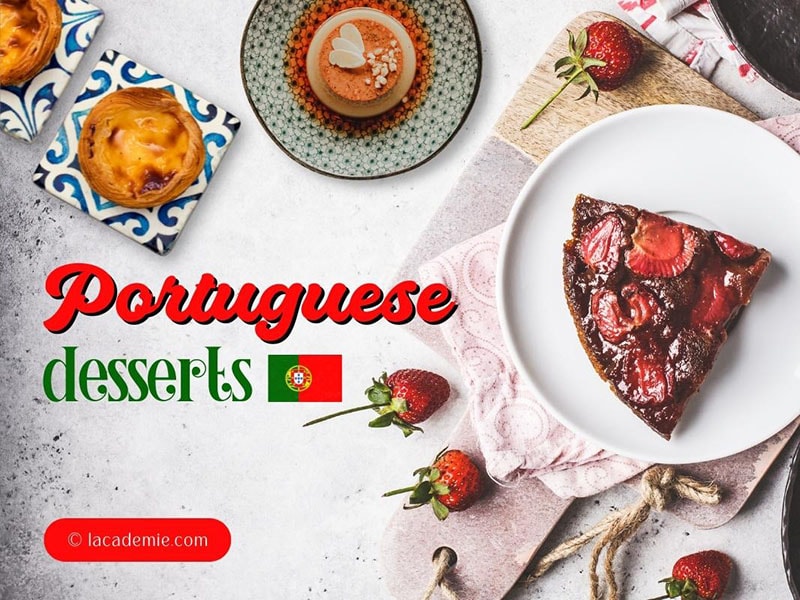 Do You Know What To Serve As Portuguese Desserts?
The list here gives you 26 Portuguese dessert ideas in 5 groups in which you can easily choose depending on your interest. Besides, it also helps you know what Portuguese desserts are presented in my article.
Portuguese Pastry And Tarts For Good Desserts
Portuguese Cheesecake Tarts (Queijadas)
Pastel Of The Nata (Portuguese Egg Custard)
Candied Gila Pastries (Folhados Doce De Gila)
Portuguese Carrot Tarts
Portuguese Puff Pastries (Travesseiros de Sintra)
Portuguese Doughnuts (Sonhos)
Insane Portuguese Cakes Are For Your Desserts
Portuguese Kings Cake (Bolo Rei)
Sponge Cake (Portuguese Pao De Lo)
Portuguese Coconut And Pineapple Cake
Portuguese Apple Cake
Portuguese Orange Olive Oil Cake
Good Portuguese Pudding And Mousse To Serve As Desserts
Portuguese Rice Pudding (Aletria)
Sawdust Pudding (Serradura)
Portuguese Chocolate Mousse
Eggless Chocolate Mousse
Insane Beverages And Cream As Good Portuguese Desserts
Portuguese Lemonade
Portuguese Strawberry Ice Cream
Portuguese Cream From Heaven (Natas Do Ceu)
Other Incredible Portuguese Desserts
Orange Roll
Portuguese Egg Yolk Confection
Portuguese French Toast (Rabanadas)
Portuguese Tea Flan
Portuguese Bread
Portuguese Rice Muffins (Bolos De Arroz)
Portuguese Meringue Kisses
26 Portuguese Dessert Ideas For Perfectly Nice Meals
These 26 descriptions about Portuguese desserts can give you background information in which you can get to know how amazing these recipes are. If you haven't chosen any Portuguese desserts from the list, continue reading to opt for the best choice.
Portuguese Pastries And Tarts For Good Desserts
Serving pastries and tarts for desserts doesn't sound strange anymore because they can be the easiest recipes you can make for your desserts in advance with convenience and then serve it many times.
Although these cheesecake tarts might not be that eye-catching, they're so delicious that these are considered a classic dish in Portuguese cuisine. Typically paired with a delightful cup of espresso, the lingering aftertaste of this Italian brew will make the tarts a thousand times better.
What makes these Portuguese cakes comforting is the incredibly beautiful honey golden brown color on the top and the cheesy, tender, and tangy texture.
However, making these cakes requires a lot of time for making pastry and cheesecake filling, so if you love eating them, just plan to make them in advance.
Treating your children with a very wonderful dessert of Portuguese egg custard is not a bad deal because these custards must be their love. Moreover, serving them with some sugar powder and cinnamon is a great way to increase the deliciousness level.
You can taste the custard better when you serve them warm, also making them a fantastic idea for cold days. Fans of desserts in the forms of custard shouldn't miss out on this recipe, as its flavor is incredibly enticing, even for those who aren't fond of sweet foods.
Almost all Portuguese cakes for serving desserts require a lot of time to finish, and these candied Gila pastries are no exception. This recipe proves that with simple ingredients but outstanding cooking methods, you can create stunning products too.
The crunchy pastry filled with a mixture of eggs as the main ideas creates fabulous pieces of cake to go alongside your meals as desserts.
4. Portuguese Carrot Tarts
These carrot tarts make a great contribution to the diversification and delight of Portuguese desserts. Using carrots to make tarts is a great way to create healthy and nutritious cakes, as carrots are helpful to reduce heart disease risks and improve eye health.
So, whenever you feel like the timespan your carrots can stay fresh is about to end, you should definitely consider making this dessert. It's a great way to make desserts healthier while using up your leftover carrots. Two birds with one stone, am I right?
The recipe is good to serve for a crowd and celebration as just take time to make the tarts one time; you can serve them to a lot of people. Moreover, compared with other cakes, this recipe is also easy and quick to finish.
Use your available carrots to make tarts in Portuguese style. You can see this video to know more:
As the name suggests, Travesseiros de Sintra is filled with a wonderful mixture of almond and egg yolks. Making these decadent puff pastry sweet treats is an easy and quick way to serve a crow. Eat these with your favorite drink like coffee or tea for the ultimate perfect flavor combination.
Doughnuts are also a simple but tasty recipe with fried triangles of dough with yeast and sugar coat. In other words, you don't have to figure out the way to make doughnuts without doughnut pans, as the treats don't have the typical O-ring shape.
While this Portuguese street delight looks quite different from the standard doughnuts you normally see every day, the treat is still airy and light with a crispy crust and puffy look. This treat takes a while to make, but it's a great excuse to get your family to enjoy cooking together.
Are Portuguese doughnuts as good as the other versions? You can see this video to know more:
Insane Portuguese Cakes Are For Your Desserts
These are some Portuguese cakes that can bring your meals a perfect ending although they look normal and are made with simple ingredients. But I think your family and your guests will love them.
This Portuguese Kings cake is the most popular cake for Christmas and Kings Day In Portugal, among thousands of others. The filling of chopped candied fruits makes the cake more appealing and hearty.
The Portuguese Kings cake can be stored in the freezer for up to two to three months, so if you don't eat it some days, just pop it up in the freezer.
If you are looking for a cake with a slightly rich, moist, and fine texture and not too sweet in flavor, this sponge cake is what you must not miss. Everything becomes more diverse when you get many sponge cake versions to change over for your meals.
However, the most remarkable one is steamed sponge cake with pandan coconut pastry cream. You can serve the sponge cake with fresh strawberries and cream to raise the flavor of the whole dessert.
The slight sourness from pineapple and the irresistible aroma of coconut milk will make your cake more appealing than many other versions. Besides adding the special cake flavor, pineapple will help you lower the risk of chronic disease because of containing antioxidants.
The best idea is to serve pineapple cake with a whipped cream topping or some fresh juicy fruits.
Apple cake made with Portuguese style is a perfect recipe for everything, from a decent snack to a wonderful dessert for any meal as it is quick and easy but ultimately has a flavorful taste and soft, dense, and tangy flavor.
Topping with fresh apples and sprinkling the cake with some golden sugar is to add the cake with better flavor.
Serve your Portuguese apple cake as your wonderful desserts for meals. You can see this video to know more:
This Portuguese orange olive oil cake is dense, moist, and flavored, making it a good dessert for almost all people. The orange juice and zest will make your Portuguese cake better and more delicious than ever.
When you're out of orange zest, there's no need to fret. There are quite a few ingredients you can use instead of orange zest, such as lemon zest, Limoncello Liqueur, orange marmalade, etc. Who knows, you might end up loving the dessert even more.
One time baking a cake, you can serve over ten people, so this recipe is very suitable for holiday parties or family reunion times.
Good Portuguese Pudding And Mousse To Serve As Desserts
If you love pudding or mousse recipes to finish your meals, continue reading this section to get dessert ideas from the wonderful cuisine of Portugal here. These dessert recipes will perfect your meals and let your hair down also.
The creamy and cheesy texture and aromatic flavor from the rice pudding will satisfy your expectation about a good dessert for your meals.
Being made with simple and easily prepared ingredients like cooked rice and eggs, the rich and custard flavor from the pudding makes it lighter than any other pudding version.
A cup of warm Portuguese rice pudding will be a good recipe for the final touch of the meal. Just try it if you haven't known about it before.
You can see this video to know more:
Sawdust pudding or serradura dessert is also considered one of the fantastic Portuguese puddings without baking. The pudding will satisfy your expectations related to beauty and flavor.
This recipe must be the favorite dessert for your kids because it contains milk, cream, and fresh strawberries, and herbs as garnish.
Mousse is one of my dessert dreams, as they are sweet and savory with whipped cream and chocolate to raise the flavor of the whole dish. Being first introduced in France, the chocolate mousse became popular across the world and has been adapted in various ways.
Portuguese chocolate mousse seems denser than the French one, making the mousse the best among many others.
How about making chocolate mousse without eggs? The good news is that leaving out eggs doesn't matter too much to the flavor of whole desserts but makes the recipe easier and simpler to make.
In spite of having no eggs, this chocolate mousse is a good and basic recipe that your family members always love. Moreover, the addition of chocolate will give the perfect texture and tangy flavor.
Insane Beverages And Cream As Good Portuguese Desserts
Portugal's classic beverages and ice cream are also good desserts as they can support the digestive system or just give your meals freshness and good flavor. Furthermore, cool drinks and ice cream are children's favorite desserts.
This lemon juice is the quickest dessert as you can get it ready in around 15 minutes for your family members. If you have problems with digestion or eat too much, a glass of lemon juice will support your digestion and control blood sugar.
Moreover, lemonade is a rich source of vitamin C, soluble fiber, and plant compounds that are beneficial to your health.
Ice cream with strawberry flavor will be a wonderful dessert for people of all ages because of its delight.
This recipe is easy and quick to make. In just about 20 minutes, you can get the recipe done; however, it needs freezing in the freezer for about 6 hours to get the best texture. Thus, if you want to serve ice cream as dessert, just plan to make it beforehand.
The Portuguese cream from heaven is also a common dessert that you can find at any Portuguese restaurant. This cream will give you a sense of heaven in every spoon; try it to get a perfect Portuguese dessert.
This cream from heaven contains layers of cookies and cream juxtaposed with each other and then tossed with sweetened egg yolks to get it ready on the meal table.
Making Portuguese cream from heaven is not complicated anymore! You can see this video to know more:
Other Incredible Portuguese Desserts
These mentioned ideas below will offer you more excellent ideas with Portuguese desserts. You might find the satisfying recipes in this section. Thus, continue reading to get more choices and choose the most suitable one now.
The best orange rolls are sticky and doughy and are coated with a comforting cheese, making the Portuguese rolls special from any other versions. Besides, the addition of orange juice makes the rolls soft and spreadable texture.
The recipe for orange rolls will be perfect for any holidays and family even as you don't need to spend a lot of time making for many people as other dessert recipes.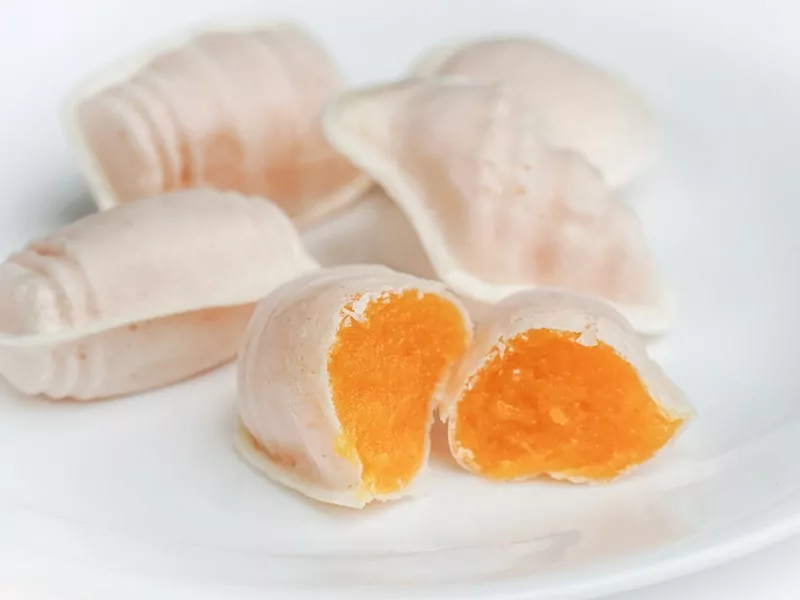 No one refuses to eat this dessert recipe even the first time seeing it because Portuguese egg yolk confection has a smooth and sweet texture and crunchy shell crust, making it a favorite food for your children.
This dessert is sure to satisfy your family members and guests, but you can make it with ease and convenience. Besides, egg yolks are much healthier than egg whites when they can provide your body with iron, folate, and vitamins.
To get the Portuguese French toast, what you need to do is fry marinated bread slices on both sides and then dip them in a cinnamon-sugar mixture to get a decent dessert. You can serve the toast with fresh fruits to get the best flavor.
Nothing is better than serving rabanadas immediately after taking them out from the skillets. The bread will supply your body with fiber, sugars, sodium, and many other nutrients, together with other main dishes to get a balanced meal.
Being one of the most delicious cakes, Portuguese tea flan will be an excellent idea for desserts. The smooth and dense texture with irresistible aroma together with wonderful main savories create a perfect meal for your family members.
Moreover, what makes the flan special is the addition of green tea leaves because they mainly add your flan with a comforting aroma.
You can get a better flavor when serving the tea flan with golden brown sugar liquid at a cool temperature.
Bread is one of the common Portuguese desserts globally that can be served with butter to get a better flavor. The bread is tasty and delightful to eat but so easy and simple to finish, making it an ideal idea for your family's desserts.
Portuguese bread requires about three hours to complete everything, but most of the time, you let the dough chill to get the flavorful texture, so if you love the recipe, just plan to make it beforehand.
Being a traditional Portuguese recipe, the muffins with rice flour have a tender but heavenly crumb and flavorful taste, making them the best treat for your breakfast. Moreover, the sugar crust on the top adds a slight sweetness and makes these muffins lighter.
You can store these muffins for one to two days, so if you like to serve them as desserts, just make them and store them in airtight containers.
Oh my gosh, this must be the best Portuguese dessert ever that I've known with simple ingredients. If you're a sucker for cream cakes like me, you won't regret adding these meringue kisses as the final touch of your meals.
I used to recommend my sister to make these tarts for her children, and from that, they always ask her to make them for desserts or even snacks because they are very delightful, hearty and appealing to eat.
Portuguese chocolate salami is an Italian sweet that has rich and flavorful chocolate and crunchiness from biscuits. Chocolate is a good ingredient for your health when it can aid in reducing cholesterol levels and prevent your brain from declining memory.
These Portuguese sweets will be the favorite go-to dessert of your family members and satisfy their craving without hitting your waistline.
How About Other Portuguese Desserts?
It is a fact that my list of Portuguese desserts doesn't contain all Portuguese desserts, but it also gives you the yummiest with the easiest cooking method so that you can finish your meals.
However, if you can't find your favorite recipe from my suggestions, just feel free to share it with me, and I'll add it to my list as soon as possible. And if you find my post helpful, help me to share it with your relatives.
Nutrition Facts
16 servings per container
---
Amount Per ServingCalories151
% Daily Value *
Total Fat 3.9g

6

%
Cholesterol 59mg

20

%
Sodium 100mg

5

%
Potassium 25mg

1

%
Total Carbohydrate 26.7g

9

%

Dietary Fiber 0.2g

1

%
Sugars 22.1g
---
* The % Daily Value tells you how much a nutrient in a serving of food contributes to a daily diet. 2,000 calories a day is used for general nutrition advice.