Portuguese desserts are more than just a symphony of flavors and textures; they are also a celebration of the country's rich cultural heritage, with influences from the Moors, the Age of Exploration, and even the monastic traditions.
From the bustling city squares of Lisbon to the azure waters of Madeira island, each region contributes its distinct flavors and techniques to the rich tapestry of Portuguese culinary art. Prepare to be enchanted as you immerse yourself in the country's unforgettable desserts!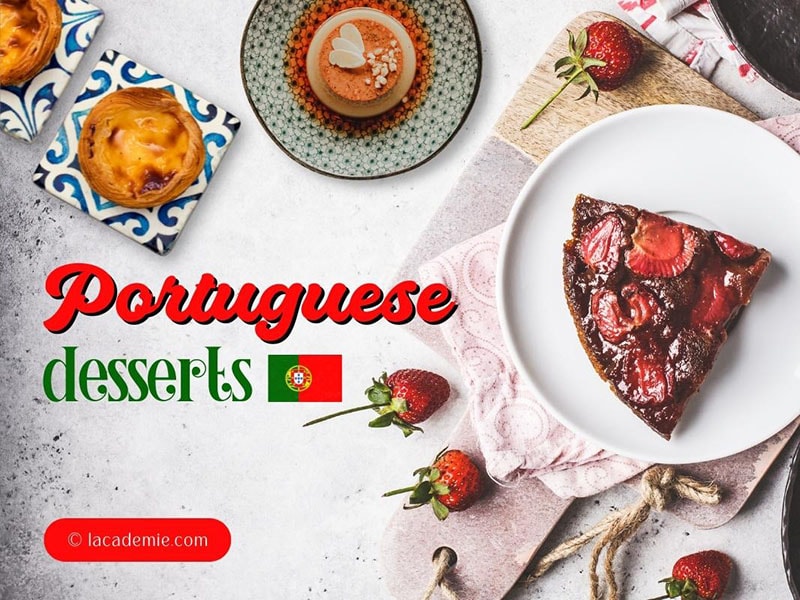 Overview of Portuguese Desserts
What comes to your mind at the mention of desserts from this Iberian country? Is it the custard tart made by nuns long ago? There is much more to the topic than you can imagine.
The Importance Of Monastic Tradition
Medieval monasteries played an important role in the development of many European desserts, but they had a particularly pronounced effect on Portuguese cuisine. Many of the country's most famous pastries are the creations of nuns and monks who lived centuries ago.
There is even a term for this category: doçaria conventual (conventual sweets). For centuries, they were only popular among their makers and their associates; the recipes didn't travel far from the confines of their respective monasteries.
However, since the 1830s, when Portuguese monasteries and religious orders lost their privileges and, consequently, faced economic hardships, nuns and monks began selling conventual sweets, thus contributing many great desserts to mainstream Portuguese cuisine.
Popular Ingredients
The most crucial ingredient in Portuguese pastries is undoubtedly egg yolks. If you ever wonder why many treats from this country have such a golden look and a rich flavor, egg yolks are the answer.
In the Middle Ages, monks used egg whites to starch their religious garments (which means to stiffen the clothes to make them look good or easier to iron). To deal with the leftover egg yolks, they turned them into cakes and pastries, hence their popularity.
As Portugal started the Age of Discovery, it soon discovered many exotic condiments, which it brought back home and used in the desserts.
Cane sugar from the Americas and spices from Asia (such as aniseed, cloves, allspices, and cinnamon) eventually made their way to Portuguese sweet treats.
Meanwhile, as Muslim people ruled Portugal from the 8th century to the 12th century, Moorish cuisine imparted rice, many seasonal fruits (like sour oranges, lemons, or watermelons), and other things to Portuguese cooking.
Another factor to consider is the cakes and candies from other European countries, especially France. Whipped cream, pastry cream, meringue, and the like are present in many Portuguese recipes. You can easily find treats resembling éclairs, brownies, and the like all over Portugal.
Top Sweet Delights From The Land Of Fado
Here is a comprehensive list of what you should enjoy for the sweet course in Portugal.
Portuguese Tarts And Pastries
1. Queijada (Portuguese Cheesecake Tarts)
2. Pastel de Nata (Portuguese Egg Custard Tart)
3. Travesseiros de Sintra (Portuguese Puff Pastries)
4. Tarte de Maçã (Apple Tart)
5. Sonho (Portuguese Doughnuts)
6. Bolos de Arroz (Portuguese Rice Muffins)
7. Pastel de Feijão (Crispy Dough Pastry With Navy Bean Jam)
8. Jesuíta (Glazed Puff Pastry Filled With Cinnamon Egg Cream)
9. Bola de Berlim (Portuguese Custard-Filled Doughnut)
10. Tarte de Amendoa (Almond Tart)
11. Bolo-Rei (Portuguese Kings Cake)
12. Broa de Mel (Sugarcane Honey Cookie)
13. Bolo de Mel (Madeira Honey Cake)
14. Bolo de Bolacha (Biscuit Cake)
15. Pão de Ló (Portuguese Sponge Cake)
16. Suspiros (Meringue Cookie)
17. Toucinho do Céu (Portuguese Almond Cake)
Portuguese Puddings
18. Aletria (Sweet Vermicelli Dessert)
19. Serradura (Sawdust Pudding)
20. Natas Do Ceu (Portuguese Layered Cream Dessert)
21. Arroz Doce (Rice Pudding)
22. Leite-Creme (Crème Brûlée)
23. Pudim de Ovos (Caramel Custard Pudding)
24. Molotof (Portuguese Meringue Pudding)
Other Portuguese Desserts
25. Ovos Moles de Aveiro (Portuguese Egg Yolk Confection)
26. Rabanadas (Portuguese French Toast)
27. Salame de Chocolate (Portuguese Chocolate Salami)
28. Mousse de Chocolate (Chocolate Mousse)
29. Pão Doce (Portuguese Sweet Bread)
30. Papo de Anjo (Portuguese Whipped Egg Yolk Dessert)
31. Dom Rodrigo (Pyramid-Shaped Dessert From Algarve)
32. Pêras Bêbedas (Drunk Pear)
33. Folar de Páscoa (Portuguese Easter Bread)
34. Baba de Camelo (Caramel Sauce Dessert)
35. Cavacas (Portuguese Popovers)
Portuguese Tarts And Pastries
Some of the most popular desserts in Portugal fall into this category. Their richness and attractive look won't disappoint you!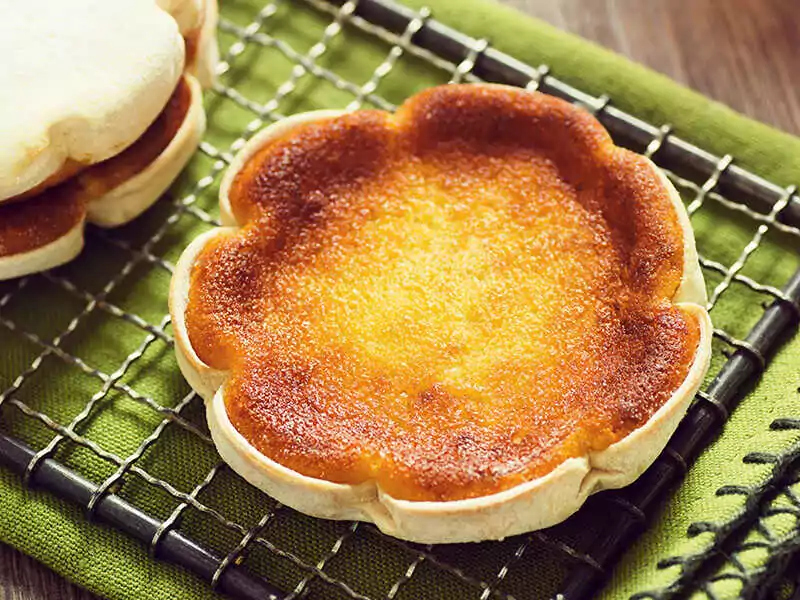 Originating from the town of Sintra, this cheese tart delight is now a beloved dish in many regions of Portugal. It is also a must-try dessert in Brazil and many Portuguese-speaking territories.
Queijada is a fluffy, buttery pastry crust filled with a blend of fresh cheese, sugar, eggs, and sometimes cinnamon or lemon zest. Queijadas de Laite is a different take on the classic recipe, adding a milk custard filling to the tart.
While numerous variants exist across the regions, they are often enjoyed with a cup of coffee or tea.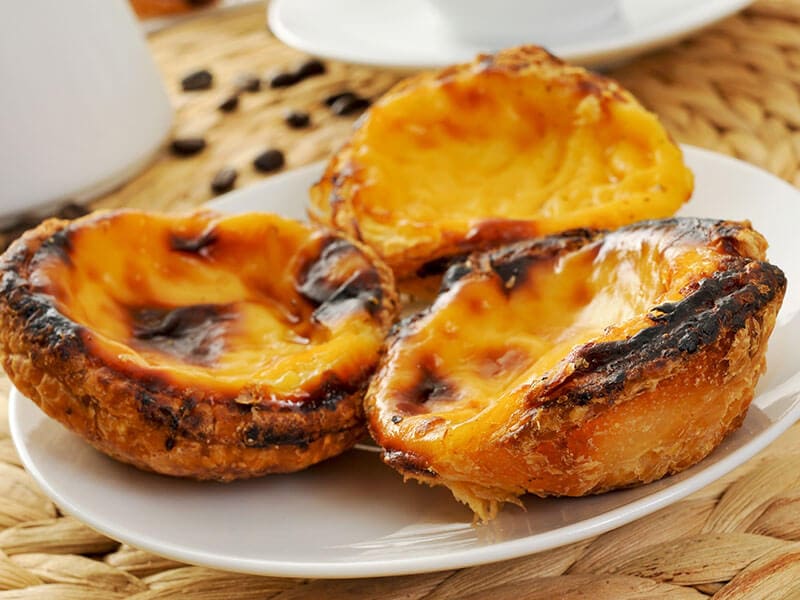 Undisputedly the most famous sweet treat in Portugal, this irresistible combo of a flaky pastry crust and smooth custard filling can be found anywhere in the Iberian country. Many travel guides unanimously recognized the pastry shop Pastéis de Belém in Lisbon as an excellent place to try it.
Often called "Pastel de Nata" or "Pastéis de Nata" in plural forms, Pastel de Nata has an interesting history. It was invented in the 18th century at the Jerónimos Monastery in Lisbon as a means to use up the excess egg yolks.
The tarts are characterized by their golden-brown crust and creamy custard center, with a slightly caramelized top. While ordinary tarts derive their deliciousness from cream or milk, the Portuguese delight's reliance on egg yolks brings about a creaminess hard to replicate.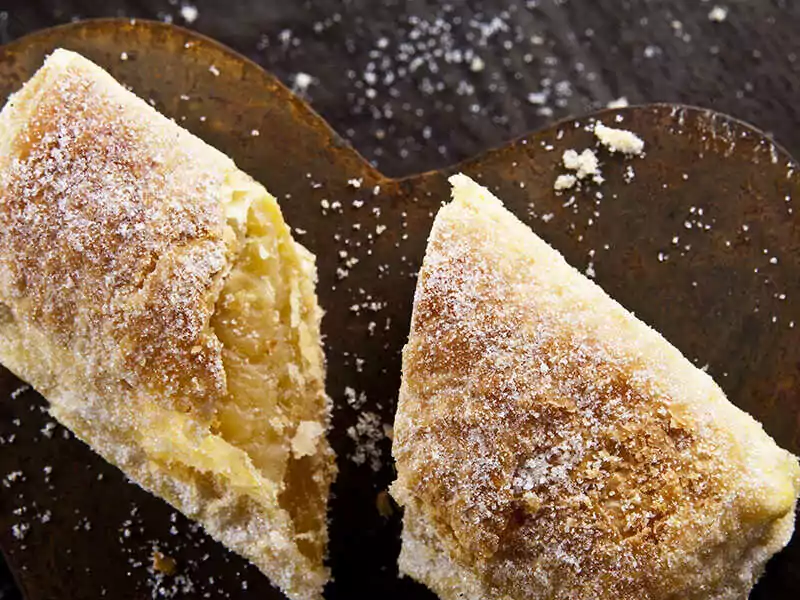 Here is another perfect pastry you can buy in Sintra as an amazing gift for your friends and family. It is a staple of the local pastry shop Casa Piriquita, which was opened in the 1860s and was a favorite bakery of King Carlos I, Portugal's second-to-last king.
The name "Travesseiros" means "pillows" in Portuguese, reflecting the puff pastry's shape and fluffy texture. The golden-brown treat is filled with a sweet almond and egg yolk mixture, giving it a delightful sweetness suitable for any meal or occasion.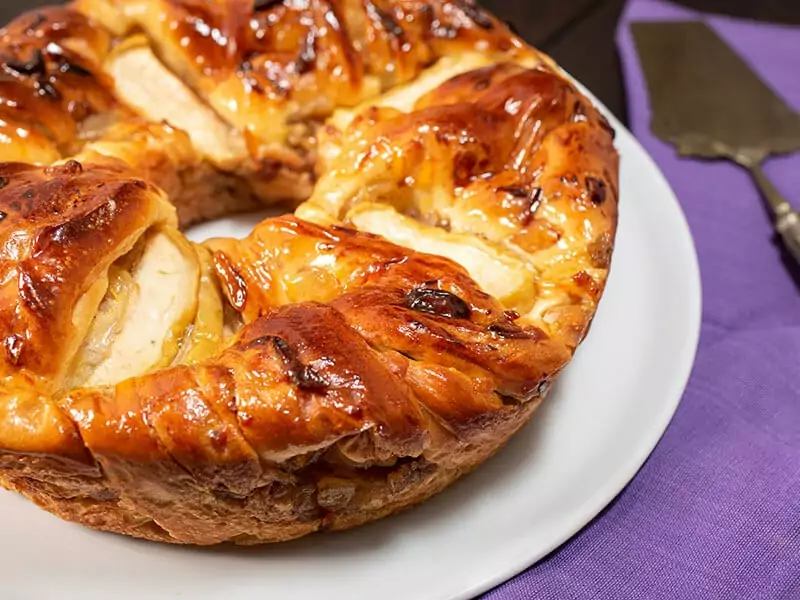 Tart de Maçã is the Portuguese take on the classic apple tart. It includes all the standard ingredients, such as apples, sugar, butter, lemon juice, and spices (especially cinnamon). Some variations may include nuts and raisins.
While Portugal doesn't have a widely agreed national fruit, apples are one of the most popular fruits in the country. There are many cultivars to find in any Portuguese market, such as Gala, Granny Smith, Fuji, or Golden Delicious, making it easy to prepare a perfect Tarte de Maçã.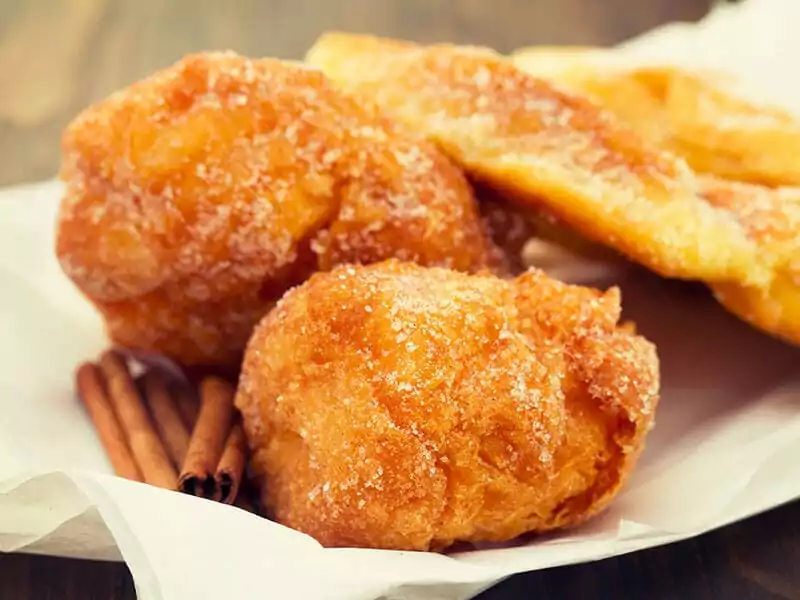 Doughnuts for Christmas, why not? Portuguese people seem to think it is a wonderful idea. They often prepare deep-fried doughnuts, which are always rolled in a mixture of sugar and cinnamon before serving, for this special occasion. In fact, Christmas is almost the only time you can try it.
Sonho is already sweet but can go with honey or fruit jam for extra deliciousness. This fried dough pastry boasts an exciting taste and name: "Sonho" is the Portuguese word for "dream." Sonho de Banana is a Latin American version that adds bananas to the recipe.
Are Portuguese doughnuts as good as the other versions? Let's prepare them at home and see for yourself!
If you're tired of soft desserts, this crunchy-on-the-outside, tender-on-the-inside rice muffin will be a revelation. Though the name translates to "rice cakes," it is more akin to a cupcake in shape.
The key ingredients in Bolos de Arroz are rice flour, all-purpose flour, eggs, butter, milk, and lemon zest. Still, you can find recipes enriched with vanilla extract or almond extract. Some rice muffins might include a filling, such as chocolate or fruit preserves.
To make a batch of gluten-free Bolos de Arroz, you just need to remove wheat flour from the recipe.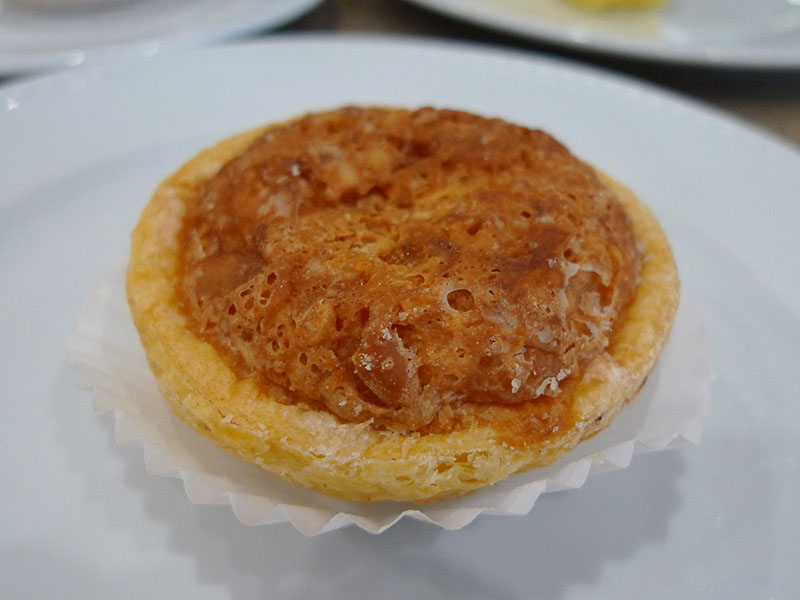 Hailing from the town of Torres Vedras, this unique dessert has won the hearts of locals and tourists alike since the early 20th century.
While Pastel de Feijão boasts a tender, golden crust like other Portuguese tarts, what makes it different is the inclusion of navy bean jam in the smooth, creamy filling. This ingredient nicely complements the sweetness of the mixture of sugar, almonds, eggs, and lemon zest.
Other than the white bean, you can find bean varieties of different colors in Pastel de Feijão. For example, the Brazilian variation contains black beans.
Jesuíta is a crispy Portuguese pastry with a triangular shape, which could be the origin of its name (the triangular shape of the hat worn by the members of the Jesuit order).
Although many people think Jesuíta was originally a French or Spanish creation, some cake stores in Porto started selling it in the 1890s. So there is a possibility that Jesuíta originated from Portugal.
But you are probably more interested in how good Jesuíta tastes. The answer is a lot. This dessert is a melange of flaky puff pastry and almond-added egg yolk cream, which provides a perfect balance of crunchiness and creaminess. Some recipes include egg wash for extra crunchiness.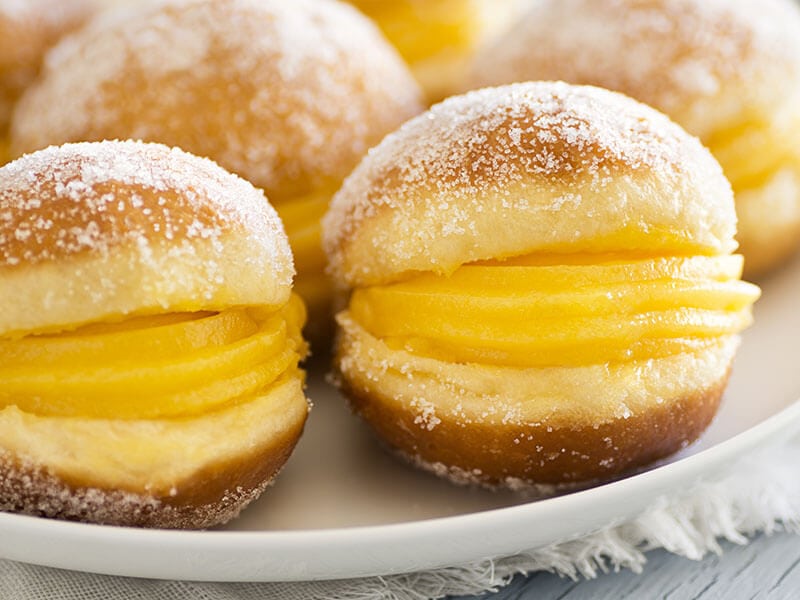 Inspired by the finger-licking German dessert Berliner, Bola de Berlim is a staple in countless bakeries and cafés throughout the country. But many people think that munching on this sweet treat while sunbathing on the gorgeous beaches in the southern region is a great delight.
This doughnut-like treat boasts a golden-brown and pillowy exterior dusted with powdered sugar and a sweet, creamy egg yolk custard inside. This Portuguese choice of filling marks a significant difference from the dessert's German counterpart, which typically has icing or fruit jam.
Still, you can run into Bola de Berlim filled with chocolate, Nutella, or other sweet ingredients these days, especially while lolling along the coast.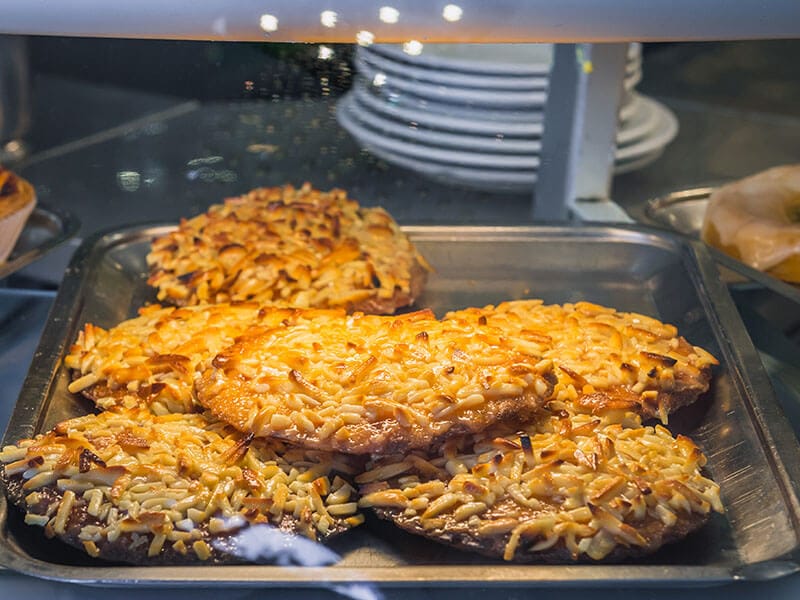 This Portuguese recipe is a wonderful way to celebrate amendoa (almonds), one of the most important crops in the Iberian country. Nobody knows with certainty where or when Tarte de Amendoa first appeared, but it's a widely prepared dessert all over the country.
The main ingredients for the tart include flour, butter, sugar, eggs, and almonds. The pastry crust is traditionally made with flour, butter, and sugar, while the filling blends ground almonds with sugar and eggs. A touch of citrus zest or spices is a welcoming addition.
The following Portuguese cakes and cookies will bring your meals to a perfect conclusion. Let's try them!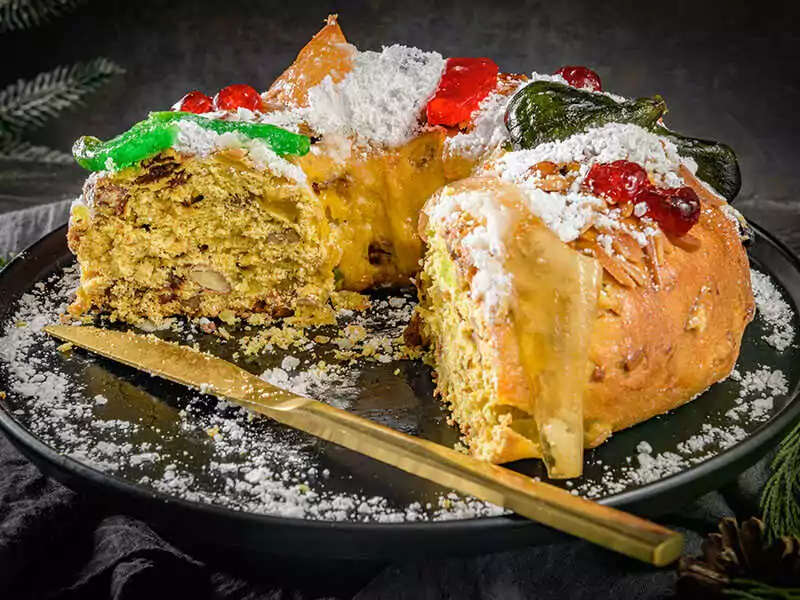 The king cake (or three kings cake) is a popular Christmas dessert in various Christian countries, including Portugal. Its variation came from the French version (Galette des Rois) around the 19th century.
A distinctive feature of Bolo-Rei is its crown-like shape and the diversity of ingredients for the filling, such as nuts (walnuts and pine nuts), dried fruits (raisins and figs), and orange peel. The lightly spiced cake is typically finished with a light dusting of powdered sugar for a snow-like appearance.
Bolo-Rei is not just a delicious dessert but also an interesting tradition. It often contains a dried fava bean and a metal charm or token. The person who discovers the fava bean in their slice is expected to buy or make the Bolo-Rei the following year.
Meanwhile, whoever finds the metal charm will have good luck. This custom is a reason for fava beans to appear in many Portuguese expressions with negative meanings. A well-liked version of Bolo-Rei is Bolo Rainha (queen cake), which features more nuts than fruits.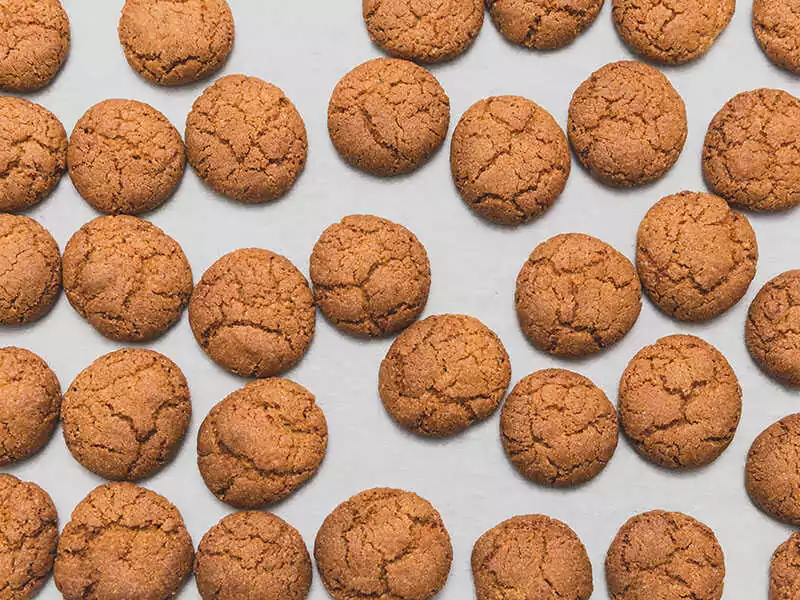 A temptation from the picturesque Madeira archipelago, Broa de Mel is a traditional Portuguese cookie that tourists love to try. While the word "mel" means "honey" in Portuguese, this treat doesn't contain the golden liquid. Instead, it is sweetened with sugarcane honey.
Also known as molasses or black syrup, sugarcane honey is the concentrated juice of sugar cane, a specialty from Madeira and Málaga (Spain).
Since sugarcane honey is very sweet and dark, it imparts a mellow flavor and an ebony hue to the crispy Broa de Mel. But this cookie isn't all about sweetness: it also includes butter, eggs, and spices (like nutmeg and loves) for a more diverse flavor profile.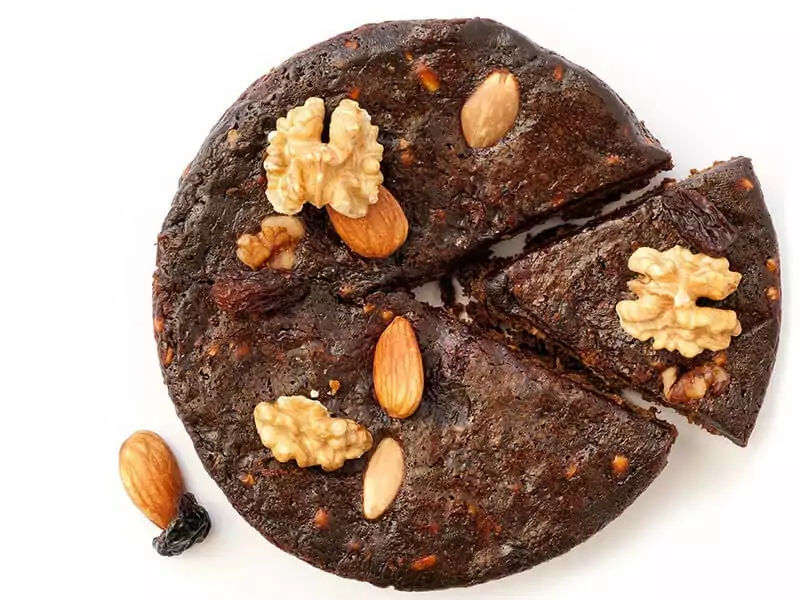 Bolo de Mel is another delectable molasses-added dessert from Madeira. With roots dating back to the 15th century, this rich, dark cake is one of the oldest recipes in Madeira and is a testament to the island's abundant sugar cane production.
Many people believe that it came from the Convent of Santa Clara in Funchal. Some modern recipes do away with molasses and use real honey, a method that fits the name. However, to retain the cake's iconic dark appearance, they often go for a mix of brown sugar and dark honey.
Though suitable for year-round meals, Bolo de Mel is traditionally associated with Christmas and New Year's festivities. The large amount of nuts and spices(such as allspices, cloves, or cinnamon) gives it an irresistible aroma.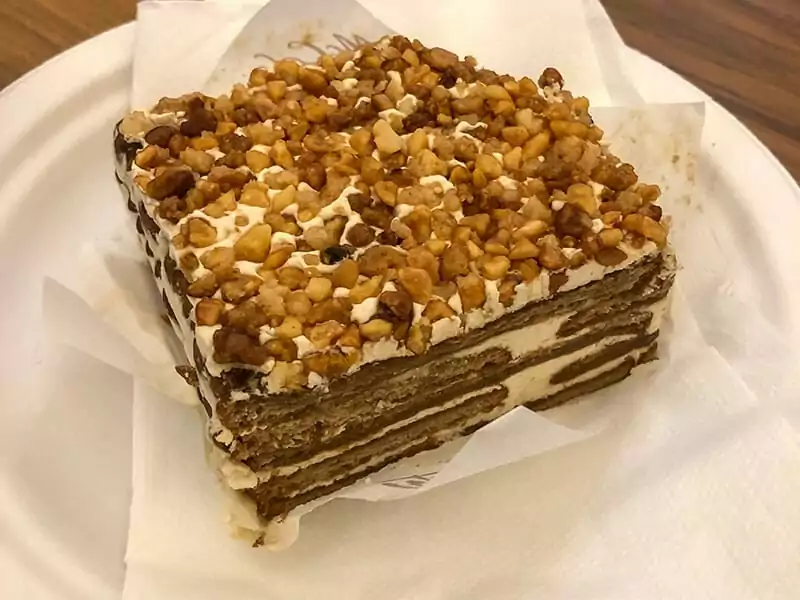 Here is another Portuguese dish you can prepare with Maria biscuits. Bolo de Bolacha requires no baking and can serve any occasion during the year.
It is a layered dessert like Serradura but with more diverse ingredients. Besides biscuits, you also need robust coffee and a rich buttercream filling made of unsalted butter, sugar, and eggs.
After a few hours of refrigeration, the cake can be topped with grated chocolate, crushed biscuits, or cocoa powder, and then you can dig in!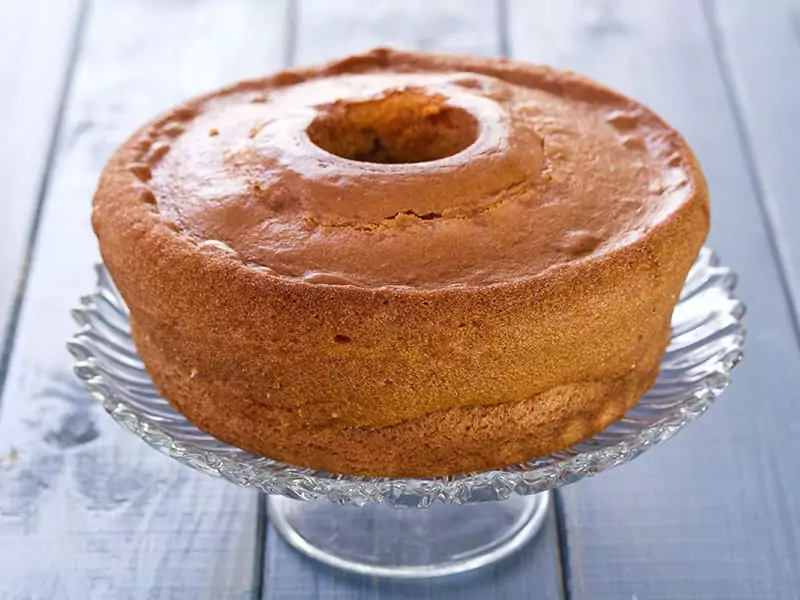 If you love Kasutera (castella cake), a toothsome dessert from Japan, I have an interesting fact for you: it actually originated from the Portuguese sponge cake known as Pão de Ló.
But Portuguese people didn't invent the cake out of thin air: they probably adopted it from a French recipe, which in turn might have come from an Italian dish. This illustrates perfectly the role of cultural exchange in culinary development.
Pão de Ló boasts a beautiful golden-brown color, with a slightly crisp exterior and a soft, moist interior. You can enjoy it on its own or with a variety of fruit preserves or sweet sauces.
There are several regional variants of Pão de Ló throughout Portugal. A famous variety is the Pão de Ló de Ovar from the city of Ovar, which is exceptionally moist and almost custard-like in the center.
Another variation is the Pão de Ló de Margaride from Margaride, a locality in Porto District. It boasts a firmer texture with a hole in the middle and is baked in a traditional wood-fired oven.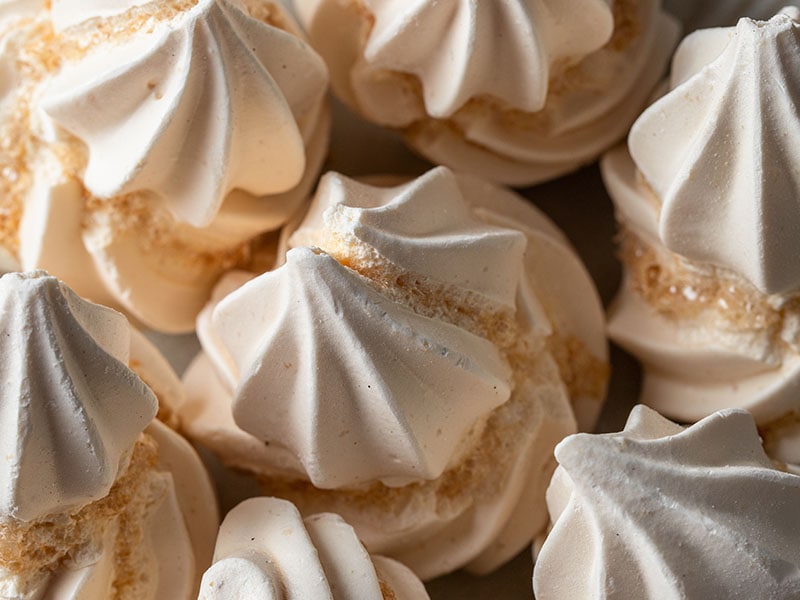 Though egg yolks dominate the world of Portuguese sweet treats, you can still find tasty desserts based on egg whites. The most popular example is probably Suspiros (literally "sighs"), melt-in-your-mouth meringue cookies known for their light texture and sweet taste.
People sometimes call it Suspiros de Amêndoa or Suspiros de Noz when almonds or walnuts are added to the meringue mixture. The cookies are usually white in color, but a touch of food flavoring will make them as pretty as colorful macarons.
Besides Portugal, Suspiros are enormously popular in many Latin American countries, such as Bolivia or Ecuador.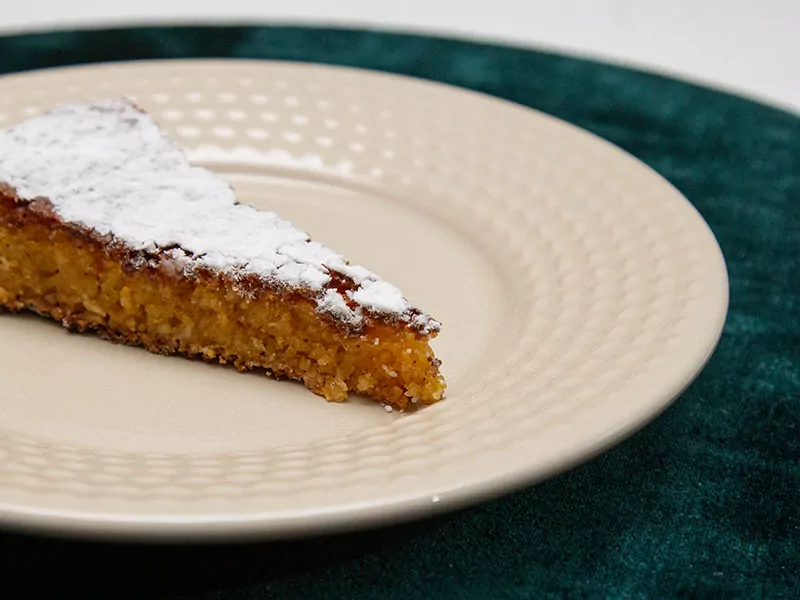 Since Toucinho do Céu means "bacon from heaven," you may think of it as a savory dish. But this dessert is the same case as Salame de Chocolate: it is actually a type of almond cake that boasts a rich, indulgent taste reminiscent of bacon's decadence.
The sensation comes from a combo of ground almonds, sugar, egg yolks, cinnamon, and butter. Some recipes even replace butter with pork lard for a heavier flavor. This ingredient might have been the reason for the dish's interesting name.
You can find various versions of Toucinho do Céu all over Portugal, but Guimarães, a culturally important city in the northwestern region, is probably home to the most famous one.
Portuguese Puddings
From creamy custard to crumbly cookies, Portuguese puddings incorporate various textures and flavors. A look at these recommendations will show you how.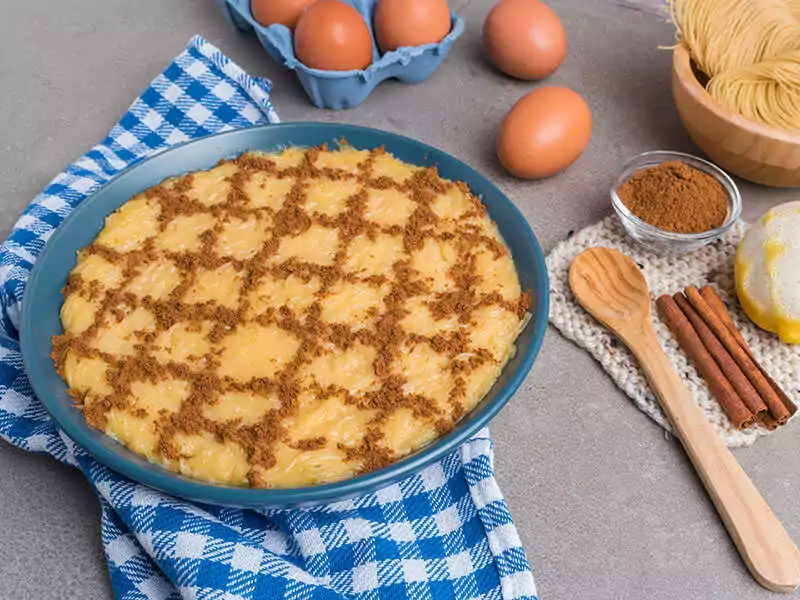 Derived from the Arabic word "iṭriyah," Aletria means "vermicelli," "noodle', or "pasta" in Portuguese. At the same time, it is also the name of a popular Portuguese dessert dating back to the 14th century or earlier.
Locals whip it up by cooking thin, angel hair pasta in a sweet sauce of milk and egg yolks to create a creamy, golden pudding-like dish. Some lemon zest and cinnamon will significantly improve the flavor. This festive dessert is often served during the holiday season, particularly at Christmas.
This tutorial will show you the best way to prepare Aletria.
Don't be alarmed by the name of palatable pudding! There is no actual sawdust in it; Serradura consists of alternating layers of creamy whipped cream and finely crushed Maria cookies. Since the latter looks similar to sawdust, the catchy name became associated with it.
Although the classic version only employs Marie biscuits and whipped cream, you can add your favorite ingredients, such as Oreos or matcha-flavored cream, to diversify the taste. Outside Portugal, Serradura is a particularly sought-after dish in Macau.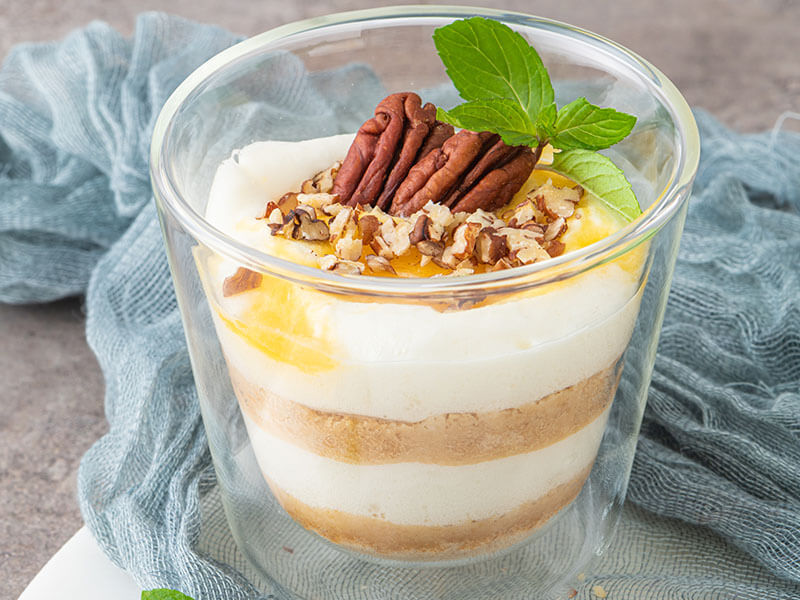 Literally "heavenly cream," Natas do Céu is as toothsome as its name implies. Like Serradura, this layered dessert encompasses whipped cream and crumbled cookies. But to make Natas Do Ceu, you have to top the cream with yellow egg cream and put the cookies at the bottom.
The result is a decadently sweet and fatty dessert that your taste buds aren't going to forget. Some people describe it as having the same flavor as Natillas, a category of superb Spanish desserts with custard.
It is mostly served at a Christmas party, though you can make your daily meal more exciting with this celestial name.
Making Portuguese heavenly cream is not complicated anymore when you have this guide at hand!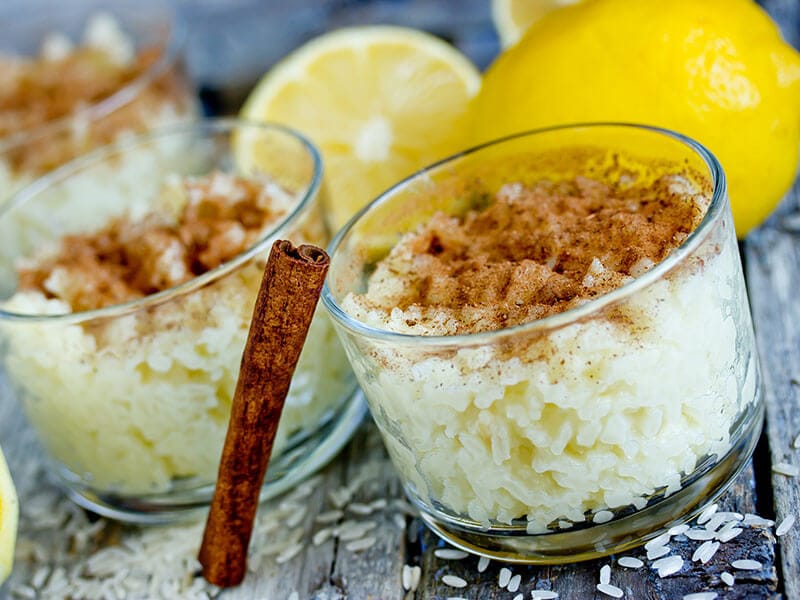 Rice puddings are a universal crowd-pleaser in many cuisines, from East Asia to the Middle East. So how does the Portuguese version stand out? The answer lies in how it skillfully mixes egg yolks, sugar, milk, cinnamon, and, occasionally, nutmeg together.
While the ingredients sound like the Spanish rice pudding Arroz con Leche, Arroz Doce boasts the Portuguese twist of combining egg yolks with cooked rice for extra creaminess.
Although Arroz Doce is typically served during festive occasions, such as Christmas, it can also be found in everyday Portuguese meals. Alternative versions may include almond or coconut milk. One popular variation in the Azores (as well as in Brazil) incorporates condensed milk.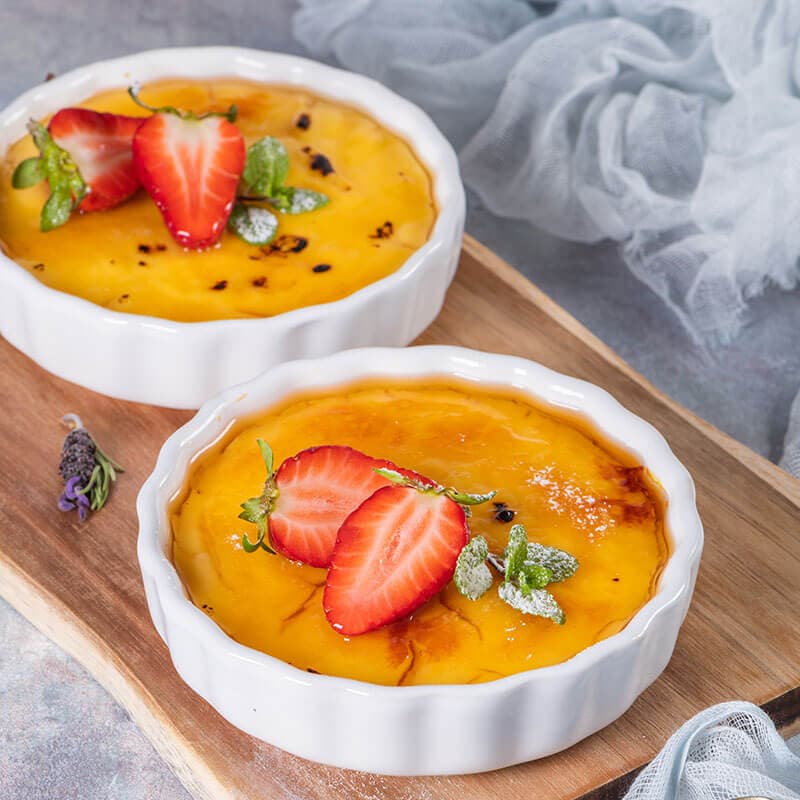 You may be familiar with the French dish Crème Brûlée, but how about the Portuguese version? With a name meaning "cream milk" in English, Leite-Creme offers a silky smooth custard base and a caramelized sugar topping, which provides an alluring contrast in both flavor and texture.
The dish is still composed of popular baking ingredients, such as milk, egg yolks, sugar, and cornstarch. To caramelize the sugar directly on the custard, however, locals use a kitchen blowtorch or a specialized tool called a ferro de leite-creme.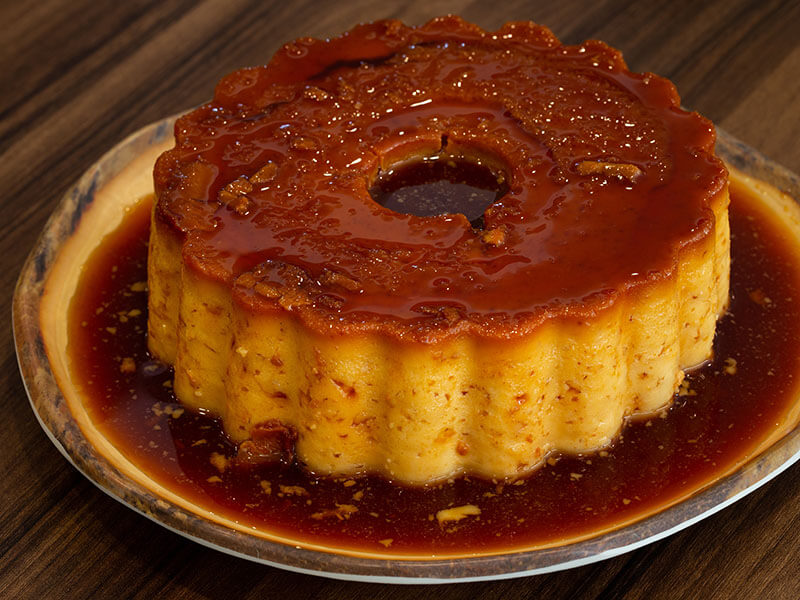 A rich and delightful Portuguese treat, Pudim de Ovos features a delectable egg custard. It is known for its smooth texture and delicate, sweet flavor; some people describe this Portuguese pudding as "eggs-tra sweet."
The dessert is characterized by its deep yellow hue, which comes from the egg yolks used in the recipe.
While the exact origins of Pudim de Ovos are unclear, it is probably influenced by the conventual desserts of Portugal, which were famous for their use of egg yolks. This golden dessert was only for special occasions in the past, but you can enjoy it anytime nowadays.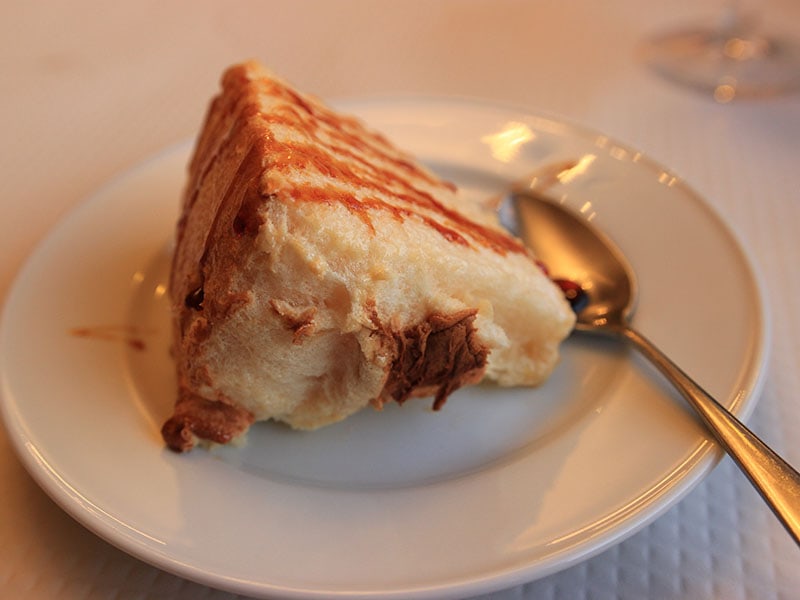 Unlike many popular desserts from Portugal, Molotof is a light and airy concoction made from whipped egg whites and sugar. As a result, it is sometimes called "Pudim de Claras" (egg white pudding).
Another common name for the pudding, especially outside Portugal, is Pudim Molotov (due to the similar sound between Molotof and Molotov). While the origin of Molotof is shrouded in mystery, it is an undisputedly beloved dish in Portuguese households.
When it comes to preparing this simple dessert, the key lies in whipping the egg whites to stiff peaks (with absolutely no oil or water) before gently folding in sugar. The mixture is then poured into a caramel-lined mold and baked in a water bath to ensure even cooking.
Other Portuguese Desserts
The ideas below will offer you more excellent ideas for sweet treats. Read on, and you will find many delightful desserts to experience.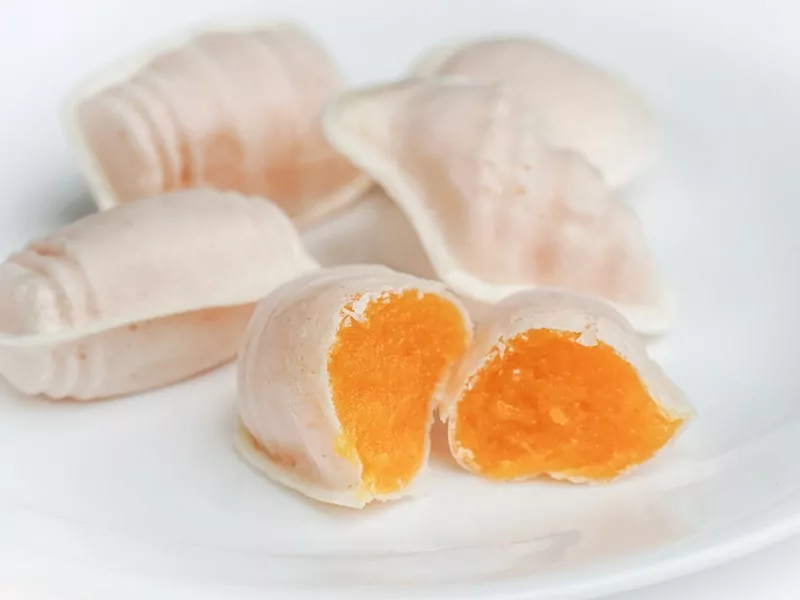 The city of Aveiro is famous for many things: Nouveau architecture, the canals that give it the nickname "The Venice of Portugal," and the delectable dessert bearing its name, Ovos Moles de Aveiro ("soft eggs from Aveiro"). Many people simply call it Ovos Moles.
This delight features a sweet, rich, and velvety egg yolk filling enveloped by a delicate, wafer-thin rice-based or wheat flour-based casing.
As one of Portugal's finest conventual sweets, Ovos Moles de Aveiro owes its existence to the nuns of local convents who came up with it in the 16th century.
Besides the traditional creamy egg yolk filling, Chocolate Ovos Moles is also a variation worth checking out. Be it eggy or chocolatey, the dessert often comes in the shape of seashells, fish, or boats, as a nod to Aveiro's coastal location and maritime history.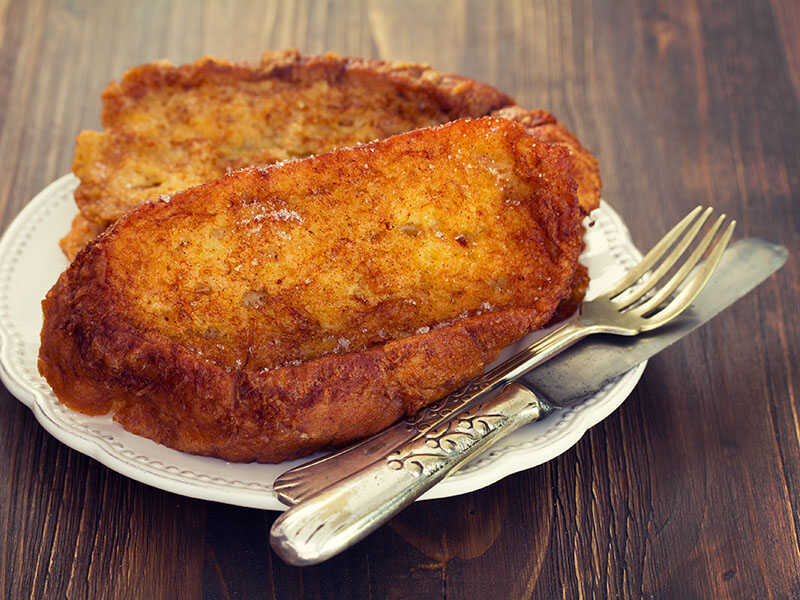 You may eat French toast for an ordinary breakfast and brunch at home. But in Portugal and Brazil, it is a Christmas classic, where French toast goes by the name of "Fatias Douradas" ("golden slices").
Locals prepare it by soaking thick slices of day-old bread in a mixture of milk, sugar, and spices (such as cinnamon or vanilla). Next, the bread slices are dipped in beaten eggs and fried in oil or butter until golden brown before being rolled in a cinnamon-sugar mixture.
The final result is a tender, custard-like interior encased in a crispy, aromatic exterior. A sweet rice pudding (Arroz Doce) or a dollop of fruit jam/ port syrup is the perfect side to go with it.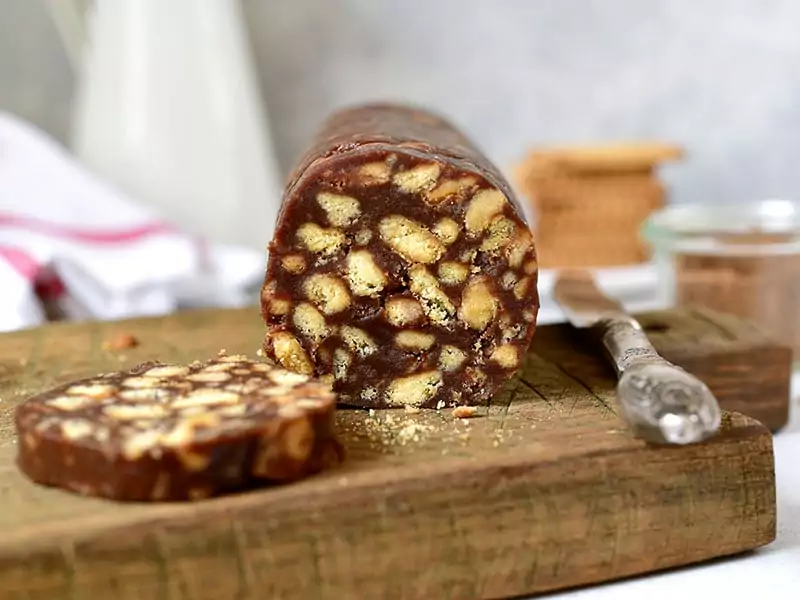 Chocolate salami is a sweet treat worth discovering in Portugal. It is also known as a delightful dessert in Italy and many European countries. This no-bake dessert calls for nothing more than dark chocolate, melted butter, beaten eggs, and broken biscuits or cookies.
The first step is to mix the first three ingredients together, then add cookies and any optional add-ins you like (like nuts or dried fruits). Then, shape the mixture into a log, wrap it, and refrigerate until firm.
When cut into slices, Salame de Chocolate bears a striking resemblance to salami, complete with pieces of "white fats" (from cookies or nuts). You can try giving it to your friends to see if they can notice the difference! It will make a nice departure from ordinary chocolate truffles.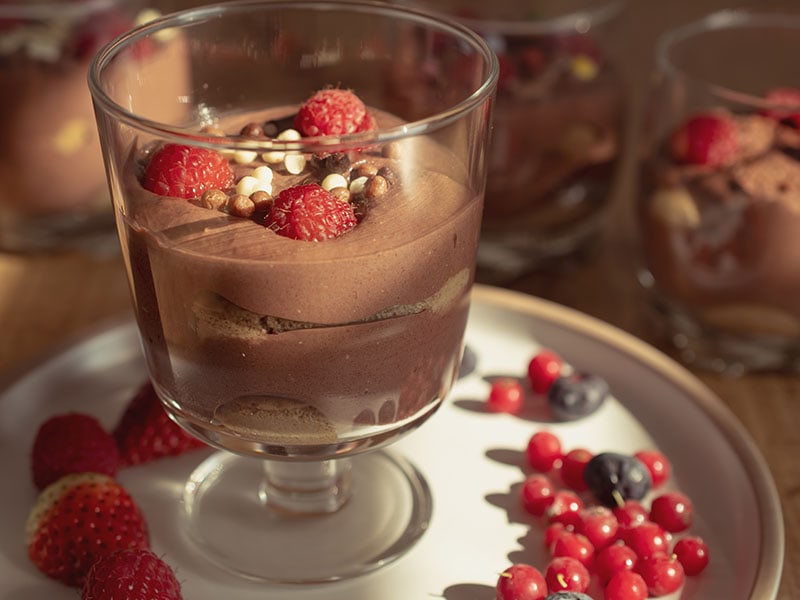 Originally a heavenly dessert from France, mousse is now a beloved sweet treat in Portuguese cuisine. From casual family dinners to romantic dinners, this light and airy dessert can suit every mood and purpose.
At its core, chocolate mousse is a simple dessert with a few key ingredients: chocolate, heavy cream, and eggs. To fancy it up, you can add coffee, liqueur, spices, or fruit/ nut garnishes. They all mix flawlessly with the smooth, velvety texture and rich chocolate flavor of mousses.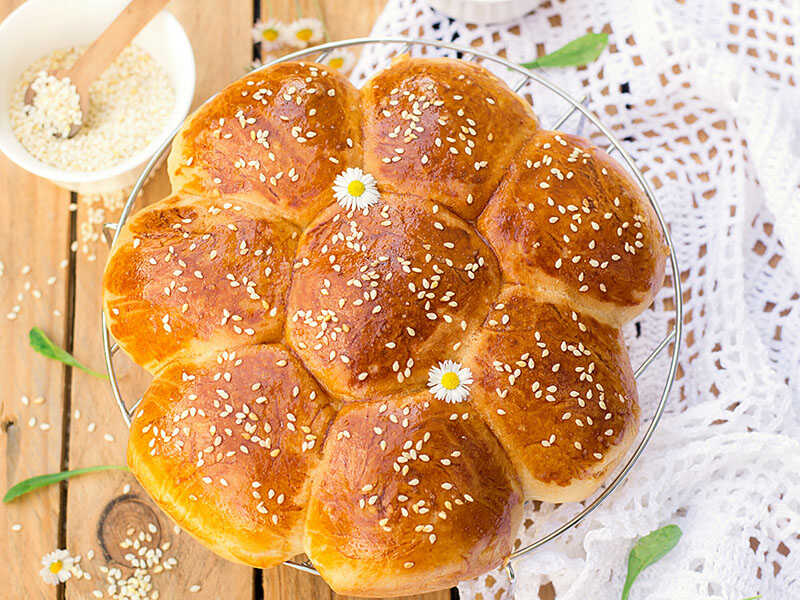 While Pão Doce is a wonderful Christmas dessert from Portugal, it is such an important dish in Hawaiian cuisine that many people like to call it Hawaiian rolls. Next time you come across this name at a supermarket, don't forget its European origin!
You can find Pão Doce in many regions of Portugal, but it is most popular in Madeira and the Azores, where it also goes by the name of Massa Sovada. Its golden-brown exterior and soft, fluffy interior make it a perfect treat to go with Arroz Doce or butter.
Besides the richness of butter, eggs, and milk, many recipes also incorporate the fragrance of nutmeg and cinnamon or the sweetness of candied fruits. However, traditionally Pão Doce can go stale and harden rather quickly.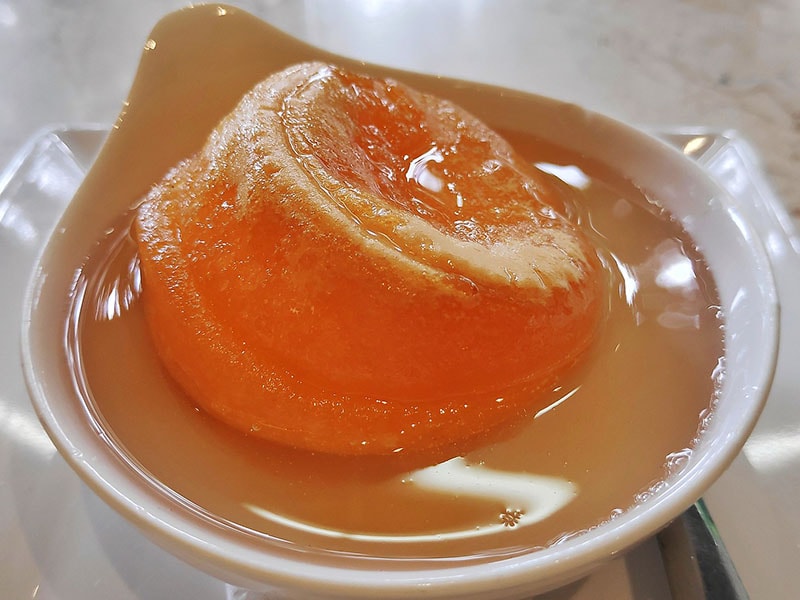 A typical Portuguese conventual sweet, Papo de Anjo has both an engaging name ("angel's double chin") and a total reliance on egg yolks. People whip the ingredient until fluffy, then bake it in a sugar syrup, often flavored with vanilla, citrus, or spices.
That's all; there is no other fancy ingredient or preparation. However, these simple treats have a beautiful golden color, an enticingly soft, moist texture, and an unforgettable creamy flavor that you won't have enough of.
31. Dom Rodrigo (Pyramid-Shaped Dessert From Algarve)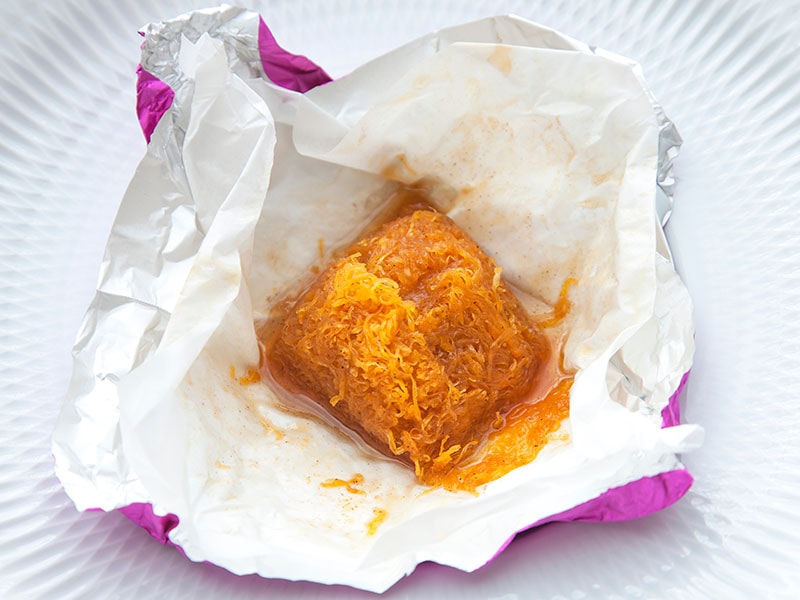 Besides the beautiful coastline and pristine beaches, the Algarve has another delight worth discovering: Dom Rodrigo.
This dessert was created in the 18th century and named after a religious figure. Its highlight is the unique pyramid-like shape, which consists of a bundle of golden strings.
These "strings" are made from egg yolk strands (known as fios de ovos), which are then combined with a sweet mixture of sugar and ground almonds. The Lagos City Hall created the world's largest Dom Rodrigo in 2019, with a weight of 125.4 kilograms.
This fruity dessert brings the flavor of port wine, Portugal's most famous beverage, to the next level. By poaching pears in a mixture of port wine, sugar, cinnamon, and lemon zest, locals impart a deep red hue and a tender, smooth texture to the fruits.
But the best thing is how the pears absorb the flavors of the wine and spices. The result is a pleasantly sweet dessert with spicy notes that is perfect for colder months of the year. A drizzle of the reduced wine syrup or ice cream on the side will significantly improve your experience.
Although any kind of red wine can be used to prepare drunken pears, port wine is the most reliable choice for a Portuguese flavor.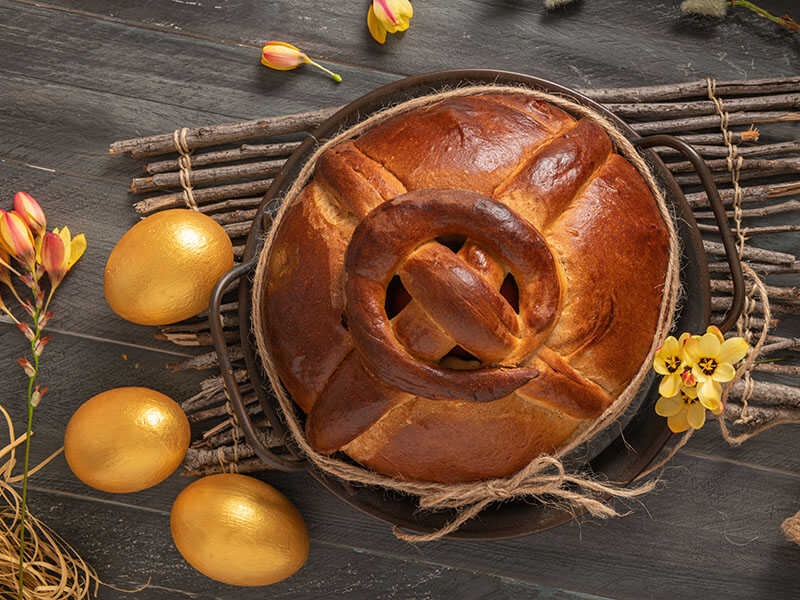 A traditional Portuguese bread with deep ties to Easter celebrations, Folar de Páscoa (or Folar for short) symbolizes the resurrection of Jesus Christ and the arrival of spring. It is often decorated with a cross-like pattern for this meaning.
But this popular dessert varies from region to region, with each place having its own twist on the cake. Some are more cake-like, while others feature a flaky, layered texture; some are sweet, nutty, and aromatic with spices, while others are a savory combo of ham and bacon.
An unforgettable feature of Folar de Páscoa is the use of raw eggs still in their shells, which symbolize fertility and new life. The eggs are pressed into the dough and cooked along with it.
Folar is traditionally served during Easter festivities in Portugal, particularly on Easter Sunday. By tradition, Portuguese godchildren under 18 should visit their godparent's home with a small gift on Palm Sunday, and in return, they will be treated to a delicious Folar.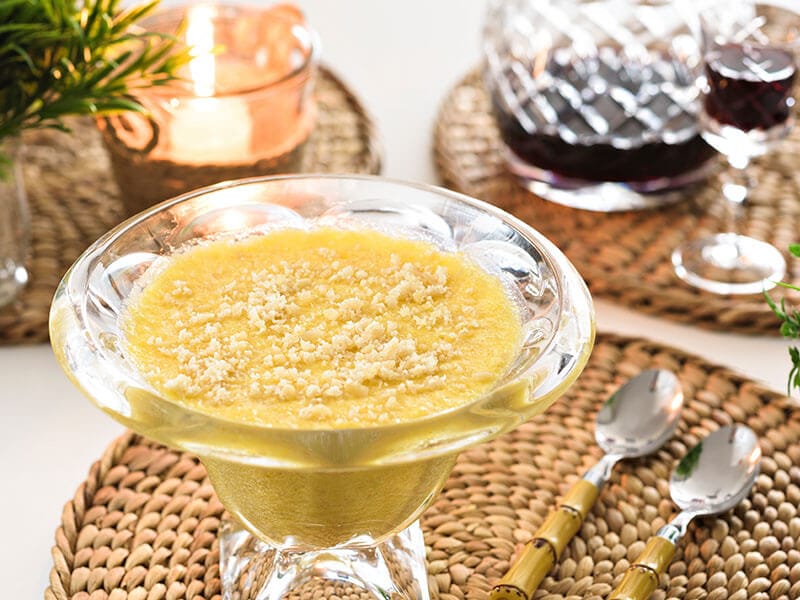 Many Portuguese dishes for the sweet course boast curious names, and Baba de Camelo is no exception. While the literal translation "camel's drool" might raise some eyebrows, it certainly doesn't deter dessert lovers from indulging in this traditional Portuguese delight.
The origin of this mousse-like treat is not well-documented, but it has probably been around since the early 20th century. It combines flawless the decadent flavor of condensed milk and eggs, which are cooked until reaching a caramel-like consistency before being cooled down.
Although Baba de Camelo is a standalone dessert, serving it with crisp cookies or fresh fruit for a pleasant contrast to the creamy mousse isn't a bad idea. Its luscious goodness and catchy name are sure to leave a lasting impression on everybody's mind.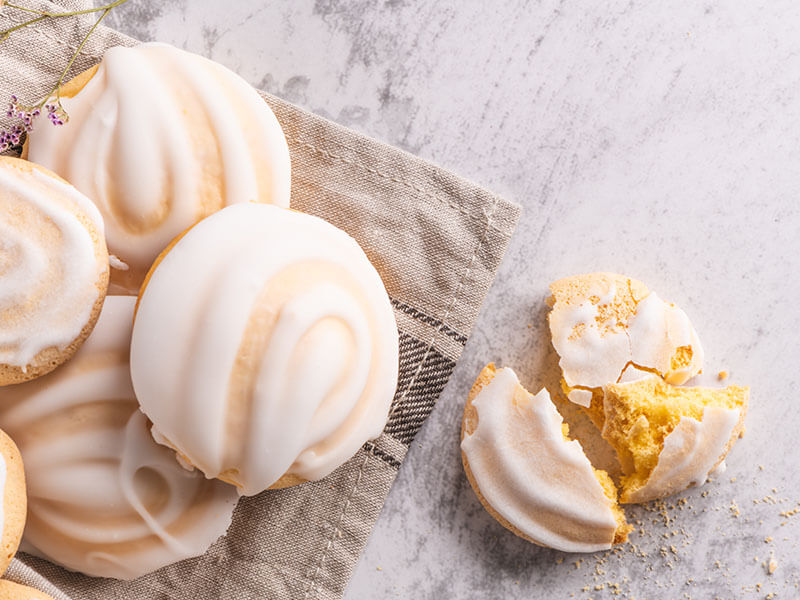 While the origin of Cavacas is anyone's guess, they are a staple in Portuguese bakeries and households. They resemble cream buffs, with a crispy crust encasing an airy exterior and glazed with lemon icing (or any of your favorite ingredients).
Besides serving as a lip-smacking dessert, Cavacas can pair with coffee, tea, or other pastry items (especially Pastel de Nata) to give you a quick breakfast or brunch. They are like the Portuguese version of crepes or croissants but with more creaminess.
FAQs
The wonder of Portuguese desserts isn't over yet! Continue reading, and you will discover many wonderful facts!
It's Time To Explore Desserts From The Sunny Shores Of Portugal!
Portuguese desserts are a realm of endless enchantment, where every bite tells a story and every flavor evokes a memory. From age-old convents and monasteries, they have come to sweeten up modern life, bringing joy and delight to countless generations of both the young and old.
It's never too late to taste the magic of these sweet treats. A Portuguese bakery or restaurant near you may offer them, or you can come to Portugal yourself to try them! Share your experience with me in the comments, and please help me to share this article with your friends.
Nutrition Facts
16 servings per container
---
Amount Per ServingCalories151
% Daily Value *
Total Fat 3.9g

5

%
Cholesterol 59mg

20

%
Sodium 100mg

5

%
Potassium 25mg

1

%
Total Carbohydrate 26.7g

9

%

Dietary Fiber 0.2g

0

%
Sugars 22.1g
---
* The % Daily Value tells you how much a nutrient in a serving of food contributes to a daily diet. 2,000 calories a day is used for general nutrition advice.