Fill your house with sweet aromas from these amazing blueberry desserts. Even if you're not much of a sweet tooth yourself, the fragrance from these blueberry treats will be enough to convince you to take a bite, and another, and another bite.
While these stunning blueberry desserts might be so tasty that you can't stop eating them, at least you can always make a fresh batch with the easy recipes included here. So dive in, and let's start discovering the best blueberry desserts.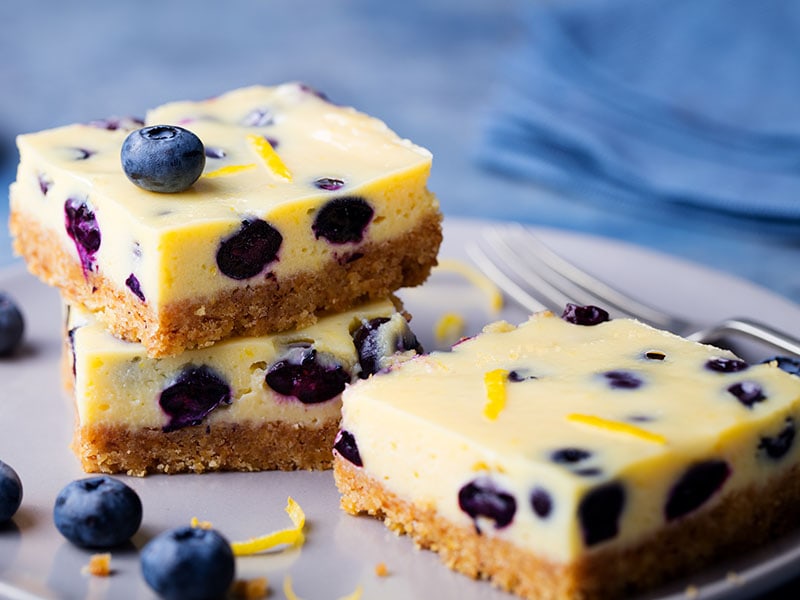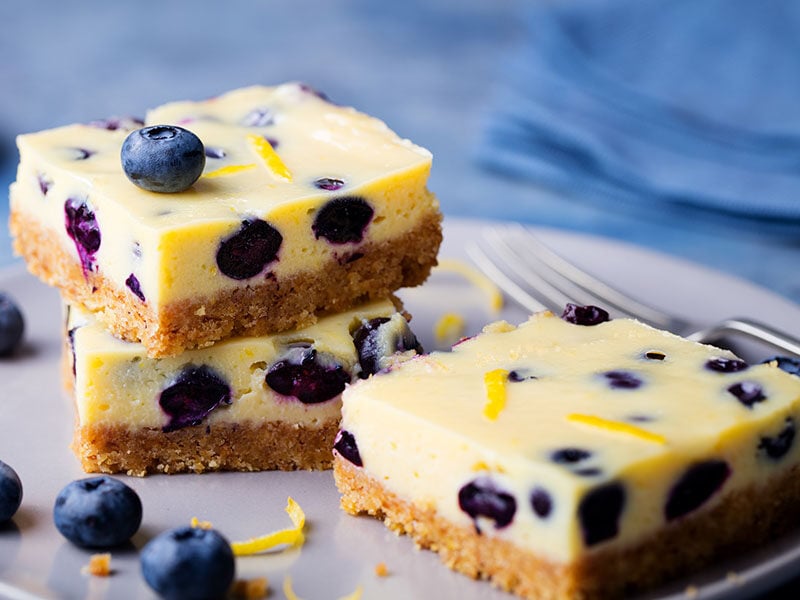 Addicting Blueberry Desserts You Will Never Forget
To take the first step on your journey for the best blueberry desserts, you can have a look at the list below. With this, instead of worrying if it's okay to freeze blueberries, you'll probably think about how to store these decadent blueberry desserts.
Cakes
Blueberry Crumb Cake
Blueberry Dump Cake
Blueberry Lemon Layer Cake
No-bake Blueberry Cheesecakes
Blueberry Upside-down Cake
Lemon Blueberry Pound Cake
Blueberry Streusel Coffee Cakes
Lemon Blueberry Trifle
Cold Blueberry Desserts
Blueberry Milkshake
Blueberry Yogurt Popsicle
Blueberry Ice Cream
Blueberry Juice
Blueberry Lemonade
Blueberry Smoothie
Pies And Pastries
Blueberry Pie
Blueberry Scones
Lemon Blueberry Danish
Peach And Blueberry Tart
Lemon Blueberry Whoopie Pies
Desserts Bars And Fudges
Blueberry Lemon Cheesecake
Blueberry Baked Oatmeal Bars
Blueberry Pie Bars
Blueberry Pie fudge
Blueberry Chickpea Fudge
Blueberry Muffin Fudge
White Chocolate Blueberry Truffles
Casseroles
Blueberry French Toasts
Blueberry Cobbler
Blueberry Cinnamon Roll Casserole
Blueberry Bread Pudding
Delicious Cakes With Blueberries No One Can Turn Down
A lot of the most classic blueberry desserts come in the form of cakes. From crumbly cakes to the fluffiest you can find, these cakes are such a delectable treat that they're impossible to refuse.
Let's start with a brilliant recipe for your Bisquick dessert with blueberry.Packed with scrumptious berries slathered with layers of crumbly cake batter, this delicious treat is truly a crowd-pleaser.
It's moist on the inside with a slightly crunchy outside. The cake isn't overly sweet and instead gets its flavors mostly from the appetizing blueberries inside.
Watch this video to know more:
When you're down in the dump, this fantastic blueberry dump cake will definitely lift your spirits. This simple blueberry dessert only requires 3 ingredients, but it tastes like it was made with all the most delicious fantastic ingredients in the world. It's certainly amazing comfort food.
This beautiful blueberry lemon layer cake is incredibly creamy, rich, and luscious with a lovely blueberry swirl and decadent cream cheese. Thanks to lemon zests, the cake boasts zesty, jazzy notes that will leave your taste buds tingling with a yearning for more.
Just because you don't have an oven doesn't mean that you can't prepare delicious homemade blueberry desserts. With this no-bake blueberry cheesecake, you only need to combine all the ingredients together and chill the cake for it to set. Be warned; this cake will steal your heart.
Want to extend the timespan the cheesecake can last? Simple! You simply need to place this decadent treat inside the fridge. Store it in an airtight container and make sure you keep it away from foods with heavy odors.
This fantastic blueberry cake will turn your life upside-down due to its incredible, mind-blowing flavors. The light, fluffy cake, when combined with the decadent heavy whipping cream or caramelized blueberries, will be a magnificent treat to your palates.
Prefer your cakes small? This recipe for the mini blueberry upside-down cake is for you.
This combination of these 2 fruits never gets old in the dessert ideas with lemon. Bursting with flavors from blueberries and lemons, this light-pound cake is perfect for either desserts or breakfast meals.
For extra light, fluffy cake, you can use Greek yogurt, which can enhance the tangy, zesty notes in this mouth-watering cake as well. If you plan on using lemons only, make sure to check if lemons spoil. Why? Because you'll want your cake to taste as fresh and tangy as possible.
You should see the video below:
This blueberry coffee cake beautifully nestles delicious blueberries in crumbly streusel toppings with some sinful sugary glazing. The cake is usually served warm, alongside a cup of coffee for a fun, quirky flavor dynamic. For extra crunch, add some nuts to your streusel toppings.
Your heart will sing to the tune of "Ode to Joy" when you sink your teeth into one of these tasty lemon blueberry trifles. No palate can resist the many layers of angel food cakes, the decadent cream cheese, and the vibrant flavors from blueberries and lemon zest.
Amazing Cold Blueberry Desserts You'll Love
It'll be a mistake not to mention these cold treats when talking about blueberry desserts. These tasty treats will sweep you away and rock your world, especially if you're a fan of blueberries.
A classic blueberry drink, this fabulous drink is famous for a reason. The drink is ridiculously easy to make, but its phenomenal flavors defy all expectations. Simple yet undeniably addicting, blueberry milkshake is a great way to start the day or relax during brunch time.
You should see the video below:
Blueberry yogurt popsicles are a wonderful answer to those who want a cold, frozen treat that isn't too sweet. Indeed, blueberry yogurt popsicles are delicious not because they're loaded with sugar. The enticing flavors entirely come from blueberries and yogurt. Such a healthy treat!
Moreover, you can use blueberry yogurt and turn them into a perfect cake for your Sweden-inspired desserts. Of course, you can create this dish with ease too!
Making ice cream from scratch at home will be immensely rewarding when you flavor the treat with juicy blueberries. Smooth, creamy, and bursting with flavors, this blueberry ice cream is the embodiment of an irresistible dessert.
When complex flavors no longer appeal to you, you can turn to simple treats like this blueberry juice. This drink only requires blending blueberries with water. Add some sugars if you like them sweet. You can also add a sprig of rosemary for some extra flavors. Simple, but perfect.
Blueberry lemonade is another simple drink that you can try to beat the summer heat. The drink starts with sweet blueberry syrup mixed in a glass of cool water. Pour some lemon juice into the glass, and you'll have your refreshing drink to battle the heat.
Making blueberry lemonade is easy, especially with this video instruction.
Blueberry spinach smoothie is a healthy and nutritious drink; it's packed with fiber, antioxidants, and vitamins. Due to its nutritional values, this smoothie can support your immune system and give you an energy boost. Ideal for desserts, breakfasts, and post-workout snacks.
Anyone can make blueberry spinach smoothie at home, so what's stopping you?
Scrumptious Pies And Pastries You Can't Have Enough Of
I'm not kidding when I say these blueberry desserts are addicting. Don't make the mistake of thinking these are just some run-of-the-mill desserts with nothing special. They may be made with everyday ingredients, but they're extraordinary treats.
I believe fruit pies are something of a staple in many households, so there's probably no need for me to convince you of the appeal of this dessert that goes well with seafood. However, allow me to suggest a fantastic way to enjoy these classic blueberry pies: serve them warm with some fruity ice cream.
Blueberry scones is a phenomenal Irish dessert that you should not miss. They are perfect for any time of the day and any season of the year. These scones are crumbly, buttery, and totally toothsome.
Because you can use frozen or fresh blueberries for these scones, you can whip up some of these tasty treats even when it's not the blueberry season.
The best way to make lemon blueberry danish is to use both fresh blueberries and blueberry jam alongside lemon juice. The flavors of these ingredients will really make your baked goods taste like delicacies made by top professional bakeries.
It's not every day that you see peaches and blueberries go together. Even if the combination can seem unusual, this tart remains alluring all the same. In fact, I'll go so far as saying that the peach wedges are what make this blueberry dessert stand out among others.
Technically speaking, whoopie pies are somewhat like cupcakes but with more frosting. With fresh blueberries and jazzy lemon zest, these iconic treats from New England boast vibrant flavors with sweet and decadent relish.
Once you make these delicious desserts, you'll be reaching for pies after pies.
Blueberry Dessert Bars And Fudges For A Satisfying Snack
If you want some blueberry desserts that you can keep fresh for a long time, these dessert bars and fudges are a great choice for you.
I'm a firm believer that blueberries and lemons are made for each other. However, the love story between these two fruits seems to shine brighter when you add cream cheese to the mix. Give the treat some crispy crackers, and the perfect cheesecake bars are born.
Regarding healthy desserts with oatmeal, these blueberry baked oatmeal bars are a great treat for those on a weight-loss diet.
They feature two main ingredients: blueberries and oatmeals. The combination of these two guarantees healthy treats packed with fiber, antioxidants, vitamins, and essential minerals.
This recipe for blueberry baked oatmeal bars will blow you away.
These extraordinary pie bars bring about fresh blueberry flavors along with alluring buttery notes. Offering a blend of crunchy and chewy texture, these luscious bars will worm their way into your heart. For best results, use fresh blueberries to guarantee a crispy crust.
You'll love this swoon-worthy recipe for blueberry pie bars.
Decadent white chocolate with beautiful, delicious swirls of blueberries, this creamy fudge might become your one true love. Not to mention the zesty lemon required to make this fudge. The citrusy flavors from the lemon will surely prevent you from growing tired of blueberry pie fudge.
With how enticing these fudge bars are, it's no wonder if you want to know whether it's possible to freeze fudge. To be honest, this is the first thing that I thought of when I first took a bite of this decadent treat. It was just so good that I want to always have some of these around.
24. Blueberry Chickpea Fudge
This no-bake blueberry fudge has a base made from chickpea and almond butter. Although the treat is gluten-free and vegan, it's so delicious that you can't just stop after only one bite. Luckily, this chickpea fudge won't raise your blood sugar level – a healthy treat for your sweet tooth.
Should you make some crumbly fudge or fluffy muffin with your blueberries? Why not both? This stunning blueberry muffin fudge is a cross between these two popular desserts. Packed with juicy fruits, blueberry muffin fudge truly has the best of both worlds.
Personally, truffles always sound somewhat like a fancy treat. As it turned out, these blueberry truffles are made with only a few simple, everyday ingredients. There's no need to use food coloring, as their beautiful purple color is 100% natural.
Top Casserole Desserts You Can Make With Blueberries
Get your casserole pans, for you'll need those to make these fantastic blueberry desserts. Ideal for any time of the day, these blueberry treats strike the perfect balance between sweet and savory flavors.
My only "secret" to the best blueberry French toast is to load it with this fruit so that every bite will burst with juicy blueberry flavors, which are balanced out by the crumby toast. Prepare this beforehand, refrigerate it overnight, and you'll have the perfect breakfast the following morning.
Here is one of the best recipes for blueberry French toast casserole.
Like blueberry French toasts, the best way to make this delicious cobbler is to load it with as many blueberries as possible.
It is also many people's favorite sweet course that contains vanilla. Plus, this blueberry cobbler requires a mere 10 minutes of mixing before you can leave all the hard work for the oven, making it perfect for busy people.
Whether you're using this blueberry casserole for breakfast or dessert, there's no denying that this treat is something that grows on you. Even if you feel unimpressed with this at first, over time, you'll come to love the caramelized blueberries, the cinnamon fragrance, and the fluffy roll.
For blueberry bread pudding, you can use virtually any type of bread. However, I'd recommend opting for potato bread, as its light flavors allow the blueberries and cinnamon to shine. To accent the pudding, you can drizzle some creme Anglaise or sweet syrup on top.
Don't Let These Blueberry Desserts Fall Into Obscurity
Now that you've learned about these best blueberry desserts, you should try making them right now. Don't procrastinate, or else you might forget about these. It's always better to make desserts when the options and recipes are still fresh in your memory.
And, as always, don't forget to comment down below and let me know what you think about these blueberry desserts.
Nutrition Facts
12 servings per container
---
Amount Per ServingCalories296
% Daily Value *
Total Fat 11.7g

17

%
Cholesterol 43mg

15

%
Sodium 151mg

7

%
Potassium 172mg

5

%
Total Carbohydrate 45.5g

15

%

Dietary Fiber 1.4g

4

%
Sugars 24.2g

Protein 3.9g

6

%
---
Calcium

68

%
Iron

2

%
Vitamin D

11

%
* The % Daily Value tells you how much a nutrient in a serving of food contributes to a daily diet. 2,000 calories a day is used for general nutrition advice.