There are various sweet treats, but which are the best desserts that go with seafood you should never miss out on? Your searching process won't be that daunting with my help today.
Not only will you get some ideal suggestions for desserts to complement your seafood meals, but you will also discover fascinating sweet treat types to add to your foodie list. Wait for what? Just scroll through and choose your most favorite delicacies to go first.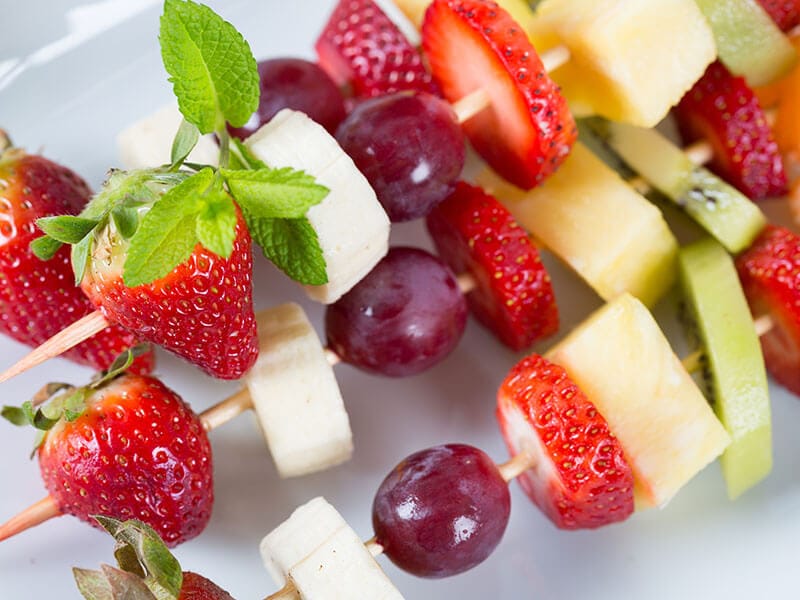 Try Devouring Your Seafood With These 19 Desserts Now
Once trying to find the companions for a seafood delight, particularly desserts, you should notice to find something that is sweet, light, fruity, or consists of chocolate.
These ingredients work pretty well with your seafood's gentle fishy, fleshy, and natural sweetness. Based on that, you can find the best suggestions right below.
Total time: Around 2 hours 15 minutes.
Is there anything better than finishing your seafood meal with a cup of ice cream? Although it sounds a bit irrelevant, trust the refreshing strawberry taste since its outstanding sweet-tartness can surely brighten your taste buds.
Fresh or frozen strawberries, which one is better here? The answer is both of them. Therefore, feel free to use any high-quality variant you have on hand. Just remember, after sugaring your strawberries, leave them to stay at room temperature for at least half an hour.
About the cream part, heavy whipping cream, milk, and sweetened condensed milk play the main role in this recipe. You have to whisk them up until they are finely combined and toss the whole thing inside the freezer. Easy breezy!
It's time to learn to make strawberry ice cream in your own house.
Total time: About 4 to 6 hours and 10 minutes (including 4 to 6 hours of freezing).
The following cream recipe for you is something sourer and more citrusy, which matches the requirements for what dishes should go with seafood. The step to make it is also simple, as you just have to combine orange juice with whipping cream and vanilla.
Adding more sugar to the whipping cream is totally possible; yet, notice to whisk them meticulously up with a wire whisk so that your ice cream won't be lumpy later. More importantly, you should do this step before flavoring your cream with orange juice.
When serving, you can consider adding some freshly grated orange zest to enhance the citrus and offer your orange-based dessert a more appealing appearance. Imagine having it after a savory seafood portion makes me drool already.
Total time: About 3 hours (including the rising time).
This orange roll recipe is a great way to indulge yourself on any occasion, and it's now time to make it match your seafood delicacies. It has a soft base and a luscious, sweet frosting infused with a pronounced citrus aroma. This simple roll is a treat everyone loves.
Don't let the salt touch the yeast of this orange roll recipe, as it slows down the dough's rising time and affects the quality of the dessert. Furthermore, the use of ground ginger also accentuates the fragrance and aroma of fresh orange juice and zest. How toothsome!
On the other hand, this sweet dessert is compatible with the freezing process. Store the freshly made rolls (unbaked, unrisen) covered in the freezer, and it can last for up to 3 months.
Total time: Approximately 1 hour 35 minutes.
This bread loaf-like orange sour cream pound cake with a pretty moist texture interior is a perfect munching dessert to serve with tea after a seafood meal.
Besides the other ingredients, such as all-purpose flour or oranges, sour cream is a must to lend the base of your cake an extra moist texture. Just make sure that you opt for the full-fat variant as it has more fat content and less water.
The secret to having the best brightening, citrusy flavors encased in every inch of this cake lies in the mix of regular and blood oranges. Thanks to that, the color of the cake base is also brightly orange and a bit more attractive.
Let's end your seafood meal with this scrumptious orange sour cream pound cake!
Total time: About 30 minutes.
There's no need to worry if you follow a ketogenic diet but still crave a sweet treat because this tasty avocado ice cream recipe is genuinely for you.
As you might know, avocado is a great component of any low-carb diet recipe since the fruit provides loads of good fat and nutrients. You can straightforwardly feel earthy and nutty notes when tasting the fruit.
Moreover, you can enhance the goodness of this American sweet treat even more with various flavoring condiments (matcha, chocolate, or else). Therefore, please choose any of them based on your preferences.
If you wish, you can change the sweetener to honey, but it will make your ice cream not keto-friendly anymore. However, it does lend your ice cream a bit of a tastier effect.
Total time: Around 4 hours 15 minutes (including the chilling time).
Bananas are common fruits that frequently appear in people's daily diet as it's so versatile and adaptable. The hero of this delicacy is the banana; to enhance the goodness encased here, you should flavor the fruit with brown sugar and Rum before assembling.
It would be best to make this mouth-watering banana sweet treat ahead of time (for at least 4 to 6 hours or up to a night before). To decorate and to make your dessert more attractive and tastier, add some vanilla wafers on top.
Total time: About 3 hours 14 minutes (including 3 hours inside the refrigerator).
To be honest, the illustration of this key lime pie captures my eyesight at first glance. The creamy, dense filling with the crumbled crust, some lime slices, and grated lime zest. Loads of citrusy flavors can balance the creamy, sweet taste and a slight tangy undertone.
In order to achieve that, you should mix the softened cream cheese, lime juice, and condensed milk well. Don't be afraid that the consistency here is still lumpy afterward; you can still experience scrumptious, melt-in-your-mouth bites.
Everyone will love to munch a piece of this key lime pie after a seafood meal. So make it now!
Total time: Around 1 hour 40 minutes.
Save all of your excuses; this crustless blueberry pie is too delicious to resist. To describe the texture of this exquisite blueberry sweet delight, I would say it will be a hybrid of gooey blondie and dense cake.
However, the overall taste guarantees to leave a lovely sweet-tart mouthfeel with the use of fresh blueberries. To be honest, I'm not sure if this pie can go with the frozen berries or not, but you can give that idea a try if you wish.
You get to enjoy the goodness from the cinnamon/almond flavors matched with a note of acid from berries in a single bite. Lastly, the shelf life of this recipe is incredibly long since you can use it within 5 days, storing it in an airtight container (at room temperature). Yummy!
Total time: About 30 minutes.
Every American knows this Whoopie pie, proving that this delicacy is exceptionally famous. Yet, the story after its existence is pretty unclear, with lots of confusing information. However, that fact does not affect the fact that this marshmallow-sandwiched pie is 100% tasty.
About the components of this pie, you should expect there will be two flat, hamburger-sized pieces of cake going with the whipped, chewy marshmallow fluff in between.
In each mouthful, you can feel the finger-licking-good, crumbly texture of the cake combined perfectly with the enticing marshmallow fluff.
The secret to making the best marshmallow fluff is to use 1 tablespoon of corn syrup over each cup of marshmallow. That amount of sweetener can lend an appropriate sweetness to your delight as a whole.
Total time: Approximately 57 minutes.
How appetizing will these lime bars be with their brilliant yellowish hue and powdered sugar garnish? Are you ready? Here's how to make your first batch in your own kitchen. Before you begin the cooking process, keep in mind that you must allow your lime bars to rest until serving.
The crust should be the first one to make in this recipe, and you should mix every ingredient (melt the butter, flour, sugar, and salt) together before forming a thin layer on the baking tray. Your lime bars' crust needs to be baked under 350 degrees F for 20 or 22 minutes.
After the crust is done, pour in a mixture of sugar and lime juice and bake the whole batch for a little more. The smell of this baked good can allure you from a far distance.
Do you wonder how to make the best lime bars ever?
Total time: Approximately 10 to 15 minutes.
To talk about the flavors of this dish, I have to say it's pretty varied. There are a lot of fruits that you can make into kebabs, such as pineapples, watermelons, blueberries, and cantaloupes; yet, you can opt for the other things.
Simply cut everything into cubes or form them into the same sizes before skewing them with wooden skewers and serving. For the dipping, you can consider some Greek plain yogurt. The refreshing juiciness mixed with the gentle sourness can never let you down.
Now, prepare a big pack of fruits of various types based on your preferences and start to assemble the kebabs with your friends or families. It'll be a fun experience to have with your loved ones.
Total time: Around 45 minutes.
If you might have already known about chocolate-covered strawberries, then let's add a twist by using peeled orange slices here. When peeling your citrus fruits, try to omit as much pith (the stringy, hard stuff covering your orange slices) as possible as it's pretty bitter and hard.
Next, to prepare the chocolate, I highly suggest using the chips and a period of 30 seconds inside the microwave (or until they melt). Be mindful and don't let the orange juice touch the melted chocolate, or the whole mix can become lumpier and crumbly.
Total time: About 2 hours 15 minutes (excluding the cooling time).
Time for some classic lemon cheesecake! Overall, you'll make this American delicacy with seasoned vanilla wafer crust, a cheese-based filling, and some lemon curd topping.
However, you have to bake the crust under 325 degrees F (or 163 degrees C) for about 10 minutes so it becomes crunchier. The cheese-mixed filling includes cream cheese (softened at room temperature), sour cream, lemon juice, etc.
Never forget to refrigerate the whole thing for at least 6 to 7 hours until the consistency settles a bit more. Once the cheesecake base is cooler, drizzle a layer of lemon curd onto the surface of your food and continue to wait a little more. Don't worry; every effort pays off.
You can add whipped cream to your sweet treat and make it more flavorsome with the lemony punch balanced with the creaminess from the dairy product.
Want to know a no-bake way to make your lemon cheesecake? Here you go!
Total time: Around 3 hours 18 minutes.
It's no exaggeration to tell you that this fruit tart is truly legendary in terms of fruity dessert recipes. Today, I will show you a way to make it more delectable and attractive by reducing its size and a twist in pastry cream instead of custard.
Whole milk, egg yolks, cornstarch, and Brandy are something you should have to make the essential filling of your tart. Now, whisk the mixture constantly to avoid any lumps appearing.
Organize and toss in any kinds of fruits you love here, but I highly recommend kiwi and strawberries as their prominent sourness can complement well with the rich, buttery base. This tart is best when served immediately, so take your time and enjoy it as soon as possible.
Total time: Approximately 2 hours 10 minutes.
If you are a fan of American specialty, you might have already known about orange upside-down cake. Topped with some brightly reddish/orange-ish Cara Cara orange slices (or navel oranges) with a spongy and fluffy cake base, this delicacy is totally alluring.
In order to help your cake base be softer, allow the whisked cornmeal mixed with buttermilk to sit still for 15 minutes. After that time, start to prepare other components of salt, flour, baking soda, and baking powder.
The baked cake needs time to rest, so devouring it the next day is ideal. Additionally, if there are any leftovers, remember that your citrus cake is usable within 2 days on the kitchen counter and 1 week in the fridge.
Delicate and scrumptious; you shouldn't miss out on this orange upside-down cake recipe!
Total time: About 2 minutes.
Chocolate mousse is a straightforward dessert to make since you just need to have 3 ingredients on hand for that. Simply toss them all together into a container and shake them all finely until the mixture becomes thicker.
It will take about 2 minutes here, but you can shake it a bit more to make it denser. This 3-ingredient sweet treat is great when going on the side of your hearty seafood.
You will absolutely adore how the creaminess from heavy cream and the gentle bitterness from cocoa powder combines. Besides the sugar for sweetening, you can add a bit of salt (optional) to create a better balance as a whole.
Total time: Approximately 55 minutes.
Not as spongy as the other regular sponge cake bases, making a toothsome shortcake dessert to serve after your seafood is also a great way to go. The cake's texture has a lot more moisture and infuses a more pronounced light effect and summery vibe.
When layering the cake, to create a better appearance for your delight, you should repeat the order of a thin slice of cake, sweetened whipped cream, and sliced fresh strawberries. The dessert tastes more enticing after a time inside the fridge.
If you want to refrigerate the dessert overnight, make sure to cover it with plastic wraps. You can also freeze your cake before frosting. Just remember to thaw it for about an hour at room temperature in advance.
Total time: About 8 hours 20 minutes (including 8 hours of freezing).
Unlike regular ice cream containing various dairy products, sorbet is commonly called "water ice." It's because the way to make it is to create the whole thing from flavored, sweetened water, and you can have various choices in its companions.
In this recipe, I highly recommend raspberries. The fruit has a vibrant tartness (which is a bit more than other berries) so that the overall of your sorbet can be more balanced.
Mixing this dish with mango is also a way to go. The tropical and sweet-tartness of mango can also make your dessert highly exquisite. Make sure to consume your sweet treat within 3 or 4 days after making it to experience the best result.
You won't regret trying to make this raspberry sorbet once!
Total time: About 7 hours (including refrigerating time).
Pineapple squares are a must-try dessert whenever you try to prepare something wholesome to pair with your seafood delicacies.
I love the jiggling, dense texture of the cream filling. Its richness and creaminess are so robust that making plain sweet biscuits play their role well in harmonizing everything.
Since these tasty pineapple squares require no baking, it is much more convenient for you to have some good treats ready on the table. When biting into these toothsome squares, the mixed pineapple bits lend you an exquisite and exciting effect.
These Seafood-Complementing Desserts Can Never Let You Down!
It is such a shame if you have never indulged in the above-mentioned wonderful desserts. Therefore, take your chance and prepare some of them. On the other hand, if you have tasted them once, don't hesitate and give me your reviews.
I'm sure these tasty sweet treats can also please your loved ones' taste buds, so be sure to share this humble article with them. It would be best to enjoy good food with your beloved friends or family. Loving is sharing!
Nutrition Facts
4 servings per container
---
Amount Per ServingCalories159
% Daily Value *
Total Fat 0.8g

0

%
Sodium 3mg

1

%
Potassium 192mg

6

%
Total Carbohydrate 40.2g

14

%

Dietary Fiber 8g

32

%
Sugars 30.6g

Protein 1.5g

2

%
---
* The % Daily Value tells you how much a nutrient in a serving of food contributes to a daily diet. 2,000 calories a day is used for general nutrition advice.