Let's be real; these easy slow-cooker desserts are no artful plating. However, that doesn't mean they are not tasty – in fact, I'm proud to say that some of them will leave other restaurant-quality desserts in the dust.
I often get asked whether the terms "crockpot" and "slow cooker" are the same thing. Crockpot refers to a slow-cooker brand, and over the years, the name has become so popular that people use the two terms interchangeably nowadays.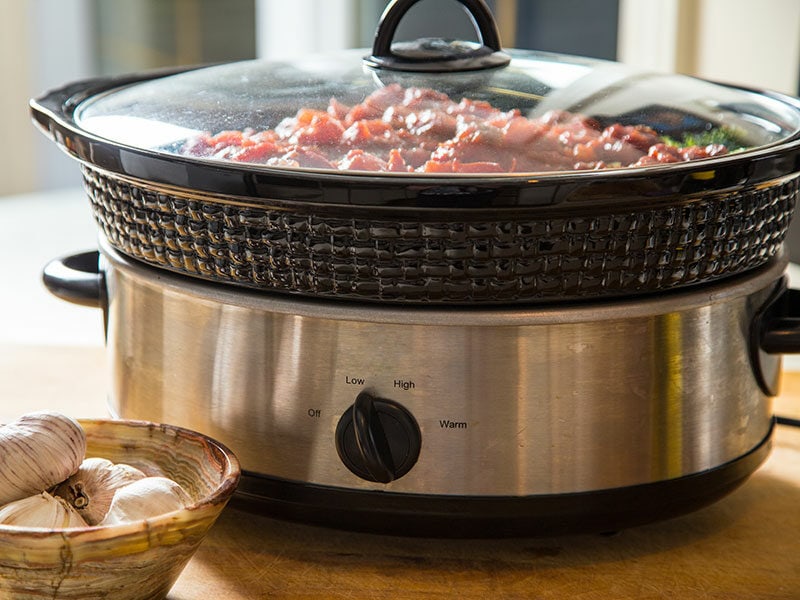 The 34 Easiest And Tastiest Slow-Cooker Desserts
These recipes will take at least a few hours, but the result is worth the wait. Plus, slow cookers don't need a watchful eye or great care, so it's a win-win!
Easy Slow-Cooker Chocolate Desserts
Chocolate pistachio poke cake
S'mores cake
Chocolate cake
Peanut butter chocolate chip blondies
Chocolate cherry dump cake
Rocky road candy
Chocolate chip cookies
Chocolate fudge
Chocolate lava cake
Triple chocolate brownies
Chocolate fondue
Peppermint hot chocolate
Easy Slow Cooker Fruit Desserts
Blackberry cobbler
Peach cobbler
Baked apples
Poached pears
Bread pudding
Bananas foster
Apple pie caramel dip
Applesauce spice cake
Lemon cake
Pineapple coconut spoon cake
Other Easy Slow Cooker Dessert
Coffee cake
Carrot cake
Pecan pie
Pumpkin streusel coffee cake
Dulce de leche
Peanut clusters
Rice pudding
Cinnamon rolls
Maple pumpkin spice Chex mix
Cookies and cream fudge
Butterbeer rum
Creme brulee
Are you excited already? Start scrolling down now!
Slow-Cooker Chocolate Desserts That Make You Swoon
Chocoholics, don't skip this section. You will regret not checking out the chewy oatmeal chocolate chip cookies or the world-famous chocolate lava cake with the mellow center.
Chocolate and pistachio are my two favorite ingredients, and it's such a pleasure to see them complement each other well in this easy slow-cooker recipe. Take it to the top with an extra layer of whipped cream and bolt it down while it lasts.
S'mores cake is a most-loved dessert for camping trips. But now, let's see how enjoyable it is when cooked in a slow cooker. That soft layer of grilled marshmallows is mesmerizing – you can't help but tuck into it right away! Drizzle with melted chocolate and serve.
Kick off the weekend with this warm and decadent chocolate caramel cake that can be done easily in a crockpot. Dulce de leche adds a depth of sweetness to the final result, and stir in more melted chocolate to double the fun if you wish.
Chocolate and peanut butter are one of the best combos that have ever happened in the dessert. The two elements are perfectly balanced in this recipe, and the blondies turn out beautifully with a nice crispy texture.
Homemade cake mix and tart cherries team up to create a gastronomical masterpiece right in your slow cooker. The cherry filling is a lovely contrast to the rich chocolate, and you can round up all the flavors with a scoop of vanilla ice cream.
Surprise! Your slow cooker can do more than just pies and cakes – they can make a huge batch of rocky road candies for you. The delightful blend of semisweet and dark chocolates is finished with chewy marshmallows and peanuts. Better than Annabelle's!
These rocky road candies are the best you have ever had! You can see this video to know more:
Who would have thought cookies made with a slow cooker are just as delicious as coming fresh from the oven? Actually, it is also an ideal recipe for an awesome air fryer dessert. So if you all have these kitchenware at home, try to make all versions of these cookies.
These bite-sized treats have an impressive consistency, and the taste will make you feel like you are walking on cloud nine!
These chocolate fudges are a dream come true. The best part? The recipe calls for only two ingredients: milk chocolate and condensed milk. Optional ingredients are vanilla extract for a hint of sweetness and toppings like sprinkles and nuts.
The well-loved lava cake requires extensive culinary skills and knowledge to pull off a decadent success. However, with a slow cooker, even beginners can make it! Cut into the cake and let that rich, gooey chocolate filling come out to play!
Let's make this chocolate molten lava cake for dessert! You can see this video to know more:
Serve your family and friends these wonderful brownies at the next gathering, and they will be astonished to learn that you have made these with your beloved crockpot! Here's a tip: if the center is not thoroughly cooked, let it chill for a while.
Celebrate Valentine's day with your significant other with this chocolate fondue. If you want your fondue to be more than just melted chocolate, add a pinch of cinnamon for an extra pop of flavor. Bring out your favorite dunking goodies, and enjoy!
As the leaves start falling off the branches, you know the holiday season is near. That said, it's time to keep yourself warm with some classic hot chocolate served in your favorite mug. Don't forget a dollop of whipped cream and peppermint barks for garnishing!
Slow-Cooker Desserts Brimming With Fruity Flavors
Turn your succulent fruits into something special without having to check on the oven every fifteen minutes. Let your slow cooker do half the work to save your precious time.
It's super easy to whip up this cherry cobbler using your slow cooker. The biscuit topping turns golden brown when finished, and I love how the chunky filling streaks through the crack, calling your attention with its lush dark red hues.
This peach cobbler is one of several flawless desserts of Southern cuisine. And with a slow cooker, this recipe basically cooks itself, saving your precious free time from all the fuss.
You can choose either canned peaches or fresh ones, then stir in cake mix, butter, and walnuts and let the mixture be done to a turn. Serve with whipped cream or ice cream.
Don't hesitate – treat yourself with this easy peach cobbler recipe. You can see this video to know more:
You owe your crockpot one with this easy recipe. The apples are cored to leave a hole in the middle in which you fill in the oat mixture. Once done, they are infused with a comforting scent, and you will love to have them with some ice cream or Greek yogurt.
A luxurious delicacy right at home, what do you say? When poached in the slow cooker, pear comes out beautifully with a smooth, velvety texture, and the warm aromas will surely build up your appetite. Go fancy and serve with your well-kept bottle of red wine.
Who says that you can't make pudding with a slow cooker? Dead wrong. This bread pudding is living proof, and it makes a delectable breakfast, brunch, or whenever your stomach growls. The custard coating is indeed the highlight of this foolproof recipe.
You will make this bread pudding again and again! You can see this video to know more:
Adopt this banana foster recipe and bring it home with you. Margarine is melted in the slow cooker, followed by brown sugar and melted butter, then the fresh bananas are in and laced with full-bodied rum. Doesn't that combination sound delicious?
What comes after a hearty meal? Something sweet and lukewarm, like this apple pie caramel dip, for example.
In fact, apple pie is a classic American sweet course. But in this recipe, all the flavors of apple pie are fully retained, and graham cracker or bagel chips will make excellent dipping toppings.
Applesauce spice cake is the new fall staple that dethrones pumpkin pie. The cake is enriched with fragrant spices that arouse your taste buds, and applesauce is indeed the main star with its pleasant tartness
This lemon cake encapsulates the whole summer of your dreams. If you doubt my words, have a spoonful of it and close your eyes. Can you feel those rays of sunshine on your skin and hear the waves crashing into the shore? The power that lemon has on your mind!
With that alluring yellow tint, this spoon cake will attract a huge audience. The taste is more than just perfection, with luscious pineapples, shredded coconut, and nutty pecans. Let the cake soak in the sweetened glaze before serving – you won't regret the wait!
A Few More Straightforward Slow Cooker Desserts
The list of slow-cooker desserts goes on. In this section, explore the French delicacy creme brulee, the party-worthy Chex mix, and more.
Moist, fluffy, and scrumptious, it's hard to describe this coffee cake with mere words. The cake can be served as a hearty dessert, but I prefer to have it for breakfast since it has this magical power to wake up my appetite with its robust aroma.
You can see this video to know more:
Here comes another cake that can be done in your crockpot, this time using a familiar vegetable. It's carrot, an ingredient with an awe-inspiring versatility, joining hands with pumpkin puree, Greek yogurt, and a host of spices to create this easy yet yummy dessert.
You can make this dessert in your instant pots as well. Technically, there is no big difference in deliciousness between the slow cooker and instant pot version. So try both of them some day.
You have to rate this pecan pie five stars because it is one of the most fabulous slow-cooker desserts of all time! The flaky golden crust is gorgeous, but wait until you see the pecan halves that are studded on the pie – your jaws will drop to the floor!
Wake up and smell this pumpkin streusel coffee cake! Don't worry; it won't mess with your sleep schedule since there's no actual coffee involved. It's the intense aroma, redolent of a cup of hot espresso that makes you want to jump out of bed immediately!
Dulce de leche is the long-lost cousin of caramel, but the two are poles apart. The French confection is made with condensed milk instead of sugar, and I have to warn you, it is highly addictive – but you would not listen anyway, right?
You can never get enough of dulce de leche! You can see this video to know more:
Your sweet cravings will end in a blink with these bite-sized clusters. Don't underestimate them; they are packed with exquisite flavors of chocolate, peanut butter, and salted peanuts. For a decorative touch, garnish with sprinkles.
When it comes to dessert with pudding, rice pudding is my comfort food whenever I have the blues. It's warm and soothing with an indulgent texture, but what gets me every time is the richness of milk. Honestly, I can enjoy this dessert every single day!
Sit back and relax while your crockpot does all the work for you. These cinnamon rolls are done after only two hours, which is fairly short if you consider the slow-cooking standard. They are genuinely a crowd-pleaser with their tempting smell and gooey cinnamon swirls.
Serve your family and friends these flavorful cinnamon rolls. You can see this video to know more:
Chex Mix became popular in the 1900s, and the party snack has never died out since. It's a concoction of graham crackers, pretzels, Chex cereal, along with dried fruits and nuts coated in maple syrup with various spices. You can't resist the crunch!
Don't you think these fudges look pretty? These mouth-watering treats look as if they come straight out of a premium-quality confectionery store. With that smooth finish and melt-in-your-mouth texture, who would think that they were done in a crockpot?
Are you in love already with these fudges? I'd suggest that you check out if it's a good idea to freeze fudge. After all, you can't spend hours making fudge every time you crave one, right? It's much better to have some fudge bars stored in your fridge/freezer.
A beverage dessert using the slow cooker? I got you covered. This holiday drink features butterscotch syrup, cream soda, cinnamon sticks, and other supporting ingredients. It is then laced with a splash of full-bodied rum and filled with butterbeer. Yummy!
At first, I was skeptical about making creme brulee in my slow cooker – I thought it would turn into a messy disaster. I was wrong, though. The custard is fantastic, leaving a long-lasting creamy mouthfeel, and the burnt sugar topping looks incredibly appetizing.
Take These Desserts Slow, Easy, And One At A Time
Easy slow-cooker desserts are meant to be savored in contemplation, not in a tearing hurry. Can you feel the flavors bursting in your mouth? I bet you can – it's the magical delight of cooking with the slow cooker!
I hope these slow-cooker dessert recipes have made your life easier. Do you know what else you can whip up with this amazing cooking appliance? Let me know via the comments. Many thanks!