No matter which dishes you serve, your meal cannot be perfect without Southern desserts. These desserts are perfect treats for you after a hard-working day. Almost all of them are high in sugar; you can be comfortable while enjoying them.
Southern-fried chickens are also well-known; Southern desserts are also well-known; I will bring you 62 desserts from old-fashioned to modern styles. If you have never tried these rich-in-flavor dishes, why don't you start to read my post?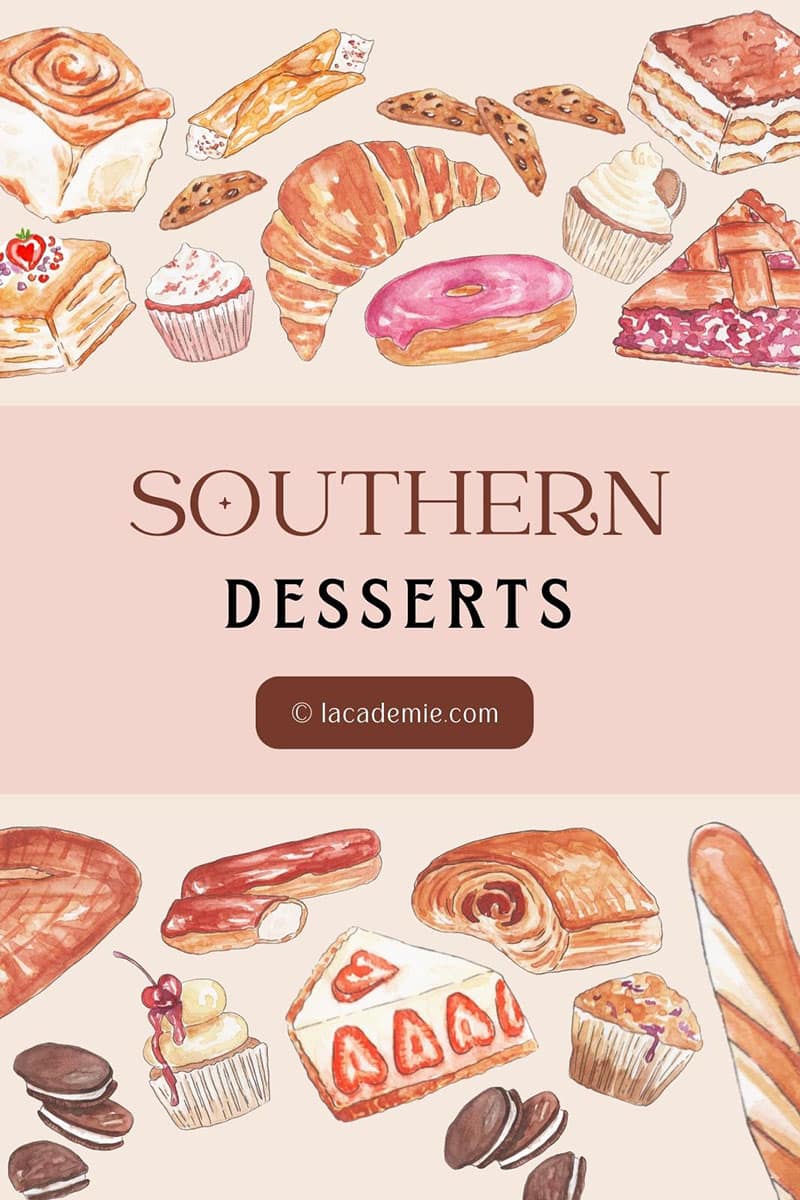 Southern Desserts – List Of 62 Treats That Satisfy Any Sweet Tooth
Here are 62 Southern desserts you should try at least once in your life:
Pie Desserts
Shaker Lemon Pie
Chocolate Chess Pie
Butterscotch Pie
Apple-Bourbon Pie
French Silk Pie
Classic Southern Buttermilk Pie
Bourbon-Kissed Pecan Pie
Bourbon Chocolate Pecan Pie
Key Lime Pie
Southern Sweet Potato Pie
Kentucky Transparent Pie
Buttermilk Pecans Pie
Lemon Curd Cheesecake
Strawberry-Pretzel Pie
Southern Peach Pie
Grits Pie
Snickerdoodle Cheesecake
Creamy Pineapple Pie
Cake Desserts
Caramel Cake
Cream Cheese Sheet Cake
Down South Sweet Tea Cake
King Cake
Hummingbird Cake
Grandma's Red Velvet Cake
Chocolate-Mayonnaise Cake
Texas Sheet Cake
Southern Lane Cake
Mississippi Mud Cake
Coconut Layer Cake
Classic Southern Pound Cake
Milk Cake
Little Layer Chocolate Cake
Pineapple Upside-Down Cake
Banana Skillet Upside-Down Cake
Southern Peach Upside-Down Cake
Blackberry Jam Cake
Cola Cake With Strawberries And Cream
Japanese Fruitcake
Sour Cream Chocolate Cake
Pineapple Orange Cake
Hazelnut Cake Squares
Mom's Citrus Buttermilk Cake
Decadent Fudge Cake
Butter Cake
Old-Fashion Raisin Cake
Old Southern Chocolate Pecan Sheet Cake
Punch Bowl Cake
Million-Dollar Pound Cake
Tennessee Mountain Stack Cake
Applesauce Cake
Butter Pecan Layer Cake
Ice Cream Desserts
Bananas Foster Gelato
Bananas Foster Sundaes
Grilled Peach Sundaes
Georgia Peach Ice Cream
Buttermilk Peach Ice Cream
Pudding Desserts
Trisha Yearwood Banana Pudding
Butterscotch-Pecan Bread Pudding
Dark Chocolate Pudding
One-Pan Cobbler Dessert
Peach Cobbler
Pecan Strawberry Rhubarb Cobbler
Chocolate Cobbler
18 Crispy And Smooth Pies You Need To Try
These pies are baked dishes made of pastry dough spread evenly at the bottom of baking dishes. You can choose various sweet and cream to fill in the dough. Let's see the 19 recipes I bring to you.
Shaker lemon pie was invented in 19 century by the Shakers. This pie allows you to use almost whole lemon from yellow peel to its seeds. Besides the crust dough, the lemony custard is a smooth, slightly acidic, and attractive aroma of lemon is worth expecting.
If you are an economical person, don't miss out on this recipe. The tart and sweet pie are perfect for outside gatherings. In addition, you don't need to use a lot of ingredients or skillful technique when making it; you only need sugar, lemon, flour, and eggs.
You have to soak slices of lemon in sugar for at least 12 hours to reduce its acidity and improve its flavor, don't be hurry. If you want to creamy taste, you can add whipped cream on its top.
Chess pie is a common dessert that comes from England. This pie has a pie crust filled with various custard, and chocolate chess pie is one of the classic types. It has a smooth texture with a creamy and chocolatey flavor.
Chocolate chess pie is a perfect puzzle for any occasion, especially for your kids' gatherings, since they always love chocolate. If you are too busy, you can get the dough from groceries and add fillings later.
The crust of the butterscotch pie is not made from flour; it is made with mashed Biscoff cookies. Thus, it is hard to fail when making this dessert for your family. It will be creamy and sweet with eye-catching caramelized color.
The caramelized color is not simply made from brown sugar; it is made with molasses in brown sugar. The pie crust is pretty crunchy and buttery. Don't forget to spread a thick layer of whipped cream to enhance the rich flavor.
Unlike traditional apple pie, apple-bourbon pie contains more flavor than it. You will taste bourbon flavor that is an American Whiskey and made from corn. It has strong notes of caramel, oak, and vanilla.
In addition, the sweet, fruity, and a little bit gritty flavor from raisins and nutty and crunchy taste from toasted walnuts or pecans will brighten this pie. The sliced apples in this dessert can be steamed or stir in granulated sugar after tossing with bourbon and lemon juice. That will help each bite if apple pie is rich in bourbon taste.
French silk pie's name implies that this pie has a silky-like chocolate filling with crispy pie crust and creamy whipped cream on top. You can use recipes for homemade pie crust desserts or Oreo cookies crust if you prefer. However, I think homemade pie crust is usually better.
The highlight of this pie is not to use raw eggs since eggs and sugar will be gently cooked on the stovetop with a double boiler. Don't forget to freeze the pie crust before using it to ensure it will not break while pouring the filling.
The buttery and chocolatey filling is smooth like silky can attract all people to enjoy it. Don't forget to spread whipped cream on top and shaved chocolate to decorate this pie and dress up its taste.
When you come to Southern desserts, you cannot skip classic Southern buttermilk pie since it is considered an iconic pie for this style. Its light, creamy, velvet-like custard filling is difficult to say no when you see it.
Besides, the aroma and a little bit acidic taste from lemon juice and lemon zest with a hint of vanilla can wake up your senses. This pie is super easy to make without messes since you don't need to warm up eggs or heat milk.
You can add bourbon, nutmeg, and toppings to upgrade the dish to a new level. I think they are worth trying.
Not only can you enjoy bourbon-kissed pecan pie on Thanksgiving occasions, but you can also taste it whenever you want by using several ingredients: chocolate chips, shredded coconut, pecans, bourbon, and other basic ones.
You can taste a sweet and aromatic flavor from coconuts and melted brown sugar; moreover, the nutty and crunchy pecans and unique taste from bourbon will be a plus for this dessert.
You just need to mix all ingredients for filling in a mixing bowl, pour into the pie crust, then bake it. The center should still be a little jiggly when severed.
A traditional pecan pie is pretty boring for serving on Thanksgiving; why don't you try to vary it with bourbon and chocolate to create a bourbon chocolate pecan pie. A strong taste from bourbon and a slightly bitter flavor from chocolate is a perfect balance for this pie.
Pecans are a popular ingredient in these pies; thus, you don't need to consider much about their role in them. Instead, let's sprinkle some sea salt on this dessert to add a salty taste to it. Salty-sweet will make it exclusive.
You know a key lime pie, but you don't know it is a Southern dessert, right? Although lime and lemon can be used interchangeably in several cases, it is not for this pie. Limes have a balanced flavor and sweeter than a lemon; besides, their essential oil is less intense; thus, the taste of key lime pie will be more pleasant and hard to become bitter after a while.
Key lime pie is sweet and tart with crisp pie crust and creamy filling. In addition, it is straightforward to make. You can use canned lime juice, but it doesn't give you lime zest, while graham crackers are an excellent choice to build a pie crust for this dessert.
Pie is a dessert that enables you to make pie crust ahead or buy it from groceries to save your time. No matter which kinds of crust you choose, it must be flaky and buttery. Sweet potatoes are the main character in this recipe.
They have a dark orange color with tender flesh and pretty sweet; sometimes, you can purchase sweet potatoes nectar. Then, you add milk to create a fatty flavor and other spices such as cinnamon and vanilla extract to upgrade the pie's aroma.
You can be confused between Kentucky transparent pie with chess pie or sugar pie, but they are different. Transparent pie is made from sugar, flour, vanilla, butter, eggs, and whipping cream. You can replace vanilla with bourbon if you want to increase the subtle flavor for it.
After pouring the filling into the pie crust, you need to bake it until the top turns golden brown. You don't need to keep it in the fridge like several pies since it is cooked thoroughly; therefore, you can take it out of the oven and taste it when it is cool.
A buttermilk pie with pecans is pretty similar to the above buttermilk pecans; however, you need to sprinkle a thin layer of chopped pecans on the top of the piecrust before baking it to give it a crunchy and nutty crust.
Lemon curd cheesecake can be considered as a yellow version of key lime pie. Nevertheless, it is filled with amazing, creamy, thick, and fatty cheese cream filling instead of sour cream. You should use fresh-squeezed lemon to get a tangy lemon juice and lemon zest.
After chilling it for a certain period, you can decorate it by spraying whipped cream around the side and sprinkle some lemon zest on it. I am sure that its tart and bright flavor will not disappoint you.
It is not overestimated that strawberry-pretzel pie is a dessert from heaven since it has a perfect balance from salty pie crust, sweet cheesecake, and tender but delicious strawberry gelatin.
Unlike these above pies, this pie is rich in fresh strawberry taste that makes it excellent for summers and has 3 feelings while chewing, containing crispy crust, luscious and soft cheesecake filling, and tough gelatin.
Summers are a season of various fruits, including peaches; let's make a Southern dessert relating to Southern peach pie. A luscious peach filling will make you scoop it up constantly. It is not only amazing but also beautiful for gatherings.
You can make this pie in similar steps when making apple pie, and you can also design it with lattice topping by knitting the strips. Finally, you can add cinnamon or nutmeg to the peach filling and drizzle a little lemon juice to emphasize the sweetness and avoid being oxidated.
Believe me; grits pie is the most straightforward dessert you can cook. The pie's ingredients are super simple: water, all-purpose flour, quick-cooking grits, butter, sugar, eggs, buttermilk, and pie crust.
You can make the pie crust at home; however, the target is to save your time and no mess; bought pie crust is an optimal selection. It is a quite firm texture, and the creamy flavor will satisfy anyone.
Another cheesecake on this pie list is snickerdoodle cheesecake. You will fall in love with this pie after the first bite. The salty-sweet of graham cracker crust with thick and creamy cheesecake is an excellently balanced flavor.
When making it, you cannot miss the most significant ingredient that is ground cinnamon. Cinnamon has a warm and heaty taste that makes this dessert more special.
After filling the cheesecake, don't forget to sprinkle the mixture of sugar and cinnamon on the top and bake the pie. Burned sugar and cinnamon will enhance the flavor.
Your summer days cannot be perfect if you don't enjoy creamy pineapple pie. Pineapple has a slight tart, and the sweet taste combines with the creamy filling will complete your summer. In addition, you don't need to bake its pie crust since you can purchase pre-baked or crush cookies.
Cornstarch is added to pineapple filling to thicken it while keeping it soft, velvet-like texture. Let's refrigerate it before serving to make a cool treat.
33 Cake Desserts Are Perfect Options For Unforgettable Memories
Cake desserts are made with soft-like-bread layers and spreading various fillings between them. Here are 33 cake desserts that include various shapes and flavors. Let's explore them now.
If you are a big fan of caramel, you cannot miss out on this sweet dessert featuring caramel. The cake is fluffy and soft, while the caramel is a salty-sweet flavor that can make an explosion in your mouth. Besides, its light brown caramel drip will attract you whenever you see it.
You can make a caramel sauce to add to the layers between sliced cakes and spread caramel cream on the outside. That allows you to taste caramel flavor in each bite. This dessert is great for a wide range of occasions such as your birthday or a finish of cozy parties.
The regular cake is not enough to serve for many people; therefore, you should make sheet cakes, and cream cheese sheet cake is recommended. This cake is a soft, fluffy, and buttery taste due to cream cheese frosting.
Besides basic cream cheese, chocolate cream cheese frosting is also worth trying. You just need to bake a big sheet cake and divide it into square pieces to serve your guests.
There is a note for you when making this cake that is to let butter, cream cheese, and eggs sit at room temperature for easy mixing. However, as the timespan cream cheese can sit at room temperature is not that long, you should be quick and efficient with your mixing.
Don't forget to prepare several chips to sprinkle on the top; your kids surely cannot wait to enjoy it.
Have you ever eaten a cake with having sweet tea flavor? If you have not yet, you need to try down south sweet tea cake immediately. This bunt cake is a traditional Southern dessert whose taste is unique with delicate and subtle flavor.
The flour is not mixed with normal milk; it is combined with milk tea. After boiling milk, you will add several tea bags and wait for them to release all flavors. Moreover, the baked bunt cake also absorbs sweet tea syrup that keeps it tender and rich taste to enjoy.
In various recipes, you can add pecans, raisins, or any dried fruit you like to the flour mixture and pour the whipped cream frosting on the bunt cake as you prefer. If you want to omit dairy-product from this cake, you just need to use a dairy-free topping.
Do you wonder why its name is King cake? The ring-shaped cake is pretty similar to a lot of cakes, yet colorful decoration makes it different. The King cake is decorated with 3 colors of sugar icing that stand for 3 meanings: Purple stands for justice, gold implies powder, and green presents for faith.
The traditional flavor of this cake is cinnamon; however, you can replace it with varieties fillings such as cream cheese, fruits, and more. King cake is also a lucky icon since a small bean or a plastic baby is hidden in this cake, and if a person eats one of them, they will be favored with fortunate opportunities.
There is nothing better than having a hummingbird cake at Easter parties. This cake not only contains flour and eggs, but it also consists of various fillings: fresh pineapple, cinnamon and nutmeg, pecans, overripe bananas, and more that are enough to make it flavorful.
Cream cheese frosting is a kick for this cake with a creamy taste and toasted coconut sprinkled on the top. To help you get desired consistency of frosting, you can mix it and chill it in the fridge for a few minutes, then repeat this process several times.
In addition, you can divide batter into cupcakes to make hummingbird cupcakes. They are more convenient to serve and fit for 1 person.
You surely cannot take your eye off the red velvet color of red velvet cake. In my grandma's recipe, she doesn't require a skillful technique to decorate the cake. She only blends sugar and cream butter until they are fluffy and light and gradually adds other ingredients.
Afterward, pour it into parchment sheet pans and move to make the frosting. Go for specific kinds of frosting that are thick, as they are perfect for spreading between the layers. Before serving, you just need to pour the remaining frosting on the top and sprinkle pecans.
This cake is simple to make and decorate; however, it is full of the memory of my grandma and me. It has a soft, light texture with a sweet and buttery taste that you cannot stop eating. It is a rustic cake but delightful.
Let's raise your hand if you love chocolate like me. I am not an expert in the dessert field; however, I never fail when baking this chocolate mayonnaise cake. It is not simple to make but also subtle and delicious when tasting.
Don't be afraid to add mayonnaise to this dessert since it will help your cake be soft and moist all time. You should use full-fat mayonnaise to provide your cake enough buttery taste and fluffy texture.
You just need to mix all ingredients completely, pour it into a pan, bake it and serve with a layer of chocolate frosting on top. You can teach your children to make this childhood Southern dessert together; it is a good chance to increase your affection.
Almost sheet cakes are an excellent solution for crowded parties, and Texas sheet cake is not an exception. Texas sheet cake is a thin chocolate cake and chocolate frosting. Unlike regular cakes that are poured frosting when they are completely cool, Texas sheet cake is poured warm frosting when it is still warm.
This cake will be an amazing balance due to its bittersweet and chocolatey flavor. Remember to add crunchy pecans on the frosting to supplement more tastes when chewing the cake. What are you waiting for? Let's take a trip to groceries, get full ingredients and make the cake for your family.
Southern lane cake is a layered sponge cake filled with egg yolks, sugar, bourbon, salt, and orange zest. Don't forget to finish the filling with raisins, pecan, coconut, and cherries.
You will find its balanced flavor and crunchy when chewing it. Next, you need to divide the whole cake into 3 layers and spread the filling between 2 layers. The whipped cream frosting will be perfect for covering the outside of the cake.
Are you find it confused when hearing the name Mississippi mud cake? This cake includes a basic chocolate cake, melted marshmallows as the second layer, and the top layer with warm chocolate frosting.
This cake is sweet, slightly bitter, with a chocolatey aroma; thus, you will not be fatty even when you enjoy a lot of cake. The cake is baked in a sheet pan, and you can bake once for later use when refrigerating it properly.
The mud cake implies the mushy and creamy melted marshmallows layer; you can break a piece of cake by hand to see the marshmallows you can be extended. This is an interesting feature of it.
Bring Asian cuisine to your home with a coconut layer cake. You cannot forget the intense flavor of grated coconut when biting. This cake will meet your strict requirements that are rich, super moist, and bold taste with fluffy crumbs.
Besides adding grated coconut, this cake also uses coconut extract and coconut milk to multiply taste. You will enjoy the velvet-like texture and the perfect puzzle for any frosting, from lemon frosting to buttercream frosting.
It is flexible in shape; you can pour it into cupcakes, stack 2,3, or even 4 layers. The exclusive white color of this coconut layer cake makes it excellent for different occasions, especially weddings.
The classic Southern pound cake is a perfect gift for those who don't want to eat too sweet a cake. The exact amount of ingredients for this cake create wonderfully sweet. This cake has a thick layer and crispy crust on the top, yet its texture is still soft and light.
The flavor of this classic cake is not too complicated, but you are surely hard to resist. Butter, superfine sugar, and cream cheese are 3 elements contributing to create an amazing texture. You cannot get a desired Southern pound cake if you use other sugars.
Milk cake – a simple name, but it can say all things relating to this cake. Milk cake is made from 4 kinds of milk, including heavy cream, condensed milk, evaporated milk, and whole milk. Heavy cream is whipped to pour on the top of this cake.
Meanwhile, condensed milk, whole milk, and evaporated milk are mixed and pour onto the cooled cake. Until here, you can imagine a milk cake will have 3 layers with different textures, fluffy cake, luscious filling as well as light and creamy whipped cream.
Little layer chocolate cake is perfect for many occasions containing birthdays, baby showers, or more. It is a high cake with multiple layers, usually is 18 layers. It requires a little skillful technique and time to bake thin but perfect layers.
Unlike other cakes, you need to make chocolate frosting before combining and baking the cake. You should apply the frosting while the cake is still warm since the icing needs to be thin and slightly runny.
That's why you should arrange the layers on the cooling rack to ensure there is no excessive icing that makes thicker frosting. The rest of the icing will be poured onto the top when all layers are set.
If you have never heard of upside-down cake, you can find it quite strange; however, it is a common Southern cake, and this U-something dish is considered a heritage cake. The pineapple is kept whole slices; thus, it is tender and juicy.
You can enjoy this cake any time of year; you can use canned pineapple and maraschino cherries for convenient use. These sliced pineapples are soaked into brown sugar that allows it to have caramelized color and luscious flavor.
Baking banana skillet upside-down cake with an iron cast skillet, why not? This dessert can help you make a cake without any mess. First, you need to cook bananas in brown sugar until they are slightly thick and add the flour mixture, then bake until it turns golden brown.
If you have tried pineapple, banana skillet upside-side cake, why don't you try peach upside-down cake? The peaches are soaked into bourbon to add a strong flavor to each sliced peach. Besides, you can add cinnamon or vanilla ice cream to dress up its flavor.
Blackberry jam cake is an old-fashioned southern cake with caramel icing and toasted walnuts on the top to add salty-sweet flavor and crunchy nut when enjoying this cake. Blackberry jam highlights this cake with a sweet and a little bit of tart taste.
The perfect cake will have moist cake and fairly thin icing; thus, you can see the slightly runny frosting. It is a great cake on Christmas day, and you can straightforward make it at home with 2 layers instead of the traditional 3 layers.
Cola is more versatile than you think, as you can even bake a cake with this most favorite beverage. Coca-Cola cake has been enjoyed for decades in Southern. Cola will help the cake become extremely moist and luscious.
Don't forget strawberries; they will add an acidic taste to balance the sweet cake. Moreover, the creamy and tart-sweet sour cream will bring out the cake. You seem to see heaven when biting a piece of this cake.
There is nothing better than a Japanese fruitcake due to its rich and flavorful filling and coconut frosting. After baking this dessert from the country of the rising sun as regular recipes, you have to mix filling by adding walnut, dried currants, cinnamon, allspice, and cloves.
This combination will be spread between 2 layers, and you will find it creamy, nutty, and warm flavor. Next, you should roast the shredded coconut for the outer, which helps it be crunchy and full of aroma, and sprinkle on the outside of the cake.
Sour cream chocolate cake is also a southern heritage cake. Sour cream plays a significant role in creating a super moist and fudgy texture; you don't need to worry about sour cream flavor can overwhelm the entire taste of cake since it is hard to taste sour cream.
In addition to the cake, chocolate icing is worth expecting. It is not too sweet or too bitter, and it can balance between 2 flavors. You just need to a thin layer of icing on the top and sprinkle some pinches of sprinkles to decorate the cake.
This sour cream chocolate cake is perfect for serving the crowd since it is baked in a sheet pan. Its recipe is easy to follow; you can bake it at home and give your family a fun time.
Pineapple appears in various southern desserts, and this pineapple orange cake is not an exception. This cake is light, fluffy, and fruity, with oranges on the top. As with other sheet cakes, you can choose to serve in a large gathering.
Pineapple orange cake is an excellent choice for summer thanks to its fresh, tart, luscious and creamy flavor. If you don't want to add orange, you can turn the cake into a delectable lemon cake mix treat by using this handy, full-of-citrus-flavor ingredient. The whipped cream on the top is applied simply but subtly.
Hazelnut cake squares contain several simple ingredients: toasted chopped hazelnuts, Nutella, chocolate chips, and more. This cake doesn't require frosting on the top, yet you can choose to sprinkle confectioners' sugar or glazed hazelnut on the top to enhance its flavor.
You will find it pretty firm when chewing; besides, the crispy top of this cake is a feature I like most. If you ask me which cakes your kids can bring outside, I will not hesitate to vote for hazelnut cake squares since you don't need to worry about the messy frosting or too moist texture that can be affected while you are moving.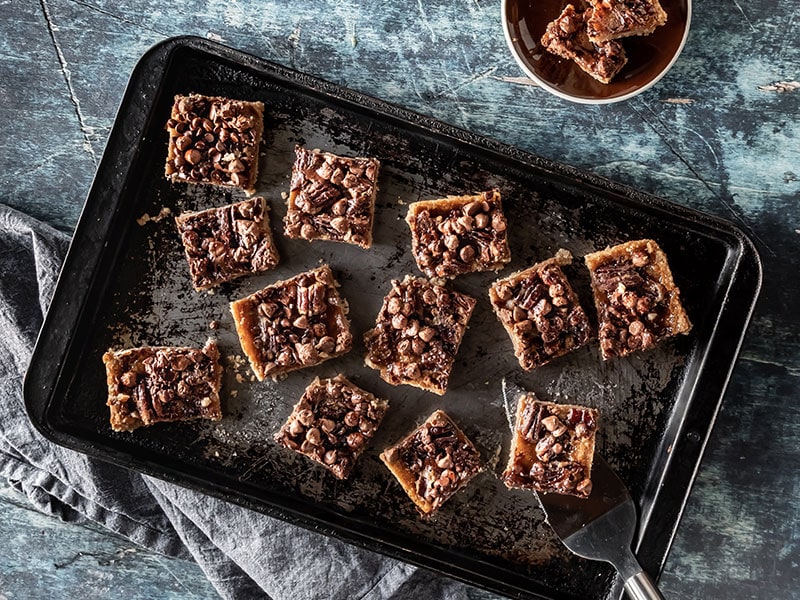 You should make mom's citrus buttermilk cake for your tea time and serve your friends as everyone loves citrus buttermilk cake. This cake is a harmonized melody since both buttery and citrus flavors are kept appropriately.
The whole cake has a fluffy, light, and perfectly dry texture that allows you to cut it into small pieces without any mess. Furthermore, the bunt cake is sprinkled with lemon zest instead of icing.
Decadent fudge cake has chocolate cake with dark and white chocolate syrup for decorating. You need to add chocolate chips to the flour mixture to create an increasing texture when you enjoy it.
The flour is baked in a bunt pan, and the cooled cake is drizzled with chocolate syrups to add bittersweet flavor. Although it is decorated simply, it is still perfect for serving in cozy parties.
The name butter cake says almost the features of this dessert. It is straightforward to follow; thus, you will not go wrong when choosing the sweet, traditional, fluffy, and buttery cake.
You just need to mix these simple ingredients: unsalted butter, sugar, eggs, flour, baking powder, and vanilla extract. Reading them, you can ensure that it is difficult to fail this recipe. You only spend less than 1 hour on mixing and baking it.
If you retain leftover raisins and don't know what to do with them, why don't you try to make old-fashioned raisin cake? It is perfect for boosting your mood in the morning with a cup of hot coffee.
This cake is a light, chewy, tender, and fluffy texture with buttery, sweet, fruity, and a little bit of gritty flavor. In addition, the intense warmth from cinnamon is also a highlight of this cake. Your family will be wake up with a heavenly aroma when you are baking it.
After a lot of no-icing cake, you will come to an old southern chocolate pecan sheet cake covered with pecan chocolate icing. You need to mix the chocolate mixture in a bowl before pouring it into the sheet pan and baking it.
Add cacao powder into this flour helps it have a chocolatey taste even when you eat it without icing. However, you should spread icing to enhance the cake's flavor and keep it moist all time.
The icing is a perfect balance with a nutty, crunchy pecan and bittersweet chocolate layer. You can chill it into the fridge to slightly set the icing on the top and avoid dripping chocolate sauce when cutting it.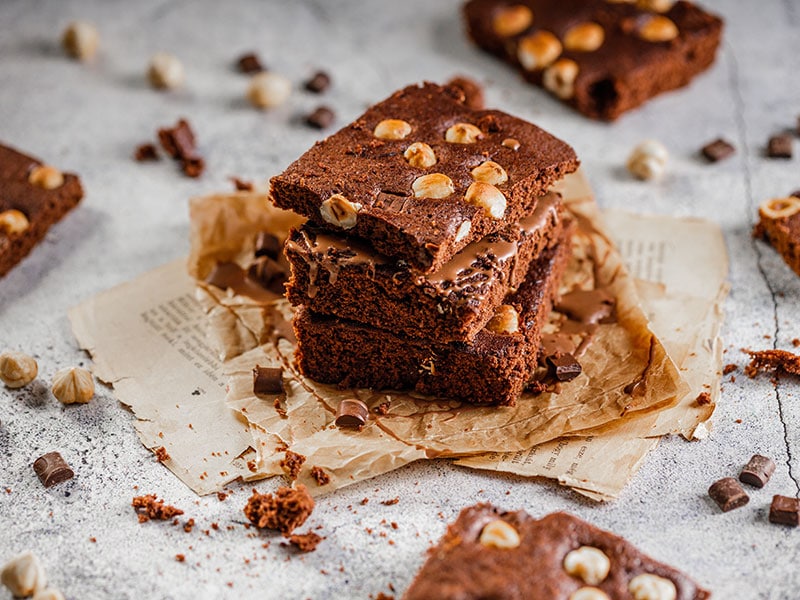 As its name implies, punch bowl cake will serve you in a large transparent bowl that is an interesting feature compared to high-round cake and sheet cake. You need to arrange a layer by a layer of cake, frosting, and fruits such as bananas, strawberries, and more until they run out of.
Depending on which fruits you choose, the whole flavor will be different. For example, the strawberries will add a tart and sweet taste, while bananas will supplement tender, smooth, and sweet flavors. Don't forget to top with whipped cream and walnuts.
Do you believe a pound cake is worth a million dollars? No, no dessert is too pricey like this, but the flavor of a million-dollar pound cake can make you feel like eating a pricey cake.
With only 7 basic ingredients, you can create a subtle, rich, and smooth-as-silk texture. The special of this cake is to add almond extract instead of vanilla extract like almost cake.
The almond extract will help you add the taste and aroma of almonds without adding chewing texture. Besides sponge texture, you will be attracted to the golden and crispy crust on the top.
Tennessee mountain stack cake seems to be more complicated to make compared to the above cakes. You will find a taste of dried applied with the crunchy dough when chewing the cake.
In addition, you cannot skip an intense and subtle warmth of cinnamon as well as a creamy and silk-like filling. Homemade dried apples are the best option for this cake; nonetheless, let's purchase mass-produced dried apples if you cannot afford them.
Thanks to its sweet sauce, this sweet dessert featuring applesauce offers an incredibly moist texture. You only need to mix all ingredients into a bowl and pour it into a tube pan. Then, after letting it cool, you can dust a little confectioners' sugar for decoration and upgrade the flavor.
You can choose basic applesauce or chunky applesauce for this recipe to create a luscious flavor. Moreover, subtle aroma and an intense warmth from cinnamon with a fruity, piney aroma and menthol-like taste will bring out this applesauce cake.
Pecan and butter are essential ingredients in butter pecan layer cake. Both pecan and butter offer you sweet, nutty, and buttery flavor. Besides, the crunchy and crisp texture of pecan will bring you an interesting feel when chewing.
The cake has a light, soft, and fluffy texture with a buttery taste that cannot stop you from enjoying it. You can serve the cake alone, yet I recommend you pour the frosting made from confectioners' sugar and cream butter on the top and between layers of this cake.
5 Cool Ice Cream Desserts You Cannot Miss
Besides pie and cake, you can reference 5 ice cream desserts that will complete your meal excellently.
For summer gatherings, enjoying ice cream is one of the most attractive desserts. When ice cream ideas cannot get out of your mind, let's try to make bananas foster gelato. The luscious flavor from rummy bananas mixed with French vanilla gelato will make you eat constantly.
You need to leave it to sit in the refrigerator for several hours or overnight, then transfer it to a freezer for more hours before scooping it up. Don't forget to dress up with slices of bananas and drizzle a little caramel to add salty-sweet flavor to your ice cream.
Bananas foster sundaes are not truly ice cream, but it is a perfect addition to ice cream. You can find its mushy texture with unhidden sweet of bananas since you just need to cut bananas into chunky size.
Moreover, cinnamon, nutmeg, and rum extract will bring you a whole new flavor world. Cinnamon is a little bitter, pungent, and warm taste, while nutmeg also offers its unique warm flavor.
Rum extract will be a key to creating a rich and flavorful taste for bananas foster sundaes thanks to its full and complicated flavoring.
Another perfect puzzle for vanilla ice cream is this decadent dessert prepared on the grill. You only need to sprinkle sugar and ground ginger onto the peaches, then grill them in a charcoal grill. You should pay attention to the grilling process to ensure the peaches turn golden brown.
Depending on which types of peaches you choose, you will get a different flavor, while peaches are floral sweetness and delicate flavor while the yellow ones are tarter. To add more taste to your dessert, you can mix them with lemon zest, lemon juice, and honey.
When mentioning southern ice cream, Georgia peach ice cream is a must-try recipe. Besides the velvet-like texture of cream and milk mixture, you will taste a little bit of acidic taste and sweetness with floral aroma from chopped peaches when enjoying this ice cream.
Buttermilk peach ice cream is tangier and shiner flavors from buttermilk will make you more satisfied than milk ice cream. In addition, the silky ice cream will attract you at the first bite; thus, it is super refreshing to enjoy.
Don't forget to add some slices of fresh peaches on the top; I am sure the floral sweetness from peaches is unforgettable memories.
3 Pudding Desserts In Southern Style, Why Not?
Pudding desserts are the favorite dessert of many people since they can melt right after placing in your mouth. So let's see 3 Southern pudding desserts I bring to you and pick the one to enjoy after meals.
Trisha Yearwood banana pudding is a dessert that cannot miss when listing southern desserts. This pudding is a perfect combination of ratio bananas, pudding, and vanilla wafers; therefore, the taste of this dish is rich and luscious.
You need to arrange the vanilla wafers on the bottom; the following layers are fresh bananas and pudding. You can repeat this process until the glass is full and top with whipped cream to add a creamy taste. Next, you can bake the frosting for 5 minutes or until slightly brown, enhancing the entire flavor.
If you are familiar with the semisolid consistency of pudding, you can find it quite strange when you see this butterscotch-pecan bread pudding since it doesn't have a silky smooth texture. Instead, it is sweet and crunchy due to roasted day-old French bread and butterscotch sauce.
The cooled bread will be soaked into the mixture of eggs, vanilla extract, heavy cream, and melted butter, then baked for approximately 60 minutes before serving. The crispy pudding will be topped with vanilla ice cream, pecans, and butterscotch sauce.
This dark chocolate pudding is the authentic pudding texture you are looking for. No one can refuse chocolate desserts, and this pudding will make always say yes. The creamy, jiggly, and silky texture are some words you can use to describe this dessert after chilled.
Moreover, the flavor doesn't need to be discussed since it is an extra deep flavor with a slightly bitter taste from dark chocolate and buttery. You just need to spend 15 minutes making it and refrigerate it for later use on hot days.
3 Crazy One-Pan Cobbler Desserts That You Need To Try
You just need to use one pan for making these cobbler desserts. So you don't have to wash a lot of equipment and tidy up your messy kitchen when making them.
Peach cobbler is a classic Southern cobbler. You can use processed ingredients to save time by purchasing canned peaches, although I recommend using fresh peaches to retain their all-rich, tart, and sweet flavor.
You only need to combine all ingredients in a pan, then arrange canned peaches or cooked peach on the top evenly, allowing you to bite peach in every spoon. You should sprinkle a little cinnamon to add warm flavor and intense aroma to the dish before baking.
The second cobbler is pecan strawberry rhubarb cobbler. Again, you will taste multiple layers of taste in one dessert, including crunchy and toasty on the top and a perfect mixture of sweet and tart flavor underneath. Besides, the warm and nutty flavor of pecans also enhances the whole taste.
Chocolate cobbler is a classic southern dessert with a delicate, fudgy, and delicious taste. The top of this dessert is similar to brownies, while the under has a smooth and mushy texture. The simple recipe is also a big plus of this cake since you just need to use several ingredients in the chocolate cake.
For an excellent experience, let's scoop vanilla cream up and top on the cobbler. It surely will not disappoint you.
Let's Pick Perfect Desserts For Sweet Tooth
The list of 63 Southern desserts will satisfy every sweet tooth. Each dish will have a different texture and flavor, and you can freely dress up filling to create your desserts with Southern style.
Almost of them can be served any time in a year and are suitable for various occasions such as birthday, baby shower or wedding. So if your events are coming up, why don't you reference this list and choose the perfect dessert to finish your feasts?
No matter what your requirements are, they can meet all of them. Don't forget to share this post with your friends and family if you find it helpful. The comment box chats below are always welcome you to leave your contribution after reading my article.
Please come over to my site to read more interesting articles since they are always updated to implement your wishes.
Nutrition Facts
8 servings per container
---
Amount Per ServingCalories473
% Daily Value *
Total Fat 21.5g

33

%
Cholesterol 100mg

34

%
Sodium 292mg

13

%
Potassium 50mg

2

%
Total Carbohydrate 66.3g

22

%

Dietary Fiber 0.9g

0

%
Sugars 53.9g

Protein 6.7g

12

%
---
Calcium

106

%
Iron

1

%
Vitamin D

15

%
* The % Daily Value tells you how much a nutrient in a serving of food contributes to a daily diet. 2,000 calories a day is used for general nutrition advice.