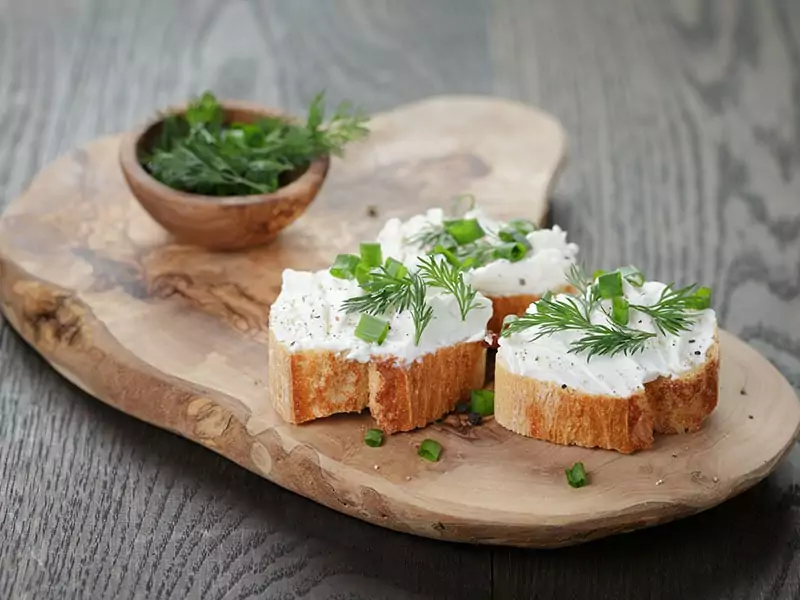 Some products are meant to stay inside the fridge, especially dairy products, so how long can cream cheese sit out? You may have asked yourself this a few times when you're cooking, and something comes up, or during supermarket trips that take too long.
In this article, you will find all the information you need about this topic, from the lifespan of cream cheese to how you can make sure it stays good for a long time. If cream cheese is a staple in your everyday meal, keep reading to find out what you can do to preserve it.
How Long Can Cream Cheese Sit Out?
The short answer to this question is 2 hours at most. That's because harmful bacteria like E.coli grow fastest at room temperature, so it is always recommended to keep your cream cheese in the fridge.
What Is Cream Cheese?
Cream cheese is a soft and fresh cheese made with a mixture of milk and cream. It is off-white in color and has a mild, sweet taste. It is considered to be similar to cottage cheese but is higher in fat content. Cream cheese can be made at home easily with a few different methods.
Aside from plain cream cheese, there are also many delicious cream cheese kinds that you should try. You might not notice this before, but cream cheese actually comes in many flavors, including chocolate, blueberry, strawberry, cinnamon, etc.
Although there are quite many differences between cream cheese and Neufchatel cheese, these two still are somewhat similar in flavor and texture. That's why Neufchatel cheese is considered to be one of the best replacements for cream cheese.
Learn how to make cream cheese with just a few simple ingredients.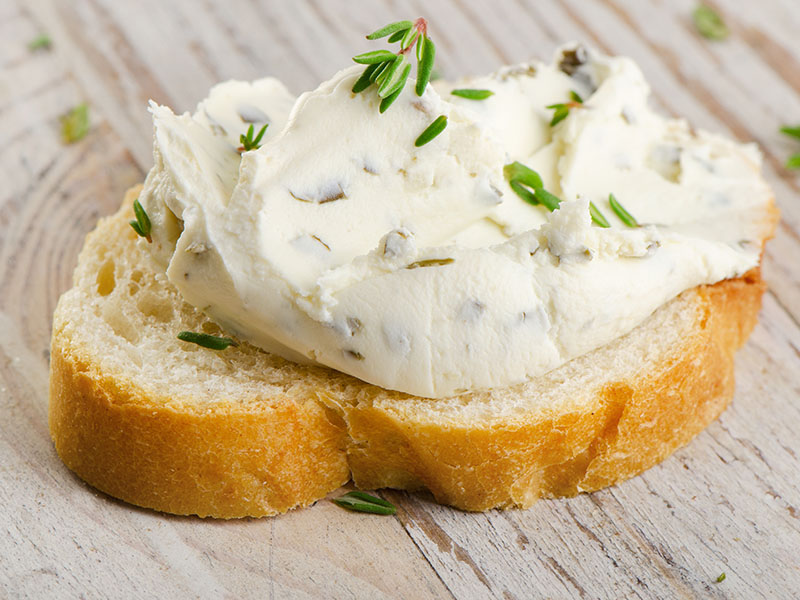 Cream cheese can be used for so many purposes. It is often spread on bread and sandwiches, used as a dip for various side dishes, or added to meals for an extra creamy sweet taste. It can also be made into frosting for making desserts with cream cheese.
The Shelf Life Of Cream Cheese
As cream cheese is a dairy product, its shelf life can be relatively short. Depending on different storage conditions such as heat exposure, processing methods, and cheese forms, its shelf life can be anywhere between two weeks and a month.
| Storage Methods | Refrigerator | Freezer |
| --- | --- | --- |
| (Foiled wrapped) Cream Cheese Unopened | 3 - 4 weeks | 2 months |
| (Plastic container) Cream Cheese Unopened | 3 - 4 weeks | - |
| Flavored Cream Cheese Unopened | 3 - 4 weeks | - |
| Reduced Fat Cream Cheese Unopened | 2 - 3 weeks | - |
| Neufchatel Cream Cheese Unopened | 2 - 3 weeks | - |
| All Cream Cheese Opened | 1 - 2 weeks | - |
Cream Cheese Expiration Date
If properly refrigerated, unopened cream cheese can last from three to four weeks, and opened cream cheese can last from one to two weeks since its "best by" date. However, when kept in a freezer, cream cheese can be in good condition for up to 6 months.
How Long Can Cream Cheese Sit Out?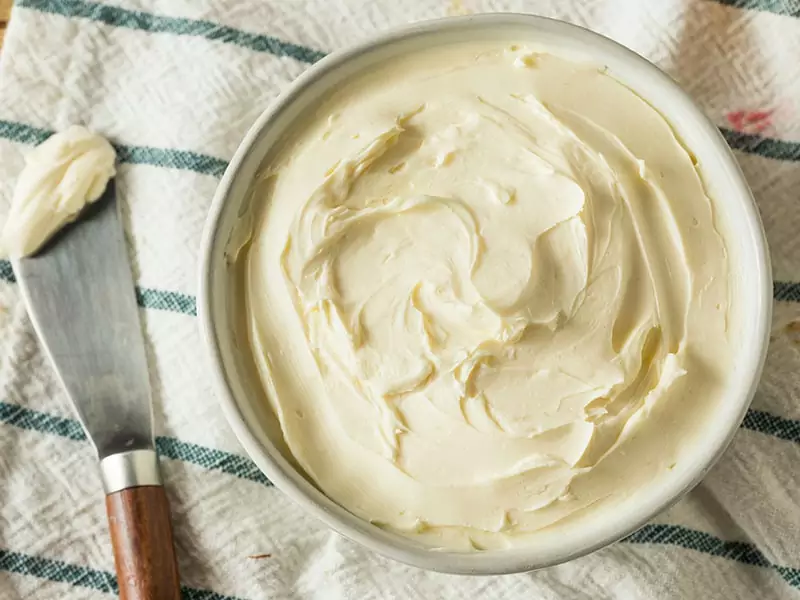 Cream cheese is very delicate and perishable when kept outside of the refrigerator. The longest cream cheese can sit out at room temperatures above 40°F/4°C is two hours. Any longer than that can become a breeding ground for bacteria like Salmonella and E.coli.
The general explanation for this is because bacterial growth usually starts after two hours at room temperature. Furthermore, cream cheese is pasteurized from fresh milk, which shortens its lifespan significantly.
How To Know If Your Cream Cheese Has Gone Bad?
If you can't remember the last time you have taken out your cream cheese, read the following part to know whether or not it is still safe for consumption. So if you can't seem to recall how long cream cheese can stay fresh, this section is definitely for you.
Signs Of Cream Cheese Spoilage
If your cream cheese has been left to sit out for a long time, or you don't know when exactly it expires, here are some helpful ways to recognize when it has gone bad:
Appearance: The easiest way to tell is by looking for mold. It could be pink, green, or black mold. Another thing to look out for is its color. If the usual off-white has turned yellow or greenish, it's time to throw your cream cheese out.
Texture: Spoiled cream cheese will become clumpy and not be as smooth as before. This can result in small cracks and lumps. It will also be much more watery and runny.
Smell: You may be able to notice right away the different smells. Bad cream cheese usually has a sour and pungent smell that can be very off-putting.
Taste: This is the last part of the quality test. If it doesn't show any of the signs above but has been sitting around for too long, give it a taste, to be sure. If it tastes off and unbearably sour, throw it away.
Is It Safe To Eat Spoiled Cream Cheese?
While it is very unlikely that you can eat spoiled cream cheese and not realize it, it is important to know what might happen. You will most likely develop food poisoning from the bacteria and toxins caused by the mold.
Scary as it may sound, you can only get very sick from eating moldy cream cheese if it has got severely rotten. Just to be certain, however, don't let your cream cheese sit out for too long and always check before consuming it.
How to Prolong Cream Cheese's Lifespan?
The most effective ways to store cream cheese are to keep it in the fridge and in the freezer. Keep reading to find more about them and how you can use your cheese afterward.
The Proper Way To Store Cream Cheese In The Fridge
You already know by now that the safest place to keep your cream cheese is in the fridge. When properly refrigerated, it is in good quality for up to four weeks. However, there are also some extra conditions to make sure it is fresh and good to use.
Temperature: One of the most important aspects to consider in preserving cream cheese's lifespan. Do not leave it at room temperature for over two hours. Put it back into your fridge as soon as you are done using it.
Storage: Once it has been opened, the cream cheese is very susceptible to bacteria. Keep it in an airtight container or wrap it in foil to avoid bacteria from invading it.
Utensils: In order to keep your cream cheese from getting in contact with bacteria, make sure you use fresh and clean utensils that haven't been touched by other foods, especially raw meat.
How To Soften Cream Cheese After Refrigeration?
After being stored in the fridge for a long time, you may need to soften your cream cheese once you take it out. Here are a few things you can do to make your cream cheese soft again:
Microwave: This is the fastest method to soften cream cheese. All you need to do is put it in a microwave for about 15 seconds, take it out, then repeat the process every 5 seconds until it's ready.
Warm Water: Keep your cream cheese wrapped in foil for this method. Make sure it is carefully sealed, then submerge it in a bowl of warm water until it is soft. This should take about 10 minutes.
Countertop: This probably takes the longest, but it also helps to ensure the cream cheese's consistency. Cut the cube into long, thin strips, then leave them on a plate, separated from each other. Your cream cheese should be ready in about 20 minutes.
If you want to learn more about how to soften cream cheese, here are some step-by-step instructions.
How To Freeze Your Cream Cheese?
By now, you probably already know the answer to the question "Should I put cheese in the freezers?" But that doesn't necessarily mean that you know the correct way to carry out this procedure.
That's right, although cream cheese can last longer if kept in the freezer, you need to know how. Should you fail to follow the following instructions, your cream cheese might not be able to last up to 6 month—the usual shelf-life of frozen cream cheese.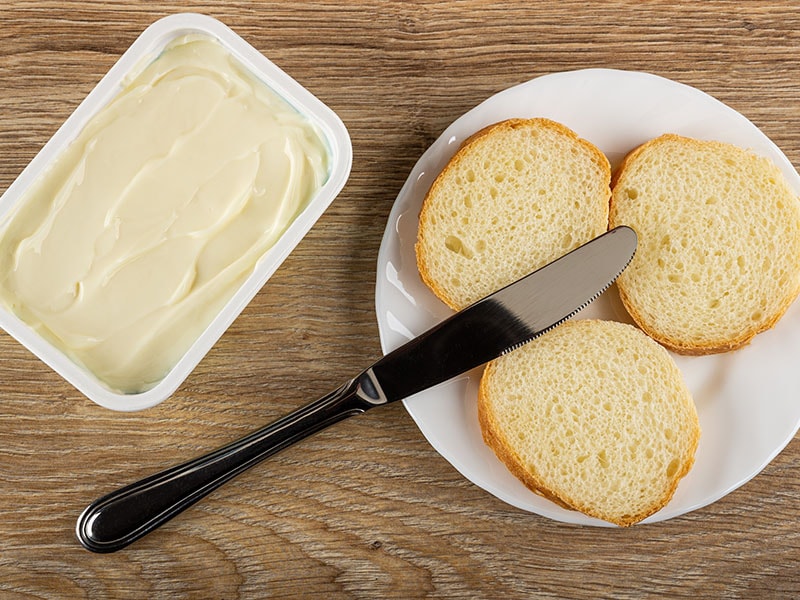 Unopened Cream Cheese
Since it is still wrapped, you can just put it in the freezer to keep it cold. If you are afraid of freezer burns, you can cover it with a layer of plastic or put it in a sealable bag just to be sure.
Opened Cream Cheese
If your cream cheese has already been opened, follow these steps to preserve it in the freezer.
Wrap the cream cheese in foil or plastic freezer wrap to ensure consistency in texture.
Put the cream cheese in a plastic container or ziplock bag.
Remember to label the date first so you can know when it expires.
Keep it far away from other raw meat to avoid any possible bacterial contact.
How To Defrost Frozen Cream Cheese?
It is inevitable that the consistency of your cream cheese will change after being frozen for so long. However, if you thaw the cheese correctly, you can still minimize the damage done to the texture and taste.
This may require a bit of patience, but you need to transfer the cheese to the fridge and let it thaw for 24 hours. If you leave it at room temperature, there's a chance it will become grainy and watery due to a sudden change in temperature.
How To Make Your Defrosted Cream Cheese Better?
Your cream cheese will probably not be as creamy as it originally is, but it can still be made better and smoother again with a few different methods.
Method 1: Use The Whisk
This is the easiest way to bring back your cream cheese's consistency, though not completely. Use a regular whisk and mix it around in a bowl until it starts to become dense again.
Method 2: Use The Microwave
Put the cheese into a microwave-safe bowl and microwave it on low for 10 seconds. Stir it with a spoon against the sides of the bowl until it becomes creamy again. Do it once or twice more until you are satisfied.
Method 3: Use The Stovetop
Fill a medium-sized saucepan with water, then place a bowl over it. Make sure the bottom of the bowl doesn't touch the water. As you boil the water, put the cream cheese in and gently stir to regain smoothness.
Bonus Tip: If you are using the microwave or the stovetop method, add a little bit of milk, sour cream, sugar, or heavy cream while stirring to help make the cream cheese become smoother.
FAQs
The topic of cream cheese preservation can be surprisingly broad. If you still have any more concerns, read these frequently asked questions and see if yours is included.
Bonus Tips To Expand Your Cream Cheese's Shelf Life
Check the cream cheese package carefully before you buy it. Always choose ones that are firm and show no signs of leaking. Steer clear of soft and slimy cream cheese.
If you're having a busy day with lots of errands to run, save buying cream cheese for last. Keep it in an insulated bag so it can be cool throughout the ride home.
Buy cream cheese blocks if you plan on freezing them for later. They usually come in foil packaging and can freeze a lot better than regular cream cheese.
I hope that with all the information provided, this article has fully answered all your questions when it comes to cream cheese and how long it lasts. Don't hesitate to leave a comment and let me know any other questions you may have.
References:
FoodSafety.gov. 2021. Food Safety During Power Outage. [online] Available at: <https://www.foodsafety.gov/food-safety-charts/food-safety-during-power-outage>.