Gruyère cheese always seems to come top of the pile when it comes to tasty, versatile cheeses. It boasts a complex, delicious taste that makes it adaptable to all types of recipes and cooking styles.
Gruyère does all you could ask of cheese, it's a delicious part of a cheeseboard, melted into a French onion soup or a silky fondue, grilled over the top of a Croque Monsieur, or simply sliced into sandwiches.
Let's dive in!
What Is Gruyère Cheese And Where Does It Come From?
Let's learn what Gruyère cheese is and what makes it so unique, as well as the birthplace of this wonderful cheese.
What Is Gruyère Cheese?
Gruyère cheese is a type of cheese that originates from Switzerland. It has a pale yellow color and a rich, creamy, slightly nutty taste with a hard, pockmarked, yellow rind.
Gruyère cheese tends to have small cracks that impart a slightly grainy texture. It's made from raw milk from cows grazing on the flower-speckled hills of western Switzerland and generally cured for six months or longer.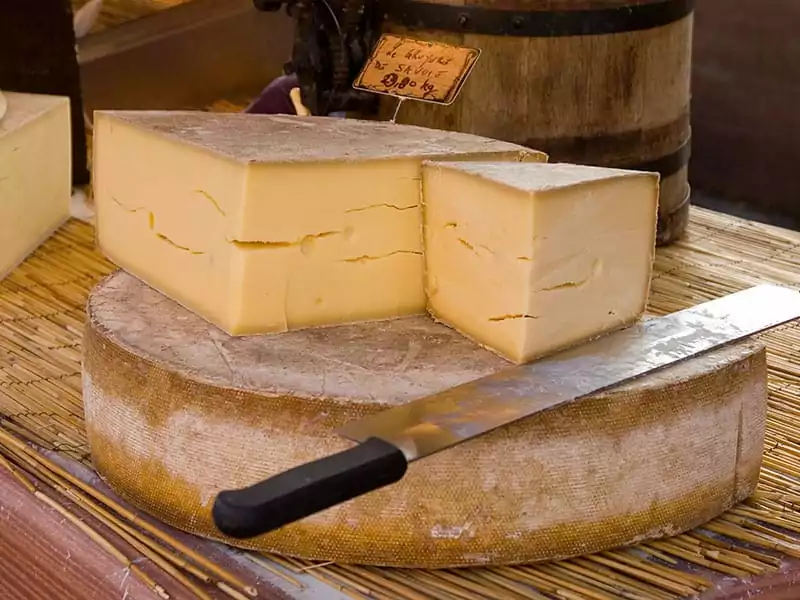 Gruyère cheese is referred to as a table cheese – a term for any cheese that can multi-task in its appearance as an accompaniment for appetizers, soups, salads, the main course, and dessert pairing well with wine.
Gruyère is also a great melting cheese with its gloriously smooth texture under heat. Thanks to this feature, it makes a wonderful complement for lasagna, cheese fondue, or other classic dishes.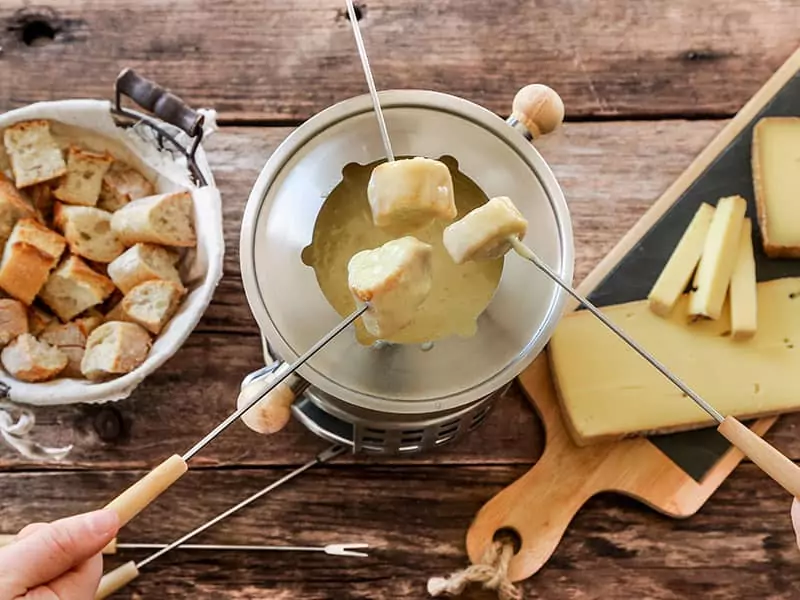 The bacteria used in making Gruyère cheese release gas bubbles, which causes a few small holes, or "eyes" present in the cheese. The "eyes" are characteristic of Swiss cheese. Compared to other Swiss cheeses, Gruyère has smaller and fewer eyes.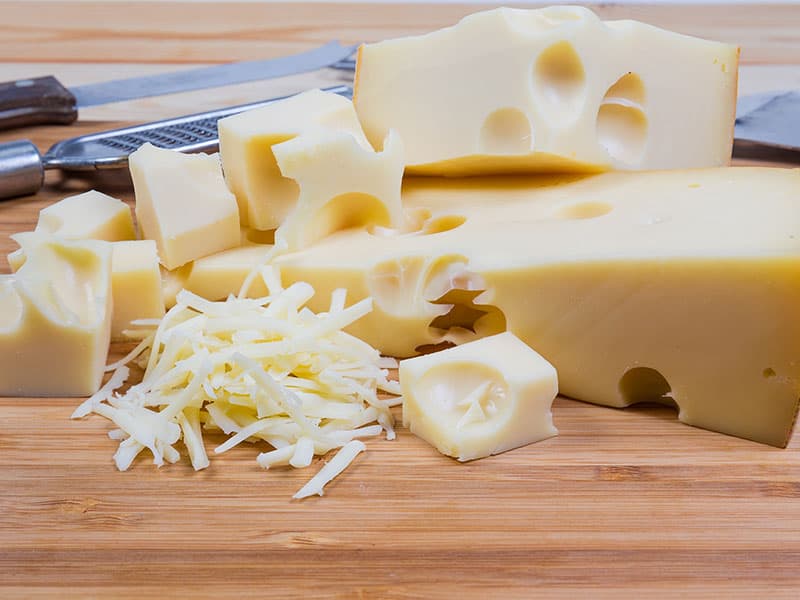 Gruyère Cheese's Birthplace
The origin of Gruyère cheese dates back to 1115 when this cheese was created in Switzerland's Gruyère (often called Gruyères) region located in Fribourg canton. Gruyère is an essential cheese for the region's economy. It accounts for roughly 6000 jobs for this product, whether with milk producers, cheesemakers, or companies that mature the cheese. It is the economic heart of the whole region.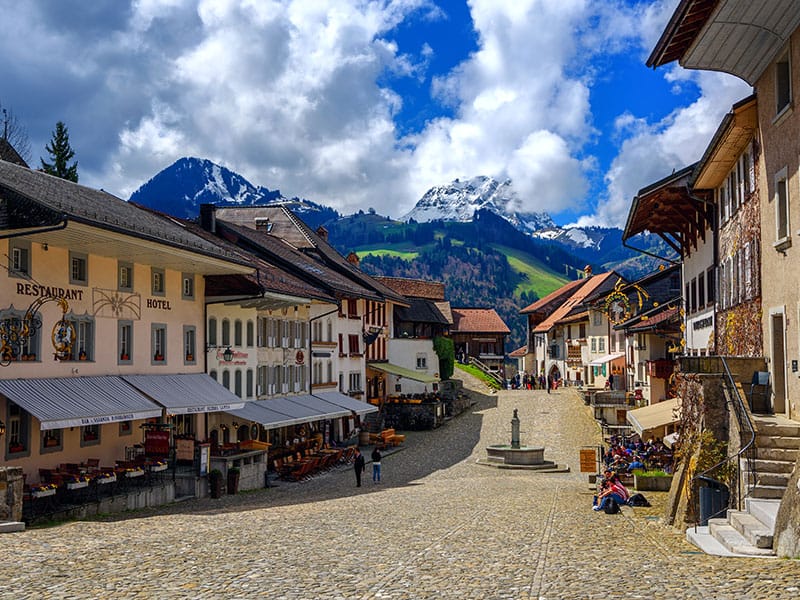 Gruyère AOP (Protected Designation of Origin)
Gruyère was granted AOP protection from the EU in 2001, provided with a controlled indication of origin (AOC) at the national level in 2001. Since 2011 it has benefited from an AOP protected indication of origin for all of Europe (AOP stands for "Appellation d'Origine Protégée", or "Protected Designation of Origin" (PDO) in English).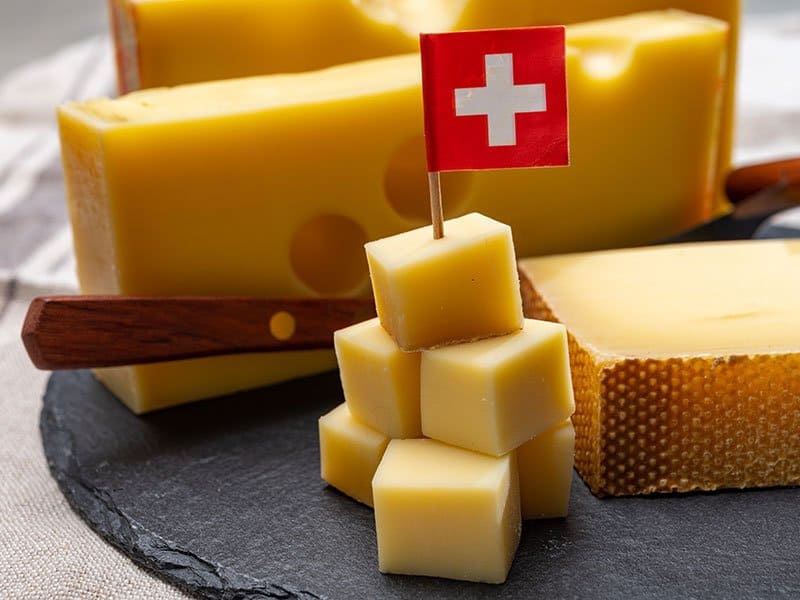 AOP guarantees that only Gruyère AOP is sold that fulfills strict quality requirements stipulated in the product specification and must have an AOP label affixed to the exterior. Gruyère can only be produced by authorized producers, in Switzerland, in the designated regions such as the cantons of Jura, Neuchâtel, Vaud, and Fribourg; the districts of La Neuveville, Courtelary, Moutier, and ew neighboring Bernese municipalities.
How Is Gruyère Cheese Made?
Gruyère calls for expertise in technique, compositional standards combined with the experience of the cheesemakers.
Milk Standard
The history of Gruyère began in 1115 with the development of production in the alpine pastures, and it continues to this day with the same recipe: by mixing fresh evening and morning milk, which respects the product's tradition and know-how to this very day.
Forage has a fundamental influence on milk quality, and the cows must be fed with grass and then dry grass during the winter, so the cheeses have the smell of grass after. And milk used to make cheese must be fresh, from dairies no more than 20 kilometers away. The milk quality changes in the summer when the cows have fresh grass, both outside and in the manger, with flavors that evolve and change slightly with the seasons.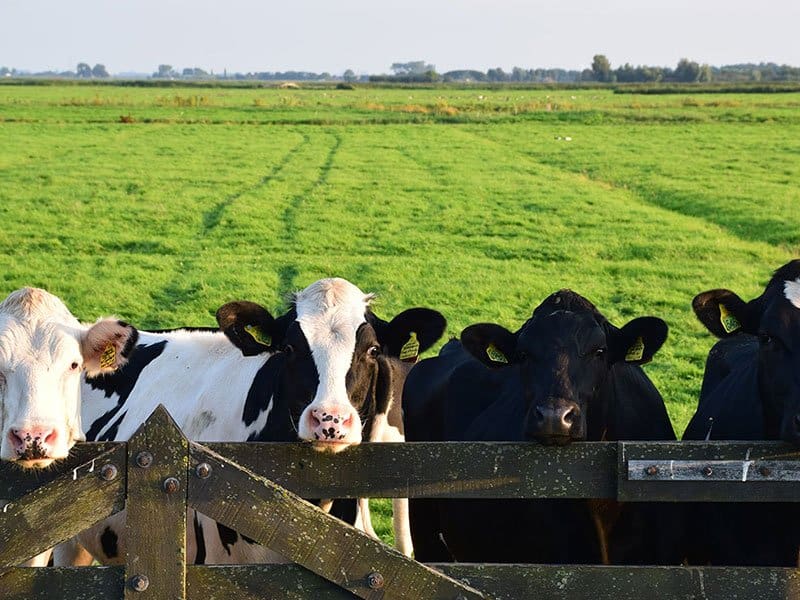 Gruyère Cheese Making Vat
The vat is significant. First of all, copper is required by the AOP specifications. If cheese isn't made in copper, it can't be called Gruyère. The second requirement is only to use it once a day. So the milk is often stored in the evening and produced in the morning, in the vat.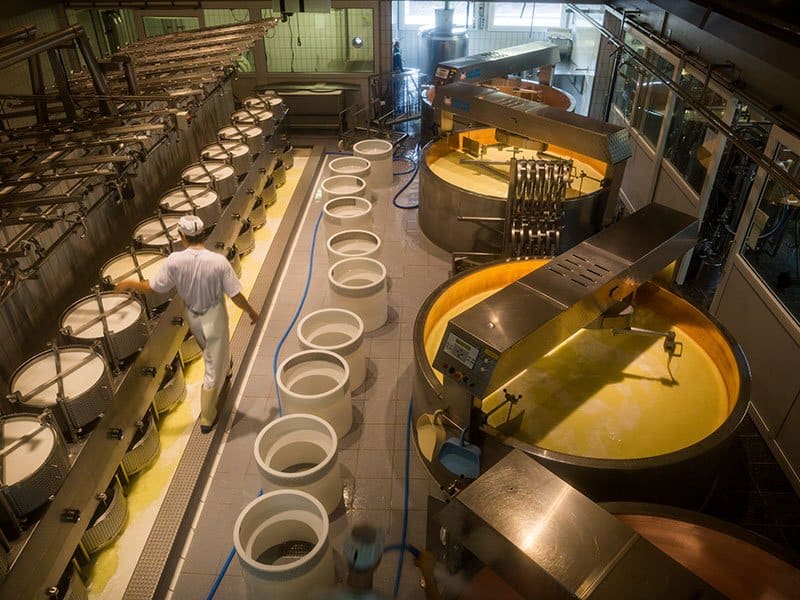 Copper has properties that inhibit certain microorganisms. It can retain many of the milk's minerals and contribute micro levels of copper to a cheese, making a difference in the flavor.
Gruyère Cheese Making Process
Milk is supplied twice a day. A vat containing 4,800 liters of unpasteurized milk is used to produce 12 wheels of Gruyère AOP at a time. The cheesemaker adds starter cultures made from whey to mature the milk. Rennet is also added to curdle the milk. This sets the milk into a junket after 40 minutes.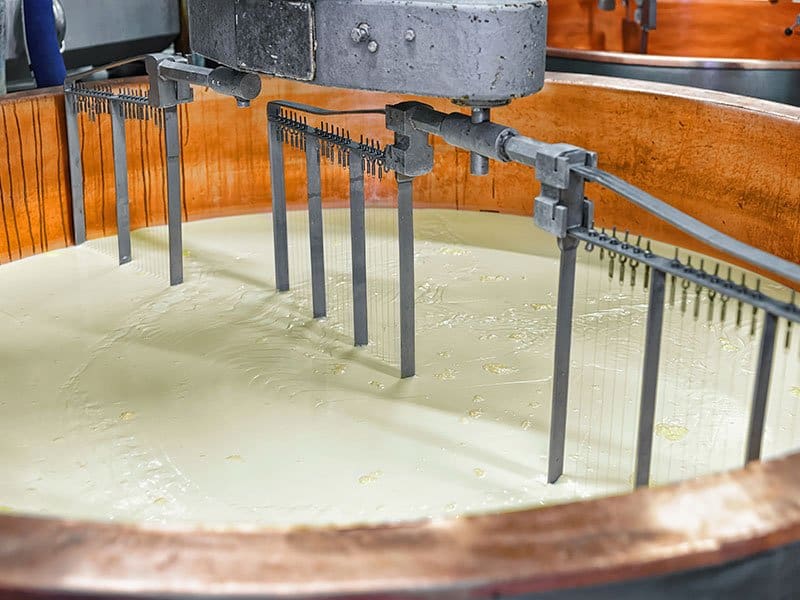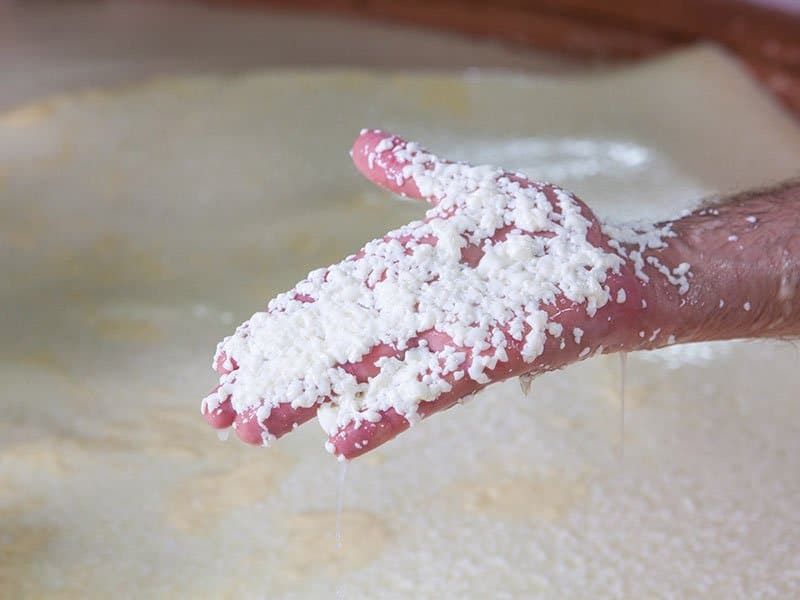 Knives called cheese harps are used to cut the curd. The vat is gradually heated up to 57 degrees Celsius until the curds are the size of wheat grains. The cheesemaker must check the texture and size of these carefully. The contents of the vat are then pumped out into molds, and the whey is drained away. Each wheel is then pressed for 24 hours.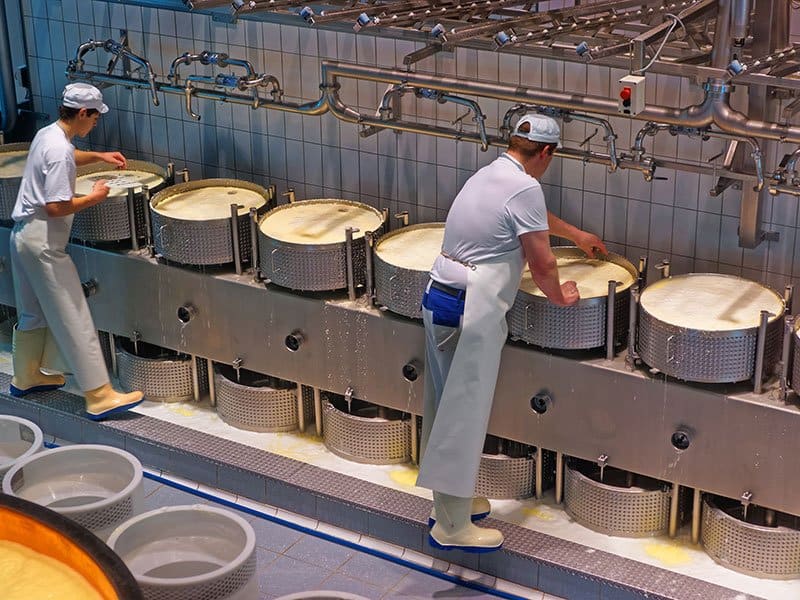 The following day, each wheel is dipped in a concentrated salt bath for 24 hours. After it is taken to the cellars, it is constantly turned, and the rind is washed. The cheese is stored at around 15 degrees Celcius. The cheese also has to be kept on wooden shelves.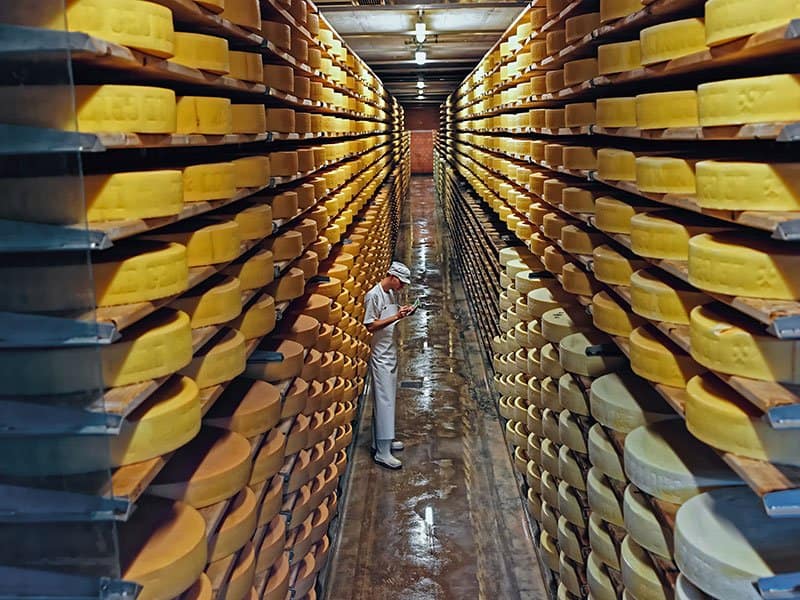 Gruyère is aged here for five months, at which point it is ready to eat. For the sharper taste, it can be aged up to 16 months.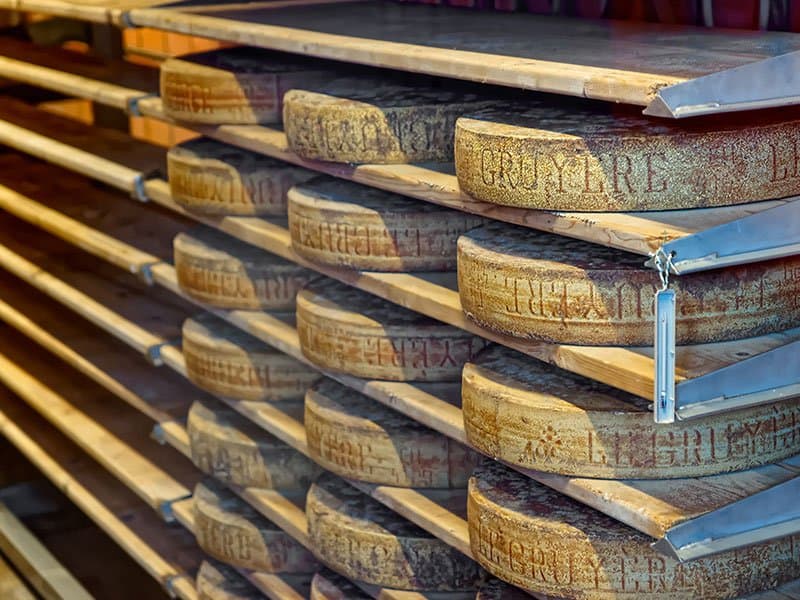 Types of Gruyère Cheese
Traditional AOP Gruyère (Kown as Le Gruyère AOP or Gruyère L'Alpage)
The only "true" Gruyère, this cheese comes in many types like: Gruyère AOP Classic, Gruyère AOP Réserve, Gruyère AOP Bio, Gruyère d'Alpage AOP. They are all required to follow exact specifications laid out by the French Federal Office of Agriculture, which makes the AOP rules.
Gruyère-Style Italian Cheese
Well-known examples are Alta Badia or Piave. The inside of the cheese is pale yellow and is completely solid without holes, tends to be less piquant than Gruyère L'Alpage, but nutty and with the same meltable texture. The milk used can be pasteurized or unpasteurized.
Austrian-Style Gruyère Cheese
This cheese is produced from pasteurized cow's milk. This delightful nutty cheese has a spicy flavor and smaller "eyes" compared with the traditional one.
French-Style Gruyère Cheese
French Gruyère cheese is slightly nutty with a very slight salty accent and is sweeter than Swiss Gruyère. French Gruyère IGP is produced in the departments of Doubs, Haute-Saône, Savoie, and Haute-Savoie that border Switzerland. Except that the milk comes from different cows, these cheeses still use remarkably similar Swiss Gruyère.
What Does Gruyère Cheese Taste Like?
While there are some contrasting arguments about Gruyère's particular flavor, most agree that this cheese has a firm and dense, slightly crumble texture. Authentic Gruyère cheese has a good bit of earthy funk, nice salinity, and sweet, fruity tang.
Also, just like high-quality cheddar or other aged cheeses, it boasts that faint crystalline crunch. Each wheel is regularly turned and rubbed with salt during the aging process to ensure the butterfat is evenly distributed, making it very buttery with salty undertones.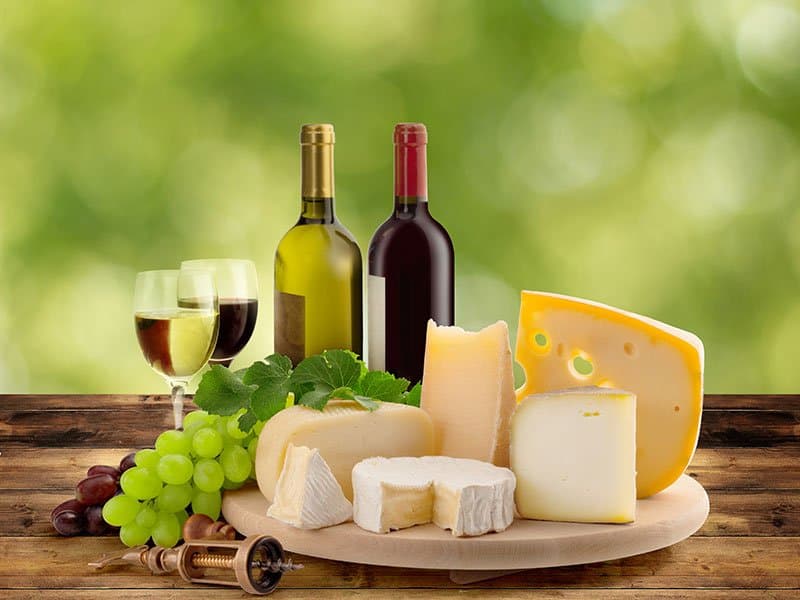 Gruyère cheese tastes deeper, more complex, and more intense when it's aged longer, while young Gruyère is mild and exposes more fruity notes. Plus, the older Gruyère contains more fat and less moisture than the younger ones.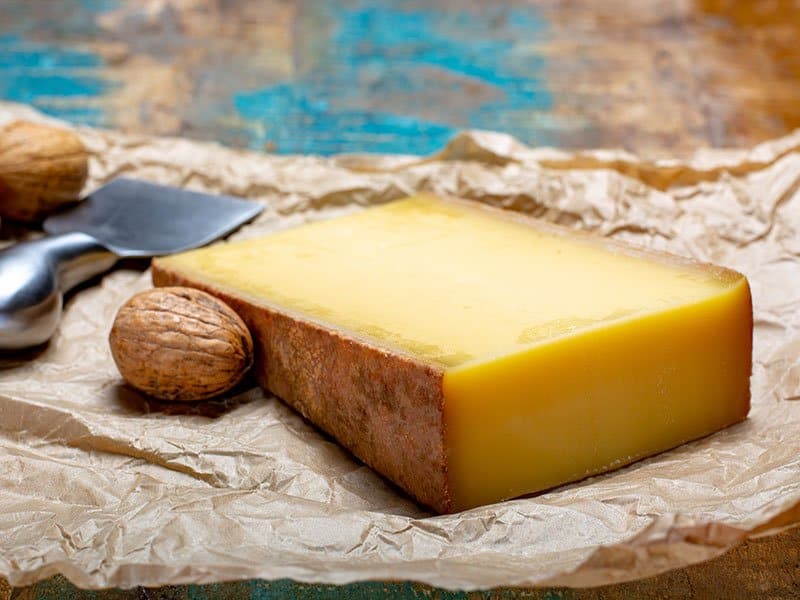 Where To Buy Gruyère Cheese?
Since Gruyère is a common and enormously popular cheese, you can easily find it at the cheese counter at your local market and supermarket, priced from $15 to $50 per pound.
You can find younger varieties of Gruyère like the 5-month old version on supermarket shelves. Make sure to request an aged piece from the counter attendant, specifically if you want a spicier, more intense experience.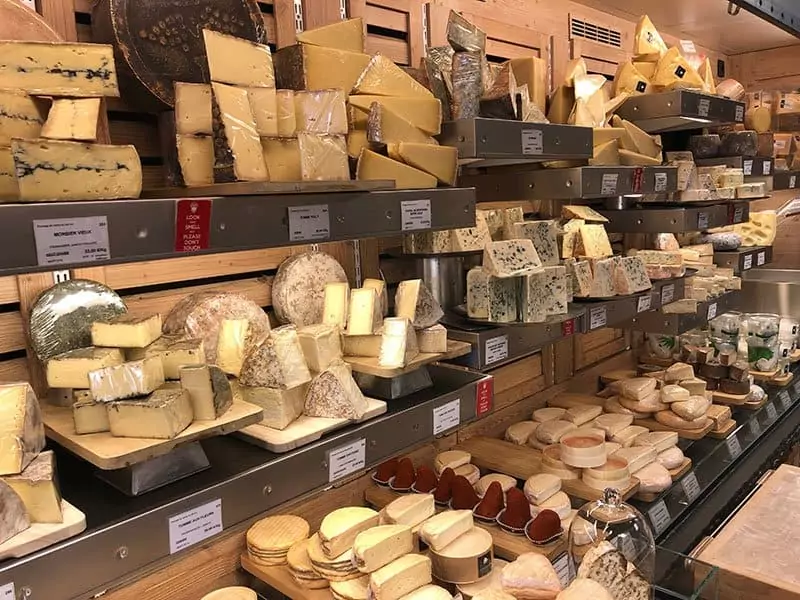 The internet is also a fantastic resource for cheese purchases that makes the world's cheeses available to anyone who can pay for shipping.
How To Store Gruyère Cheese Properly?
Gruyère cheese is aged between 5 to 16 months, most of these cheeses are sold in more significant quantities to enjoy it in several ways. The main goal in storing a Gruyère cheese is to keep it properly and avoid drying it out and retain its flavor and freshness.
Cover the cheese using a cling wrap (you can also use wax or parchment paper if you're out of cling wrap) by placing the cheese at the center of the wrap, then pulling the long sides up and laying them over the cheese, smoothing out the surfaces to avoid wrinkles.
To make sure the cheese is covered well, remember to pull out a large cling wrap. Wrap the cheese tightly and store it in the refrigerators. Since side-by-side and French door fridges have several differences, choose carefully so that your Gruyere cheese won't dry out.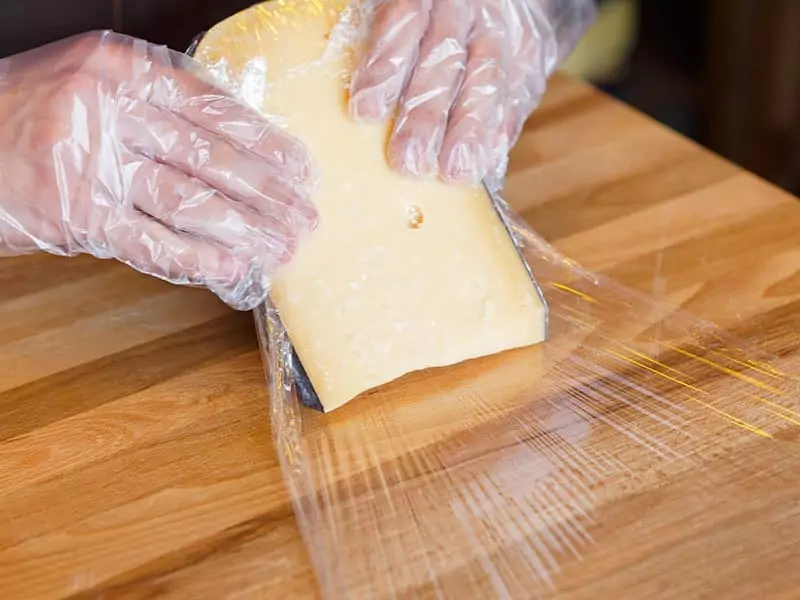 To maximize the Gruyère cheese shelf life, in addition to keeping it fresh, it's ideal that your Gruyère cheese is freshly cut when you buy it so that you can enjoy your cheese for a longer time.
How Long Does Gruyère Cheese Last?
Gruyère cheese can be stored in a fridge for three to four weeks after opening or three months in the freezer if the packet is untouched. To freeze Gruyere cheese, portion, wrap and pack it in an airtight container before rapidly freezing it. Use it within 3–4 months.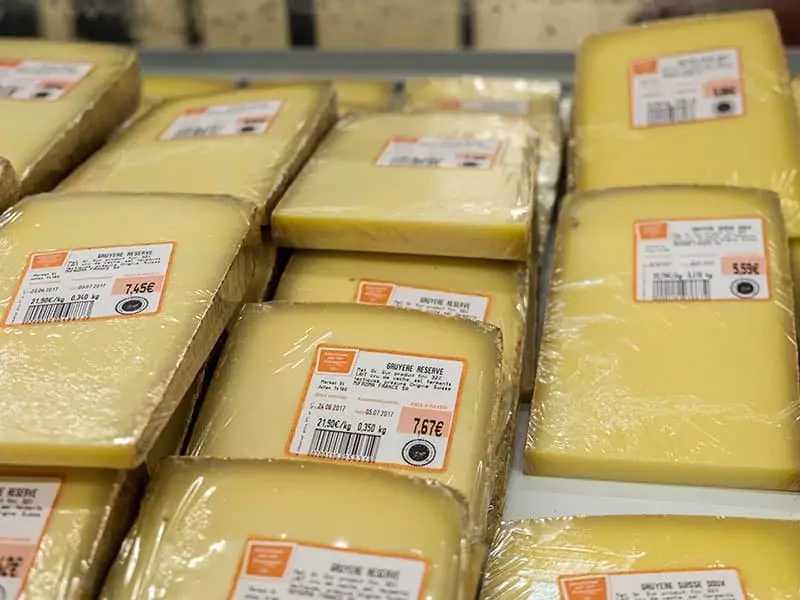 However, frozen Gruyère cheese doesn't taste as it did at first and can become crumbly. Frozen Gruyère cheese should be thawed in the refrigerator and is best used in cooked dishes like casseroles, sauces, soups.
If there's a little bit of mold on your Gruyère cheese, do not rush to throw away your cheese. Mold generally can't penetrate far into hard and semisoft cheeses, such as cheddar, Colby, Parmesan, and Swiss. And Gruyère is one of them.
So you can cut away the moldy part and eat the rest of the cheese. Cut off at least 1 inch (2.5 centimeters) around and below the moldy spot. But if a package of crumbled, shredded, or sliced or Gruyère cheese has mold on it, they should all go to the trash bin.
Gruyère Cheese Parings
Pears and Fig Jam
Pears and fig jam pair well with young Gruyère cheese. This cheese has an orange rind which is slightly sticky and spicy in smell. It had a mild taste, with notes of cooked milk, grass, and a slight apple flavor.
You can cut the Gruyère cheese into triangle wedges and pair them with pears since the pear notes married perfectly with the fruity element of the cheese. This cheese can also be paired with fig jam. This jam will add a nice sweetness to bolster the creaminess.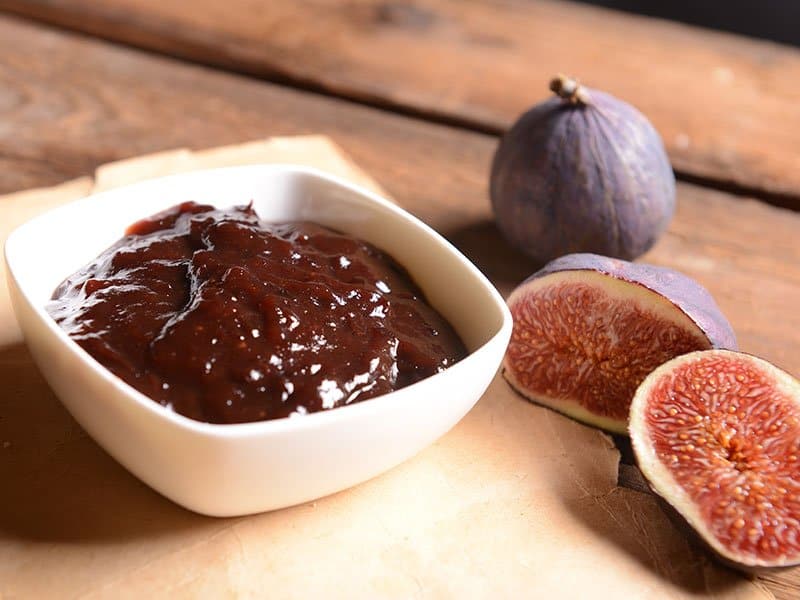 Grapes and Prosciutto
These two can combine with longer-aged Gruyère cheese. The rind on longer-aged cheese is quite dry and less spicy, saltier, and a bit darker in color than the young one.
I recommend cutting the 12-month Gruyère cheese into rectangles and pair them with prosciutto. The cheese will enhance meaty flavors.
Or pairing this cheese with grapes will satisfy your taste buds as well. However, since green and red grapes are quite different, you need to pick ones that suit Gruyère cheese the most.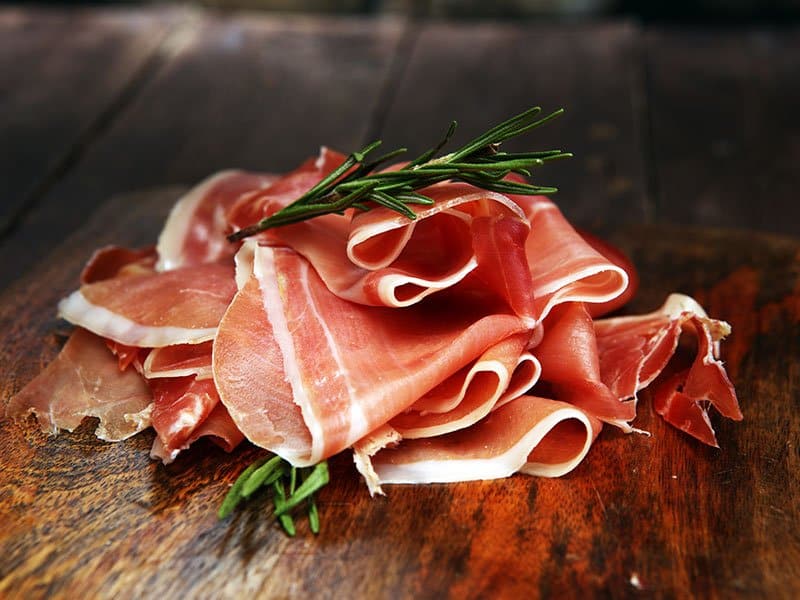 Honey and Apples
Aged Gruyère cheese would be a perfect pairing with honey and apples. With honey and apples, the fruity and floral notes of the cheese were beautifully complimented.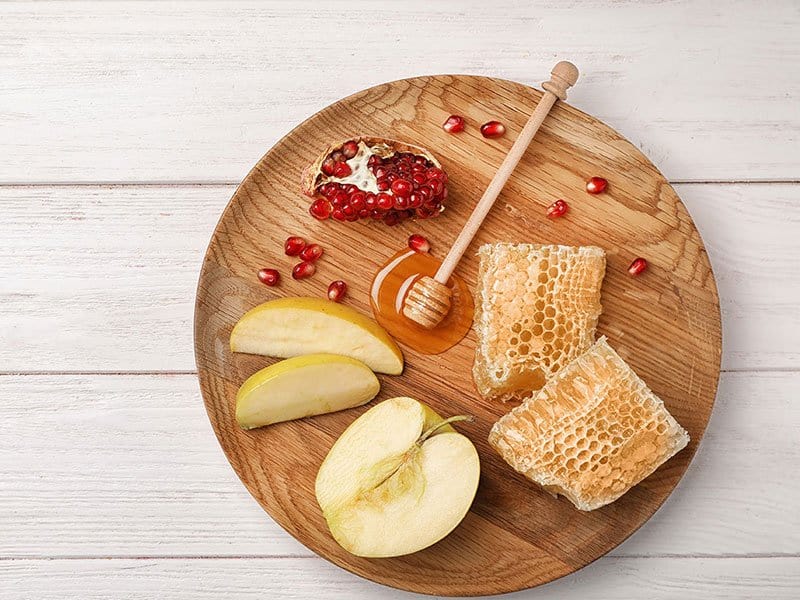 Gruyère Cheese Recipes
Gruyère boasts a complex, delicious taste that makes it adaptable to all types of recipes and cooking styles.
Creamy Gruyère Spaghetti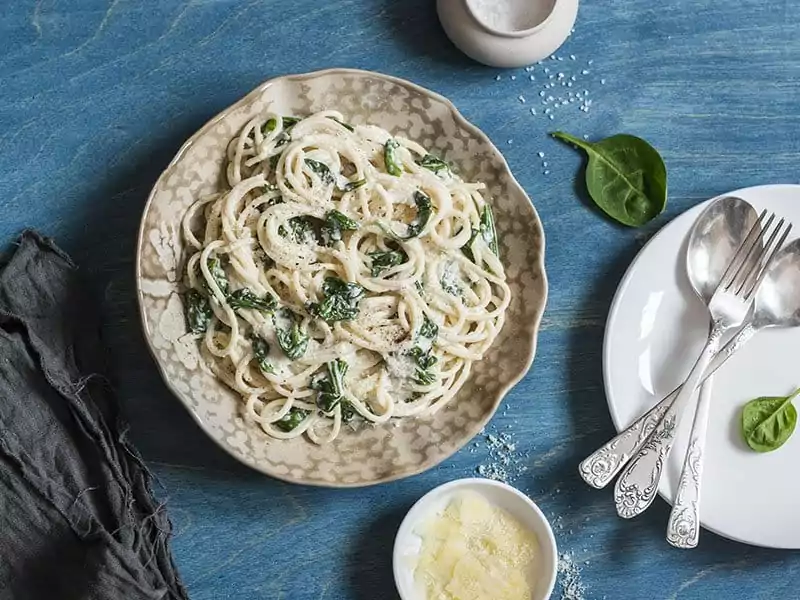 Ingredients
1 cup grated Gruyère cheese
5 ounces spaghetti
2 cups roughly chopped fresh spinach
1/2 teaspoon salt
1/2 tsp herbs de Provence
1 cup 2% milk
Two tablespoons butter
Ground black pepper
1/2 tablespoon olive oil
One tablespoon grated Parmesan
A lemon
Instructions
Step 1: First, boil water for the pasta and add a teaspoon of coarse salt. Add 8 ounces of pasta. You can use any pasta you like. Stir it and cook until tender. The pasta is cooked, drain and set aside.
Step 2: For the sauce, heat a pan and add one tablespoon of oil. Add the minced garlic and cooked just for 30 seconds until the rawness goes away. Add the spinach leaves and a sprinkling of salt and herb, saute until wilted, this takes just 2 minutes.
Step 3: The spinach is cooked, now add the milk, Gruyere cheese, and stir until smooth. Add a quarter teaspoon of ground black pepper and a quarter teaspoon salt, zest the lemon right over the top. Cook this for two or three minutes until bubbling. It doesn't need to boil or cook for very long.
Step 4: Add the pasta and mix well. Sprinkle over three tablespoons of grated Parmesan. Give it a mix and taste it. Add more salt or pepper if you like.
Gruyère Fondue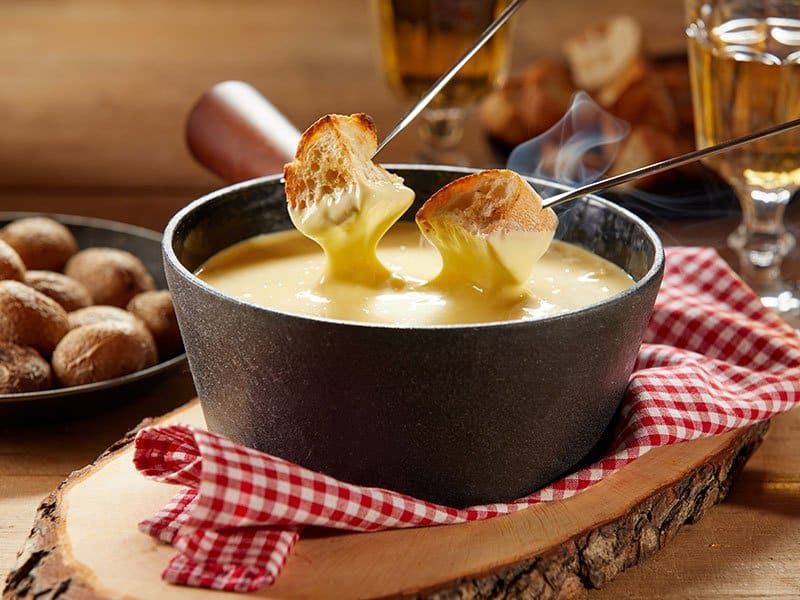 Ingredients
15 ounces finely grated Gruyère cheese
One tablespoon butter
Freshly ground black pepper, use generously
Two tablespoons of calvados (an alcoholic beverage of French origin) or another apple brandy
One small clove finely grated or minced garlic
Generous pinch of ground nutmeg
1 1/2 cups (or more) dry white wine*
Two tablespoons all-purpose flour
One teaspoon salt
One teaspoon sugar
6 ounces thinly sliced shallots (about 1 1/2 cups)
Introductions
Step 1: Melt butter in a heavy medium skillet over medium heat. Add thinly sliced shallots and sauté for 3 minutes, then add sugar and salt and cook, occasionally stirring for about 15 minutes. Put into a large bowl grated Gruyère cheese toss with the flour.
Step 2: Pour wine into a heavy medium saucepan; set over medium-low heat, then slowly add one small handful of the cheese at a time. Keep stir until cheese melts and is smooth before adding more.
Step 3: Whisk in the nutmeg, garlic, calvados, and pepper, and check for seasonings and add more salt and pepper as necessary. You can add another splash of wine or even water if you would like your fondue to be a little thinner.
Serve with bread cubes, slices of apples, tiny roasted potatoes, prawns, spicy sausage, lightly steamed broccoli, or sautéed whole mushrooms, …
Classic French Onion Soup With Gruyère Cheese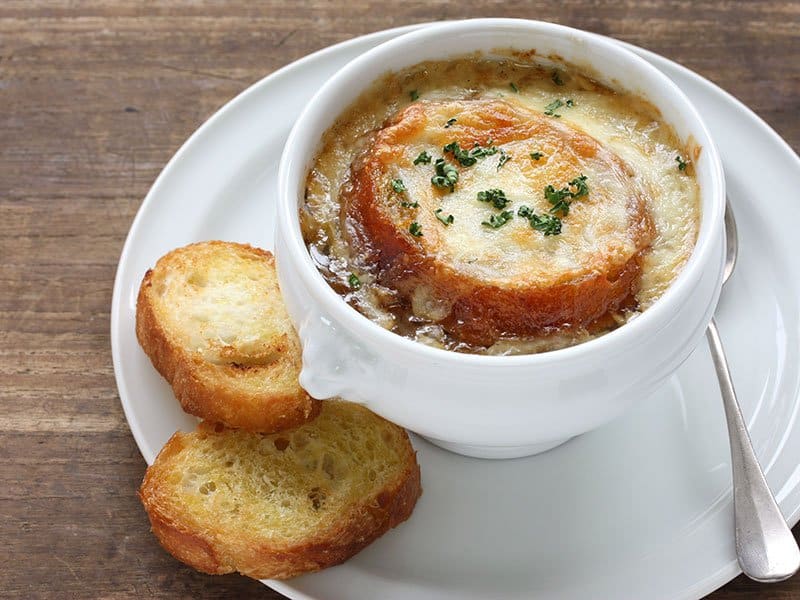 Ingredients
3/4 cup shredded Gruyère cheese
16 slices French bread (1/4 inch thick)
Two teaspoons Worcestershire sauce
One bay leaf
One fresh parsley sprig, optional
Two fresh thyme sprigs
3/4 cup white wine or regular-strength beef broth
3 cups water
Two cans (10-1/2 ounces each) condensed beef broth, undiluted
1/2 teaspoon coarsely ground pepper
One large red onion, halved and thinly sliced
Two large sweet onions, halved and thinly sliced
Two tablespoons butter, cubed
Introductions
Step 1: First, cut the onions in half, place the cut side down and start slicing at the opposite end of the root.
Step 2: Place a heavy bottom pan on medium heat. Put two tablespoons of butter in the pan and a drizzle of natural oil to prevent it from burning. Drop all the onions in. If it looks too much, that's perfect. Cause during cooking it will reduce a lot.
Step 3: Season well with salt. Stir it from time to time. It takes at least 30 minutes to reach a beautiful brown color, which is the secret of good onion soup. When it looks good, it pours in a glass of white wine.
Step 4: Add one tablespoon of flour, mix well and cook for about a minute. Add one liter of organic beef stock. Or use vegetable stock if you want to keep it vegetarian.
Step 5: Add thyme, parsley, bay leaf in. Let the soup simmer for about twenty minutes. Taste it at the end and adjust.
Step 6: Rub the bread with garlic and sprinkle one side of each bread with the grated Gruyere cheese and grill them up. Put the grilled bread float on top of the soup.
Gruyère Cheese Substitutes
What if a recipe asks for Gruyère cheese, but there's none of them left in your kitchen? For such situations, I recommend using Gruyère substitutes. Several other cheese types come in close in terms of flavor, texture, and melting properties.
Jarlsberg Cheese
Jarlsberg is a mild cow's milk cheese with large regular holes that originates from Jarlsberg, Norway. It resembles Gruyère but on a softer note. Jarlsberg cheese has a slightly sweet and nutty flavor and a buttery texture.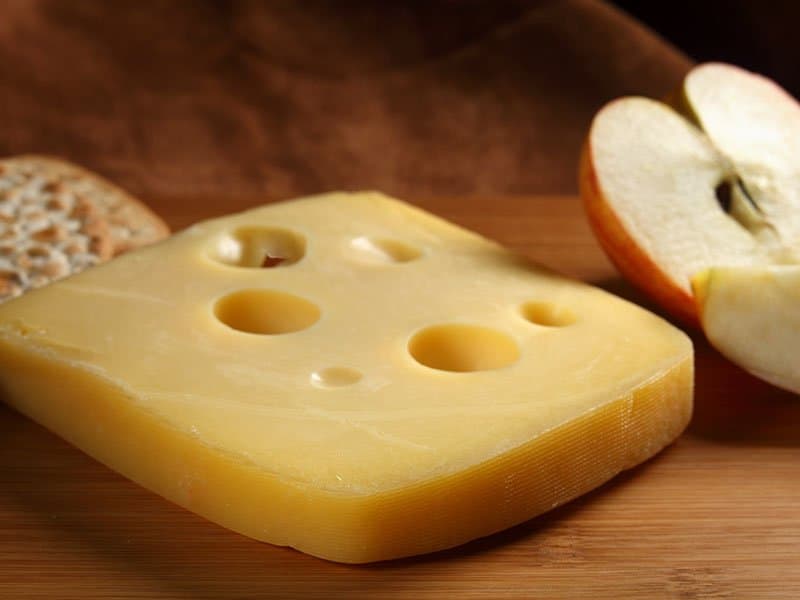 Jarlsberg is used for cooking, baking, especially in many Norwegian dishes, and also as a quick snack. This cheese also goes well with beers and white wines. It is one of the best cheeses that can be used as a replacement for Gruyère cheese and costs around the US $12 to $14 per pound.
Comte Cheese
Comte is considered Gruyère's French twin as it has a very similar taste and texture. Comte cheese is a semi-firm French cheese, produced from unpasteurized cow's milk, and serves as an excellent substitute to Gruyère.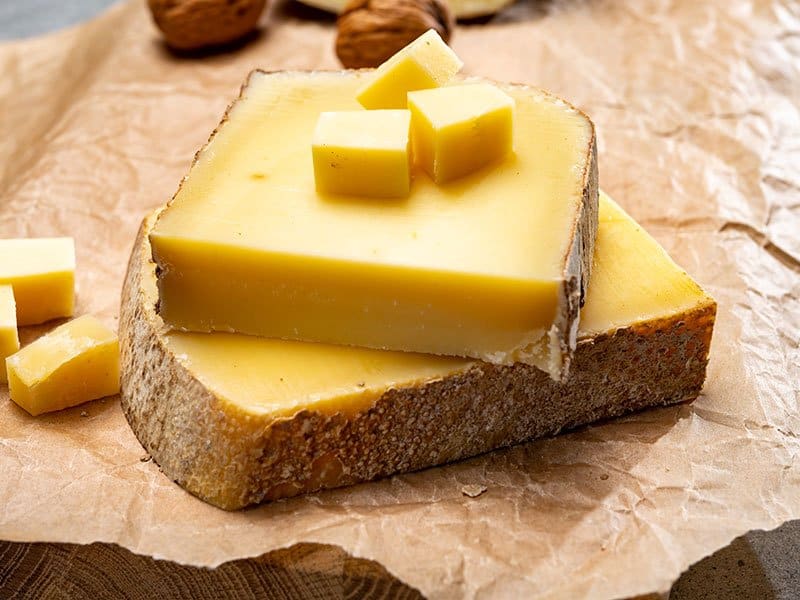 Also, despite several gaps between pasta and noodles, Comte can build a nice relationship for them as these two can match well with Comte. Comte is brine-washed to enhance the taste. Comté is priced at around the US $25 to $30 per pound.
Appenzeller Cheese
Produced in the small Swiss canton of Appenzell. Appenzeller cheese is renowned as one of the best traditional Swiss cheeses, made from a recipe preserved for 700 years. This cheese is coated with brine, containing wine or cider. The flavor of this cheese depends on its age. It's sold in the stores in three varieties as per its age.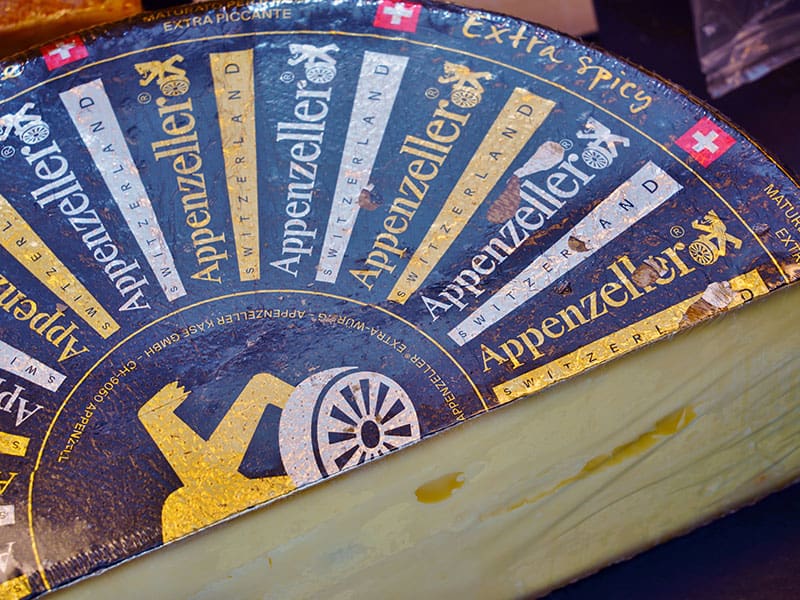 Appenzeller cheese reveals the same nutty and fruity flavors but more flavored than Gruyère. Appenzeller is quite expensive in comparison to Gruyère. It ranges from the US $24 to 32 per pound, depending on the variant.
Gruyère – A Tasty and Versatile Cheese
Gruyère cheese has a good bit of earthly funk, nice salinity, and sweet, fruity tang. It's perfect for many cooking recipes.
Gruyère has some pretty crazy history, and exposing it brings this unique cheese to life. I hope this article helpful!
If you have any questions or comments, leave a note below! And don't forget to share it with anyone who loves cheese. Have a nice day!