How does Gruyere cheese taste if you have never known anything about this Gruyere cheese? It is one of the delicious and famous cheeses originating from Switzerland.
It is a popular table cheese, versatile in many dishes, and makes them delicious and more appealing. However, you need to know exactly how it tastes to create your perfect and tasty dish.
This article will help you know how the taste of Gruyere is and will give you more surprising information that you should not ignore about this cheese.
Read on!
What Is Gruyere?
Gruyere is a hard Swiss cheese type named after the town of Gruyères in the country, and it is also the first place to produce this type of cheese. Along with Emmental and Swiss, Gruyere is considered one of the finest Swiss cheeses.
It is made from whole cow's milk with an aging period of 5 months or more. Gruyere is covered by a natural crust with a vibrant fruity tone and earthy and nutty notes with a gentle finish.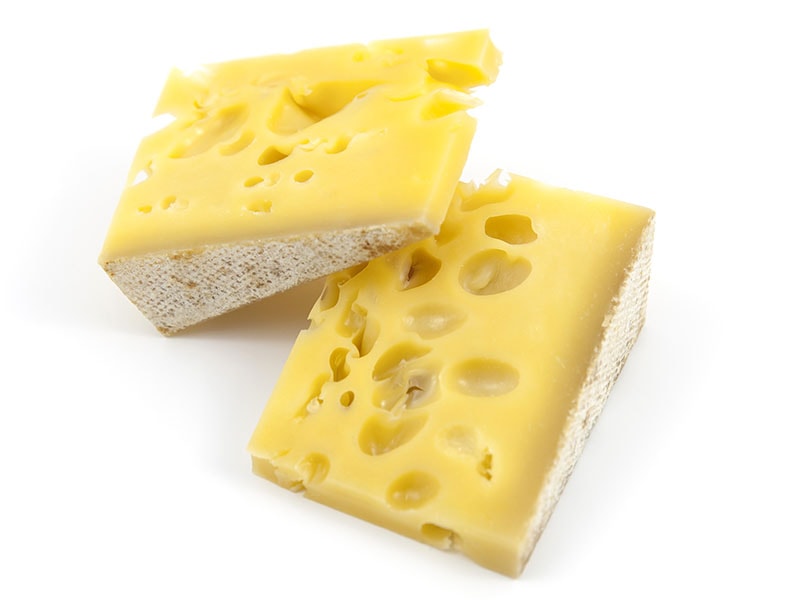 Gruyere has the characteristic tiny holes of Swiss cheese formed by air bubbles during manufacturing; however, it has fewer holes than other Swiss cheeses.
How Is Gruyere Cheese Made?
The process of making Gruyere cheese can be described as follows:
Whole milk from grass-fed cows is poured into a large copper cauldron
Add cultures and rennet to make the curd
After that, curds will be cut into small pieces and gently heated to about 135 degrees F, and separated to drain.
Then the curd is put into molds and pressed for about 20 hours, and soaked in brine.
Cheese is aged 3 months and transferred to cooler and wetter cellars with temperatures around 59 degrees Fahrenheit.
In order to get the taste of Gruyere, cheese should be aged for at least 5 months, and some types require a longer tempering time of about 18 months, and the longer it is left, the stronger its flavor.
Above is the production process of Gruyere cheese in factories. If you have the time and conditions, you can refer to this video tutorial to make delicious batches of Gruyere cheese at home.
Does Gruyere Cheese Taste Good?
Gruyere has a greasy and nutty taste, with a hint of fruity. Its flavor will change following the level of aging. Fattiness and mild sweetness are evident in young cheeses, while older cheeses have a sharper flavor, a firmer texture, are easily peeling off, and sometimes have a hint of acidity.
Gruyere has a pleasant flavor that is not overpowering with a creamy texture. That's why you can mix it with various dishes without overwhelming other ingredients. Even with leftover bread, you can make tasty recipes if you have some Gruyere cheese available.
What Can You Use Gruyere Cheese For?
When it comes to using Gruyere cheese, there are many ideas for different recipes to make delicious food every day.
It's the perfect choice for making quiche or added to classic French dishes like the Monsieur Croque and French onion soup.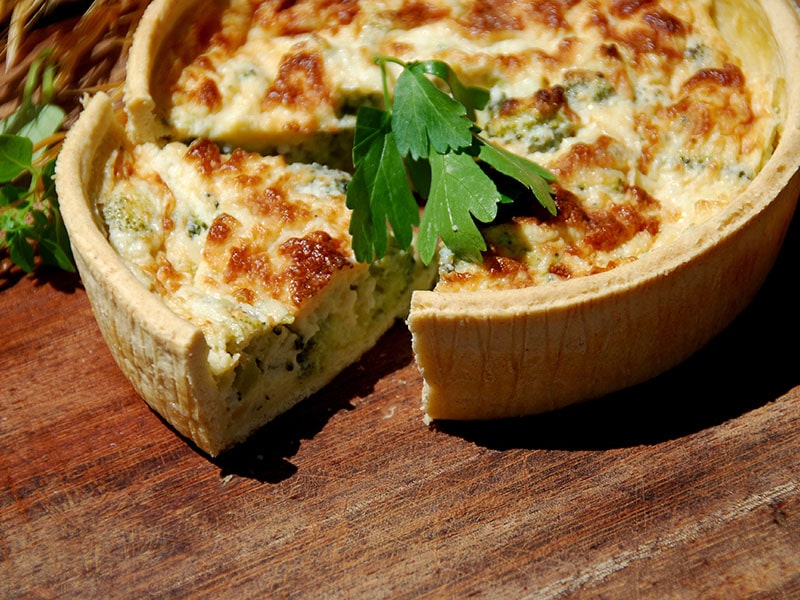 Gruyere can be combined with other cheeses to create a unique, flavorful blend for dishes.
When mixing Gruyere with white wine and garlic, you will have a great sauce to eat with food.
In addition, Gruyere cheese is excellent with salad and fruits as well. If you are in the middle of making homemade pear desserts, feel free to add some Gruyere cheese to enhance their flavor.
The cheese melts well with a creamy and thick consistency, so you can add it to baked goods like roast meats and toast. Or shredding this cheese as a topping for mashed potatoes, pasta, or French grill cheese is a nice idea too.
Watch this video to know more:
Is Gruyere Cheese Good For Health?
The nutritional composition of Gruyere cheese is complete. Therefore, it can be difficult to deny the health benefits that Gruyere cheese offers. One of the reasons why cheese lovers trust it is its advantages, and one of them can be mentioned as follows:
Good for the brain and heart: Gruyere contains many proteins and omega 3 fatty acids that are good for maintaining brain health, especially in old age. Additionally, omega 3 has anti-inflammatory properties that may help improve heart health.
Enhance metabolism: Gruyere cheese contains butyrate which supports metabolism and helps slim down the body.
Build and maintain strong bones: Gruyere is an excellent source of calcium for the body, so it is perfect for your bones.
Improve gut health: The production process of Gruyere creates a large number of probiotics that help improve immunity and gut health.
What Can You Use To Substitute For Gruyere Cheese?
If you don't have cheese available in the refrigerator when you need it or you can't find it at the supermarket near you, you can use some other cheese with similar properties to replace it, for example :
Parmense: It is a perfect substitute with a taste and texture similar to Gruyere cheese.
Emmentaler: This Swiss cheese is a bit softer than Gruyere and has a smooth buttery flavor and hazelnut flavor. It is ideal for replacing Gruyere in many recipes, such as traditional sauces.
Some other alternatives to try are Beaufort, Jarlsberg and Raclette, Appenzeller, fontina cheeses, comte.
You should use a substitute for Gruyere when it requires a small amount in the recipe, but if you need to use a lot of Gruyere, the replacement may not be as effective as you want.
FAQs
Here are some commonly asked questions about Gruyere cheese and their suggested answers. You should read them as they will help you use this cheese appropriately.
Expectation Vs. Reality
Gruyere is one of the famous Swiss cheeses and is loved by everyone for its delicious flavor. It melts well and makes a great addition to baked goods, pizzas, served with sandwiches, burgers, mixed with salads or sauces. Gruyere is also a rich source of nutrients and has many health benefits, but do not overdo it because cheese contains sodium and saturated fat. If you overeat, it is likely to increase the risk of high blood pressure, cardiovascular disease, and type 2 diabetes.
In addition, you can use several other cheese products with similar flavors and properties to replace a small amount of Gruyere in recipes.
What do you often use Gruyere cheese for? Do you like the taste of Gruyere?
Let's share this article so that everyone can know and use Gruyere cheese effectively. I will also answer any questions related to this article, so don't hesitate and leave a comment!
References
Here are some references that give you more and detailed information about Gruyere cheese. You may read it if you want.
https://www.mashed.com/422912/what-is-gruyere-cheese-and-what-does-it-taste-like/
https://eatdelights.com/gruyere-cheese-taste/
https://www.fitbit.com/foods/Gruyere+Cheese/16016
https://curd-nerd.com/hard-cheese-recipes/gruyere/