What does nutmeg taste like? Any seasoned cook knows the magic that touch of nutmeg can do to your meals. But if you don't know where to start with this spice, here's a basic guide to help you get the best out of it.
It's safe to say that nutmeg is the most popular around the holiday. The unique flavor thrives in cakes, pies, and scrumptious autumn cookies. Plus, it's also the perfect addition to a wide range of savory courses.
In this article, I'm walking you through the basic flavor profile of nutmeg, its amazing health benefits, and some other cool facts you never knew about this spice.
Ready to work up your cooking game? Let's get the ball rolling!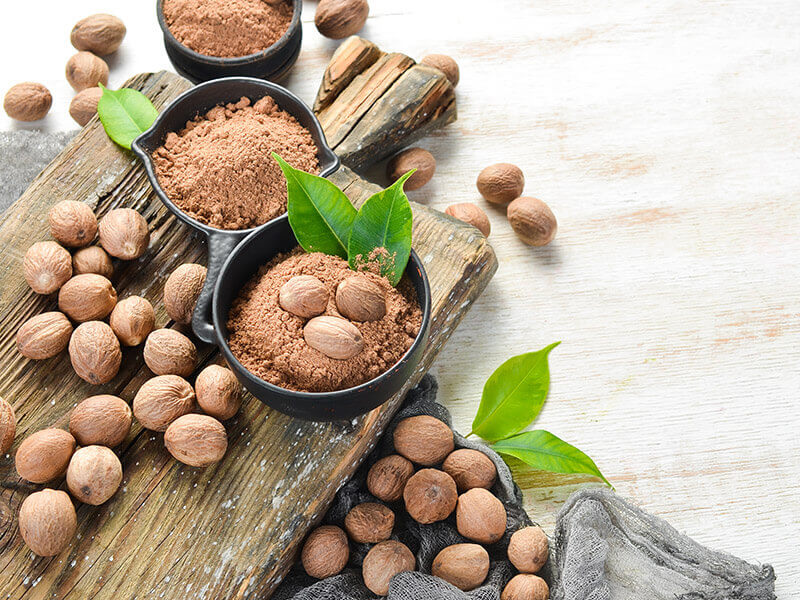 What Is Nutmeg?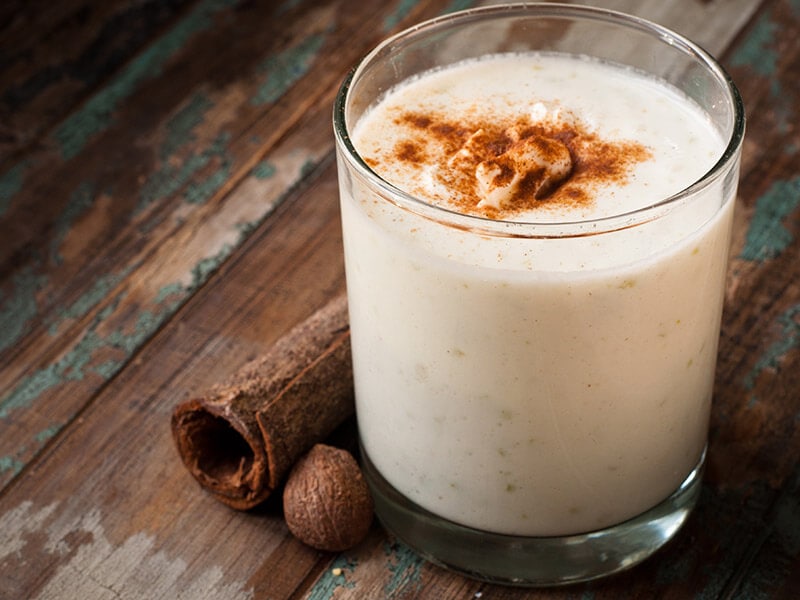 While nutmeg often screams a warming flavor in your favorite delightful winter desserts, the spice actually has a tropical origin. The term "nutmeg" refers to both the spice and the tropical evergreen tree that produces it, Myristica fragrans.
Despite the "nut" in its name, nutmeg is a type of seed. Therefore, you can consume nutmeg without any risk of nut allergy reaction. On the other hand, folks with seed allergies need to steer clear from the spice.
Essentially, nutmeg is made from the seed's inner portion that's found inside of the ripe fruit. Whole nutmeg comes in an ovular shape and dark brown surface. Meanwhile, ground nutmeg is recognized for its reddish-brown color and powdery texture.
This valuable spice is originally from the Moluccas (Spice Island), East of Indonesia, and other islands in the West Indies. Today, it's largely cultivated in tropical regions around the world, such as India, Guatemala, and Grenada.
As the world's second-largest producer, Grenada is responsible for 20% of global nutmeg production, second only to Indonesia. So much so that the spice even earns a place in the country's national flag.
How Nutmeg Is Made
When the nutmeg fruit ripens, it's split in half, exposing the pecan-sized nut. The nut is covered by a net-like casing which is later made into another spice called mace.
The inner fruit seed is then sun-dried for approximately six to eight weeks. During this time, the nut shrinks away from the hard coat until the kernel rattles in its shell when being shaken. Next, they break the shell to pick out the nutmeg.
Nutmeg can be sold whole or ground into a fine powder. Ground nutmeg is the commercial variety that's more commonly found in grocery stores. However, once you get the fresh, whole nutmeg and grate it as fresh as you need, you won't go back!
What Does Nutmeg Taste Like?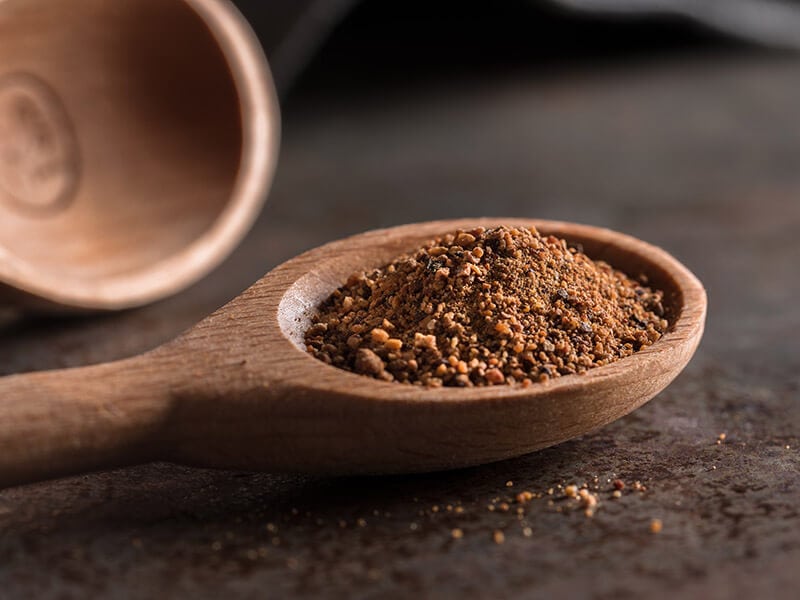 A popular wintry spice that kicks your meals up, nutmeg truly tastes like a warm hug! It's woody, sweet, and slightly nutty. The reminiscence of clove and tobacco is quite clear, along with a subtle hint of citrusy.
Similar to cloves, this spice adds warmth and comfort to any dish. Besides the signature sweetness, an earthy taste also makes it super versatile in a diversity of recipes, ranging from savory courses to sweet desserts and different types of refreshing teas.
Besides clover, many people have compared nutmeg with cinnamon and other sweet spices. But unlike them, nutmeg is strong on its own. The flavor is often elevated without harmony with other ingredients. If you have a sensitive palate, it may even come across as spicy.
Whether ground or whole, nutmeg has a certain oil content that ensures its flavor always stands out. Therefore, a sprinkle is enough to spice up your cooking.
In fact, most recipes require no more than one teaspoon of ground nutmeg. Too much nutmeg doesn't only cause the dish to taste soapy and bitter, but also causes side effects such as hallucination, dizziness, and nausea for several hours.
Whole vs. Ground Nutmeg – Which Tastes Better?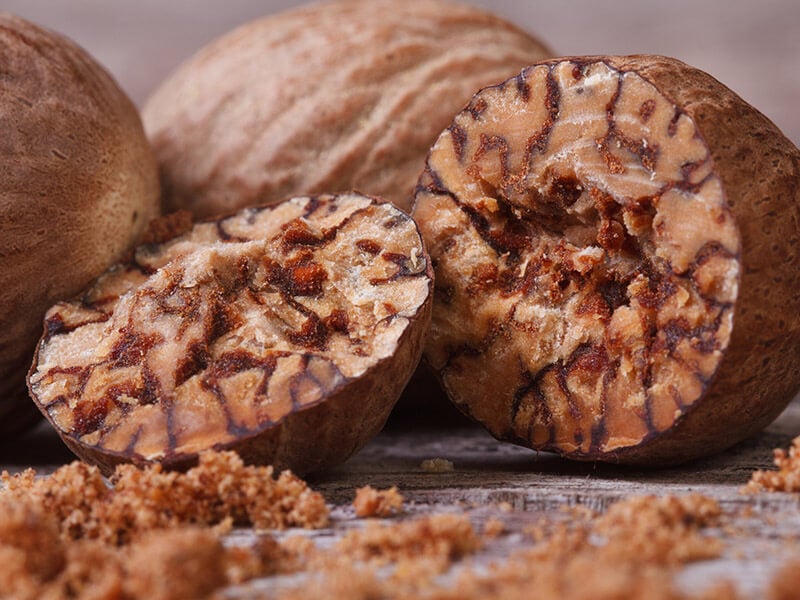 As with other spices, whole nutmeg takes the win in terms of flavor. You can find both of these versions in most grocery stores. But if possible, keeping a jar of whole, fresh nutmegs around and grating it as you need is the best way to enjoy the pure flavor.
This is because nutmeg gets its aroma and flavor from the volatile oils, which evaporates quickly after grinding. Therefore, pre-ground nutmeg likely has lost lots of its oil content during the production process.
In essence, fresh nutmeg is aromatic, strong-tasting, and flavorful. The reliable, super-fragrant flavor ensures the best-tasting dishes. Thus, when you crave a full, unfettered nutmeg punch in your recipe, this version is just the ticket!
On the other hand, pre-ground nutmeg loses its potency over time, which is better for use in strongly spiced dishes like carrot cakes. For busy cooks with little time to spare, packaged nutmeg has many perks: it's easy to use, convenient, and often affordable.
Nutmeg vs. Mace – A Tale Of The Two Spices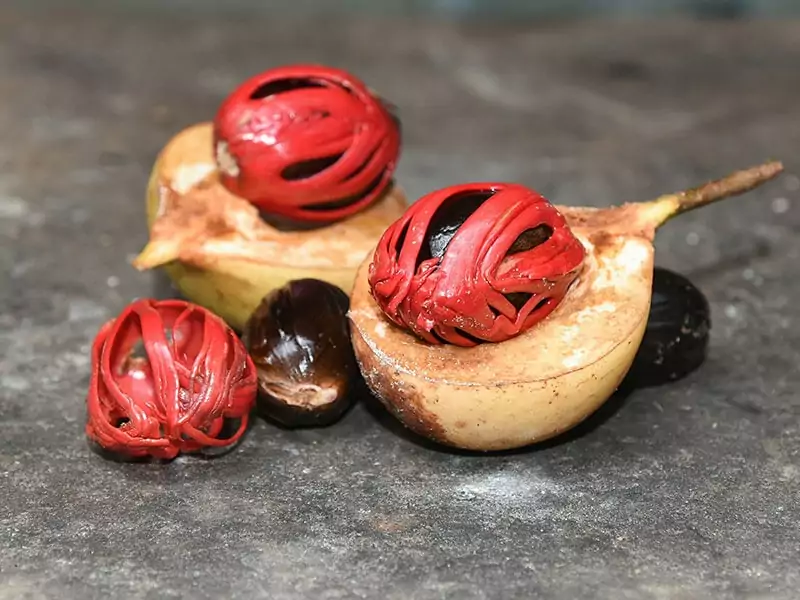 Let's drill into the similarities and differences between nutmeg and mace. Did you know that nutmeg and mace are sibling species?
That's right! Both of them are derived from the seeds of the nutmeg tree. In which, nutmeg comes from the pit of the fruit, whereas mace is the red webbing surrounding the pit.
Generally, these two sibling spices have the same sensory qualities. However, the taste of mace is likely spicier and more pungent that resembles bright orange and saffron.
Nutmeg, on the other hand, is preferred with cinnamon-like sweetness and a warmer, brighter undertone. No wonder it's a classic staple of the sweet spice pantry.
Countless classic American desserts and savory dishes feature nutmeg as a key element. It's essential in delicate bechamel sauce and goes well with ingredients and as punches, stewed fruits, custards, and eggnog.
Like nutmeg, mace is used to create that desired complexity in baked goods, fish, meat, and other dishes. It's especially one of the most dominant flavors in several types of donuts – which is a favorite for a lot of people.
Similar to these spices, they're not normally used together in a recipe. But you can substitute one for another using equal amounts in a pinch.
Clarify all the differences and similarities between these two sibling spices!
5 Brilliant Tips & Tricks To Preserve Nutmeg
Proper storage of nutmeg can help extend nutmeg's storage life. And if you don't mind the lack of flavor and aroma, you might never have to toss it away. Here are five mind-blowing tips to keep your nutmeg at its peak quality.
1. Air-Tight Container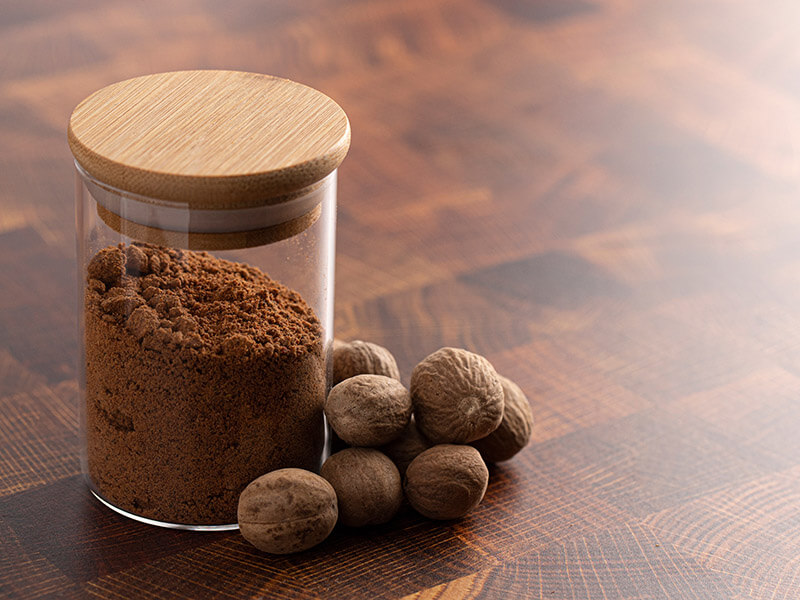 As with other pantry staples, you should store nutmeg in an air-tight jar or container. Make sure it's tightly sealed after every time you take a scoop.
Otherwise, you can try your best to seal or fold the top of the package. This minimizes the spice's contact with air and moisture, thereby preserving its freshness and potency for longer.
2. Keeps Away From Damaging Factors
The light, heat, and moisture are nutmeg's worst enemies. Exposure to any of these elements will cause the nutmeg's potency and flavor to deteriorate quickly.
Hence, a dry, dark, and cool area at around 68 degrees F of your pantry is the best place to keep that jar of nutmeg or practically any other spice. The spice rack or drawer are also ideal spots for storage.
3. Store Whole Nutmeg
When it comes to long-run storage, whole nutmeg is the ultimate bet for your kitchen. This is because pre-ground nutmeg has a bigger surface exposed to damaging elements, thus causing its flavor, potency, and aroma to lose much faster.
Compared to its counterpart, whole nutmeg may take a bit more time and effort for meal preparation. But grating it fresh right before cooking allows you to enjoy the best-tasting flavor. All in all, it's a balancing act.
If possible, opt for whole nutmeg the next time you take a trip to the grocery store, especially if you only use it once in a blue moon.
4. Use A Dry Spoon
A rule of thumb in cooking: never use a wet spoon to measure nutmeg. Moisture is a no-no for all dry spices. Though it may be tempting to pick up a random spoon from the counter, take your time to make sure the tater doesn't get in the nutmeg jar.
5. Don't Freeze Or Refrigerate Nutmeg
Freezing and refrigeration are two common methods for preserving food such as meat, veggies, and bread. However, with nutmeg, it's a totally different story.
In fact, cold temperature and humidity in the fridge might even lead to deterioration in quality. It's best to keep your nutmeg at room temperature.
How To Tell If The Nutmeg Spice Is Bad?
Whether ground or whole, commercial nutmeg doesn't spoil. However, it'll start losing its potency and flavor at some points. If your jar of nutmeg shows one of these signs, it's best to discard it.
1. Bad Odor
The first giveaway sign when it comes to spoilage is an off-putting odor. As you open the jar or the bag, you'll want to give it a quick sniff. If the nutmeg smells differently from when it was purchased, it's an indication that you should toss it away.
2. Flavor
Another quick way to check the state of the nutmeg is to crush a bit between your fingers and have a taste. If it's much less potent and flavorful as it used to be, chances are, it's time for some new nutmeg on the shelf.
3. Appearance
Take a closer look at the nutmeg. In case of any mold or organic growth, the nutmeg isn't good for use anymore. This often happens because some water or moisture got in and contaminated the spice. Also, if you spot any pantry bugs, it's best to toss it in the trash.
4. Expiry Date
Let's say once in a blue moon, you pull out a bag of pre-ground nutmeg from the corner of your pantry. In this case, always check the expiration date on its label. It may still be good a year or two past that date.
However, if the nutmeg's been sitting in the storage for ten years or god-knows-how-long, you should throw it out and replace it with a new bag for your food. Adding too old nutmeg to a recipe enhances zero flavor at all.
9 Nutmeg Substitutes For Sweet And Savory Dishes
With such distinctive flavors, you may wonder what spice can replace nutmeg if you're running low on it. The good news for you, here are 9 tasty substitutes for nutmeg that can do wonders to your recipe!
| Substitute | Proportion |
| --- | --- |
| Mace | 1 tsp of nutmeg = 1 tsp of mace |
| Garam masala | 1 tsp of nutmeg = 1 tsp of garam masala |
| Allspice | 1 tsp of nutmeg = 1 tsp of allspice |
| Cinnamon | 1 tsp of nutmeg = ½ tsp of cinnamon |
| Pumpkin pie spice | 1 tsp of nutmeg = 1 tsp of pumpkin pie spice |
| Apple pie spice | 1 tsp of nutmeg = ½ tsp of apple pie spice |
| Ginger | 1 tsp of nutmeg = 1 tsp of ginger |
| Cloves | 1 tsp of nutmeg = ½ tsp of ground clove |
The Best Way To Prepare Nutmeg For Cooking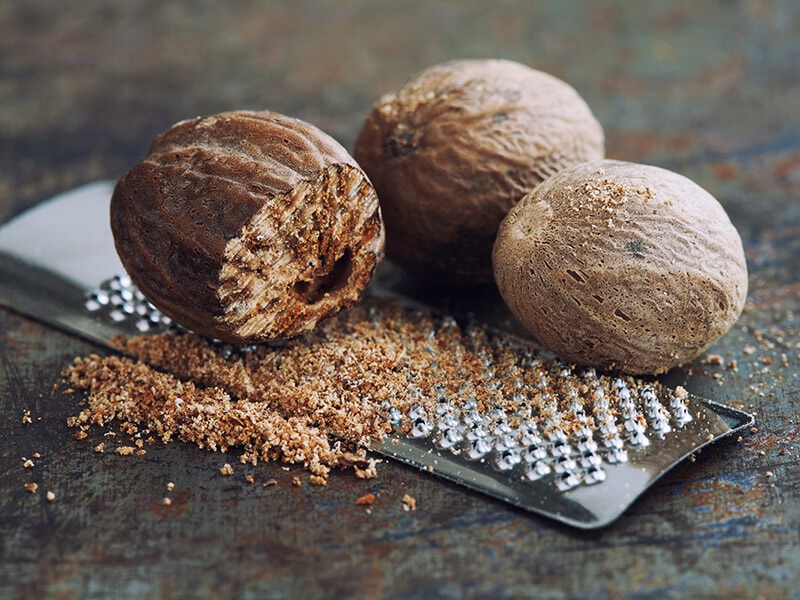 It's safe to say that pre-packaged nutmeg is the quickest way to get dinner on the table. But if your goal is to create the best nutmeg-spiced recipe, stick with whole nutmeg!
Preparing a whole nutmeg doesn't have to be complicated. There are usually three ways to turn a whole nutmeg seed into a fine powder for use. If you're wondering how to achieve each method, your prayers are answered!
Using A Nutmeg Grinder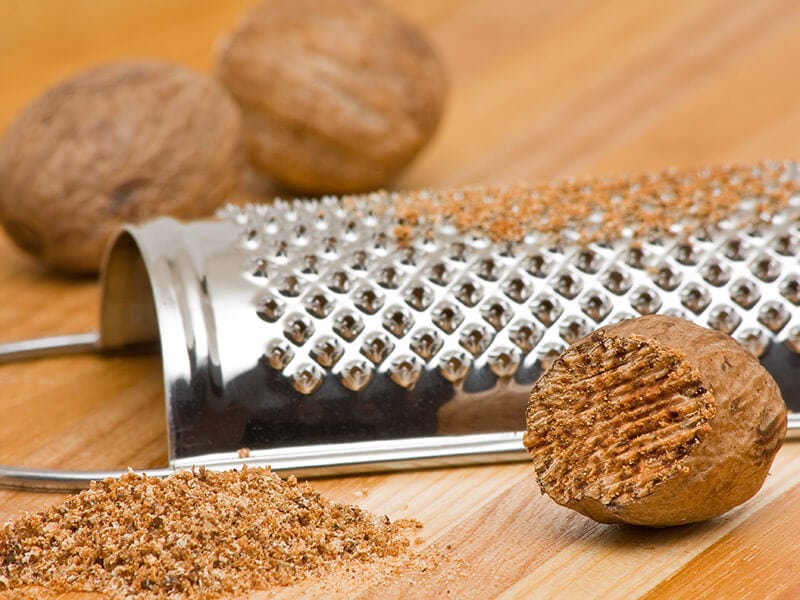 A nutmeg grinder resembles a pepper mill, except it's designed to hold an entire whole nutmeg seed. Whether electrical or manual, this utensil helps you get away with the risks of cutting your fingers while grinding the spice.
With an electrical model, all you have to do is crack it open, load the nutmeg seed into the grinder, pop the lid in place, and let it take care of the rest. However, if you have a manual grinder on hand, turn the crank a few rounds until you have a batch as desired.
Using A Nutmeg Grater
Special nutmeg graters are often curved outward like an arc with many small holes. The good thing about a nutmeg grater is that it produces a much finelier powder.
Begin by cracking the shell open and peel it away from the seed. For best results, hold your grater at a roughly forty-five-degree angle and slide the nutmeg back and forth in a smooth motion.
As you grate, a lace pattern is exposed with an incredible aroma for your reward. Be careful, though, as the sharp grates can accidentally cut your finger if it slips off.
Using A Microplane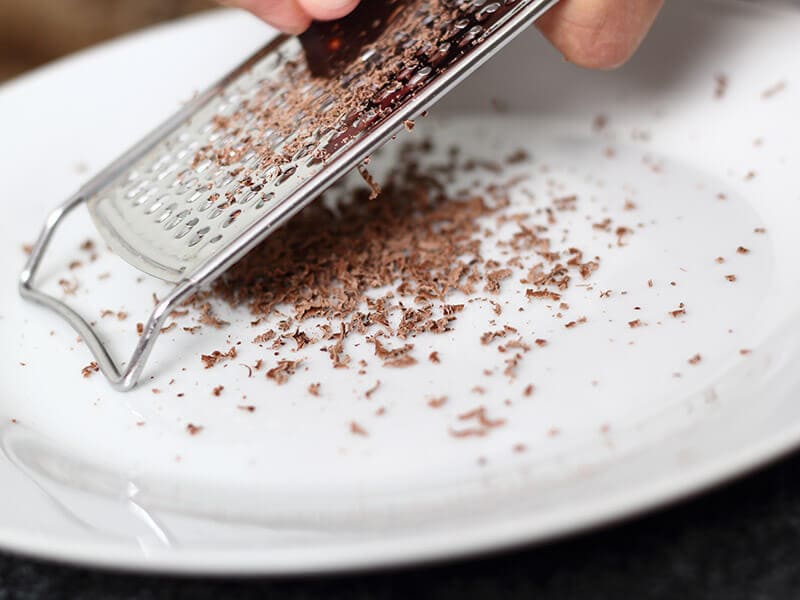 Anyone who owns a microplane knows how it makes grating much more effortless. If you have this tool around, you can use it to turn nutmeg seeds into powder. Otherwise, the smallest holes on any standard cheese grater work in a pinch.
The technique for grating nutmeg with a microplane is similar to that of a nutmeg grater. With sharper edges than conventional graters, the work should take little time. Make sure to grate only what you need since stored grated nutmeg loses potency quickly.
With these easy methods, you're a few steps away from that drool-worthy nutmeg taste!
What Does Nutmeg Taste Good With?
A classic member of the sweet spices, nutmeg goes down beautifully with squashes, starchy potatoes, dark meats such as lamb, and port. Unlike cinnamon, cloves, and allspices, nutmeg can stand on its own without the need to harmonize with any other flavor.
If you want extra complexity for your recipe, don't be shy to pair nutmeg with spices like parsley, oregano, basil, rosemary, cardamom, anise, cumin, thyme, and dill.
Mouth-Watering Recipes With A Dash Of Nutmeg
It's amazing how a quick drizzle of nutmeg can transform an ordinary dish into some drool-worthy delicacies. Stick around to discover the best sweet and savory recipes featuring this spice.
This custard-based pie has an incredible flavor yet is crazy simple to make. With only a few ingredients that you probably have in stock, you can whip up this timeless Southern dessert for a lovely family dinner.
Rich, tangy, and perfectly balanced, this one hits all the spots. A pinch of ground nutmeg provides the essential complexity and spice to jazz the whole thing up. Top it with whipped cream or fresh berries, and anyone will gobble it up!
The flavors of apple, cinnamon, ginger, and lemon all come together to create this special spreadable treat. This recipe almost feels like the beloved apple pie filling, except in jam form. It can be served on top of toasts, ice creams, and PBJ's.
One of the best comforting fall-inspired breakfast treats, this one surely deserves a place on your breakfast table. Plus, it's a breeze to cater the type of apple and the amount of sugar to make sure each bit perfectly suits your fancy.
Don't miss out on this crazy delicious apple pie jam, especially with how easy it can be made!
Nothing saves a cold, rainy day like a big bowlful of butternut squash soup. The combination of nutmeg, honey, and ginger seriously feels like a warm hug to soothe your soul and your stomach. It's delicious, creamy, and on the sweeter side for your cozy indulgence.
Roasting the squash is the key step to bringing out a totally different flavor than with steaming. Not only is this delightful fall side dish full of flavors, but it's also loaded with a hearty blend of healthy vegetables. Next chilly fall day, get a taste of this comfort food!
This Armenian nutmeg cake is beloved for its crunchy base and a light, airy cake topping. With just enough sweetness that reminds you of a buttery biscuit topped with some walnuts, it's safe to say that the cake tastes like a piece of heaven.
As soon as a bite enters your mouth, it almost instantly melts across your tongue. No doubt, it's a special treat that all sweet tooths crave. Surprisingly, it can be done easily and without the help of any special equipment.
A step-by-step guidance on how to nail an Armenian nutmeg cake on your first try!
Additional Information About Nutmeg
Most people aren't fully aware of how fantastic this flavor additive is. After reading the following information, you'll certainly appreciate this ingredient even more.
The Tragic History Of Nutmeg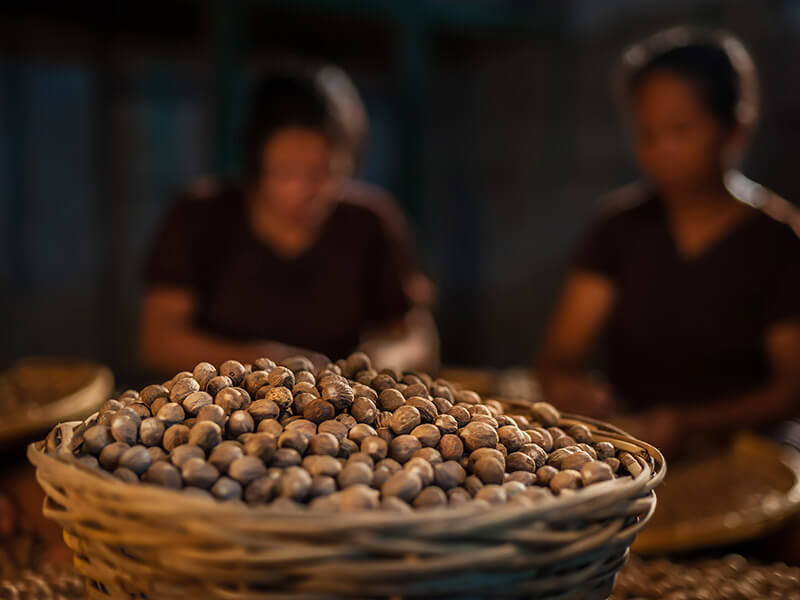 The use of nutmeg began in the 1st century A.D. It was believed to induce hallucination, thus treasured among the wealthy. However, only a small number of traders were aware of its source in Spice Island and sold it for very large sums.
As nutmeg's popularity continued to spread, during the 17th century, the Dutch waged a horrific war against the Banda Island natives. As a result, 15000 were slaughtered, leaving only a thousand behind to survive. Also, the Dutch gained control of the nutmeg trade.(1)
In the aftermath, the Dutch East India Company was established. However, during the East Indies' occupation, the British took nutmeg seeds and began planting them in other areas under their colonial control.
Over the next years in the history of nutmeg, its plantation flourished, leading to global price decrease. Nowadays, Indonesia remains the largest source of nutmeg, contributing 75% to global production. Grenada comes in second with 20%.
If you're curious about this tragic nutmeg war, you can find more details here!
8 Amazing Health Benefits Of Nutmeg You Might Not Know
Besides its crowd-pleasing flavor, these health benefits from nutmeg will propel you to get a big jar on your kitchen shelf right away!
1. Supports Better Sleep
Nutmeg has been shown to increase sleep duration and quality, although further studies are essential for validating this effect. Next time you have trouble sleeping, try taking a small pinch of nutmeg in a cup of warm milk before bedtime.
2. Relieves Pain
The volatile oils in nutmeg contain valuable anti-inflammatory properties. Thus, the spice's effective in treating swelling, inflammation, joint pains, muscle pains and sores.
3. Boosts Digestion
With its medicinal properties, nutmeg may help treat stomach ulcers and boost digestion. When you're having issues such as diarrhea, gas, bloating, or constipation, a sprinkle of nutmeg in your meals may do wonders.
4. Helps With Dental Health
A number of dental products contain nutmeg oil. This is because of the antibacterial properties that work well against oral pathogens which cause bad breaths and certain diseases. A chemical in nutmeg, Macelignan, is proven to help prevent cavities.
5. Helps With Healthy Skin
Thanks to its anti-inflammatory and anti-microbial properties, nutmeg can be a helpful part in your skincare routine. It does a great job in removing blackheads, clogged pores, and acne treating.
For example, you can blend equal parts of honey and nutmeg to form a paste. Next, apply the mixture to your pimples and let it sit for 20 minutes before washing with warm water.
6. Aids Weight Loss
Along with the many digestive properties, nutmeg also helps your body eliminate toxins, thereby increasing metabolism. Therefore, if you're on a weight-loss diet, consider adding a moderate amount of nutmeg to your meal rotation.
7. Contains Antidepressant Properties
Surprisingly, this spice has a calming effect on the human body, thus making it an efficient natural antidepressant. In fact, it's a part of many Ayurvedic-based medicines for treating anxiety and depression.
8. Helps Protect Your Liver
Myrislignan, a natural product found in nutmeg, is reported to effectively treat liver injuries and disorders. Besides removing toxins from the body, and liver in particular, the spice also contains anti-inflammatory properties that help with an inflamed liver.
FAQs
Let's answer some common questions about nutmeg, its flavor profile, and usage to further understand this wonderful wintry spice.
Nutmeg Spice And Everything Nice
And that's a wrap! Through our journey, I hope you've found all the answers you need to kick your cooking game up a notch with nutmeg.
Although nutmeg gets most of its attention from the holiday and making eggnogs, not everyone knows its incredible versatility. With a bit of know-how, you can use it to spice up even the blandest savory dishes and baked goods.
The next time you add a pinch of nutmeg to your meal, you'll know what to expect. If you find this article helpful, don't hesitate to share it with your friends and family. After all, good food is better shared with good company!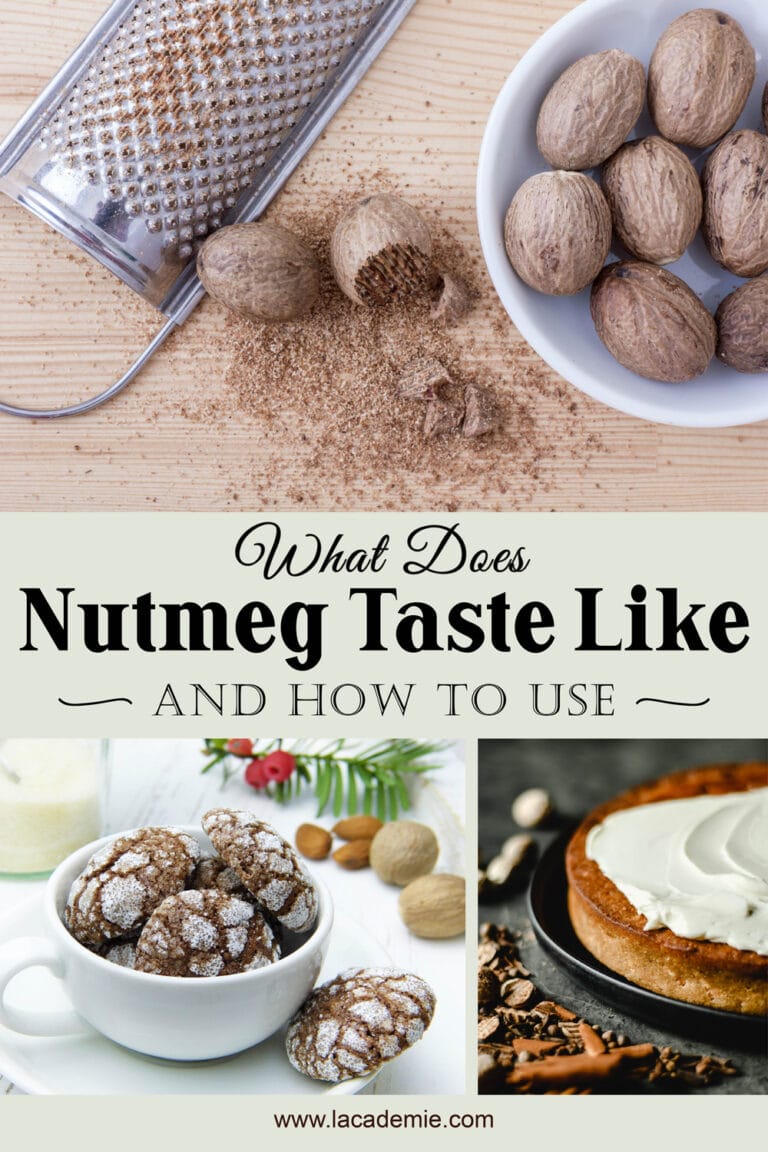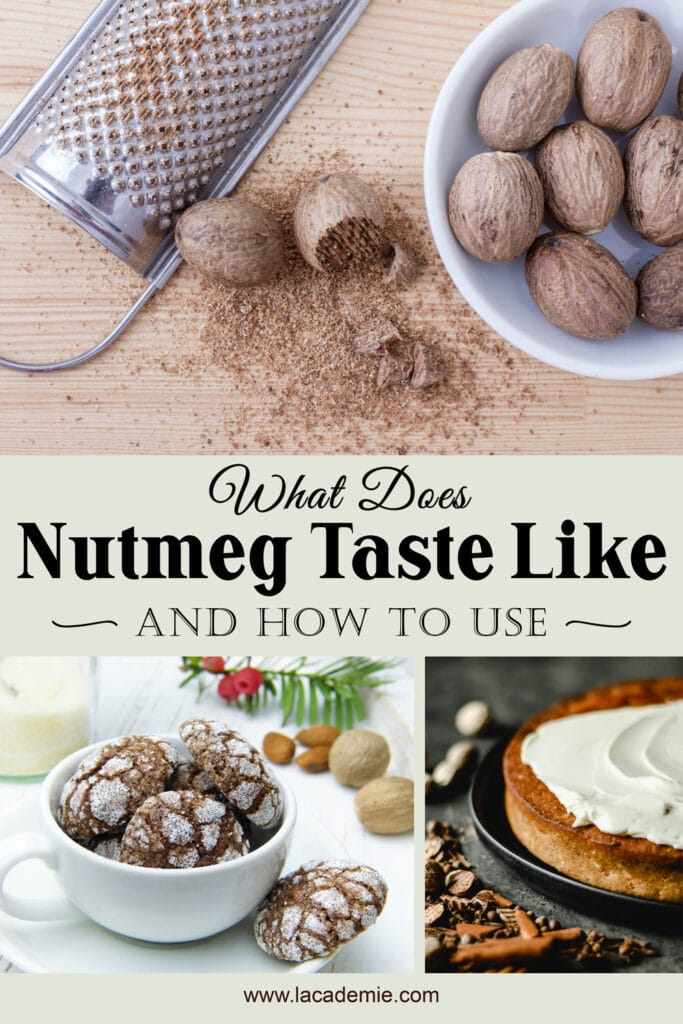 References
Nutmeg story. gov. Available at: https://gov.gd/motc/nutmeg-story
6 ways high BP damages your health – thehealthsite.com.