Comparing nutmeg vs. mace is a challenging puzzle, especially for folks with little to no experience with these exotic spices. Although coming from the same tree, these two spices have a lot of differences, which affect their uses in cooking.
Let's step into the world of fragrant spices and discover nutmeg and mace's flavor shelf-life, along with other helpful tips for cooking and storing these spices. If you're ready to spice up your meals, here starts the journey!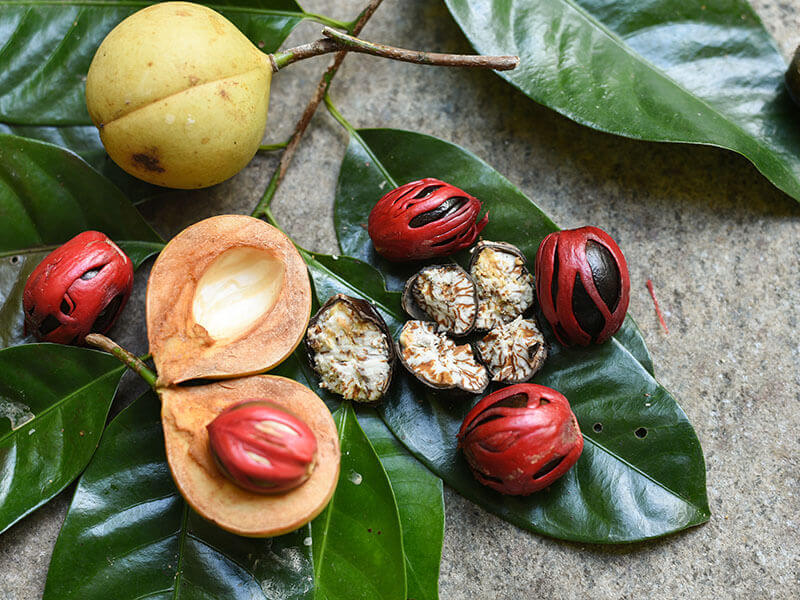 On The Spice Trail – The Origin Of Nutmeg & Mace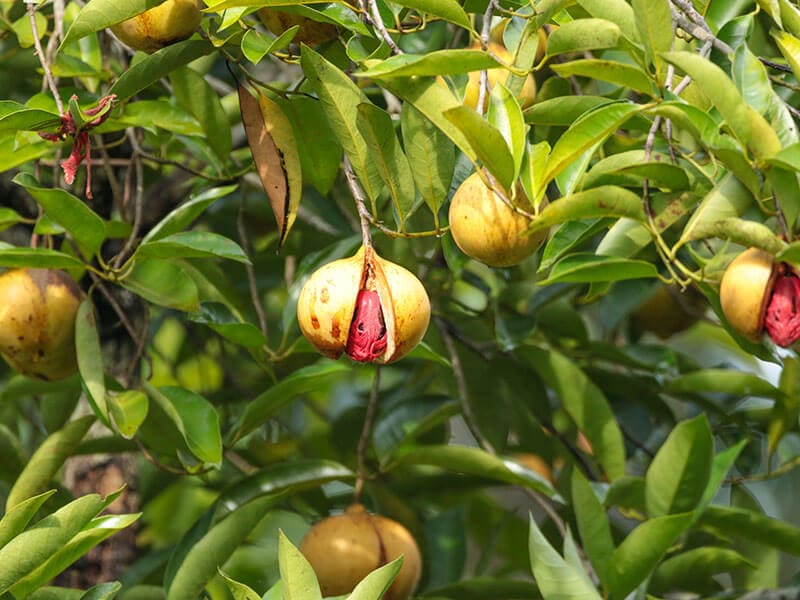 Since mace is the byproduct of the same tree that produces nutmeg, fittingly, the two share the same history.
Today, nutmeg and mace are mainly used for baking and other holiday season treats. But little do most folks know; they once played a crucial role in the Spice Wars that led to turmoil, slave trade, colonization, and the finding of the New World. (1)
While these exotic spices have been around since ancient Rome, their popularity only peaked during the Middle Ages Of Europe. During this time, the bubonic plague, more commonly known as the Black Death, killed thousands of people.
Though it can ward off such diseases, nutmeg has become a luxury. Along with its rare cultivation, the once-rare spice was more expensive than gold, a cash cow for many vendors.
To gain the monopoly of the nutmeg trade in the East Indies, the Dutch started a bloody war, leading to the massacre of the Banda Islands natives, which saw around 2,800 killed. It wasn't until the 19th century when nutmeg cultivation became more widespread.
Here's how this little spice caused the war in the Middle Ages of Europe.
Nutmeg & Mace – A Brief Comparison
Before diving deep into what distinguishes these sibling spices, here's a sneak peek at all the similar and unalike features of nutmeg and mace.
Characteristics
Nutmeg
Mace
Plant Family
Myristica fragrans (Myristicaceae family)
Myristica fragrans (Myristicaceae family)
Origin
The Moluccas, Indonesia
The Moluccas, Indonesia
Availability
Powder and whole seeds
Powder and whole dried blades
Appearance

Oval shape
Large in size
Rough exterior with spidering ridges
Dry seeds are in grey-ish color, ground nutmeg is reddish-brown

Vividly red color
Mace blades looks like dried octopuses
Dried mace is yellow-ish, orange

Flavor

Warm nature
Mildly sweet, nutty, earthy undertone
Freshly ground nutmeg has a pungent aroma

Complex, more intense, and stronger
Sweet, warm, and woody, citrusy notes
Spiciness like cinnamon, pepper, delightful citrusy notes.
Freshly ground maces have an earthy aroma

Shelf-life

Whole nutmeg seeds: 4 years
Ground nutmeg: 2 years

Whole mace blades: 4 years
Ground mace: 2 years

Health Benefit

Improves brain health, digestion, dental health, sleep quality
Has Contains potent antioxidants and anti-inflammatory properties

Limit cancer risks, kidney diseases, blood circulation, insomnia, cold, asthma, increased appetite
Reduces intestinal gas and fatigue

Price
More affordable
More expensive
Best Culinary Use

Used in both sweet winter treats and savory courses like cheesy sauces and hearty soups, and spice blends
Appears a lot in American, Indonesian, and Indian cuisines

Versatile in a wide range of recipes
Has a prominent presence in Indian, Asian, Dutch, British, and other delicacies
Makes a great companion with other spices
Hear everything different between mace and nutmeg from the expert!
Definition
Let's discover what nutmeg and mace are in order to distinguish them better when you encounter them in different recipes.
Nutmeg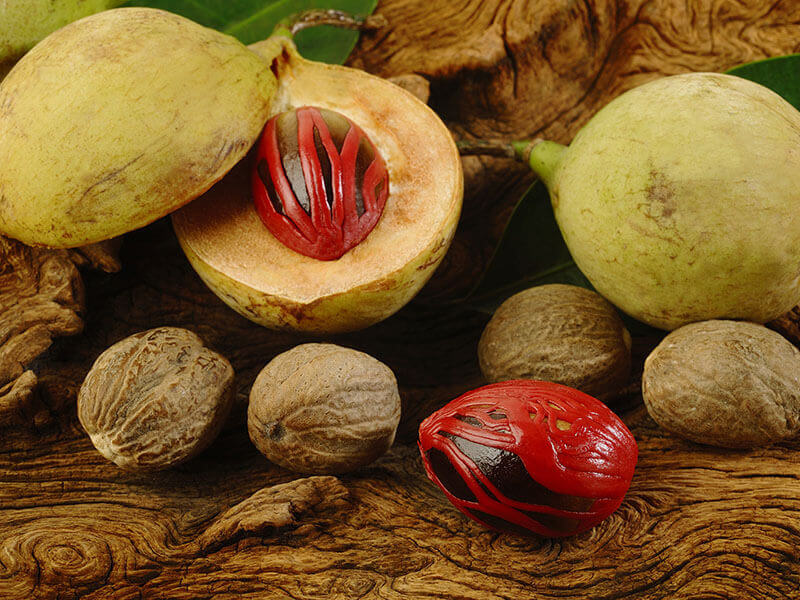 Whoever says "money doesn't grow on trees" surely never knew the history of nutmeg. The nutmeg tree, botanically named Myristica fragrans, is native only to Indonesia's Moluccas (the Spice Islands).
Due to the expansion of nutmeg cultivation, the spice is no longer "worth its weight in gold." Instead, it's become one of the essential items in any home cook's kitchen around the world.
Despite its name, nutmeg is, in fact, a seed. The nutmeg spice is made from the kernel inside the apricot-like fruit. Hence, people with nut allergies can consume it with peace of mind.
Mace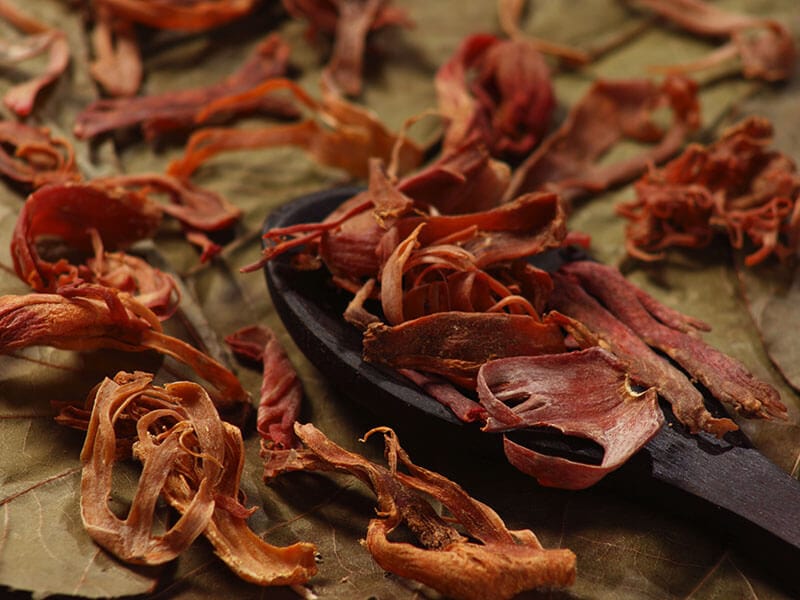 Like its aromatic cousin nutmeg, mace's also derived from Myristica fragrans. Botanically speaking, mace is the red lacy aril encasing the nutmeg seed. Once the fruit is ripened, these red fibers are harvested, separated from all the pericarp without breakage.
This lacy coating is then dried and stored in a delicate process to help retain its gorgeous color and good quality. Similar to nutmeg, mace is so complex and versatile in the kitchen, if not more. It's common in many spice blends, such as garam masala and curry powder.
In Asian cultures, mace has long been used as folk medicine. It's often taken by mouth to treat vomiting, diarrhea, and intestinal gas. Thus, incorporating a small amount of mace into your daily diet can help resolve many health-related issues.
A quick introduction to mace in case you're unfamiliar with this spice.
Availability
Mace is more commonly available in powdered form. However, you can still purchase the whole dried mace, which is called a "mace blade," and you can ground it for use as you need it.
Much similarly, nutmeg is sold as both ground form and whole, dried seeds.
Appearance
When it comes to appearance, nutmeg and mace are distinctly different, although coming from the same fruit.
Nutmeg
Whole nutmeg seeds have an oval shape and are larger. Its exterior is rough and covered in spidering ridges, whereas its interior is hollow and marked with dark-brown, somewhat rust-colored veins.
Dry nutmeg seeds often turn into a grey-ish color. Meanwhile, ground nutmeg is almost reddish-brown due to the production process.
A touch of ground nutmeg in your recipe provides an excellent sprinkled look that resembles the color of black pepper. Unlike its sibling, nutmeg doesn't tint your food at all.
Mace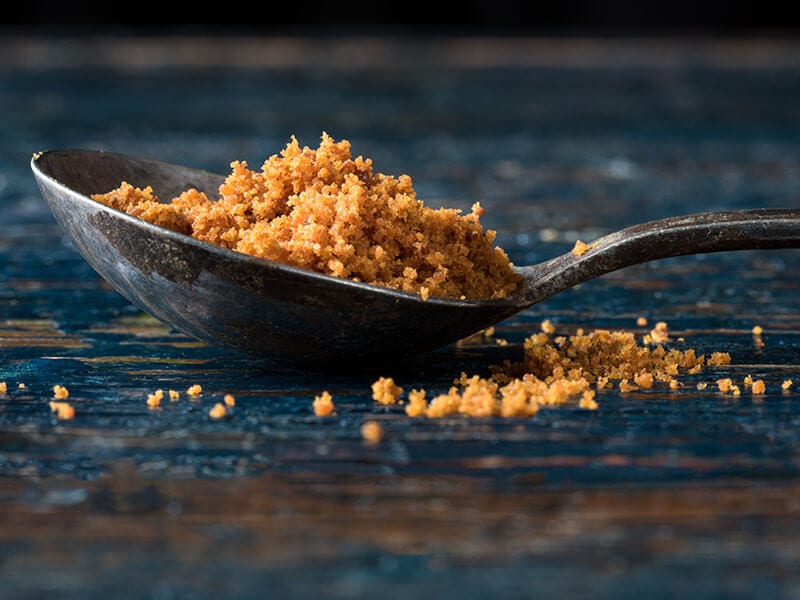 As you may have noticed, mace stands out with its vividly red color surrounding the seed. The whole mace, called "mace blades," has an odd appearance that resembles dried octopuses.
After being dried for two weeks, the bright redness fades into a yellowish orange tone. This makes mace a great natural coloring for food. Similar to saffron, it gives a nice golden color without overdoing it.
Flavor
It's safe to say that the flavors of nutmeg and mace are very distinctively different. Therefore, this is mostly the critical difference between them, especially when cooking.
Nutmeg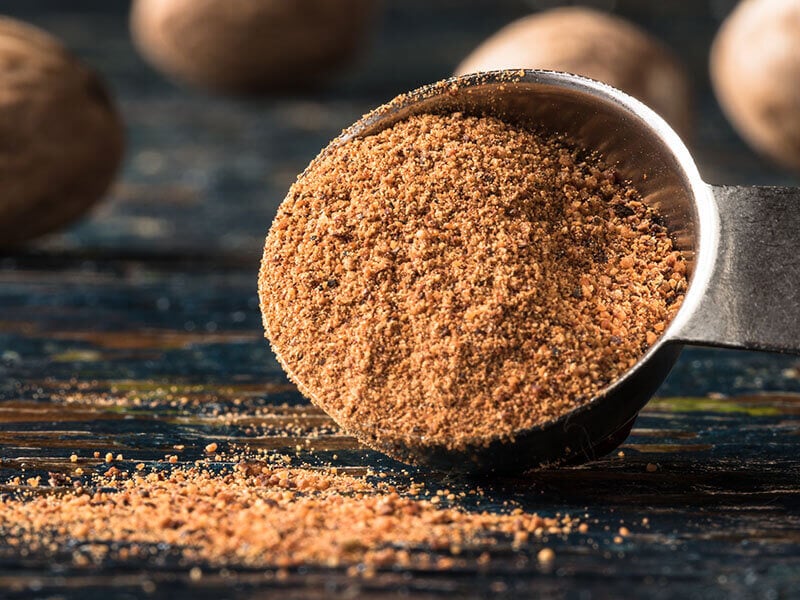 For good reasons, of all the spices in the pantry, nutmeg is closely associated with the wintry weather and the holidays. The spice is featured in a wide array of sweet dishes and other holiday treats with its warm nature.
When it comes to the flavor of nutmeg, it is mainly categorized as a sweet seasoning, but it's far from your typical sugary sweetness.
It's mildly sweet, nutty, and with an earthy undertone, that's easily recognizable at first taste.
Compared to its counterpart, it's proper to say that nutmeg is on the sweeter, milder side. On the other hand, mace's flavor is considered spicier and more intense than nutmeg.
If you need more reason to add a bit of this spice to your recipe, it also gives off a unique aromatic fragrance, especially if it's some freshly ground nutmeg.
Most of the time, a little nutmeg goes a long way. One tablespoon is often enough to deliver that rich and intense flavor. If you overdo it, the dish tends to taste soapy, bitter, and even poses a health hazard.
Mace
When it comes to the flavor, mace is described as complex and versatile as its sibling, if not more intense and potent. But that's not enough to capture its wonderful essence.
Sweet, warm, and woody, mace also brings the winter's warmth to your recipe. It brings a touch of nutmeg to your tongue.
More than that, the spice also delivers a spiciness similar to that of cinnamon and pepper, thus making it an excellent alternative to cinnamon. Plus, mace has some citrusy notes that elevate your dish.
Freshly ground maces should have an earthy aroma that reminds you of freshly cut grass or green leaves. Therefore, mace is a flavoring ingredient in everything from baked goods to savory courses.
Shelf-Life & Storage Tips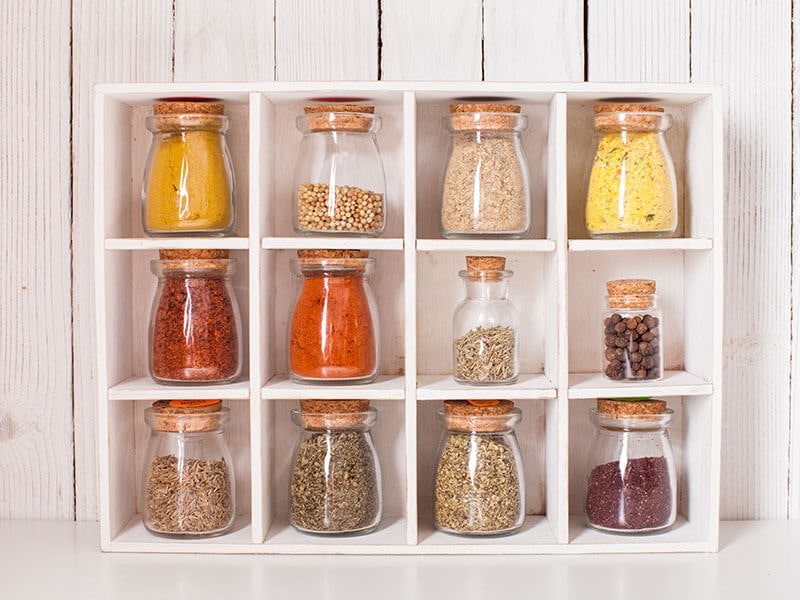 As with other dry spices, nutmeg and mace keep well in a dark, calm, and dry area. A cupboard or pantry far away from direct heat and sunlight is the perfect place to keep your nutmeg or mace in the long haul.
To maximize the shelf-life of nutmeg and mace, you should also store them in an airtight jar and avoid buying in bulk if you only need a small amount for specific dishes.
With store-bought spices, you can find an "Expiration Date" on the label. However, this doesn't indicate how long the spice is safe for use, but rather the time frame over which it retains the best flavor and has the peak quality.
Under appropriate storage conditions, whole nutmeg seeds keep excellent quality for four years, whereas the pre-ground version lasts at its best for two years.
Mace's shelf-life also largely depends on its form. Mace powder is likely to lose its potency after two years. If you buy the whole mace blades, these can have a good lifespan of up to four years.
Health Benefits
Did you know that nutmeg and mace have lots of similar health benefits to offer? After reading this, I'm sure you'll appreciate these pantry staples even more.
Nutmeg
In folk medicine across Asian, Arabic, and South Indian countries, nutmeg has long been extensively used as a natural remedy. From keeping your digestive system healthy to relieving chronic pains, this walnut-sized spice can do wonders for your body. (2)
This is because nutmeg is packed with valuable nutrients such as vitamins, dietary fibers, minerals, and organic compounds related to essential oils. Therefore, you may start adding a small amount of nutmeg to your diet if you haven't already.
Improves brain health
Boosts digestion
Helps relieve pains
Treats dental health
Has anti-inflammatory properties
Contains potent antioxidants
Helps control blood pressure
Improves sleep quality
Lifts mood and acts as an anti-depressant
You should never exceed one teaspoon of nutmeg per day on an important note. When consumed in large quantities, it doesn't only make your food taste bitter but can also be toxic!
At two to three teaspoons, toxicity symptoms may start to affect your body. You may feel dizzy, nauseous, hallucination, and possible death, mainly when used along with other drugs.
The dangerous effects that a nutmeg overdose can have on the human body.
Mace
Compared to its counterpart, mace contains much more minerals, especially copper and iron. Its concentration of essential volatile oils is also higher, making it a very healthy spice for regular consumption.
Increases appetite
Improves blood circulation
Provides a calming effect and stimulates the brain
Helps treat cancer and kidney diseases
Reduces intestinal gas
Relieves fatigue and tiredness
Treats cold, asthma, and flu
Reduces insomnia
Since mace also contains myristicin, consuming a large quantity of it at once leads to toxic side effects such as dizziness, hallucination, and agitation. It's suggested that you use 1.5 grams or less for each meal for the best health benefits.
Price
Simply put, mace is more expensive than nutmeg. This is mainly due to the ratio between the pits of the nutmeg fruit and its seeds. To get a better idea, it usually takes five pounds of nutmeg to produce only one pound of mace; that's how much their availability differs.
Ground mace and nutmeg are sold at almost every supermarket and grocery store. In contrast, you can mostly find whole mace blades at specialty stores. Because nutmeg is more available than mace, most recipes call for it.
Best Culinary Use
With noticeable differences in the flavor profiles, it's no surprise nutmeg and mace is best-suited for pairing with different ingredients.
Nutmeg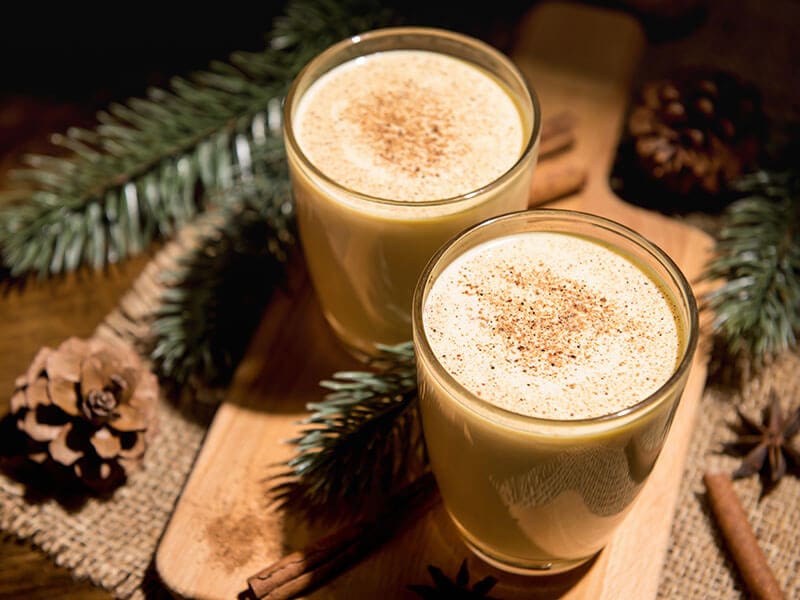 It's not a big stretch to say that nutmeg has a special place in the hearts of many diverse cuisines worldwide. As you might have known, nutmeg is the quintessential wintry spice in the United States that owns its place in most spice racks.
The mention of nutmeg probably conjures up the thoughts of your fall favorite dinner treats. With its subtle heat and slight sweetness, the spice has become part and parcel of some of the best baked goods, cheesy sauces, and creamy dishes.
Moreover, nutmeg is just as excellent for cooking as baking. The spice goes down beautifully with different types of meat, root vegetables, and especially winter squash.
In some of the best Indonesian foods, people love it in hearty soups, stews, and meat rubs. Meanwhile, Indian folks add a bit of nutmeg to their indigenous spice blends, such as curry powder and garam masala.
Prepare nutmeg for cooking like a pro with these guides!
Mace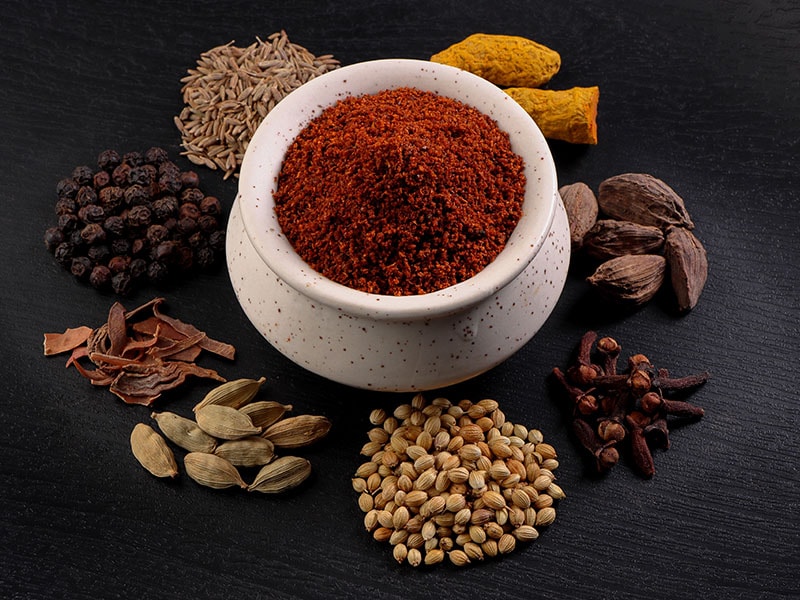 Like nutmeg, mace is a multitasker known to flavor sweets and savories. The fact that the list of applications for mace is seemingly shorter than that of nutmeg doesn't indicate its lack of complex flavor; it only means mace is less available on the market.
Owing to the spice trade back in the 16th century, mace had a prominent presence in many cuisines, ranging from Indian and Asian traditional recipes to Dutch and British delicacies.
The spice can elevate your meals up a notch from root vegetables, poultry, fish to cream soups and sauces. It's also found in spice mixtures, including garam masala and ras el hanout.
In cobblers, pumpkin pie, eggnogs, and donuts, the mace creates the perfect balance of sweetness and spiciness. The spice is as good for baking as it is for cooking. With its subtle heat, mace makes a great companion and other spices like cumin, allspice, and cardamom.
Can I Use Nutmeg Instead Of Mace And Vice Versa?
Yes! You can substitute mace for nutmeg and vice versa. Thanks to many similarities in their flavor profiles, nutmeg and mace can be used interchangeably in most cases.
That being said, your recipe may not turn out the same. Keep in mind that mace is more pungent and intense.
A good old trick is to use only half of the amount of mace as you would nutmeg. Likewise, double the amount of nutmeg when you don't make any mace on hand.
The result also largely depends on whether it's sweet or savory. You can always add or dilute the spice with some dairy product, cinnamon, or garlic if the taste of the spice is overshadowing other elements.
While the whole nutmeg needs grinding before use, mace blades take more effort. To bring out the best flavor in mace blades, you should toast them in a dry pan until they're crispy and fragrant before cooking.
If you ever run out of both of these spices, you can easily use other herbs in place of nutmegs, such as cinnamon, garam masala, and cloves. With mace, other substitutes work well, including pumpkin spice, ginger, cinnamon, and allspice.
The Best Nutmeg Recipes That'll Make You Swoon
After learning all about nutmeg, it's time to put the spice to work. These are some easy and delicious recipes you can dish up with nutmeg.
Custardy, eggy on the inside, yet golden brown and crispy on the inside, French toast is what you'll want to indulge in this weekend. Nutmeg goes well with cinnamon and other elements to give it extra dimensions of flavor.
A touch of nutmeg makes all the difference in this delicious French toast recipe!
I'm going, to be honest! No list of nutmeg recipes is completed with the traditional eggnog. This timeless course is arguably one of the most beloved nutmeg-featured dishes.
Dish up some exceptional eggnogs with this easy tutorial!
Easy And Drool-Worthy Recipes With Mace
These tasty mace recipes are sure to satisfy everyone around the table.
This delicious baked good is so flavorful and easy to whip up. With mace, flour, butter, milk, and quinoa, it's a healthy treat for the day. You can serve it with an easy side of salsa or some vegan mac and cheese.
A little mace never hurts when it comes to the classic chicken liver pâté. Some might say this delicacy looks a bit atrocious, but its unique, rich flavor is undeniable. Timing is the key to pulling this recipe right because the overcooked liver is quite unpleasant to eat.
FAQs
These commonly asked questions are sure to give you a better understanding of nutmeg, mace, and the relationship between them.
Nutmeg Or Mace, Let Your Taste Buds Decide!
Coming from the same tree, nutmeg and mace share a lot in common and are different from each other. Overall, they both give off that desirable warmth, nuttiness, and a mild spicy note that elevates your recipe to a new level.
After all, variety surely is the spice of life. So if you're whipping up some new recipe, don't be shy to incorporate both of these exotic spices into your dish.
Hit me up right now in the comment box if you have any more questions regarding nutmeg and mace. Remember to share it with your loved ones and friends if you find it helpful!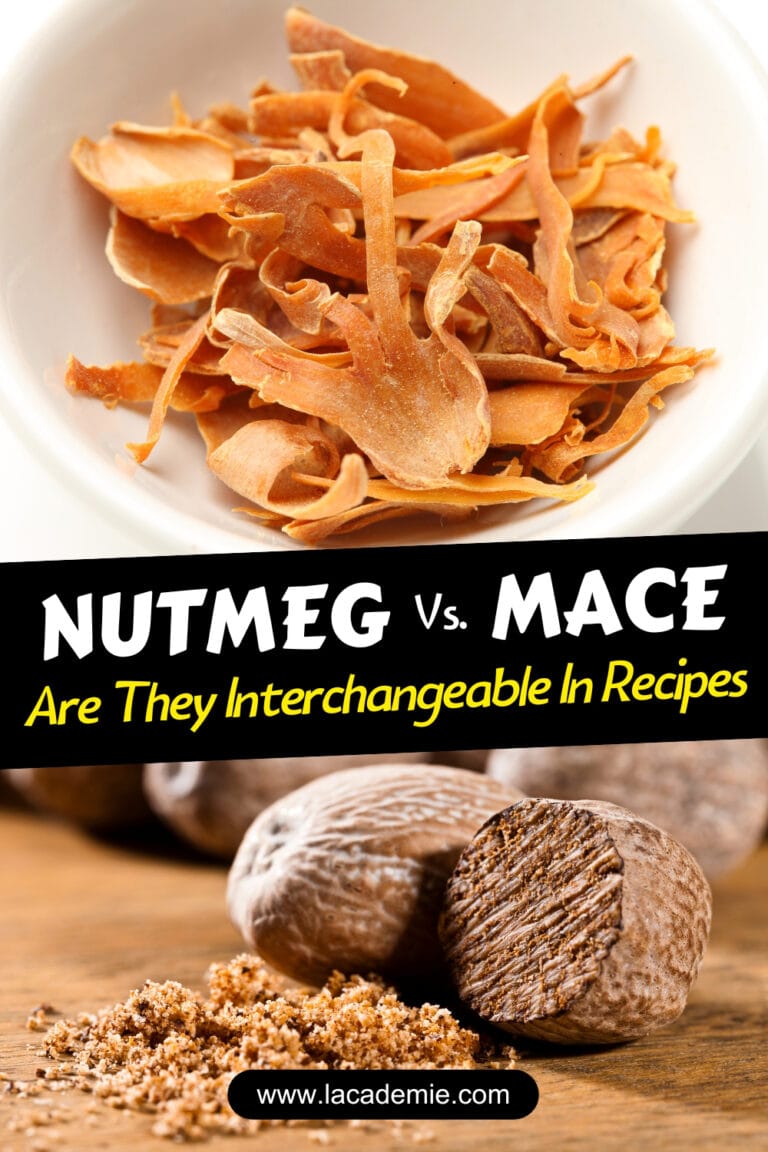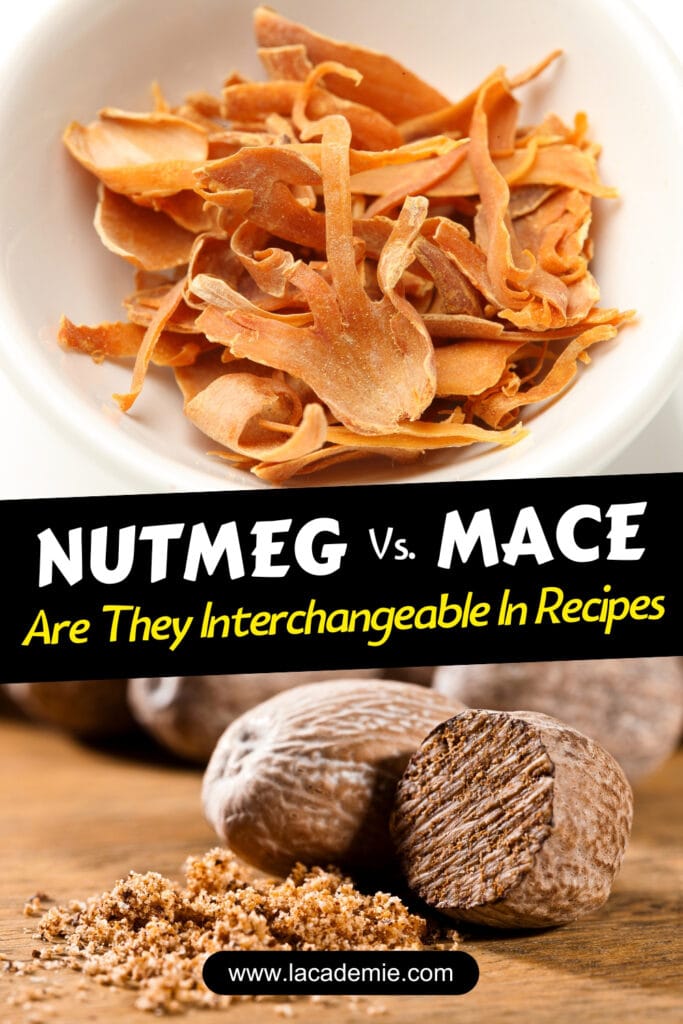 References
Unitproj.library.ucla.edu. 2022. Medicinal Spices Exhibit – UCLA Biomedical Library: History & Special Collections.
Hero.epa.gov. 2022. Antioxidant, antimicrobial, and health benefits of nutmeg | Health & Environmental Research Online (HERO) | US EPA.