Let's break things down and finally solve the stainless steel VS hard anodized cookware puzzle. Both materials are used widely for manufacturing kitchen pots, pans, and other cookware, but which material is better? Today, you will finally get the answer.
In this article, you will find everything about the use of stainless steel and hard-anodized aluminum, and all the factors related to them so you can decide which one to buy.
In the past, aluminum was more used in cookware manufacturing, but it has been dropped from manufacturing or anodized before production.
Stainless steel is pretty common in the cookware market because of the simple maintenance and versatility.
However, cooking in stainless steel pots is a bit more demanding than in anodized pots and pans, and has a learning curve.
Keep reading to find out more about cookware materials and understand the differences between stainless steel and anodized cookware.
Cookware Materials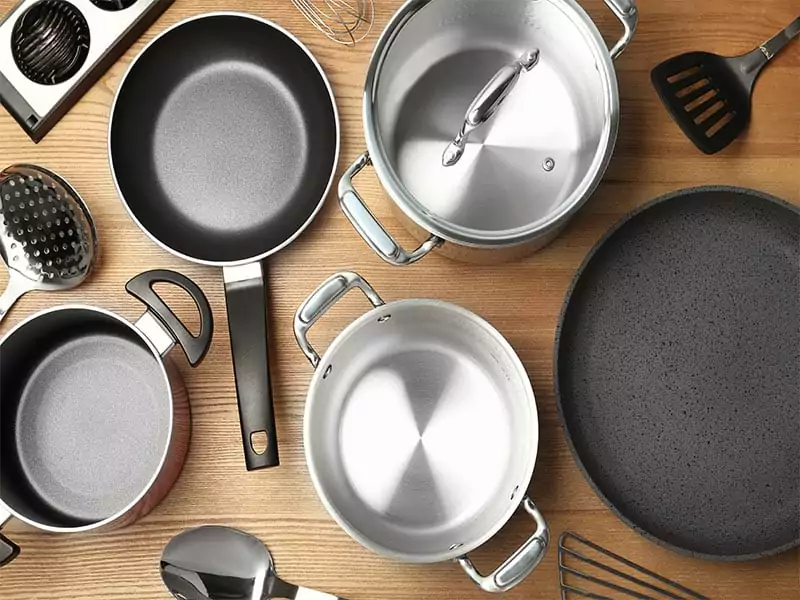 Nowadays, there are so many materials used for kitchen cookware and tools, including cast iron, stainless steel, carbon steel, aluminum, copper, etc.
Beside the debate of stainless steel vs. hard-anodized aluminum to find which one is better, people also confuse when choosing stainless steel or copper cookware. But overall, every material has its own strengths and weaknesses.
For example, some chefs stay loyal to cast iron cookware, as it is affordable, durable, resilient to high heat, and cooks the food evenly.
Enameled cast iron, carbon steel, copper, and aluminum pans are great for everyday cooking and come in a wide price range. However, some materials such as copper and aluminum react with specific food types and cannot be used for cooking all ingredients.
Non-stick and ceramic pans are great, but not very durable. Glass casseroles are practical, but can burn the food. Lastly, silicone is pretty new on the market, convenient in terms of use and maintenance, but we still need more research on its safety.
Watch this video to know more:
What Is The Difference Between Aluminum And Hard Anodized Aluminum Cookware?
Before we move on with the comparison, you need to understand the difference between the two types of aluminum cookware.
Aluminum cookware is inexpensive and an excellent heat conductor. Because of it, the pan responds promptly to the heat changes and results in evenly cooked food.
However, aluminum can react with acidic food and contaminate your meals. For example, discoloration of the food prepared in an aluminum pan is the first sign that aluminum reacted with the food. For example, never cook tomatoes or anything with citrus and vinegar in an aluminum pan.
That's why I prefer choosing aluminum cookware that might not need to work with heat, like the top-class trays for defrosting that are made from aluminum. But anodized aluminum is the innovation of this material.
Anodized aluminum isn't reactive to food because its surfaces have been oxidized. Therefore, it has all the good properties of aluminum, but without the bad sides.
Watch this video to know more:
Stainless Steel Cookware – Basic Differences
There are different stainless steel compounds on the market used for cookware. In general, stainless steel cookware is durable, keeps the heat for long, and versatile, so you can cook different foods in it.
You can find countless stainless steel pans or pots on the market for different cooking purposes, for example, high-grade pasta pots. And I guarantee they are worth every penny.
Stainless steel is a mixture of iron, carbon, steel, and chromium for added corrosion resistance.
But, to be safe for use with the food, the compound needs to include at least 16% of chromium by weight. Some stainless steel cookware also has chromium for corrosion resistance and better appearance.
There are three series of stainless steel cookware.
Watch this video to know more:
200 Series
It is the lowest quality cookware. The manufacturers use manganese instead of nickel, and the cookware isn't completely corrosion resistant.
If you are buying on a budget, it is still a better option than standard aluminum, but won't last you for a long time.
300 Series
The majority of the cookware available on the market belongs to 300 series, specifically 304 and 316 categories.
The latter is more corrosion resistant and used for biomedical implants and marine applications, too.
For your everyday cooking needs, the 304 series will work like a charm, so you don't have to invest in expensive, marine-grade stainless steel cookware.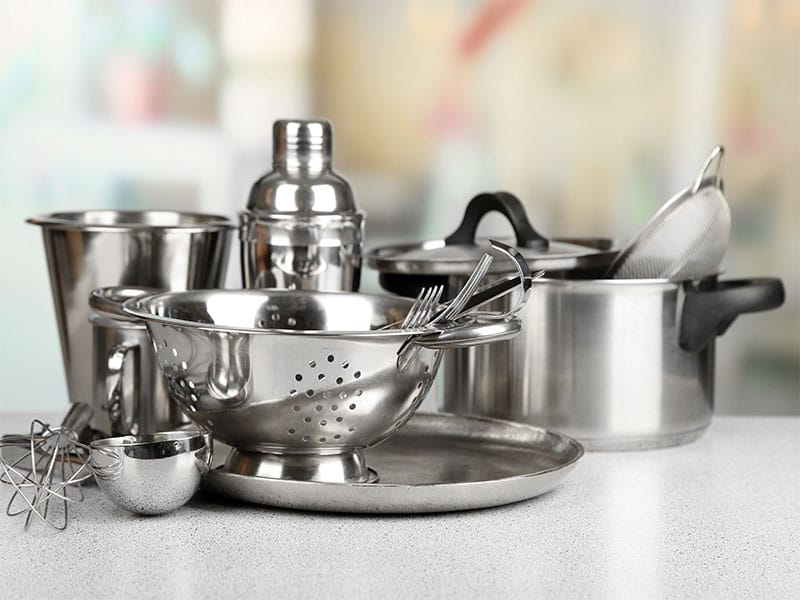 400 Series
Lastly, the cookware from the 400 series doesn't contain nickel. These items are usually cheaper than 300 series, and those are mostly bowls or flatware.
They are suitable for people with metal sensitivity or allergies.
Stainless Steel Vs. Hard Anodized Cookware: Things To Consider
Now, when you know the basics of stainless steel and hard anodized cookware, it is time to compare them in the most important categories of cookware quality and safety.
Safety
Cast iron is the safest material to cook with, but stainless steel comes just after it.
There are no chemicals that can contaminate your food. Therefore, cooking with stainless steel cookware is completely safe. This is also an amazing material for the greatest chafing dishes to keep your food hotter in the long time.
Also, anodization highly decreases the chances that the aluminum will react to the food. The surface is sealed and aluminum won't be in touch with the food.
Therefore, both types of cookware are safe. However, in terms of deterioration, stainless steel remains safe, while anodized aluminum can react with acidic food if the coating is damaged. Even though it is a long shot, and modern hard anodized cookware will rarely react with the food, it is still possible.
In the safety aspect, I give my vote to stainless steel cookware.
Heat Conductivity
Aluminum is the second-best heat conductor among all materials used for cookware, after copper. Even when treated through electrochemical processes, such as anodization, it retains its excellent heat conductivity properties.
What does it mean for cooking?
When you cook in a hard anodized pan, for example, your superb saute pan, your food will be cooked much faster than in stainless steel.
Moreover, because it is such a good heat conductor, the food is cooked evenly. You won't have uncooked or burnt spots, and you don't have to stir so often. You can rely on the surface to conduct the heat evenly and cook without burns.
On the other hand, stainless steel doesn't have great heat conducting properties. While you cook, you can expect hot spots, which results in uneven cooking. You will easily notice it when you prepare a piece of meat in a stainless steel pan.
It is the reason why you will never see a professional chef use a stainless steel pan to prepare meat. It is because the heat will be the highest on the central part of the stovetop and the pan.
Instead, professional chefs prefer cooking with premium carbon steel woks because of its excellent heat distribution.
Therefore, you have to get used to your stainless steel cookware and experiment. With hard anodized cookware, it is much easier to get an excellent result every time you cook.
Because stainless steel has other great characteristics, manufacturers solve the problem by bonding stainless steel with other materials – copper or aluminum. Those will perform better on glass stovetops.
All things considered, hard anodized cookware beats stainless steel in heat conductivity.
Watch this video to know more:
Maintenance
You've got to love your dishwasher-safe cookware. It simplifies cleaning, it is time-saving and you don't have to pre-soak the used pans and pots.
Stainless steel cookware is dishwasher safe, while hard-anodized pans and pots can get damaged in the dishwasher.
In those terms, stainless steel items are easier to clean.
However, if you don't own a dishwasher, you will clean your hard-anodized pans by hand much easier than stainless steel. The difference is in the non-stick coating on the hard anodized pans. It is easy to clean with dishwasher soap and warm water. Additionally, you should only use kitchen sponges to clean the pans safely and avoid metal scrubs of brushes with harsh bristles.
Stainless steel pans can be cleaned by hand, but it requires more scrubbing. Because of the poor heat conductivity, some spots on the pan might need more elbow grease to be clean.
To sum up, if you own a dishwasher or plan to buy one soon, you will have less trouble cleaning stainless steel cookware. For those who prefer hand washing, I recommend hard anodized kitchen items.
Watch this video to know more:
Durability
Both stainless steel and hard anodized aluminum are durable materials. But, anodized aluminum cookware features extra, non-stick, and seal coatings, which prolong the product lifespan. However, when the coating wears off, the pans aren't safe for use anymore.
Still, your hard-anodized aluminum cookware can withstand heavy-duty use, similar to the stainless steel ones.
Strictly speaking, the longevity of each product depends on several factors – the quality of the materials, proper maintenance, frequency and ease of use, etc.
For example, some of the easiest fondue pots to use are made from stainless steel that will last for years, even generations.
Therefore, let's see it's a tie in this round, between stainless steel and hard anodized aluminum cookware.
Coatings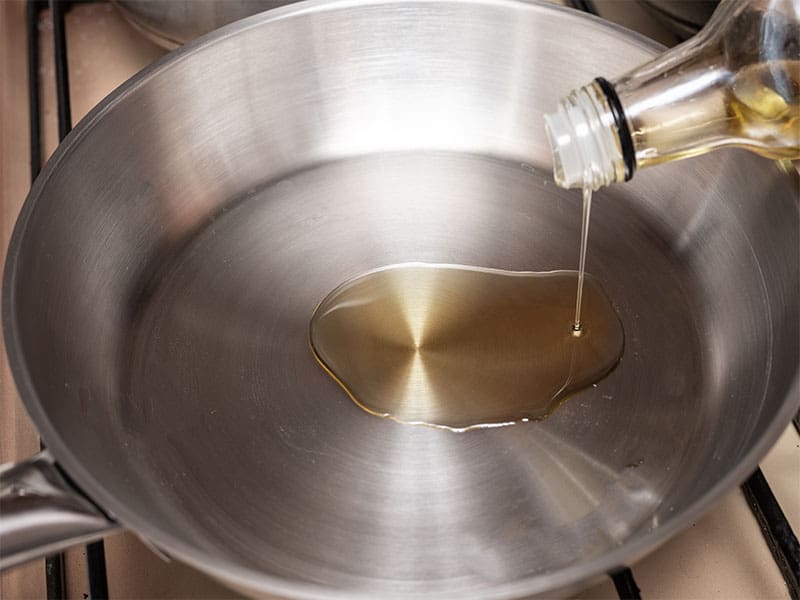 The anodization of aluminum includes adding an extra layer on the cookware surface. It is a non-stick coating that can withstand enormous levels of heat. Therefore, you don't have to use fat and vegetable oils to prevent the food from sticking to the pan, making cooking of certain food healthier in hard-anodized aluminum cookware.
Stainless steel cookware doesn't have non-sticking properties.
But, once the non-stick coatings wear-off the food can be contaminated by the toxics used for manufacturing the coating.
Stainless steel pans aren't risky in that manner. Therefore, I vote for stainless steel pans in terms of coating. You can solve the sticking issues by frequent stirring and adding a few drops of healthy vegetable oil.
Scratching Issues
Hard anodized aluminum is more resilient than stainless steel because of the specific method of processing. It won't scratch easily.
However, the stainless steel is pretty sturdy, too. In this aspect, it seems like it is a tie, and it depends on you to maintain the cookware properly to avoid scratches.
Also, some lower quality stainless steel cookware, for example, series 200 can be scratched easier because of the manganese.
Price
The expenses vary between hard-anodized aluminum and stainless steel models. There are cheap and high-end pieces in both categories.
In general, stainless steel cookware is more expensive than anodized aluminum.
Things such as materials, appearance, capacity, etc. determine the price tag of a cooking utensil. For example, you will pay more for a pot made from anodized aluminum than for a pot made from standard aluminum which is reactive with acidic food. The anodization process adds to the price but improves the cookware performance.
On the other side, stainless steel items, with manganese coatings instead of nickel, are more affordable.
Why Should You Pick Stainless Steel Cookware?
Stainless steel cookware is durable and completely safe to use with all kinds of food. It is more expensive, but it can be washed in the dishwasher. Stainless steel pots, especially those with a nickel coating, have a pleasant appearance.
If you are looking for easy-to-use and affordable stainless steel cookware, you can get a pasta pot. Most of the quality self-draining pasta pots are made from stainless steel. Or, choose stainless steel pans.
You will love to cook using stainless steel because the cookware is so versatile. You can prepare more meals using a single pan or pot. Stainless steel cookware is oven-safe and can be used in induction cooking surfaces.
Lastly, you can also spend money on stainless steel rice cookers that won't rust or chip. These are also easy to use and can make the perfect rice every time.
Why Should You Pick Hard Anodized Aluminum Cookware?
If you don't mind manual washing, and you aren't very skilled in the kitchen, you will enjoy hard-anodized aluminum cookware. It is easy to use and cook a variety of food in it without issues.
It is also a foolproof cooking method – as long as you follow a recipe, your food will taste delicious. Moreover, because of the non-stick coating, you can use less oil or fat, which will reduce the calorie intake daily. Therefore, the food is cooked in its juices.
The lower price tag is an additional plus when it comes to hard anodized aluminum cookware.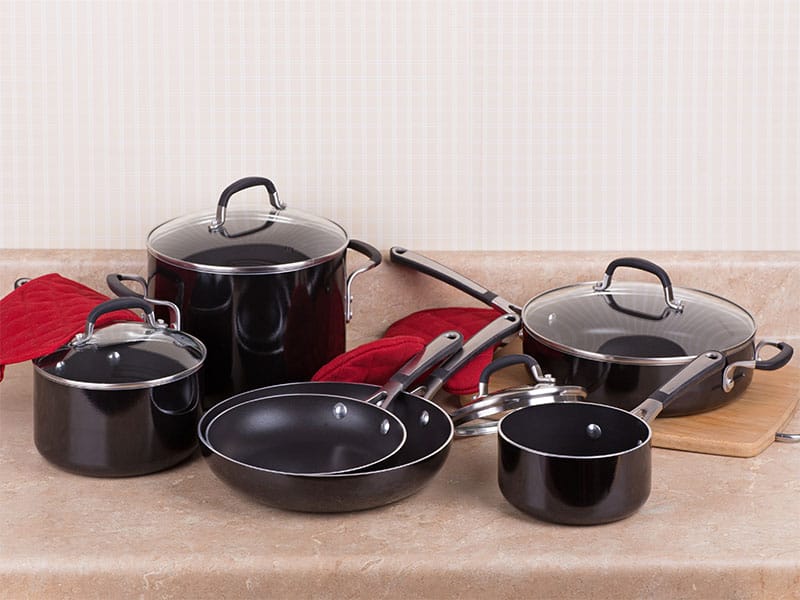 Watch this video to know more:
Cookware For Everyone
The first thing to determine is your skills and budget. If you are a beginner home cook, and you have just started to explore the creative world of cooking, the hard-anodized aluminum cookware is for you.
Next, consider your stovetop. If you own an induction cooking surface, you cannot use aluminum cookware.
Lastly, determine why you cook – because you love or because you have to?
If you cook because you love it, you will be ready to invest more money in your cookware and end up with premium stainless steel cookware. It will help you prepare numerous delicious meals for you and your family.
Do you like the article? Do you prefer stainless steel or hard anodized aluminum cookware? Please let me know in the comments.
Don't forget to like and share the article, if you enjoyed it!