What is better: copper VS stainless steel cookware? Stay with me to find out! Ordering and testing a bunch of cookware in a wide quality range – from cheap to high-end items, taught me to choose my pans and pots carefully. Because I spend so much time in the kitchen cooking for my family, I enjoy working with quality tools and kitchen utensils.
Therefore, I am here to help you pick the best cookware for your needs.
Both copper and stainless steel are the common material types in cookware manufacturing. Stainless steel is one of the most durable materials, and copper is an excellent heat conductor. So, which one to choose?
Keep reading to find out!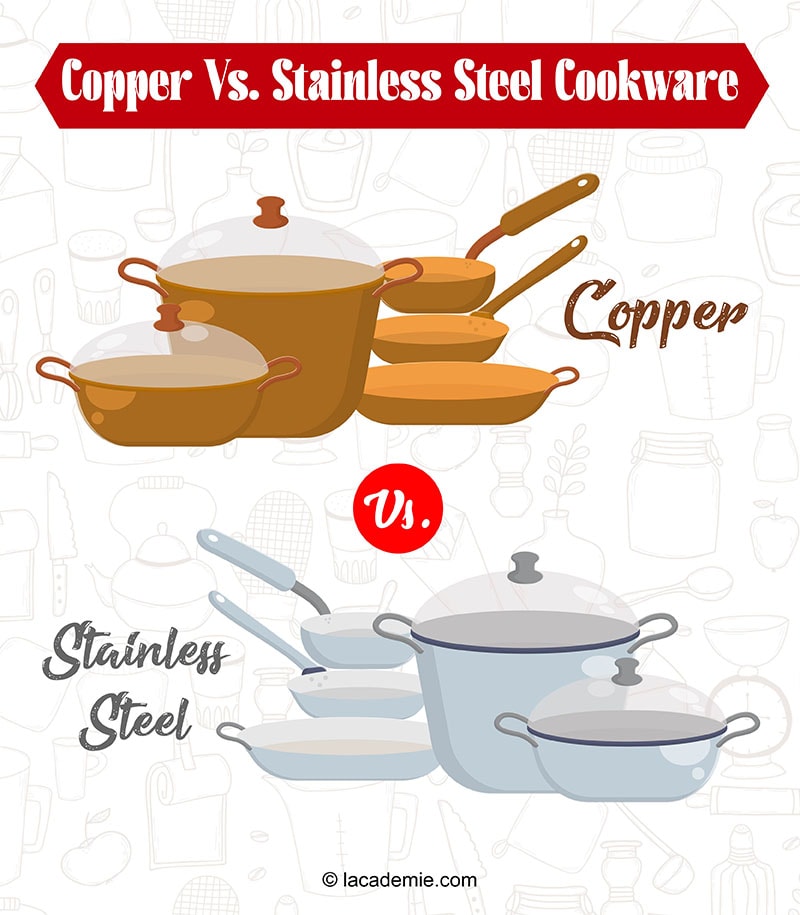 Stainless Steel Vs. Copper – At A Glance
Stainless steel and copper are widely used materials for different purposes, as two quality materials have an excellent lifespan.
On the other hand, people also put stainless steel and hard-anodized aluminum cookware to compare and find out which one is better to use. But overall, these 3 materials are all good choices for a durable cookware.
Both can hold the appearance for quite long and resist cracking, peeling, fading, etc. In reality, copper and stainless steel are used for different outdoor projects because of their resilience, and can be recycled.
It is not a surprise that many cookware brands invested in developing their cookware lines made from these materials.
Despite their similar properties, copper and stainless steel offer different benefits to cookware owners.
Stainless Steel Vs. Copper Cookware In-Depth Comparison
Similar at a glance, but vastly different after more thorough inspection, stainless steel and copper utensils are common in every professional chef kitchen. However, the products made from these materials have different purposes and values.
Let's compare them in the most important categories determining the quality of cookware.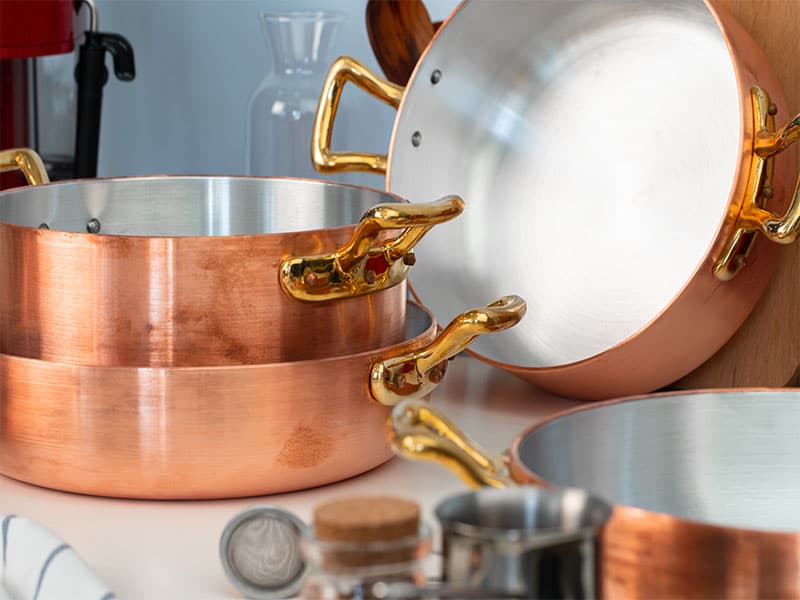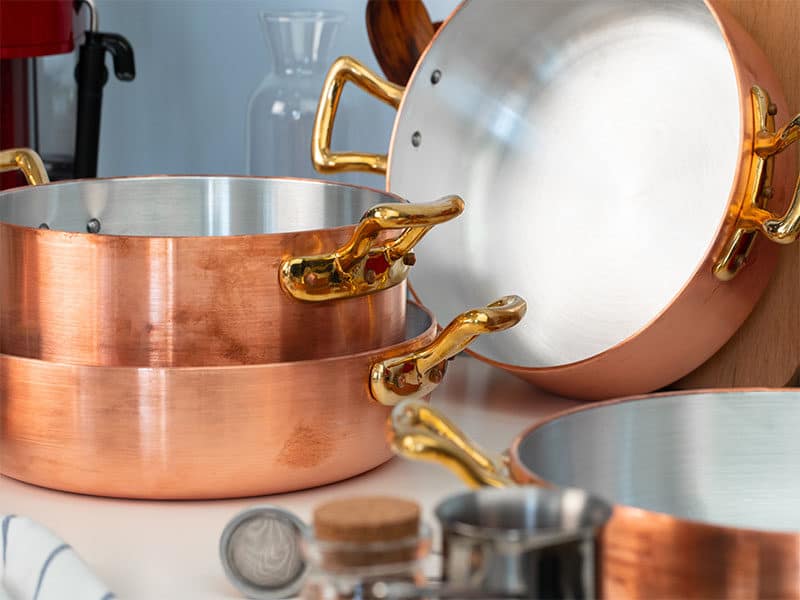 Construction
Stainless steel cookware is made from iron alloy which is created with different metals. Most commonly, the alloy blend includes chromium, nickel, and molybdenum.
There are two types of stainless steel blends used for cookware:
18/8 – 18% chromium and 8% nickel
18/10 – 18% chromium and 10% nickel
The second blend with more nickel content is more resistant to corrosion and rust.
You will find numerous top-grade chafing dishes made with stainless steel. And some other best stainless steel cookware is made with aluminum or copper core, to improve heat conduction and reduce hot spots.
Copper has been used for cookware materials for centuries since people discovered its excellent thermal conductivity. Copper pots are made with various thicknesses, starting from 2.5 to 3 mm. However, there are thinner models as well, but those require reinforcement with other metals.
Copper reacts with acids, so it is sometimes layered with other materials such as nickel, tin, silver, and stainless steel. For example, tin was broadly used in the past, but is rare today, because of the low melting point.
In general, using the metal bonding process, copper cookware manufacturing includes multiple materials with a copper core.
The quality of the construction depends on the metals combined and the technique.
Compared to copper utensils, stainless steel cookware features a simpler constructing process.
Watch this video to know more:
Heat-Conducting
Copper has excellent thermal conductivity. It means that the pan or pot distributes the heat across the entire surface, so there are no hot spots. This is an ideal aspect for a perfect pot to cook pasta because foods will be evenly cooked inside this cookware.
On the other hand, stainless steel has poor heat transfer properties. However, metal bonding during the construction process can improve it. The heat distribution of pure stainless steel is uneven, and if you aren't skilled, you may end up with burnt food with undercooked parts.
When there is copper or aluminum added to stainless steel pans, the heat conductivity is improved. Still, it isn't at the level of true copper cookware.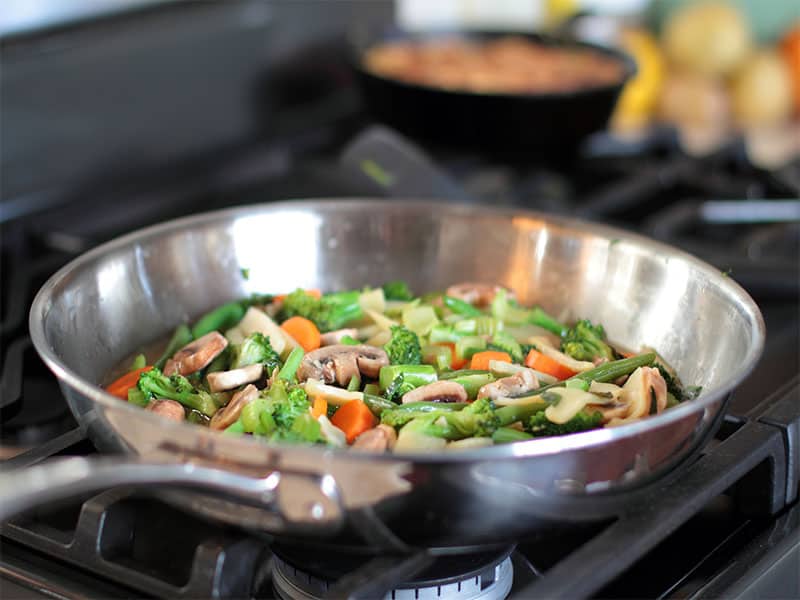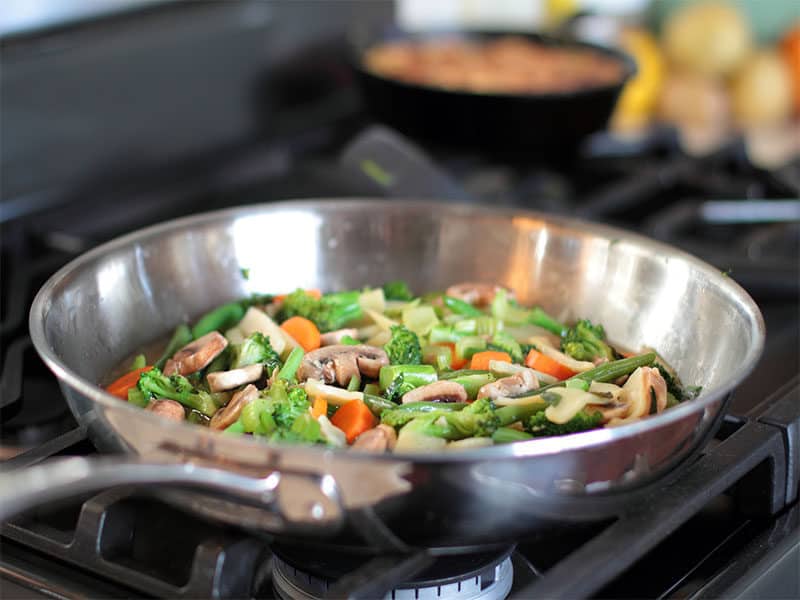 Price
Copper is a genuinely more expensive material than stainless steel. The price depends on models and types of cookware, but copper is up to 25% more expensive than stainless steel cookware.
The price tag depends on other aspects, such as lids, handles, dishwasher maintenance, etc. Copper cookware is durable and cooks the food evenly, which justifies the price tag.
Additionally, you can find more affordable models layered with less expensive materials such as nickel. Silver and gold layers on copper cookware add to the price significantly.
Stainless steel cookware comes in a wide price range. Fortunately, you can find versatile and well-built pans, like scanpan, and pots made from stainless steel at reasonable price tags.
Watch this video to know more:
Maintenance
Copper cookware is most commonly lined with materials, such as tin or nickel, which makes maintenance simple. The food won't stick to the pans, which reduces the need for scrubbing.
On the other hand, copper is soft and prone to scratches, so you should handle it carefully when cleaning the outside of your pots and pans. Because of the tin or other material lining, you should resist using abrasive sponges to clean your copper cookware. Soak it in water and use dish soap and mild water to clean it.
Also, some manufactures state that their copper items are dishwasher safe, but I would advise you against it. Frequent wash in the dishwasher can cause discoloration on your copper cookware and ruin the pretty appearance.
In most cases, stainless steel pots and pans are completely dishwasher safe. You can also clean them by hand.
However, stainless steel pans may have hot spots, which will cause food to stick and become harder to clean. You might have to scrub more when cleaning the pans or use harsh abrasive detergents or vinegar and baking soda to clean heavily burned pans.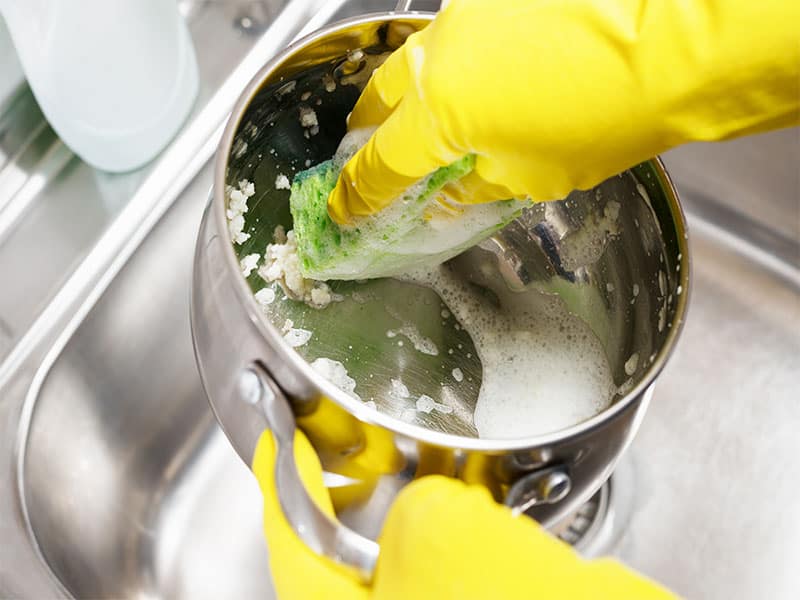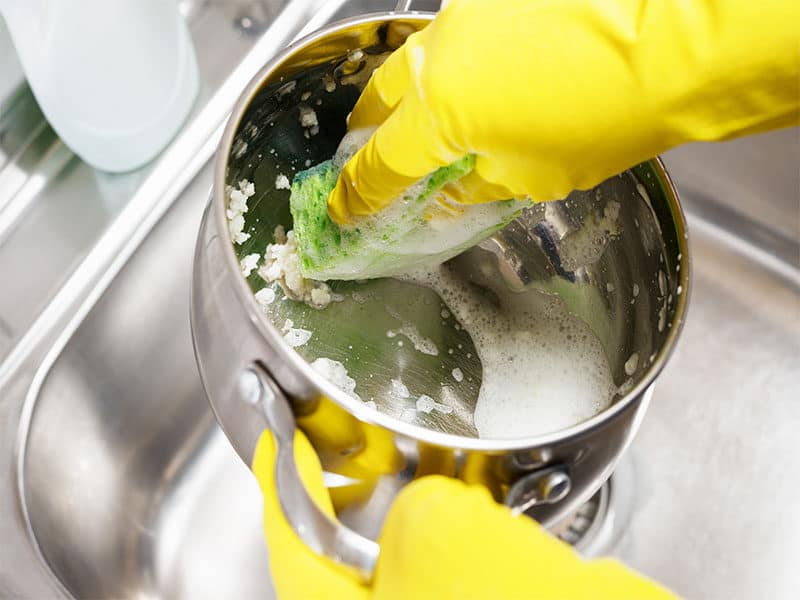 Watch this video to know more:
Durability
Both materials are resilient to plenty of outside factors and can withstand years of use.
However, stainless steel is called indestructible for a reason. It can hold its properties for years and won't show signs of tear. Even if it discolors or loses the outside shine, stainless steel cookware will maintain its cooking performance. It doesn't require a coating to protect it from corrosion, so there is nothing to chip.
Copper is also quite durable, but not like stainless steel. It can lose color over the years, and inner tin or other material linings can chip and make the pans and pots unsafe to use. Copper cookware is also corrosion-resistant.
Flavors
It takes sensitive taste buds to notice the difference between cooking in different materials. Stainless steel doesn't change the food taste, so the flavors depend on your cooking skills and the ingredients used. As long as you keep an eye on the hot spots, you can cook delicious meals in stainless steel pots and pans.
Copper is reactive with acidic food, which may affect the flavor, adding a metallic taste. But, when lined with non-reactive materials, copper can help you cook food evenly to get the perfect blend of food juices and flavors.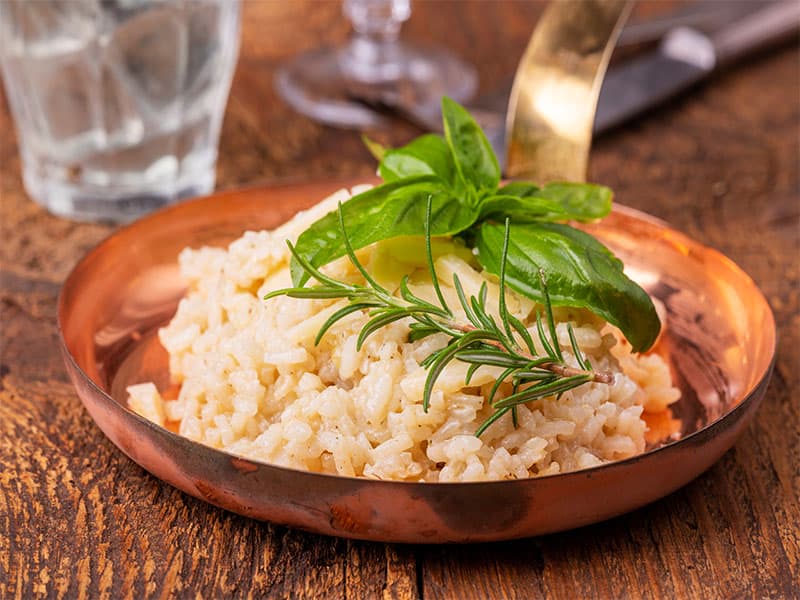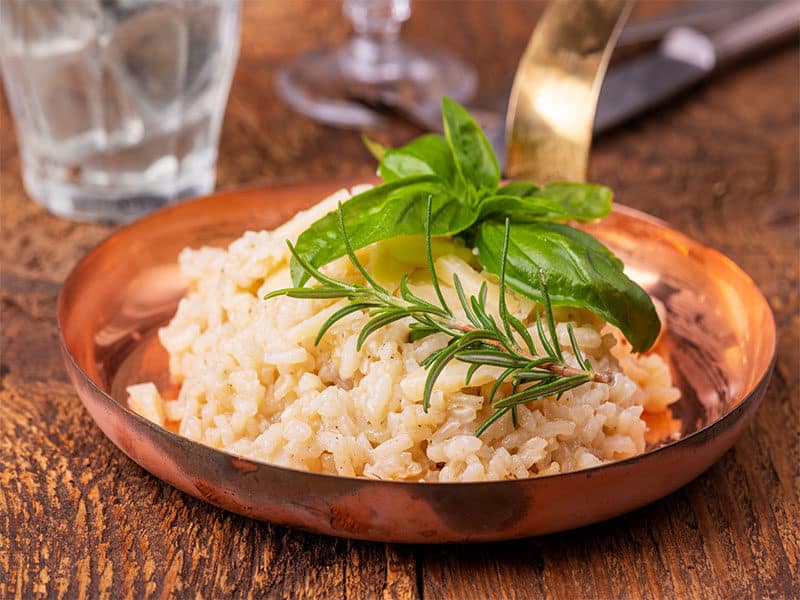 Zero-Fat Cooking
I couldn't resist the healthy cooking trend in the food juices without added fat or oils, so I discovered that copper works better for this type of cooking. Food can stick to stainless steel until you learn how to use them and add enough fat.
Copper has non-stick properties on its own and doesn't need any seasoning. Therefore, you can use it to prepare healthier dishes, use less fat and oil and maintain the natural flavors of the food you cook.
You can use copper pans to fry eggs, make crepes and pancakes, sear fish and don't worry about sticking.
Appearance
Stainless steel is shiny, looks elegant, and maintains its beautiful look for long. Copper, on the other hand, can change the appearance due to poor maintenance or often use.
Copper cookware sometimes has a vintage look, and all-copper pans and pots are nowadays used only as decoration. Still, modern stainless steel cookware with stylish lids and handles look great in all kitchens.
Potential Risks
Stainless steel isn't reactive with any food type and is completely safe to use without any risks of unleashing toxic matters and harming your food.
Copper is reactive to acidic food and can release toxins during the cooking process. Some scientists advise staying away from all-copper and copper cookware with nickel coatings because they are heavy metals. Therefore, there is a small risk of heavy metal poisoning. Modern copper cookware is safe to use because it is layered inside with tested and safe materials, such as stainless steel.
Moreover, when the inside layers chip, the copper pans stop being safe to use.
Ideal Use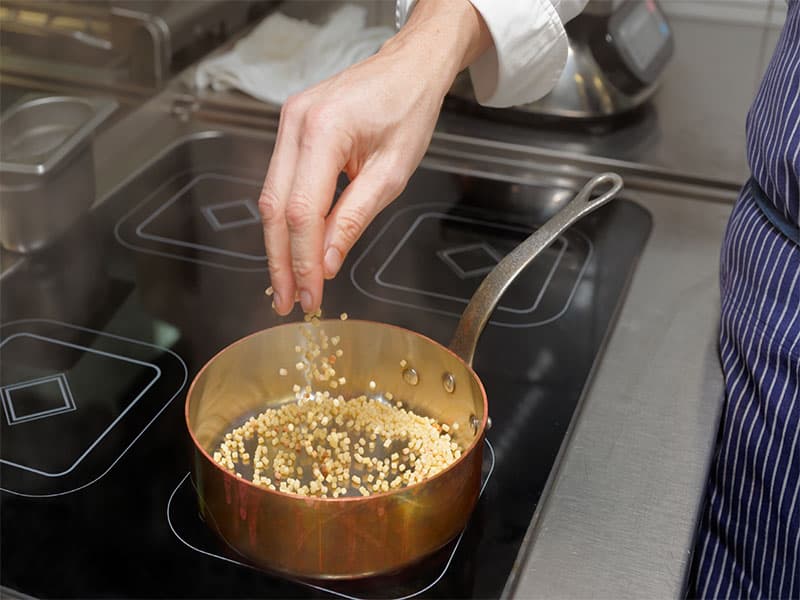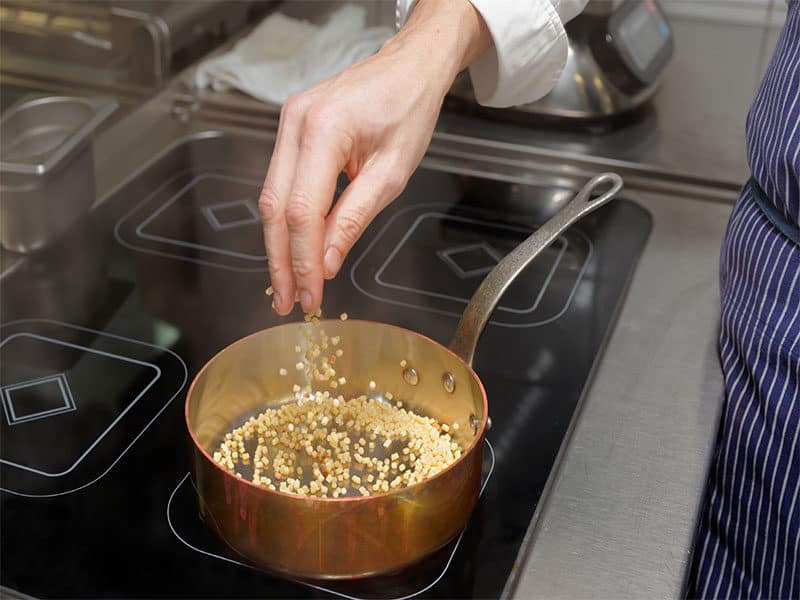 Because copper cooks food evenly, it is perfect for dishes where heat control is important. I had the best risottos and sauces cooked in my copper pans. Cooking on medium-heat is perfect when using copper cookware and I also recommend silicone or wooden utensils to avoid scratching.
I would never stir meat in a copper pan because it requires too high temperatures, which can cause the tin layer to melt. So I normally choose my decent wok made from carbon steel to stir fry ingredients instead of using stainless steel or copper pan.
You should never cook food prone to sticking in a stainless steel pan or pot. Rather, use it to sauté vegetables or make soups. In general, this cookware is great for browning and braising. Also, unlike copper pots, stainless steel pots are perfect for pickling because the material doesn't react with anything.
Or you can sign up for some choicest cooking courses to learn more about how to use every cookware correctly and find out which one would be the most suitable material based on your needs or eating habits.
Watch this video to know more:
Stainless Steel Cookware Downsides
Stainless steel pans and pots are unreliable heat conductors. It is especially true compared to aluminum and copper. Never leave your stainless steel pan on the stovetop unattended because the risk of burns is high.
Because of it and the sticking problems you experience with stainless steel pots, scrubbing them is required when you do manual washing. Sometimes, even the dishwasher cannot remove all baked-on grease and dirt from the bottom of your pan.
Lastly, cooking with stainless steel has a learning curve. You have to discover how much fat or oil to add to prevent the food from sticking. Therefore, the food you prepare in these pans isn't low-calorie.
Watch this video to know more:
Copper Cookware Downsides
Copper cookware is long-lasting, but only with careful care and proper maintenance. Only hand washing is suitable and drying with a soft cloth. Everything other that can cause the cookware to change color or corrode in extreme cases.
Also, if you want to maintain an attractive appearance, you have to manually polish your pots and pans from time to time.
Most importantly, copper pots and pans without appropriate or chipped lining are reactive to acidic food. It can release toxins, which can be harmful to a human's health.
Also, a professional and high-quality set of copper cookware can be quite an expensive investment.
Why Should You Pick Stainless Steel Cookware?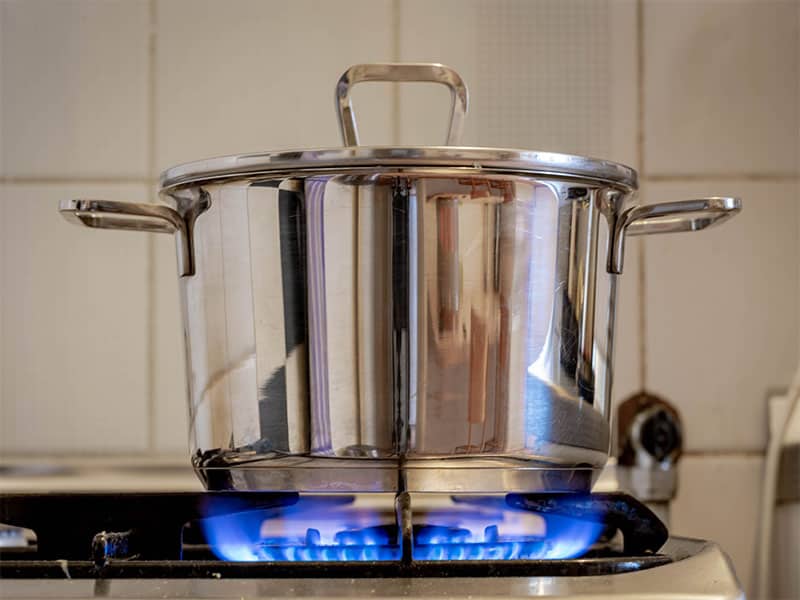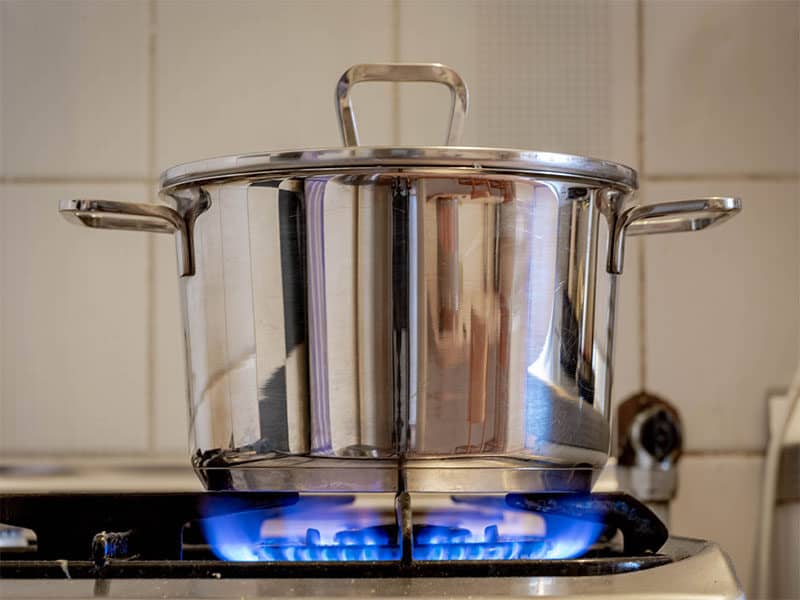 Stainless steel cookware is rust and corrosion-resistant. Therefore, you can rely on it to last for years. It will also look good through the years because the cookware won't scratch and stain.
Even though stainless steel is a poor heat conductor, modern manufacturing metal-bonding processes improve it, making it more versatile and useful for all cooking processes.
Simple maintenance and dishwasher-safe properties are always an added plus for busy home cooks.
Lastly, stainless steel is eco-friendly, as you can recycle it. It is one of the most recycled materials, alongside paper and glass.
Watch this video to know more:
Why Should You Pick Copper Cookware?
Copper is easy to use and has a consistent performance as long as you maintain it well. It is suitable for beginners, and generally easy to use. It cooks all food evenly and can help you lose weight by cooking without added fats or oils.
Also, copper pots and pans heat quite quickly, and you can use them for quick meal preps.
Copper pans are also oven-safe, and copper is often used for bakeware. Hence, most best-rated brownie pans are made from copper infused with other materials, commonly ceramic.
Comparison Table
Check my simple comparison table to help you decide which cookware is better for you.
| Types | Stainless Steel Cookware | Copper Cookware |
| --- | --- | --- |
| Corrosion resistant | Yes | Yes |
| Safe to use | Yes | Yes with additional inside lining |
| Non stick | No | Yes |
| Heat conducting properties | Poor | High |
| Price | Wide price range | Expensive |
| Oven-safe | Yes | Yes |
| Safe for induction cooking | Yes | No |
| Dishwasher-safe | Yes | No |
| Safe for All Food | Yes | Reactive with acidic food |
Final Verdict From A Home Cook
As you can see, both stainless steel and copper cookware have their advantages and disadvantages. I believe modern stainless steel cookware just works better for everyday home cooking techniques and uses. It is easy to clean, more affordable, and durable.
It might take time to get used to cooking on unevenly hot surfaces, but after a while, you will become a pro.
If you decide to get stainless steel cookware, pick the models whose heat conductivity is improved by adding aluminum or copper.
What seems more useful for you- stainless steel or copper? Explain your reasons in the comment section!
Don't forget to like and share the article if you find it useful.