String beans vs. green beans, have you ever wondered what the differences are between them? Many people are perplexed about them, and much to their amazement, the answer is relatively simple.
Through this post, you will learn not only about string beans and green beans but also other types of beans, such as haricot verts. With over 400 varieties with thousands of appellations, understanding beans will be a little tricky – and fun at the same time!
Are you ready to discover the world of beans?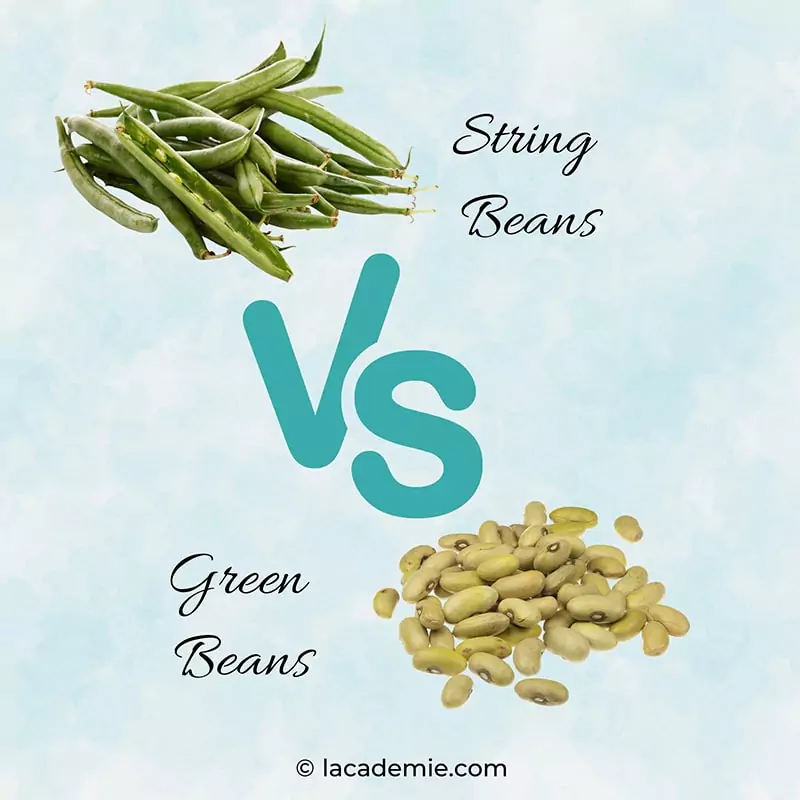 String Beans VS Green Beans, Are They Grown From The Same Cultivar?
Surprisingly, your guess is correct! String beans and green beans are one legume, and to add to the confusion, these crunchy, nutrient-dense green guys are also called snap beans because of the sound they make.
A Detailed Explanation On Different Names Of Green Beans
So, why are they called green beans, but sometimes string beans? And what's the deal with snap beans anyway? To sum up, the three names I have just mentioned are the same kind of beans. Refer to the table below for a sneak peek of what beans you will learn about today.
| Common Name | Scientific Name | Distinct Features |
| --- | --- | --- |
| Green beans | Phaseolus vulgaris | Long, narrow beans that are in green |
| String beans | Phaseolus vulgaris | Another name of green beans, referring to the thread that has to be removed before cooking (the thread can no longer be found on modern varieties) |
| Snap beans | Phaseolus vulgaris | Another name of green beans, referring to the snapping sound when broken into halves |
| Purple string beans | Phaseolus vulgaris | Slim beans with a purple-hued skin |
| Wax beans | Phaseolus vulgaris | Slim beans with a pale yellow skin |
| Haricot verts (French beans) | Phaseolus vulgaris | French variety with a more delicate appearance |
| Longyard beans | Vigna unguiculata | Long and can have green, deep red, or purple skin |
| Romano beans | Phaseolus coccineus | Wide and flat |
| Bush beans | Phaseolus vulgaris | Two varieties of green beans, referring to the way they are grown |
| Pole beans | Phaseolus vulgaris | Two varieties of green beans, referring to the way they are grown |
Now, here's an in-depth explanation of what causes the mix-up.
About Green Beans
Green beans are one of the most popular legumes in the cooking world. They can be eaten even when unripe or cooked using different techniques, such as steaming or baking. Apart from fresh green beans, you can find canned and frozen options as well.
Regarding the name, green beans are characterized by a vibrant green color. When cooked properly, they should still have that color, plus a crisp-tender texture. Overcooking can result in mushy, dull-looking green beans, which are not easy on the eyes.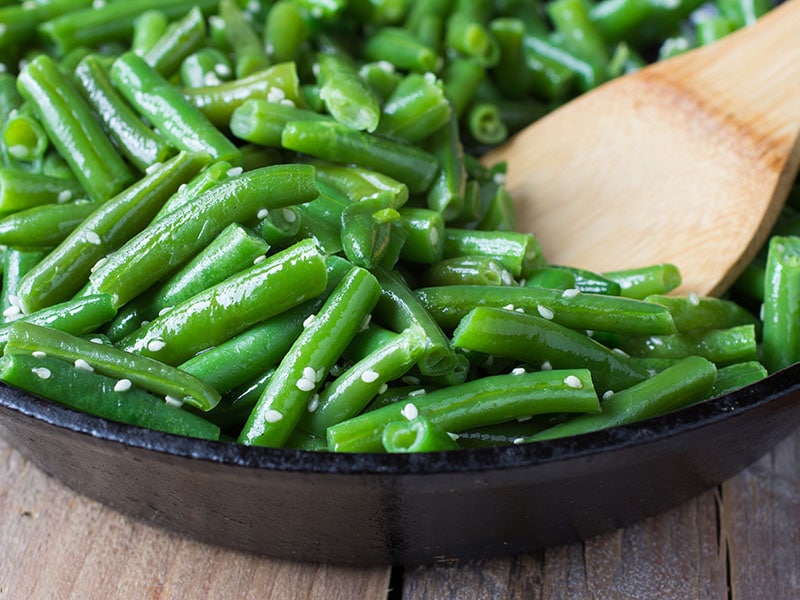 Green beans are often treated as a blank canvas for other elements in your dishes, such as casseroles. They can also turn into a side dish to pair with brisket, potatoes, carrots, bacon, or chicken. With the right approach and amount of seasonings, they will be delicious.
That said, green beans are beloved not only for their adaptability in cooking. They are super rich in fiber, protein, and complex carbs. These little guys have also been proven to support bone health, bolster the immune system, and cure depression.
String Beans, An Outdated Term
As mentioned earlier, string beans and green beans both refer to one kind of legume. String beans get their names because they contain a fibrous string (scientifically, vascular tissue) that runs along the pod.
Back then, the string had to be removed before cooking.
Thus, you can imagine how annoying it was, having to unzip every single string. Fortunately, thanks to C.N. Keeney, a New York plant breeder, and his in-depth research, the thread has magically disappeared.
Nowadays, only heirloom varieties still have strings on them.
Snap Beans With A Satisfying Sound
So snap beans are, surprisingly, another name for green beans and string beans. They have this nickname because of how they sound when you break them into halves. To do this, snap the end stems of the beans and remove them.
Of course, this is not just fun for your ears. Trimming off the ends is a required job to prepare them for boiling or steaming. To make it easier for you, ensure that you purchase beans that are still firm in shape. Flabby or rubbery beans should be discarded.
Some Common Types Of Green Beans You Cannot Miss
Green beans are available in many shapes and colors. You can find them not in green, but instead in yellow or purple. Despite the dissimilarities, they are still closely related to green beans. Scroll down and be amazed by the diversity!
Purple String Beans And The Secret Behind Their Beauty
With an unmistakable purplish hue, you can easily tell these beans from other varieties. Like wax beans, they don't contain chlorophyll but anthocyanins. Sadly, their gorgeous colors will fade as you cook them, so they are often eaten raw or lightly cooked.
Apart from a nice crisp that most beans possess, purple string beans stand out from the rest because of how they taste. They taste great overall, with pronounced grassy undertones and a sweet finish.
And, here are some interesting facts about anthocyanins. Apart from imparting these beans a gorgeous curb appeal, they are also valued because of the immense health benefits they bring: promoting heart health, fighting breast cancer, etc. (1)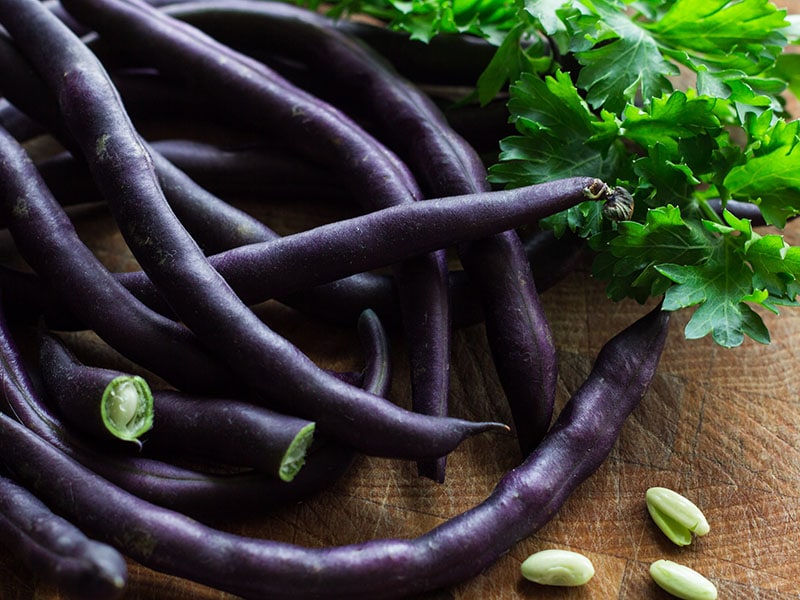 These purples string beans deserve a spot in your little garden, watch this video to know more:
Wax Beans, The Yellow Varieties
Think of wax beans as green beans but in yellow. Yes, that's it. The only difference is that green beans have chlorophyll, while wax beans don't. It is a substance found in most vegetables that lends them different shades of green.
Besides that, wax beans and green beans are almost identical in taste. Both have a grassy, somewhat sweet flavor and are commonly used to prop up other ingredients. Nonetheless, wax beans are more preferred to some since they retain their colors well.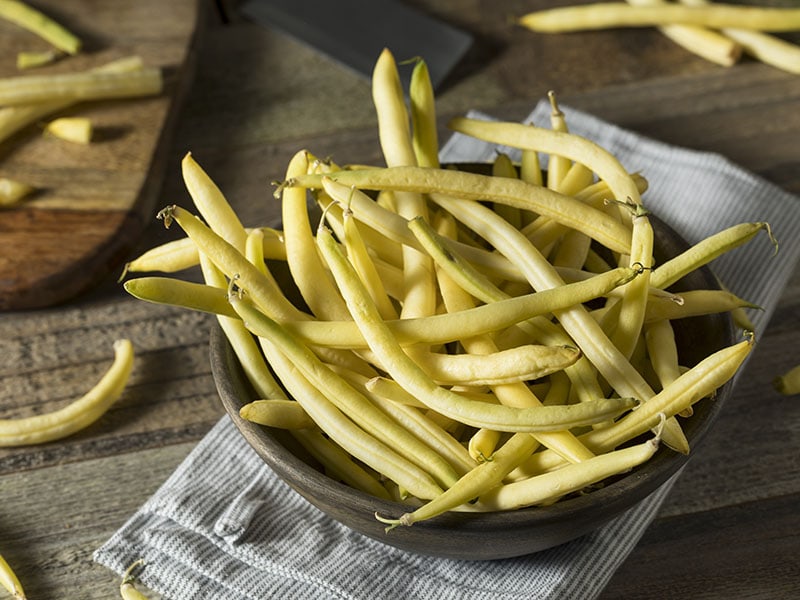 Haricot Verts (Not Made In France)
Haricot verts, which means "French green beans," are another type of bean that adds to the confusion. However, they have several distinctive traits that help you to distinguish them from other beans.
Contrary to popular belief, these beans were not made in France. They are native to South and Central America and have been cultivated since ancient times. Like green beans, they can be boiled or steamed and are ideal for Asian dishes (despite the French name).
The very first difference between green beans and haricot verts is their appearance. Haricot verts are slimmer, longer, and somewhat straighter than green beans.
These French beans are also more refined in taste and cook up much quicker than their counterparts. Stir them with some almonds, and you'll have on your hands a side dish matching perfectly with chicken noodle soup. It's simple, yet elegant nonetheless.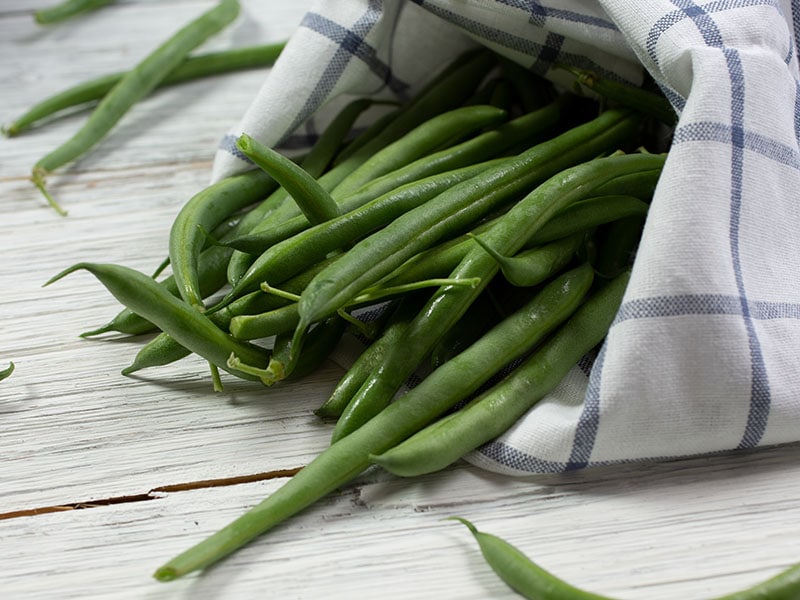 Long Beans With A Remarkable Length
You can never fully understand beans, and here's an example. Despite the name, these are not from the same family of green beans but a variety of cowpeas. They are also referred to as yardlong beans, pea beans, Chinese long beans, or snake beans.
Regardless of the name, they are often harvested when they are around 18 inches. Most of them are green, but you can also expect to see them in shades of deep red or purple. They are not straight and have a wrinkled texture, making them look like snacks from afar.
With such a texture, long beans were not born to cook with liquids. In other words, they should not be steamed or boiled, but instead sauteed or stir-fried. Or, you can enjoy them fresh, too, which have a satisfying crunch.
Unlike green beans, longyard beans are more suitable with Chinese traditional dishes, which call for lots of oil and grease. Thus, you will often see it being sauteed or deep-fried with other seasonings to intensify the flavors.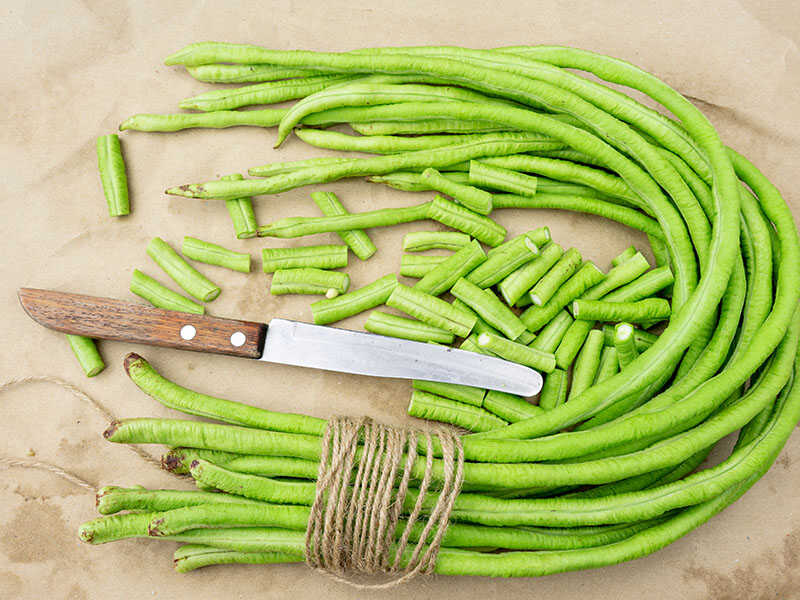 Let's break down the differences between green beans and long beans, the video below should be able to help you:
Romano Beans, Wide And Flat
Also called Italian green beans, Helda beans, or flat beans, they look as if someone has just sat on them! They are wide and flat in shapes and come in yellow or purple, too, but mostly, you will come across the green variety.
Compared to other varieties, Romano beans have a more pleasant taste. The sweetness is more pronounced, and of course, you still have that crunch in every bite. Relish them over a bed of rice or with some fresh fruits or nuts.
They will cook longer than green beans, but it's worth the wait. Even though you can steam or boil them like how you would with other beans, roasting and braising are your best bet to enhance their natural sweetness to the maximum.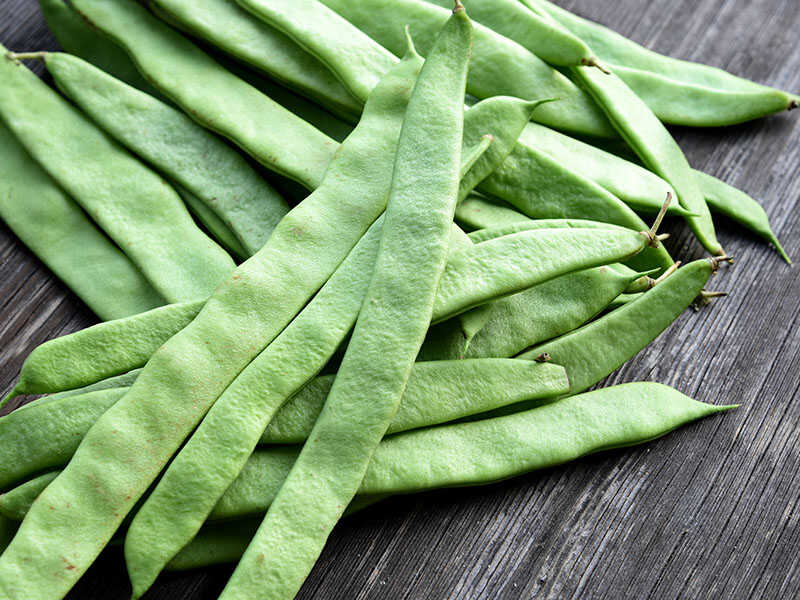 Some Profound Insights Into Bush Beans And Pole Beans
What's the deal with bush beans and pole beans? Are they two other varieties that I forgot to mention? Somewhat correct. They are two classes of green beans, but broader than what I have listed above since they refer to how the beans are grown.
Bush Beans
Bush beans refer to green beans grown on a short, shrub-shaped plant. They can extend to two feet tall without needing support from a trellis and don't shade other plants in the garden. Bush beans are favored due to their ease of care and relatively short production time.
Despite that, bush beans only produce once in their lifetime. If you get lucky, you can harvest another crop or two, but the quality will deteriorate over time. In addition, bush beans can be quite vulnerable to diseases and viruses, such as mosaic. (2)
A common variety of bush beans is Romano beans, along with Blue Bake Bush and Masai.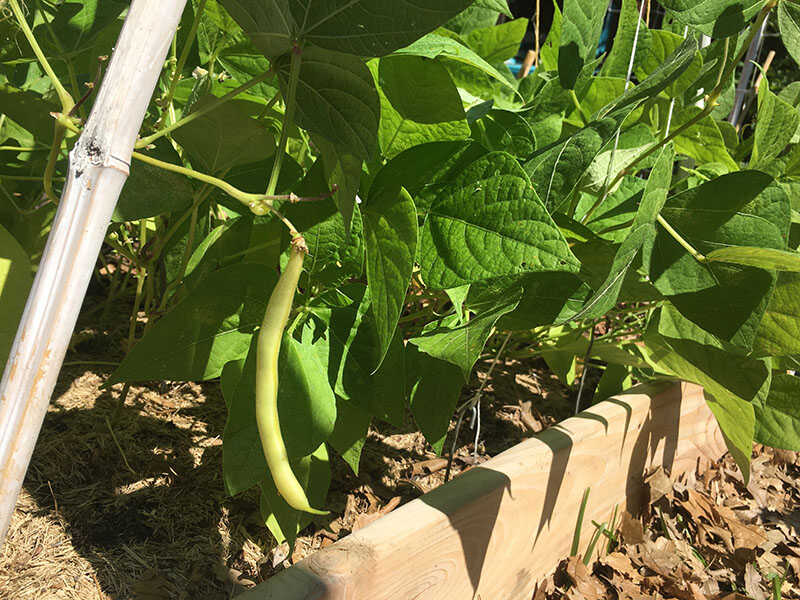 Pole Beans
Pole beans flourish only when the plants receive support from a trellis, fence, or teepee. They cannot be grown indoors since they need ample space (typically, the seeds are approximately 3 inches apart).
Although they take more than a fortnight to produce their crops, the result is more rewarding. Not only do pole bean plants yield more beans, but they can also be continued to harvest every month. Plus, they are less prone to diseases since they are above the ground.
Some common pole bean varieties you should know are Kentucky Blue, Golden Gate, and Algarve.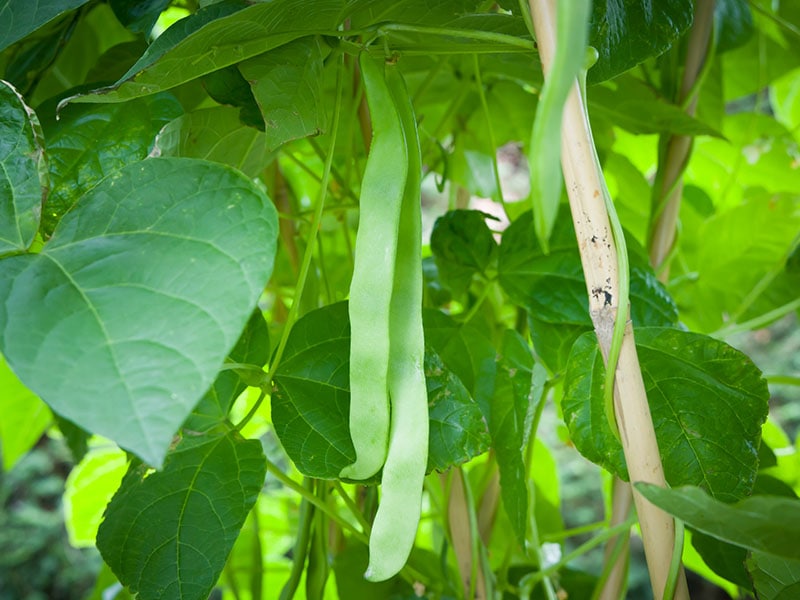 Note: Some varieties can have the qualities of both bush and pole beans. They are known as half-runner beans.
How To Cook With Green Beans
Okay, that's enough with green beans, and I'm sure that you probably feel overwhelmed right now. It's time for refreshment with, well, beans again. Still, you don't want to skip the next section, as I will show you some useful tips on cooking with these crunchy greens.
Trimming
This process is also called topping, in which you will cut off the stems that were once connected to the plant. Some green beans are sold with the ends already detached, but if they aren't, you can effortlessly trim them off using a sharp knife.
Step 1: Remove any discolored, damaged, or broken beans.
Step 2: Arrange the intact green beans so that they are oriented in the same direction.
Step 3: With your hand holding the green beans in a batch, slice the ends off in a single cut.
Note: You don't need to do this in advance, as the trimmed ends will quickly dry up.
Trim off your green beans with no effort with this simple guide.
Blanching
While blanching is optional, every professional knows that it should not be overlooked. Fresh green beans arrive with a vibrant green hue, yet it will slowly turn into a dull khaki color if you don't blanch beforehand.
Step 1: Fill a pot with a sufficient amount of water so that the beans submerge completely.
Step 2: Bring the pot (large enough so that the beans are not overcrowded) to a boil. Add some salt, then stir in the beans.
Step 3: Remove the beans after 3-5 minutes and soak them in an ice bowl. Once cool, drain the water and let them dry.
Note: If you don't plunge the blanched beans into the iced bowl, they will continue to cook.
Blanching is the key to a flavorful, tender-crisp batch of green beans, you should see the video below:
Some Green Bean Recipes To Get You Inspired
Don't know what to do with a fresh batch of green beans? The next section will allow your imagination to run riot!
Looking for an easy, nutritious side dish? Sauteed green beans are only one call away. They will be a perfect option to eat with lasagna, grilled items, or meatloaf. Just toss the beans in a skillet over medium heat, add some butter, and a squeeze of lemon juice. Yummy!
Casserole is the ultimate comfort food when you are not in high spirits. This recipe, however, opts for a pace of change. It skips the protein and instead, employs canned French green beans, creamy mushroom soup, and onions.
Green beans and potatoes make a great team, and this wholesome salad recipe is concrete proof. They are simmered until tender perfection, mixed with red onions, and drizzled with a mustard-based dressing to round the final taste. Serve cold if you wish.
Treat your guests this salad made with potatoes and green beans:
Here's an outstanding move for your fresh green beans. Coat them in breadcrumbs, fry them in peanut oil until crisp and golden brown, and dip them in your favorite condiments like sriracha or tartar sauce. Green beans have never tasted this good!
Who knows that you can make pickles with green beans? They turn out incredibly delicious with a crisp texture and pronounced grassy undertones. For a slight kick, consider adding a pinch of red pepper flakes to the jar, and let the flavors shine.
Pickle your green beans and serve them with whatever you like! Watch this video to know more:
And, keep these things in mind while you are cooking with green beans:
Adjust The Amount of Water Accordingly: The amount of water used depends on the size and number of beans you cook. For example, haricot verts are thin and therefore need less water. More beans, more water.
Check The Doneness: The best way to do this is to taste them. Alternatively, use a fork to check whether they have tenderized or not. They should be tender-crisp, not mushy.
Experiment For Best Results: Green beans go with anything, but perhaps you will want to pair them with grilled items, cheesy dishes, or fresh salad. Chef's kiss!
FAQs
Do you have further questions about green beans and their varieties? The following section has you covered.
Spill The Beans With Your Loved Ones
The secret between string beans vs. green beans has finally been revealed. Who knew that it would be this simple? And, provided that you know anyone who poses the same question, don't hesitate to link them to this post and make them go wow. Sharing is caring!
I hope you have a whale of a time learning about different varieties of beans as well as how to cook them. Before ending my post, here's a usual reminder: don't forget to comment below if you have questions or tips that you want to share!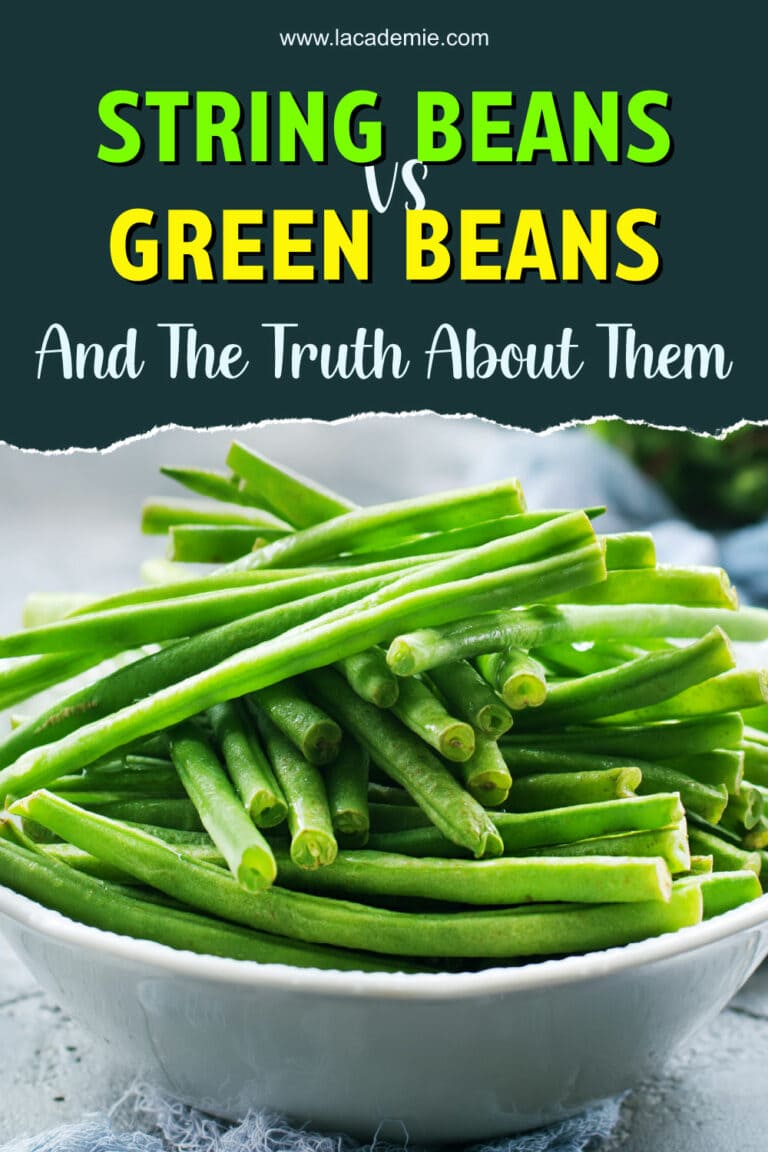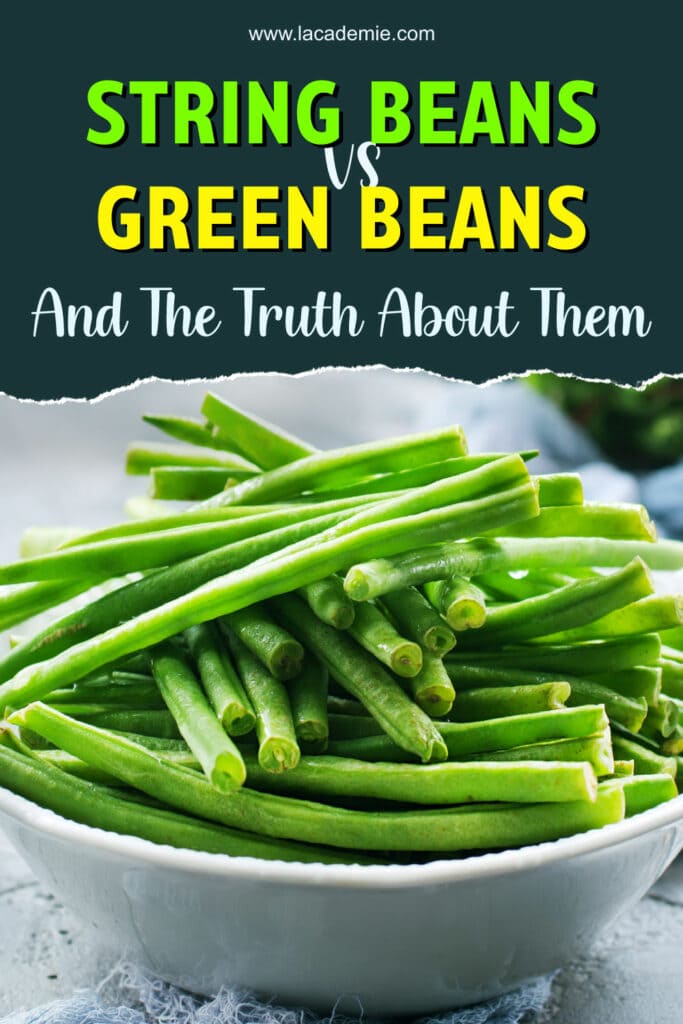 References
Verywell Health. 2021. The Health Benefits of Anthocyanins.
Mosaic, T., 2021. Bean Mosaic Information – How To Treat Mosaic Symptoms Of Beans.