Ceramic vs porcelain dishes, what's better for your kitchen? They're similar but also different materials. Although they're both smooth and strong, they're also easily breakable.
Porcelain is a very refined type of ceramic while ceramic is made of clay that's been heated to very high temperatures and hardened. Ceramics absorb more moisture because they're less dense.
Porcelain, on the other hand, is more durable, thinner, and costs more. However, they're both heat and scratch-resistant. It's hard to decide between the two materials without knowing the details.
In today's article, I will teach you all you need to know about both materials, expose their pros and cons, highlight their 5 key differences, and help you decide what's better for you.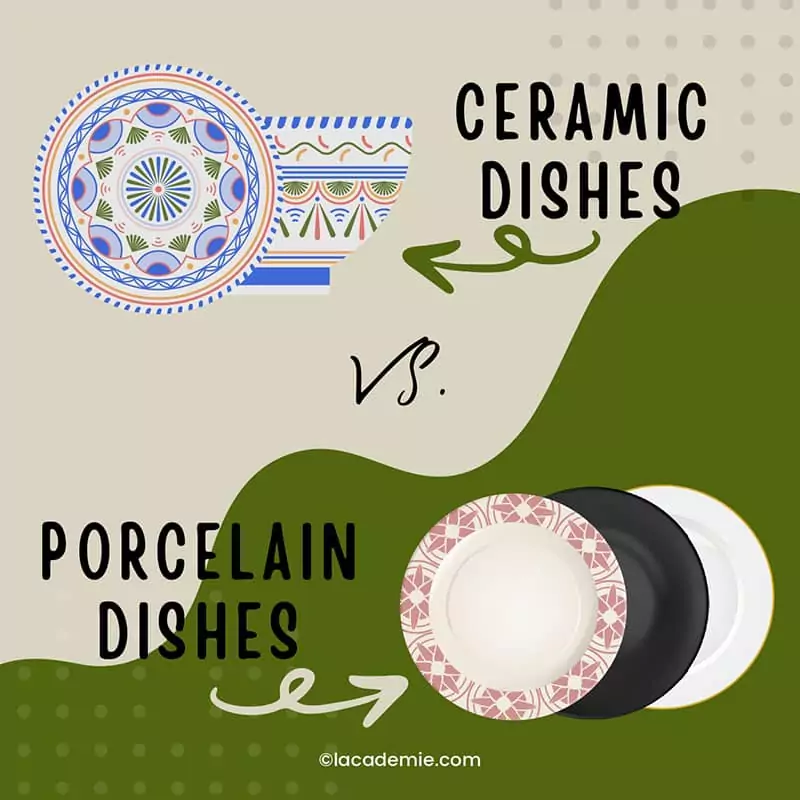 What Is Ceramic?
Ceramic is kind of a usual name for any dish made of clay, formed, and then hardened by heat. At times, clay is combined with some water and other materials.
Ceramic dishes are chippable but durable, tough, and corrosion-resistant. Unless, of course, you slip one on the floor. Ceramic cookware is oven and microwave-safe.
Meaning, it's perfect for cooking different dishes at high temperatures. Ceramic isn't only used to create plates, mugs, and bowls, but also cookware such as frying pans.
Usually, ceramic dishes are covered with glazes which add extra color to the dishes. Ceramic is available in different types, so let's take a close look at each type.
Types Of Ceramic
Since different temperatures and materials are involved in the hardening process of the dishes, different types of ceramic exist. Let's learn more about the 3 main types of ceramic.
Stoneware
Stoneware is a super durable type of ceramic. It's a strong, hard, and non-porous ceramic that's made at high temperatures until it turns vitrified. It can be made in various clay colors.
However, it's more opaque than other types of ceramic such as porcelain. You can use stoneware dishes for storing, cooking, baking, and serving. Meaning, it's versatile and affordable.
Earthenware
Unlike stoneware, earthenware is made at lower temperatures. Therefore, it's not as strong as the other types of ceramic. It's fragile, a little bit porous, and it's usually fired once, then glazed, and at times fired again. Earthenware cookware is heavy, thick, can chip easily, and budget-friendly.
Porcelain
Porcelain is a type of ceramic made at super high temperatures.
Therefore, it's strong, translucent, and white. However, with modern technology, you can barely see any difference between stoneware and porcelain. They're both made using similar techniques.
The key difference is the color. Classic ceramic cookware is hard, strong, long-lasting, heat-resistant, and non-reactive to other chemicals. However, they're breakable under different circumstances.
Now, let's learn more about how ceramic is made in more detail.
How Is Ceramic Made?
As I already mentioned, ceramic is made of clay. The moment the clay is dug out from the soil, it's mixed with some water and other material until it turns soft and flexible.
Once it's flexible enough, it can be made into many shapes. Once shaped, it's fired at high temperatures in a kiln (oven). Every type of ceramic product has been hardened.
Watch this video to know more:
What Is Ceramic Cookware Good For?
Ceramic has no chemical additives and it's fully non-reactive so it's safe to use for cooking. Since you can use less cooking oil than with other cookware, you can easily saute different foods rather than steaming or boiling them which can lower the nutritional value.
Pros And Cons Of Ceramic Cookware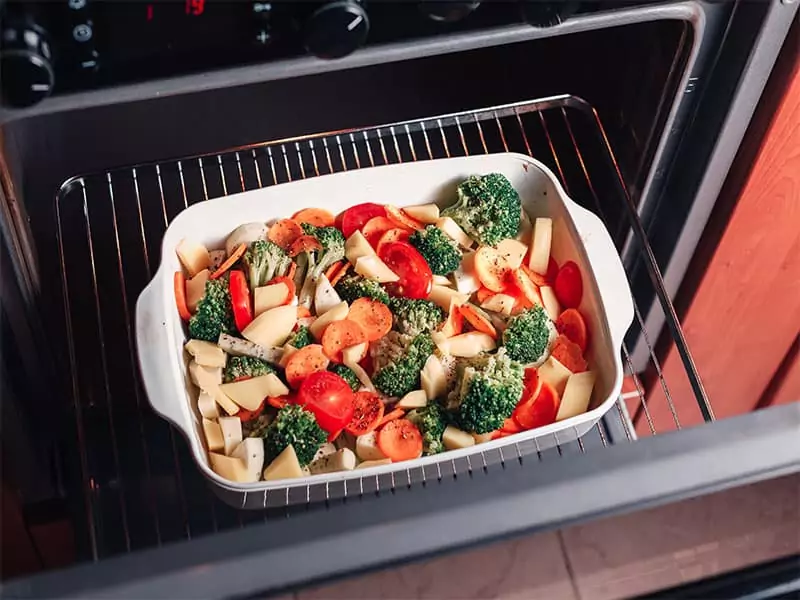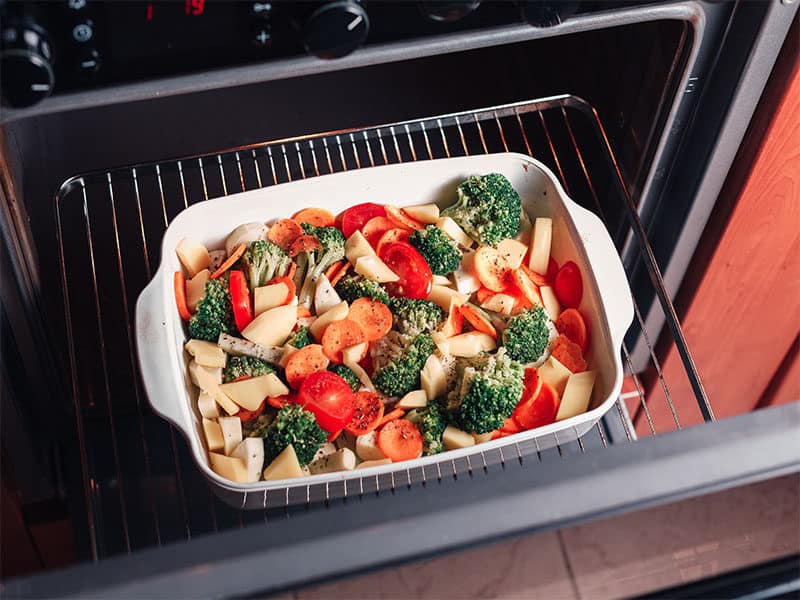 With ceramic cookware, you don't need to worry about buying extra cans of cooking sprays or cleaning. However, you do need to worry about other things such as the following traits.
Pros:
Non-Stick Coating
Ceramic tools aren't made of ceramic. They're made of metal that has a sol-gel coating attached to the rest of the product's construction. This type of coating is a silicone oil that's applied to the surface and releases during use.
And since this oil is released every time you use the tool, you don't have to use butter, oil from truffles, olive oil, or other cooking oil, and unhealthy cooking sprays.
The non-stick surface prevents the food from sticking. However, as this coating degrades, your pots will lose their non-stick properties.
Cleaning is a Breeze
I don't know about you but I prefer non-stick cookware over any other cookware because it's super easy to clean. Wash your ceramic cookware with warm water and dishwashing soap manually. Then, wipe off any moisture with a cloth or paper towel.
Cons:
Lack of Safety Studies
Are ceramic pans completely safe to use? Unfortunately, I don't have a straight answer for you.
The popularity of ceramic cookware first declined when the toxicity of PEOA-rich Teflon that's utilized on non-stick products in the past was exposed.
Nowadays, you will hear from brands that ceramic cookware is safe under heat and when damaged, the coating is still non-toxic and safe to use.
This claim isn't proven yet. Sol-gel cookware is considered safe because it has been researched poorly. There's just not enough evidence to determine if they're completely safe or not.
Whether or not ingesting tiny amounts of silicone oil is dangerous or not, is yet to be determined.
Poor Heat Distribution
Ceramic cooking utensils get their non-stick coating from a silicone-based nanoparticle-sized coating on the top of the product.
The irregular spacing of the particles extends the layered pot's cooking surface space, making it uneven. And therefore, leaving places where the top doesn't touch the foods.
There's less chance of sticking, but the food doesn't get enough heat where it doesn't touch the cooking area. As a result, ceramic coated pans won't heat evenly and quickly.
Fragile Construction
Unlike PTFE-based non-stick cookware, stainless steel, and cast-iron skillets, non-stick ceramic cookware has a shorter lifespan. The reason for this is the product's inefficient heat distribution.
Also, they're not metal utensil safe and dishwasher safe. The uneven surface boosts the friction on the cookware, resulting in faster and easier wear and tear on the non-stick coated surface.
Additionally, despite the affordability of high-quality ceramic-coated tools, most of them aren't cladded. So, they're more prone to deforming. Now, let's learn more about porcelain cookware.
What Is Porcelain?
Porcelain is just a type of ceramic. However, unlike traditional ceramic, the clay used to create porcelain is very refined. It's also hardened at higher temperatures.
This is why porcelain is stronger, less porous, and more durable than regular ceramic. It also has a higher density and a higher level of mechanical (crack and chip) resistance.
People also buy porcelain because it's more appealing and perfect for special occasions and events. This cookware is made of kaolin, clay, quartz sand, and feldspar. However, it can also contain other materials like petuntse, bone ash, granite, glass, steatite, ball clay, alabaster, etc.
The key trait of porcelain is translucence. It's often very translucent and white, meaning, you can see the light going through it. Other ceramic cookware doesn't feature this trait.
They're more opaque. Porcelain can also be used as a layer on cast iron tools since it creates a chemical-free and non-stick coating for things like braisers and ovens.
Types Of Porcelain
Just like with ceramic, porcelain comes in different types including soft-paste porcelain, bone china, and hard-paste porcelain. Let's learn more about each porcelain type.
Bone China
Bone china porcelain is one of the most durable types of porcelain. It has a high level of whiteness and translucency. Bone china is made of kaolin, feldspar, and bone ash.
Soft-Paste Porcelain
Also known as "artificial porcelain" this type of porcelain is more fragile because the production doesn't need super high temperatures or special minerals. Thus, it's more likely to break when it's filled with hot water. It's the weakest version of porcelain and also the most affordable.
Hard-Paste Porcelain
Unlike "artificial porcelain", hard-paste porcelain is also known as "true porcelain". It's made of kaolin, feldspar, and petuntse. It's also hardened at super high temperatures.
How Is Porcelain Made?
Porcelain is made in a few steps. First, there's the smashing of the raw materials.
Usually, porcelain is made of feldspar, clay, and silica. These raw materials are measured, then crushed in different units. During this part of the making process, any larger pieces are removed.
Then, the final product is mixed with water. Once the mixture is damp and cleaned, the body is created using different molding techniques including soft plastic forming and stiff plastic forming.
Like traditional ceramics, heating is done at high temperatures in a kiln (industrial oven).
Watch this video to know more:
What Is Porcelain Cookware Good For?
The coating provides a non-porous and seamless top that's resistant to heat, acidic food, and humidity. This makes porcelain cookware a great choice for serving, roasting, baking, and storing meals.
Pros And Cons Of Porcelain Cookware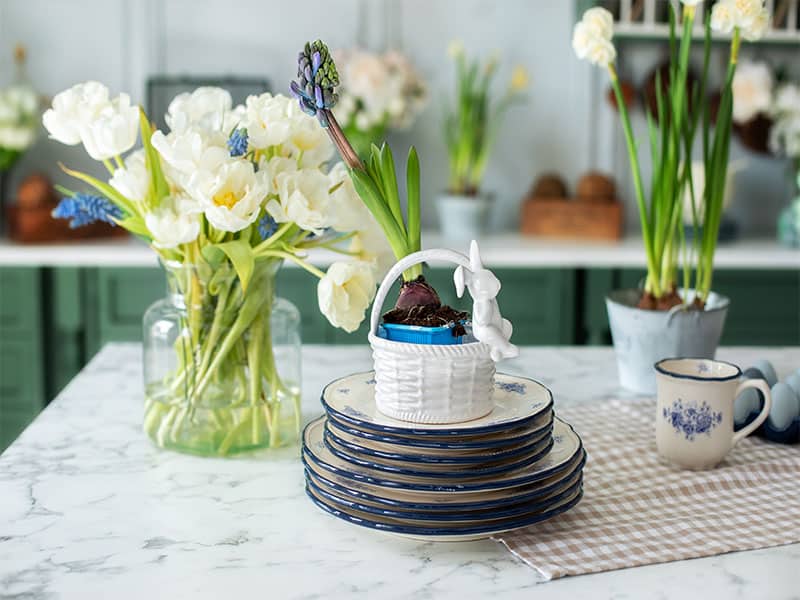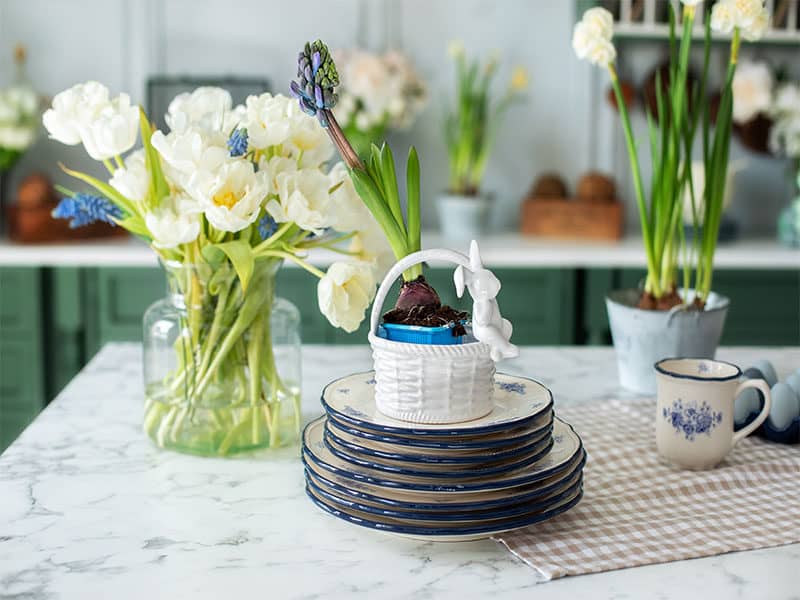 Buying cookware is a big investment. Meaning, you should know all about the product before you buy it. That being said, let's discuss the key pros and cons of porcelain cookware.
Pros:
Safe to Use
One of the most important advantages of porcelain tools is safety. Unlike Teflon, cast iron, or aluminum cookware, porcelain doesn't interact with acidic ingredients such as egg yolks, vinegar, and tomatoes, so it's perfectly safe to cook any food with this cookware.
Non-Stick Cooking Surface
The non-stick cooking surface is the second biggest advantage of porcelain cookware. It will make your cooking effortless without anything sticking to the base. Just apply a small amount of oil, whether it's olive oil or a healthier option like first-rate grapeseed oil, and you're good to go.
Super-Versatile
If you've attended any remarkable cooking classes, you'd probably know that pro chefs like to use porcelain cookware to prepare foods for various reasons aside from its non-stick surface.
Porcelain cookware is versatile, so you can use it in the microwave, oven, or any stove top.
It's also suitable for serving meals on the tables and storing leftover food in the refrigerator. So if you don't have a well-designed chafing dish at home, using porcelain cookware to store and serve your food is not a bad idea either.
Low Maintenance
One of the biggest advantages of using porcelain cookware, at least for me, is the easy cleaning process. All you need is a mild detergent and dish sponge to clean it properly. Also, the surface doesn't need any type of seasoning, so it doesn't require much maintenance.
Cons:
Heavy
Larger porcelain pots and pans can be quite heavy for regular use. However, many pro chefs like to use more solid and heavier cookware since thinner and lighter pieces tend to wrap after cooking.
Low Heat Conductivity
Unlike aluminum and cast iron cookware, porcelain items have a lower heat conductivity. They will take longer to accomplish the preferred temperature which results in extended cooking time.
Chipping
Porcelain coating is prone to chipping and relatively breakable. The coating can also crack if you hit your pot or pan too hard. Additionally, abrasive cleaners can also damage the enamel coating.
Price
Last but not least, the price can play a key part in your shopping decision. If you're on a budget, opt for a cheaper option because porcelain cookware can be very expensive.
Ceramic Vs. Porcelain Dishes: What's The Difference?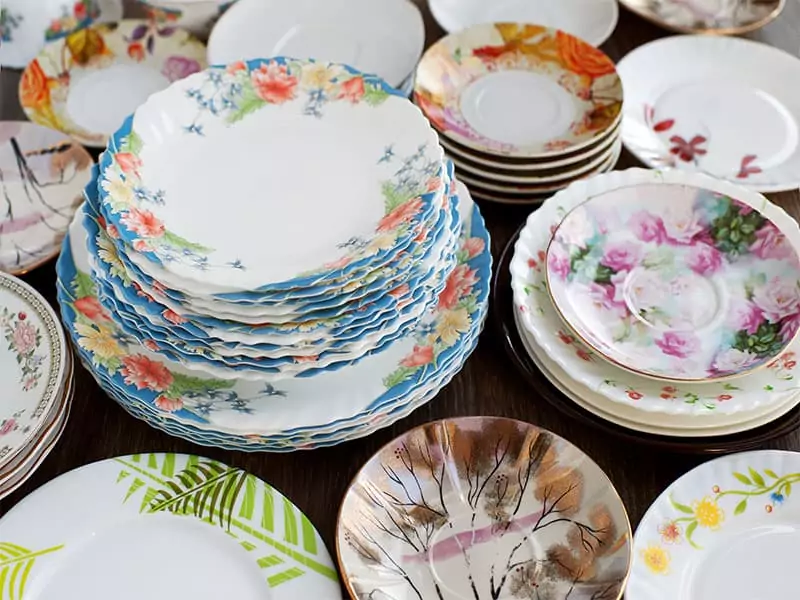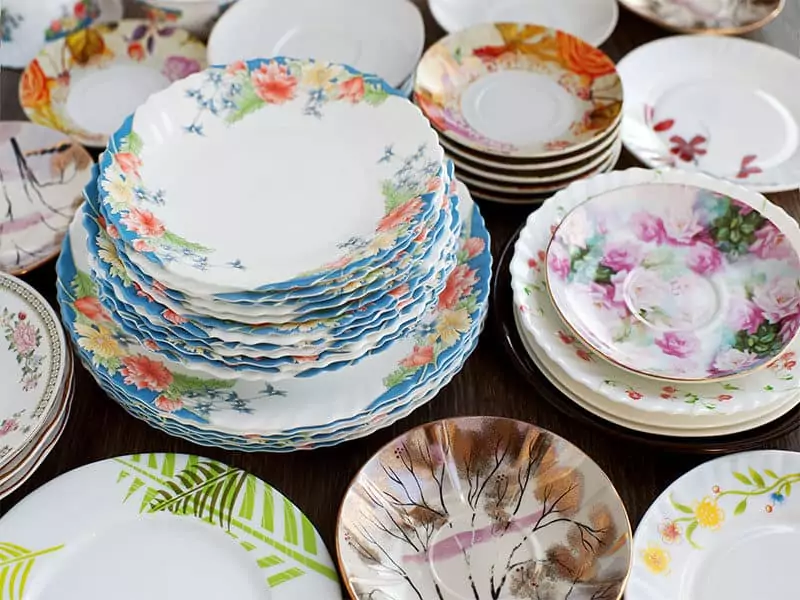 To determine what type of dishes are better for your cooking needs, let's sum up the 5 main differences. They can help you make a better decision.
1. Definition
Ceramic cookware is a large category that includes porcelain, stoneware, and earthenware. Porcelain, as you can assume, is a type of ceramic made of fine-particle clay that's fired at a high temperature. People prefer porcelain cookware because of its appearance.
2. Appearance
Ceramic cookware is more opaque and thicker than porcelain with a rustic appearance, unlike porcelain cookware that's more delicate, thinner, translucent, and more appealing.
3. Durability
Porcelain cookware is more durable and stronger than ceramic cookware because the heating is done at higher temperatures. However, they're both heat and scratch-resistant.
4. Purpose
People usually prefer ceramic cookware for regular and everyday settings. Porcelain, on the other hand, is preferred for formal dining and special occasions.
5. Cost
Ceramic cookware isn't as expensive as porcelain cookware. If you're looking for a cheaper option, look no further than ceramic cookware.
Is Ceramic Or Porcelain Dinnerware Better?
Ceramic dinnerware is a better option for baking, cooking, and roasting. Porcelain, on the other hand, is more decorative than it's utilized for cooking. It's white, and elegant which makes it a perfect choice for serving tea or food. Avoid utilizing bone china for baking and heating.
Was This Helpful?
Ceramic vs porcelain, the important differences between the two are the appearance and durability. So, if you're looking for something fancy and durable, opt for porcelain tools.
However, if you're on a budget and need something thicker and opaque, then ceramic cookware is your best choice. What's your final decision? Share your thoughts in the comments.
Also, don't forget to share this valuable information with your friends. Help people learn the differences between ceramic and porcelain cookware in case they're not aware of any.