Have you ever heard of Linguine and Fettuccine before without really understanding the difference? Listen to me; it should be evident before your next trip to Italy!
Linguine and fettuccine are part of the long pasta group, the viable alternatives to tagliatelle and spaghetti. While they are the base for classic Italian-American dishes, they occupy a narrower niche in authentic Italian cuisine.
Capture it! To celebrate just one kind of noodle all day!
Not letting you wait so long, I am gathering here the summary points to have an overview picture about how to identify between fettuccine and linguine.
Fettuccine is a flatter pasta than linguine.
When compared to linguine, fettuccine is much broader.
Linguine is more delicate than fettuccine because it is narrower.
Fettuccine can hold heavy sauces like cream and thick sauces like Bolognese, while linguine is thin and cannot reach these.
In fettuccine, it is possible to use large chunks of chicken, while tiny pieces are acceptable to make linguine.
Broccoli is usually served with fettuccine, or you can enjoy other side foods with fettuccine alfredo. Once thawed, drained spinach is a better option for linguine
Follow me now to see what is more you can tackle about these two top-seeking plates of pasta in the world!
Fettuccine Vs Linguine – Eggs Are Key
Generally speaking, fettuccine is a type of pasta that is common in Roman cuisine. It is made with egg and flour and resembles flat and thick noodles. Linguine, like trenette and fettuccine, is a type of pasta that is not flat but elliptical in the piece, wider than spaghetti, and around 0.16 inches thick.
However, you should know how to tell apart between noodles and pasta because these 2 types of food are totally different. So don't mistake one for another.
Linguine Pasta
Linguine is a kind of pasta; came from the Italian province of Genoa and Liguria. It can be made with flour and water, either white such as almond flour or potato flour, or whole-wheat flour.
The type of pasta sauce is determined by the size and delicacy of the pasta. It performs well on the grapeseed oil or tomato-based sauce in which individual strands can be evenly coated. It's usually paired with pesto or seafood.
Put your apron on; you are heading to a cookery video of prawn and crab linguine!
Fettuccine Pasta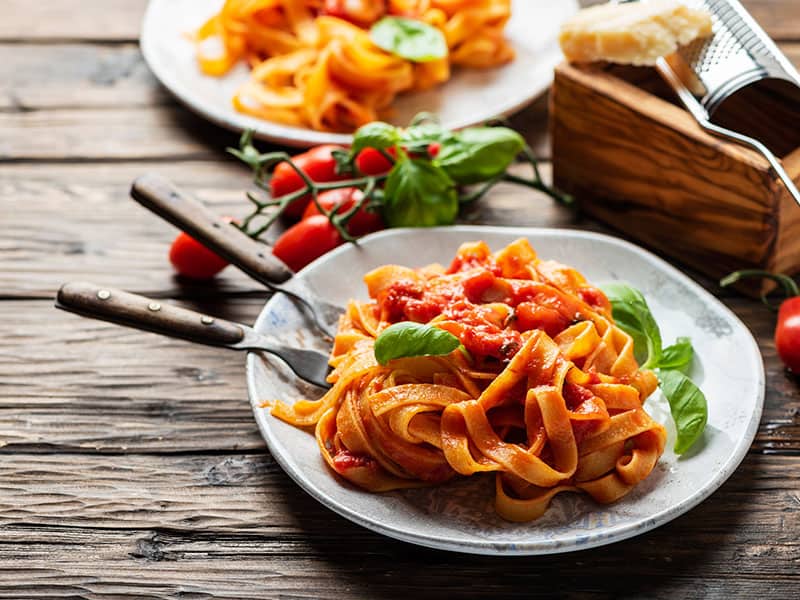 Fettuccine is also a pasta type that in Tuscan and Roman regions is widespread. It's a thick and flat noodle. Fresh fettuccine is traditionally made at home with egg and flour.
Since sauces like Alfredo and porcini will cover the entire pasta, they are often served with fettuccine. It's also popular with beef and chicken ragù. Instead of a meat sauce in Italian cuisine, expect a slow-cooked ragù with solid flavors.
Little Tongues Vs. Small Ribbons Touches
Linguine, which translates literally as "little tongues" in Italian, its original round shape is flattened to give an oval cross-section. Fettuccine is the Italian term for "small ribbons" and is slightly smaller than Tagliatelle for flat pasta.
Long pasta, such as linguine or fettuccine, is favored over ridged or shaped pasta such as farfalle. Since the strands glide through the sauce, picking up enough of a coating to fulfill.
The crevices and nooks of shaped pasta are more valuable as a melody in bases with large chunks of fresh or roasted vegetables or meat.
With fresh pasta, the rules relax somewhat, as it takes up sauce better than dried pasta; fresh fettuccine matches the heavy cream sauces. And please be noted that there is a specific shelf life of pasta sauce in the fridge if you want to store them for longer use.
Same as avoiding cheese in fish dishes, authentic Italian cuisine minimizes serving chicken wings with pasta. Since pasta should be a separate course, not a meat-side dish.
Key Differences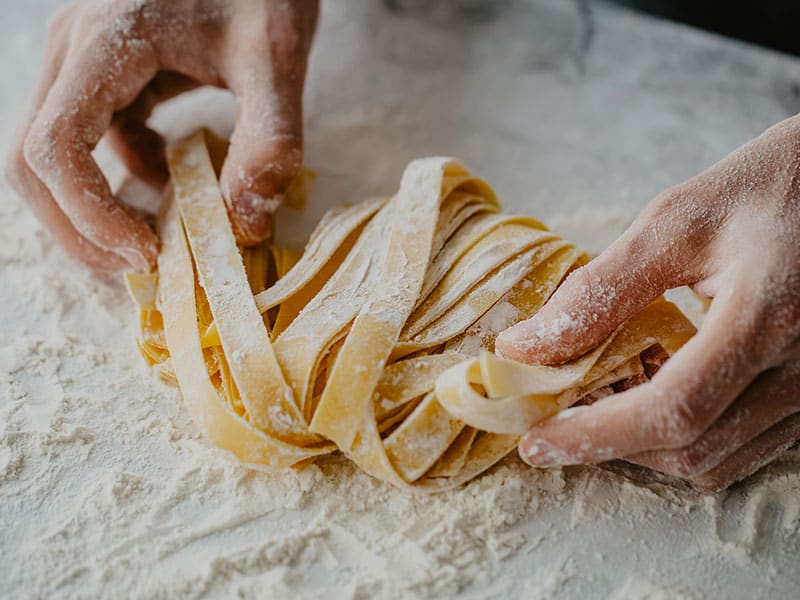 Pasta can be both an essential diet and an attraction on menus all over the world. Every dish tastes different depending on how it is prepared. For example, fettuccine tastes excellent when cooked Alfredo style, and linguine pairs well with pesto and seafood.
Serving
Linguine is one of many famous foods paired well with mussels, or other seafood, and pesto, while fettuccine is paired with Bolognese, Alfredo, and Porcini. Therefore, keep in mind what to prepare to serve with your pasta accordingly for the most pleasant meal.
Feasibility
Linguine is challenging to make at home, but fettuccine is easy to make.
Ingredients
Linguine is made from water and flour, while fettuccine is made from eggs and flour.
Surface
The surface of the fettuccine is flat, while the surface of linguine is oval in cross-section.
Sauce
Fettuccine is usually served with thick sauces, while linguine is often filled with light spices due to its narrow shape.
Healthy Factor
Fettuccine is heavier because of the thick added sauces and cream; linguine is healthier because only light oils and thin sauces are used.
Recipes For Apply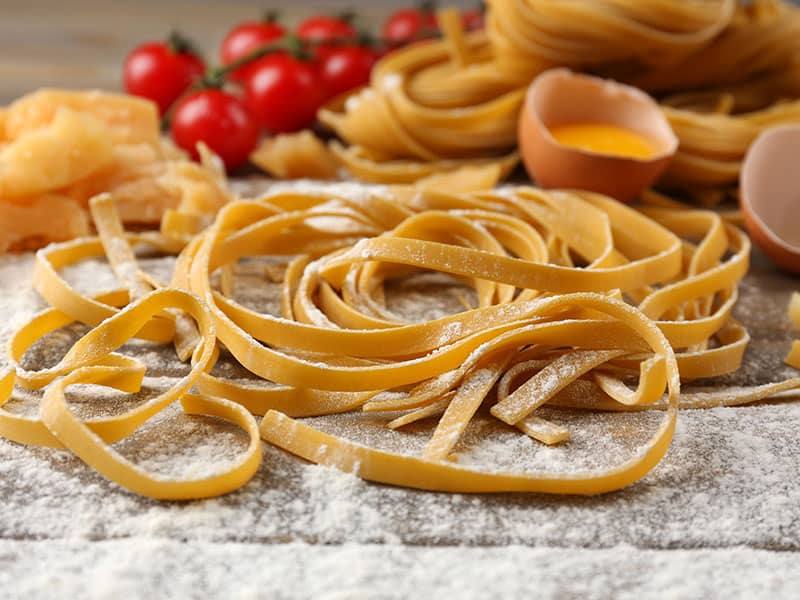 Fettuccine and linguine are best suited for different sauce and ingredient pairings due to the ingredients, preparation, size, and shape. Right here, I share with you how and when to serve them in the most convenient and time-saving way.
When To Use Linguine? When To Use Fettuccine?
Ensure your pasta's thickness is proportional to the sauce you want to serve before you go further. When you consider an ideal pasta season, the same rule will apply. Thinner and lighter sauces in the warm weather are the best choices. Thicker sauces, on the other hand, work better when it's a bit cold outside.
Most people strive to replicate Italian cuisine because of how professional and delicious it appears. What you need to remember all around is that your pasta's thickness plays a critical role in deciding what and when to eat.
Application
Not only the application, but you can also find most of the famous cooking tips here. Later you have no hassle about which one is for thin sauces, which one is for thick sauces, and which one is versatile. Let's see!
Thick Sauces
Fettuccine is the perfect pasta for thick sauces such as alfredo because it has wide, thick, and flat characteristics. Fettuccine Alfredo has become more prevalent in America but was initially based on an old romance dish known as fettuccine al burro. It's one of many heavy sauces usually paired with fettuccine noodles by Italians.
The fettuccine is also intended for use with traditional Italian sauces such as bolognese and carbonara. Because of their propensity and heartiness, fettuccine pasta is closely linked to winter dishes for Italian dinner with heavy sauces.
Most of the calories required to keep our bodies warm when the weather is hot are intended. Almost every American fast-paced concept has chicken or shrimp alfredo on their menu, from Fridays to Chilis.
Thin Sauces
When fettuccine's surface is suitable for gathering thicker, heavier sauces, the opposite effect is mixed with smoother, thinner, delicate sauces. As such, the more delicate linguine is eaten with light sauces.
When serving linguine dishes, Italians rarely use even tasteful cheeses such as Asiago or Parmesan. Sauces to envelop the noodles. A flatter version of the angel hair pasta is also known as linguine.
A typical linguine dish includes mussels and tomatoes in a light sauce with white wine and garlic in America. Although classic Italian influences this sauce, the Italians do not use tomatoes when making linguine with mussels or clams.
Versatile
Linguine is likely to be the more flexible choice in Italy. Many linguine dishes are available all year, whereas fettuccine is more like a winter staple.
Linguine can do spaghetti and can even manage cream-based sauces as if they are not as heavy as alfredo. Meatballs and chicken are two examples of unique foods eaten with pasta.
Most pasta enthusiasts believe that linguine can be paired with many other ingredients, proteins, and sauces. While fettuccine is typically served with bolognaise or alfredo sauce, linguine can be filled with various sauces.
Cook "Little Tongues" Linguine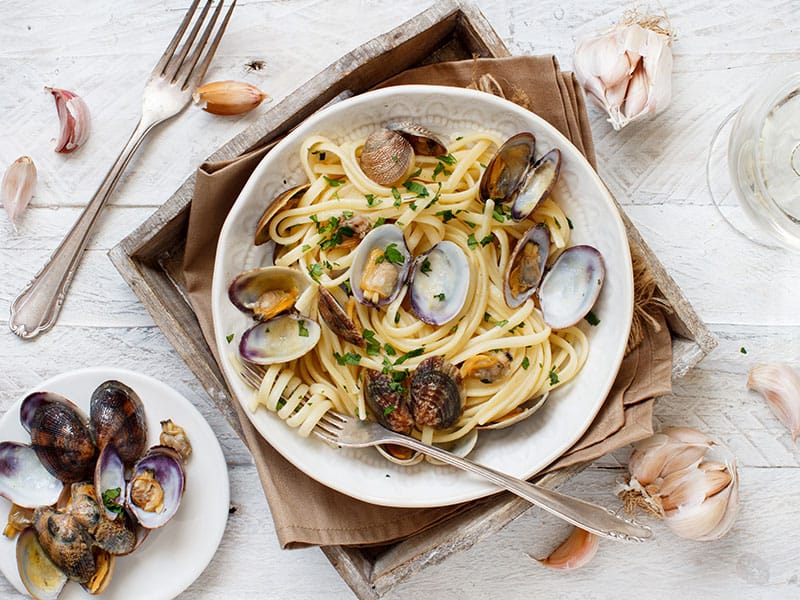 Try these quick pasta recipes for the whole family, ranging from spicy prawn or creamy leek linguine to the best carbonara made with pantry ingredients.
#1 Clam Linguine With Coriander & Turmeric
Many vegetables, fruits, and seafood can get shrimps, snails, fresh fish, and clams. This version is very different, but I thought it was a pretty fitting homage to the classic, with a nod to the old Venetian love of adding spice.
Ingredients
15 ounces linguine
2 tablespoon olive oil
6 garlic cloves (large, thinly sliced)
3 turmeric fingers (fresh, washed, finely grated)
1 teaspoon dried chili flakes
2 pounds clams (cleaned)
250ml white wine
3.5 ounces salted butter (diced)
7 ounces baby plum tomatoes (halved)
Coriander (small bunch including stalks, roughly chopped)
Method
Boil the linguine until al dente in a big and high-quality pasta pot with salted boiling water. Drain, reserve some water to cook.
In a different large pan, heat the olive oil and stir the turmeric, garlic, and chili flakes, allowing them to sizzle for 1-2 minutes gently.
Add the clams and stir quickly to coat. Season generously, then stir in the wine. Cover the lid and cook in a couple of minutes.
Remove the lid, stir once more, and add the pasta, butter, tomatoes, and some spoons of the linguine cooking water.
Enable the liquid to drain slightly and cover the pasta as you stir.
#2 Green Vegetarian Linguine
Take a look at this very basic linguine recipe. This fast and straightforward linguine pasta dish is veggie-friendly and low in calories, making it an ideal midweek meal for two.
Ingredients
5 ounces linguine
4.5 ounces frozen peas
1.8 ounces frozen broad beans
1 tablespoon olive oil
Leek (small, finely sliced)
1 teaspoon dried chili flakes
2.6 ounces ricotta
0.7 ounces parmesan (grated)
½ lemon (juiced & zested)
Mint bunch (small, shredded)
Method
Add a kettle of cooking water over the peas and large beans in a bowl. Rest for one minute, then drain and pod the large beans.
Using a hand blender or a food processor, blend about 3/4 of the peas with 1 tablespoon of water until smooth.
In the frying pan, heat the olive oil and fry the leeks with some seasoning for 8-10 minutes or until tender—Fry for 2 minutes after adding the chili flakes, broad beans, and remaining peas.
Allow cooling slightly before mixing with the ricotta, pea purée, parmesan, lemon juice and zest, and seasoning.
Cook your linguine, reserve some cooking water, following pack instructions.
Return the pasta to the pan and apply the pea and leek mixture, as well as a splash of the boiling water.
Serve with more parmesan and mint, if desired.
#3 Linguine With Tuna, Dill & Lemon
Everyone will enjoy this seriously plain, cozy pasta dish. Tuna is tossed with lemon, dill, and red onion before being served over fresh linguine.
Ingredients
5 ounces linguine
7 ounces tuna (flaked and drained)
½ red onion (small, finely sliced)
1 lemon (zested and juiced)
1 tablespoon avocado oil
Dill (small bunch, chopped)
Method
Cook the linguine as directed by the pack.
In a wide bowl and season, combine the remaining ingredients like best-ranked avocado oil, tuna, red onions, and dill.
Toss all together after draining the pasta.
Top with lemon and serve the linguine hot.
#4 Linguine Carbonara
It just about 20 minutes to make this smooth, classic carbonara linguine. We love crispy bacon, parmesan, and plenty of fresh black pepper.
Adding a little cream to this carbonara recipe is not wholly authentic, but it keeps the eggs from overcooking and results in a silky pasta sauce.
Ingredients
8.8 ounces linguine
Butter
1 shallot (finely chopped)
2 cloves garlic (finely chopped)
6 rashers smoked streaky bacon (chopped)
2 eggs
150ml single cream
0.8 ounces parmesan (finely grated)
Method
Cook the linguine followed the packet instructions and boil in a skillet or frying pan.
In a small frying pan, heat a butter knob and simmer, garlic and bacon, until golden 5–7 minutes.
Combine the cream, eggs, most of the parmesan, and black pepper in a mixing bowl.
Back the linguine to the pan and switch off the heat. Toss together the shallot and egg mixtures.
Divide into two bowls, then top with the remaining parmesan and a sprinkle of black pepper to serve.
Cook "Small Ribbons" Fettuccine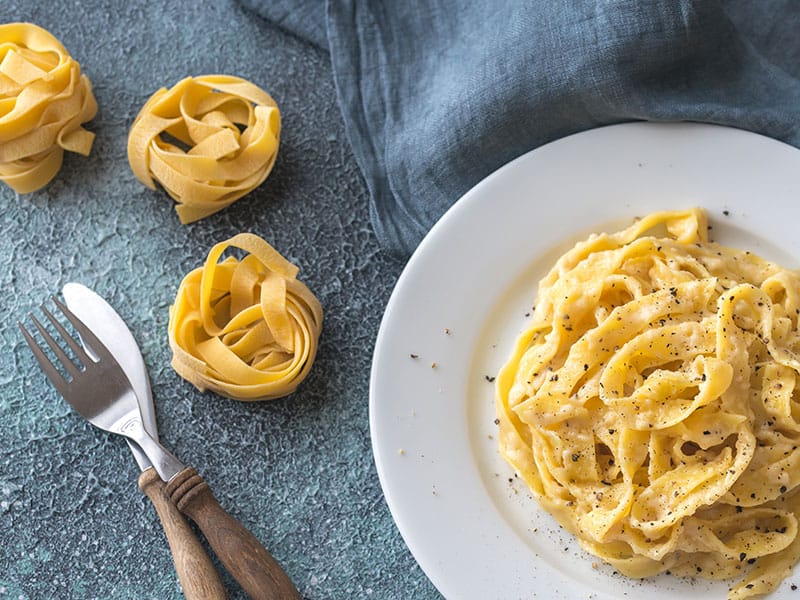 The fettuccine box in your pantry just begged for a delicious dinner. Whether you prefer saucy seafood or hearty & meaty, we have the fettuccine recipe for you.
#1 Shrimp Broccoli Alfredo
After trying fettuccine Alfredo at a diner, I created this shrimp Alfredo with broccoli at home. It is the creamy dish that my family loves and the restaurant one that my friends like.
Ingredients
8 ounces fettuccine (uncooked)
1 pound shrimp (medium raw, peeled, and deveined)
3 garlic cloves (minced)
1/2 buttercup (cubed)
8 ounces cream cheese (cubed)
1 cup whole milk
1/2 cup Parmesan cheese (shredded)
4 cups broccoli florets (frozen)
1/2 teaspoon salt
Dash pepper
Method
Cook the fettuccine via the package instructions. Meanwhile, sauté shrimp and garlic with butter in a large skillet until shrimp turn pink. Take out and set aside.
Mix cream, milk, and Parmesan cheeses in the same skillet; cook and stir until the cheeses melt and smooth.
In a saucepan, heat 1 inch of water and add the broccoli. Get the water to boil. Lower the speed; cover and heat until tender for 1-2 minutes.
Heat the shrimp, broccoli, salt, and pepper into the cheese sauce. Drain the fettuccine and cover with the shrimp mixture.
#2 Fettuccine Bistro Chicken
It is one of my weekend meals made from kitchen cabinets. It makes me think about France every morning.
Ingredients
1/2 pound fettuccine (uncooked)
2 tablespoons truffle oil (extra virgin, divided)
1 pound chicken breasts (cut into 2-inch strips, boneless, skinless)
1/4 teaspoon salt
1/4 teaspoon pepper
2 plum tomatoes (chopped)
1/4 pound prosciutto (julienned)
2 tablespoons shallot (minced)
2 tablespoons apricots (dried, finely chopped)
1/8 teaspoon red pepper flakes (crushed)
1/4 cup white wine/ chicken broth
1 tablespoon Dijon mustard
1/2 cup goat cheese (crumbled)
1/4 teaspoon tarragon (dried) or 1/2 teaspoon tarragon (fresh, minced)
1/4 cup walnuts (toasted, chopped)
Method
Cook fettuccine al dente the package directions; drain, reserving half a cup of pasta water. Display on the serving platter and keep warm.
1 tablespoon of your favorite truffle oil, heated in a big skillet over medium heat. Season the chicken with pepper and salt extracted from the salt grinder to taste.
Cook and stir until no longer pink, about 4-6 minutes. Take out the chicken.
Add the remaining oil to the skillet, mix in the following 5 ingredients, and cook for 4-6 minutes. Back the chicken into the skillet.
Mix the mustard and wine, then stir. Bring to a boil and cook for 2-4 minutes, or until the liquid is slightly reduced.
Add cheese and tarragon to the chicken mixture and over fettuccine. Apply the pasta water reserved for moist pasta to mix. Top with the walnuts toasted.
#3 Vegetable Fettuccine Pad Thai
Thai classic spices abound in this fragrant and tasty dish made with tofu, peanuts, and fettuccine. Is tofu new? It gives the entree its optimal protein to implement your diet delightfully.
Ingredients
12 ounces fettuccine (whole wheat)
1/4 cup rice vinegar
1 tablespoon lime juice
3 tablespoons soy sauce (reduced-sodium)
2 tablespoons brown sugar
2 tablespoons oyster sauce
Dash Louisiana-style hot sauce
12 ounces tofu (extra-firm, drained, cut into 1/2-inch cubes)
3 teaspoons canola oil (divided)
2 carrots (medium, grated)
2 snow pea cups (fresh, halved)
3 garlic cloves (minced)
2 eggs (large, lightly beaten)
2 cups bean sprouts
3 green onions (fresh, chopped)
1/2 cup cilantro (minced)
1/4 cup peanuts (chopped, unsalted)
Method
Cook fettuccine as directed by the package. Meantime, mix the vinegar, brown sugar, soy sauce, lime juice, oyster sauce, and hot sauce in a small bowl until smooth.
Stir-fry tofu in 2 teaspoons oil in a carbon steel wok until golden brown. Extract and keep it hot to eat. Stir-fry carrots and snow peas with remaining oil in about 1-2 minutes.
Add garlic; cook for a minimum 1 minute or till when the veggies are tender. Cook and whip the eggs until they are set.
Drain fettuccine and apply to vegetable mixture. Stir the vinegar mixture into the skillet.
Get to a boil. Heat through the bean sprouts, tofu, and onions. Sprinkle with peanuts and cilantro.
#4 Longaniza Sausage Fettuccine
I often buy Longaniza– Spanish sausages by chance but still wanna figure out how to do it anyway. I cook it in the slow cooker with tomatoes, mushrooms, and wine, which helped temper the heat. Check them now!
Ingredients
12 ounces fettuccine
2 teaspoons canola oil
8 Longaniza sausage links (hot)
1/2 pound mushrooms (fresh, sliced)
1 sweet onion (small, chopped)
2 garlic cloves (minced)
14-1/2 ounces tomatoes (diced)
Green chiles (mild, undrained)
1/2 cup beef stock
1/2 cup dry white wine
Grated Parmesan cheese (optional)
Method
Heat oil in the large skillet over medium range; brown sausages on any sides. Transfer to a slow cooker of 3 quarts, reserving pan drippings.
In the same skillet, add mushrooms, add onion in the drippings until tender, around 4-5 minutes.
Cook and stir for 1 minute after adding garlic. Pour over sausages and stir in stock, tomatoes, and wine.
Cook on low for 6-8 hours, covered (a thermometer inserted into the sausages should be 160°).
Cook the fettuccine as instructed in the package; drain. Take the Longaniza sausages out, and use a knife or Chinese cleaver to cut them into thick pieces.
Skim the fat from the mushroom mixture. Toss to mix the sausage and fettuccine. Top with cheese if you like and serve into bowls
FAQs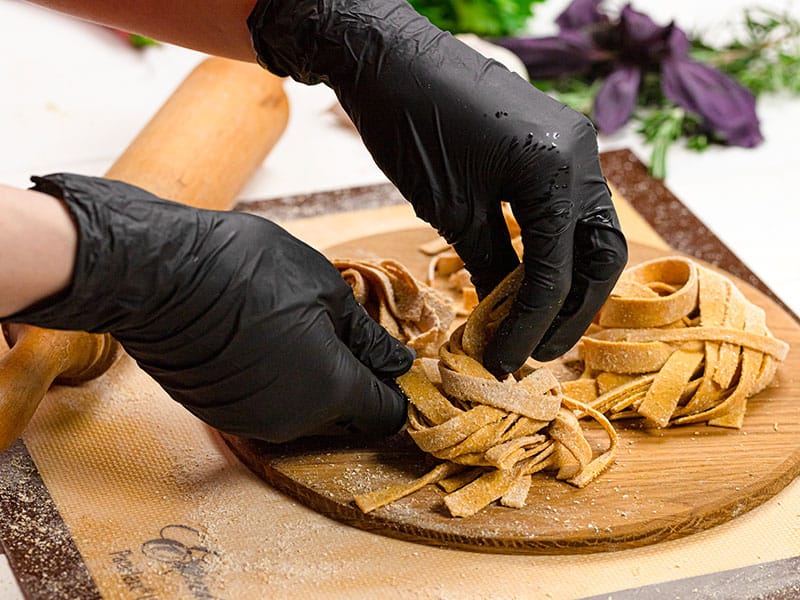 A few common issues and differences regarding LINGUINE and FETTUCCINE are the two famous forms of pasta. Here are the answers you've been looking for!
Pick Linguine? Pick Fettuccine?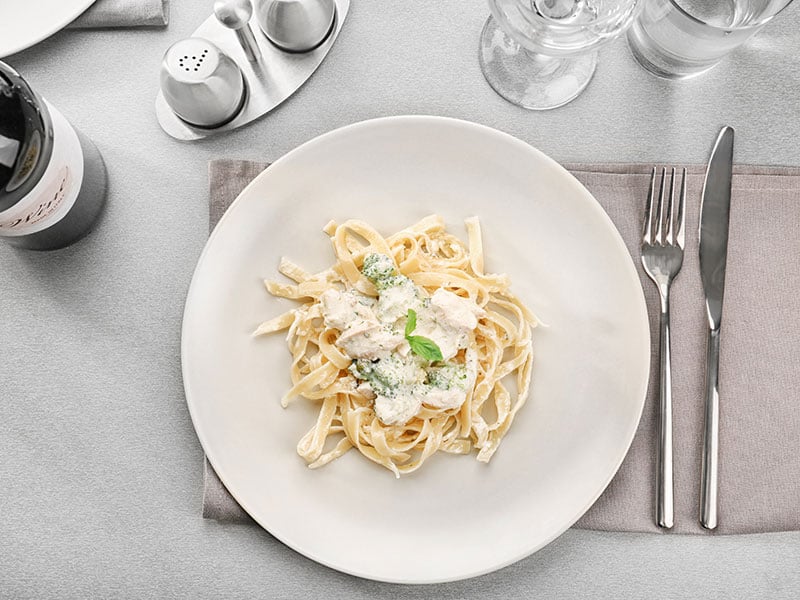 Slurping up the long strands of fettuccine and linguine is a very gratifying experience. Soon you will love the tone it makes, the sense of culinary nostalgia it evokes, and the stream of sauce that hits your mouth, cheeks, and, maybe, nose.
Fettuccine and Linguine are generally served with a genuinely traditional sauce. Thinner, lighter pasta is filled with creamy sauces, while thick pasta is served with heavy sauces.
It's a lot more to say about the twin noodles. Wishing a chance to meet you and your friends and family members to share the authentic experience. Help me share this post with your team; sure, they will fall in love.
Dare you go through but still miss the tasty recipes? You won't for sure, so enjoy your time and convert the stunning pasta dish of all time.