Gherkin vs. pickle is often mistaken for each other. Can gherkin be pickled? Or can you refer to gherkins as pickles and vice versa?
I agree that their names may be confusing. People use these terms interchangeably, and their meanings vary from one place to another.
Therefore, to fully understand the differences between the terms, I have summarized scientific and cultural knowledge about them below. I hope this post will help you to identify the exact differences between them.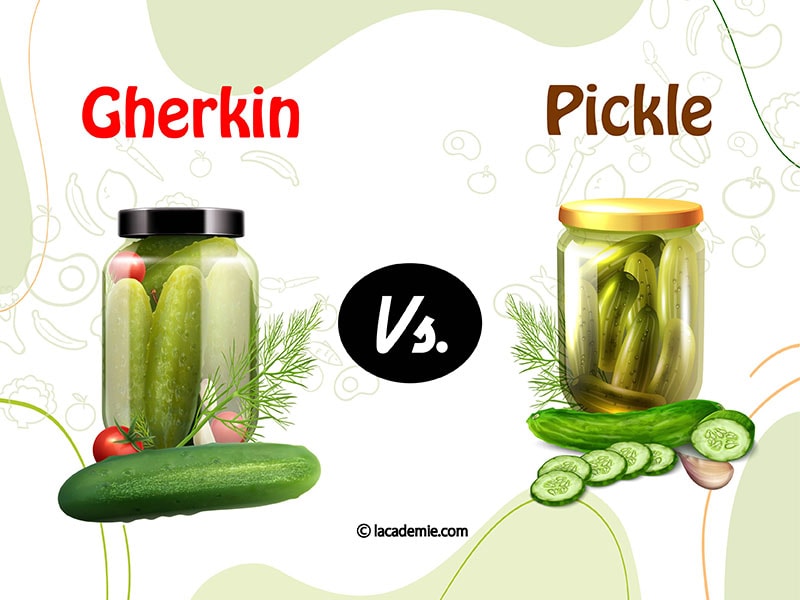 Are Gherkins And Pickles The Same?
Gherkin vs pickle: do they all refer to the same thing? The answer is both yes and no. To accurately answer this question, one thing that really matters is the place you live.
In several countries in North America and Australia, pickles are cucumbers that have undergone the pickling process. While in other places, pickles can be any kind of vegetables preserved with brine solution and vinegar.
When it comes to gherkins, most people think of them as miniature cucumbers. However, gherkins are mostly used for pickling, and pickled gherkins can also be called "gherkins" in certain places.
It looks like these short answers cannot solve the complication between those two, don't they? Therefore, let's scroll down for many more interesting facts about gherkins and pickles, as well as their differences.
Gherkin Vs. Pickle: The Ultimate Showdown
Here I will present to you a summary table of the major differences between the two terms. I hope the details in this table are enough to solve your confusion.
| Characteristics | Gherkin | Pickle |
| --- | --- | --- |
| Definition | A relative of cucumbers that is smaller than regular cucumbers | Pickled cucumber or any kind of pickled vegetable |
| Definition | It can be understood as fresh gherkin or pickled gherkin | It can be understood as pickled cucumber or any pickled vegetable |
| Texture | Crispier and crunchier than pickled cucumbers. Bumpier skin exterior | Crisp and firm texture |
| Taste | Sour/ salty/ spicy/ sweet/ garlicky flavor (according to the brine solution). Taste bitter when eaten raw | Strong, biting flavor |
There are certain differences between the tastes of gherkin and pickle. When eaten raw, people find that gherkins are crunchier. Their texture is firm, and fresh gherkins are bitterer than cucumbers.
After being pickled, all vegetables develop a sour and tangy taste. Pickled cucumbers tend to get softer, and they are not as crispy as pickled gherkins. However, they both have the juicy texture of pickled vegetables.
Many people might say that pickles and cucumbers are exactly the same, especially considering how many pickles are made from cucumbers. However, when you compare pickles and cucumbers side-by-side, you'll notice that they're quite different in taste and texture.
Gherkin and cucumber can be pickled with vinegar, salt, water, and even sugar. The brine solution's taste varies, depending on the ingredients you choose to pickle your food. Therefore, your pickle or gherkin can either be salty or sugary.
Eating pickled food certainly gives you a lot of health benefits. Both gherkin and pickle are good for your health, and they can go along very well with various types of cuisines.
Health Benefits And Nutrition Values
Raw gherkins/cucumbers themselves are also high in valuable nutrients. They contain high amounts of potassium and vitamins, such as vitamin A and vitamin K.
Even though pickles are often added a considerable amount of salt, they help retain the food's nutrients. Therefore, eating gherkins/pickles is beneficial to your health.
Culinary Purposes
Once pickled, the texture of gherkin/pickle changes slightly because it is high in water content. During the pickling process, it absorbs more water from the brine solution.
Both gherkins and pickles can be infused with various spices and herbs. However, you shouldn't leave your gherkins/ pickles for too long because they will later develop a bitter and spicy taste. It's better to serve them when they are still immature.
Not sure what to do with your large stock of gherkins and pickles in the pantry? How about using them as side dishes for grilled cheese?
Fun fact: Did you know that pickling spices can be used for many purposes other than pickling vegetables? That's right, pickling spices are great for improving flavors of various dishes such as meat, soup, or rice. They are amazing alternatives for Old Bay seasonings as well.
The Ultimate Definition Of Pickle
A pickle can be simply understood as a vegetable that has gone through the pickling process.
Pickles are available everywhere, from Asia to Africa and other continents. However, when it comes to cucumbers, things get a little bit more confusing.
People in the US, Canada, and Australia often regard pickled cucumbers as pickles. They do it for convenience because "pickles" are shorter than "pickled cucumbers", right?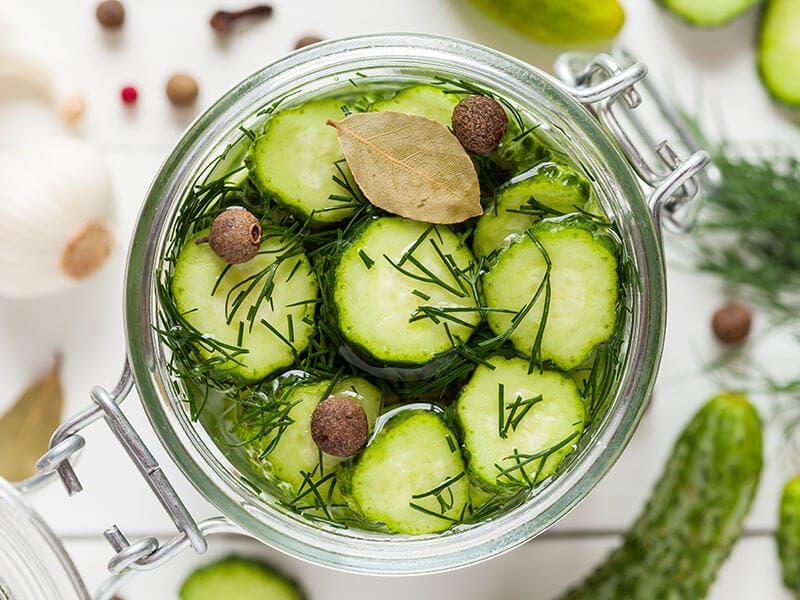 On the other hand, if you go to Europe or other English-speaking countries and ask for pickles, they literally can hand you out random kinds of vegetables that have been pickled.
Therefore, the definition of pickle really depends on where you live.
What Exactly Is The Pickling Process?
When pickling, people let food ferment or preserve it by adding some more ingredients and enhancing the flavors. The pickling process is typically done for meat and vegetables.
Pickled vegetables are called pickles. Some famous pickles around the globe are kimchi, pickled cabbages, and pickled cauliflowers. I will explain carefully how to pickle vegetables later, so please keep reading.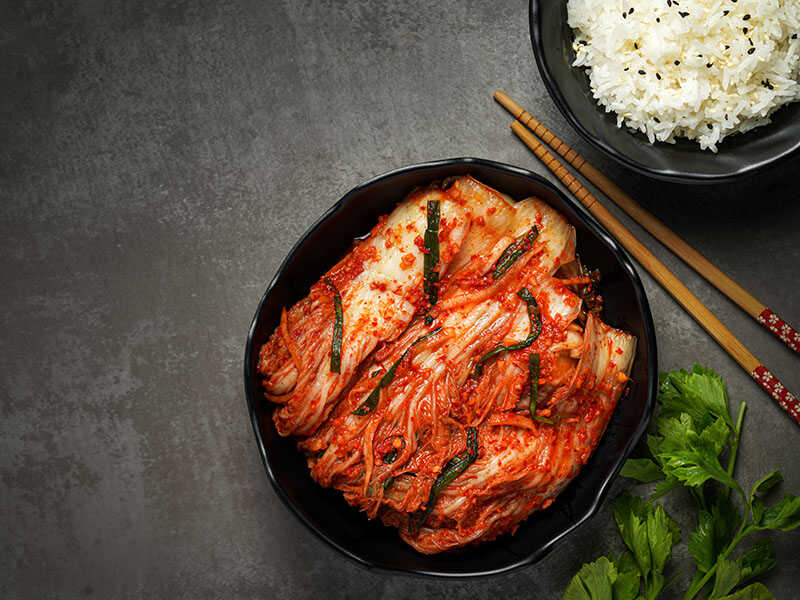 Amazing Food That Can Be Pickled
Literally, anything that is considered edible food can be pickled. People have been pickling food ever since 2030 BC, and now they do it across the world.
I believe at least one thing that you have in your refrigerator right now can be pickled. Even fruits are "pickleable". Let's see if any of your food in the fridge is into one of these categories:
Cabbages, onions, carrots, zucchinis, asparagus
Mushrooms, lemons, limes
Peppers, beans, peas
Beef, pork, chicken, boiled eggs
Mangoes, peaches, lychees
Olives, capers
And many, many more. Let's scroll down and see how you can pickle nearly anything in your refrigerator.
My pickle recipe is best when served as a side dish. For instance, pickled mushrooms are a highly recommended dish to pair with risotto. Likewise, jalapeno peppers are a brilliant idea for side dishes with quesadillas.
Do you know how to make pickled eggs? This award-winning recipe will lead you to a satisfying result.
Gherkin: What It Really Is
The term "gherkin" also has several meanings. They vary between cultures and nations.
Gherkin is a type of plant which looks like a baby cucumber. Many people confuse them with regular cucumbers because of their similarities.
It's not the long and hard cucumber that you usually find in markets. Basically, gherkin is a relative of regular cucumbers. There are several differences in shapes and tastes between them.
You can distinguish gherkins and cucumbers by their looks. Gherkins are much smaller in size, and their skins are bumpier.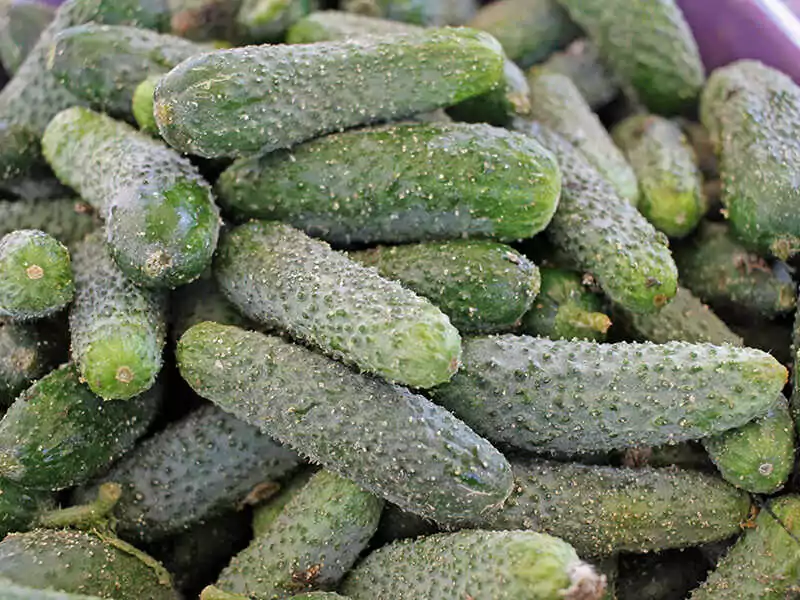 Gherkin is a vegetable, and people found that gherkins are perfect for pickling. This is where the confusion starts.
Gherkins Vs. Pickles: Their Stunning Culinary Uses
Gherkins can be eaten raw like cucumbers, but they are mainly used as pickled gherkins. Pickled gherkins are definitely pickles, but not all pickles are gherkins.
What's even more complex is that you can refer to pickled gherkins as "gherkins" in America. So for any gherkin that has gone through the pickling process, there are two names for it: pickle or gherkin.
Therefore, the definition of gherkin depends on where you live. It's a matter of language and cultural differences.
Other Types Of Gherkin
Aside from the commercially sold gherkin, which is often sold in pickled forms, there are other varieties of gherkin as well. Let's check out what they are together.
West Indian Gherkin (Burr Gherkin/Maroon Cucumber)
This kind of gherkin used to be believed to originate from Southern Africa. However, West Indian gherkin is grown worldwide in tropical and subtropical regions nowadays.
Burr gherkin's scientific name is Cucumis anguria, while cucumber's name is Cucumis sativus (1). When it reaches about 1.5 inches in length, it is harvested to avoid developing a bitter taste later.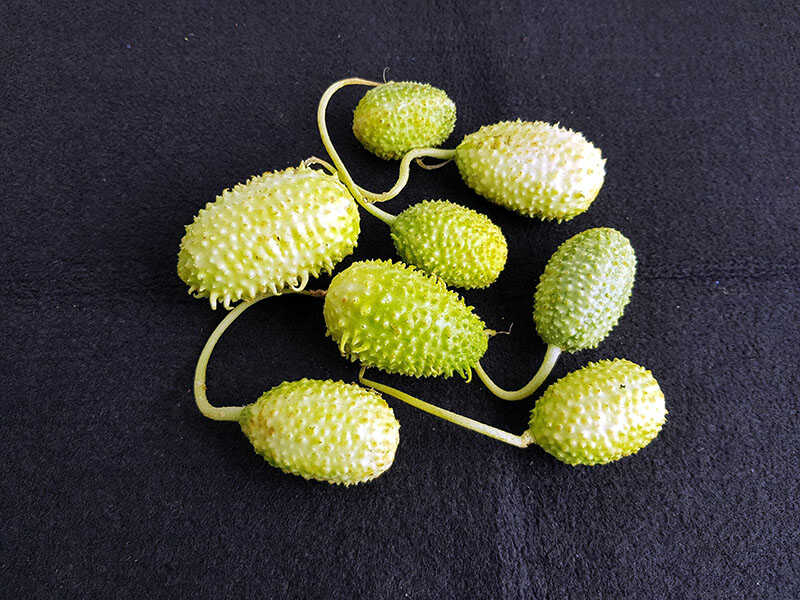 Mexican Sour Gherkin
Mexican people refer to this kind of gherkin as cucamelon or mouse melon. A typical Mexican sour gherkin is about 1-3 inches long.
You can eat Mexican sour gherkins fresh, but please keep in mind that they're not the usual pickled gherkins in the US and other English-speaking countries. And definitely not cucumbers!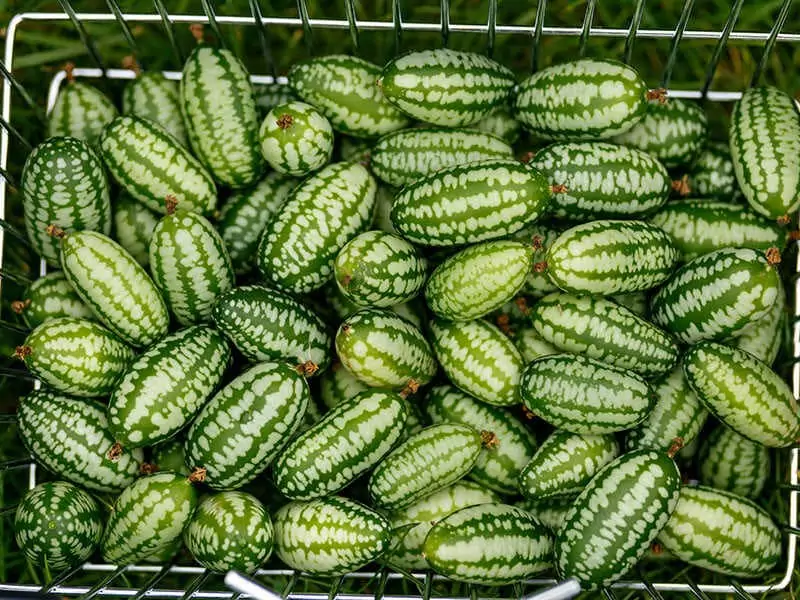 Different versions of these tasty pickled vegetables are dill pickle, cornichon, and bread and butter pickle. Let's distinguish their variations together!
Dill Pickle
Some of you may have heard of this term – dill pickle. Is it the same as gherkin/pickle?
Obviously, dill pickle contains dill – a popular herb that adds extra flavors to pickle/gherkin. People call it "dill pickle" because there is dill in the pickled mixture.
Any vegetable, including gherkin and cucumber, can be pickled with dill. Therefore, if your gherkins or pickles are pickled and added with dill, you can call them all dill pickles.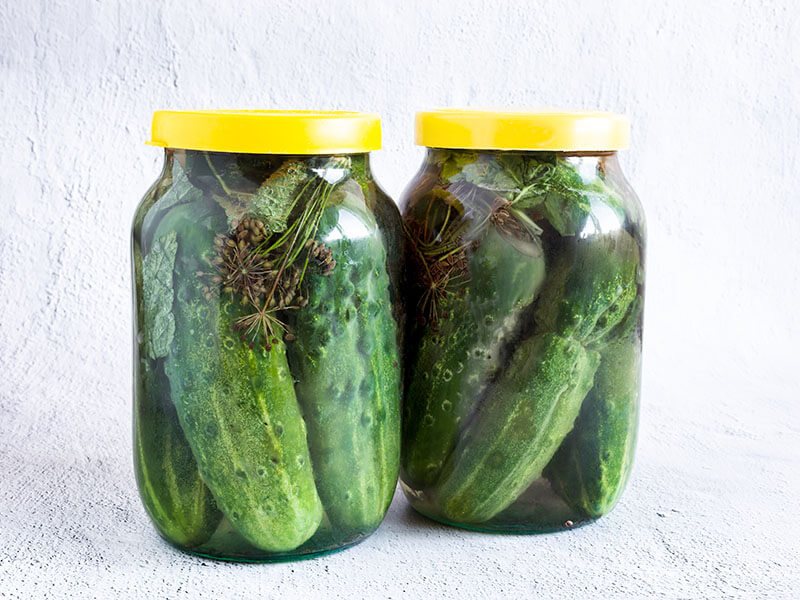 Cornichon
Cornichon is another common type of pickled gherkin. This term is explicitly used for immature gherkin, not for cucumber or any other vegetables. When you say cornichons, people usually think of them as savory pickled gherkins, not those sweet ones.
You can add various types of herbs and vegetables to create your favorite cornichon: onions, thyme, bay leaves… It is a famous French condiment food and is often eaten together with many types of processed pork meat, such as paté and ham.
In conclusion, cornichon can be both gherkin and pickle to some extent.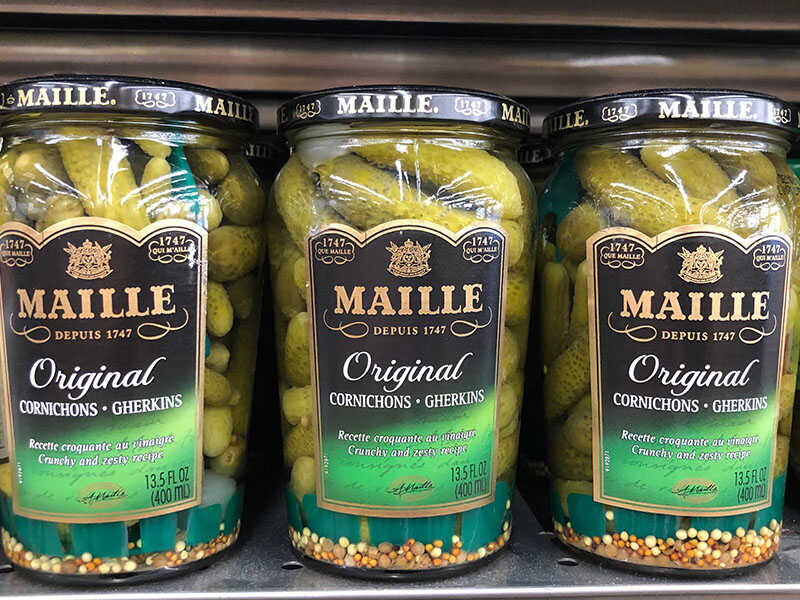 Bread And Butter Pickle
Is there any way this is a type of pickle that contains bread and butter in it? The answer is no. Bread and butter pickle is the pickled cucumber that has sugar in its recipe. But where does this fancy name come from?
There were two farmers, Omar and Cora Fanning, who sold sweet and sour pickles in the 1920s. They called their products "Fanning's Bread and Butter Pickle". That is how the term "bread and butter pickle" was invented.
Learn how to make these fantastic pickles with this recipe.
The Ultimate Method To Pickle Gherkin
Pickling is a great way to preserve food, right? Here I will show you the detailed ingredients and instructions to pickle gherkin.
1. Amazing Ingredients To Pickle Gherkin
When pickling food, you add other ingredients and preserve it in brine solution or vinegar. Another way is to let your food ferment naturally through the souring process of Lacto-fermentation.
As mentioned earlier, you can nearly pickle any type of vegetables, meat, and fruits. For gherkins, you can add many different ingredients to the brine solution.
Some typical spices and herbs added to gherkin's brine solution are:
Spices: salt, sugar, peppers, chilies, paprika…
Herbs: dills, rosemaries, tarragons, mustard seeds…
With a lot of choices for the pickling process, your pickled gherkin can either be spicy, garlicky or very sour. However, the two essential ingredients for pickling any vegetables are salt and vinegar.
2. The A-Z Instructions To Pickle Gherkin For You
Here are what you will need to pickle gherkins:
Spices and herbs (whichever you prefer)
Salt
Vinegar
A jar
A pot
A big bowl/ saucepan
The steps required for the pickling process of gherkins are pretty simple. Please follow my instructions carefully to achieve the best result.
Step 1: Sterilize your jar by putting it in a boiling pot of water.
Step 2: Dry your jar completely.
Step 3: Wash your gherkins thoroughly. Gherkins are usually small sizes, but you can chop them if you want to.
Step 4: Prepare your spices, herbs, and vinegar. If you don't know what herbs to choose, I recommend that you start with some dills.
Step 5: Salt your gherkins. Put the gherkins into a large bowl and sprinkle salt all over them. Make sure that your gherkins are entirely covered by salt. Wait at least one hour before the next step.
Step 6: Mix the seasonings (herbs, spices and vinegar) with the above mixture. Transfer them all into a pot.
Step 7: Bring your pot to a boil. Once it boils, turn off the heat and let your food cool down completely before transferring it into the jar.
Step 8: Close the jar lid tightly and place it in a dark, cool place. Let your gherkins pickle.
Once pickled, your gherkins should last for a very long time. The longer you store them, the stronger their tastes will be. You can eat them the next day or several months later.
Incredible Foods That Go With Pickle And Gherkin
These pickled vegetables are often used as side dishes. They help to bring out the best flavors of your main dishes when you combine them.
Below is the list of food often eaten together with gherkin/pickle. Let's see if you have tried any of these:
Burgers: Billions of pickles are sold annually (2). A large portion of them is eaten with burgers. The burger is a kind of bread, so like "bread and butter, " gherkin/pickle brightens the taste when combined together.
Salads: a bowl of salad always contains all sorts of flavors. Adding gherkin/pickle will, even more, complement other ingredients in the salad.
Sandwiches: Sandwiches are also another kind of bread. It's not hard to understand why people often eat sandwiches with gherkins/pickles.
Hotdogs: Bread and gherkin/ pickle seem to make a perfect couple!
Cocktails: This is a unique way of enjoying gherkin/ pickle. People combine it with wine and other ingredients to create the ultimate cocktail.
Gherkin/ pickle can be eaten alone as well. You can saute it with oil and minced garlic or serve it as a dessert with sugar syrup.
Another amazing recipe for pickles. This instruction will show you how to make fried pickles.
FAQs
These are the questions that I often receive about gherkins and pickles. In case you want to find out more interesting facts about them, let's discuss related matters together.
A Bonus Tip For You
If you are looking for store-bought gherkins, try to find the one with bright green gherkins inside. The brine solution should be clear as it's an indication of tender age pickled gherkins.
I hope you have gained valuable information and knowledge after reading my post. If you have any more questions about gherkins and pickles, please comment down below. I would be really grateful if you share my post with your friend and family, or anyone who needs it.
Reference
En.wikipedia.org. 2021. Cucumber – Wikipedia. [online] Available at: <https://en.wikipedia.org/wiki/Cucumber>
Anon, Pickles are popular. Available at: https://www.mtolivepickles.com/wp-content/uploads/2015/03/G2-3-Pickles-Are-Popular.pdf.