Whether pickles vs. cucumbers are the same becomes a hot topic now as almost all pickles are made with baby cucumbers. Are they totally different or partly similar in taste and nutritional values that they can bring you?
Reading this post is to explore anything you should know about pickles and cucumbers that many people get confused about and know an easy way to make excellent pickles with fresh cucumbers.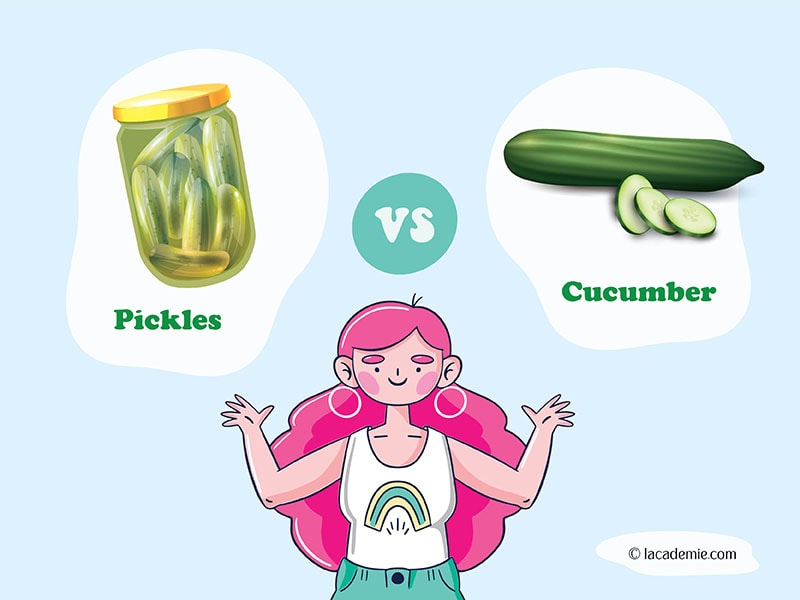 What Makes You Confused About Pickles And Cucumbers?
Some of you might mistake which one is pickle or cucumber because they have some analogous and distinct characteristics.
Pickles and cucumbers are the same if pickles are not fermented. However, the fermentation somehow makes pickles sour and salty, while fresh cucumbers have a mild and slightly sweet flavor.
What Makes Cucumbers One Of The Most Popular Veggies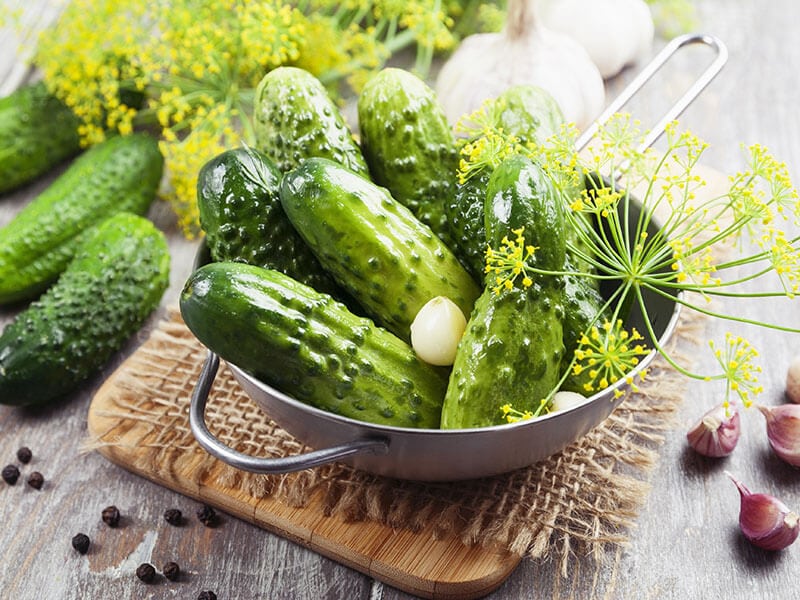 You might know about the appearance of cucumbers as they seem to be one of the most common healthy veggies in the world. The fresh cucumbers have dark or light green skin, crunchy and light green flesh, and a mild flavor.
Besides, what makes cucumbers become a favorite vegetable is the distinctive crispy and refreshing taste as they can contain about 95 percent of water. Because the fresh cucumbers contain a lot of water, they just stay about 5 to 7 days after being picked.
However, cucumber rind is sometimes bitter; thus, you had better peel the rind before consuming.
Besides being a common vegetable, cucumbers are one of the oldest vegetables with numerous cucumber varieties globally. Its popularity spread beyond India's border to Ancient Greece, Rome, Europe, and many other regions and then became one of four common veggies.
Are Cucumbers Good Veggies?
Being the most popular veggies, maybe cucumbers have some remarkable characteristics in which they help your health so much. And now, I'll let you know how amazing they are.
Health Benefits
Cucumbers contain a rich soluble fiber and water source, significantly promoting hydration and weight loss. For this reason, you often see that they are used to make a salad for diet meals.
If you don't know, antioxidants play a crucial role in preventing oxidation, indirectly helping your body reduce the risk of several kinds of chronic illness, and cucumbers contain antioxidants.
Cucumbers are also considered good to lower blood sugar and sometimes promote regulation. Being a rich source of vitamins A, C, and iron, cucumbers are beneficial to the immune system and body temperature regulation.
Culinary Field
Cucumbers are commonly used to eat fresh after being harvested. I've grown a cucumber plant in my garden and often pick them for eating fresh as they will offer me better taste than stored.
Besides eating them fresh you can use cucumber to make a lot of dishes, from hearty side dishes to delicious appetizers from cucumbers for your balanced meals.
Cosmetic Industry
Cucumber face marks get a reputation around the world in the cosmetic industry when they're good for reducing swelling and puffiness, aiding acne-prone skin, helping premature combat aging, and providing a base for hydration.
Homemade cucumber face masks are very wonderful for your skin. You should see the video below:
Are Pickles Cucumbers?
You've got some useful information about cucumbers; now it's time for you to know more about pickles. Some of them are familiar, but there must be something that makes you interested.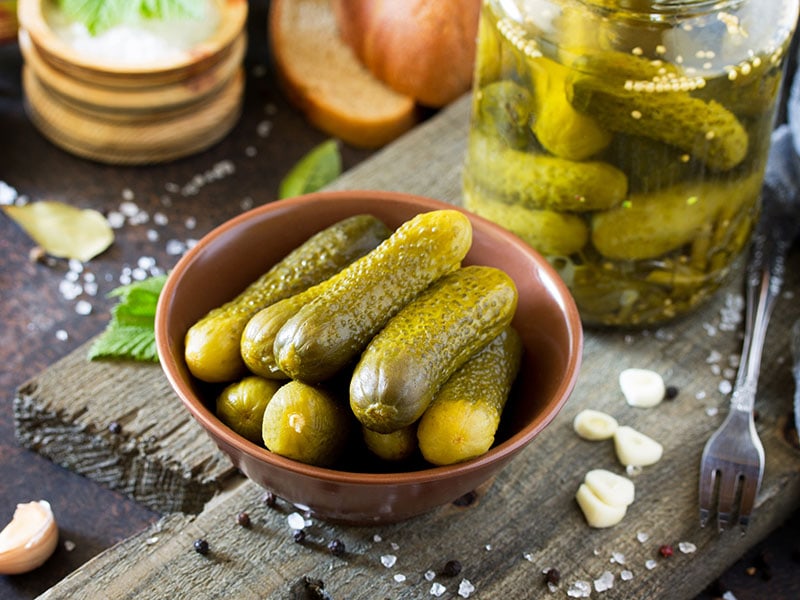 Now, the secret will be out! Pickles are young cucumbers that have been preserved in a brine solution made of vinegar, salt, and some other special seasonings or saltwater and have intense flavors.
You might also come across "gherkins" when shopping for pickles. While there are many similarities and differences between gherkins and pickles, feel free to grab that bottle of gherkins. Chances are that most people will not be able to notice the difference in taste and texture.
Pickling cucumbers were first popularized over four thousand years with the aim of storing cucumbers for longer longevity in India.
Pickles are cucumbers fermented to get a sour and salty taste, and you can apply many ways for getting pickled cucumbers, but the easiest way is using vinegar or salt.
There are a lot of cucumber types, but Kirby and Persian cucumbers are the two most common types to turn into pickles because they are short and bumpy.
How Good Are Pickles?
Pickles are good to add flavors to your dishes and also a good appetizer for your meals. Pickles can also be fried to gain a satisfying crunchy texture, which makes fried pickles top choices to serve alongside corn beef. Beside various culinary uses, pickles also offer many health benefits.
Health Benefits
The noblest nutrient from pickled pickles is that they contain a rich source of vitamins and minerals, making them a great ingredient to participate in your recipes and benefit your heart, brain, muscles, or even bones.
However, you must note that too much sodium in your meals will cause some ailments related to blood pressure, heart, or even stroke.
Cooking Benefits
Like other normal veggies, pickles are a good ingredient for a wide range of recipes. You can add pickles to egg or tuna salad, a red snapper, a grilled cheese, or top a cheeseburger with a pickle toothpick.
Pickles Vs. Cucumber, To What Extent They're Different
Fresh cucumbers and pickled ones are 2 foods with many things in common, but they also get different features. Can cucumbers be stored in freezers? What about pickles? What dishes you can put these two ingredients in? Learn everything you can about cucumber and pickles below!
Characteristics
Cucumbers
Pickles
Production process
No pickling process
Fermentation
Appearance
Longer and bigger
Shorter and smaller
Appearance
Dark or green skin
Yellow-green skin
Texture
Distinctive crunchiness
A crispy and firm texture
Taste
A mild, naturally sweet, and watery flavor.
A sour and salt taste
Types
Nearly 100 varieties, but the most delicious ones for eating fresh are English cucumbers, Kirbys, Lemon cucumbers, Persian cucumbers, American cucumbers, English seedless cucumbers, Garden cucumbers, and Gherkins.
Some are the best for pickling: Kirbys, Boston pickling, Boothby's blond; Double yield, Fresh pickles, Homemade pickles, Honey plus, Miniature white, Rhinish pickle, Wisconsin FMR 58. (1)
Storage
Have no preservatives.
Stay good for about 2 to 3 weeks at room temperature.
Storage
Stay fresh for 5 to 7 days after harvest at room temperature.
Stored in a jar for up to 2 to 3 months in the fridge.
Storage
Stay fresh for two weeks in the fridge. Last up to three months in the freezer.
Maintain good flavor in the freezer for about 6 to 12 months.
Health Benefits
Nutritional values contains higher amounts of calories but a lower source of fiber, protein, and vitamins. Don't contain sodium
Nutrition very high source of vitamin K and sodium and have low-calorie content.
Other Advantages
Cooking field Use cucumbers to make salads, salsa, soups, and fresh cucumber bites to start your meals.
Cosmetic industry Take the use of cucumbers to create face masks to benefit your skin.
Cooking field Used to eat raw, add to salad, make soup, and even bite recipes.
Cucumbers And Pickles Cucumbers – Production, Appearance
Obviously, cucumbers, after being harvested from the plant, can be eaten fresh, whereas the pickled cucumbers need to spend the fermenting process to get a sour and slightly salty taste.
Being flavored with vinegar, garlic, dill, and many other spices, pickled cucumbers can not maintain the dark green color like they're fresh.
Moreover, cucumbers are much bigger and longer than pickles as they contain a lot of water, while the fermentation will shrink the fresh cucumbers and make them smaller.
Texture And Taste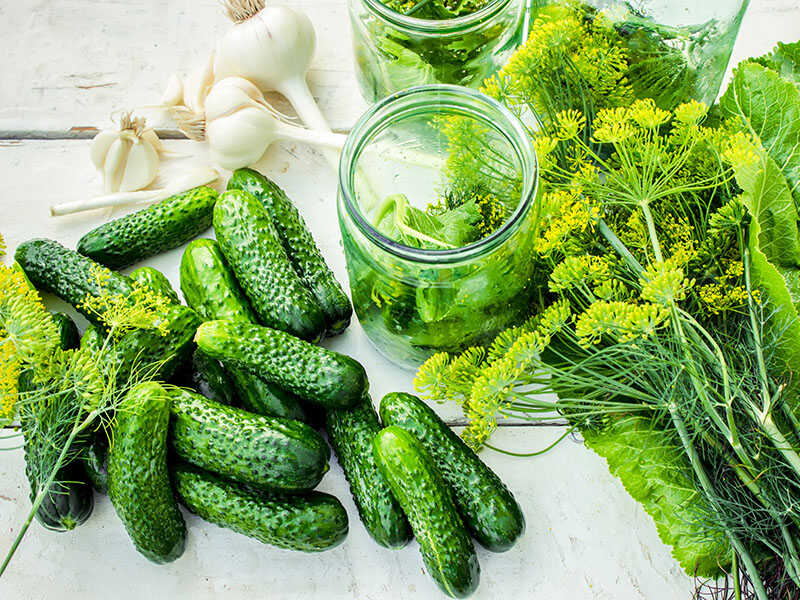 Both fresh cucumbers and pickled cucumbers have a crunchy texture, but the fresh ones are much crispier.
Pickles are salty and sour because of the fermentation process; while containing a great source of water, cucumbers will provide you a mild and slightly sweet flavor which is like the melon taste.
Types
When it comes to diversification, there are about one hundred types of cucumbers that you can eat fresh, and some of them will bring you a better taste when being eaten fresh, like English cucumbers, Kirbys, Lemon cucumbers, Persian cucumbers, etc.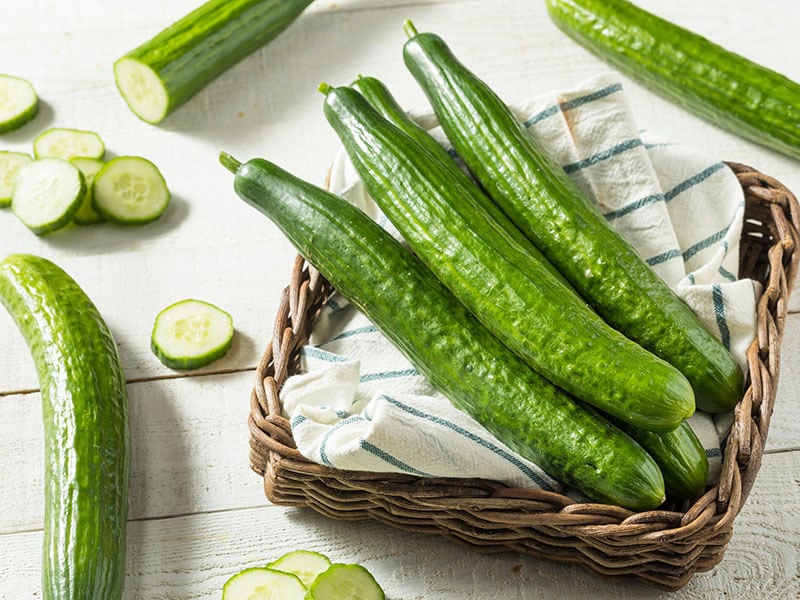 Among one hundred types of cucumbers, some cucumbers are considered as the best to make pickles, such as Kirbys, Boston pickling, Boothby's blond; Double yield, Fresh pickles, Homemade pickles, Honey plus, Miniature white, Rhinish pickle, Wisconsin FMR 58.
It's better if you choose small and young cucumbers and keep them as a whole to pickle when they'll maintain the crunchiness and make them easily marinated than mature cucumbers.
Storage
Another difference between these two things is preservation. The fresh cucumbers have a short shelf life and don't need any preservatives to keep cucumbers fresh, just around five days after you buy them in the store.
With the fresh cucumbers, you can preserve them in the fridge for up to two weeks while at room temperature; you can store them for about 5 to 7 days. In case you would like to store fresh cucumbers for a longer time, keep them in the freezer (3 months).
Furthermore, pickles are flavored with many kinds of spices that help to store them for up to 2 to 3 months in the fridge. If you place the pickle jars at room temperature, the shelf life is at least 2 to 3 weeks.
Can you put pickles in the freezer? Of course, yes, and the freezer will help you to preserve pickles for 6 to 12 months.
Pickles Vs. Cucumbers – Benefits
Pickles and cucumbers play a significant role in daily life as they have health benefits, cooking, and even the cosmetic industry.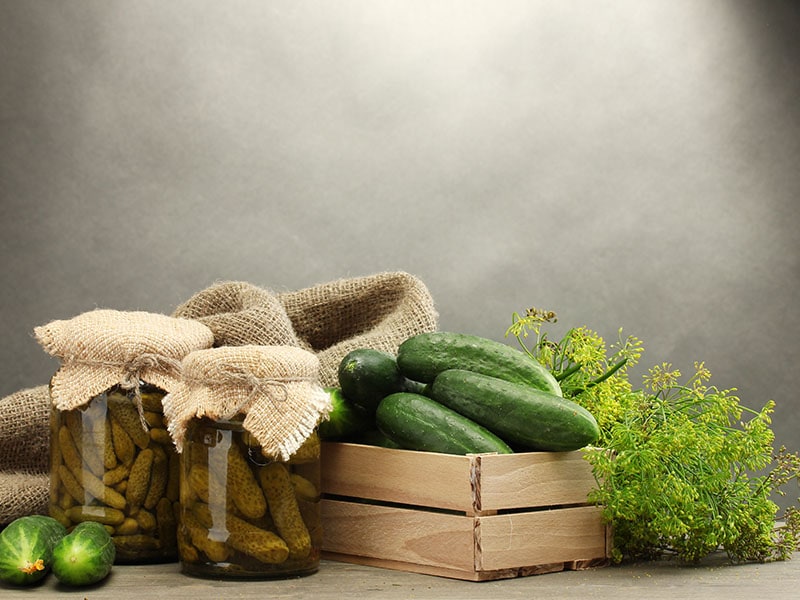 Nutrition Values
Pickles and cucumbers must have similarities in nutritional values as they are cucumbers; however, fermented cucumbers or pickles certainly get other nutrients than fresh cucumbers.
The table here will show you how many nutrients and how much they can bring to your body for each 100-gram consumption.
| Per 1 cup | Cucumbers With Peel | Pickles |
| --- | --- | --- |
| Calories | 15.6 | 7.8 |
| Fat | 0.2 g | 0.2 g |
| Carbohydrates | 3.8 g | 3.7 g |
| Sugar | 1.8 g | 1.9 g |
| Fiber | 0.6 g | 1.6 mg |
| Protein | 0.6 g | 0.9 g |
| Vitamin A | 2% (DV) | 5% (DV) |
| Vitamin K | 22% (DV) | 70% (DV) |
| Calcium | 2% (DV) | 6% (DV) |
| Iron | 2% (DV) | 3% (DV) |
| Sodium | 0% (DV) | 5% (DV) |
Pickles and cucumbers seem to be low-content calories, but when comparing each other, pickles will provide your body less than cucumbers with the same amount though they are flavored with many spices.
Moreover, pickles will supply your body with higher amounts of vitamins A and K because of the fermentation process.
How about sodium and sugar? Cucumbers contain lower amounts of sodium and sugar, making them healthier than pickles. One cup of pickled cucumbers contains about 5% daily value; however, cucumbers are free-sodium.
On the other hand, pickles are a richer iron and fibers than cucumbers', contributing greatly to the development of new blood cells and healthy vision.
The Culinary Aspect
Regarding the cooking field, you can add fresh cucumbers or pickled cucumbers to your meals to enhance the flavor of salads and soups, but usually, they're also eaten with cheese.
The crunchiness and natural sweetness from fresh cucumbers or the good flavor of pickles will also make your meals more mesmerizing. For example, you can drizzle soy sauce and vinegar to make sunomono, one of the tastiest side dishes in Japanese cuisine.
Often, pickles are softer and less crunchy than fresh cucumbers, which makes cucumbers more popular to make bite-sized recipes for your meals than pickles.
However, during processing pickles, the brine is very helpful when you can use the leftover mixture to marinate chicken and pickle other things.
The Cosmetic Industry
Between cucumbers and pickles, you can just use the fresh cucumbers for aiding your shin health, and pickles cannot.
Cucumber face marks are considered a good product for your skin when they can support puffiness reduction, limit acne production, and prevent premature aging. (2)
Moreover, the combination of cucumber and yogurt to make face masks is good for shrinking dilated blood vessels, tightening pores, and reducing redness and irritation.
How about using cucumbers and oatmeal to top over your face skin? The mixture of cucumbers and oatmeal will cleanse, refresh, and clear your skin.
How Do Cucumbers Become Pickles?
So, how to turn plain cucumbers into great pickles? Can you make pickles by yourself? And is making pickles easy? I'll help you to find out useful information related to making pickles by cucumbers.
Ingredients To Make Crunchy Pickles From Cucumbers By Vinegar
As I said, making pickles is also easy and quick. And, there are some ways to pickle the cucumbers, but I'll introduce to you one of the most famous ways to make pickles by using vinegar. These are some essential ingredients to finish the pickles. Let's see!
1 ½ pounds cucumbers.
One cup apple cider vinegar.
1 cup fresh water.
Two teaspoon dill seeds. Two couples of garlic.
1 ½ tablespoon sugar and salt.
Basic Steps To Finish Pickles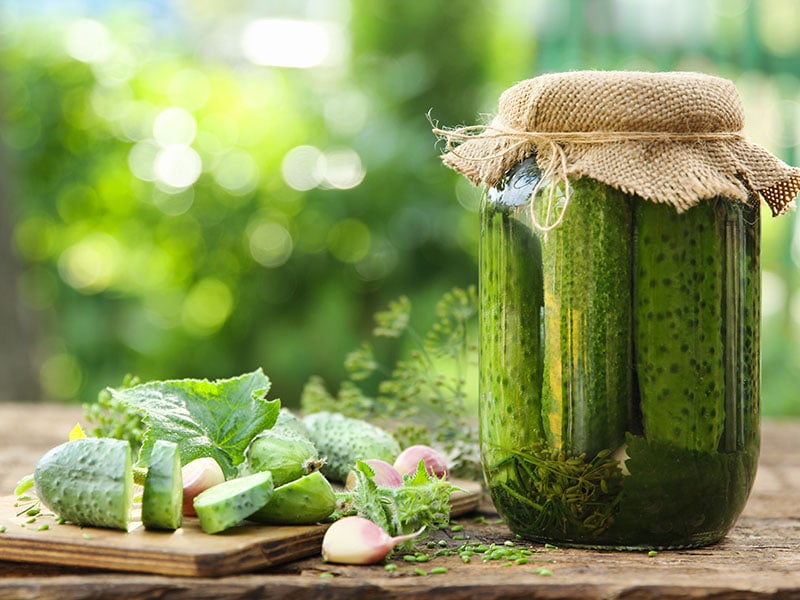 Follow these steps to get easy homemade pickles from inexpensive ingredients but save a lot of time.
Step 1: Rinse fresh baby cucumbers and let them drain.
Step 2: Make a brine with water, vinegar, and spices and bring them to a boil for about three minutes and then reduce the heat. The liquid isn't too sour but not too sweet.
Step 3: Pack the cucumbers into jars and add some chopped dill and garlic.
Step 4: Pour the warm solution into the cucumber jars, seal them, and let them in cool places for about five days to get them ready for your meals.
Step 5: Use the finished pickles to fill sandwiches or add too many other dishes.
Homemade pickled cucumbers are more flavorful than you think. Let's have a look at the following video!
Noticeable Things For Making The Best Pickles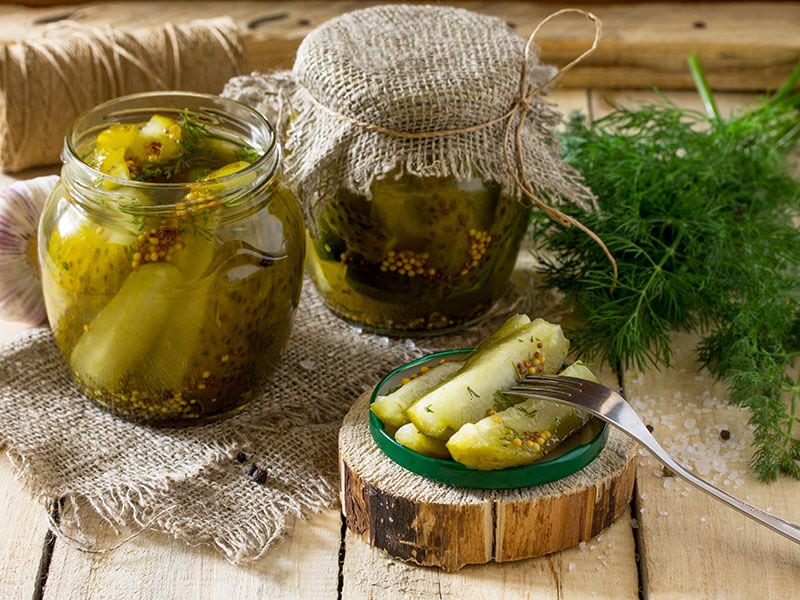 In conclusion, cucumber is a vegetable that doesn't have any fermenting process, whereas pickles are cucumbers that experience pickling. For this reason, cucumbers have a plain, watery taste, whereas pickles can have an acrid taste.
Now, these are some tips that you need to consider to make pickles with the best taste:
Use good quality vegetables. Fresh cucumbers will make crunchy pickles.
Taste the brine before pouring it into the jars.
Wait for about five days to a week to get better taste.
Highly- Recommended Recipes With Cucumbers And Pickles
Are you curious about what you can make with cucumbers and pickles? If you are, here is a gift I bring to you. Hope you and your family will enjoy these recipes deliciously.
One of the most common ways to use cucumbers is to make smoothies for summer days to support your skin and your health.
The combination of cucumbers and pineapple will create a smooth and creamy drink to end your meals or just serve your guests at cozy parties.
The slight sourness and saltiness will satisfy your expectations about the dream drink! Try it for hot days!
Cucumbers are famous for adding crunchiness to sandwiches and burgers to make them more appealing to eat.
Tzatziki sauce, fresh cucumbers, and shredded marinated chicken will be a good treat for your days with full flavors and appealing texture.
Have you ever combined cucumbers with watermelon in a salad? The recipe must be the best for hot days as they're refreshing, watery, and slightly cheesy.
As with others, the salad with cucumbers, watermelon, and feta cheese is an easy and quick salad for your meals and is suitable for diet meals with full nutrients.
Cucumber soup is good, so how about dill pickle soup? The dill pickle soup is an authentic Polish recipe that's the perfect taste of sour, salty, and sweet together with a thick and creamy texture. Adding other veggies will make your soup more nutritious and healthy.
Nothing is better than sitting around with your family members and enjoying hot soup for rainy days.
Dill pickle soup will be a light point of your meals on cold days. Watch this video to know more:
Pickled cucumbers going with carrots and potatoes will create a crunchy salad to accompany many other meat-based recipes.
The salad is considered one of the easiest salads that'll help you to save a lot of time for cooking. The homemade pickles will perfect your recipe with the expected taste and texture. If you have got some pickled cucumbers, consider making this recipe for a good meal.
FAQs
The section below will let you something about pickles and cucumbers that you might question but have no appropriate answers to until now.
Do I Miss Something About Pickles And Cucumbers?
The article here has brought you plenty of knowledge about pickles and cucumbers and an easy way to turn fresh cucumbers into pickles for a few days.
Hence, if you find it useful to distinguish between pickles and cucumbers, just help me to share the post with your friends.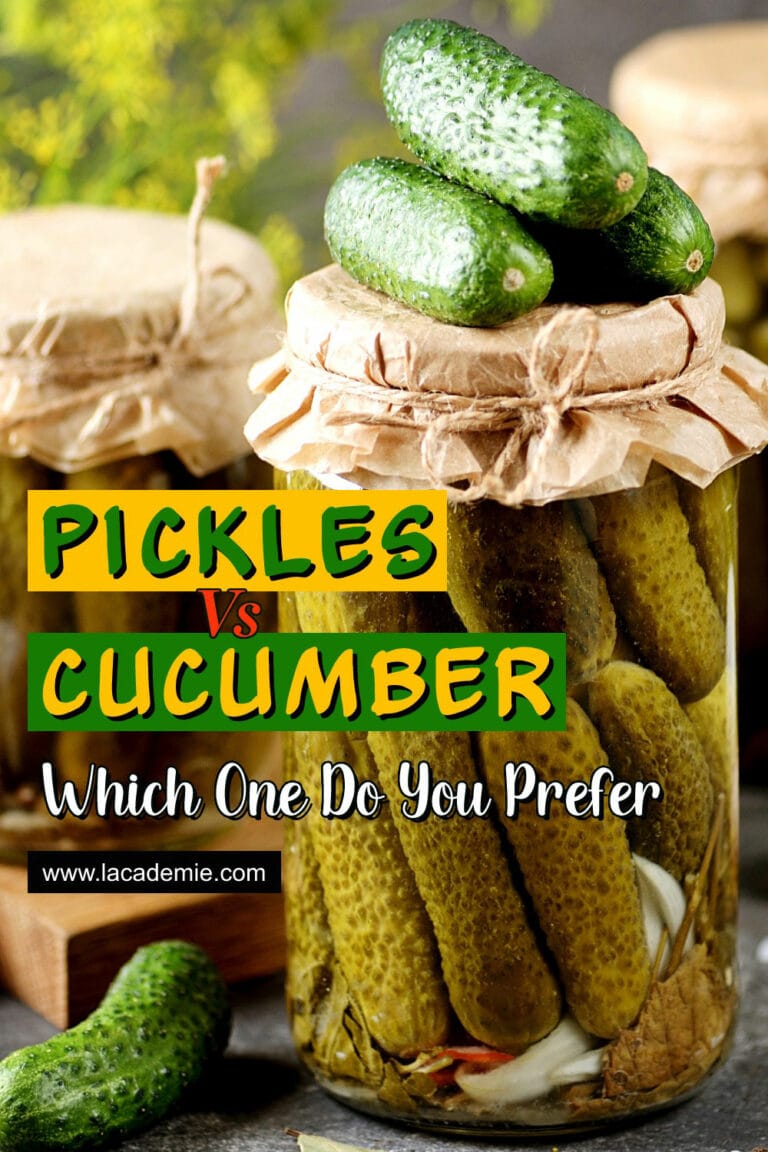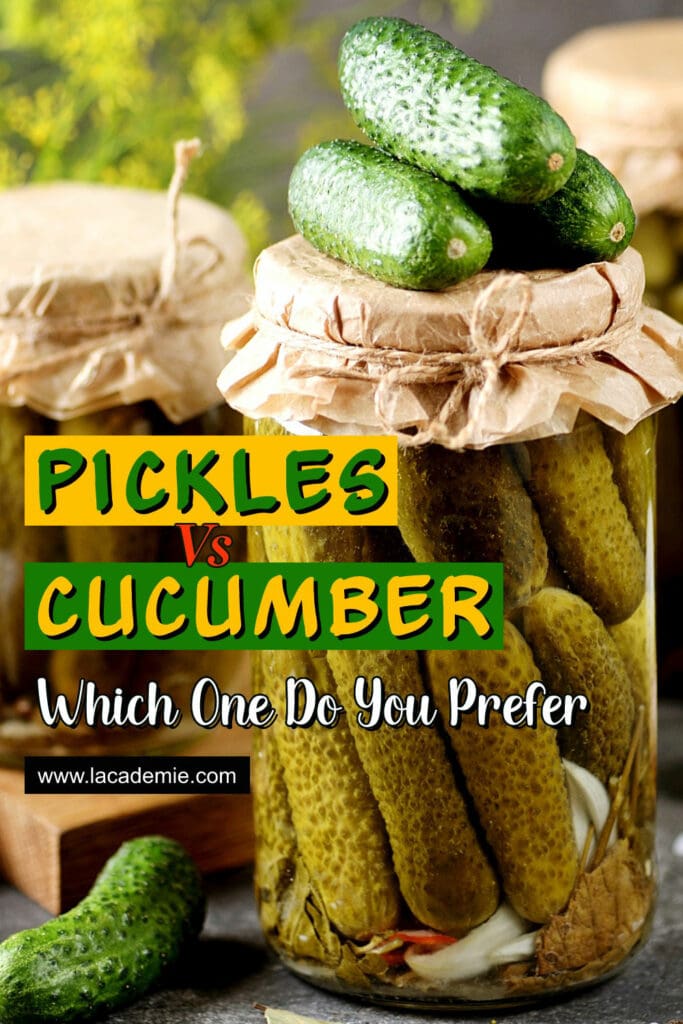 References
Kennedy, R., 2021. 9 of the Best Pickling Cucumbers | Gardener's Path.
Tips, B., 2021. 5 amazing benefits of cucumber face mask | The Times of India. [online] The Times of India.