Frying pan vs. skillet, aren't they the same? The short answer is no. Like how batch feed disposals are different from continuous feeds in many ways, you can say that there are also fundamental differences between frying pans and skillets.
Also, skillets are usually utilized for braising thick sauces and curries. Therefore, they come with a lid and are available in various materials but the most common among foodies is the cast-iron skillet.
In today's article, I will teach you more about skillets, frying pans, the differences between the two, and share cooking tips and tricks along the way. Without further ado, let's educate ourselves.
Is A Skillet A Frying Pan?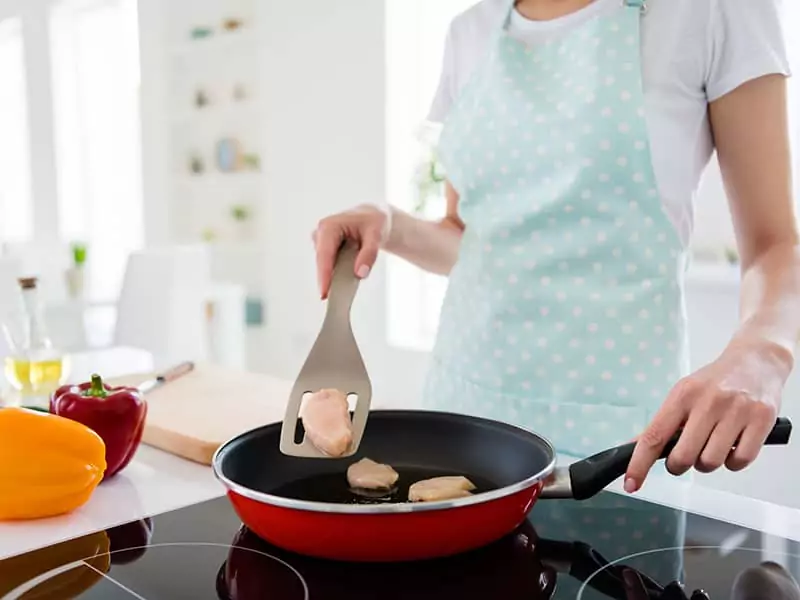 There's a misconception about skillets and frying pans. Aren't they the same thing? They're NOT. While some people use the terms interchangeably, others think the two have their differences.
Whether you're new to cooking or a veteran, you likely have experience with both tools in your kitchen. And you probably know that to the unattentive or untrained eye, every pan appears the same.
Only a professional and experienced chef will know exactly which skillet or pan to select for certain food. Us, mortals, don't care that much. But we should since the outcome depends on the tool we use.
Frying pans have a flat, wide base, and round flared sides, while skillets resemble frying pans with a wide round bottom, and high, curved sides, making it deeper. Some skillets feature two handles including one main, long handle and a helper one because these cooking tools often weigh more than frying pans.
The design of frying pans is their biggest benefit. They're shallow and thin with sloped sides. Their design helps the food spread evenly and cook faster. Skillets, on the other hand, have a heavy, thick design.
Meaning, they deliver amazing heat retention and you can cook your meal slowly under the lid. The best part? Most skillets are oven-safe. Thus, you can finish your cooking in the oven if necessary.
Watch this video to know more:
What Is The Difference Between A Skillet And A Frying Pan?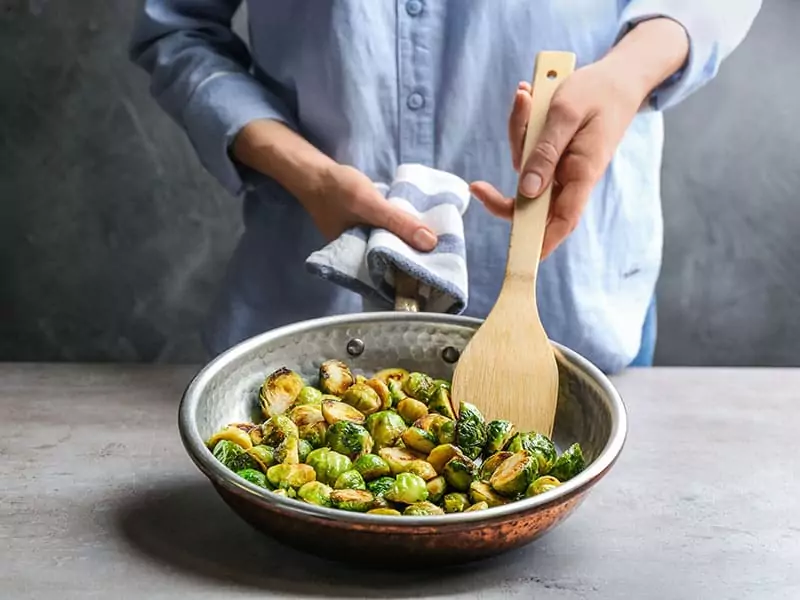 Skillets and frying pans appear similar and have very similar uses in the kitchen. Thus, you're forgiven for thinking they're the same kitchen appliance.
They're round with sloped sides, unlike your favorite sautéing pans, which have straight sides. That being said, let's take a quick look at some other main differences.
Frying Pan
Easily burns food
Scratch and rust-resistant surface
Usually, frying pans aren't oven-safe
They're thinner and shallower than skillets
Non-stick coating and heat up quicker
Super-versatile and requires less oil
Faster cooking and flavorful dishes
Require more attention
Skillet
Often, skillets are oven-safe
Affordable and excellent heat retention
They're often made of cast iron and take longer to heat up
They're also thicker and deeper than frying pans (at least 2 inches deep)
Non-toxic, non-stick, and increases the food's iron content
Heavy and the handle can easily heat up
Some lack a non-stick coating
Some people think that these two aren't that different while others believe the opposite.
The truth is, they have their differences and similarities. The ONLY real difference is that skillets aren't shallow. They're usually deeper than frying pans (at least 2 inches deep) and come with a lid.
Frying pans, on the other hand, make a great tool for frying, searing, and browning food since they're flat-bottomed and don't have a lid. They're ideal for high-heat grilling along with shallow and deep frying. They're also available in aluminum or stainless steel.
Today, you can find the better option of aluminum, which is hard-anodized aluminum. But there are no big dissimilarities between stainless steel and hard-anodized cookware in terms of quality or durability, so feel free to choose your favorite material.
However, you can easily find a frying pan that's a combination of both. French skillets are different from frying pans. They're more spacious and feature higher sides. However, they appear very similar.
And they can be utilized interchangeably for braising, grilling, roasting, stewing, and frying. At the end of the day, you can cook the same with both. Meaning, you can use a frying pan instead of a skillet and vice versa. When purchasing a frying pan or a skillet, consider the key differences mentioned above.
If you're looking for non-stick cookware that heats up quickly, look no further than a frying pan. If you're a fan of oven-safe, thicker, and deeper cooking equipment, consider a skillet made of cast iron.
Now, let's learn more about the characteristics, pros, and cons of skillets and frying pans.
Characteristics Of Skillet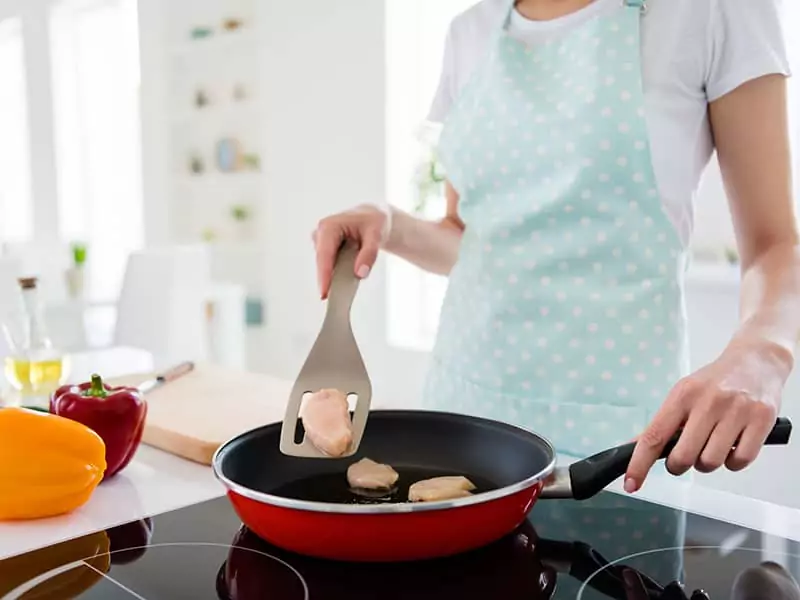 The most noticeable trait of skillets is their slated sides. The surface area is smaller than a sauté pan but it's more versatile and can be utilized for different purposes, so you can cook just about anything.
Whether you're making eggs, cooking meat, or stir-frying, this tool can deliver a nice surface for cooking like your finest stir fry pan. Also, skillets keep up incredible heat and make a great tool for preparing sauces and grilling steaks.
If you want to cook frittatas, opt for a skillet to easily slide the patty off the pan. As I already mentioned, skillets come in different materials, so let's take a closer look at the most commonly used ones.
Cast-Iron Skillets
The cast-iron skillet is the most popular type of skillet because it's long-lasting and robust. And with the right care and maintenance, your cast-iron skillet will last for years to come.
If you opt for a cast-iron skillet, you will have to season it often to prevent the food from sticking. Other than that, it's a good, easy-to-use, one-time investment with longer handles.
Aluminum Skillets With A Non-stick Or Ceramic Coating
If you're looking for the perfect skillet for cooking low-heat and quick foods like eggs and bacon, look no further than aluminum. It's not suitable for extreme heat as the coating can make hot spots.
Cooking tools with a non-stick or ceramic coating can last forever if taken care of properly. Never throw an aluminum skillet in a dishwasher as the harsh chemicals can damage the coating over time.
Stainless Steel Skillets
Stainless steel skillets are the most popular pans among professional chefs. If you're serious about your cooking, you should invest in a stainless steel skillet. It's easy to clean and super-durable.
The best part? It can handle extreme temperatures. However, there are various grades of stainless steel, so make sure you buy the highest quality. Next, let's discuss the cooking aspects of skillets.
Weight
Unlike skillets, a defining feature of sauté pans is that they have a broader diameter and base which makes them heavier but don't worry because they also have a helper handle along with the regular handle.
The second handle helps in lifting and moving the pan across the stove. Skillets, on the other hand, have only one handle. Since they're lighter, you can easily move them on the stove.
However, when you need to shake or still the sauces, skillets will be more helpful than frying pans. If you want your vegetables and meats to cook evenly, skillets will be a better choice.
If you prefer tender meat meals that keep all their flavors and sauces, then a deep sauté pan is the ideal choice. It all depends on your recipes, cooking preferences, and needs.
Capacity
The vertical sides of sauté pans enable you to pour more liquid. Therefore, if you're making soups, thick sauces, stews, and curries, these pans are just perfect for your cooking needs.
Thanks to the tall and straight sides, you're less likely to make a mess. Skillets, on the other hand, have thin angled-out sides and a flat bottom which can cause a mess when cooking a sauce.
The additional volume of sauté pans is also very useful when you're shallow-frying. Skillets are also good but the extra capacity of these pans will ensure that your dish cooks evenly despite utilizing just a couple tablespoons of oil. However, skillets have their benefits too like even heat distribution.
Preparing eggs, pancakes, frittatas, and dry stir-fry is perfectly done over a skillet. It tends to retain less oil. Also, the even heat distribution will provide amazing, mouth-watering meals.
Surface Area
The width of the lip of the cooking tool determines the surface area. Sauté pans with a 12-inch diameter will also feature a broader surface.
Skillets, on the other hand, are somewhat smaller in diameter than these pans. Meaning, skillets feature a 20-30% less cooking area than sauté pans.
If you're planning to braise meat in wine, a sauté pan is the right tool for you. However, if you're cooking fewer things at once, opt for a skillet.
Tossing Ability
Similar to any top-notch omelette pan, skillets are far better for tossing and sauteing food around than sauté pans themselves.
The wider walls of a skillet enable the food to move around without falling out. The straight and vertical walls of a sauté pan don't allow this. Meaning, good old skillets have a better tossing ability.
Sauté pans are a better option for foods that need gentle and occasional stirring like a noodles soup or a Bechamel sauce. Extra tip: Utilize a wooden spatula to prevent any scratches.
Evaporation Rate
The key to excellent cooking is manipulating the moisture in your meal. The design of a frying pan has a direct influence on how much moisture your meal holds.
A skillet, on the other hand, provides a flatter and wider surface that helps to cook down sauces. A sauté pan has a larger surface but if you want to lose the moisture, it's not a good option.
However, if you want to cook something saucy where you want the ingredients to be tender and juicy, a sauté pan will meet your cooking needs and preferences.
Characteristics Of Frying Pan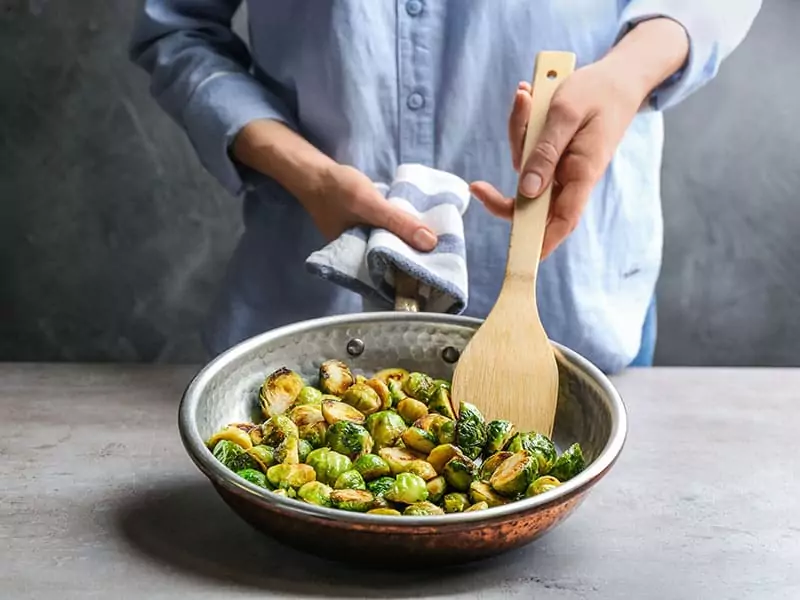 Frying pans come in different materials, handle types, and coatings.
Whether you prefer a non-stick frying pan for pancakes or natural finish frying pans for searing, you can easily find either on the market. Now, let's discuss the traits of frying pans.
Types
Pans can be made of aluminum, aluminum-clad stainless steel, hard coat/anodized aluminum, stainless steel/aluminum, copper/stainless steel, or carbon steel.
If you are questioning how safe carbon steel cookware is, don't worry, they are totally fine to create healthy food. Plus, they're rust-resistant and induction-ready. And they all create great heat conduction.
Induction-ready cooking tools are made of magnetic materials, such as iron or steel. Instead of standard cooking techniques where the cooktop creates heat that then passes to your tool via contact, induction cooking works via magnetic energy which heats the tool directly instead of the top.
If you're looking for cooking tools that will help you cook faster and safer by consuming less energy, look no further than induction-ready tools.
Thickness
Except for material design, it's also important to note the thickness of the frying pan you're buying. But how to determine the thickness of any pan? It's generally measured in either mils or gauge.
The manner you read these digits is very important. For instance, -1 mil is equal to 1/1000 inches. Thus, the higher the mil, the thicker the frying pan. The gauge operates in the opposite manner of mil.
The higher the gauge, the thinner the frying pan. Most pans are between a thick 10-gauge construction and a thinner 22-gauge construction. When choosing the right thickness, consider your needs.
Rivetless Vs. Riveted Frying Pans
If you're looking for sturdy handles, look no further than riveted handles. They're permanently attached and never require any tightening. However, they require more cleaning and maintenance.
Rivetless handles, on the other hand, enhance the durability of the frying pan. They offer effortless food preparation and less interposing from rivet heads while eliminating bacteria collection spots.
Handle Types
I highly recommend frying pans with stainless steel handles as they won't keep heat and will remain cool to the touch. Or search for metal ones that are hollowed in some manner for a cooling effect.
I also like cool or silicone handles. They have a comfortable grip for everyday use and slide off with ease for effortless cleaning. However, some silicone handles aren't made for high-temperature use.
Natural Finish Vs. Non-stick Frying Pans
Both natural finish and non-stick pans have different cooking abilities. I prefer non-stick ones because of their obvious benefits. However, what type you select depends on your needs and preferences.
Let's Cook Something Delicious
Frying pan vs skillet, many people wonder if they're the same tool. They're not but both have their pros and cons. Today's article can help you pick the one that meets your needs.
If you're cooking high volumes of food or anything with a decent amount of liquid, opt for a frying pan. If you prefer easy pan-to-plate fare and stir-fries, a skillet is a perfect choice for you.
What's your opinion on either tool? Have you ever used a frying pan or skillet before? Drop a comment to share your experiences and share this article with your social media friends.