Do you know what a saute pan is when identifying pan types? If you are unsure about your answer, I believe this post will provide you with all the information you need.
I know saute pan might not be too familiar to some of you, but their versatility far exceeds your expectations. That's why I created this post, which includes significant and in-depth knowledge about its origin, how it looks, when to use it, and ways to recognize it, among other pan sorts.
And once you feel in love with a saute pan, another good thing is that you can have many choices for outstanding and durable saute pan from the market. So sit tight and keep reading to explore new things.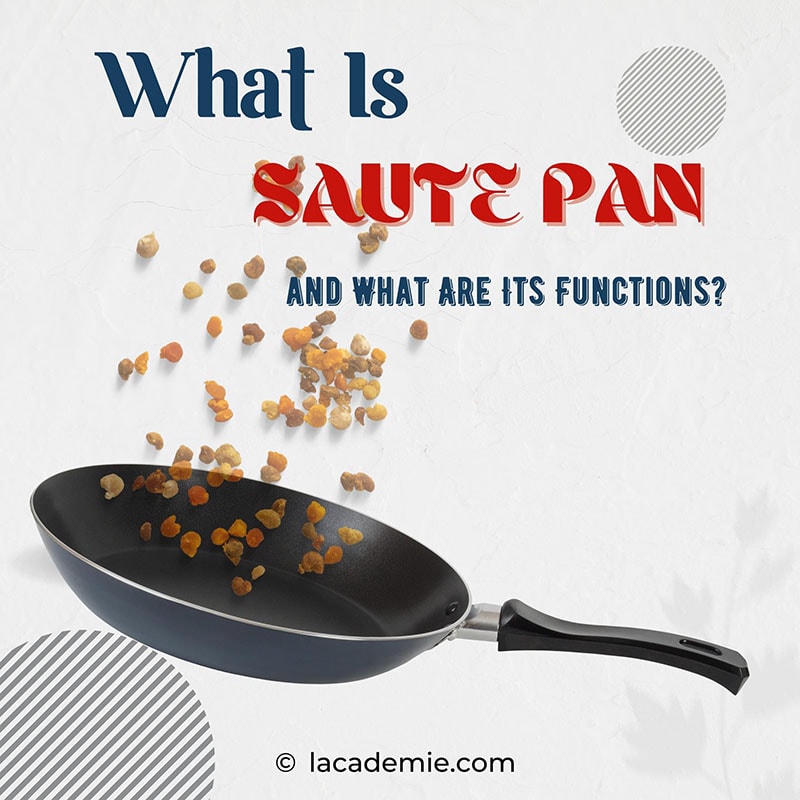 The Origin Of A Saute Pan
First, let's find out where a saute pan comes from and why it has this name. A saute pan is named as the act of sauteing – a popular cooking technique that requires relatively high heat and a small amount of oil.
The etymology "saute" is French-originated, which means "to jump" as the way you toss the ingredients when cooking(1). There is no definitive evidence of who invented or when the saute pan first appeared, but the original cooking pan was from ancient Mesopotamia(2).
What Makes Pan A Saute Pan?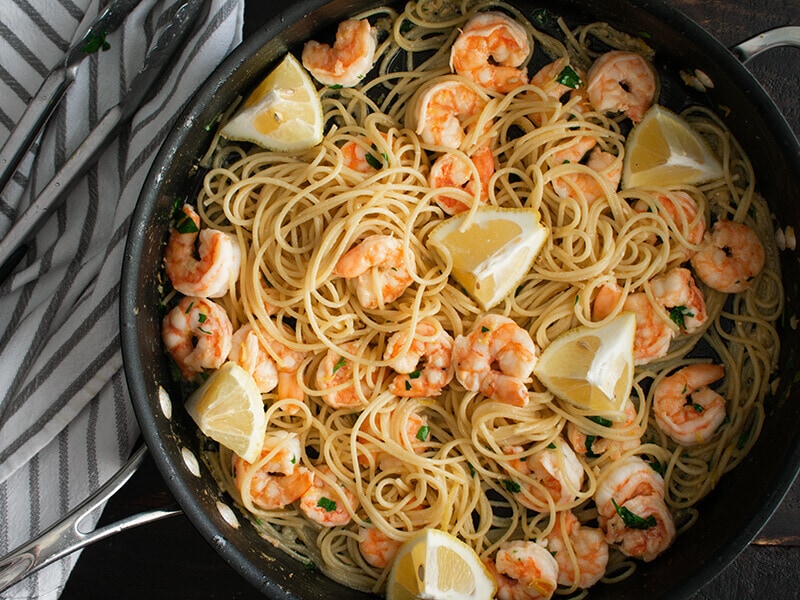 The best way to identify a saute pan among other cookware is by checking its appearance. It includes their shapes, lid, handles, and dimension.
Shape: Saute pans have a wide and flat bottom. Their sides are straight and relatively tall. So overall, they have a large surface area.
Lid: Most saute pans are lidded to lock heat and moisture well
Handle: They are also constructed with a long, sturdy handle and an extra helper handle on another side.
Dimension: This pan is sized by volume, ranging from 3 to 7 quarts. People use this measurement as a saute pan is often used for liquidy dishes.
What You Can Cook With A Saute Pan
With the special designs explained above, saute pans can handle different cooking methods. That's why they are considered one of the most versatile kitchenware as you can use a saute pan to saute, sear, fry (pan fry, shallow fry, or deep fry), poach, braise, etc.
So let's break down their versatility into smaller food groups to explore more about their functions.
For Sauteed, Seared, Deep Fried, etc.
With its relatively large cooking surface, a saute pan will ensure ample space to sear big meat pieces without letting them touch the pan side. Moreover, they can hold a larger amount of oil so that you can create many deep-fried dishes with ease.
For Dishes That Require Liquid
Saute pan is wonderful in cooking liquid recipes like curries, chilies, sauces, casseroles, or braised recipes, thanks to its vertical and relatively tall sides. Thus, it can minimize the sloshing even when you move it from one place to another. It can brown meat perfectly as well.
Let's prepare a Beef Stroganoff with the aid of a saute pan. Watch this video:
Compatible In The Oven For Finishing Part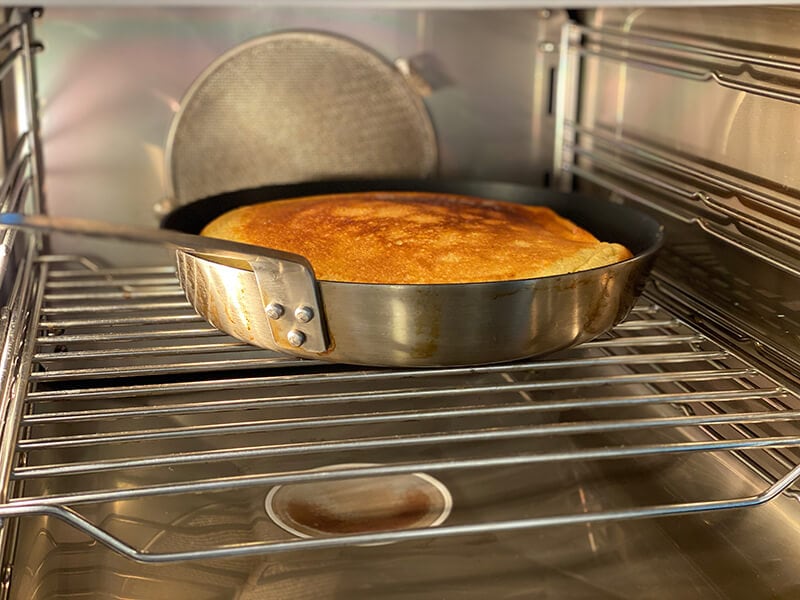 Most saute pans can be used in the oven as they are high-heat resistant. You can transfer your pan into the oven and let this electric appliance take care of the rest. For example, frittatas – a classic Italian dish for breakfast, or meaty dishes are ideal for cooking on a saute pan.
Overall, saute pans are constructed to deliver even heat distribution and superior heat retention. And with the lid, you can slow down the evaporation.
How To Use A Saute Pan Correctly
With the following 4 ways to use a saute pan as below, you will have a closer look at what types of recipes you can make with a saute pan and how it works to provide well-done cooked and delectable meals.
Use Direct Heat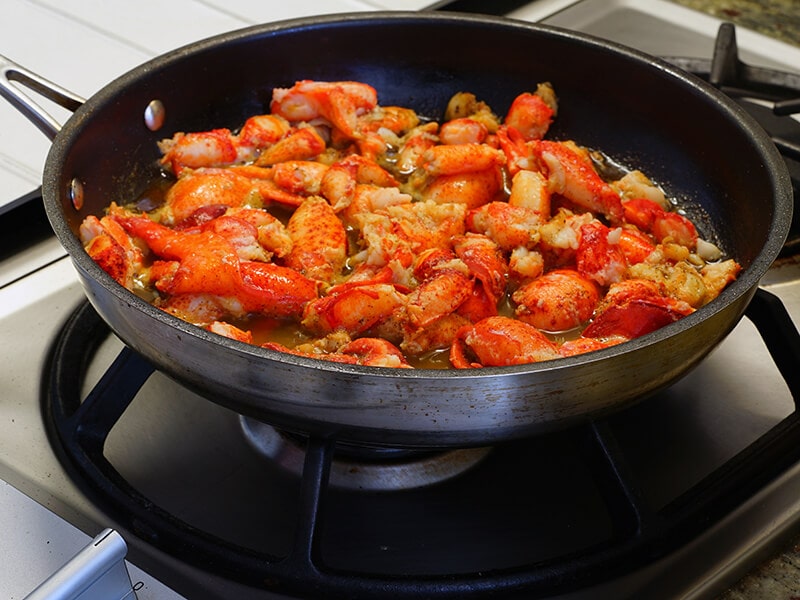 When you place your pan on a direct heat source like gas, electric, induction, etc., it means you have to stir your food constantly for evenly cooked ingredients as the heat can spread from 1 direction (from the bottom).
If you brown the meat, you should use a utensil, like a kitchen tong with an ergonomic design, and flip it over to cook both sides.
Use Indirect Heat
First, you have to make sure your pan is oven-safe, then you can use the heat in the oven to cook. It can be seen as a slow-cooking form, as the indirect heat inside the oven will not heat your pan and food as fast as direct heat sources like electric, gas, induction stovetops.
Therefore, many people prefer to use this method to finish their dishes. For instance, you can cook frittata with a saute pan on the stove first, then transfer it to the oven for finishing.
Use Moist Heat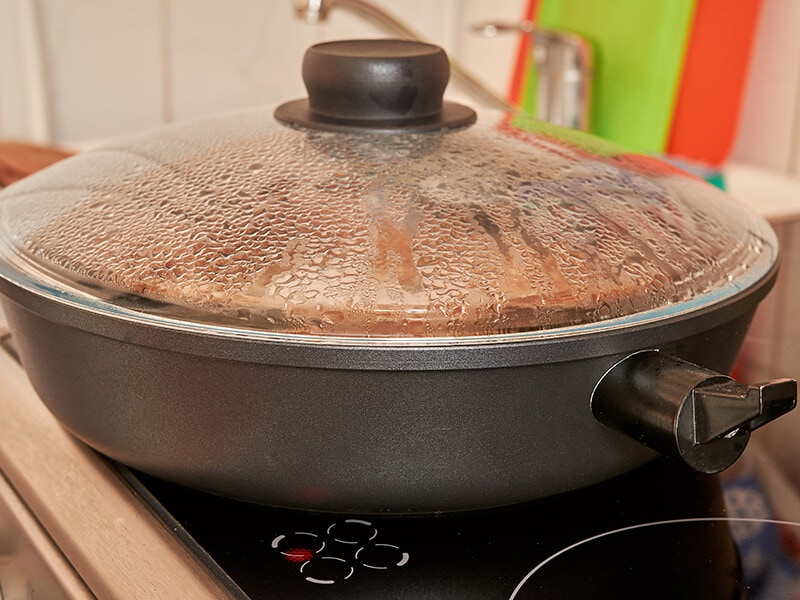 What is moist heat, by the way? It is the heat that has moisture in it. It would be beneficial for liquid recipes. And as the saute pan has a lid and vertical wall, they are excellent in using moist heat for cooking meals.
A saute pan will ensure the best moisture level and make your food tender with the liquid from water, broth, wine, or broth.
Use Dry Heat
Conversely, the dry heat technique does not ask for too much liquid to cook, so it is fine if you use a little bit of oil or fat.
In this case, foods are exposed to high heat underneath or above (like direct and indirect heat). It is applied for pan-searing, sauteing, roasting, or baking.
Pros and Cons Of Using A Saute Pan
The next part analyzes the advantages and disadvantages that a saute pan might bring. You can also see it as the summary for why (and why not) you should have it. Let's begin with how you can benefit from using it.
Pros
Cons

Have a large surface to cook a large amount of food without overcrowding.
Suitable for various dishes, from wet to dry ones, so you do not have to buy different tools for other uses, which helps you save more storage space in the kitchen.
Perfect for braising foods with a little bit of wine, stock, or broth.
The majority saute pan is oven-safe, ideal for finishing your dishes.
Its volume and depth are advantageous for frying food with a lot of oil, like deep frying.
Reduce the level of foods splashing out thanks to its higher side, keeping your kitchen cleaner and safer.
The large surface is also excellent for searing meat, like steak or chicken.
Provide the perfectly even heat contribution and heat retention so your dishes can come out well-cooked and delicious.

They are not designed for mixing, shaking, or tossing due to their relatively heavyweight and straight sides.
Might not saute ingredients as good as a skillet, ironically.
The Comparison of Saute Pan and Other Pans
After understanding the traits and uses of saute pan, let's compare it to other pans so you can easily tell them apart right from the first look. For a better review, you can check the table below to compare a saute pan and other types of pan.
Types of Pan
Appearance
Handle
Included Lid
Size Measurement
Uses
Saute Pan
Straight (or slightly curved) sides with a large cooking surface
Long and sturdy
Yes
By quart
For seared, sauteed, pan-fried, shallow fried, deep-fried, poached, braised, etc.
Skillet/Frying Pan
Slanted and flared sides which are shorter than saute pans'. The cooking surface is also smaller
Long and ergonomic
No (can buy separately)
By inch
For high-heat seared, pan-fried, stir-fried, sauteed, or any dry heat ideas
Sauteuse
High and slightly-sloped sides.
2 loop handles on each side
Yes
By quart
Sauteing, roasting, searing, frying, braising, etc.
Saucepan
Taller sides and a narrower shape than most saute pans
Long
Yes (generally)
By quart
For boiled, poached, recipes, or making sauces, soups, stews, etc.
Chef's Pan
Sloped and deeper sides than saute pan
Long and large
Yes
By quart
For seared, sauteed, fried dishes, egg recipes or make sauces, etc.
Wok
Wide and sloped sides with a small cooking surface and round bottom
Have bigger size and deeper sides than saute pan
Long and narrow
No (generally)
By inch
For stir-fried, pan-fried, deep-fried, seared, boiled, poached, braised dishes, etc.
Skillets
How to decide between saute pans and skillets? In fact, many people also prefer skillets as frying pans as they both have slanted and flared sides. Skillet's sides are also shorter, and its cooking area is smaller than saute pans'.
They are perfect for cooking methods that require moving, shaking, flipping, or tossing ingredients. You can use it for cooking dishes like pan-fried, stir-fried, sauteed, high-heat seared, or any dry heat recipe.
They also come with a long and sturdy handle but not a lid. Unlike a saute pan, the size of the skillet/frying pan is measured by the diameter of the pan top. The ideal size is an 8, 10, or 12-inch skillet.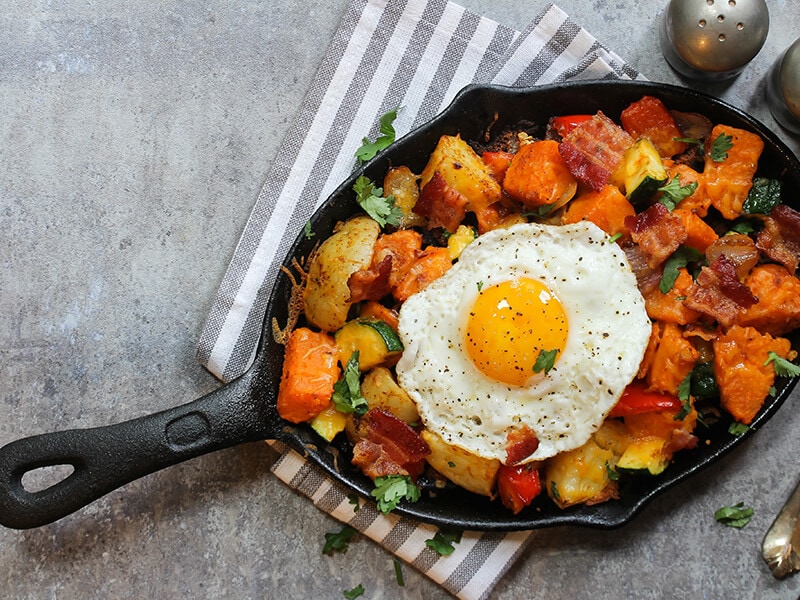 Here is a detailed comparison between a saute pan and a skillet.
Sauteuse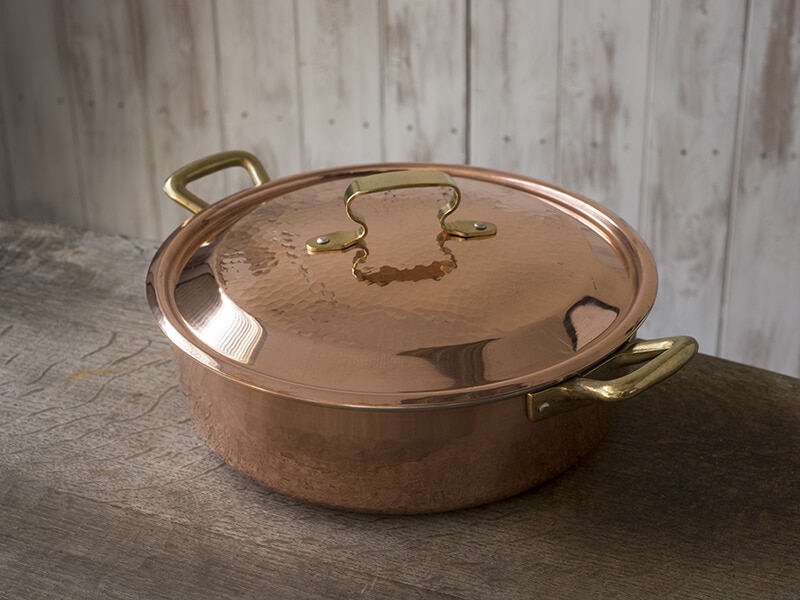 Many people also have a misconception about sauteuse pans as they think it is just another name for a saute pan, but this is not the case. Sauteuse pans are different as they have 2 loop handles on each side, not a long handle like a saute pan, so it is not designed to flip foods.
They are also lidded cookware with high and slightly-sloped sides. Sauteuse pans are available in different sizes, from 2.5 to 7 quarts. You can apply various cooking methods like how you use your saute pan (e.g., sauteing, searing, frying, braising, etc.).
Saucepan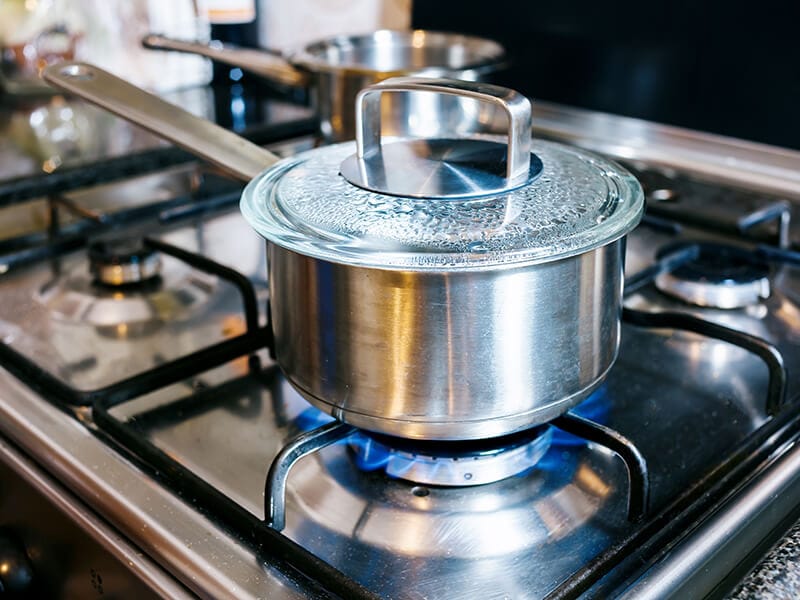 The key difference between the saucepan and saute pan is a saucepan has taller sides and a narrower shape than most saute pans. The standard size range of this pan type is from 2 to 4 quarts.
Also, most of them come with a lid like a saute pan. With the high wall, the saucepan is superior in cooking recipes that call for a lot of liquid as sauces, stews, poached, or boiled recipes. And if you have a big crush on hearty Italian soup dishes, a saucepan will please you.
Chef's Pan
You can imagine this pan is a combination of the skillet and saute pan with sloped and deeper sides. You might also find some chef's pan with straight sides.
The wok can be made from various materials, and one of the common types is carbon steel woks with amazing performance.
They also have a lid, and a large, long handle as a saute pan. The size range of the chef's pan is varied from 2 to 6 quarts. And you can also use it to sear, saute, fry ingredients, cook egg dishes, make sauces, etc.
Wok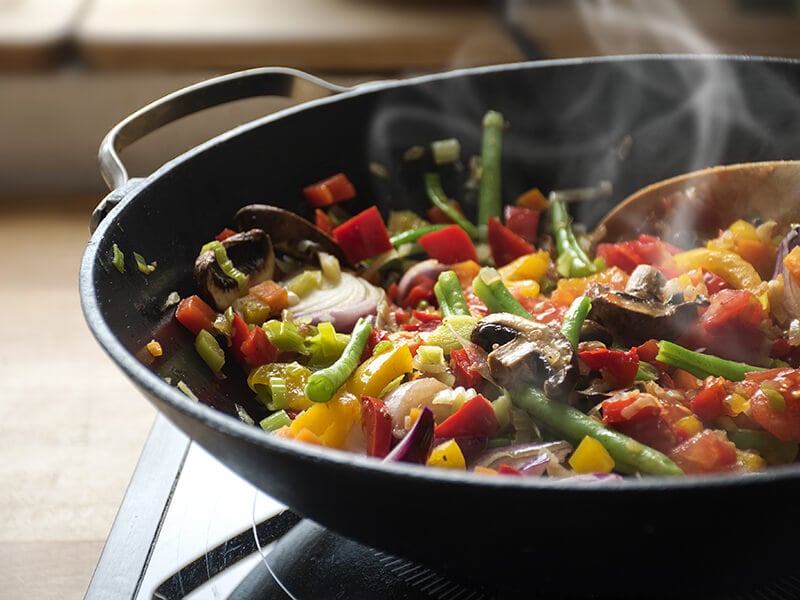 Woks are famous cookware in Asian countries that originated from China. They feature wide and very sloped sides, so their cooking surface area is typically small. Its shape and a long, narrow handle allow you to stir and toss ingredients without spilling them outside.
Wok is a signature cookware of China, and is one of the many factors helping you distinguish Chinese and Japanese cuisine. This Chinese cookware is suitable for most dishes that require intense heat.
Woks are often larger and have deeper sides than saute pans, allowing you to cook a larger amount of food in them. Because the bottom is round, it can hold a little liquid in the middle.
The best recipes you can cook with it are stir-fried, deep-fried, pan-fried, seared, poached, boiled, braised dishes, or more.
If you are still undecided about which pan to use, have a look at this demonstration:
Top-Rated Saute Pan To Buy On The Market
If your final decision is a saute pan, here are the top 3 products that I believe you will wish you had known about sooner.
This product is a must-have if you look for an excellent, long-lasting saute pan. This pan has made many people's cooking time more comfortable and pleasurable, which is why it is so highly praised.
The hard-anodized aluminum body, which distributes heat evenly and resists warping, is the reason for its outstanding performance. Furthermore, the coating comprises two nonstick layers, making cleanup a snap.
You will be shocked at this pan's price at first because who would have thought this super affordable pan could offer various delicacies.
Indeed, this T-fal kitchenware has thrilled me with its durable nonstick coating, light yet sturdy handle, and Thermo Spot indicator showing when this pan is ready to cook. Such a great deal, right!
Ninja Foodi Premium saute pan is another superior option as it is equipped with many promising features for a long-lasting pan. Their nonstick coating is superbly strong to prevent chipping, flaking, or sticking.
And what makes me so happy with my purchase is all of their parts, including the lid, handles, and pan, are safe in the oven with high heat at up to 500 degrees F.
5 Significant Notes When Buying A Saute Pan
This informative article will be incomplete if there is no buying recommendation for a decent saute pan, right? So keep rolling down for more information.
Size
Their sizes are varied, but the most common sizes are 3, 4, 5, and 6 quarts. The bigger volume they have, the more room for you to cook.
So it depends on how many people in your family or how much you normally eat to choose an appropriate size. Or you can apply a basic estimation: 1 quart is enough for 1 person.
Material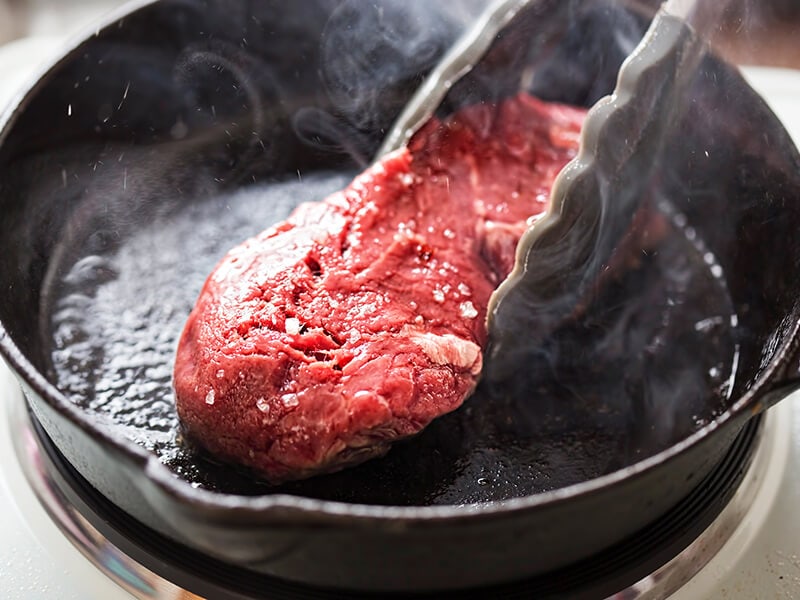 There are many kinds of saute pans' material, like cast-iron, ceramic, stainless steel, aluminum, hard-anodized aluminum, etc. Let me show you some key points about each material.
Cast-iron: Saute pans that are made from this material are extremely durable. They can retain heat ideally and have a nonstick coating if you season it properly.
Aluminum: You will find a lot of inexpensive aluminum saute pans on the market. And they are really good at heat distribution, but they might not retain heat as well as cast-iron varieties. Plus, some items with hard-anodized aluminum with better durability.
Stainless steel: They are perfect in high-heat withstanding and dishwasher-safe to save your time in cleaning. And stainless steel saute pans are more durable than regular nonstick pans.
Ceramic: The best thing about this material is an eco-friendly and healthy pan. They are also easy to clean and lightweight.
In case you do not know which one is better regarding the distinction between stainless steel and hard-anodized kitchenware, particularly, please remember both of them have good and bad sides.
Coating
Nonstick or uncoated pans like stainless steel, cast-iron pan, which one is better? Actually, it is hard to give you a precise answer because it also depends on your requirements for a suitable pan.
Nonstick coating's advantage is the cleaning part because you can do it without effort. They are also better for food release. However, the biggest downside of this type is they might not be too durable as the coating will be affected after years of use.
In this case, you can go with a cast-iron or stainless steel saute pan instead. They can also provide a good nonstick coating with a little trick called seasoning.
Do not miss this guide if you have not known the correct way to season your cast-iron pan:
Handle and Lid
Saute pan is often used for liquid-based dishes; therefore, it needs a sturdy and ergonomic handle for safety use. It should be strongly riveted to the pan with stay-cool features.
Another thing to check is the lid. Most saute pan lids are glass. If possible, opt for those with tempered glass. Or you can buy products that their lids have the same material as the pan, allowing you to put it in the oven as well.
Cooktop Compatibility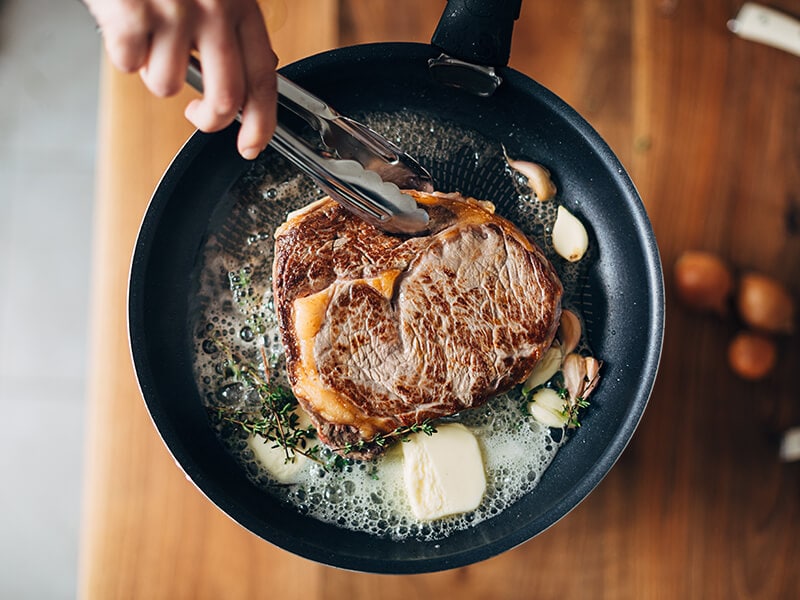 Last but not least is about their compatibility on different types of stoves. Some material is not induction-safe, like aluminum.
So if you use an induction hob, you should check those made from stainless steel or cast iron. In general, stick for a pan compatible with as many stoves as possible.
What are the considerations for buying a saute pan? Let's see this video to know:
FAQs
With a few frequently asked questions below, I hope you will better understand this helpful pan in the fastest way.
Do I Need A Saute Pan? The Answer Is Yes
Saute pan is multiple-use cookware that everyone should have, especially those that live in an apartment or small houses, because it can handle various cooking jobs perfectly.
They are great for many cooking methods like sauteing, frying, braising, poaching, etc. With vertical, high sides and a larger cooking area, a saute pan can hold liquid better than a regular frying pan.
So do you have a saute pan at home? If yes (even no), please tell me how much you love it or why you still hesitate in getting one. And please do not forget to like and share if you find this post helpful. Thank you!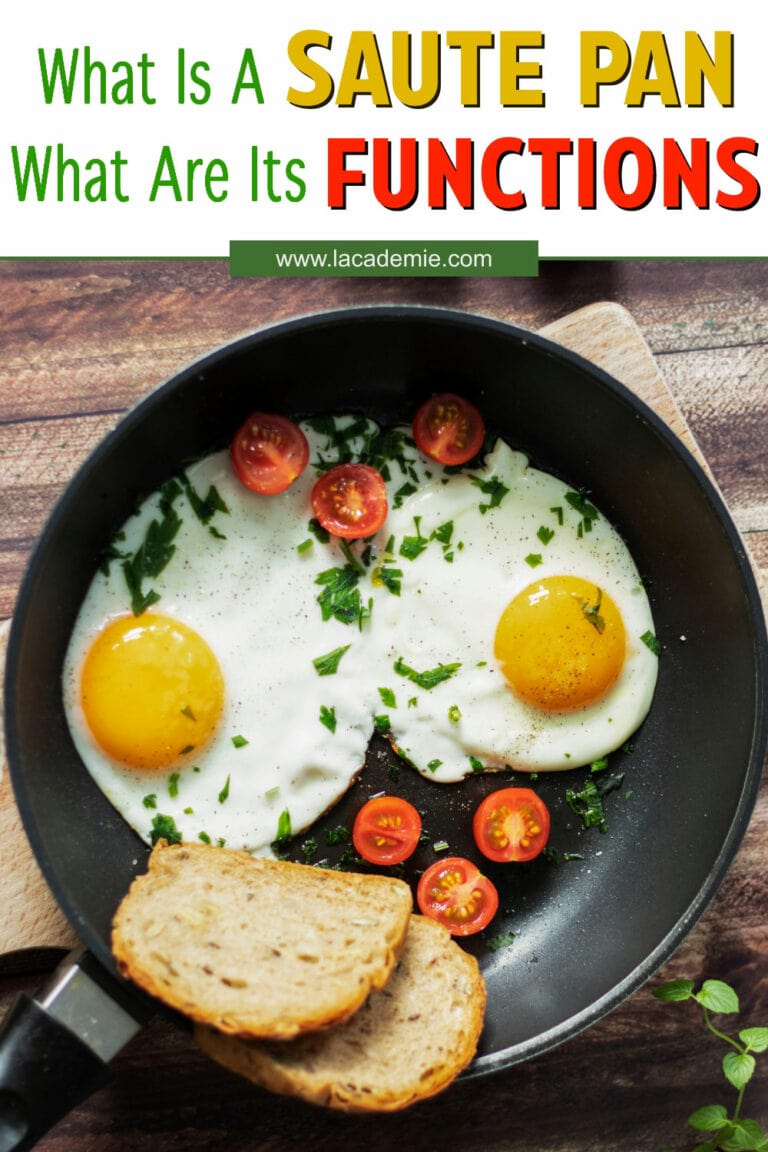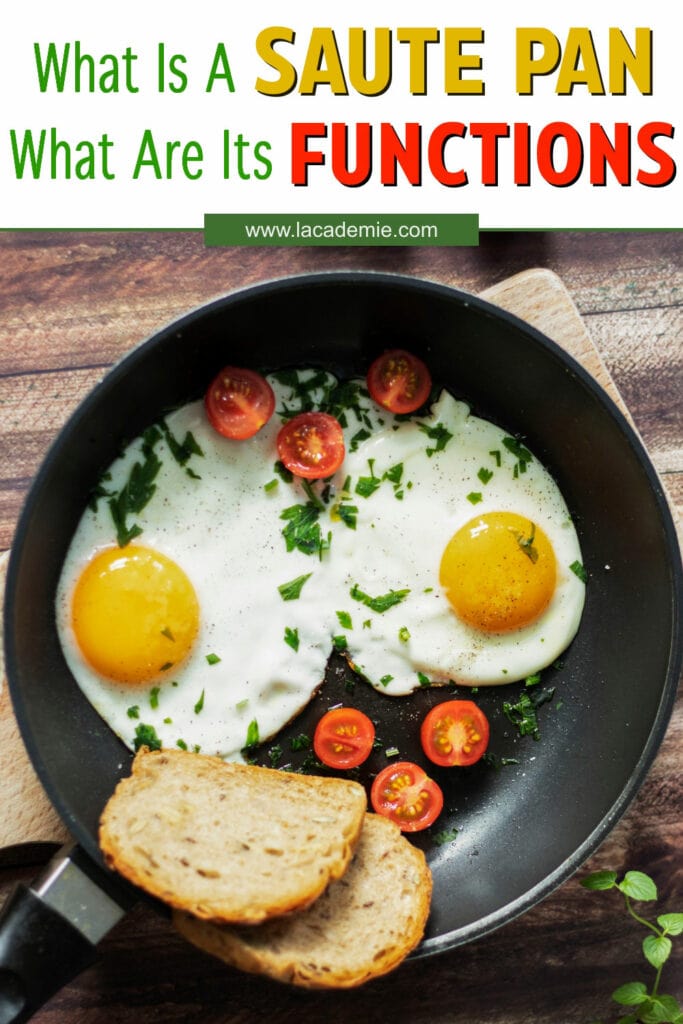 References
En.wikipedia.org. 2021. Sauteing.
En.wikipedia.org. 2021. Frying Pan.