Many people are still confused about different types of stoves every time they go to the supermarket to choose among types the best suitable one for their home. Don't overlook this post if you want to show that you are a savvy shopper in this situation.
A stove is an appliance that produces heat inside or on top of it using fuel sources such as wood, gas, or electricity. They are a popular kitchen appliance in most households in the world. Have a check to understand more about these stove kinds.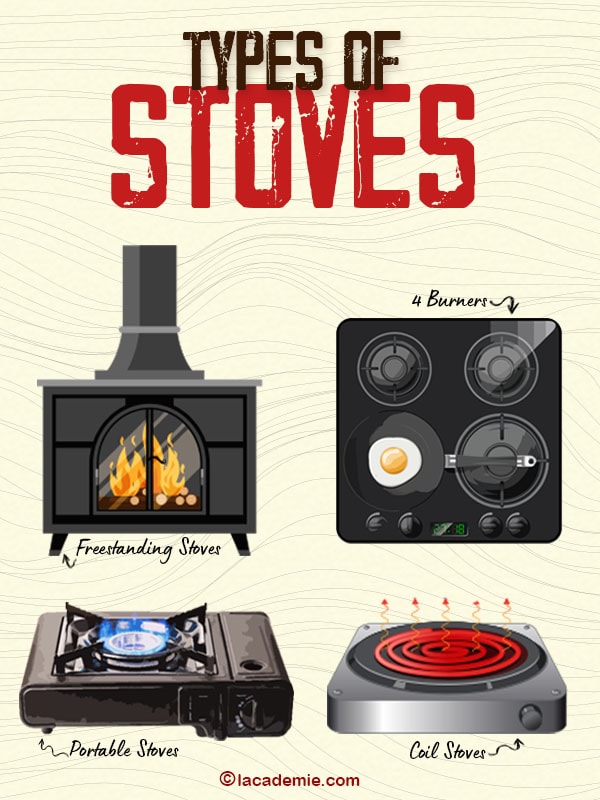 Stoves Vs. Ranges: Break The Confusion Between Them
Many people mix the terms "stove" and "range". Are they, nevertheless, the same concept? If you don't know the answer, you shouldn't skip this section.
| Stove Vs. Range | Stoves | Ranges |
| --- | --- | --- |
| Definition | A kitchen device that provides heat to cook food, which might or might not include an oven | The combination of a stove and an oven |
| Main Source Of Fuel | Vary | Gas and electricity |
| Number Of Burners | Vary (based on your requirement) | Vary but might contain more burner than stoves |
| Used For | Cooking and heating | Cooking, heating, and baking |
Stoves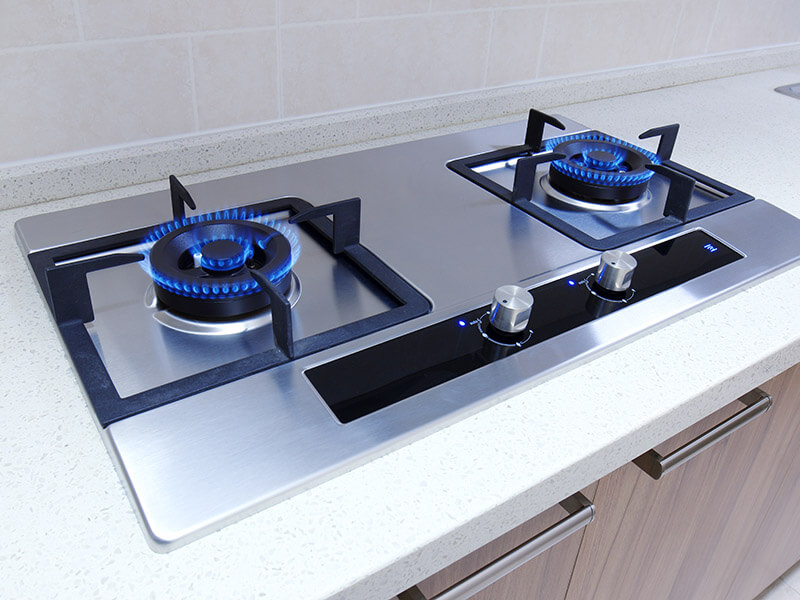 A stove is a kitchen appliance using wood, coal, electricity, or gas as the primary fuel to produce heat. It is always available in the market in different sizes and styles. Unlike ranges, a stove can include an oven or not.
You can use this kind of kitchen appliance for cooking many sorts of food, and some types are ideal for heating the home. Cooking stoves often consist of 2 or 4 burners. They also have a removable stovetop.
Ranges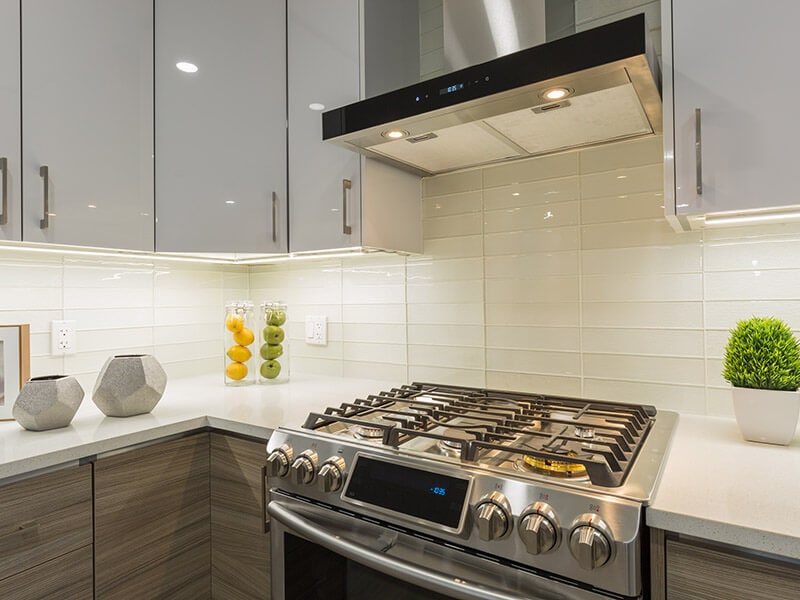 Ranges is a stove with an oven that uses gas or electricity to generate heat. You can refer to a range as a kitchen appliance which combines a stove and an oven.
A range consists of many ovens in a row or line. If you want to install ranges, you need a spacious kitchen. They often have 6, 8, or even 10 burners cooked simultaneously.
Popular Types Of Stoves To Suit Your Needs
This section will show you some of the most popular types of stoves in the world. When you want to buy a stove, the salesperson will suggest these types.
Types Of Stove
Characteristics
Pros
Cons
Electric Stoves
Use electricity to produce heat
Have a flatter surface
Convenient
Safe
Easy to use
Inexpensive
Easy to clean
Consume 3 times as much energy as a gas stove
Heat slowly
Gas Stoves
Use liquid propane or natural gas to produce heat
Heat up fast, and have instant heat
Versatile
Work well with various pans and pots
Cool down quickly
Create a greasy surface when cooking
Difficult to clean up
Dual Fuel Stoves
Consist of a gas stovetop and an electric oven
Highly responsive
Produce even, and consistent heat
The purchase and installation cost is high
Need a dedicated gas line
Wood-Burning Stoves
Burn wood to produce heat
Made of cast iron or steel
Produce more heat but use less firewood
The initial cost and the installation cost are very high
Take more space
Bulky
Pellet Stoves
Burn wood pellets t produce heat
Produce less ash
Flexible
Produce more heat but has a deficient emission number
Take up more space
Expensive
Require more maintenance
Portable Stoves
Include 2 or 3 heating elements
Consist of the burner, fuel tank, and pot support
Small-sized, and lightweight
Unsuitable for cooking multiple dishes
Induction Stoves
Use electromagnets directly heat the pan
Cook faster
Energy and cost-saving
Safe
Require new pots and pans that contain iron particle to work well
Expensive
1. Electric Stoves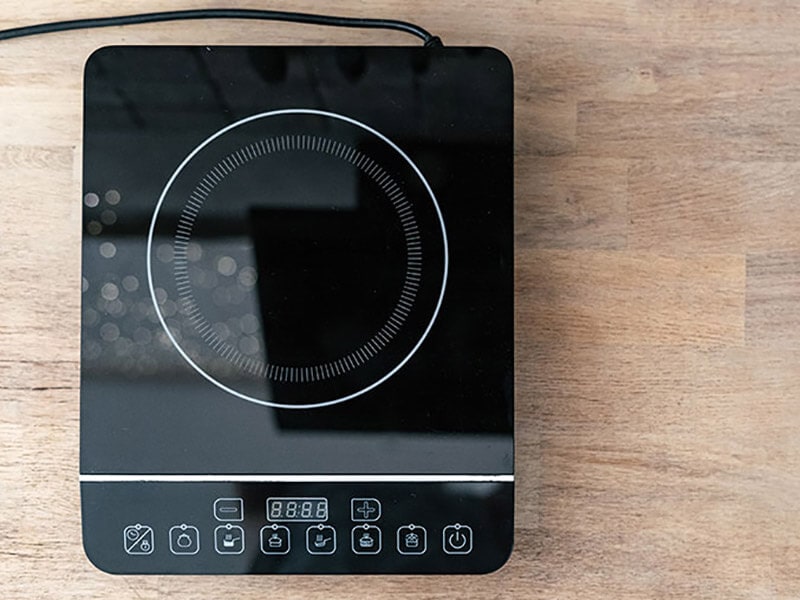 An electric stove is one of the top priority choices of consumers because it's convenient, safe, easy to use, and relatively inexpensive. This type of stove is an electrical device that uses electricity to produce heat.
An electric stove has a flatter surface, making it easy to clean. Without an open flame like gas stoves, there is no fear of leakages or dangerous situations. Moreover, using electric stoves will help your kitchen stay cooler.
Although electric stoves are very beneficial, they also offer some limitations. They consume almost 3 times as much energy as a gas stove. However, the heating time of this type of stove is much slower. This causes your food to cook slower.
Furthermore, because electric stoves take a long time to heat up, it's difficult for you to know when you need to adjust the temperature while cooking or baking.
2. Gas Stoves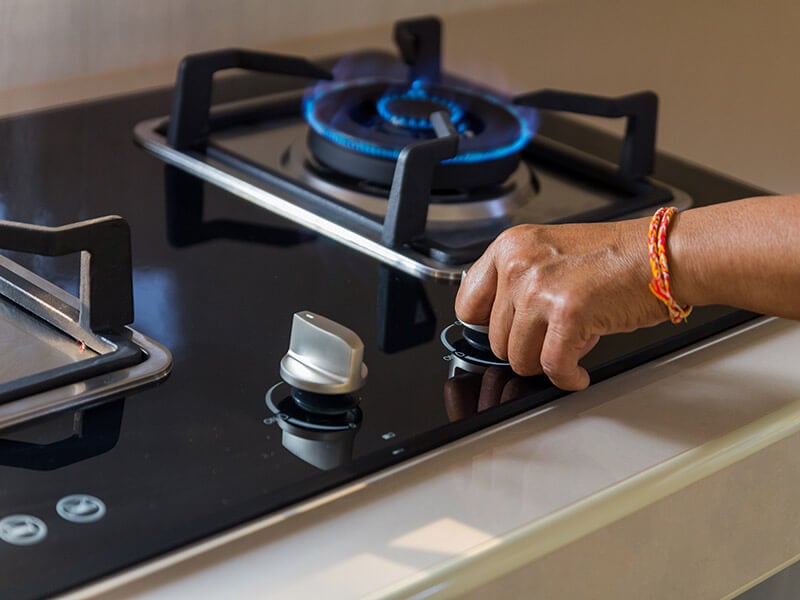 Gas stoves are a type of stove using propane, natural gas, syngas, etc., to generate heat. Due to the powerful flame, gas stoves heat up fast and produce instant heat. You can start to cook right after turning on this kitchen appliance.
This heat also helps you control the temperature from high to slow instantly, making it easier for you to get the best result. Gas stoves are very versatile. You can utilize them for grilling, boiling, simmering, and searing.
Gas stoves are also a good choice if you are looking for a stove that works well with many types of pans and pots. Although they create an open flame, they cool down as quickly as they heat up.
However, you have to prepare a gas line to operate this stove type. Furthermore, gas stoves will create a greasy surface while cooking. You need to spend time cleaning up frequently.
Electric stoves Vs. Gas stoves: What are the differences?
3. Dual Fuel Stoves
A dual-fuel stove combines a gas stovetop with an electric oven, so you need two fuel sources to install this type of stove. It means that there are two types of heat in a stove (gas and electricity); therefore, the benefits they can offer will include a combination of both.
Dual-fuel stoves are highly responsive and produce an even and consistent heat, making your dishes cook more evenly. You can also get crispier foods thanks to their dry heat.
You can use this type of oven for baking, searing, and sauteing. If you want to buy dual-fuel stoves, you should consider the purchase and installation costs because they are pretty high. A dedicated gas line is also a concern of this stove.
4. Wood-Burning Stoves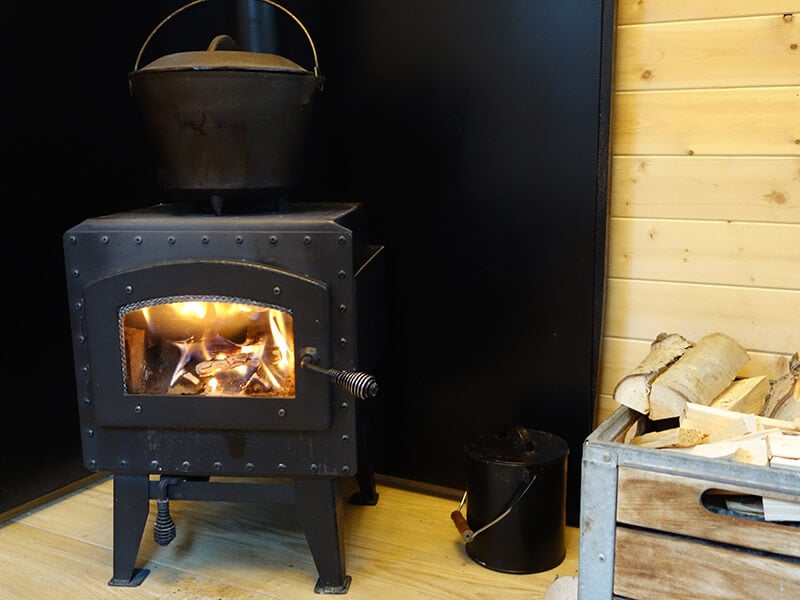 Wood-burning stoves produce heat by burning wood (the significant fuel source) in an enclosed chamber. Mostly made of cast iron or steel, wood-burning stoves aid in maximizing the heat production and efficiency of firewood burning.
Although they produce more heat, they use less firewood. However, these wood-burning stoves are quite bulky, so they will take up more space in your home.
The initial cost of buying a wood-burning stove is a concern for many users because it's relatively high. Besides, you also consider the expensive installation cost before purchasing this type of stove.
5. Pellet Stoves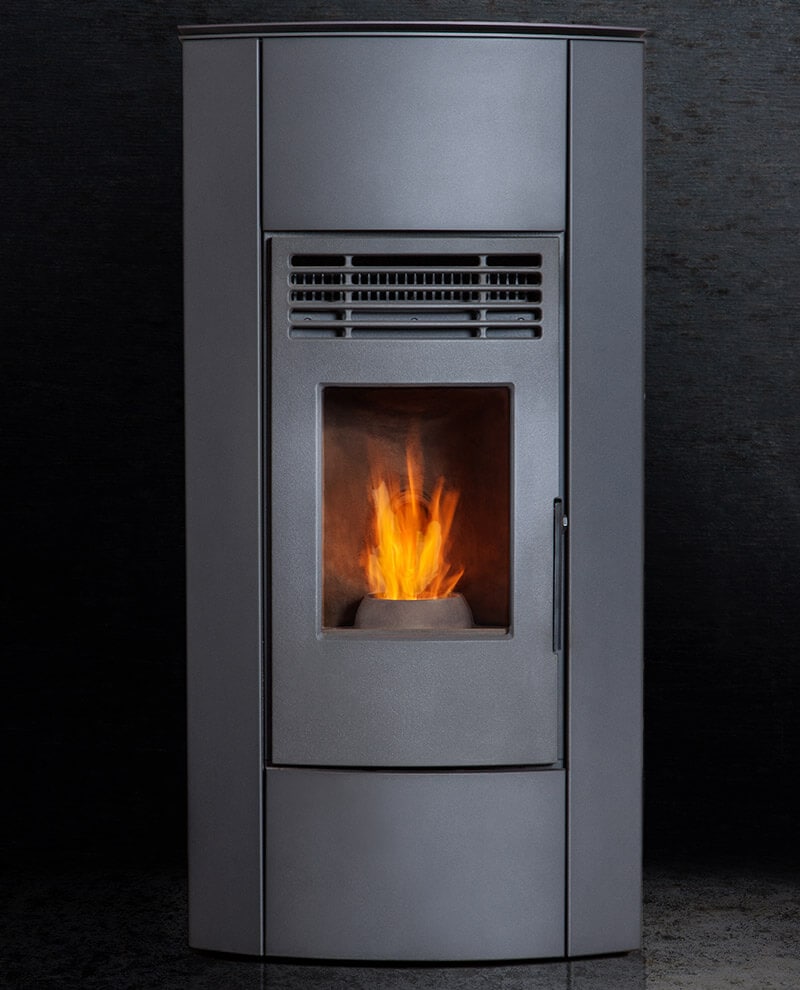 Known as the cleanest form of solid-fuel heating, pellet stoves generate heat by burning wood pellets. That's also the origin of their name. Wood pellets help your stoves produce less ash than regular woods.
It's flexible for you to choose a location in your home to install a pellet stove because this type of stove usually vents directly through a home's exterior wall. It creates a significant amount of heat but has a deficient emission number.
The initial installation cost of pellet stoves is low, but their size is bigger than wood-burning stoves. Therefore, you need more space in your home if you want to buy this kind of stove.
Furthermore, you need electricity to operate this type of stove. Although it looks simple, pellet stoves contain many moving and electrical components. You have to maintain them frequently if you want them to function correctly.
Discover the reasons why pellet stoves are very popular.
6. Portable Stoves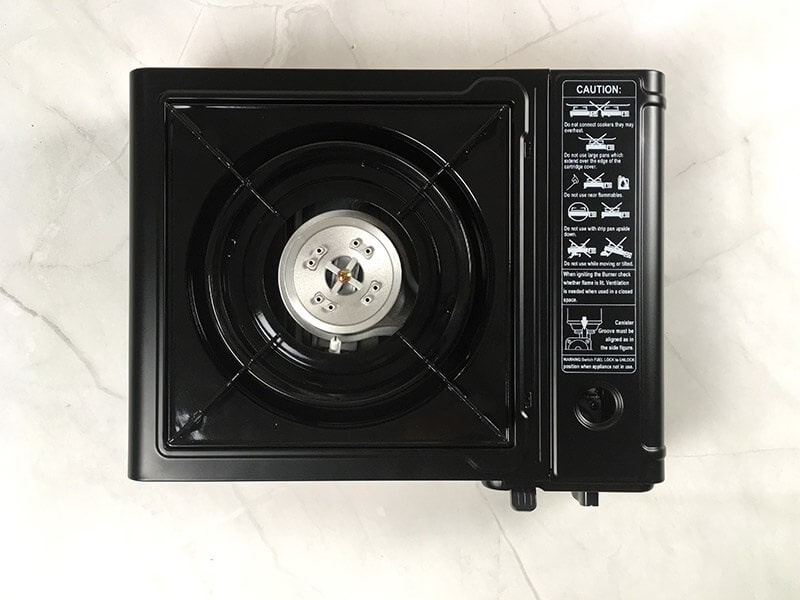 Are you a travel lover? If yes, portable stoves are a good choice for you to store at home. Come with two or three heating elements, portable stoves consist of the burner, fuel tank, and pot support.
This type of stove is small-sized and lightweight. It is one of the best stoves for camping, picnicking, and backpacking. Having portable stoves will make everything easier for you.
However, their size is also the disadvantage of this kind of stove. Because they are very small, you can only cook and heat something simple. They aren't capable of cooking a variety of dishes.
7. Induction Stoves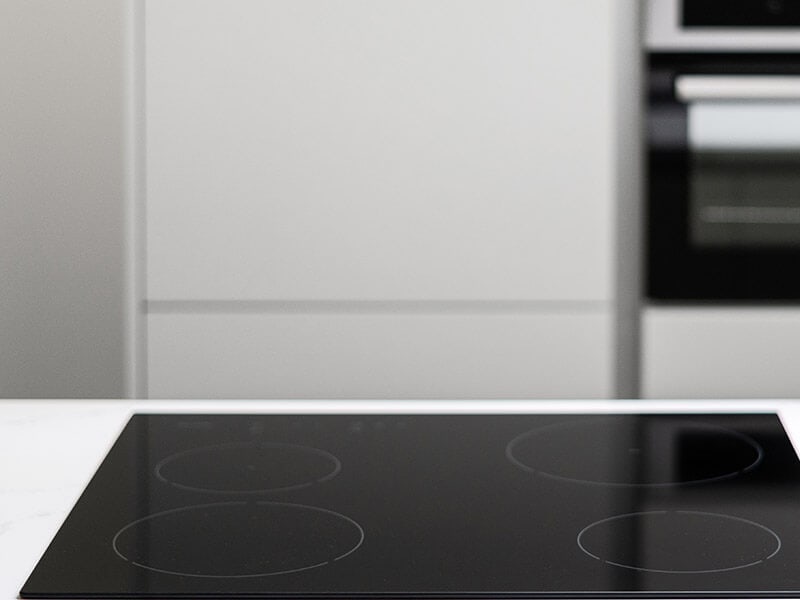 Instead of using metal coils like regular stoves, induction stoves use electricity and require electromagnets to heat the pan. This will help your foods cook faster, resulting in energy and cost-saving. These induction stoves also feature a smooth surface.
They don't release any gas into the atmosphere during the transferring process. All the heat generated will transfer directly to the pot. And when you finish cooking and take the pot off the stove, the heat will turn off.
This will help to maintain a cool cooking surface, making it a safe way to cook. However, not all pots and pans are compatible with induction, so you must check the cookware material before using it over the induction stove. Furthermore, these devices carry a hefty price tag.
Common Types Of Stoves Based On Number Of Burners
After going through this section, you will know about the advantages as well as disadvantages when using stoves with different burners. Here is the deal!
Number Of Burners
Pros
Cons
2 Burners
Cook 2 dishes simultaneously
Take a little space
Suitable for extra meals
Incapable of cooking a variety of dishes at the same time
4 Burners
Suitable for an average family
Provide enough room to prepare meals for big gatherings
Take up more space
6 Burners
Suitable for a large family
Save your cooking time
Take up more space
8. 2 Burners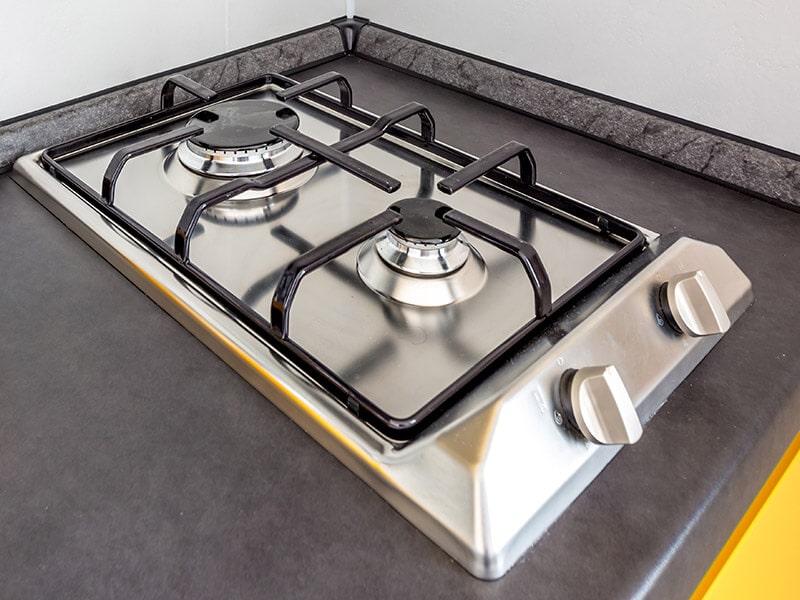 Stoves with 2 burners come out with 2 heating elements. It means that you can cook two dishes at the same time. If the space in your kitchen is tight, stoves with 2 burners are a good choice for you.
This type of stove takes you a little space in the kitchen and is also suitable for small families. If you don't need to prepare dishes for a party or a large meal, go for 2 burners stoves.
They are one of the smallest types of stoves designed to place in the kitchen. You can also use this one to cook simple meals without having to turn on a bigger and more complicated stove.
How convenient a 2-burner stove can be!
9. 4 Burners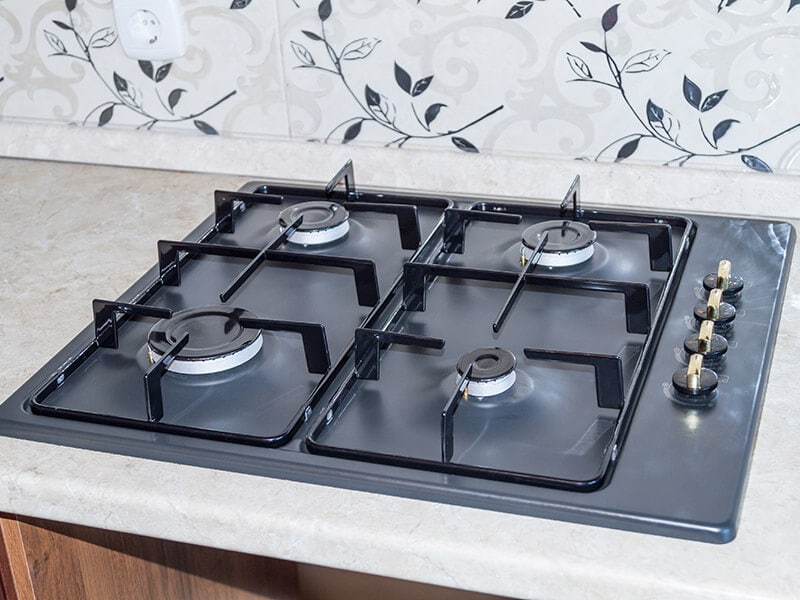 Like stoves with 2 burners, 4-burner stoves include 4 heating elements. This type is one of the most popular stoves chosen by many families. It's twice the size of a 2-burner stove, so your kitchen space has to be a little larger.
When your family suddenly has big gatherings or parties, these stoves will provide you with adequate room to prepare many delectable types of meals. You can prepare 4 dishes simultaneously when using this stove.
10. 6 Burners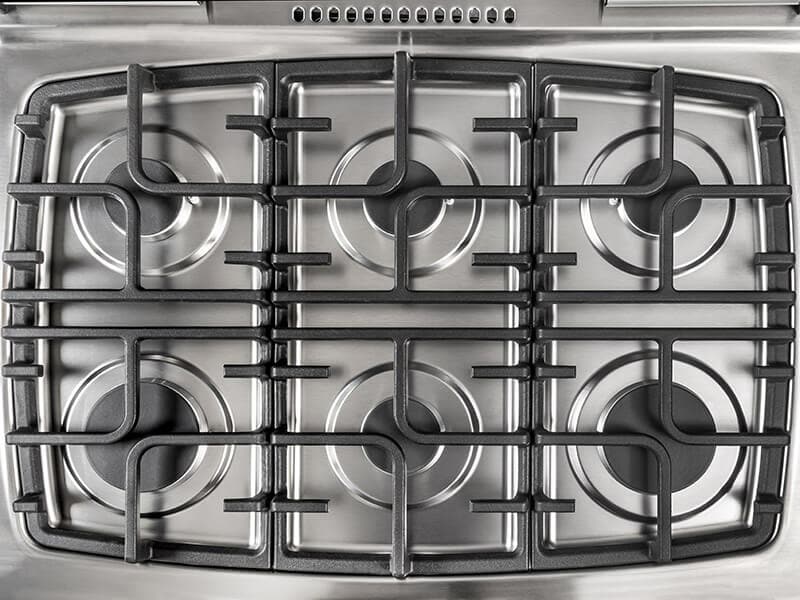 A stove also can have 6 heating elements. If you have a large family, you should consider choosing this type of stove because it will satisfy all your cooking needs.
6-burner stoves can help you save your cooking time as you can prepare 6 dishes at once. However, if you want to install this kind of stove, you have to make sure that your kitchen is big enough. Otherwise, you won't have much room left to work.
Styles Of Stoves Based On Surface
Surface characteristics are also an essential factor to consider before buying a stove. They are not too different in appearance but also have distinguished pros and cons.
Types of stoves
Characteristics
Pros
Cons
Coil Stoves
Include spiral coils on the surface
Coils turn orange when heated
More efficient
Inexpensive
Take more time and effort to clean
Heat slowly
Less appealing
Smooth-Top Stoves
Have a flat and smooth surface
Easy to use and clean
Least costly to install
Give an attractive look
Take longer to cook foods
Require more time to cool down
11. Coil Stoves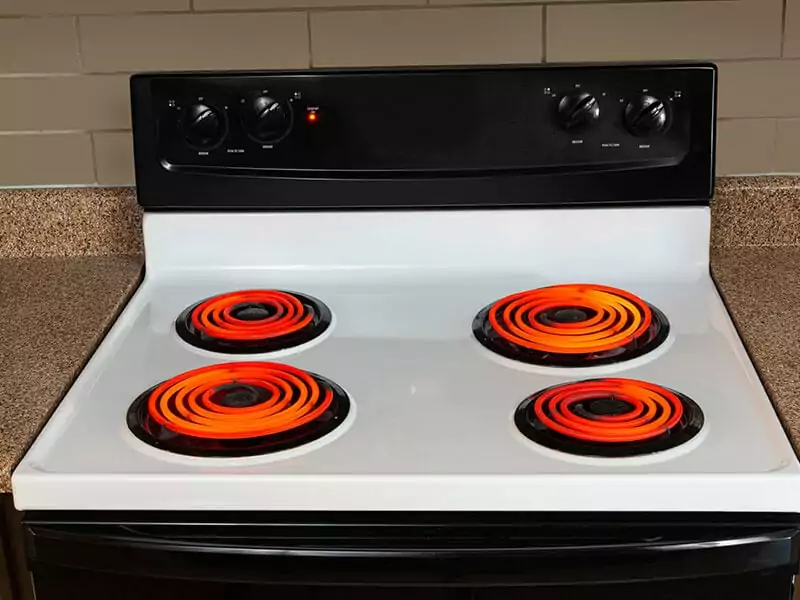 The coils are the product of metal tubing that encases a heat-conducting electrical wire. These coil stoves have a spiral pattern and will turn orange when heated up. Therefore, it's easy for you to realize that your stove is ready for cooking.
Although coil stoves are more efficient than a smooth-top stove, they take more time and effort for you to clean. Besides, this kind of stove heats slowly, resulting in some potential burn hazards.
Coil stoves take a lower score in terms of aesthetics than smooth-top stoves because they look somewhat outdated. But you can consider them if you prefer something less expensive.
12. Smooth-Top Stoves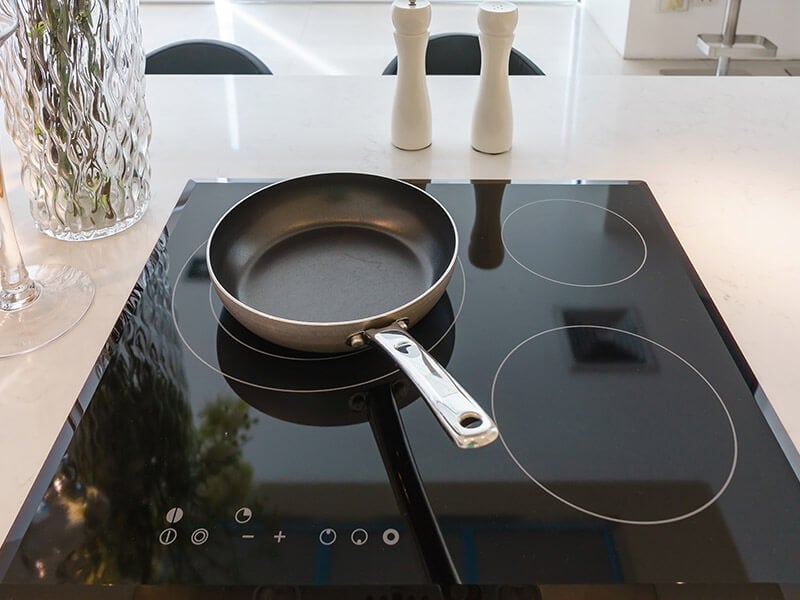 A smooth-to stove is an electric stove that features a flat and smooth surface. This kind of stove uses a coil to produce heat, but the coil is underneath the sheet of glass. That's why many people also call smooth-top stoves glass-top stoves.
Smooth-top stoves are very easy to use and clean. Moreover, they are less costly to install. You don't need to prepare a dedicated gas line like a gas stove. With a nice and sleek look, this stove brings your kitchen a cooler cooking atmosphere.
Because these stoves have a smooth surface, you need compatible and high-quality cookware to cook on your glass-top stoves. Remember to put your cookware gently on the glass surface.
Heavy things can damage your stove. Furthermore, it will take longer for you to cook food, heat your pans, and cool down with them.
How to clean a glass-top stove? Check this guide for the answer.
Styles Of Stove Based On Installation Methods
The installation methods are also significant in choosing an appropriate stove for your home. Below are the two basic ones; take a look to understand them better.
Types Of Stoves
Characteristics
Pros
Cons
Freestanding Stove
Stand on its own or between the two cabinets
Convenient
Easy to use
More affordable than slide-in stove
Hard to clean
Slide-In Stove
Slide your stoves between the two cabinets
Prevent foods from dropping between the cabinetry
Make your kitchen more luxurious
Expensive
13. Freestanding Stoves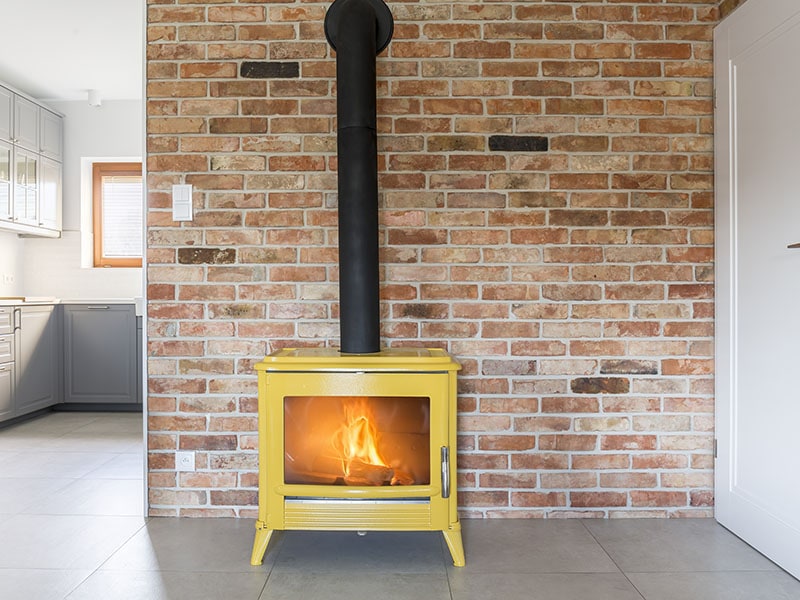 As the name suggests, it doesn't ask for any special requirement to install a freestanding stove. You can put it anywhere in the kitchen because it doesn't associate with any cabinetry or walls.
You can leave a freestanding stove alone or between the two cabinets depending on your preferences. Known as one of the most popular stove styles, it's convenient, easy to use, and cheap.
Freestanding stoves consist of an oven and burners. You can freely choose a gas freestanding stove or an electric one. They are always available in the market. However, this type of stove is very difficult to clean.
14. Slide-In Stoves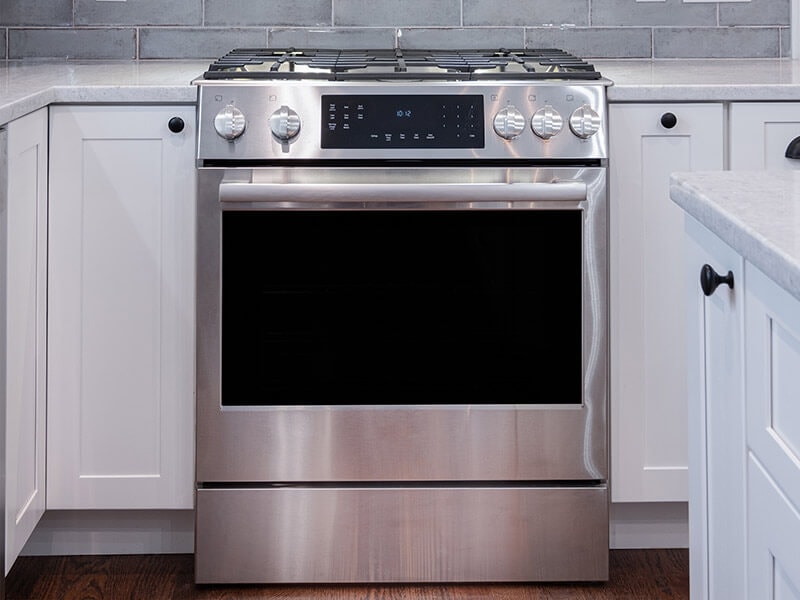 Slide-in stoves come out with a slightly protruding cooktop that sits on top of the countertop. This feature is very beneficial because it will help to prevent your foods and debris from dropping between the cabinetry.
If you want to install this type of stove, you have to slide your stove between the two cabinets. All control will be in the front, making your kitchen more luxurious than ever. However, slide-in stoves will be more expensive than free-standing ones.
Other Stoves With Different Features That Might Meet Your Need
Technology is constantly improving; therefore, in addition to standard functions included in every stove, new features are added to meet users' needs. To make the right decision, look at some of the features listed below.
Types of stoves
Characteristics
Pros
Cons
Knobs
Consist of many knobs on the front, side, or back of the stove
Easy to adjust the temperature
Easy to realize thanks to LED lights
Easy to be worn and broken
Continuous Grates
Have grates
Used for supporting the cookware above the flame
Make your kitchen more appealing
Take more time and effort to remove
Stovetop Griddles
A flat cooking surface on top of the stove
Rectangular, round, or square
Made with ceramic, cast iron, or carbon steel
Cook more evenly
Unsuitable for dishes requiring movement
Downdraft Stoves
Have built-in vents between the burners
Easy to clean
Affordable
Unsuitable for small kitchen
The cost for construction and installation is high
LED Display
Equipped with a LED display system
Inform you when the foods are cooked
Help you get the best result of your food
Expensive
Wifi
Connect with Wifi via smartphones or tablets
Get rid of manual tasks
Safe
Require strong and stable wifi connection
Expensive
Automatic Reignition
Start the parking device again when the flame goes out
Reduce the risk of gas leak
Costly
15. Knobs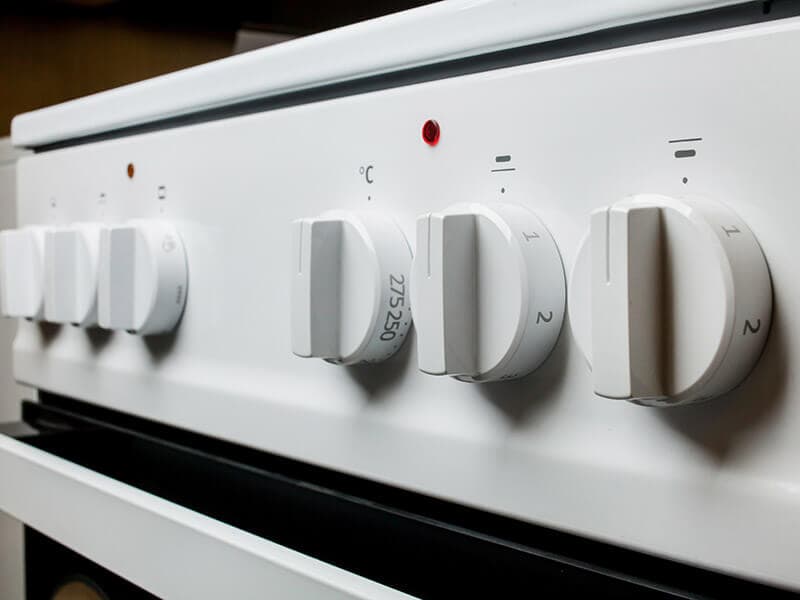 Most stoves in the market are equipped with knobs to help you control the different heating elements. You will often see them in the front of the stove. Sometimes, they are also on your stove's side or back.
LED lights are frequently used to illuminate the knobs, making them easier to locate. The best thing about these knobs is it helps you adjust temperature correctly. You can use them to lower or higher the heat, giving your dishes the perfect results.
However, these temperature control knobs are prone to wear over time. Moreover, they can break if you twist too hard. This can disrupt your meals, and you have to buy a new one to replace them.
Nowadays, in addition to standard knobs, there are several hi-tech options to satisfy customers' needs, such as smart knobs. You can control these types of knobs by using a smartphone or wifi.
The benefits of these smart stove knobs will exceed your expectations.
16. Continuous Grates
A stove can have individual grates for each burner or grates that butt against each other. These continuous grates play an essential role in supporting your cookware above the flame.
Continuous grates will make it easier for you to move heavy pots from one burner to another across the stove. Equipped with continuous grates, your kitchen will be more appealing than ever.
Remember that removing the grates for cleaning will take more time and effort. Therefore, consider it carefully before choosing so you won't regret it.
17. Stovetop Griddles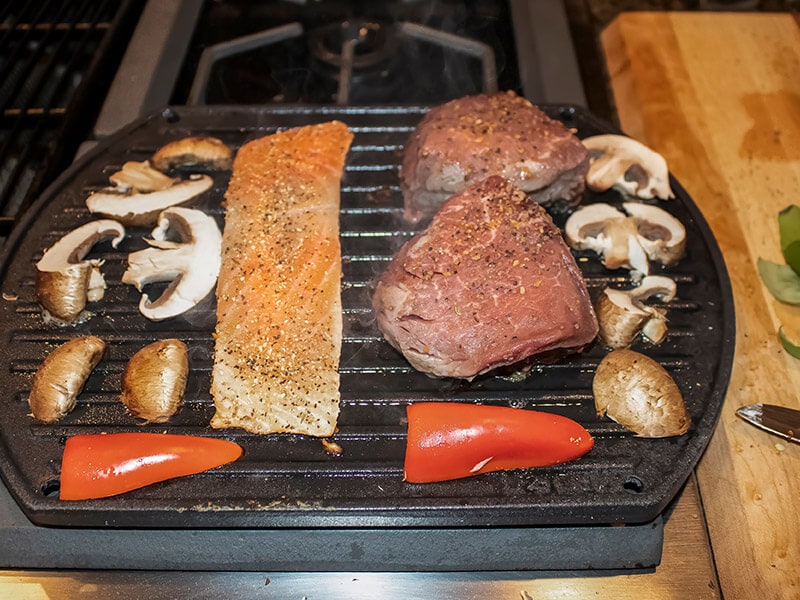 Stovetop griddles are simply a flat cooking surface set on the top of the stove. They run across the burners and often appear in a rectangular, round, or square shape.
Depending on your preferences, you can choose stovetop griddles made with ceramic, cast iron, or carbon steel. It's a wise choice if you want to cook a large meal because it provides a large surface.
Moreover, stovetop griddles will help your dishes cook more evenly thanks to their even heat. They come out with a shallow surface so that you can flip your omelet, burgers, and pancakes without any difficulties.
These griddles, on the other hand, provide specific difficulties. For example, they require some time to heat up and a lot of care to maintain. Moreover, they are unsuitable for cooking meals requiring movement, such as mixing or stir-frying.
18. Downdraft Stoves
Downdraft stoves have built-in vents between the burners. Instead of having an external vent hood, this stove uses the downdraft fan to pull smoke, fumes, and steam down the tube and out a vent.
This stove is very easy to clean. Moreover, it is cheaper than other types of stove. However, because it works properly thanks to a powerful fan, you need adequate airflow. Small kitchens are not suitable for installing this type of stove.
Furthermore, downdraft stoves require existing ductwork compatible with the piping and venting. Therefore, the cost for construction and installation will be your concern when purchasing this stove.
Want to know how to install a downdraft stove? Check this out!
19. LED Display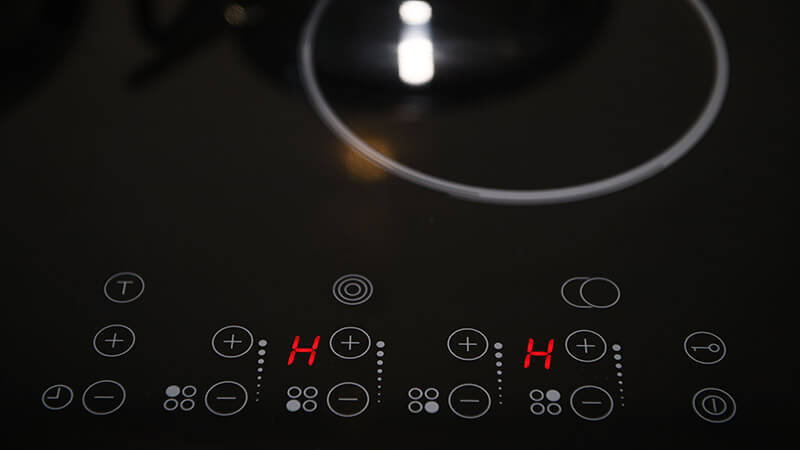 Have you ever used a stove with a LED display? It has a leek back appearance and a variety of distinctive functions. Thanks to this system, you can inspect and keep track of your meals.
You just need to set the time when you cook. This LED display will start to work, and you can quickly know when your dishes are cooked to perfection. However, the cost of these stoves' cost is exorbitant.
20. Wifi
With great strides made in technology, it's natural to install your stove with wifi connectivity. All you need to do is connect your stove with wifi through your smartphone or tablet.
This option allows you to multitask without worrying about having burnt or overcooked foods. Adding wifi to your stove will help you get rid of manual tasks and achieve the best result.
You can adjust the time and temperature while cooking even if you are not in the kitchen. It will also protect your children from dangerous situations when you are not at home because they are not allowed to turn on your stove without your permission.
You need to make sure that your home's wifi connection is strong, as poor wifi can cause your device to disconnect. Moreover, stoves with wifi are more expensive than traditional ones.
21. Automatic Reignition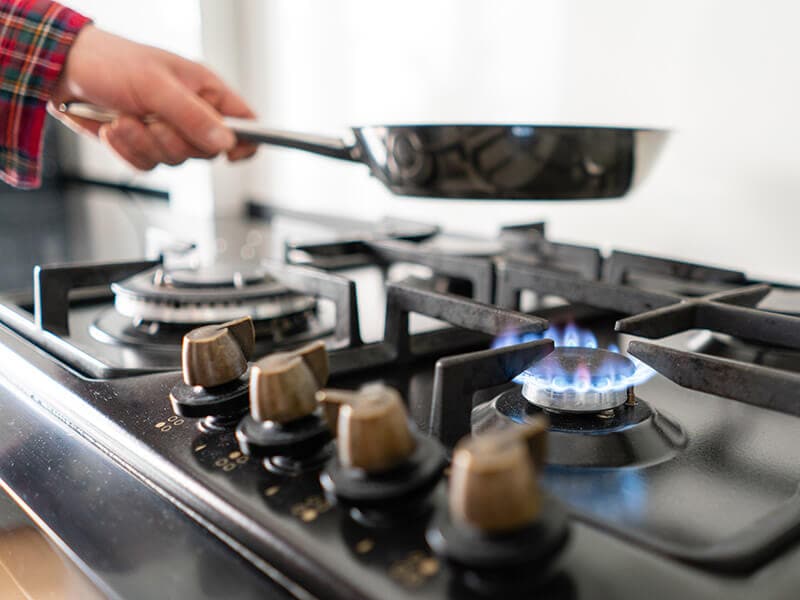 Instead of suffering irritation from having the flame going out, you can prevent it by choosing a stove with automatic reignition. This characteristic makes it more convenient to cook as well as reduces the possibility of a gas leak.
Choose The Best Stove For Your Home
I hope this information gives you a hand in selecting the most suitable stove for your home. Whether you need a stove for cooking or heating, the above types will satisfy you. Each has its own set of benefits and drawbacks, so pick the one that best fits your requirements.
Finally, have you chosen the most suitable one? If yes, leave a comment to share the best one in your mind with me. Please help me spread this beneficial knowledge by sharing this post on your social media. I highly appreciate your contribution. Thank you.