What are the best omelette pans available on the market right now? Allow the reviews in this article to provide you with the answers so you can confidently prepare the delicious egg-based dishes and surprise everyone.
Omelette is neither a difficult nor easy dish to make. There are a lot of factors that will impact the cooking result, and a pan's quality is one of these factors.
Moreover, knowing the method to flip an omelette correctly is also important. If you can make sure of these 2 qualities, you are ready to create an art with eggs.
So if you want to own the best pan that is not only suitable for your wallet but also assists your cooking jobs, keep reading to find out.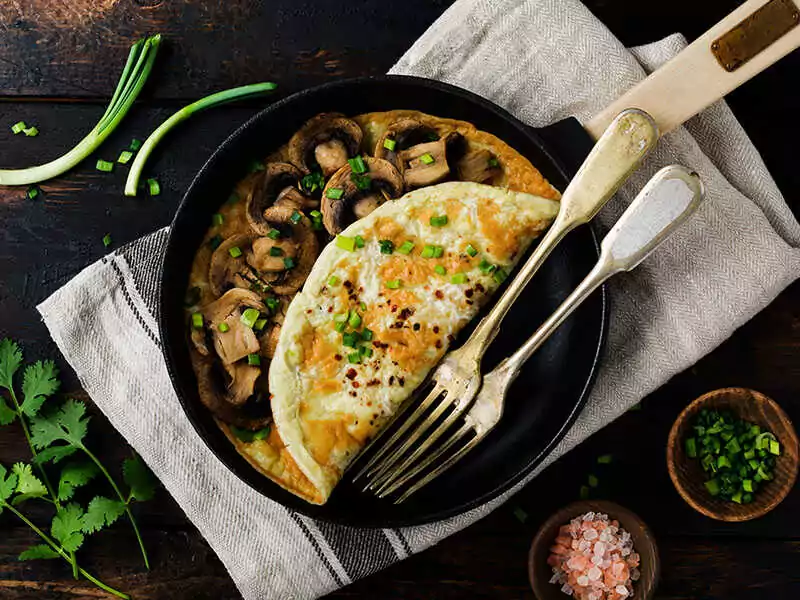 What Are The Benefits Of Owning An Omelette Pan?
Someone will wonder why they have to buy an omelette pan when they already own a frying pan at home. Well, let me tell you some advantages about it.
It Is Perfect For An Egg-Exclusive Dish Like Omelette
The non-stick and scratch-free features of an omelette pan are ideal for making the most stunning recipes, such as Mediterranean omelets with a creamy texture. It provides the right shape and size so you can flip, roll, or fold your egg dish.
Apparently, omelette is the iconic savory breakfast idea in which you can mix eggs with other veggies and cheese. So why don't you make your cooking jobs quicker and more pleasant with an omelette pan?
Omelette Pans Can Be Used For Other Foods As Well
The versatility of them is wonderful. You can cook other foods like bacon, grilled cheese, or saute veggies with this pan as well. So with 1 investment on an omelette pan, you do not have to buy other pans to cook other things.
Some Pans Can Be Used In Oven
Suppose you have other kitchenware, for example, waffle iron to make many delicious recipes like omelette, but they are not oven-safe.
Therefore, the oven-safe advantage is very important if you need a flawless finishing of your dish. It is also ideal for creating frittata – another egg-based dish that originated from Italy.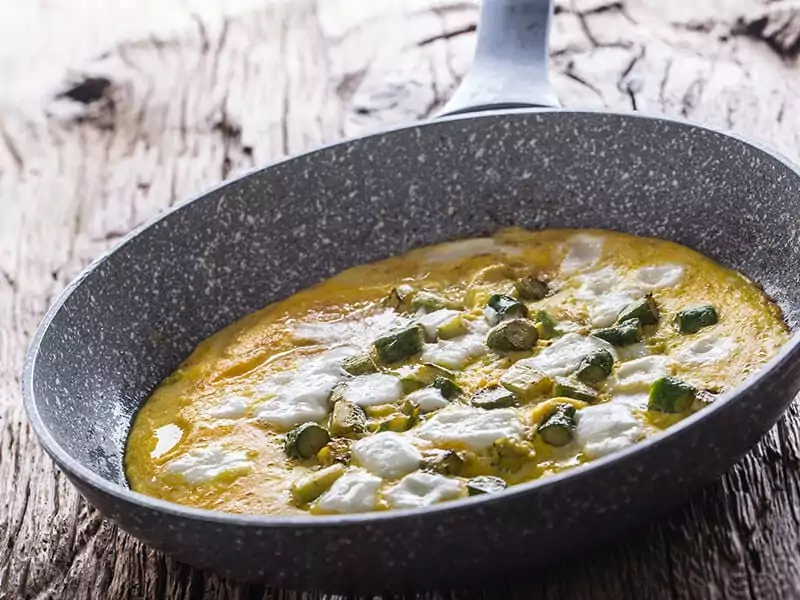 Good Omelette Pan Brands That You Might Not Know
Following are some big brand names in manufacturing quality kitchen appliances. You can easily buy them at stores or online via any global website like Amazon.
Sensarte: This brand name delivers a lot of cookware made with Swiss non-stick coating to help you create flawless omelette dishes. Pans, pots, skillets, anything you need for a versatile utensil can be found at Sensarte.
Gotham Steel: Gotham Steel is a New York-based company that was founded in 2002. They specialize in producing non-stick kitchen tools which are made from titanium and ceramic. With safe products that are free from PFOA and PTFE, this is a good choice for a healthy pan.
Calphalon: As one of the biggest American brands selling hard-anodized aluminum utensils for the kitchen, Calphalon is famous for its durable, high-quality non-stick pots and pans. You will have a wide selection in Calphalon with many innovative and premium items.
TeChef: TeChef is another American brand that provides various kitchen appliances in different collections. With 40 years in the cookware industry, TeChef has gained huge trust from customers with its superior products.
Top Pick Of 10 Best Pans To Make Omelette
Next, let's explore the core features of these best omlette pans, then you will understand why they appear in this list.
Personally, the best-overall award belongs to the Sensarte 8-inch Granite Coating pan. Its granite coating and strong cast aluminum interior will surely please you in cooking. In case you want to try a Japanese omelette, the TeChef Tamagoyaki Pan could be your new favorite cookware.
Brief Comparison Chart Of 10 Best Omelette Pans
Before starting the reviews, why don't you take a quick look at some basic information about the 10 best pans for making omelette?
With the dimensions and weight, you can see which one is suitable for your daily cooking. Or what materials and coating types that you need for making a superb egg-based dish.
Extensive Reviews Of 10 Best Omelette Pans For Smart Shopping
Do not waste your time seeking the best omelette pans at other places because the following reviews will show you the most comprehensive view of these products.
They all have quality non-stick surfaces, firm handles, excellent durability, and more benefits to ensure the most accurate and flawless dish you want.
1. Sensarte 8-inch Granite Coating Omelette Pan
(Best Overall)
This high-performance pan allows you to create a beautiful and tasty omelette with less oil. With the non-stick granite stone coating, you do not have to worry about cleaning after use as it is extremely easy.
Moreover, the bakelite handle with wood grain patterns not only ensures staying cool and anti-scald during cooking but is also oven-safe at 302 degrees F. Such an ideal pan, right?
The pan's stainless steel bottom can also work on all types of stoves, even induction ones. With a flat and 5-mm thick base, it increases the efficiency of distributing heat fast and evenly so your food can be cooked perfectly.
Key Features:
Swiss granite non-stick coating
Free PFOA (Perfluorooctanoic acid) for healthy eating
Pan interior is made from cast aluminum
Bakelite handle with attractive wood grain design
Safe in the oven up to 302°F
SGS (Standard Global Services) approval
Pros
Compact shape and lightweight
Sturdy and durable
Simple cleaning with water, paper towel, or dishwasher
Equipped with a flat and thick stainless steel base to spread the heat equally and quickly
Scratch-resistant surface
Magnetic conductive which is suitable for all types of stoves
Cons
The handle might not be too ergonomic
Product Specifications:
| | |
| --- | --- |
| Brand | Sensarte |
| Shape | Round |
| Dimension | 15.1 x 7.8 x 2.3 inches |
| Pan Size | 8 inches |
| Weight | 1.35 pounds |
| Material | Aluminum |
| Coating | Swiss granite non-stick |
| Oven Safe | Yes (up to 302°F) |
| Dishwasher Safe | Yes |
| Induction Safe | Yes |
2. Cuisinel 8-inch Cast Iron Omelette Pan
(Best Budget)
Cast iron skillet is versatile kitchenware that can handle various cooking methods like baking, frying, braising, grilling, etc. So have you ever tried to make an omelette with a cast iron pan? Let me introduce this great pan from the Cuisinel.
Designed with unparalleled heat retention to produce even and consistent heat distribution, your omelette will be amazingly cooked. Omelette is normally served in the morning, but feel free to try this breakfast recipe for your dinner. They are also an excellent way to finish a long day.
Moreover, cleaning it is hassle-free by hand washing. But you must dry it completely by using medium heat on the stovetop and seasoned with oils after each use.
Besides, as it is made from superior pre-seasoned cast iron, the durability is undoubted. But in case there is any problem with it, the manufacturer also provides a lifetime warranty to make sure you are fully satisfied with your choice.
Key Features:
Made of durable pre-seasoned cast iron material
Perfect heat distribution of cooking evenly
Come with a lifetime warranty or 30-day refund guarantee
Can be used on a stovetop, BBQ, oven, etc.
Pros
Come at a very affordable price
A heavy-duty cooking utensil
Suitable to cook in various methods
Equipped with heat-resistant handle cover for better safety
Can be more non-stick and stronger after several uses
Hand-wash only, but it is easy to do
Cons
Quite heavy
Surface might not be too smooth
Product Specifications:
| | |
| --- | --- |
| Brand | Cuisinel |
| Shape | Round |
| Dimension | 11.8 x 8.5 x 2.2 inches |
| Pan Size | 8 inches |
| Weight | 3.31 pounds |
| Material | Cast iron |
| Coating | Non-stick |
| Oven Safe | Yes |
| Dishwasher Safe | No |
| Induction Safe | Yes |
How to season your Cuisinel cast iron skillet? Let's check this demonstration to learn.
3. Caannasweis 8-inch Marble Omelette Pan
(Best With Soft Touch Handle)
If you need a pan with a softer handle so you can hold it more comfortably, do not miss this Caannasweis marble pan. And you will love its soft-touch and anti-scalding handle for sure.
This utensil combines everything you need in an omelette pan: luxurious looking with granite marble interior, comfortable use, and long-lasting lifespan.
The coating is made from non-toxic components and can resist wear and tear amazingly. Plus, as it has a magnetized base, this pan is safe on many types of stoves. But do not place it in the oven.
Key Features:
Non-toxic pan with PFOA free
Non-stick, free of lead and cadmium granite marble coating
Designed with a magnetized base that works well on all kinds of stoves
Soft-touch and anti-scalding handle for a better and safer grip
Can resist scratches
Pros
Able to maintain the antiaderente after years of using
Enhance the convenience with an oil guide port that allows you to pour extra oil out or filter the liquid
Simple cleaning as it can be cleaned in the dishwasher but recommend hand washing for a longer lifespan
Require low maintenance
Distribute heat evenly
Cons
Lack oven-safe
Inside the pan might be discolored
Product Specifications:
| | |
| --- | --- |
| Brand | Caannasweis |
| Shape | Round |
| Dimension | 14.3 x 8 x 1.96 inches |
| Pan Size | 8 inches |
| Weight | 1.55 pounds |
| Material | Stoneware |
| Coating | Cadmium-free and lead-free non-stick |
| Oven Safe | No |
| Dishwasher Safe | Safe but better wash by hand for extending the lifespan |
| Induction Safe | Yes |
4. GreenPan Rio 7-Inch Ceramic Omelette Pan
(Best Healthy Pan)
This product from GreenPan is a healthy pan as it is free of toxic materials like PFOA, PFAS, cadmium, or lead. Therefore, it is totally safe for you even if you overheat your utensil accidentally.
Its durability is incredible, thanks to a diamond-reinforced ceramic non-stick coating. You can also benefit from the stay-cool bakelite handle to ensure comfortable and relaxed cooking along with its ultra-lightweight body, which is only 1 pound.
Moreover, you can put it in the oven to cook or in the dishwasher for cleaning. This GreenPan also comes in 3 different colors to choose from and makes your kitchen look more aesthetic with this tool.
Key Features:
No PFOA, PFAS, cadmium, and lead, making it become a healthier pan
Can withstand the oven heat up to 350°F
Dishwasher safe
Equipped with stay-cool bakelite handle for easier grip
Hard non-stick diamond-reinforced coating with high durability
Hard anodized body can resist scratches
Groundbreaking technology in design
Pros
Super lightweight
Can enhance the beauty of your kitchen
Simple using and cleaning (suitable for both hand washing or dishwasher)
Strong wobble-free base
Heat transformation on the surface is excellent to cook your food perfectly
Cons
Might not be suitable to use with high heat (as the handle can be melted)
No induction-safe
Product Specifications:
| | |
| --- | --- |
| Brand | GreenPan |
| Shape | Round |
| Dimension | 3.27 x 7.6 x 13.94 inches |
| Pan Size | 7 inches |
| Weight | 1 pound |
| Material | Ceramic |
| Coating | Diamond reinforced non-stick |
| Oven Safe | Yes (up to 350°F) |
| Dishwasher Safe | Yes |
| Induction Safe | No |
Is the ceramic non-stick pan from GreenPan worth it? Check this review to find out.
5. Michelangelo 8-inch Omelette Pan
(Best Ceramic Titanium Pan)
Featured with a ceramic-titanium interior, this kitchenware offers excellent non-stick capacity and scratch resistance. And you will have no complaint when using this pan to make your nutritious and easy egg-based meals. Sounds so great, doesn't it?
No PFOA, lead, cadmium, anything about safety in cooking and eating are assured. Also, an aluminum alloy lid can assist the pin in controlling heat evenly and precisely.
The stainless steel handle can work well with high temperatures (up to 450 degrees F in the oven). So, let's buy one and create tasty and stunning foods with it now!
Key Features:
Come with a heat-resistant lid that is made from high-quality aluminum alloy
Superb non-stick with a ceramic-titanium coating to prevent scratches, increase durability and food release
Do not contain toxic components like lead, cadmium, PFOA, and PTFE
Withstand high heat, which is up to 450°F in the oven
Durable and easy-to-grip stainless steel handle
Pros
Versatile with multi-purpose uses
Lid can conduct heat evenly and fast with no hot spot
Can avoid chipping, flaking, or peeling on the interior
Able to be used on all stove kinds, including gas, induction, electric, etc.
Can be washed in the dishwasher or hands effortlessly
3-layer base to ensure cooking performance by its even heat distribution and prevent warps
Cons
Handle might be heated up like the pan, so you have to be careful with it as well
Product Specifications:
| | |
| --- | --- |
| Brand | Michelangelo |
| Shape | Round |
| Dimension | 14.8 x 8.86 x 3.23 inches |
| Pan Size | 8 inches |
| Weight | 2.2 pounds |
| Material | Aluminum |
| Coating | Ceramic titanium non-stick |
| Oven Safe | Yes (up to 450°F) but not for a lid |
| Dishwasher Safe | Yes, but recommended hand-wash |
| Induction Safe | Yes |
Have you used a Michelangelo pan before? If not, do not miss out on this review.
6. Calphalon 8-inch Contemporary Hard-Anodized Aluminum Omelette Pan
(Best With Lid)
If you are unsure about choosing stainless steel or hard-anodized kitchenware, this product might give you the answer that you are looking for.
Actually, it is also an ideal pan with a lid. Designed with heavy-gauge aluminum and a hard-anodized structure, everything you need for a long-lasting pan is here.
It also comes with a lid in 1 purchase. And the highlighted advantage of the cover is that you can use it in the oven, making it the perfect option for finishing your food.
In addition, the coating of this pan consists of triple plies, including 2 layers for maximizing durability and 1 layer for easy food release. Calphalon also offers a lifetime warranty or replacement of a new one for you if there is any defect.
Key Features:
No PFOA
Hand-anodized aluminum body for even heat distributing
Compatible with dishwasher
3-layer coating (2 for high durability, 1 for quick food release)
Oven-safe that up to 450°F
Have long stainless steel handle
Come with a lifetime warranty
Pros
Long-lasting pan
Great for heavy-duty
Cleanup is super easy even by hand-wash
Lid is also safe in the oven
Have a flat, wide, and thick base with sloped edges for more room
Provide healthier eating as you do not have to use too much oil for cooking with this non-stick pan
Cons
Handle could be better if there is any easy-grip insulation
Product Specifications:
| | |
| --- | --- |
| Brand | Calphalon |
| Shape | Round |
| Dimension | 14.25 x 8.5 x 1.75 inches |
| Pan Size | 8 inches |
| Weight | 1.55 pounds |
| Material | Aluminum |
| Coating | 3 layers of non-stick coating |
| Oven Safe | Yes (up to 450°F) |
| Dishwasher Safe | Yes |
| Induction Safe | No |
How to clean the Calphalon pans interior properly? Do not skip this demonstration.
7. TeChef Tamagoyaki Japanese Omelette Pan
(Best With Sloped-shape Design)
If you love Japanese omelette style – Tamagoyaki, you should not skip this Korean pan. With the DuPont Teflon non-stick coating and its sloped-shape design, your rolled eggs can be made beautifully with ease.
Without using any toxic chemicals, this PFOA, lead, or cadmium-free pan is a safe choice for everyone. It is also designed with a stainless steel base and aluminum structure to evenly distribute the heat when cooking.
Omelets, pancakes, sandwiches, etc., no dish is too hard for this item. This pan is suitable to work on induction cooktops and can withstand oven degrees as well.
Key Features:
High-quality DuPont Teflon non-stick coating
No PFOA, lead, cadmium
Has sloped shape for effortlessly flipping
Stainless steel base that is compatible with various stoves
Oven-safe
Pros
Have different sizes for more choices
Well-build product with good durability
Versatile and ideal for cooking everything not only rolled omelette
Minimum hassle in cleaning
Provide the sturdy holding with a solid handle and firmly attached to the pan
Cons
Small size might be too small for a big family
Product Specifications:
| | |
| --- | --- |
| Brand | TeChef |
| Shape | Rectangle |
| Dimension | 7.5 x 1.2 x 5.5 inches |
| Pan Size | 7.5 x 5.5 inches |
| Weight | 1.34 pounds |
| Material | Aluminum |
| Coating | DuPont non-stick |
| Oven Safe | Yes |
| Dishwasher Safe | Yes, but hand-wash is recommended |
| Induction Safe | Yes |
8. Gotham Steel 11-inch Omelette Pan
(Best With High-heat Withstanding)
Gotham Steel non-stick is another great choice with the ceramic-titanium coating that is reinforced by diamonds so it can withstand the unbelievable heating temperature (up to 500 degrees F).
Besides making an omelet with this pan, you can create numerous amazing dishes from meat to veggies without using too much oil or butter. With a strong and durable surface, you can use any metal utensil on this non-toxic pan, even an electric beater.
It is compatible with dishwashers and most heat sources (except induction) for effortless cooking and cleaning. Overall, this Gotham Steel pan deserves a try for healthy and safe cooking.
Key Features:
Able to withstand high degrees, which up to 500°F in the oven
Coated 3 times to deliver the ultra non-stick even after years of use
100% toxic-free (no lead, cadmium, PFAS, PFOA)
Ti-ceramic coating is reinforced with diamonds, so you can use any metal utensils on it without ruining its surface
Fast cleanup with dishwasher-safe technology
Pros
Do not need too much oil or butter when cooking for better health
Also have other sizes for more choices
Great scratch resistant
Long-lasting product
Heat up very quick and even
Also simple to clean with handwashing if you do not have a dishwasher
Suitable for various cooking methods
Cons
Not compatible with induction stove
Product Specifications:
| | |
| --- | --- |
| Brand | Gotham Steel |
| Shape | Round |
| Dimension | 18.7 x 11 x 2 inches |
| Pan Size | 11 inches |
| Weight | 1.52 pounds |
| Material | Aluminum |
| Coating | Titanium – ceramic coating |
| Oven Safe | Yes (up to 500°F) |
| Dishwasher Safe | Yes |
| Induction Safe | No |
Gotham Steel pan is good as it is advertised? Well, this review will give you the answer.
9. Lodge 12-inch Pre-seasoned Omelette Pan
(Best Carbon Steel Pan)
Looking for a wide diameter pan to create a big omelet? You might need a Lodge 12-inch Pre-seasoned pan that enables you to make various other dishes like roasting, sauteing, braising, baking, etc.
Made from 12 gauge and carbon steel, this kitchen tool can handle any heavy-duty cooking that a professional chef will need. But it does not require professional skill to work with it so you can use this pan without any difficulty.
Carbon steel can retain very low and very high temperatures ideally. It is also compatible to be used on electric, induction, or stovetop with direct fire. But please note that this pan is not an oven-safe one, so do not put it into your oven.
Key Features:
12-gauge carbon steel pan that can retain heat excellently (even very-low and very-high heat)
Pre-seasoned with soybean oil, so it is ready to use right after unboxing and easy-release finish
Safe with various heat sources (e.g., stovetop, electric, induction, grill, etc.), except a microwave oven
Scratches-resistant surface that you can use knives, spatulas, or forks on it
Pros
Can heat up very quickly
Lighter than many cast-iron types
Very versatile enabling various cooking methods
Conducive handle angle for easier maneuvering
Suitable for home, outdoor, and professional cooking
Easy to clean by hand wash but need to be dried immediately
Cons
Pan's bottom is a little bit rough and convex
Though it is lighter than cast-iron pan but compared to other omelette pans it is still relatively heavy
Product Specifications:
| | |
| --- | --- |
| Brand | Lodge |
| Shape | Round |
| Dimension | 20.87 x 12 x 3.5 inches |
| Pan Size | 12 inches |
| Weight | 3.41 pounds |
| Material | Alloy steel |
| Coating | Non-stick |
| Oven Safe | No |
| Dishwasher Safe | No |
| Induction Safe | Yes |
A detailed review of a big Lodge pan to demonstrate how great it is.
10. Rockurwok Japanese Omelette Pan
(Best Arc-shape Edges)
Here is another Japanese-style omelet pan with cute designs for pink lovers. And the best thing about this kitchen utensil is its superb arc-shaped edges so you can slide your food to the plate easier and smoother.
​​This Rockurwok pan has 3 coating layers to maximize its non-stick function. The handle made of solid wood also ensures anti-slip holding and can stay cool when you use it.
To make a satisfying omelet with this cookware, medium or small flame is much better. In addition, you should use silicone, plastic, or wooden utensils on the surface to keep it away from scratches.
Key Features:
Designed with ideal arc-shaped edges for smooth slides
Free of toxic PFOA material
3-layer coating for perfect non-stick capacity
Can resist abrasion and rust for longer durability
Wooden and stainless steel handle to prevent heat and slip
Pros
Can use at ease
Perfect for making a rolled omelette
Lightweight and convenient
Come in different colors and cute designs might increase the beauty of your kitchen
Ideal for 2 to 3 eggs per cooking
Not suitable in the dishwasher, but it is super easy to clean
Cons
Small handle might need more attention as it can burn your hand if you accidentally touch the front of it
Product Specifications:
| | |
| --- | --- |
| Brand | Rockurwok |
| Shape | Rectangle |
| Dimension | 15.12 x 6.69 x 2.56 inches |
| Pan Size | 7 x 5 inches |
| Weight | 1.28 pounds |
| Material | Aluminum |
| Coating | Stone non-stick |
| Oven Safe | No |
| Dishwasher Safe | No |
| Induction Safe | Yes |
Let's learn how to make Tamagoyaki Rolled Egg with this Rockurwok pan.
How To Buy A Great Omelette Pan
There are several aspects regarding characteristics, shapes, sizes, etc., that you have to check before choosing a perfect pan for omelette making. Following is the detailed information about them.
Material
There are various choices concerning which kinds of materials are used in this cooking utensil, like carbon steel, ceramic, copper, cast iron, and more. Keep reading to learn the characteristics of each type to see which one would be your final choice.
Aluminum Pans
This type is excellent in heat distribution and can save your time in cooking. However, it might affect the flavor of acidic foods when you cook them with this type of pan.
Luckily, people have already invented anodized aluminum pans, which are even better in transforming heat and do not impact food's favor.
Cast Iron Pans
This one can be seen as the most affordable type with amazing durability. Also, cast iron can spread the heat evenly to ensure the best cooking performance. However, they are typically heavy and might take time to heat up.
Stainless Steel Pans
Though this material is not as good in thermal conductivity as other types, they are good for an ideal omelette pan overall. And it can hold even more heat to keep your food hot for a longer time.
Granite Stone Pans
If your priority is safety for health, this one is a perfect option. They are high in durability like other materials and increase the beauty of your kitchen by their appearance. Granite stone pans can resist higher temperatures as well.
Ceramic Pans
Another material for a healthy pan is ceramic. They contain no toxic chemicals like PFOA or PTFE to ensure the highest level of safety in cooking and eating. These pans have a smooth surface, so you can easily clean them with water or a dishwasher.
Carbon Steel Pans
It might not be as popular as mentioned pan materials, but it is the well-loved type for many professional cookers worldwide. This type is quite similar to cast-iron ones, but these are lighter and easier to control.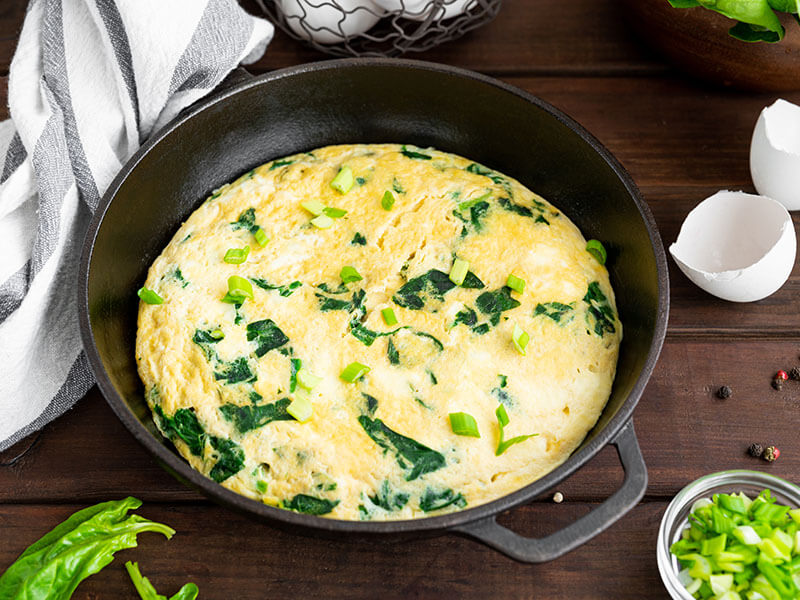 Non-stick Coating
A non-stick pan will help you flip your food effortlessly. Moreover, non-stick pans are much better at cleaning. There are also different ways of non-stick coating, which are seasoning, anodized aluminum, and Teflon.
Seasoning
If you opt for stainless steel, cast-iron, or carbon steel pan, you will see the label pre-seasoned, which means your pan is non-stick coating seasoned with natural oil.
In case they have not seasoned, you can do it at home by applying a little bit of oil on the surface, setting medium heat until you see the oil starts to smoke. After that, wipe the oil and let it cool.
Anodized Aluminum
They also have non-stick coatings, which are super durable and do not require special maintenance or cleaning. Besides, they are safe on most stoves and ovens as well.
Teflon
Teflon coating might not be as strong as anodized aluminum and has lower performance in withstanding high heat, so these pans are normally less costly than anodized aluminum. They are free of PFOA and can be cleaned with ease also.
Shape and Size
Choosing size needs to rely on how many eggs you normally cook. Omelette pans normally come in 6-inch, 8-inch, 10-inch, and 12-inch sizes.
The most popular size is the 10-inch pan. This size can hold up to 4 to 5 eggs, but your dish might look a little bit thick. If your portion is not too much, an 8-inch pan is enough, which is perfect for cooking 2 to 3 eggs.
Another thing to consider is the shape. The classic ones are round with long handles. But if you love to try the Japanese omelette style, you will love the rectangular-shaped pans with their long handles as well.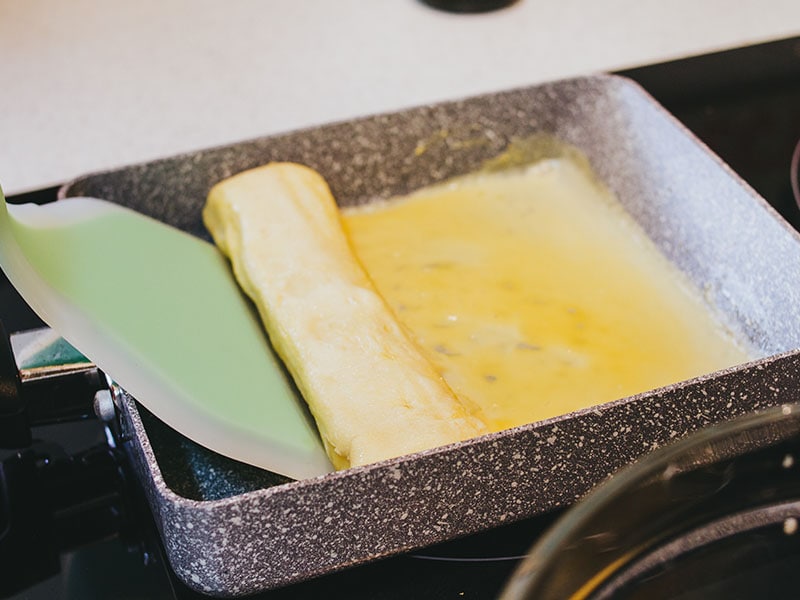 Handle
It should be long, heat-resistant, and well-designed to provide the most enjoyable feels when used. They can be made from stainless steel or wood. Some manufactures also offer removable silicone sleeves for the handle to keep you safe from unexpected burns.
If you want to use your pans in the oven, go with metal handles. Do not buy short handles because they cannot balance the weight between your wrist and the pan, making it harder to flip or toss.
And if your pans are bigger than 10 inches, try to search for the products that come with an extra handle so you can remove your pan from the stove better and safer.
Heat Source Compatibility
Most omelette pans are fine with many kinds of stoves, but some might not function well with an induction cooktop. Therefore, if your stove is induction, check this factor carefully.
Cast-iron, stainless steel, carbon steel pans are generally suitable for all stove types. But aluminum pans with non-magnetized bases will not work on the induction hob.
If you need other tools that can use microwave heat or electricity from a power outlet to cook your eggs, there are many versatile omelette makers available out there that can fulfill your requirements.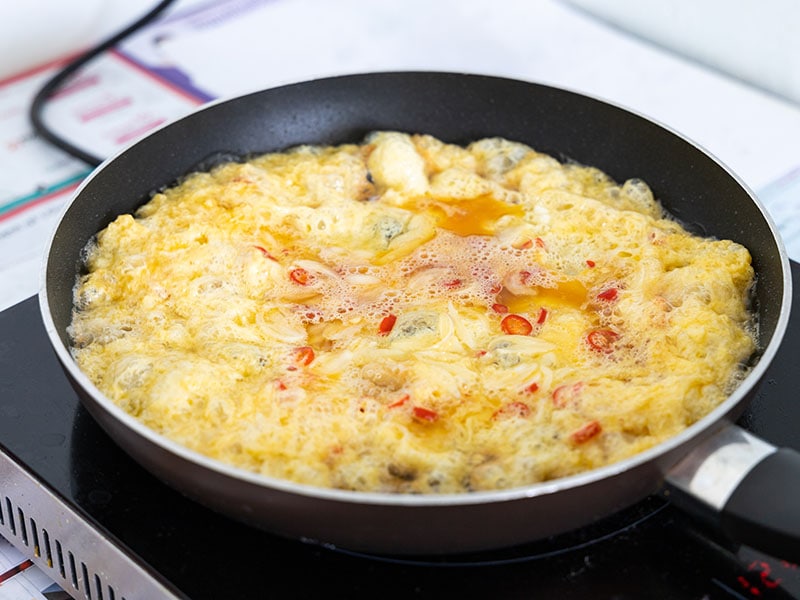 Durability
Nothing is perfect, so your pans might not last forever. Some materials with higher durability that you can consider are cast-iron, hard-anodized aluminum, or stainless steel.
The non-stick coating also requires good treats to extend the lifespan. If possible, you should hand wash your cookware with water, a soft sponge, and a little bit of detergent. Avoid high heat and try not to use metal utensils too often on the surface.
Bottom
It would be better to have a pan with a flat and thick bottom with 2 or 3 layers. The wider your pan is, the more space for your food to cook equally.
Do not forget to clean the pan's bottom frequently to restore the efficiency in heat distribution.
The fastest way to clean the bottom of your pan is here.
Tips To Use Your Pan Correctly
Now, let's take a look at a few short tips to use your cookware properly to make the perfect omelette dish as you expected
Tip 1: Choose Suitable Heat
It would be better to use low to medium heat that benefits not only your pan but also your food. In case you place it in the oven, make sure the limit heat that your utensil can withstand is appropriate to the oven temperature you are setting.
Knowing the way to reheat an omelette by choosing the appropriate heat level is essential as well, whether it is in the oven, microwave, or on the stovetop.
Tip 2: Use A Lid If Possible
The lid can also help your food be cooked quickly and evenly. If you use a stovetop with direct fire, a cover can prevent harmful carbon.
Tip 3: Cleaning
Some pans are not safe in the dishwasher. So if you clean by yourself, mentally scrub the surface with a soft sponge and light detergent. Avoid stiff or metal scrubbers as they will ruin the non-stick coating.
Tip 4: Cleaning Burnt Pan
Mix water and vinegar and fill this solution in your pan. Heat them on the stove for 10 minutes, cool them for another 10 minutes, and add baking soda. Finally, use a spoon or other utensil to remove burnt particles on the surface gently.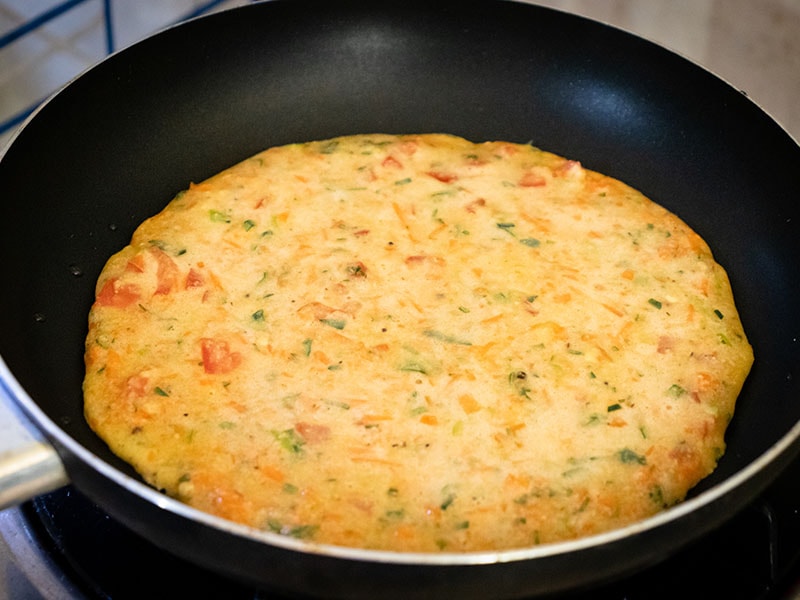 FAQs
At this point, I believe you might already have your own choice for choosing a decent pan for cooking omelettes. But if there are still other concerns in your mind, I hope these questions and answers will help you.
My Top Pick
Finally, what is your final choice? In my opinion, I will opt for Sensarte 8-inch Granite Coating Pan as the best option. Indeed, it is the ideal combination of strong and non-toxic materials and compatible with all stove kinds, even induction.
And if you do not mind the weight of your pan, you can choose this very reasonable price product – Cuisinel 8-inch Cast Iron Pan. It is durable, and you can use it on various cooktops as well.
Lastly, this is the list that I want to share with you. And I hope that everything I have covered here has provided you with all of the information you need to choose the best cookware for your kitchen. If you like this post, please like and share. Your support is highly appreciated.
Thank you for your time!