A soft and delicate breakfast is what this creamy Mediterranean omelet is all about. It has a pleasant salty taste with little bubbles that are followed by small pieces of veggies. This perfect morning dish will keep you full for longer than you could imagine.
There is no specific rule regarding the vegetables you can add to the omelet. But I recommend this recipe because it is a healthy mixture of fats, proteins, and veggies for a million-dollar breakfast. Read on, and you will see how easy it is to whip up a tasty Mediterranean breakfast.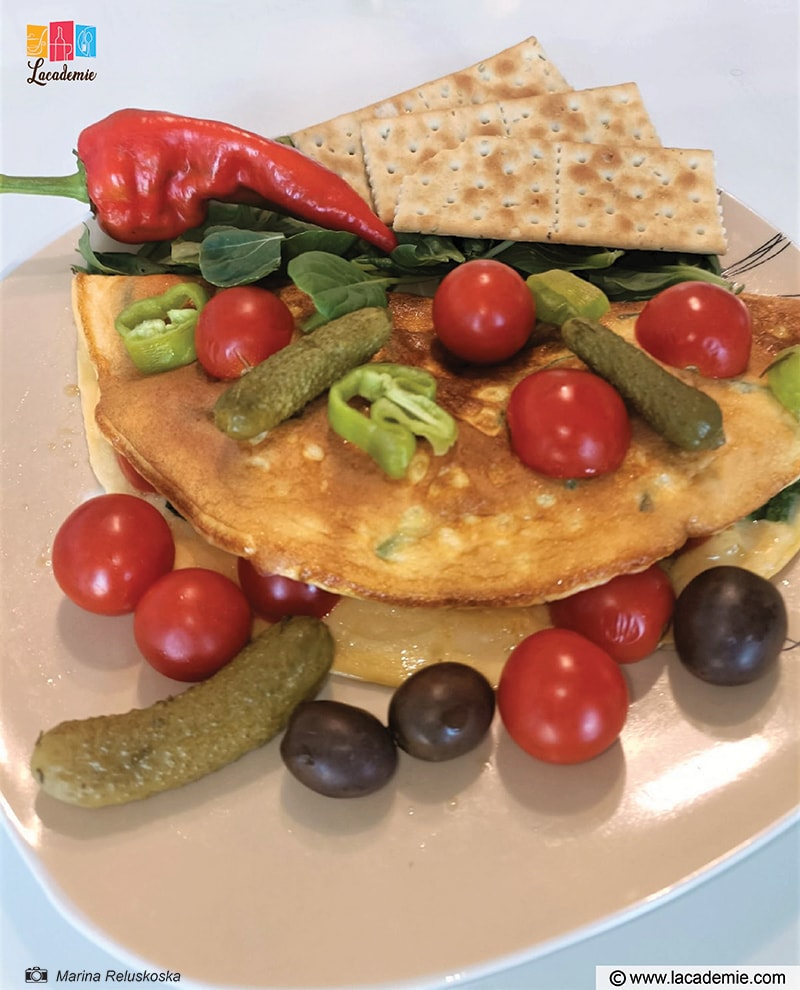 What Is A Creamy Mediterranean Omelet?
Based on the region, there are wide recipe varieties for omelet form. The basics are scrambled eggs baked or pan-fried like a pancake. Some of the most famous forms of omelet recipes are:
Spanish omelet: looks like a big pancake filled up with small cubes of potatoes and onions.
French omelet: folded three times to have an envelope-like shape.
Frittata omelet: oven-baked like a cake.
Half-folded omelet: made in a pan and folded in the end.
They are all delicious, full of flavors, and suitable for breakfast. However, today's recipe will focus on the last one. Read on, and you will know how to prepare a creamy, half-folded omelet with fresh ingredients and lively flavors that will allow you to taste Mediterranean cuisine at its best.
Ingredients
Although it looks super luxurious, trust me when I say you will only need everyday ingredients that are already in your fridge.
Eggs: Take care that they are always fresh and well stored. Choose the one with standard size or a little bit bigger than usual.
Greek yogurt: You would need only a tiny amount of it for the omelet. Pick your favorite brand or, even better, make your own. I always choose the low-fat creamy type.
Cherry tomatoes: The market is filled up with so many different forms of tomatoes these days. Personally, I find them all tasty and nice. But for today's recipe, you should use the cherry type that adds an extra touch of sweetness to the dish.
Olives: Definitely the green ones; they are a little bit salty with a buttery taste that gives balance to the eggs and veggies. You can find them in the supermarket by the name Castelvetrano olives.
Spinach: For this recipe, I have used baby spinach that doesn't require a lot of cooking and can be eaten alive. Just find the smallest leaves of spinach and buy them.
Green pepper: A natural couple of eggs and tomatoes.
Salt: I prefer to use Himalayan because of the potassium – sodium balance. Use as much as your taste allows, but don't add more than two pinches.
Olive oil: Oils are good if they are cold-pressed. So always add the oil at the end of cooking to keep all omega amino acids in it.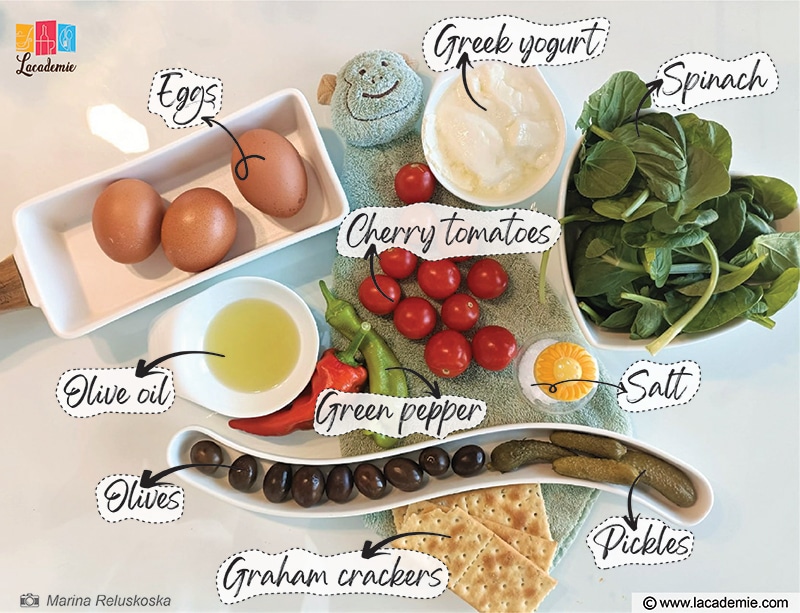 Kitchen Tools
The best part is that you don't need any specific kitchen gadgets: basic tools will do. Here is a review of them all.
Knife: just a regular kitchen knife to help you to cut the veggies.
Pan lid: choose the one that covers your pan completely.
Fork/ whisk: it is easier to have a whisk because it allows you to mix the eggs more smoothly, but a normal fork also works perfectly.
Non-sticky cooking pan: the best way to make a good omelet is to own one non-sticky cooking pan. In case you can not have it, don't worry. Just add a little bit more oil to your pan, and the omelet will never stick
Plate or glass: for scrambling the eggs. Take the one that works best for you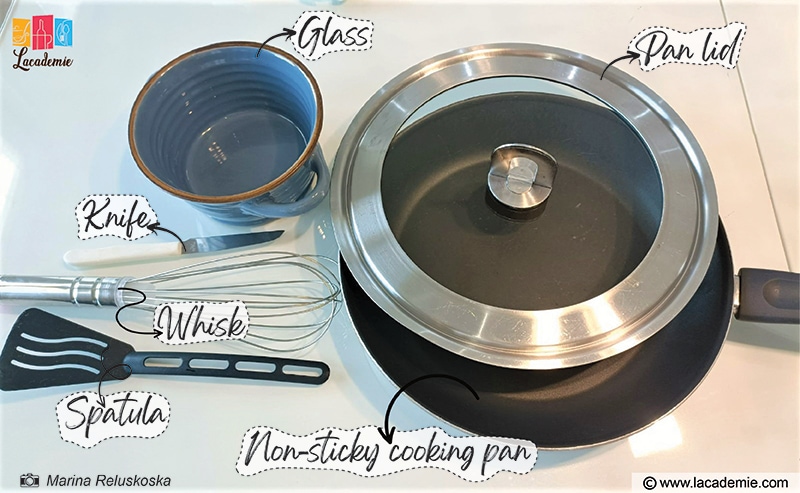 How to Make a Perfect Creamy Mediterranean Omelet?
Creating a fluffy yellow omelet doesn't require any secret trick, but it is never easy to achieve a satisfying outcome. But follow my guide, and you will always get a nice breakfast.
Step 1: Scramble The Eggs
The making of a nice omelet starts with scrambling. The more that you scramble them, the fluffier the omelet will get. So take the fork or whisk and start the process.
Mix the eggs with Greek yogurt and some olive oil. Baby spinach should be added at the end of the process.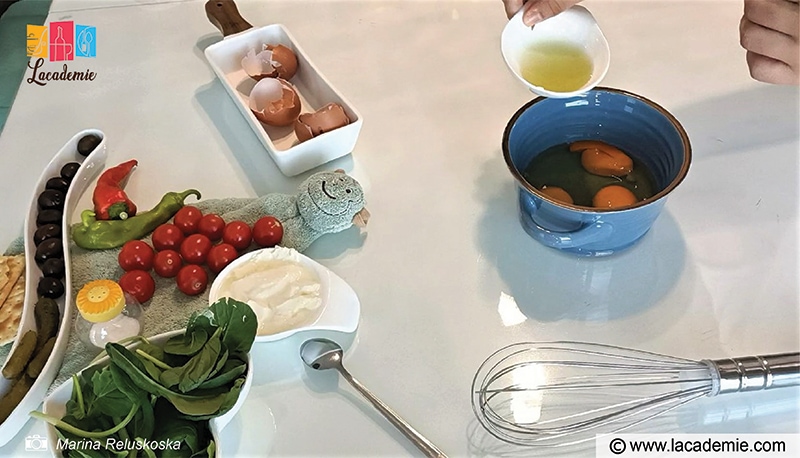 Step 2: Cook The Omelet
So heat the pan with a bit of oil before you add the scrambled eggs. Reduce the pan heating to 2/3 of the highest temperature (3 from 5 or 6 from 9) as soon as you have poured the eggs.
Cover the pan with a lid for 4-5 minutes. This is the moment where the omelet expands and gets its perfect shape.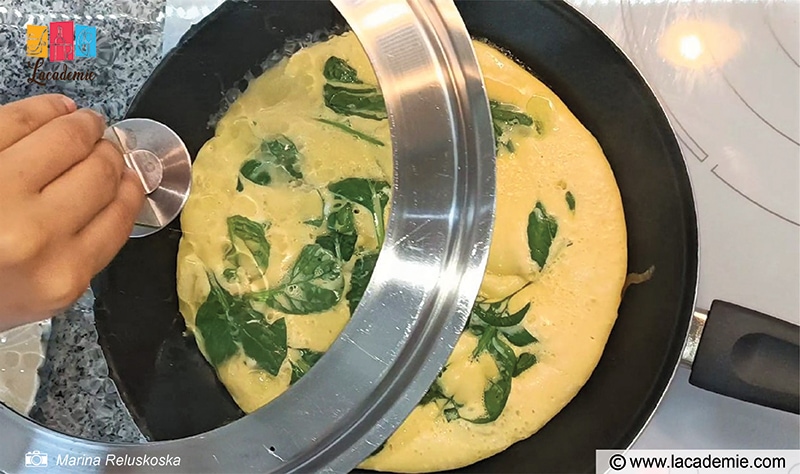 Step 3: Decorate And Serve
Open the lid and plate the omelet. Decorate it with cherry tomatoes, green peppers, and olives. Enjoy!
Tips For Making And Serving Creamy Mediterranean Omelet
Even though I don't consider making an omelet like a challenging task, you can get it wrong the first time. Follow these tips to ensure that you will definitely succeed.
Scramble the eggs as much as you can. If you are a fan of super fluffy omelets like the one in the commercials, add a pinch of baking powder to the eggs.
Make sure the cooking pan is well-heated: Preheat it for 3 or 4 minutes.
Pour the omelet into the pan and cover it. This way, it grows faster and is baked equally.
Decorate it with the best-colored veggies and herbs you have for a more attractive appearance as well as nutritional profile.
Serve your omelet immediately after cooking when it is so fluffy and creamy. If you use a non-stick pan, this won't be a problem for you because the omelet will slide right into the dish.
What Should I Serve With My Creamy Mediterranean Omelet?
It mostly depends on your taste. But for me, all-natural ingredients that you can find in the Mediterranean part of the world are excellent additions to the omelet. Here are a few suggestions:
Graham crackers with seeds: add a little bit of yogurt to them and combine them with the omelet.
Greek yogurt: an excellent side dish you can spread on graham crackers.
Vegetables: more cherry tomatoes and olives will greatly improve the taste of your breakfast dish.
Pickles: though they seem to be an unlikely addition to an omelet, crunchy pickles can give a unique look to the dish.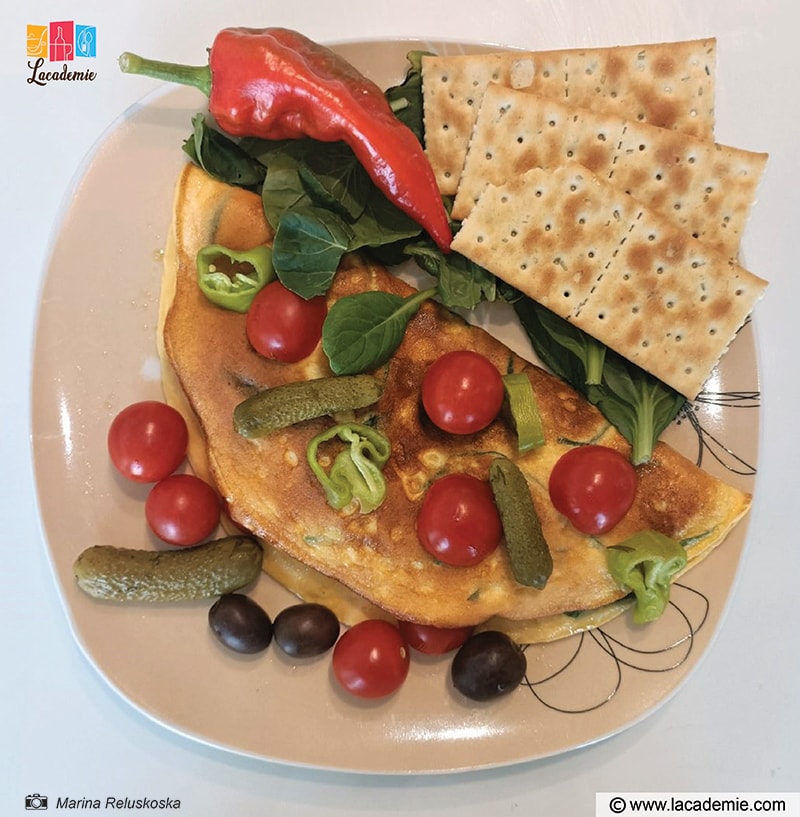 Proper Storage and Reheating Tricks
Unlike other dishes, I don't recommend that you store your omelet for an extended period. Although there are effective ways to reheat an omelet, eggs are a highly perishable type of food that can quickly get spoilt. If you have some omelet leftovers, you can just prepare a sandwich with some salad for your next meal.
It's Show Time
For me, there is nothing better than a nice omelet for breakfast. The mixture of veggies that are included in the Mediterranean omelet is great and gives you an opportunity to eat healthy and tasty food.
This recipe is also very quick and simple to prepare, even for busy bees. So don't let a hectic lifestyle be an excuse preventing you from having a nutritious breakfast with Mediterranean omelets.
If you find this post helpful, please share it with your friends, especially those most likely to skip breakfast. And don't forget to leave a comment to share how your omelet goes or any nice tips for making this dish.
Nutrition Facts
1 servings per container
---
Amount Per ServingCalories468
% Daily Value *
Total Fat 28.5g

44

%
Cholesterol 491mg

164

%
Sodium 432mg

18

%
Potassium 804mg

23

%
Total Carbohydrate 19.8g

7

%

Dietary Fiber 4.6g

16

%
Sugars 12.9g

Protein 36.9g

72

%
---
Calcium

318

%
Iron

5

%
Vitamin D

46

%
* The % Daily Value tells you how much a nutrient in a serving of food contributes to a daily diet. 2,000 calories a day is used for general nutrition advice.