I know many of you wonder how to reheat an omelette properly and retain the same texture as the freshly cooked ones. However, it is neither difficult nor easy because sometimes you might end up with a bunch of rubbery and overcooked omelettes after reheating.
Omelette is a healthy and delicious cooked egg variety that everyone would love to have on any meal of the day. But how about the leftovers? Is it safe to eat them on the following days?
Well, the answer is yes. You can reheat and enjoy your food again. And in this post, I will show you how to do it without compromising the original texture and taste of your tasty and beautiful treat. Keep reading to find out!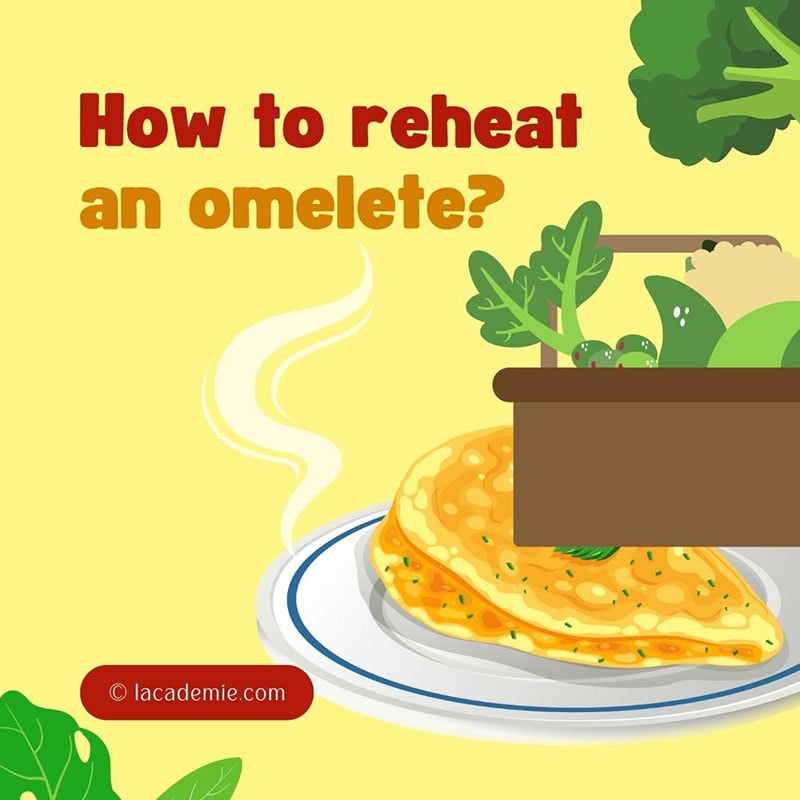 How To Make A Perfect Omelette
Omelette is quick and pretty easy to make. Classic recipes like creamy and tasty Mediterranean omelets are the go-to morning meal for countless people. It might require some tricks to create a perfect dish. And flipping is one of these hacks to ensure your omelettes are fully cooked on both sides.
Do not be scared; it is not too challenging to learn ways to flip an omelette properly. For the ingredients, you have to prepare:
2 to 3 eggs
A little bit of water
Oil or butter
Spices and other ingredients like vegetables, ham, bacon, cheeses, etc., based on your recipes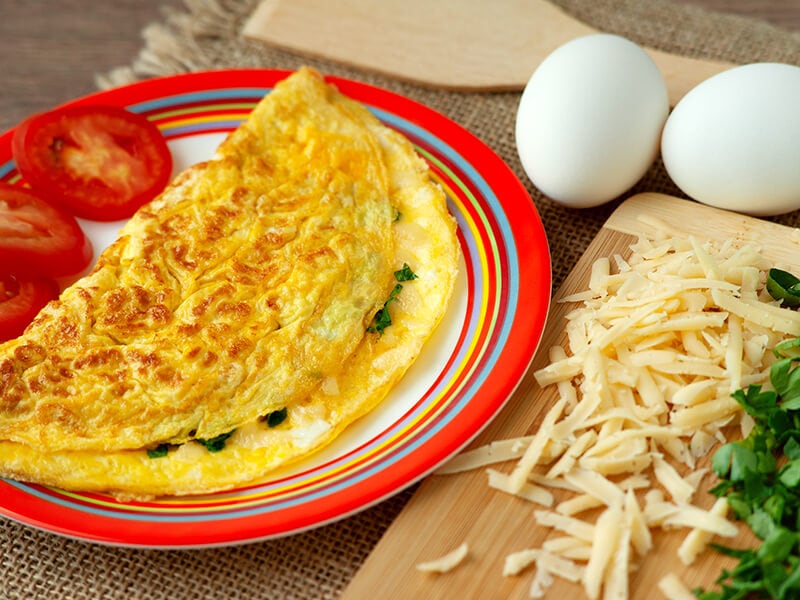 And here are some basic steps to make a fluffy omelette
Step 1: Crack the eggs into a big bowl, then whisk them and add a little bit of water and seasonings. Let it wait for around 15 minutes.
Step 2: Heat the pan and melt butter at medium heat.
Step 3: Pour the eggs into the heated pan. It might take only a minute or less for the eggs to set.
Step 4: Tilt the pan to let the uncooked part run into the pan edges to ensure the whole omelette is cooked.
Step 5: When you see the top is starting to firm up, you should add fillings right at this point.
Step 6: Flip and fold the omelette and cook it for a few more seconds.
Step 7: Slide the eggs into a plate and serve hot.
What tricks to make the best omelettes? Check here for the answer:
4 Simple Yet Effective Ways To Reheat Omelette
Let's move to the most important section in this post, which is about reheating methods that still ensure the same taste and texture as it is used to. Not everyone has a state-of-the-art egg cooker to reheat their food, but it doesn't mean they'll have to eat cold, unappetizing omelettes.
Of course, you will need the assistance of your kitchenware like a Microwave, an Oven, a Pan and stovetop, and an Air fryer. So keep rolling down to see which way is the most suitable one for you.
1. Use A Microwave
Everyone has a microwave at home. And considering how the microwave is one of the quickest ways to reheat lasagna and many other dishes, it's completely understandable. Now, I'll start with the easiest and most convenient trick to heat omelettes with this kitchenware.
For the best result, you need to prepare:
A damp paper towel
A dry paper towel (optional)
If you do not have a paper towel, try with plastic wrap.
Step 1: Cover Your Food Plate
Use a damp paper towel on the top. If your omelette's fillings are veggies, it would be better to place a dry paper towel underneath the plate to soak the excess water during reheating.
You can use plastic wrap to cover as well. And remember to add a little bit of water to the omelette surface and create some tiny holes in the plastic wrap to prevent a dry and tough outcome.
Step 2: Set Appropriate Heat
Set your microwave heating level 3 or 4 (low setting) for around 30 seconds to 2 minutes. It also depends on the way you store your food (in the fridge or freezer).
Besides, you should flip your eggs during the reheating time. For example, if you set 1 minute, flip the omelette when it reaches the 30th second to ensure both sides are reheated evenly.
After the set time, if you find your food is not hot enough, set extra 10 seconds. Overall, you must carefully check the eggs every 30 to 45 seconds.
If your microwave heat is too strong, you can set a shorter time. The main point of this method is the timing and heating. Thus, you should check your food more often and use low heating temperatures to prevent rubbery and chewy results.
If you have a toaster oven at home, you can also use it to reheat your food. Technically, toaster ovens and microwaves have differences in function, but they both reheat your eggs excellently.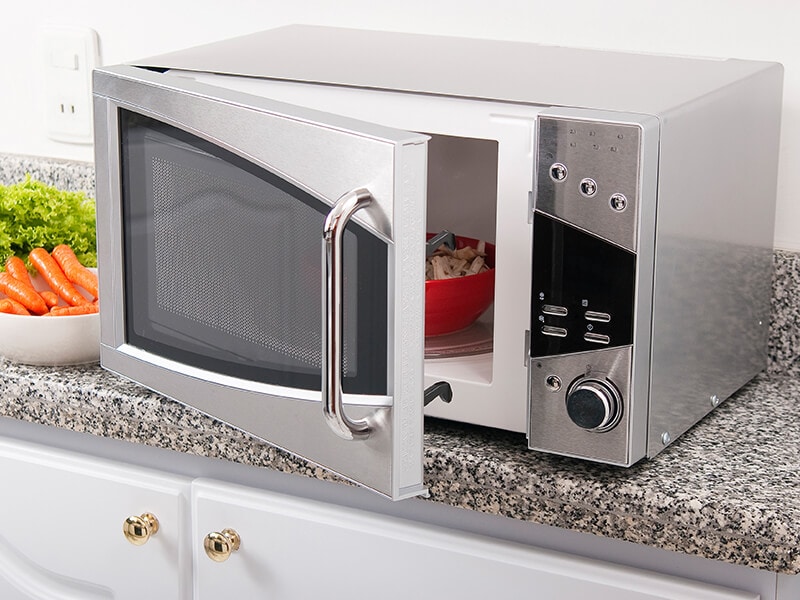 2. Use An Oven
Although many cutting edge omelette makers also have reheat functions, it's not a bad idea to reheat this egg-based recipe with an oven. This method is not the fastest way, but it is handier if you have a big batch of leftovers.
Similarly, you need to prep some tools like:
Aluminum foil
Baking tray
Non-stick oil sprayer (or parchment paper)
Step 1: Turn on the oven and set it at 350 degrees F (approximate 180 degrees C).
Step 2: Spray a bit of non-stick oil on the baking tray, or you can use parchment paper to prevent the food from sticking on the tray surface. Then put the omelette into a tray.
Step 3: Cover the tray with aluminum foil. By using foil, you can lock the steam inside the tray and keep your food moist.
After that, place it in the oven and heat for about 7 to 10 minutes until it is heated. You should also flip the eggs halfway through the reheating time.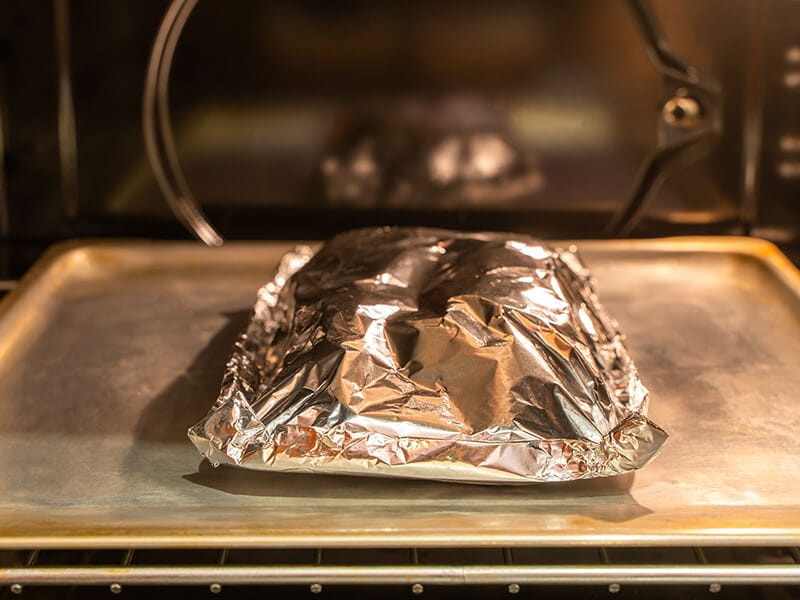 3. Use A Pan (or Skillet) On The Stove Top
The third option – warming your food on the stovetop is the best way. This method allows you to control the heat better to avoid overcooking omelettes. Also, oil or butter can keep the moisture of your food, so it is less likely to end up with a dry reheated omelette. The preparation includes:
Step 1: Warm up the pan (or skillet) by low to medium heat, then add some oil or butter.
Step 2: Place the food on the pan and let it heat for 1 to 2 minutes or more, depending on the size and thickness of your egg dish. Do not forget to flip it so both sides can be heated evenly.
Step 3: Take the omelett out of the pan right after they are heated through; otherwise, you will overcook your dish.
You can use a lid to cover your pan with this method. In this case, the heat from the steam might shorten the reheating time. Moreover, you will need a first-rate omelette pan to do it as well.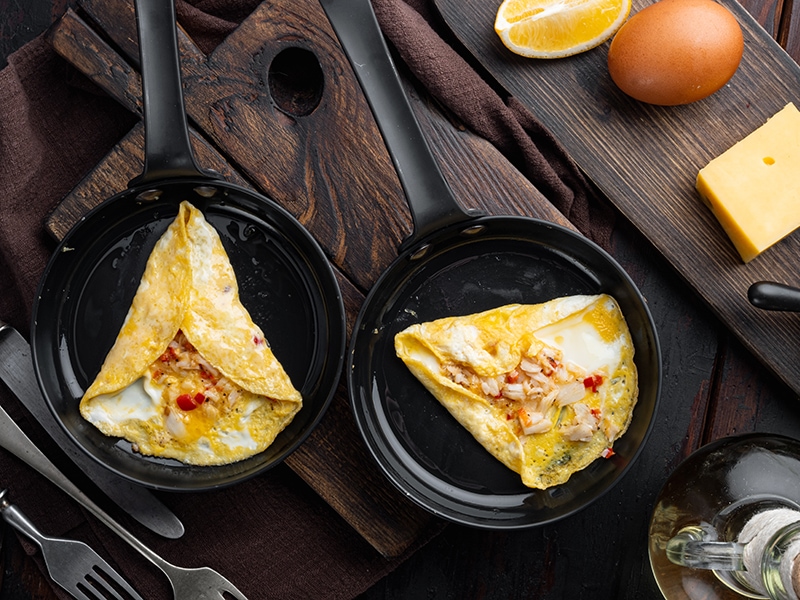 4. Use An Air Fryer
The air fryers are more and more popular these days, so if you have 1 at home, why don't you use it to reheat this egg-based leftover? Reheating omelettes in these will give you delicious breakfast foods to eat at dinner – my favorite way of ending a long and exhausting day.
Some tools that you should prepare in advance is similar to the above techniques, which are:
Oil sprayer
Or parchment paper
Step 1: Preheat your machine to 350 degrees F, then spray some non-stick oil on the machine's basket. If you do not have an oil sprayer, use parchment paper instead.
Step 2: Place the food into the basket and set the timing for 1 to 2 minutes. Remember to flip and check it during the reheating process to avoid overcooking.
In case your leftover is bigger than the size of the air fryer's basket, cut it in half. Moreover, you can also reheat pizza in an air fryer at ease.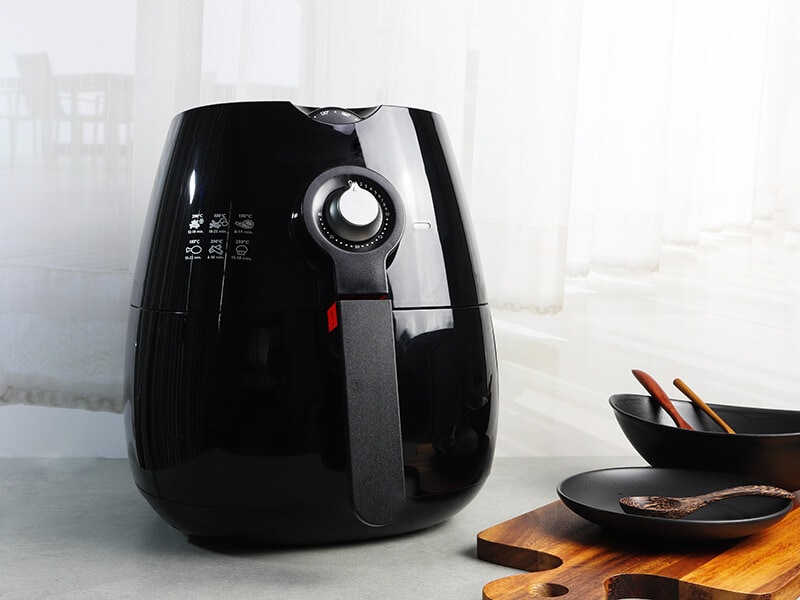 Advantages and Disadvantages of Reheating Omelettes
Why should you reheat your leftovers, and what other considerations before doing it? Here are some highlights regarding the pros and cons of reheating omelettes.
Good Sides
Omelette is a delicious treat, and knowing how to treat the leftover omelette is also essential as there are some advantages of doing it, such as:
No more food wastes.
Perfect for busy people who do not have too much time to cook food every day as these omelettes would be ideal make-ahead meals.
Also suitable for others who love to enjoy these ready-to-eat dishes any time in a day.
It can keep the flavor and texture as good as the freshly-made omelettes.
Require no special tools or kitchen skills to reheat.
Not So-Good Sides
In contrast, there are also some concerns that you might hesitate in warming up your food.
Omelettes are prone to break when reheating.
Eggs are excellent in holding moisture, so you must pay more attention when warm-up your food. It's also why I always recommend preparing new dishes with unfinished egg yolks rather than reheating them.
Requires perfect timing and appropriate heating degrees to prevent overcooking.
If you freeze your omelette, do not keep it in the freezer for a long period. Otherwise, there will be freeze burns, which might negatively impact the reheat result.
In the next part, you will learn how to store omelettes correctly to ensure your safety in eating. So do not miss out!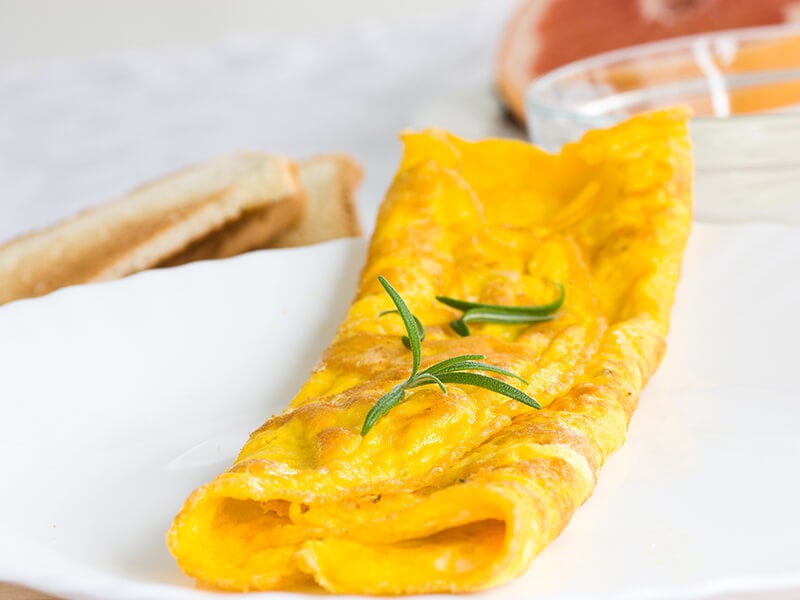 What Are The Best Ways To Store Omelettes?
According to the FDA, no food can be safe at room temperature for more than 2 hours, or just in 1 hour if the temperature is higher than 90 degrees F (1).
Therefore, you should keep your egg dishes in the fridge or freezer for a longer usage time. Below is a brief table about the omelette's shelf life in these household appliances.
| | |
| --- | --- |
| Appliances | Ideal Storage Time |
| Fridge | 3 to 4 days |
| Freezer | Up to 4 months |
In The Fridge
Indeed, for the best reheat outcome, your foods need to be stored precisely. The most common way is putting them in the fridge, and there are some notes that you should know.
The maximum storage time in the fridge for cooked egg dishes is 4 days (2).
The omelettes must be wrapped tightly in plastic wrap, or you can put them in a food container or airtight bag and squeeze the air out as much as you can. Or you can use any suitable meal prep bag to keep them as make-ahead breakfasts.
Write down the date you put them in the fridge in case you might forget the date you put them in.
The key point is that regardless of what storage tools you use, they must be sealed completely to keep your omelets' perfect taste and texture after reheating.
In The Freezer
Like fridge-storage, there are also some important things you must follow when you keep your food in the freezer, including:
The best storage period is up to 4 months. But if you want it to taste as perfect as the first time, you should consume it within 2 months.
Do not forget to use sealed airtight freezer bags or containers, or use food wrappers and wrap them carefully. And put a date label on it.
You can use 2 wrapping layers, including a plastic wrap and a freezer bag, to lower the development of freezer burn. For the best storage care, you should choose durable and versatile freezer containers.
Storage in the freezer would be better for freezer-friendly toppings, like cheese, bacon, ham, onions, peppers, etc. However, some veggie fillings, like tomatoes or cooked spinach, might alter the texture after thawing.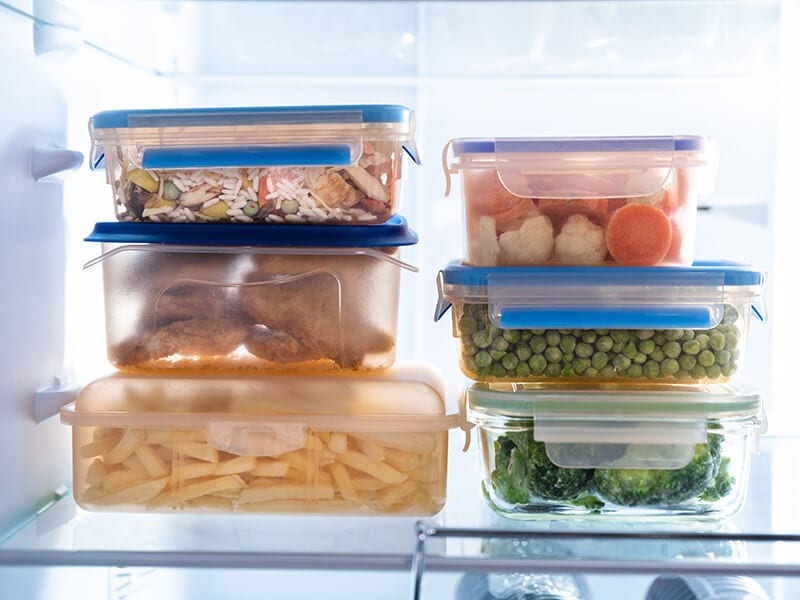 How To Defrost My Leftover Without Ruining Its Texture
The best way to reheat frozen omelettes is to thaw them before warming them up by air fryer, stovetop, oven, or microwave. There are 2 ways to do it as:
Place the frozen food on the counter and let it thaw at room temperature, but it should be less than 2 hours before the bacteria attack. Or you can put it in the fridge overnight.
If you want to speed the thawing time, prepare a big bowl of water and submerge your sealed bag into it at room temperature.
After they are fully defrosted, you can apply any reheating method you like in the 4 techniques as explained above.
If you want to know how to defrost frozen foods safely and effectively, do not skip this instruction:
Signs Of Spoiled Omelette That You Should Know
Another crucial piece of information that I believe everyone should be aware of is identifying whether your omelets go bad or not. With the following simple tips, you will never worry about it again.
Check For The Texture: If you see your food is wet or slimy, it is one of many bad signs, so you need to discard it right away.
Check For The Smell: Sniff it! If it has a sour smell or bad odor, there is no way to save your omelette.
Taste It: The last but not-too-ideal option is to give it a tiny bite if you do not see any abnormal signs regarding its texture and smell. If they taste weird or sour, throwing them away is the only choice.
FAQs
To wrap up the article, let's have a quick look at these commonly asked questions and their answers to grasp more information about omelettes in general.
Omelettes Are Tasty and Healthy Dishes That Should Not Be Wasted
Indeed, the omelette is an iconic treat for breakfast, so if you are a busy person, you can make it the night before and reheat it the next morning. And with these methods that I have introduced in the post, nothing is hard for a perfect breakfast with your make-ahead food.
Microwave, oven, air fryer, or stovetop; use any cookware you prefer to reheat the eggs yet retain the flawless look and yummy taste like it is freshly made. However, I highly recommend using the stovetop as it allows a more precise heating control and keeps your food moisture.
Finally, if you find this post very helpful, please click like and share. I also look forward to hearing your feedback after trying these techniques. Thank you!
Nutrition Facts
1 servings per container
Serving Size1 3-egg omelet (178g)
---
Amount Per ServingCalories323
% Daily Value *
Total Fat 25g

39

%

Saturated Fat 5.9g

25

%
Trans Fat 0.1g

Cholesterol 625mg

209

%
Sodium 533mg

23

%
Potassium 236mg

7

%
Total Carbohydrate 1.4g

1

%

Dietary Fiber 0.1g

0

%
Sugars 0.6g

Protein 21g

42

%
---
Vitamin A

18

%
Calcium

7.3

%
Iron

15

%
* The % Daily Value tells you how much a nutrient in a serving of food contributes to a daily diet. 2,000 calories a day is used for general nutrition advice.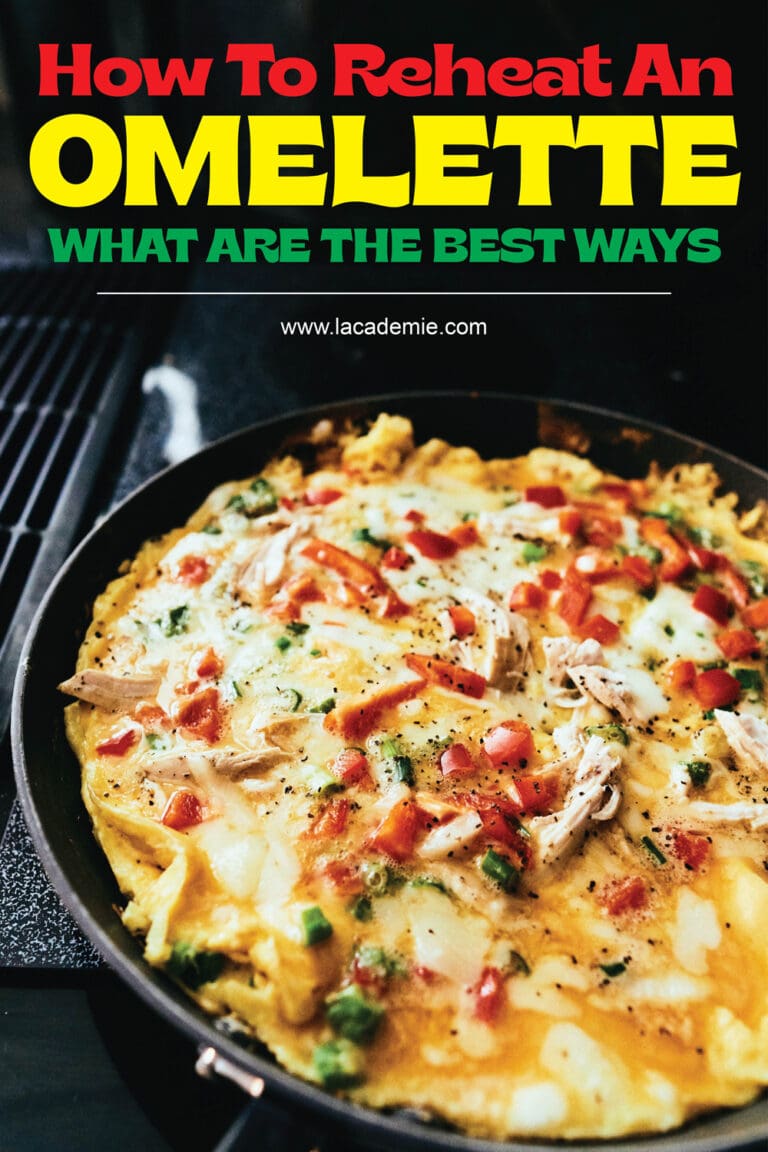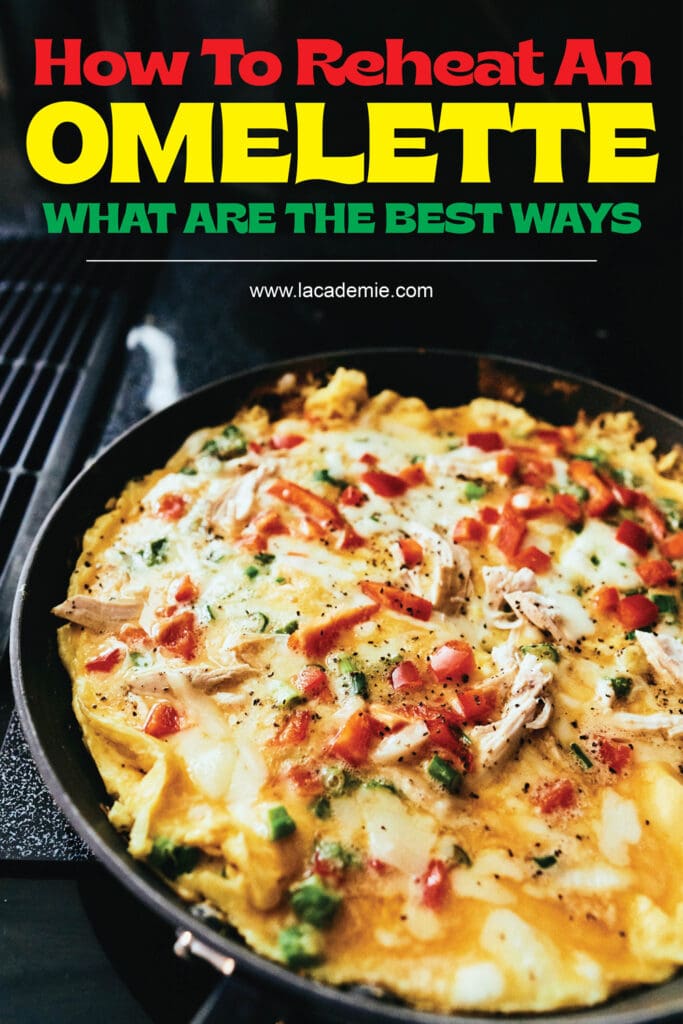 References
FDA.gov. Are You Storing Food Safely?.
FDA.gov. What You Need To Know About Egg Safety.