How to reheat stuffed peppers properly? You may wonder. Whether you are having lots of leftover stuffed peppers or meal prepping, this post has got you covered with the four straightforward methods of reheating peppers.
Who doesn't love delicious stuffed peppers? However, there is little likelihood that you can make enough stuffed peppers at once. Then you will need to store them in the fridge or freezer and reheat them for later use. If you find yourself in this situation, you should keep on reading.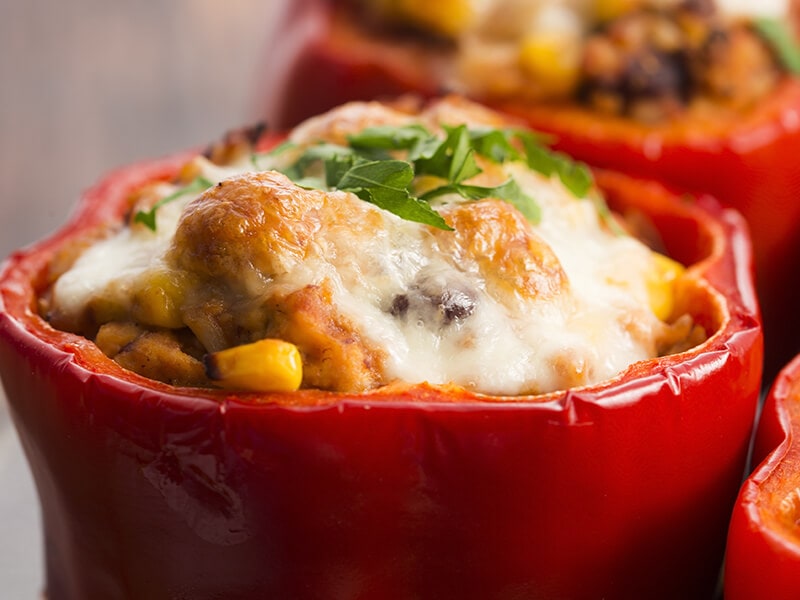 4 Methods To Reheat Stuffed Peppers Without Losing Their Taste
The four methods I want to tell you are not hard to complete but still keep the flavor of stuffed peppers. Therefore, take a piece of paper and write these ways to reheat stuffed peppers for the next dinner.
Method 1: Use an oven
Method 2: Use an air fryer
Method 3: Use a microwave
Method 4: Use an instant pot
Don't rush, and take your time! Stay here with me and check the details of each way to see how it works on your food!
How To Reheat Stuffed Peppers With 4 Effective Methods?
People make stuffed peppers by filling the mixture of meat, rice, and other seasonings into hollowed peppers (1). There are many creative recipes with stuffed peppers in the world.
This dish, topped with tomato sauce or sour cream, can be served as a main dish, side dish, or sometimes appetizer. Besides, you can also add cheese to bring a burst of creamy flavor.
Method 1: Use An Oven (The Best Method)
This is the common method to cook stuffed peppers again. Although using an oven might take more time than other ways, it helps you maintain the taste and texture. Moreover, you do not need to defrost frozen peppers in advance.
The stuffed peppers' quality, texture, and flavor are perfectly retained when reheating with the oven. This method is also ideal if you're going to reheat a lot of stuffed peppers!
What You Need:
An ovenproof dish or a casserole
Foil or a lid
Step 1: Preheat the oven to 350F (177C).
Step 2: Place the peppers in an oven-safe or a casserole dish with their top facing up. Arrange them in one layer only to prevent the peppers from falling over.
Step 3: Cover the ovenproof dish or casserole with a lid or foil.
Step 4: Place the ovenproof dish/casserole into the oven and bake them for 15 minutes (with refrigerated stuffed peppers). If you reheat frozen stuffed peppers, you have to modify the time up to 45 minutes.
Step 5: Take the lid or foil out and let the stuffed peppers stay in the oven for more than 5 minutes. Your peppers will be more crunchy with a beautiful color.
Step 6: Check again to ensure your dish is fully reheated.
Step 7: Remove the reheated stuffed peppers from the oven and serve.
Useful Tips:
To reduce the baking time, you can put frozen peppers into the microwave to defrost for 20-30 seconds before baking.
Use a thermometer to check the oven temperature. Generally, I find that high-quality wireless meat thermometers offer the most accurate readings. You might need to take this into account, especially if you want to avoid cold or overly hot stuffed pepper.
This method is perfect for both refrigerated and frozen stuffed peppers.
Method 2: Use An Air Fryer (Quick and Effective)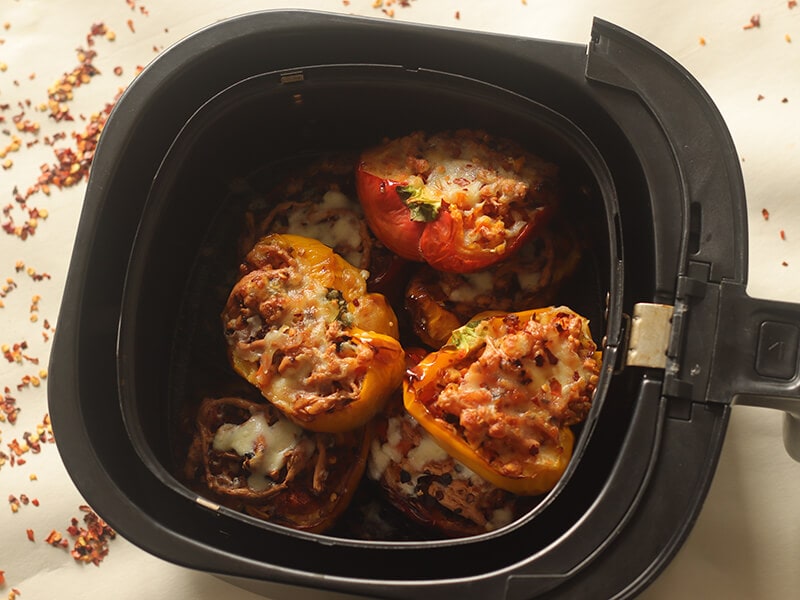 When you are in a hurry, consider an air fryer to cook leftover stuffed peppers. You will not feel differences between the freshly cooked dish and the reheated one in this process. With just stuffed peppers and an air fryer, you are able to serve a meal.
Step 1: Preheat the air fryer to 350 degrees F to help fasten the reheating process (you can also thaw frozen peppers in the microwave for 20-30 seconds).
Step 2: Arrange the peppers in the air fryer in a single layer. Do not put too many stuffed peppers into the air fryer basket at once so that you can reheat your dish evenly and perfectly.
Step 3: The reheating time at 350 degrees F will be 5 minutes for refrigerated stuffed peppers and 15 minutes for frozen ones.
Step 4: Flip to the other side of the peppers while cooking them halfway. Take them out and enjoy.
Method 3: Use A Microwave (Effortless and Time-saving)
Another option for busy people is to reheat stuffed peppers in a microwave. This method is convenient and does not take much of your time.
However, you should notice that the texture of your food might be a bit different in comparison with stuffed peppers that are reheated in the air fryer and oven. They might be soggy and watery, but they are still warm.
Therefore, feel free to try this method if a small texture change does not make you concern.
What You Need:
Microwave is a multifunctional cooking item that every house should have. Here is the instruction:
Step 1: Place stuffed peppers on the microwave-safe plate.
Step 2: Microwave the food on high power for 2 minutes.
Step 3: Check whether the stuffed peppers are evenly reheated.
Step 4: Reheat for an additional 30 seconds if necessary.
Useful Tip:
To reheat evenly, you can also cut the peppers in half.
Method 4: Use An Instant Pot
Instant pot is favored because of its various functions, and you will be surprised to know that it can also be used to reheat stuffed peppers. Although this method still works on frozen stuffed peppers, it is better to defrost them with a microwave for 20-30 seconds in advance.
So between instant pot and air fryer, which one should you choose to reheat your stuffed peppers? Well, it all boils down to personal preferences and your needs, but generally, you first need to understand the differences between instant pots and air fryers.
The instant pot will have three functions that you can reheat your food, including keep warm, slow cook, and steam.
1. Keep Warm Function
Let's see how this function works step-by-step!
Step 1: Place the stuffed peppers into the instant pot.
Step 2: Cover the peppers with a lid to ensure steam absorbs them.
Step 3: The peppers will be reheated for 20-30 minutes after pressing the keep warm button.
2. Slow Cook Function
The slow cook function is also a good solution for reheating stuffed peppers. Plus, you can apply this function to other baked foods.
Step 1: Arrange the cooked peppers to a tray or bowl.
Step 2: Place the bowl into your instant pot and cover with its lid.
Step 3: Choose the slow cook function.
Step 4: Wait for around 20 minutes and check the result (the reheating time may vary, so you can lengthen the time if necessary).
Useful Tips:
If you have a glass lid for an instant pot, use it instead of a standard cover because you can observe the whole cooking process and check your food quickly.
3. Steam Function
The steam function is not unfamiliar to some of you, particularly those who often eat steamed veggies and other foods. Thanks to its convenience, you can quickly and effectively reheat the stuffed peppers.
What You Need:
Water
A stackable steamer (optional)
It is worth buying an instant pot in your kitchen. Follow these steps below for warm and delicious stuffed peppers.
Step 1: Pour some water into the pot.
Step 2: Place the peppers on the tray and put them inside the pot. Use a stackable steamer in case you need to reheat a lot of stuffed peppers.
Step 3: Cover the lid to the pot and set up the venting knob as you often cook with other food.
Step 4: Choose the steam mode and wait for 5 minutes with stuffed peppers stored in the fridge. Increase the time for reheating frozen peppers.
Step 5: Add a little more time if you need to reheat a large number of stuffed peppers or your peppers come in larger sizes.
Useful Tip:
You should leave a space between peppers and the pot to ensure it reheats thoroughly.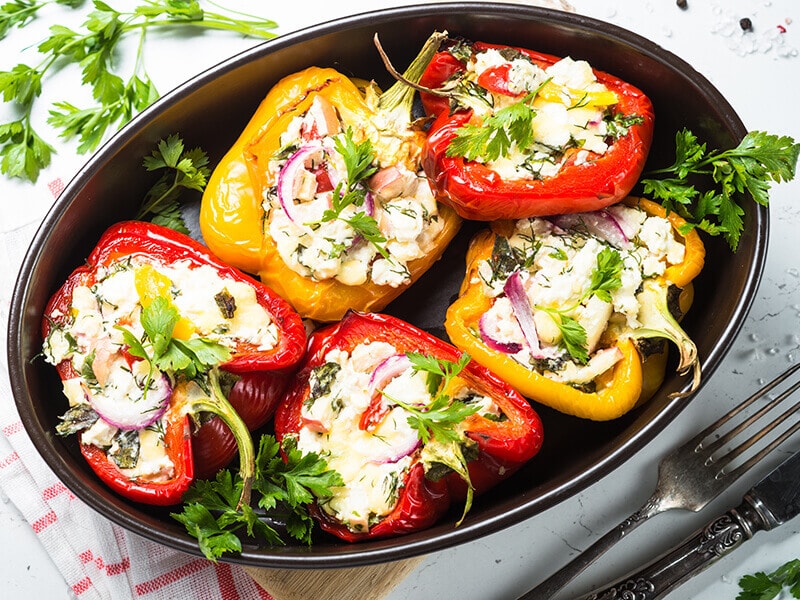 Bonus Tips To Reheat Stuffed Peppers
Any reheating process will need some tips and tricks to make it easier and better. That is why you must not miss this part to know what you should notice.
Do not reheat stuffed peppers the second time.
You can defrost frozen stuffed peppers by leaving them in the fridge to thaw overnight.
While preparing the peppers, you can add some oats to the fillings mixture. Oats help maintain the moisture and prevent the food from getting soggy.
Mixing the fillings with quinoa instead of rice is also a good option to avoid sogginess.
If the filling mixture has fish or meat, you have to pay attention to the cooking temperature and use a thermometer to check before serving.
To improve the taste of the reheated stuffed pepper, serve it with another dish. Generally, stuffed pepper is best as a side dish for corn chowder
Storing Stuffed Peppers Properly Will Help Your Dish Taste Better
For any leftover stuffed peppers, the first thing you need to do is store them in the fridge or freezer. In that way, it will prolong the usage and maintain the freshness of your dish.
| | |
| --- | --- |
| Type | Cooked stuffed peppers |
| Fridge | 3-5 days |
| Freezer | 10-12 months |
1. Store In The Fridge
Once knowing how to keep them fresh, there is no fear of having leftover stuffed peppers anymore.
Step 1: Let your food cool.
Step 2: Place them in an airtight container or a sealed box.
Step 3: With the container, cover it with a lid and store it for about 3 to 5 days.
2. Keep In The Freezer
If you're wondering "Is it possible to freeze stuffed peppers?", you'll have your answer here. While the answer to this question is a little bit complex and needs detailed explanation, it's safe to say that the freezer is one great way to extend your food's shelf-life.
Step 1: Wait until your food is cool, put it in the heavy-duty freezer bag.
Step 2: Suck all air out of the bag.
Step 3: Place them into the freezer.
Useful Tips:
Once you want to keep them for a long time, do not put cheese on top of your stuffed peppers.
Use a straw to suck the air instead of squeezing.
Do not leave the cooked dish at room temperature for more than 2 hours.
Release the air when wrapping stuffed peppers to prolong their shelf-life. Check out this video to know:
How Can You Tell If Your Stuffed Peppers Are Bad?
It is vital to ensure leftover food is usable before cooking again to protect your health, not excluding stuffed peppers. Therefore, you need to observe your food when you decide to reheat it. With stuffed peppers, there are two factors to check:
The Peppers: The most common signs of rotten peppers are softer skin and wrinkles. Moreover, the texture of spoiled ones will be slimy and moldy. Once you see molds on any food, please give it a toss right away.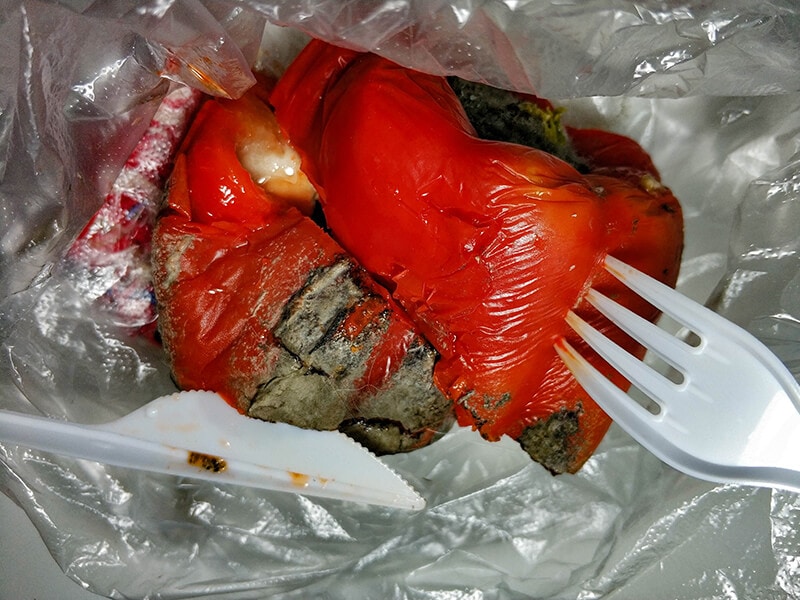 The Filling Mixture: The second trait you should notice is filling the mixture. Spoiled food always has a bad smell. You can sniff the smell to identify whether it is rotten or not.
Stuffed Peppers Recipes Make You Visit The Kitchen Tonight
I like to try many new things as well as new tastes in food. Therefore, I always spend my time cooking and finding out what makes my food more special. Here are some fantastic ideas to make stuffed peppers that you should consider.
For those who are inspired by Mexican food, it is a must-have recipe on your list. Thanks to quinoa and vegetables, you will enjoy a hearty meal without effort.
Moreover, the naturally sweet taste of bell peppers after baking or frying is a missing part of this perfection. This dish suits any meal and occasion.
Stuffed peppers are not just made from meat, adding shrimps is also an excellent step to enhance the flavor of the filling.
I will cook this recipe with a lot of cheese because I love creamy and cheesy food. Just choose whatever kind you want and ensure they can stand upright while cooking.
Learn how to smoke shrimp stuffed peppers to cook it in the next dinner! Watch this video:
This chicken Fajita stuffed peppers are considered a healthy meal and worth trying. The fillings in this dish are actually from taco fillings. But it works well on peppers, too.
The flavor is slightly sweet with chicken and bell peppers. I often choose red peppers. However, I think you can cook with whatever type of peppers are on hand.
FAQs
I think you still have some things to ask about this topic. So, I have summarized common questions in this section. You can take a look and find out the solution to your problem.
So, Which Methods To Try?
I believe that you will have many answers when someone asks "how to reheat stuffed peppers". I hope that some additional information above will be beneficial for you in some ways.
Lastly, if you have tried to reheat your stuffed peppers with one of these methods above, please let me know your experience. I am very excited every time I see your comment!
Nutrition Facts
1 servings per container
Serving Size430 grams
---
Amount Per ServingCalories444
% Daily Value *
Total Fat 24g

37

%

Saturated Fat 9.6g

45

%
Trans Fat 0.8g

Cholesterol 121mg

41

%
Sodium 494mg

21

%
Potassium 937mg

27

%
Total Carbohydrate 30g

10

%

Dietary Fiber 5.5g

20

%
Sugars 8.2g

Protein 29g

58

%
---
Vitamin A

29

%
Vitamin C

243

%
Calcium

19

%
Iron

22

%
* The % Daily Value tells you how much a nutrient in a serving of food contributes to a daily diet. 2,000 calories a day is used for general nutrition advice.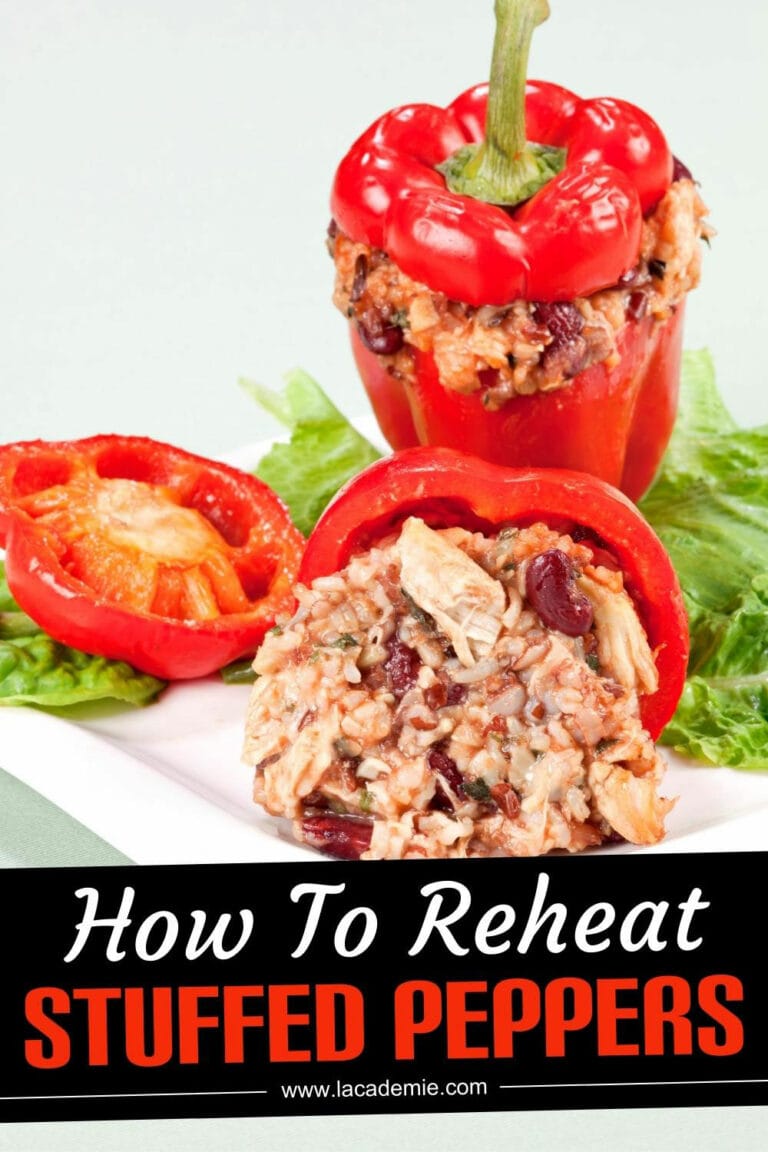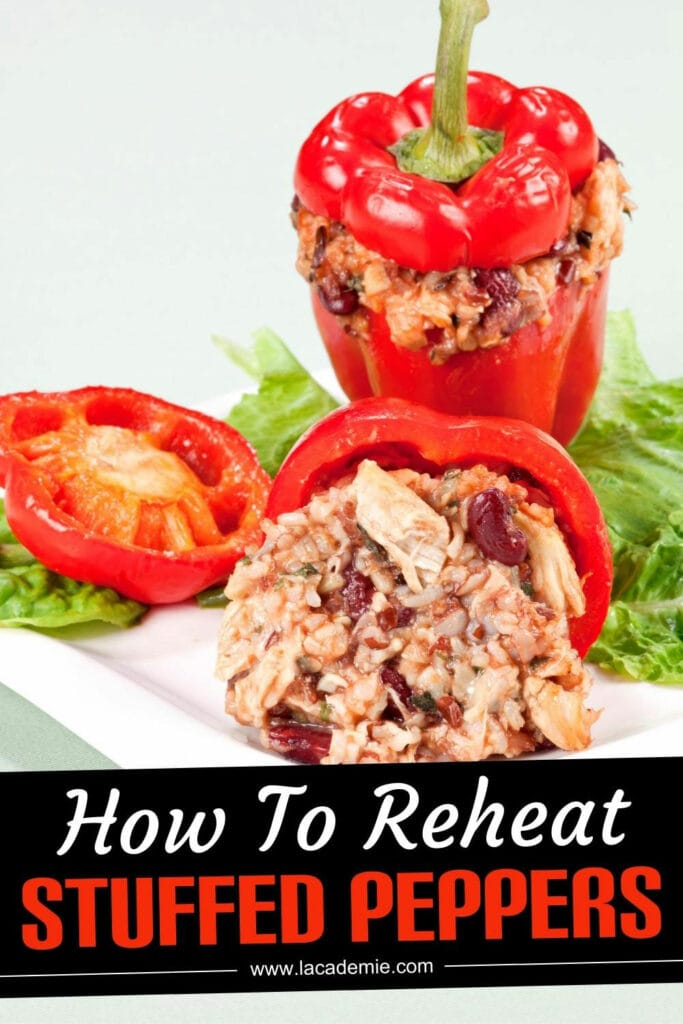 References
En.wikipedia.org. 2021. Stuffed peppers – Wikipedia.
Mayo Clinic. 2021. Food poisoning – Symptoms and causes.