Instant pot vs rice cooker, which one is better for cooking nice, fluffy ice? The truth is, they're both good for providing delicious rice. However, they both have their advantages and disadvantages.
For instance, instant pots are multi-cookers with different cooking functions. You can even make many appetizing desserts in instant pots too. Rice cookers, on the other hand, are dedicated to cooking rice only. Thus, instant pots are more versatile than rice cookers.
In today's article, I will talk about instant pots and rice cookers, in general, how to cook rice in both, pros and cons of both cooking appliances, and help you decide which one suits your needs best.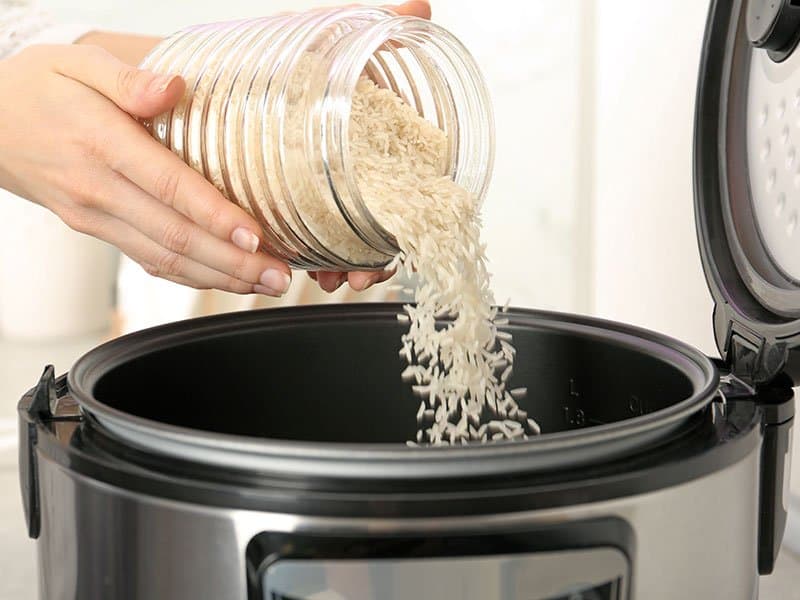 What Is An Instant Pot?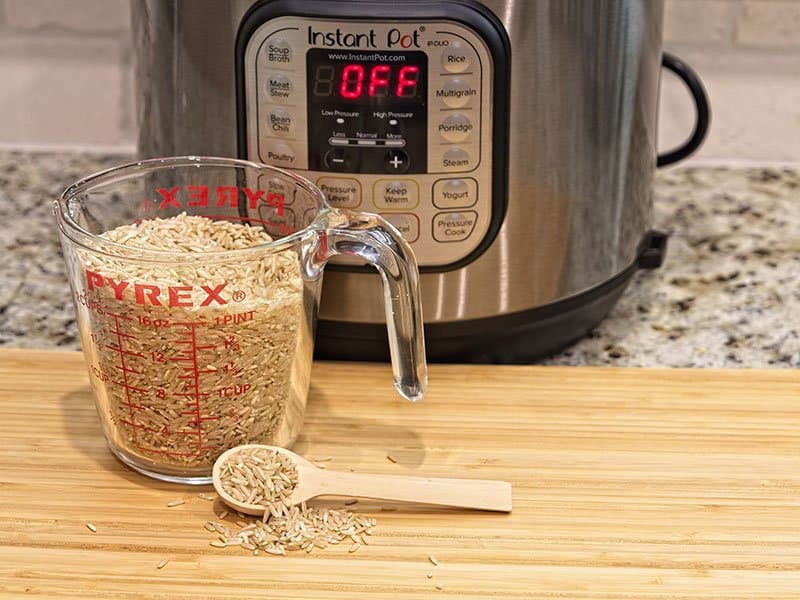 Basically, you can understand instant pots are an upgraded version of a pressure cooker. When you compare instant pots and pressure cookers, you still find some differences as instant pots are nothing like the stovetop pressure cooker that we all know and that's been around for ages.
It's the modern version that's computerized and has advanced features. And since it's electric, it's easier to utilize than traditional pressure cookers because they're user-friendly.
Cooking with an instant pot is a lot faster, so you will spend less time cooking and more time doing other things during the day. It's perfect for different types of slow-cooker recipes.
Meaning, it's more versatile than a rice cooker. Also, instant pots are advertised as straightforward and simple that will do all that similar tools will do.
How Does It Work?
Instant pots have multiple modes. But they work as electric pressure cookers. If you're looking for a unit that will help you cook faster, look no further than an instant pot.
Instant pots have a simple principle of working. Under pressure, the water inside boils 20 degrees (up to 120 degrees instead of 100 degrees Celsus) and hence prepares the food a lot faster.
With this criteria, there are many quick and healthy breakfasts to cook in instant pots. So if you still hesitate in investing one, don't wait any longer.
The instant pot will have 3 key parts including the inner pot, the outer pot, and a cover. The 3 parts will perform together to create the perfect set-up for high pressure and high temperatures.
The outer pot is where both pressure sensors and temperature, the control panel, and the motherboard are located. The inner pot is where you put food while the cover has locking systems.
These systems help to ensure an airtight seal and the emergency pressure release valves. Now, let's take a look at some general facts about instant pots and their purpose.
Facts About Instant Pots
They cook super fast
They're more expensive than rice cookers
Instant pots come in different series and models
They replace multiple kitchen units into one
They're super versatile
Types Of Instant Pots
You can find various models of instant pots in the market but they're mostly similar. Certain models may have special and more advanced features than others, so choose very carefully.
Features like these can make your cooking experience a lot better. Based on the features, you can either buy a smart or regular instant pot. As you would assume, regular ones have fewer features.
You can cook and steam different dishes with a regular instant pot. Additionally, some units allow you to prepare air fry dishes and cases too. However, they're still less advanced than smart machines.
Smart instant pots include a wifi feature. Utilizing this, you can easily connect the unit to your phone. It's things like remote control of the functions that make people choose smart over standard pots.
They're just perfect for the days when you feel super lazy but still want homemade yummy rice. Last but not least, instant pots differ in size. You will find them ranging between 3-10 quarts out there.
The most popular are 3, 6, and 8 quart instant pots. If you're normally cooking for 2-3 people, opt for a 3 quart instant pot. If you're cooking for over 6 people, buy an 8 quart instant pot.
How To Cook Rice In An Instant Pot?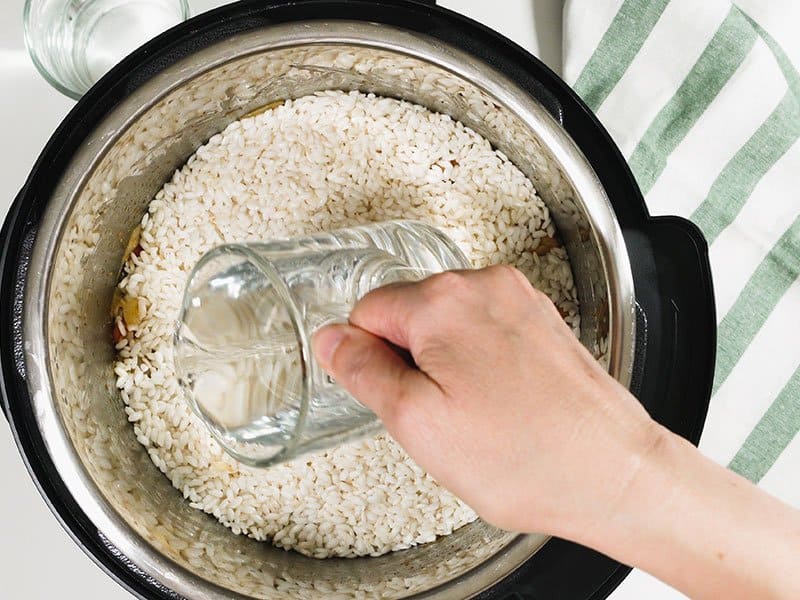 As I already mentioned, instant pots have multiple functions including the function to prepare nice fluffy rice. And don't limit your creativity by trying plenty of Asian-style instant pot ideas with cooking rice. Follow the next steps on how to cook rice in an instant pot for the best results.
Step 1: Measure The Amount of Rice
There's not that big of a difference in how to make rice in instant pots and other types of cookware. First and foremost, measure the amount of rice. Then, rinse it if it needs to be rinsed.
Step 2: Measure The Amount of Water
Second, measure the amount of water. Use the same amount as the rice and pour it into the instant pot. The water to rice ratio matters a lot. If you get it wrong, you will get mushy rice.
For white rice, the ratio is 1:1 while for brown rice is 1:1/2. Place the rice into the pot and shut down the lid, setting the release valve to seal. Finally, press the right button and you're done.
Step 3: Setup The Instant Pot Properly
Some instant pots feature different buttons for different types of rice. However, some don't. Often, the default rice button is for white rice. If your pot doesn't have a rice button, set the proper time manually. Your instant pot will auto shut off once your rice is ready.
Watch this video to know more:
Pros And Cons Of An Instant Pot
Although instant pots provide faster results and have smart features, they also have their disadvantages. Let's take a closer look at the pros and cons of instant pots.
Pros
Cons
Multipurpose use

The instant pot represents a multipurpose unit working as a pressure cooker, yogurt maker, rice cooker, sauté pan, and steamer. Meaning, it can replace a few kitchen tools. This not only saves money but also precious kitchen space.

Time-saving

Saving time is one of the key advantages of this unit. It cooks very fast. With an instant pot, slow-cooker recipes that usually take 6 hours will only take 1 hour. Meaning, you save 5 hours. The best part? When you need to make quick meals, it's always perfect.

Programmability

The computerized feature is one of the things that set instant pots apart from regular pressure cookers. With most instant pots, you can set it to cook up to 24 hours upfront. This is amazing as you can set it to have your food ready when you get home from work.

Better energy efficiency

Unlike regular pressure cookers, rice cookers, and slow cookers, instant pots are more energy-efficient. Also, they're better insulated, so less heat is wasted or lost.

Low maintenance

Last but certainly not least, is the easy clean-up. Instant pots require less maintenance than similar tools. Almost every instant pot has a stainless steel interior that's easy to clean up manually. Once you're done cooking, just wipe down with water and soap. They're also dishwasher safe.
Expensive

Instant pats usually cost more than traditional stovetop pressure cookers and rice cookers. Their price is their biggest downside. However, since it's multipurpose and can replace various kitchen appliances, it's worth the cost. You can find a decent instant pot for less than $200.

Not 100% safe

The contemporary instant pots are safer than regular pressure cookers. However, they're still pressure-cookers. Meaning, they're still more dangerous than simple rice cookers.

There's a learning curve

Instant pots aren't that complicated and hard to utilize. However, there's still a learning curve to utilizing them. The good news is that they're simpler than standard pressure cookers.
What Is A Rice Cooker?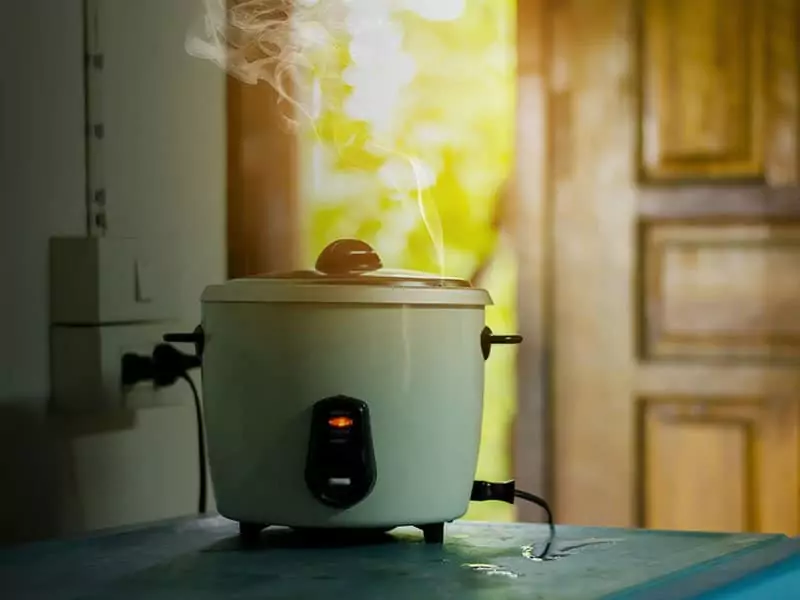 The name of this kitchen appliance says it all. It's a unit specially built to cook different types of rice and other similar dishes. Certain modern rice cookers have been made to be multipurpose.
Meaning, they will perform as slow cookers for making things like eggs, fish, veggies, and even pieces of meat. However, if you're into rice, nothing beats the convenience of utilizing this appliance.
A dedicated rice cooker provides more benefits for rice lovers than just a standard instant pot. The best part? They're easy to use. Just measure the rice, add water, some oil, and you're done.
How Does It Work?
In most households, a rice cooker will usually only be utilized to cook rice and for most individuals, it's a go-to unit when they need to prepare delicious rice.
This unit will consist of a thermal sensing device, inner cooking pan, electric heating plate, control panel or a few buttons, and the main body. It's super easy to utilize and ideal for newbies.
It's important to know the correct ratio of rice and water in rice cookers for the best result. The rice and water will be placed into the cooking pan that's imported onto the main shell or body and the load of the pan then depresses the heating piece which then boils the water rapidly.
The sensing device is a small thermometer that monitors the pan's temperature and ensures stability. It will never go over 100 degrees Celsius and once the water is absorbed by the rice, the rice cooker senses the temperature goes up. This a sign that the rice is ready.
Facts About Rice Cookers
They're dedicated to cooking rice
Some modern rice cookers have more capabilities
They're cheaper than instant pots.
Types Of Rice Cookers
Rice cookers come in 2 main types including electric rice cookers and gas rice cookers. In today's article, I will focus on electric rice cookers since they're also divided into different types.
You can pick from regular rice cookers, advanced rice cookers, multifunction rice cookers, and induction heat rice cookers. As you probably suppose, regular rice cookers are the simplest on the list.
They are also made from various materials. So if you look for an efficient rice cooker made of stainless steel, there are numerous choices on the market.
Overall, they're cheap and easy to utilize. Advanced rice cookers, on the other hand, resemble regular models in most aspects. However, they also feature additional settings that make them super-efficient.
If you're looking for a modern and super-advanced rice cooker, look no further than a multifunction one. This type of rice cooker has more options. However, they also cost more money. With a multifunctional rice cooker, you can create a broad selection of rice-based dishes with little to no supervision.
Last but not least, induction rice cookers are the most advanced tools among the above. They feature an ingenious heating mechanism that creates a more consistent and high heat to cook perfectly.
These units aren't suitable for cooking rice only. They're perfect for a lot of other cooking processes. But they're the most expensive on the list. What's the right type of rice cooker for you?
How To Cook Rice In A Rice Cooker?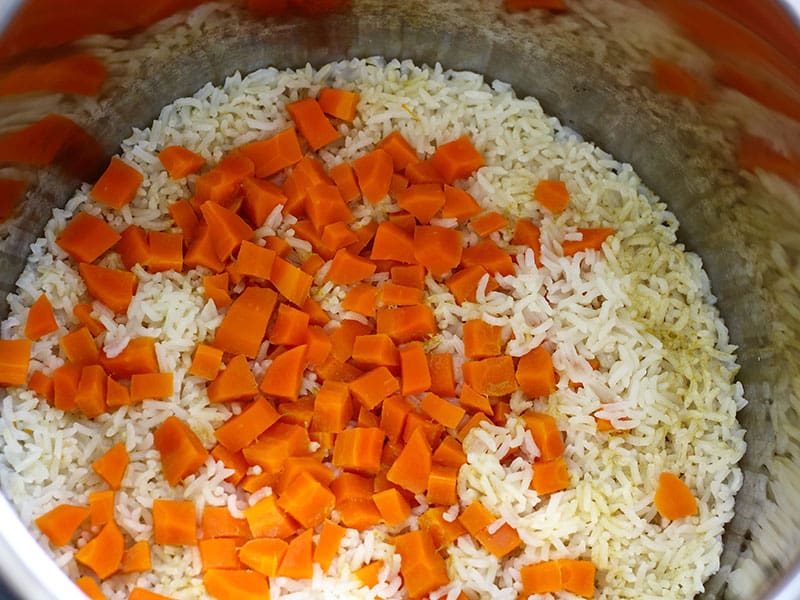 Cooking rice in a modern rice cooker isn't rocket science.
Just rinse the rice grains with cold water. Then, put 1 cup of rice in your rice cooker bowl. Add 1 1/2 cups of water. Finally, press the start button and you're good to go!
When the rice is done, the cooker will turn to 'keep warm'.
Watch this video to know more:
Pros And Cons Of A Rice Cooker
Pros
Cons
Consistent rice cooking

Rice cookers are faster than standard methods of cooking rice. They also provide the benefit of cooking the rice perfectly without overcooking or undercooking.

User-friendly

Preparing rice in a dedicated rice cooker is a lot simpler than standard stovetop techniques. Many units will have user-friendly computerized settings for different types of rice including the popular brown rice. The best part? There's no learning curve like when utilizing an instant pot.

Useful keep warm setting

Not only will a rice cooker cook your rice perfectly but also keep it warm until serving. You should know the best time range to keep your rice in rice cookers before it goes bad. The ideal range is in two hours and a maximum of ten to twelve hours.

Versatile

Rice cookers aren't as versatile as instant pots. However, they're still very versatile. Modern ones can be used for slow cooking stuff like soups and beans, steaming veggies, and poaching fruits.

Low maintenance

Like instant pots, rice cookers don't require high maintenance. And most parts are dishwasher safe even though there aren't that many parts in a modern rice cooker that will require cleaning.
Time-consuming

Rice cookers cook more consistently and efficiently. However, they're not as fast as instant pots. If time doesn't play a big role in your shopping decision, opt for a rice cooker.

Otherwise, buy an instant pot. Cooking rice in a rice cooker takes as much time as stovetop rice cooking. Thus, if you're into fast cooking, it might not be the right choice for you.

Restrictive non-stick technology

Most rice cookers feature a non-stick interior, so you won't be able to utilize certain tools. This makes a rice cooker limited as you can't scoop out the rice with anything metal.

Lower temperature

Rice cookers don't have a sealed pit, so they don't reach super high temperatures. The temperature can get high enough to cook rice. However, it's not hot enough for other purposes like sterilizing other foods or tenderizing meat.
Instant Pot Vs. Rice Cooker: What's The Difference?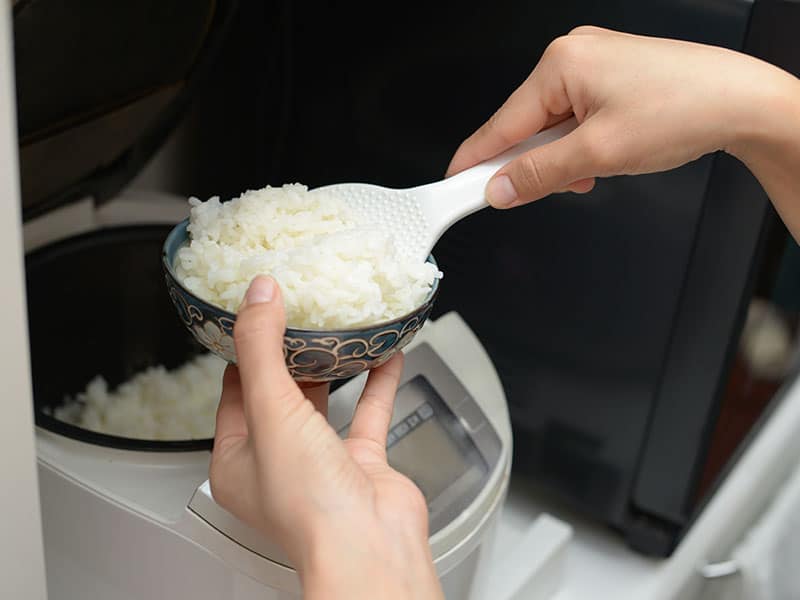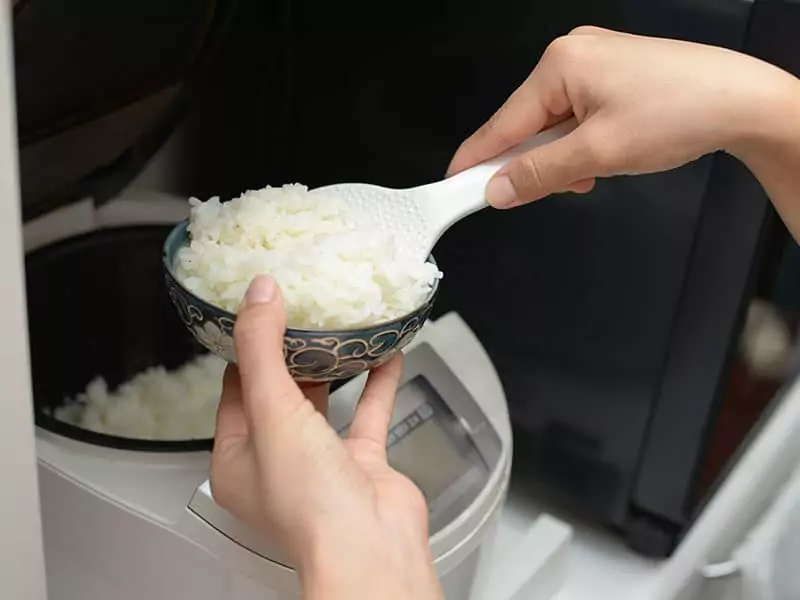 If you're not on a budget and you can afford both, it doesn't hurt to have both as you will be getting cool kitchen appliances. However, if you have to choose one, here's a list of key differences that will help you make the right choice.
Safety
A rice cooker is much safer than an instant pot since the latter is still a pressure-cooker that comes with different dangers and risks. Seeing on the bright side, instant pots also have multiple safety features like release valves for hot steam. Safety features like these prevent accidental burns.
Also, the seal is tight enough to stop any steam from coming out. Rice cookers, on the other hand, don't have steam-release valves. But they don't have pressure building up inside either.
Speed
Both kitchen tools are made to save you cooking time. Thus, they're both quick and efficient. However, a rice cooker is slower than an instant pot by a couple of minutes to cook rice perfectly.
Ease Of Use
Both rice cookers and instant pots are easy to utilize. However, instant pots come with a learning curve, whereas rice cookers include detailed instructions on how to prepare different dishes.
Maintenance
In terms of maintenance, both rice cookers and instant pots are easy to clean up and don't require much maintenance. Also, their parts are dishwasher safe which further makes clean up simpler.
Applications
The instant pot is the obvious winner when it comes to applications because it's more versatile. It can do everything a rice cooker can do. Most instant pots come with seven cooking modes and besides working as pressure cookers, they also work as slow cookers, yogurt makers, steamers, and more.
Price
Instant pots cost more than rice cookers. You can find a good instant pot for around $200. If you're on a budget, some cheaper models retail for as little as $100.
Rice cookers, on the other hand, are more affordable. You can purchase a basic three-cup model for less than $50 or a larger five or six-cup model for around $200.
Watch this video to know more:
Happiness Is A Bowl of Perfectly Cooked Rice
Learning the key differences between a dedicated rice cooker and an instant pot can help you select the right appliance. If you have a little extra money to spend, grab them both.
If you're on a budget, have a smaller kitchen, and want perfectly cooked rice every single time, opt for a rice cooker. If versatility, speed, and time matter to you, purchase an instant pot.
What's your choice? If you have any questions or suggestions, drop a comment below. Also, don't forget to share this valuable information with your social media friends and family.