Rice to water ratio in a rice cooker, what is it anyway? It's the amount of water you need to cook a cup of rice in a rice cooker. It sounds simple, but it's even trickier than a Math problem. Too little or too much water will alter your mouthfeel dramatically.
If you are looking at a similar issue, I'm here to help. In this post, I'll show you how to distinguish different rice varieties and their accompanying ratio when cooked in a rice cooker. Trust me when I say that it's no rocket science!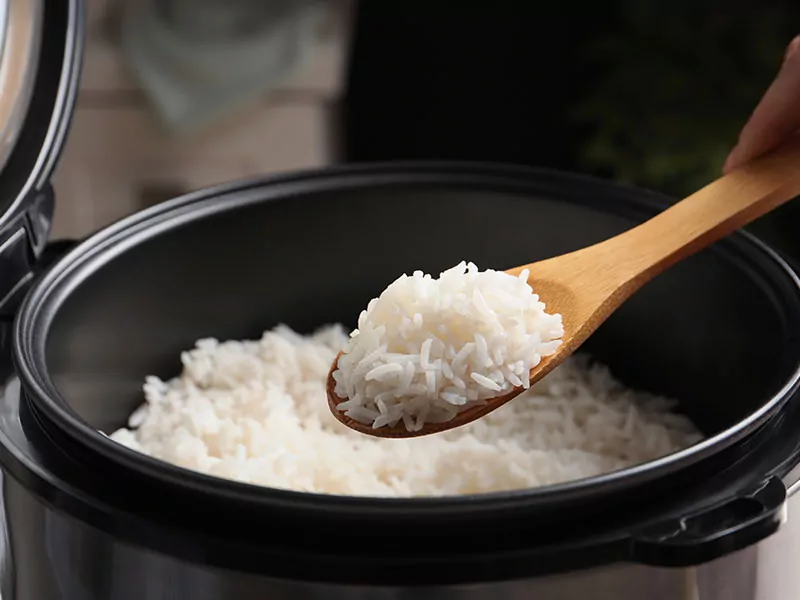 In Short, How Much Water Do You Need For A Cup Of Rice?
This ratio works well with whatever kind of rice you have. With one cup of top white rice from good brands, you will need an equal amount of water. High-quality brown rice needs a more significant amount of water, with two and a quarter cups for one cup of rice.
However, if you aim for perfection, the ratio will vary based on elements like the grain length, the types of rice you choose, etc.
If you have been cooking rice on a stove, it's time for an upgrade. Move on to the next section, and you'll be amazed to know that there's a device made just for rice!
Rice Cooker, A Must-Have Kitchen Appliance
A rice cooker is a fixture of many Asian households. You can use the rice cooker for cooking perfect jasmine rice, basmati rice, etc., automatically with the push of a button. Various models are available on the market nowadays, rivaling each other with convenient features and stylish designs.
Appearance-wise, a rice cooker might look similar to an instant pot. However, it's important to be able to tell rice cookers apart from instant pots, as their functions are quite different. It's not always the case that you can use an instant pot to replace a rice cooker.
Besides rice, you can use a rice cooker to prepare lentils, barley or quinoa or even pasta, pizza, or chili. Overall, a rice cooker is a worthy investment. It's not too pricey, compact, and does a wonderful job in cooking rice in bulk. What's not to love?
So, how exactly does this equipment work? You will start by adding rice and water to the pot. Next, spread an even layer so that the rice will cook up evenly. Close the lid and choose the correct cooking setting for your rice before pressing the start button.
Most rice cookers on the market are equipped with a thermostat, which automatically turns the equipment off once the internal temperature reaches 212 degrees F. The cooking time will vary based on the type and how much rice you cook.
A Detailed Guide To Rice To Water Ratio In A Rice Cooker
Rice can be done on a stove, in a saucepan, or whatever method you like. However, no other appliance can beat a rice cooker, the equipment designed to cook rice to perfection. By using it, you do not need to care about how to check if rice is overcooked.
Although the whole cooking process is automatic, there's a thing you need to do manually: determine the exact rice to water ratio. Too little water, the rice will burn. Too much water, the rice will become soggy, and rest assured your family won't be enjoying their meal.
So, when cooking with a rice cooker, what's the correct rice to water ratio? Let's find out!
A Full Breakdown On Rice To Water Ratio In A Rice Cooker
Cooking rice sounds relatively straightforward until you get down to it. Overall, there are somewhat 40,000 varieties of rice in the world (1), and sure enough, the 1:1 ratio will not work for all. If you aim for perfection, this section has your back.
With this 1:1 ratio, even beginners can pull off a tasty pot of rice.
Briefly speaking, there are three factors that affect the outcome: the grain length, how you rinse and soak the rice, and whether the rice has been polished or not. In the table below, I've quickly rounded up the ratio of how to cook rice according to the factors mentioned.
| Rice Varieties | Grain Length | Rice To Water Ratio |
| --- | --- | --- |
| Short-grain rice (white) | Below 5.5 mm | 1 cup of rice - 1 ¼ cup of water |
| Short-grain rice (brown) | Below 5.5 mm | 1 cup of rice - 1 ½ cup of water |
| Medium-grain rice (white) | 5.51 - 6.6 mm | 1 cup of rice - 1 ½ cup of water |
| Medium-grain rice (brown) | 5.51 - 6.6 mm | 1 cup of rice - 2 cups of water |
| Long-grain rice (white) | Over 6.6 mm | 1 cup of rice - 1 ¾ cup of water |
| Long-grain rice (brown) | Over 6.6 mm | 1 cup of rice - 1 ¼ cups of water |
If you have rinsed or soaked the rice beforehand, reduce the amount of water by ½ cup.
The amount of water suggested above is an estimation. If you use distilled water, for example, the ratio might need reducing as food tends to absorb distilled water more than regular water. So, other than seeing if distilled water can spoil, you'll also need to take this into consideration.
The Grain Length
In general, there are three categories of grain length: short, medium, and long. Short-grain varieties cannot exceed 5.5 mm. Long-grain rice, on the other hand, must be at least 6.6 mm in length. Varieties that are somewhere between 5.51 and 6.6 mm are medium-grain.
Rinsing And Soaking
Although rinsing rice is not required, you are highly recommended to do so. The purpose is to get rid of dirt ending in the bag, plus excess starch on the rice's surface. Too much starch can make the grains clump together.
Soaking the rice is also optional. If you cook long-grain varieties, which do not absorb much water, soaking will help shorten the active cooking time. It prevents your rice from drying out and improves the final taste as well.
If you decide to rinse or soak rice, make sure to decrease the water used by ½ cup. Otherwise, the grains will become soggy and mushy, which is definitely not what you want after 20-30 minutes of waiting.
Unpolished VS Polished (Brown Rice VS White Rice)
Most people assume that white and brown rice are two different entities because of the color, but they were wrong. Here's the scoop.
Brown Rice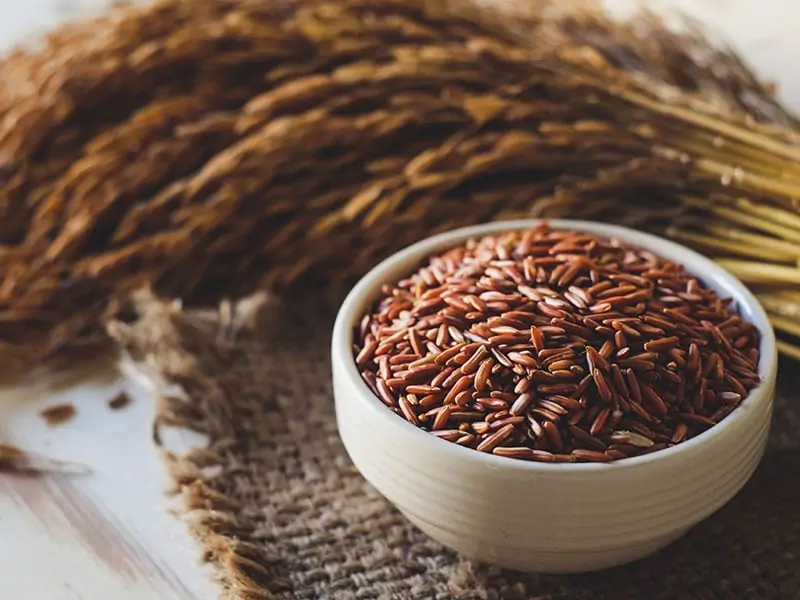 Brown rice, especially good brown rice from top brands, is deemed healthier than white rice since it contains more protein and dietary fiber, which can reduce heart-related disease risks. Nonetheless, not many are a fan of brown rice because it's somewhat difficult to chew and digest.
With its signature nutty flavor, brown rice takes kindly to everything. Toss it in a salad for a flavor and texture contrast, add it to stew and soup for extra chewiness, or serve with an array of meaty dishes for a quick midweek meal.
Since brown rice is left with bran and husk, it needs more water than white rice. Precisely, with one cup of short-grain brown rice, you will need 1 and a half cup of water. This amount increases to 2 for medium, and 1 ¼ cups of water for long-grain varieties, respectively.
White Rice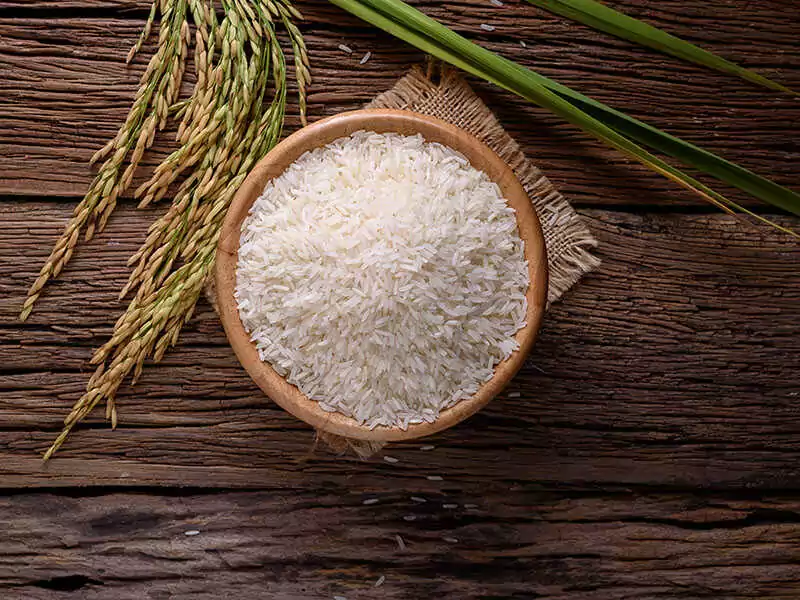 Once having the husk, bran, and germ are removed (2), brown rice turns into white rice. Besides changes in texture, the flavor is also dissimilar. The nutty flavor is now gone, making way for a starchy, mild to bland taste.
However, white rice is superior in texture. It is soft but not to the point of mushy, with the grains still firm and holding their shape. Like brown rice, white rice is a wonderful canvas for vegetable and meat dishes.
Since the outer coating is extracted, you don't need too much water to cook white rice. With one cup of short-grain white rice, add one and a quarter cups of water.
Common Types Of Rice And Its Ratio To Water In A Rice Cooker
You are halfway to becoming a rice master! The list below will introduce the most popular kinds of rice in common use in the United States today. They have been categorized into three classes based on their grain length, with cooking ratio included.
| Grain Length | Name | Rice To Water Ratio |
| --- | --- | --- |
| Short-grain rice | Valencia rice | 1 cup of rice - 3 cups of water |
| Medium-grain rice | Arborio rice | 1 cup of rice - 1 ½ cup of water |
| Medium-grain rice | Carnaroli rice | 1 cup of rice - 1 ½ cup of water |
| Medium-grain rice | Calrose rice | 1 cup of rice - 1 ¾ cup of water |
| Medium-grain rice | Black rice | 1 cup of rice - 1 ¾ cup of water |
| Long-grain rice | Basmati rice | 1 cup of rice - 1 ½ cup of water |
| Long-grain rice | Jasmine rice | 1 cup of rice - 1 ¾ cup of water |
| Long-grain rice | Brown jasmine rice | 1 cup of rice - 2 ⅓ cups of water |
| Long-grain rice | Red cargo rice | 1 cup of rice - 1 ½ cup of water |
| Long-grain rice | Wild rice | 1 cup of rice - 2 cups of water |
Short-Grain Rice
Due to its short, almost round shape, short-grain rice loses its form when cooked. Thus, the grains are more likely to stick together because they have exuded most of the starch. Dishes that call for a bit of consistency like sushi or puddings will need short-grain rice.
1. Valencia Rice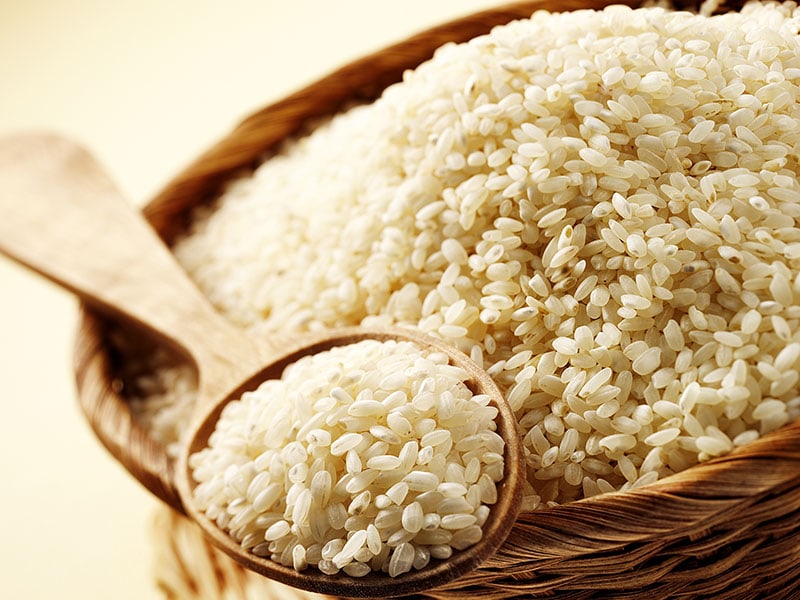 Valencia is somewhere between short and medium-grain rice. The rice is also known as "Bomba" and has been grown in the region for approximately 1,000 years, still counting.
Valencia can be used to make an array of dishes, but perhaps it's best known for paella. The traditional dish consists of chicken, rabbit, beans, and peas simmered in a rich and decadent chicken broth.
Valencia rice absorbs more liquid than other kinds of rice, so you will need three cups of water for each cup of rice.
Medium-Grain Rice
Like short-grain rice, medium-grain rice also clings together but not as much. The grains hold their shape well and do not lose much of their starchiness, resulting in a moist and tender product. Medium-grain rice is best for most rice dishes like risotto or paella.
2. Arborio Rice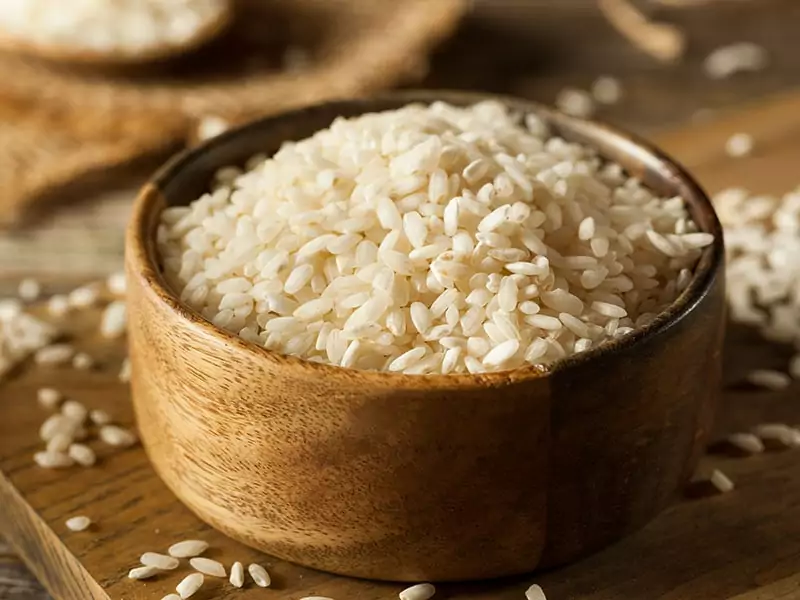 The key to a perfect risotto? It's arborio rice. The short-grain rice gets its name from a town in Italy, its place of origin, but it's now also cultivated in many states of America: Arkansas, California, etc.
Thanks to arborio rice's high amylopectin starch content released during the cooking process, your risotto becomes incredibly rich and creamy. The pearly Italian grain is also used to make paella, minestrone, or rice pudding.
Cook one cup of arborio rice with one and a half cups of water.
3. Carnaroli Rice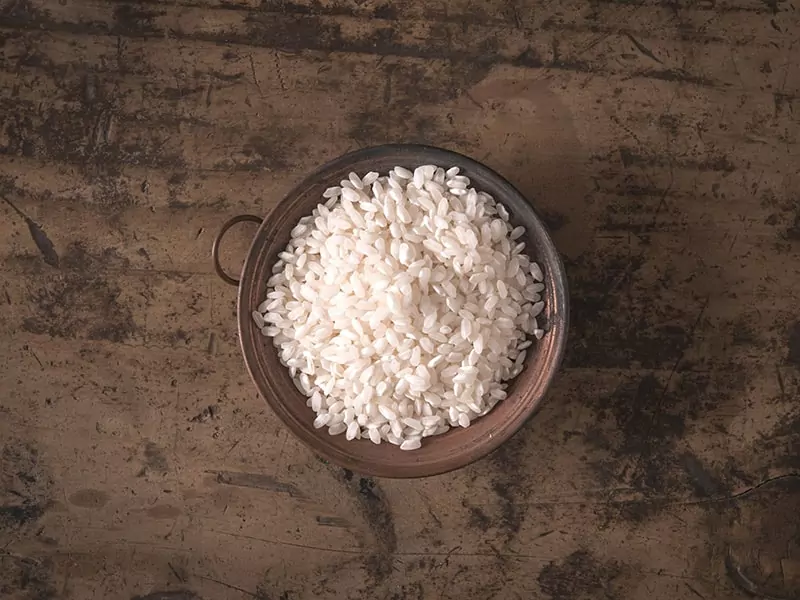 Carnaroli rice is an excellent alternative when arborio is not at hand. The grain is slightly longer and has higher starch content. Another strong suit of this Italian rice is its ability to retain its shape under high heat.
Similarly, the rice to water ratio will be 1:1 ½.
4. Calrose Rice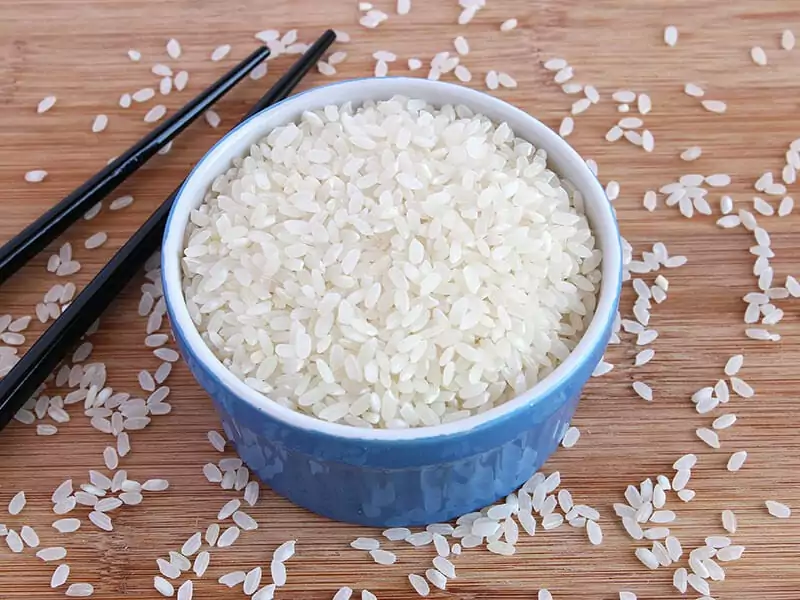 Originating in California in 1948, Calrose rice has established a name for itself in the rice industry. When cooked properly, the grains turn soft, moist, and somewhat sticky, ideal for making food that calls for a balanced structure like sushi.
Another fantastic feature of Calrose rice is that it absorbs flavors well. Therefore, Calrose is perfect against aromatic herbs and bold seasonings. It is also used for risotto, pilaf, or Asian rice dishes, such as sushi, since it does not fall apart.
Each cup of Calrose rice requires one and three-fourths cup of water to cook in a rice steamer.
5. Black Rice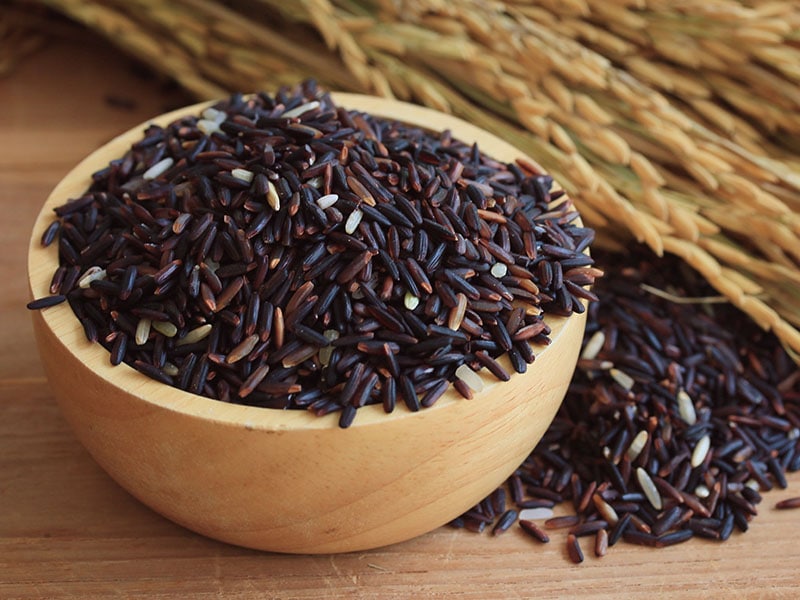 In the past, the mysterious-looking rice was reserved only for the aristocracy. Therefore, it is sometimes known as "forbidden rice." However, black rice can now be purchased and enjoyed regardless of social class and walks of life.
Despite the name, black rice turns deep purple when cooked. It pairs well with many kinds of protein and vegetables and is one of the main ingredients to make a fantastic Asian dish for vegetarians – coconut black rice pudding, which is a popular dessert from Indonesia.
The rice to water cooking ratio is 1:1 ¾.
Don't be afraid to experiment with black rice – it makes yummy desserts.
Long-Grain Rice
Perfecting long-grain rice is tricky since the grains are four to five times longer than their short counterparts, which can be undercooked. With a relatively low starch composition, the grains separate and are fluffier when cooked, great for stuffing or making a fish cake.
6. Basmati Rice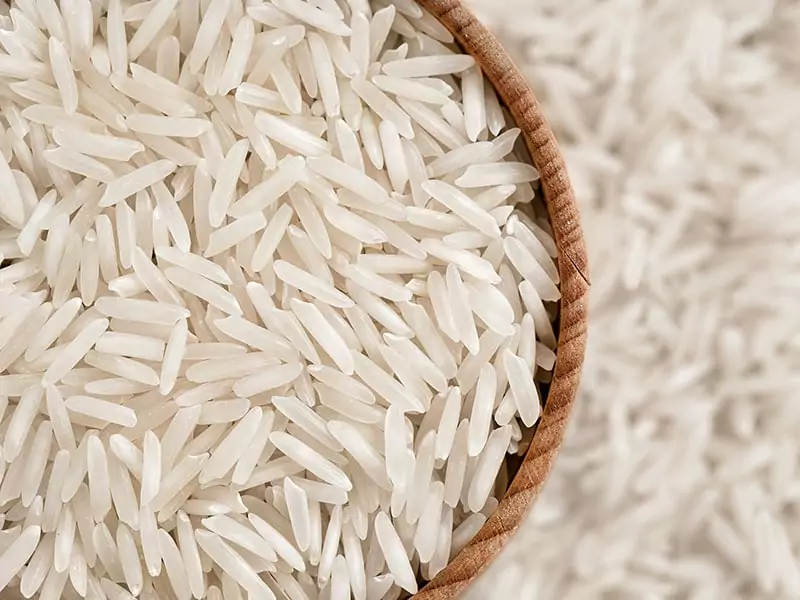 Undeniably, basmati rice is one of the most widely consumed varieties of long-grain rice in the world today. It was brought to life in India and Pakistan and has been around for approximately 250 years.
Basmati has a characteristic nutty flavor, ideal for serving with a curry or used to make a delicious serving of pilaf. To make the grains taste better, pair them with fresh herbs like cilantro or saffron or soak them in coconut milk for an impeccable depth of creaminess.
When cooked in a rice cooker, basmati rice ratio to water is also 1:1 ½.
7. Jasmine Rice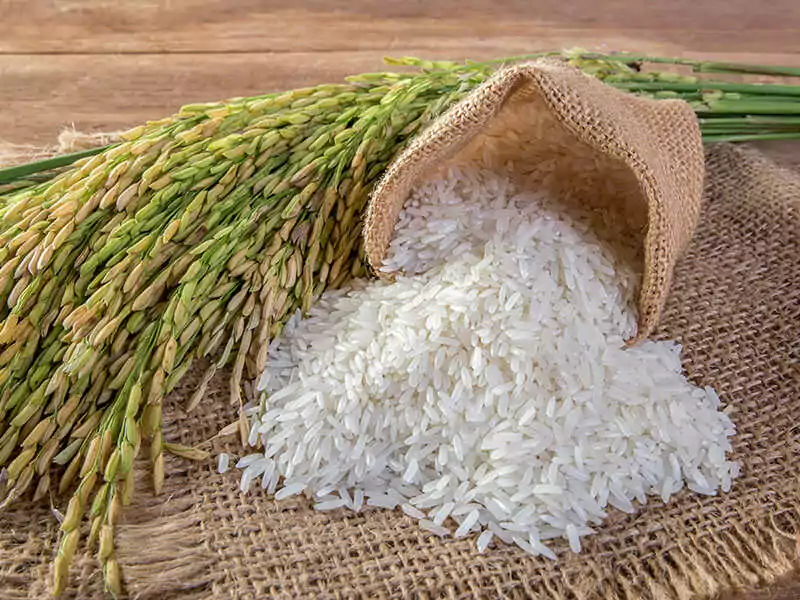 Jasmine rice somewhat visually resembles basmati rice, but the former is slightly shorter and rounder in shape. It is mainly grown in Thailand, Cambodia, and Vietnam and has various culinary uses in Southeast Asian cuisine.
Despite being a blank-canvas ingredient, jasmine rice has an amazing flavor profile. It is sweet and nutty, with lingering traces of buttered popcorn. Jasmine rice pairs well with stir-fried and grilled items and are usually accompanied by soy sauce or fish sauce.
To cook jasmine rice, combine one part rice and one and three-fourths part water. Brown variants will need slightly more (2 ⅓ cups).
8. Red Cargo Rice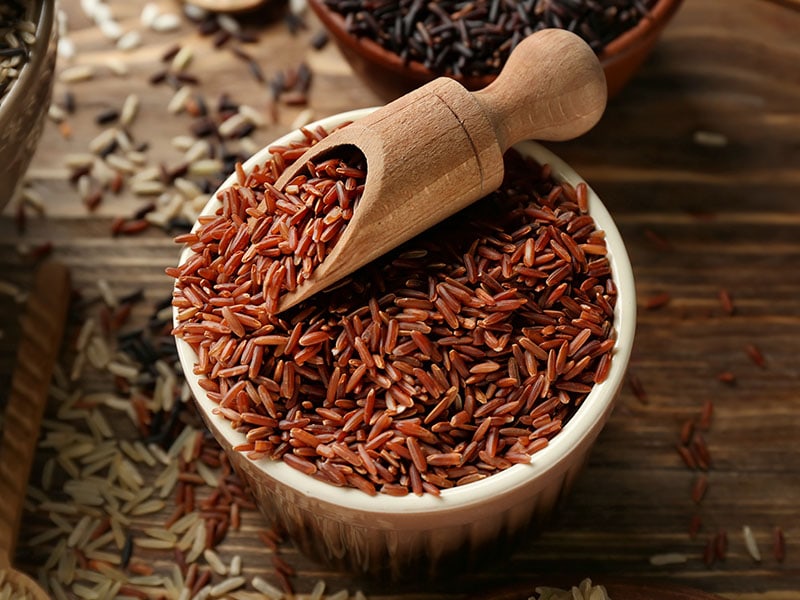 Weight watchers, you may want to have more red rice from now on. It has been proven to help with weight loss due to a significant amount of anthocyanin, an antioxidant that lends a unique dark red color to the bran.
It is very similar to brown rice concerning the flavor: subtly sweet and nutty. It goes easier on your tongue, too, so this would be an excellent choice if you have digestive problems. Red rice brings out most of its flavor when served with juicy meat or healthy salad.
With red cargo rice, you will apply the general cooking ratio of 1:1 ½ .
9. Wild Rice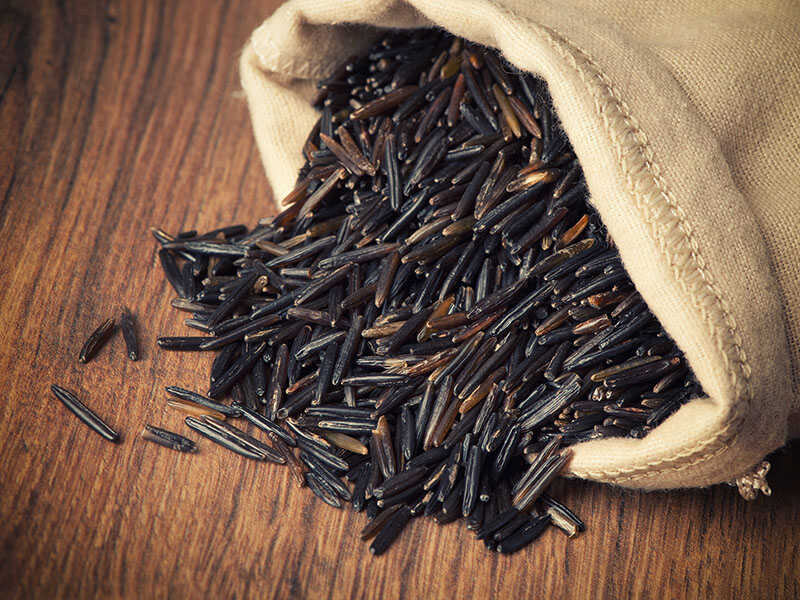 Surprisingly, wild rice is not rice at all – despite the name. It's a type of marsh grass with long grains that looks and cooks up just like regular rice. The color ranges from different hues of brown, at times black, if left too long on the plants.
So, does wild rice taste like grass at all? The answer is a big no. The taste is surprisingly pleasant, featuring a deep earthiness with undertones that remind you of black tea. With an irresistible chewy texture, wild rice has all the makings to become your new favorite.
The ideal ratio for cooking wild rice in a rice cooker is one part rice to two parts water.
A batch of wild rice will be an interesting addition to your dinner table.
How To Cook Rice In A Rice Cooker, A Guide For Newbies
Everyone has their first time, so don't be shy if you have never used a rice cooker before. With this brief but comprehensive guide, everything will run smoothly, making the process of storing rice much easier. Let's start digging in!
First and foremost, you should check the manual book to see if the universal 1:1 ratio will work with your model. If any special instructions or requirements are listed, make sure to follow them accordingly.
Then, move on to the operating instructions to learn how to turn on/off the gadget. This is fairly simple and usually done within a push of a button. What you should pay attention to are the different settings, the features, and the proper method to clean your rice cooker.
Once you have skimmed through the manual guide, it's time to learn how to make a tasty batch of rice using a rice cooker. Apart from your rice cooker, you will need a measuring cup, a strainer, and a wooden or rubber spatula (metal is not recommended because it absorbs heat).
Have you got them all? And now, here goes the instructions:
Step 1: Prepare the right amount of rice to serve and place it in a strainer under running water. When the water turns from opaque to clear, you have successfully rinsed off the excess starch. You don't need to dry the rice.
Step 2: Add the moist rice into the pot and stir in the required amount of water, along with a pinch of salt to taste.
Step 3: Select the correct setting for your rice. For instance, if you are cooking brown rice, press the brown rice setting button. Refer to the manual book to ensure you do it correctly. The guide should also give you an estimation of how long the rice will be done.
Step 4: The device will shut off automatically when the rice is fully cooked. It's well-advised that you open the lid for about 10-15 minutes to prevent your batch from getting mushy.
Step 5: Fluff the rice with the spatula. Serve with whatever you have and enjoy!
Note: Keep in mind that the time frame rice can stay fresh in rice cookers is not that long, so you should either finish the rice quickly, or think of ways to store the rice for a later meal.
Refrigerating is one the most popular ways to store leftover rice. As a result, many people wonder if it is harmful to eat cold rice. The good news is that you can safely enjoy cold rice without reheating if that rice is not spoiled.
FAQs
You've got questions; I've got the answers. Check out this section to make sure that all is well!
Cook Perfect Rice Every Time – It's Possible!
With this post, figuring out the rice to water ratio rice cooker is super effortless! There's no need to let fate decide how your rice will come out anymore. Rest easy that your family will pat you on the back for always cooking the softest and fluffiest rice!
It's been such a ride learning about different kinds of rice and how to cook them. If you know anyone dealing with the same problem, don't hesitate to link them to this post. No more uncooked, dry rice from now on!
References
Factors, Q., market/trade, I., & us, C. (2021). Cultivated rice species – Ricepedia. Retrieved from https://ricepedia.org/rice-as-a-plant/rice-species/cultivated-rice-species
Modern rice milling – IRRI Rice Knowledge Bank. (2021). Retrieved from http://www.knowledgebank.irri.org/training/fact-sheets/postharvest-management/item/modern-rice-milling-fact-sheet