How to tell if rice is overcooked is the question that you have been trying to solve for years. You might have learned to cook at the age of five, but you still don't know why your rice turns out burned or mushy. You really want to learn how to get the perfect rice.
This post will address all the matters you could have with cooking rice. I will give you all the information about why your rice doesn't turn out perfect and how to fix it. So let's learn about rice and begin your journey to conquer it.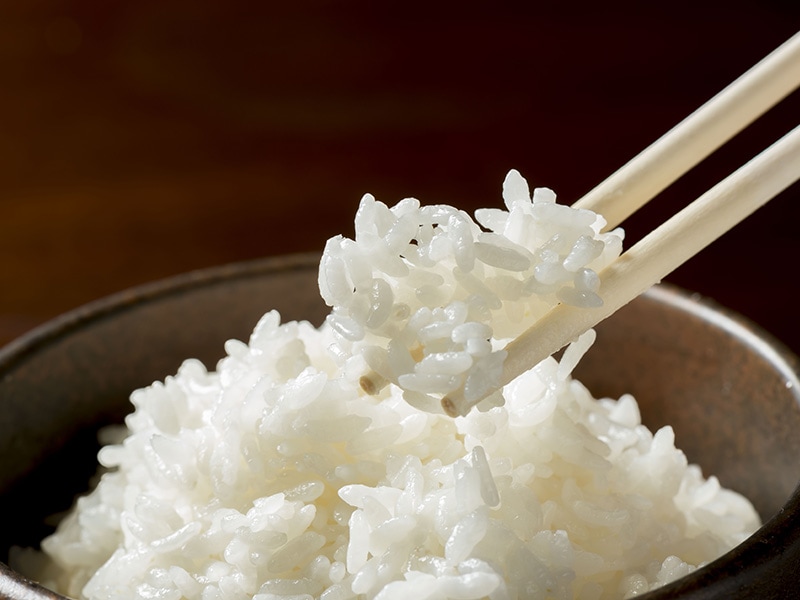 Why Shouldn't I Overcook Rice?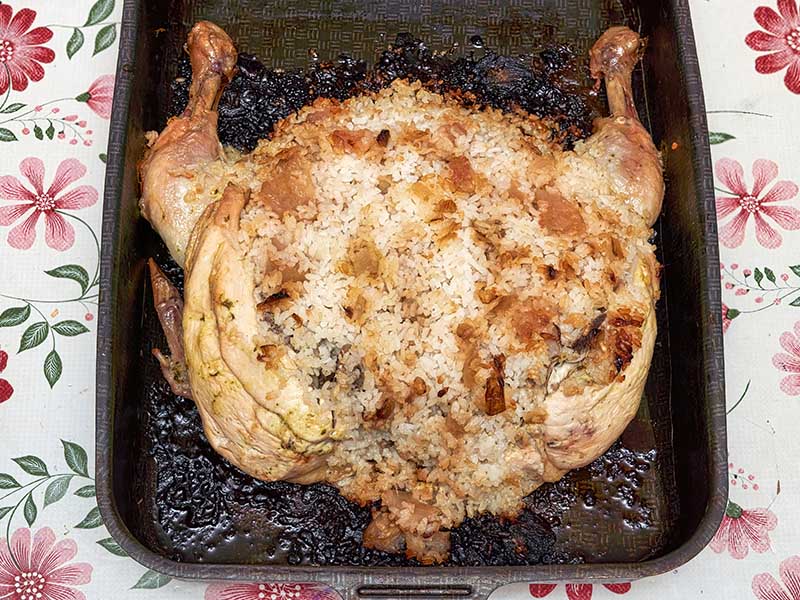 You probably have tried burned rice once in your life. In some parts of the world, burned rice is famous as a traditional dish, like Korean nurungji (1). To some people, its delicacy is irresistible, but do you know burned rice contains some suspicious substances?
In the case of rice, before it is burned, it can be starch, and after it's burned, it becomes charcoal. This charred part is not easily digestible and can get you an upset stomach.
Other nutrients in rice, like amino acids and vitamins, will be altered and deprived by the heat. This occurrence leads to nutrient depletion in burned rice.
Combustion triggers rice's nutrition to turn into acrylamide. This substance can cause some damage to your body. Apparently, exposure to acrylamide increases the chance of getting cancer (2).
There is a golden rule to prevent the formation of acrylamide. When you cook the rice, don't let it turn brown or black. Golden is the color you want to see and to stop.
Another case of overcooked rice is how rice turns into mush. Compared to regular cooked rice, mushy rice is worse in texture and taste. After transforming into mush, its nutrient contents exhaust as well.
Not just burned rice, the charcoaled version of other food can be harmful to your health.
Overcooked Rice And Its Trademarks
Now you have learned something about consuming overcooked rice, but do you know what overcooked rice looks like? Here are more precise and detailed descriptions of overcooked rice.
Burned At The Bottom And The Bitter Odor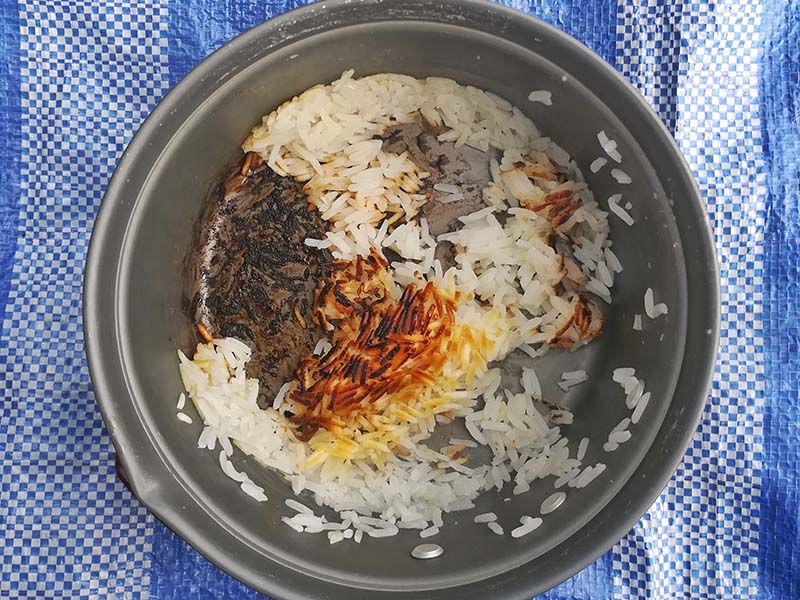 To understand why your rice has a brown bottom, you need to equip a quick understanding of rice and how it cooks.
Rice is basically carbohydrates, and it is almost the same as white sugar in your kitchen. As you have made burned sugar before, rice will turn brown the same way your sugar turns. The carbohydrates break down into coal and water, so that's why it gradually tans.
Not just being brown, your rice also starts to harden, smell weird, and taste bitter. This will happen when you leave your rice cook for too long. After all the carbohydrates divert into coal, that coal will start to burn. That's when you start to smell the odor.
The color of rice will turn from white to golden yellow. At the state of yellow, it is still acceptable to consume. But when rice starts to turn brown and black, that dense acrylamide is too much for you to eat, and it is better to be thrown away.
Overcooked rice can happen for two main reasons. The first reason is when you leave your pot on the stove for too long. The water runs out, and your rice has nothing to cool the carbohydrates down. Therefore, the rice starts to burn itself.
The second cause is turning your stove too high. When the water can't stand too much heat, it will stop being an efficient insulation, leading the rice at the bottom to burn itself. You can see that your rice has the undercooked rice above while the bottom is all burned.
Mushy Texture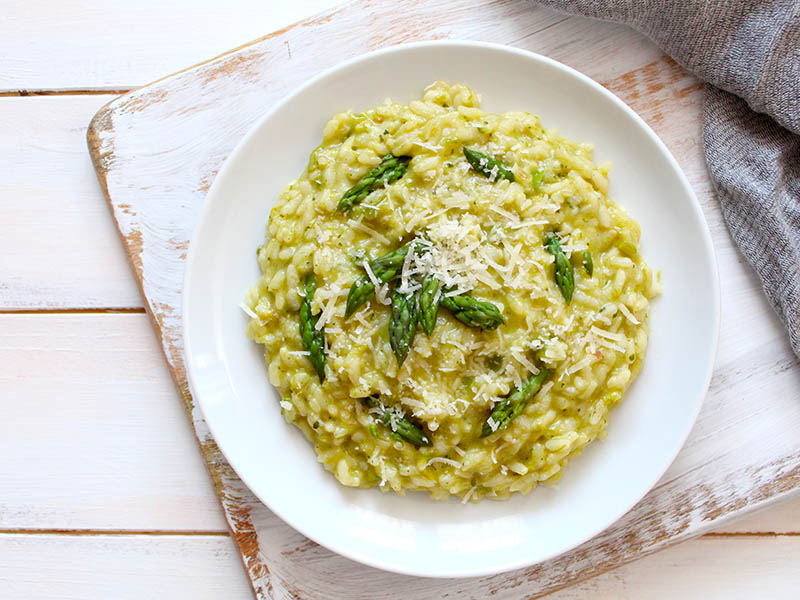 Mushy rice is also a sign of overcooked rice. Opposite to the dry texture of burned rice, mushy rice happens when this type of cereal literally turns into mush because of its high content of water.
Rice has two types of carbohydrates as its main components. And one of the carbohydrates is a glue substance of rice.
When you soak your rice with water in a heating pot, you have made an environment for that glue substance to dissolve in the liquid. Thus, with the heat, water keeps evaporating and leaves the glue behind. That's how your rice turns into mush.
This can happen when you put too much water in the rice or the water is trapped in the pot for too long. Either way, you can fix mushy rice in multiple ways that I will introduce later.
Characteristics Of Undercooked Rice To Watch Out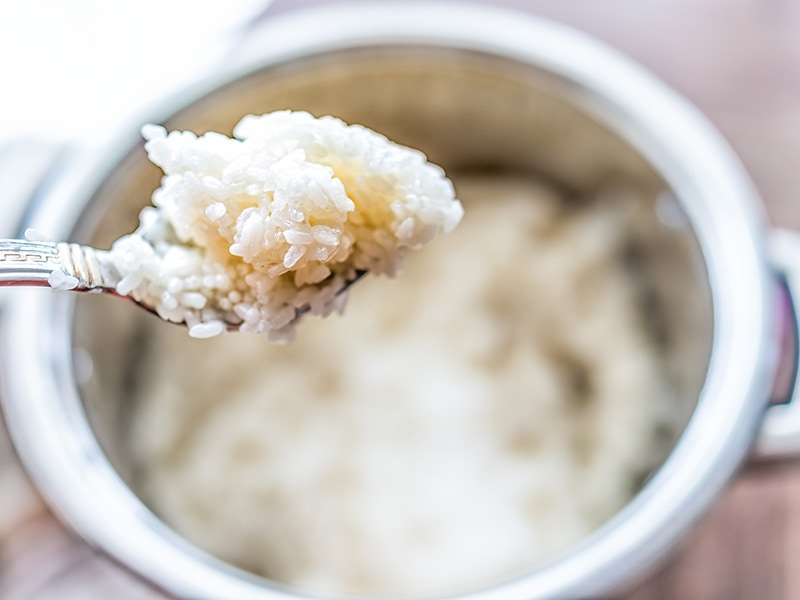 So the opposite of being overcooked is undercooked. The origin of undercooked rice also comes from the unbalanced amount of water or unsuitable heat.
Dry And Opaque
If you see all the water in the pot is dried out, and your rice looks almost the same as uncooked rice, I have to announce to you the bad news: your rice is undercooked. This can happen if you pour too little water or open the lid too soon.
It can also happen when you turn the heat too high and water runs out too fast. When the water is nowhere to be found, the rice has no liquid to absorb, but the heat is not enough to burn the rice.
Rice is totally dehydrated, so it is dry, and since it stops cooking, it keeps its natural color.
Hard And Chewy
The next feature of uncooked rice is chewiness. Your rice in this phrase almost looks like perfectly cooked rice, but it's actually not cooked enough.
Rice turns hard and chewy when it doesn't reach its hydrated form. When you eat this kind of rice, your mouth can feel a sandy texture.
One of the undercooking signs is when the above layer is cooked too fast and absorbs all the water before it comes to the lower part. This event is called uneven cooking. The result is your rice raw underneath.
You Will Love These Efficient Methods To Save Your Rice
You have understood what can disturb your rice and how it turns your rice into mush or rock. It is time to learn how to fix your rice. In worse cases, you will need to get rid of your rice since it is burned beyond fixing.
Overcooked Rice
Let's figure out how to cure the burn or the mush first. All the problems will just be around the heat and water. The summary of all methods will be rice lacks something, you provide that thing.
Fix Burned Rice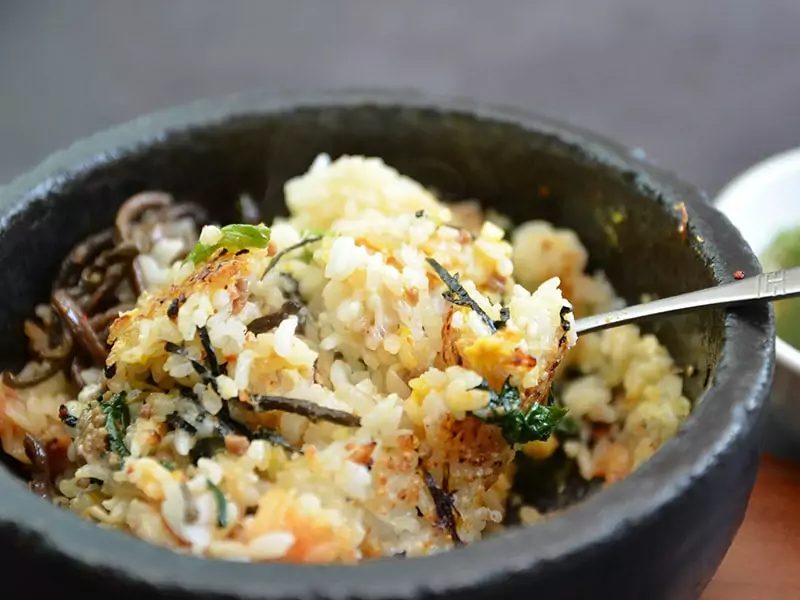 Burned rice is basically destroyed sugar and other substances that turn into charcoal. This method will be able to fix rice that has a first degree of burn (I mean the golden yellow burn). For any more severe "wound", I recommend you discard it.
The color cannot be replaced, but you can overwhelm or hide the bitter taste and the burned smell by using a combination of strong condiments and plenty of spices. Curry or chili or anything that boasts an intense taste will be a good option for your concealment.
With the golden burn, making it into traditional dishes like Korean nurungji or Chinese guoba can be a good solution. Intentionally making a dish that highlights the burn is not a bad idea after all.
You can learn a trick about how to remove the bad smell of burned rice.
Dehydrate Mushy Rice
Mushy or gooey rice suffers from water submerging, and the rice is altered from its natural chemical structure. Once the texture changes, it is impossible to return to its original form. Therefore, there are two techniques that you could try to fix your rice.
If you want to have less wet rice, you could try to desiccate the rice by refrigerating it or baking it in the oven. Moisture will be removed by heat, and your rice will be less mushy to eat.
Another method that you want to try is to make a dish that calls for mushy rice. There are bunches of recipes (I will introduce them later) in which you will need your rice to be wet and creamy.
Undercooked Rice
Uncooked rice means "you can try to cook me more, and I will be a perfect pot of fluffy rice". So in this section, I will give you two approaches to fixing the problems.
Prevent The Uneven Cooking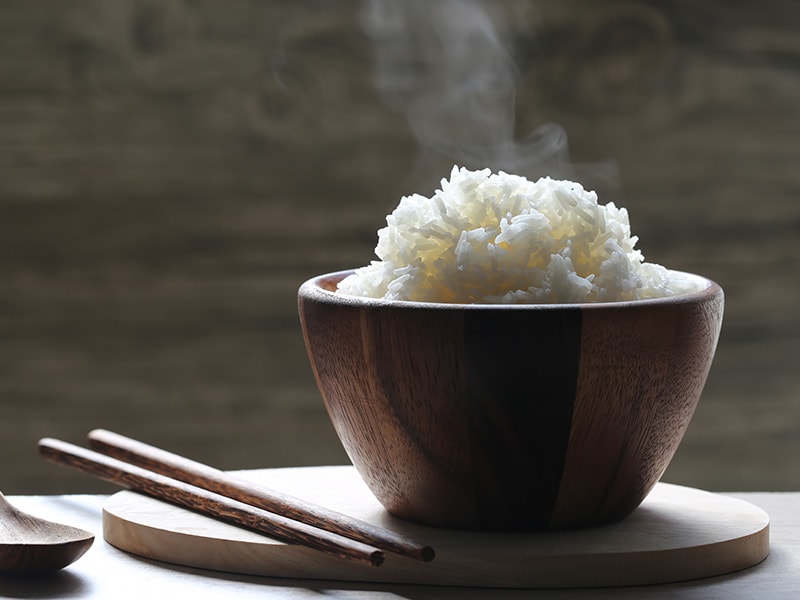 The mechanism of avoiding this event is all about letting the rice below meet the water on the top.
One of the reasons why the water cannot reach the bottom is that the rice is too starchy. It makes the cooked rice at the bottom too gooey and turns into a waterproof layer. You can rinse the rice to get rid of the starchy coating. Doing so will help the rice to be less sticky when it's cooked.
You can also interfere in the cooking process by poking some holes in the rice. This will allow your lower layer to breathe and approach the water above. You will want to close the lid while fixing your rice since you don't want all the water to escape again.
Use The Microwave To Fix Undercooked Rice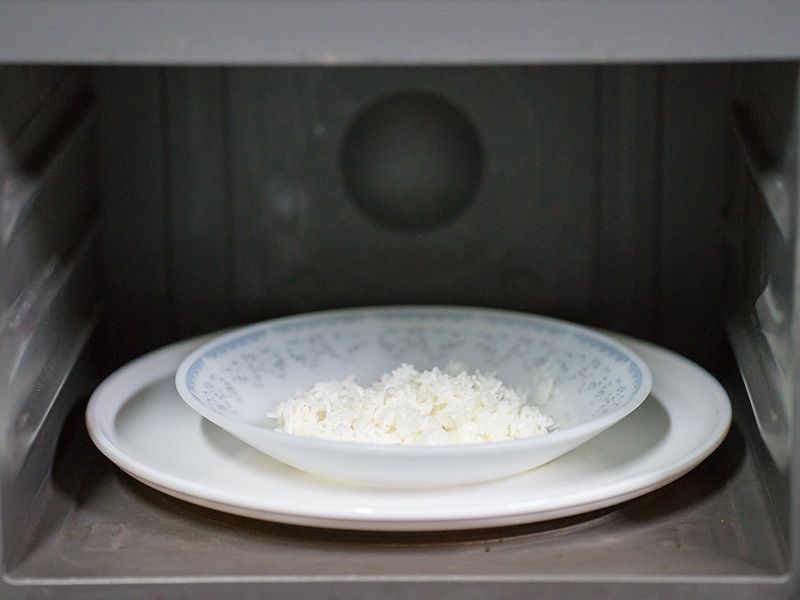 If your rice is at the "dry and opaque" phase, you can fix this undercooked rice by adding more water and letting it continue cooking for some more time.
And if your rice turns out almost cooked but still chewy here and there, you can use any kind of heat source to fix this mistake. I suggest you use either the microwave or the oven to fasten your process.
You can follow these steps to fix your chewy undercooked rice:
Step 1: Put Your Rice In A Pan Or A Microwave-safe Bowl
And you will need the one that has a microwave-safe lid as well. A casserole pan will also be perfect if you ask me.
Step 2: Sprinkle Some Water On Your Rice
To estimate how much water you should use, you need to check how raw your rice is. But overall, you should use 1-2 cups of water to add to the rice. This will moisturize your rice and allow your rice to continue its cooking.
Step 3: Close The Lid And Turn On The Heat
Now, you need to cover your bowl with its lid. This will promise that the water will not escape from the rice again.
Turn the microwave or the oven on with low heat for two minutes. After that time, you can move your bowl out and let it rest for another 10 minutes with the closed lid. Your rice will continue to cook during this time, so don't disturb it. After that, your rice should be ready.
The Secret Of How To Cook Rice Perfectly
After the above section, you understand all the mechanisms of the transformation behind overcooked and undercooked rice. Therefore, I think you now can become a master of cooking perfect rice by following these instructions.
Step 1: Wash And Rinse The Rice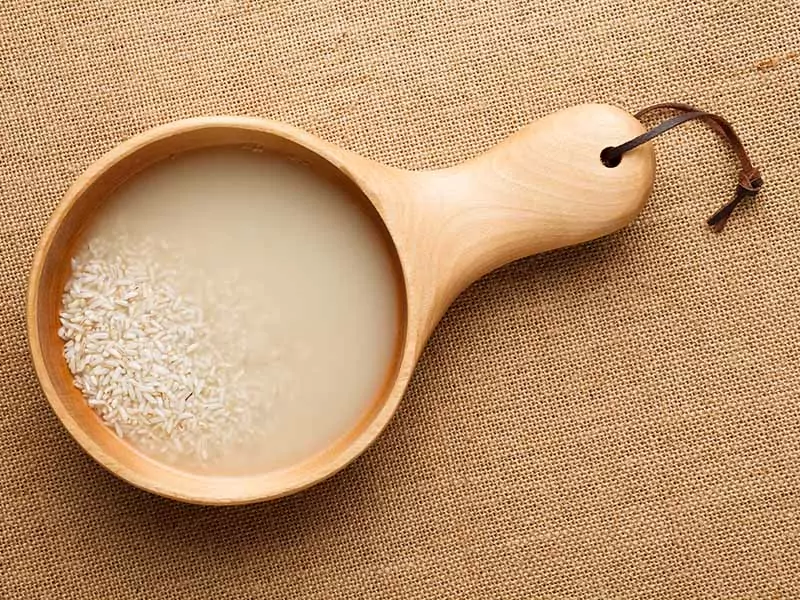 As I have mentioned earlier, too much starch on the outer layer of kernels can cause the rice to fail to be cooked appropriately. Additionally, without rinsing the rice properly, you can also expose yourself to arsenic.
Moreover, rice accumulates more arsenic in its kernels than other plants (3) . So after preparing a suitable serving amount of rice, you should soak the rice in water and rinse it to eliminate the arsenic.
Step 2: Submerge Your Rice In Water
For each cup of rice, you should add 1.5 – 2 cups of water. But each variant of rice will have a different measurement. In this situation, I recommend you to check online for the estimation and then use the tried-and-tested method to get the precise amount of water.
Some people add salt to the rice, but this is optional. With each cup of rice, you can add one teaspoon of salt.
Step 3: Boil The Pot
You need to turn the stove to medium heat (too hot will burn your rice or drain the water too soon) and wait for the water to boil. At this phase, you don't need your lid to cover the pot.
Once the water reaches its boiling point, you turn the heat down to low and close the lid. Then, you allow your pot to sit on the stove for 15 minutes.
Step 4: Turn Off The Stove And Let The Pot Wait
Your rice will need more time with heat and water, but you can turn off the heat. Just let the pot simmer for another 10 minutes with a closed lid.
Step 5: Stir Your Rice Gently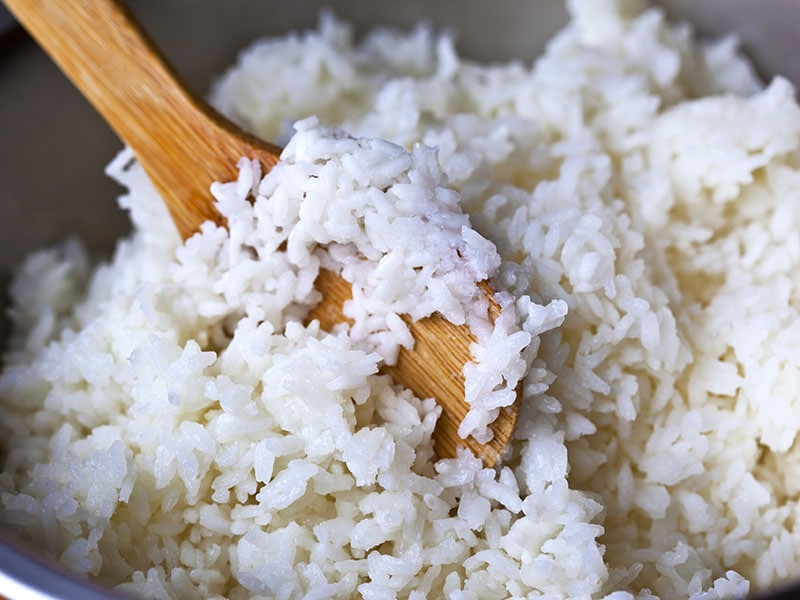 You now will need a rice paddle, a spatula, or a fork to stir the rice up. Please do it kindly so you will not smash your rice into mush.
At this point, your rice should be fine and ready to be served. With darker color rice, you will need double the water since it takes more time.
If you are a busy person, you should learn the right way to cook rice in a rice cooker. This kitchenware is very useful since all you have to do is wash and rinse your rice, put the pot inside the cooker, and push a button. You don't have to control the heat since everything is automatic.
If you have a rice cooker, preparing rice with it will save you much time.
Mistakes That You Might Make When Cooking Rice
You have perceived the secret of how to cook perfect fluffy rice. But along the process, you might make some mistakes. Therefore, in this section, I will address some of the most common mistakes which you might make during your rice cooking.
Cooking With High Temperature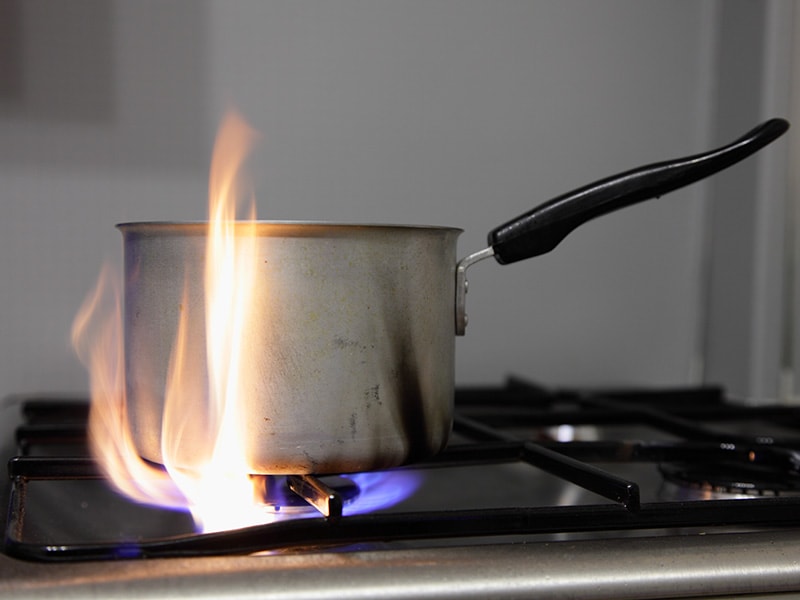 Unsuitable temperature is one of the most popular slips that people fall into when it comes to cooking. As you know by now, too much heat will make your rice overcooked and even burn your rice into charcoal. Too little heat can turn your rice into mush.
At each stage of rice cooking, you need to adjust the heat as well for a certain amount of time. If you are bad at timing, you might need a phone alarm or a kitchen timer.
Too Much Water Or Too Little Water
Excess water will turn your rice into porridge while too little water will burn both your pot and your rice.
You need a good amount of water, and to get the exact number, you will need some practice. Even if you're using a rice cooker, getting the correct rice to water ratio to put in a rice cooker is also crucial.
And since rice cooking also relates to water evaporation, you need to know when your lid should be on or off. After several tries, you probably can control the heat and the water. At that time, you can proudly say that you are a rice master.
Rinse And Wash Your Rice Incorrectly
I have mentioned both starch coating and arsenic in rice, so you don't feel strange with this step. Rinsing and washing help your rice be cleaner to consume and avoid undercooked rice.
There is a special situation where you should not rinse your rice. In the case of short-grain rice like arborio rice to make risotto, you will want your rice to turn out creamy. Therefore, rinsing your rice will annihilate this necessary texture of rice for risotto.
Learn how to wash your rice properly to get a perfect pot of rice here.
Stir Your Rice When It's On The Heat
Some people are afraid that they cook their rice unevenly. Therefore, they use a spatula, a spoon, or any kitchen utensil to stir the rice up when it is still in the heating or cooling phase.
This will not help your rice turn out perfectly. Your rice might end up being smashed together and become a glob of rice. In fact, to make congee, people stir the pot when it is still boiling. Unless you want to have congee for dinner, you should leave your rice alone.
Open The Lid Too Early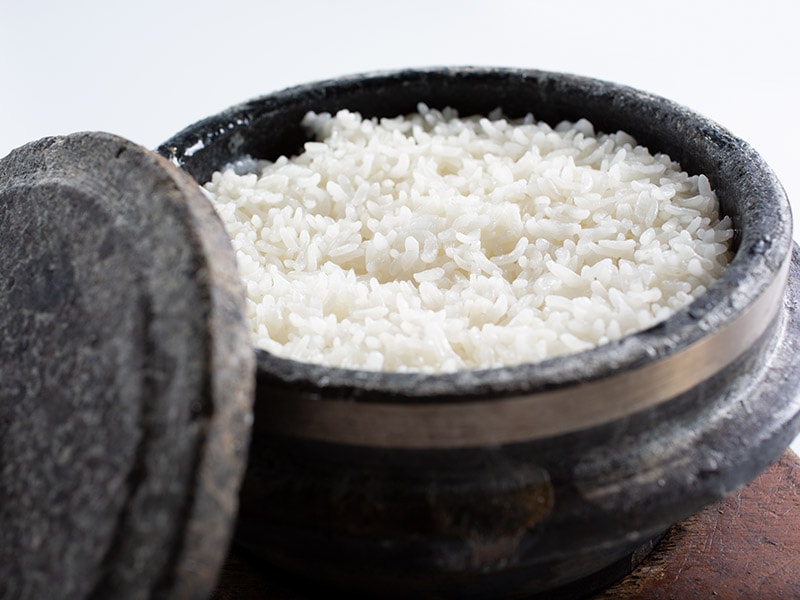 I know you are curious, and you wonder if your rice is good enough. Do you have to add more water? Do you need to lower the heat? But trust me, opening the lid too often will not help your rice at all.
The same thing happens when you open the lid too early. You just allow your water to escape too soon before your rice can fully absorb the moisture, and your result is an undercooked pot of rice.
Follow The Instructions On The Pack
Reading the details on the products' packages is usually a compulsory action, but in this scenario, I have to doubt those instructions. Most of the time, directions that are given by the rice companies are inaccurate. Usually, the rice turns out too dry compared to what you want.
To fix this, just basically don't listen to those details on the pack. You can try to estimate the water and the heat by the one-two rule for cooking rice. "One" is for one cup of rice, and "two" is for two cups of water.
Some Recipes That You Can Try With Your 'Oops' Rice
This part of the post is where I will give you some recipes so you can use your overcooked or undercooked rice instead of throwing it away. And no, there will be no scorched rice recipe in here.
Mushy rice is the best candidate for rice pudding. It turns out to be a desirable pudding dessert that you can't resist. The creamy texture of mushy rice will be suitable for what rice pudding needs. I totally recommend this recipe if you are a sweet tooth that has a pot of gooey rice.
Who says that vegans can't enjoy great burgers? Mushy rice once again shows that its stickiness can be a black sheep in a pack of white mistake-sheep. You can use your mushy rice to make the patty for the veggies burger.
You can press your rice into flat pieces and make a dozen rice cakes. Rice cake, or rice pancake, is overcooked rice. After forming it in a pancake shape, you fry and turn it into a perfect breakfast for your family.
Your overcooked rice is no longer a disaster after you transform it into a traditional East Asian dish like congee. There is nothing better than a cozy day with a bowl of chicken congee on the side.
You can make congee from overcooked rice or leftover rice instead of throwing it away.
FAQs
Of course, there are still a lot of questions about overcooked and undercooked rice. Therefore, this section is where I share some of my knowledge about the topic and hope that it will satisfy you.
Overcooked Or Undercooked Rice Is No Longer A Problem To You
Let's enlist what you have learned today: you know what the differences between overcooked rice and undercooked rice are, you absorb the secret of how to cook the perfect rice, and you discover several dishes that you can make with overcooked rice.
Since this post is so informative, it will be very nice if you share this post with your friends as well. Who knows, you guys may have dinner with rice at the end of the week. Also, you could leave a comment to share your opinion, too. Until then, see you soon. Goodbye!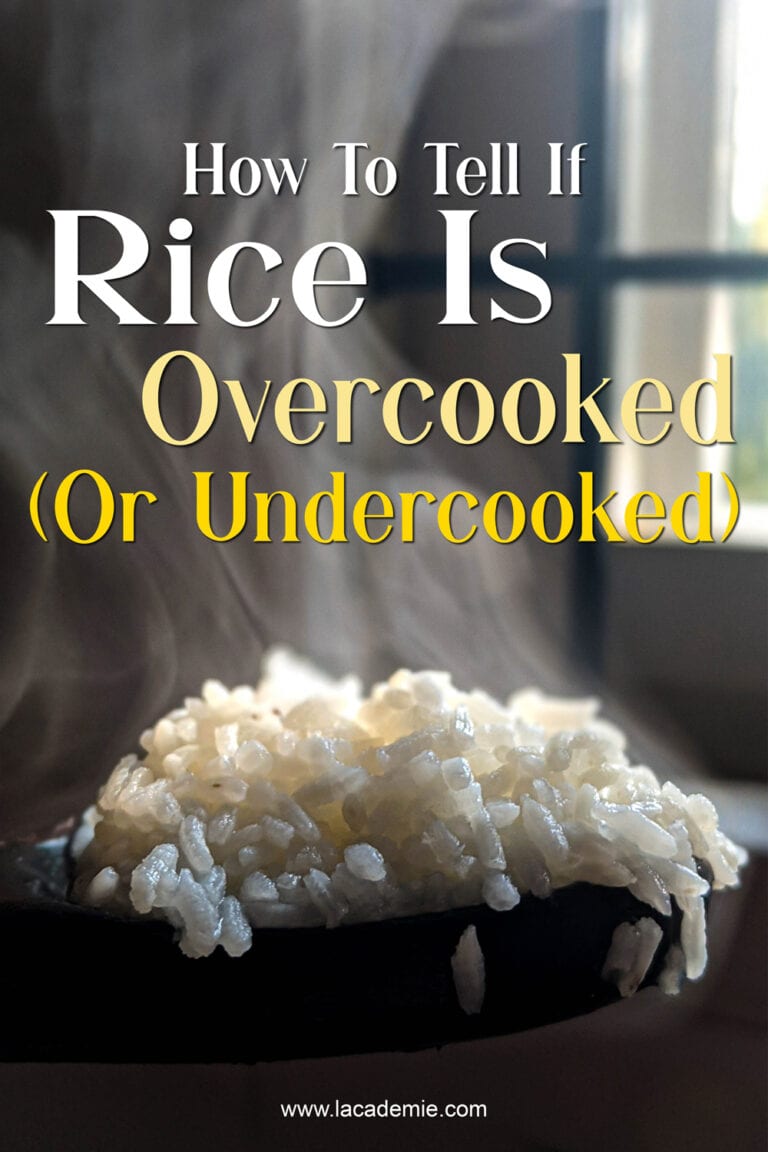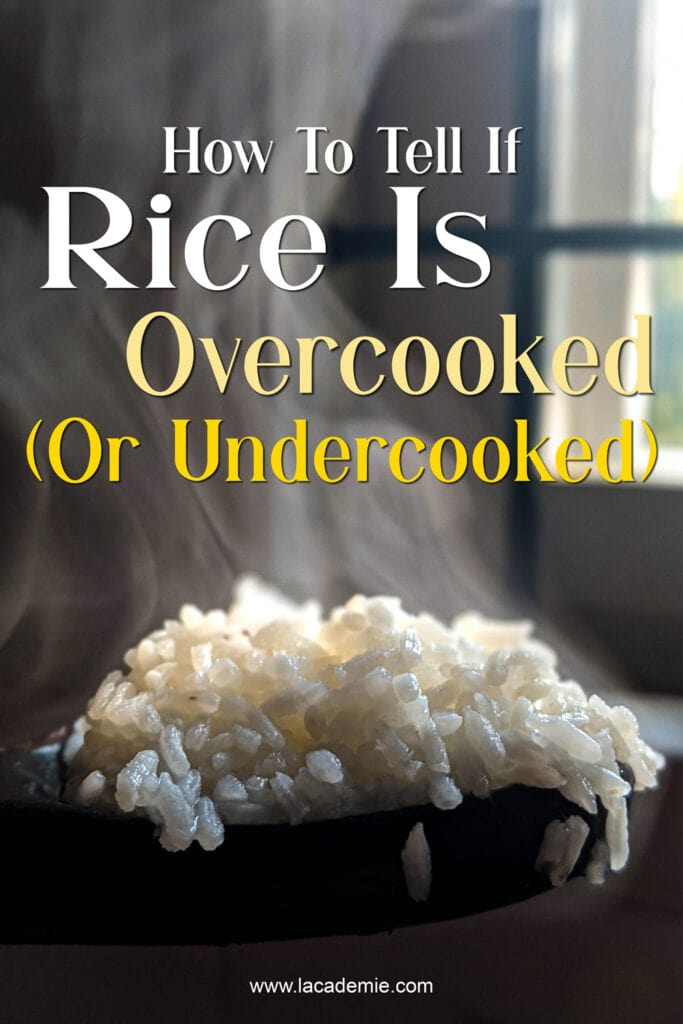 References
Hohman, M., 2021. Tahdig, kanzo, nurungji: How different cultures around the world scorch their rice. [online] TODAY.com.
U.S. Food and Drug Administration. 2022. Acrylamide Questions and Answers.
Murray, C., 2022. Arsenic in Rice and Rice Products | Arsenic and You.