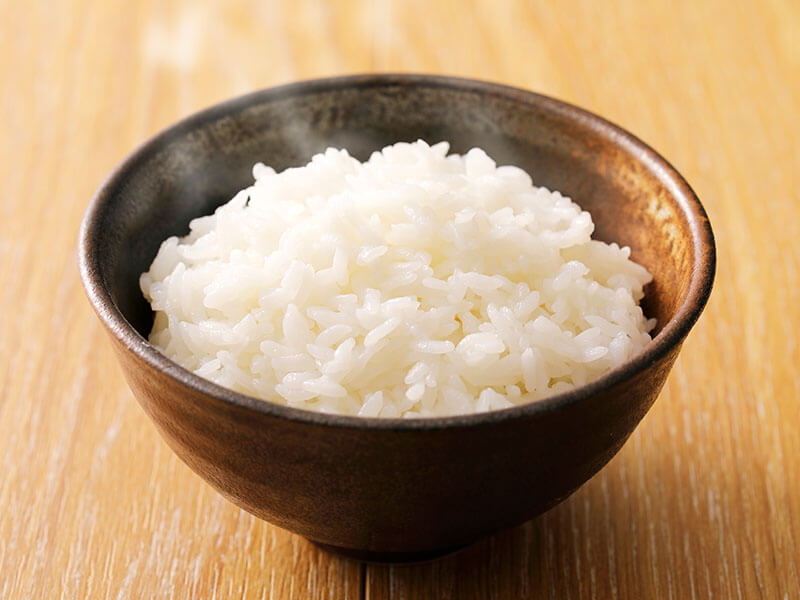 Can you leave rice out overnight? This question is important for those who aren't good at calculating the exact amount of rice to serve.
You may already know room temperature isn't an ideal environment to store cooked food, as bacteria can thrive there. And this has negative consequences for both your health and food.
It must be devastating to throw away your white rice of high-quality brands after you accidentally left them out for too long. But what else can you do besides using and storing them correctly?
Therefore, this article will elaborate on the risks of improper rice storage first, then provide you with helpful tips on storing your cooked rice by various methods. So keep reading to expand your horizon regarding this matter.
Leaving Your Rice Out Is More Dangerous Than You Thought!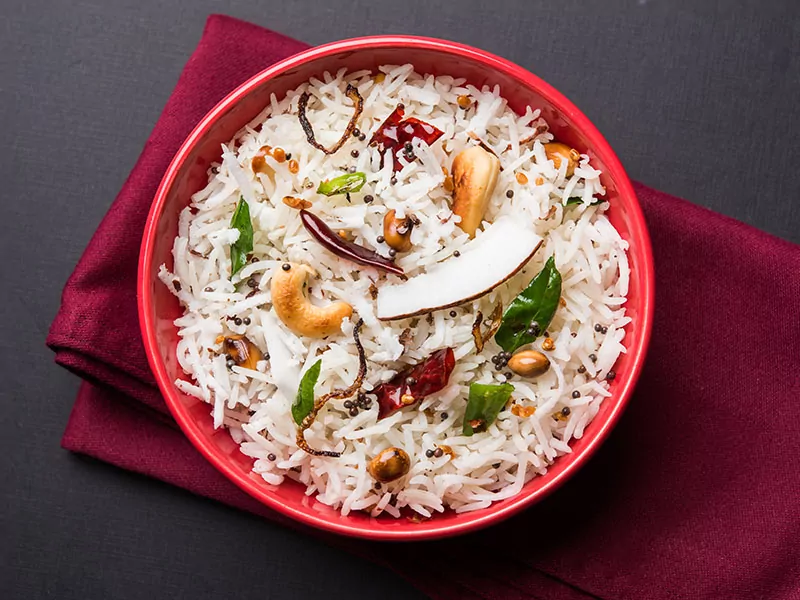 Any foods handled wrongfully might lead to serious health risks, and rice is no exception, no matter what rice variety. In fact, rice is one of the most common culprits behind food poisoning, as explained below.
According to the FDA, bacteria can multiply between 40 to 140 F degrees, and 2-hour is the maximum left-out range (1) . Hence, there's a high chance that leaving cooked rice at room temperature for more than 2 hours will spoil your rice.
When left out at room temperature, rice is an ideal environment for a foodborne pathogen, called Bacillus cereus (2) , to thrive and produce toxins. These bacterial spores survive even in the heat. Therefore, heating isn't sufficient to kill off the spores.
The bacteria is a potential cause of food poisoning, causing vomiting, cramps, and diarrhea. The symptoms of food poisoning from spoiled rice occur in the first 30 minutes or up to 6 hours. The symptoms will usually subside after a day.
For normal adults, food poisoning shouldn't be too hazardous a problem to handle. However, people with a compromised immune system might bear more serious health consequences, like those who have diabetes, chemotherapy, HIV/AIDS, organ transplant, or alcoholism.
Overall, even if your immune system might be sufficient enough to fight off bacteria from food poisoning, you should always take precautions about consuming leftovers, especially for those with weakened immune systems.
This explanation will provide you with more detail about how Bacillus cereus affects your rice.
How To Tell If Your Rice Is No Longer Safe To Consume
Storing food in the refrigerator is a common practice to store leftovers. And learning how to identify your rice condition when stored is helpful as you can determine whether your stored rice is fit for further consumption.
Generally, cooked rice can be stored in the refrigerator for 3-4 days. However, this time range is also affected by how you store your food in the fridge. So it would be better to consume it as soon as possible.
But do not worry; the below methods will help to ensure your food is safe to eat. Here are signs to look out for when checking your refrigerated rice.
1. Changes In Rice Texture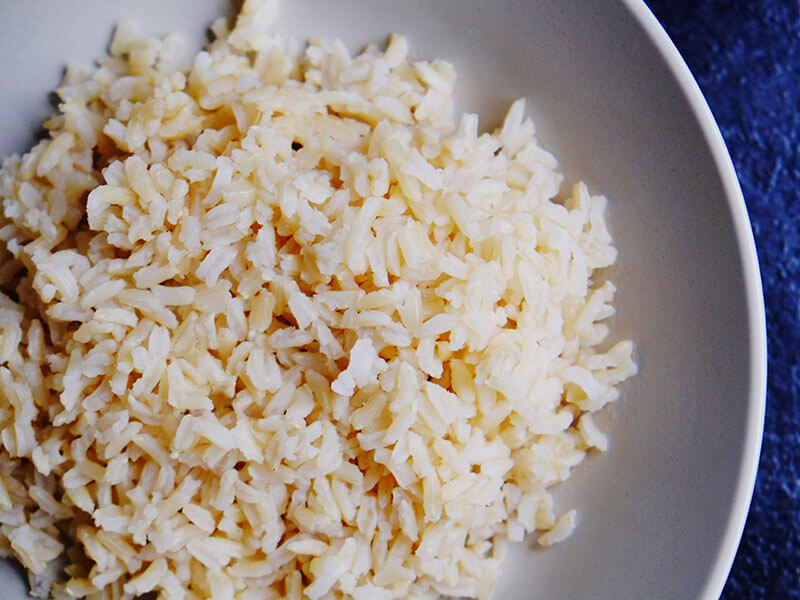 When your refrigerated rice appears super hard, dry, and even crumpling, it shows that the rice has lost most of its moisture. At this point, you should just discard the rice for safety.
2. Unpleasant Odor
If any weird or sour smell is detected, then that's a sign of bacteria growth. This is a definite sign it's no longer safe for consumption.
3. Signs Of Mold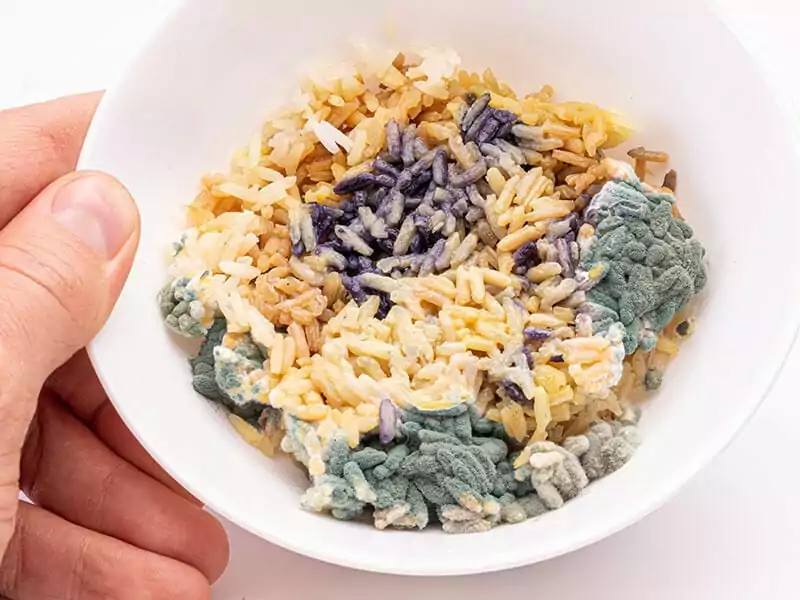 Molds can appear in blue, black, or green spots. Consuming rice that has developed molds is extremely dangerous and can lead to hospitalization. So if you see molds on your rice, toss it out without hesitation.
4. The Rice Is Slimy Or Gooey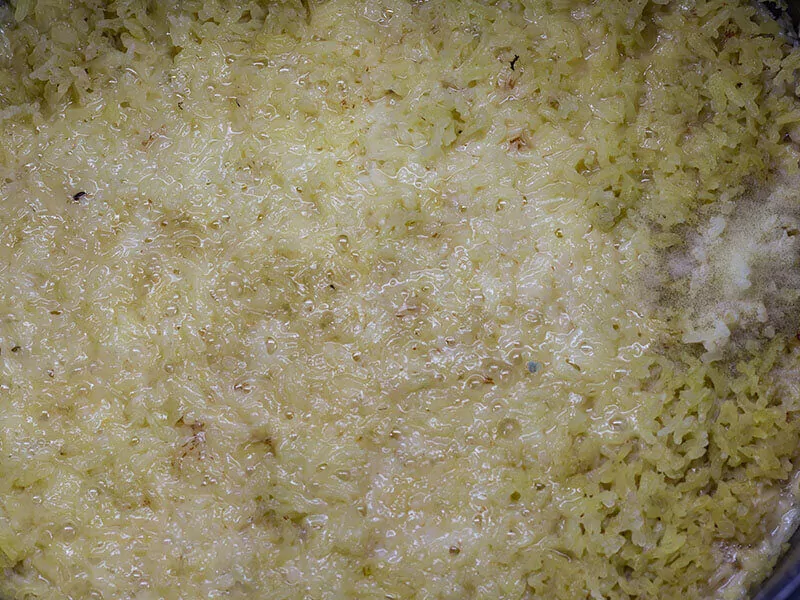 This phenomenon is usually accompanied by unpleasant smells as well. It happens when moisture presents excessively when first stored. And throwing your rice is the only option.
Storing The Rice Right Is Not Too Tricky!
You have understood the risks of not storing your rice properly. Now, let me show you some methods and tips to store your rice accurately. Overall, there are 3 recommended methods for storing your rice.
Methods
How long
Pros
Cons
Rice cooker
Up to 12 hours

Rice can be stored in a rice cooker overnight
No need for reheating

Can't be stored for a long time
Refrigeration
Best to keep for 3-4 days
Can be stored for a longer time

Need to consume quickly. Otherwise, rice quality will be affected
Takes time reheating

Freezing
Up to 6 months
Can be stored over a long time
Takes time reheating
To prevent risks of spoilage and health concerns, read further for useful methods on how to store your rice.
1. Refrigerating Your Rice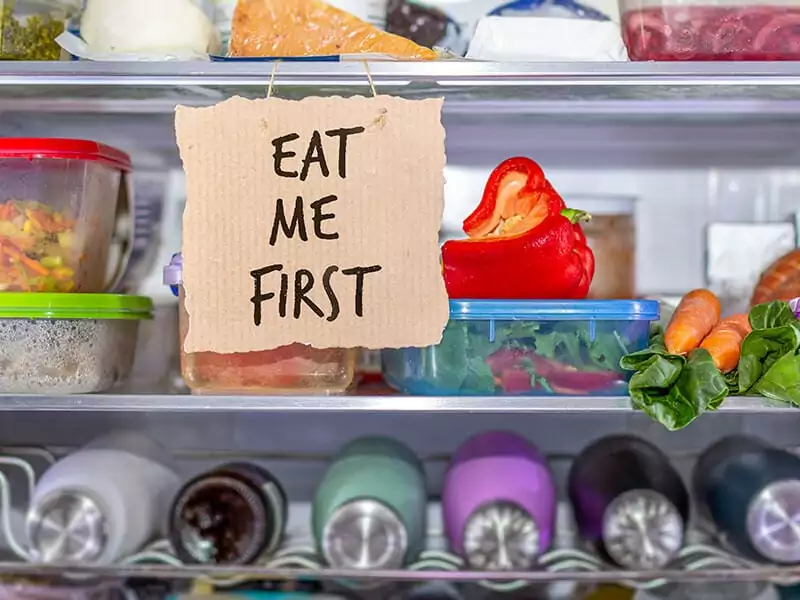 If you're still asking whether rice should be refrigerated, then the answer is yes. However, you'll need to learn the proper preparation for the best result.
Refrigerated rice can be stored for 3-4 days. As said above, you should check your refrigerated rice by smell and observation. But it is also important to know the correct ways to store your rice in the fridge, so keep scrolling the page for more information.
What You'll Need:
Airtight containers or containers with plastic wrap
Something with a large surface, such as a big plate or a baking tray
The key to refrigerating rice is cooling quickly to remove steam as steam results in the water. If your rice is soaked in water when refrigerated, it will create an ideal environment for bacteria to grow and spoil your rice. Here's a step-by-step guide to refrigerating your rice.
Step 1: Preparing Rice for Storing
Cool the rice by placing it on a clean plate or a baking tray. Spread the rice gently, don't apply too much pressure on the rice as it might get mushed.
The thinner the spread, the quicker it will cool down. It should take 5-10 minutes for the rice to cool down.
Step 2: Make Sure The Rice Is Cool
After the rice has been completely cooled, you can check if it has cooled down by checking for steam coming off the rice.
Use a clean spoon to scoop the rice into the clean container. You could use airtight containers/Ziploc bags or just a simple bowl but make sure to cover with plastic wrap.
Step 3: Mark The Storing Date to Ensure You Remember Correctly
Use a marker or pen to write down the date on the container. This will help ensure you know how long the rice has been kept. This step is particularly important if you have busy schedules or are forgetful.
Finally, place the rice in the cool compartment of the fridge and remember to eat it soon. "Is cold rice edible?" – you might ask. Well, although many people choose to reheat their rice, cold rice is also safe to eat.
What should you do to store cooked rice in the fridge precisely? Do not miss this guide.
2. Freeze Your Cooked Rice For Longer Shelf Life
Besides refrigerating rice, you can also freeze it. Freezing rice will expand the shelf life of cooked rice which can keep your food safe for up to 6 months.
Make sure you treat your rice right before putting it into a device. You can apply the same steps as storing rice in the refrigerator.
In addition, you can also try storing uncooked rice in the freezer. With the proper preparation, your rice will last for a very long time this way.
You can see this video to know more:
3. Using A Rice Cooker to Store Your Rice
A rice cooker is a widely popular household applicant, especially in Asian households. This convenient device cooks your rice to perfection (as long as you follow the precise water and rice ratio in rice pokers) and keeps it warm.
After being cooked, the rice cooker will automatically turn to the "Keep Warm" mode. The heating element inside will be adjusted to a suitable temperature to keep the rice in the pot warm and safe.
So what is the ideal time to keep rice in rice cookers? With a rice cooker on "Keep Warm" mode, the rice can be left in there for up to 12 hours at room temperature unattended, which means you can leave your rice overnight in this kitchenware.
However, it is not the ultimate tip to do so because this might affect the rice quality. The longer you keep rice in the cooker, the drier the rice will be. This is due to the exposure of heat to the rice, which causes the evaporation of moisture, decreasing its fluffy texture and becoming crisp.
NOTE: A helpful trick for preventing dried rice in the rice cooker is giving a splash of water to the rice and switching the cooker back to "Cook" mode. This will transform your rice back to its fluffy and moist state.
When using a rice cooker, the best time range to enjoy the cooked rice is within 5-6 hours. So serve it immediately after scooping your rice out of the pot if possible.
After 12 hours, you can reserve the rice by refrigerating it. But the rice shouldn't be kept there longer than a day and should be reheated for consumption.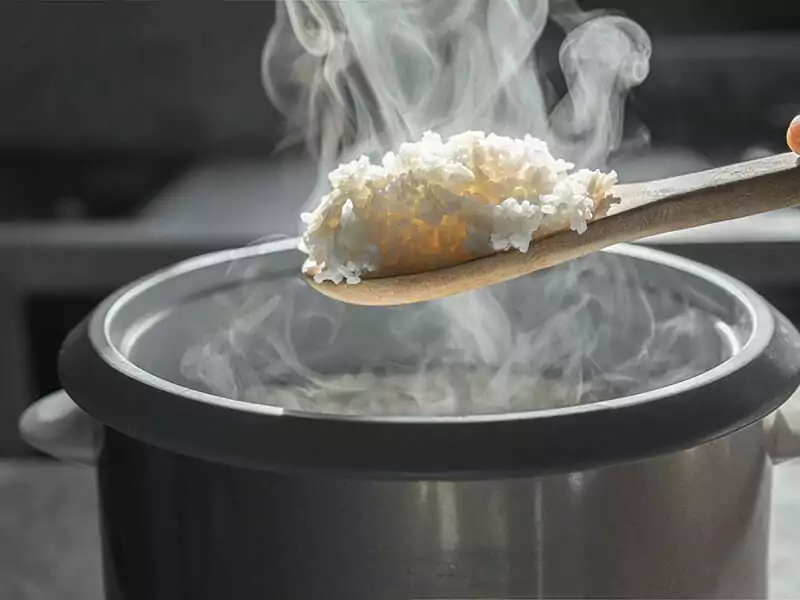 Tips To Reheat Your Rice For Further Use
Reheating cooked rice is not too hard to do. For example, there are many ways to reheat fried rice. Regardless of what kitchenware you use, ensure the internal temperature of your rice reaches 165 F degrees for safe eating (3) . And here are some tips with steps for doing that.
1. Use A Rice Cooker
A rice cooker can reheat your stored rice and give your rice the original texture effortlessly. On the other hand, there are certain differences between rice cookers and instant pots, they are both acceptable to warm your food.
Step 1: Warm the Rice at Room Temperature Before Reheating
To reheat using a rice cooker, take the rice out from the fridge or freezer. Let it rest at room temperature for around 15-20 minutes.
Step 2: Heating Rice in Rice Cookers
Transfer the rice from your container to the rice cooker. Add a splash of liquid, water, or broth, to the rice cooker. Then close the lid and turn on "Cook" mode.
Compared to cooking rice, reheating will take a shorter time. After the rice has been reheated properly, the rice cooker will automatically turn to "Keep Warm" mode. You can enjoy your rice then.
2. Use A Pot or A Pan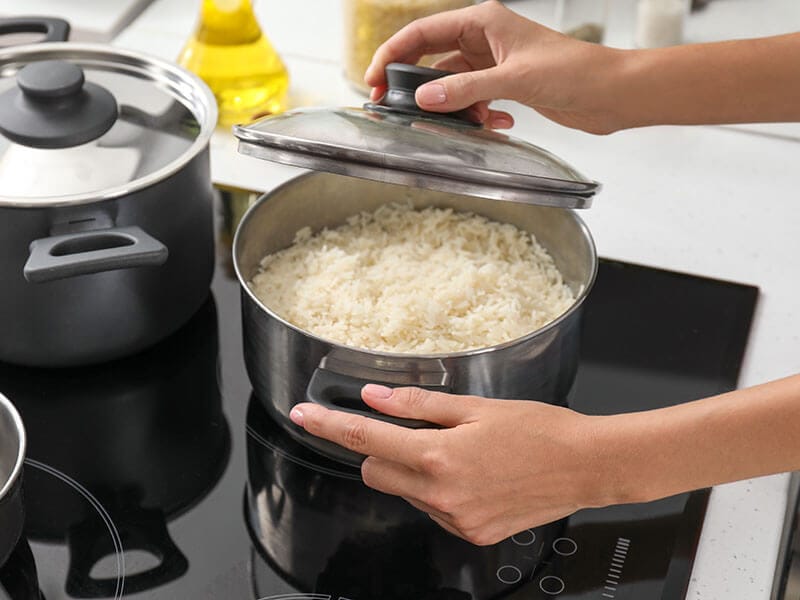 Using the pot to reheat your rice requires virtually the same steps as using a rice cooker. However, the rice cooker doesn't need too much attention. By using a pot/pan, you need to monitor your food until it's completely reheated. Here are some steps to ensure you do it right.
Step 1: Let The Rice At Room Temperature Before Reheating
Take your rice out and let it sit at room temperature. It should take around 15-20 minutes.
Step 2: Reheat Rice in A Pot/PanOver A Stove
Put the rice in a pot, and add a splash of liquid, water, or broth. Put a lid on and place the pot/pan over the stove on low heat.
Step 3: Check Rice Condition Frequently During Heating Time
After 5-7 minutes, open the lid to check the rice. Stir the rice to break clumps up and avoid burning at the bottom of the pot/pan.
3. Use Microwave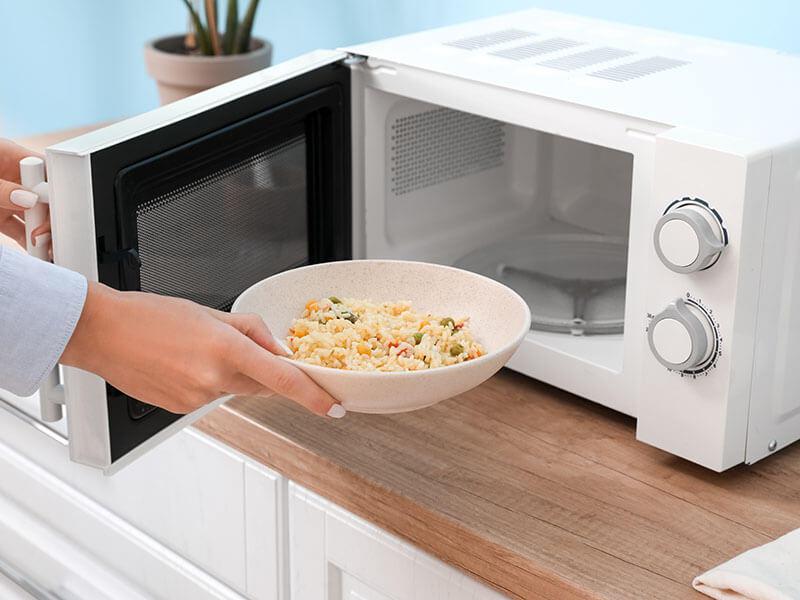 If you want to reheat your food in a microwave, it's important to use microwave-friendly containers and a damp towel. The damp is crucial as it creates steam to prevent the rice from drying out and gives it a fluffy bite.
Step 1: Warm The Rice At Room Temperature Before Reheating
Take your rice out and place it in a microwave-friendly container. Break rice clumps, if any.
Step 2: Place A Damp Towel On Your Rice
Add a splash of liquid, water, or broth. Place the damp towel over the rice and make sure the towel covers the surface of the rice and leaves no open spots. Then place your food in the microwave.
Step 3: Microwave The Rice
Set it for about 2 minutes and fluff the rice in between until they are steamy and hot completely.
NOTE: For large objects such as a bowl, it's likely that the middle is still cold while the edges are warm. So make sure to stir the rice for the portion to be thoroughly reheated.
Check out this instruction to reheat the rice perfectly with a microwave.
4. Use Oven
Another kitchen device that can work well to reheat your food is an oven. Similarly, you should add a bit of water and use an oven-safe dish to keep the rice.
Remember to break any rice lump before putting it into your oven. You should use a lid or aluminum foil to cover your rice dish. Set the temperature at 300 F degrees for about 20 minutes until they are heated through.
Check out this video to know:
FAQs
Finally, there are some frequently asked questions about this matter. So if you still have other concerns to ensure safe rice consumption, do not skip this part!
Store Your Rice Right For Most Pleasant Meals
Generally speaking, cooked rice should not be left out without proper storing for more than 2 hours. Doing this will expose your rice to the possibility of spoilage and affect the rice quality and your health.
Storing rice isn't too difficult a task to be dealt with. All you need is some attention and carefulness to your rice.
In short, rice is best enjoyed and served when it's freshly made. But if there is any leftover, remember the above tricks to store them right.
In final words, I hope you have gained comprehensive information about using and storing rice safely and precisely. Do not hesitate to leave your opinion or question in the comment section. And if you find this article helpful, your shares and likes are much appreciated. Thank you!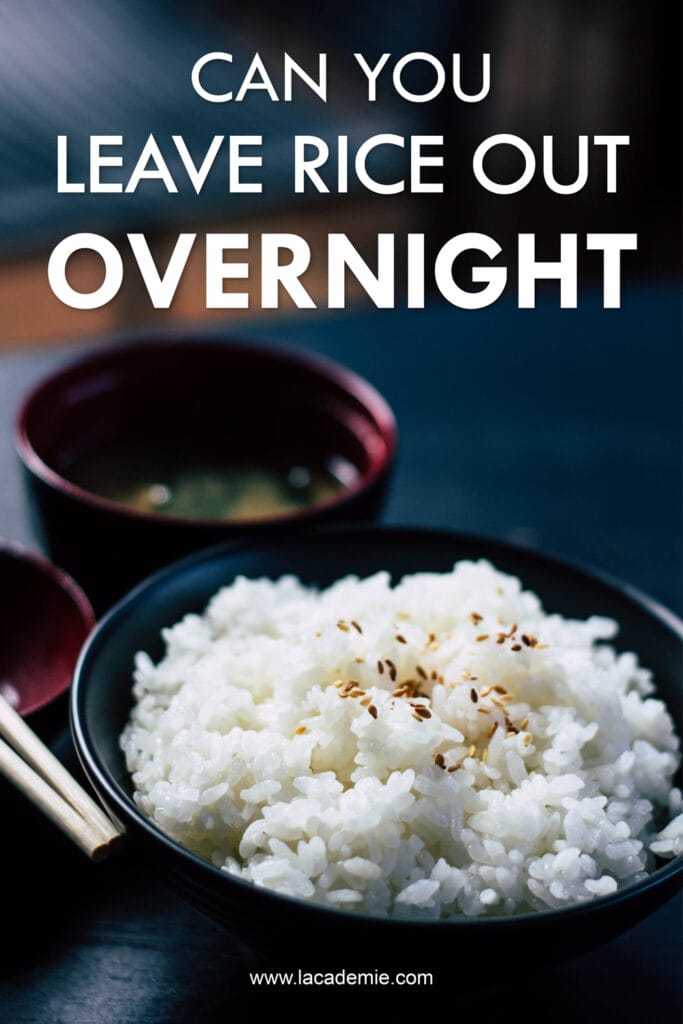 References
Fda.gov. 2022. Cooking from Food Safety for Moms to Be.
Rodrigo D, Rosell CM, Martinez A. Risk of Bacillus cereus in Relation to Rice and Derivatives. Foods.
Ucanr.edu. 2022. Be Careful How You Store Your Cooked Rice.