Can you eat cold rice? You come home from a long day at school with a hungry tummy. You open your refrigerator and see that sealed pot of rice from dinner. You ask yourself that question, and now you are starved to find the answer.
You are not the only one who wants to learn about the edibility of cold rice. Cold rice's enigma sparkled a controversial topic 30 years ago among nutritionists and gastroenterologists. And today, in this post, I will illustrate everything about cold rice to you.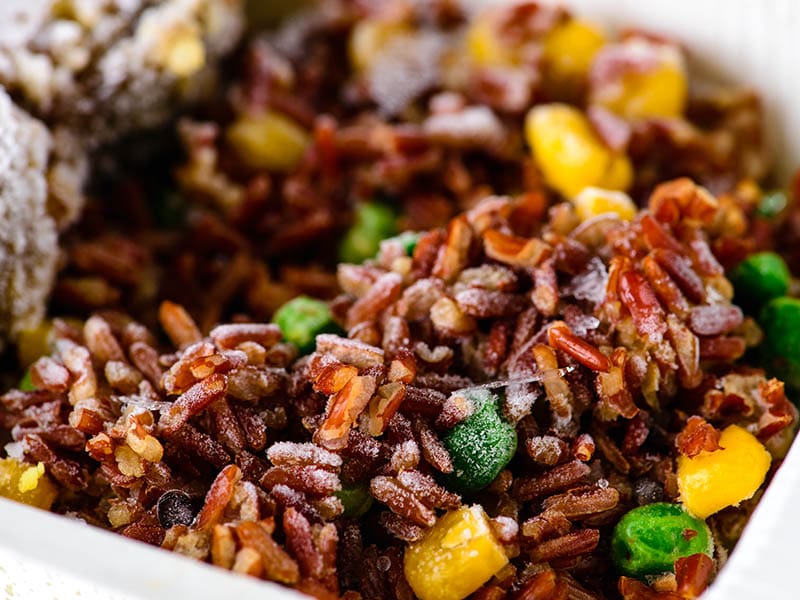 What Is Cold Rice And Why Is It Special?
Do you really know what cold rice is? Allow me to demonstrate more about these terms before chowing down to the main course.
Cold Rice Or Leftover Rice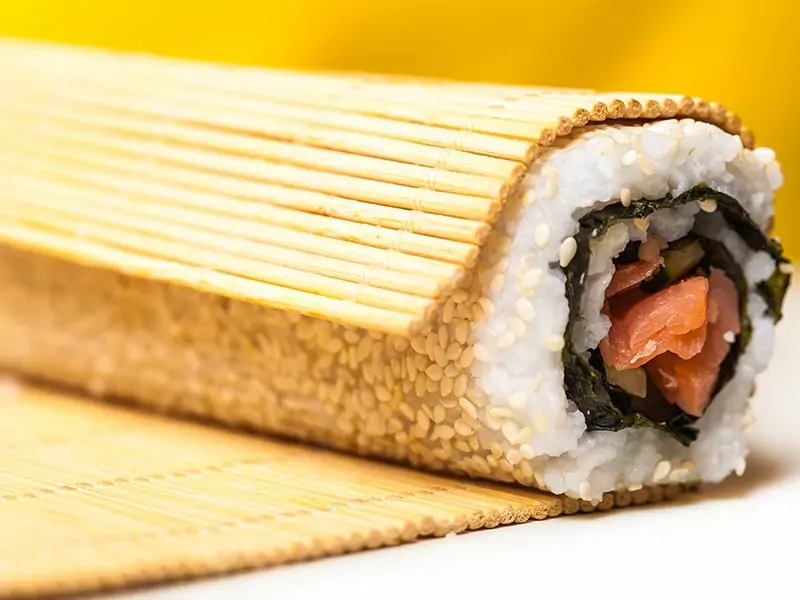 Rice is an immensely popular food worldwide that millions of people consume on a daily basis. Many people even wonder if rice is the same as vegetable, due to its immense popularity.
You can understand that cold rice is basically rice at lower temperatures than freshly cooked rice. Cold rice could either be leftover dinner from last night or intentionally refrigerated by people.
Since rice is a staple food that people consume every day, it is reasonable to cook them in large amounts at any time. Therefore, you often have leftover rice in your kitchen. That rice usually goes into the fridge, but some people also wonder whether rice can be left at room temperature overnight.
Besides the unexpected cold rice from leftovers, people also want to cool down their rice because either they aim for the nutrient benefits of cold rice or want to make some special dishes. You can see people need cold rice for sushi, fried rice, rice pudding, etc.
It takes 1.5 hours for cooked rice to cool down at room temperature. To make this process quicker, people tend to put hot rice in the refrigerator, which is not a recommended action.
But rice and some other starchy foods have a cold secret that makes them special: resistant starch.
Resistant Starch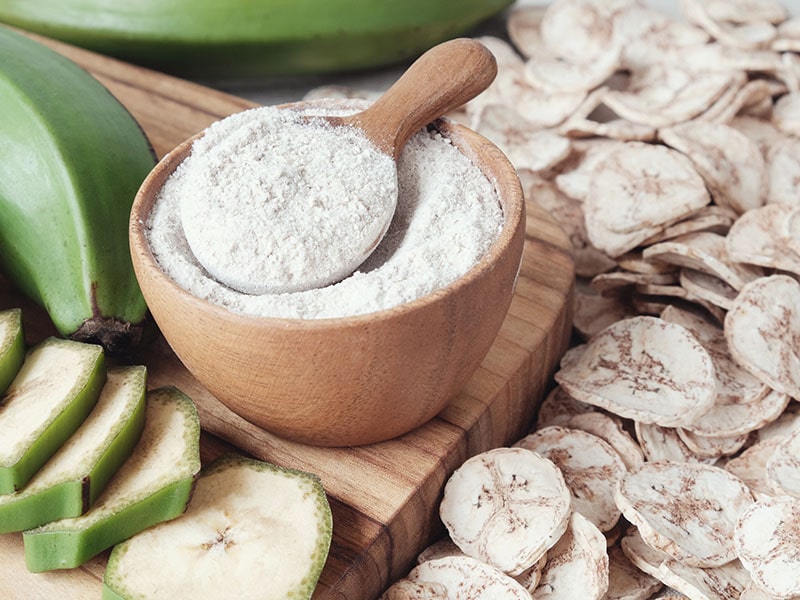 Resistant starch is a starch type that body enzymes cannot dissolve. It gets inside the human body when you eat food that consists of this substance. Resistant starch then travels throughout your digestive system and ends up as being food for bacteria in the colon.
There are four main types of resistant starch, and what you want to focus on today is resistant starch type 3, or retrograded starch. It forms when amylose in the starch breaks down by heat and then gelatinizes at low temperatures.
Resistant starch in our body works like dietary fiber. It means it is indigestible and fermented at the end of the small intestines. All of these progresses later play a positive role in enhancing the body.
Resistant Starch In Cold Rice
There is not much resistant starch in hot rice since there is no retrograded starch in there. Retrogradation only occurs during the food cooling process. Therefore, cold rice has more resistant starch than hot rice.
Since amylose is broken down and turns into food for bacteria during retrogradation, it helps you to take less sugar than regular hot rice. Resistant starch is what people desire in cold rice.
Resistant starch will not degenerate again if you heat your cold rice once again. Its gelatinized structure is fixed after transformation. And you can increase the proportion of resistant starch by reheating rice and then refrigerating it again.
Unexpected Benefits Of Cold Rice
Most health benefits of eating cold rice come from its resistant starch. Although cold rice and hot rice are the same, the formation of retrograded starch makes them nutritious in different ways.
In this section, I will only discuss the major advantages of eating cold rice. The other positives of consuming rice overall will not be mentioned.
Fighting Against Diabesity
To understand this benefit, you need to remember how retrogradation works.
Resistant starch is rice's sugar that transforms into different substances which don't work like sugar. Therefore, when you consume the same amount of cold rice compared with hot rice, the sugar (or carbohydrates) intake will be lower.(1)
Consequently, cold rice is a perfect food for people with diabetes. As someone who is diabetic, you will want to cut the sugar in your meal. You can enjoy more rice if you eat cold rice. In addition, having cold rice often can decrease blood sugar and cholesterol level.
Helping Lose Weight
Reducing sugar intake also aids people who want to lose weight. They can consume cold rice for lower carbs and longer filling.
To optimize the process, you can use cold brown rice instead of white rice due to its higher fiber and even lower sugar content.
In the case of athletes, cold rice is not something they prefer since they need to recover carbs. White rice is always athletes' favorite because it fully packs healthy carbs. They don't have to eat much rice to gain energy back, and it helps they feel full for a long time.
Enhancing Your Guts Health
When resistant starch reaches the large intestines, it starts its fermentation with bacteria there and produces a type of fatty acid. This newborn substance is actually the food of colon cells. It induces the colon to work more efficiently and keeps this area healthy.
Resistant starch also helps ease inflammation in the intestines. Therefore, it prevents your body from forming bowel diseases. In addition, resistant starch is also capable of enhancing mineral absorption in your body. (2)
You can learn more about how resistant starch benefits the microbiome in your intestines.
Avoiding Waste Food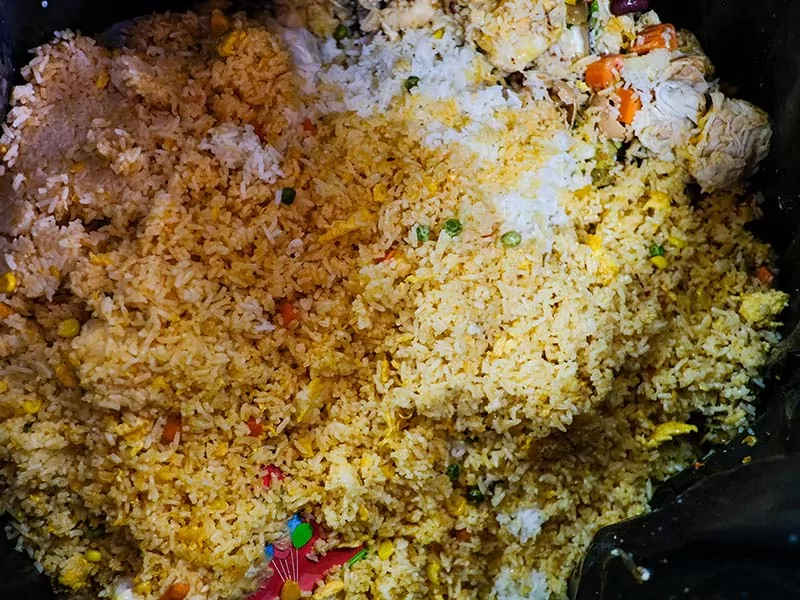 Many people decide to throw away their leftover rice since they don't like cold and tasteless cold rice. It is a total waste since now you know how nutritious cold rice is. Plus, there are numerous yummy recipes to make with leftover rice, such as Vietnamese-style fried rice.
Consuming cold rice also saves you a little bit of that electricity bill. You don't have to reheat your rice if you like your food cold. For hot food lovers, you can reheat and eat the rice instead of making a new meal.
That sounds like a pretty small saving for electricity, but when you calculate the cumulative number, you can see how much money you could have saved.
Negative Effects That Come Along
There are so many advantages that you could collect from eating cold rice, but pros always have cons that follow suit. So what is the backfire of consuming cold rice?
Bland And Dry Rice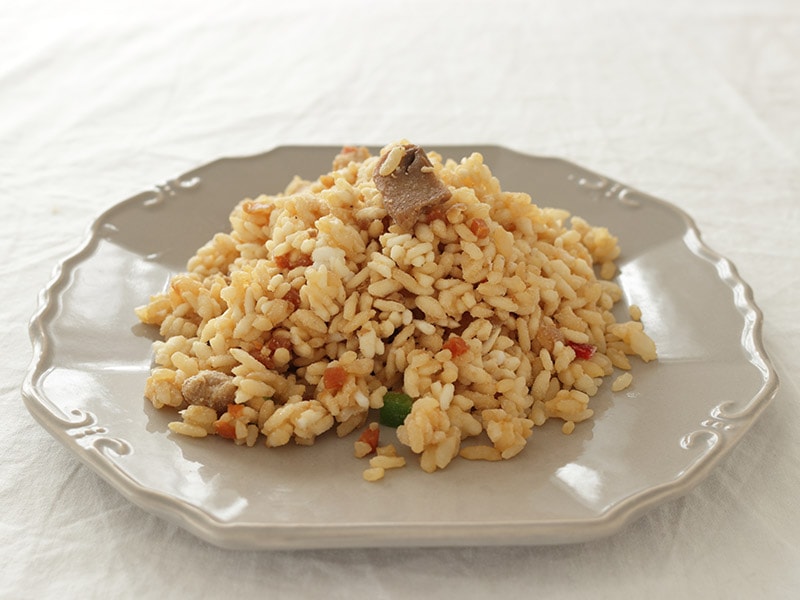 When you decide to put any variety of rice in the refrigerator or the freezer, you have to accept the fact that your food now is no longer "fresh". Coldness from the environment will suck all the aroma and water out of your rice. In the end, your rice will become dry and tasteless.
You can reheat your rice with liquid to hydrate it when you want to eat it, but the taste will not be as tender, and your rice can hardly have the same smell. Some people even describe eating reheated rice as chewing cardboard.
Food Poisoning
One of the biggest problems with leftover food is the thriving of bacteria in food. In the case of rice, Bacillus cereus is the main culprit.
Food poisoning from B.cereus includes vomit, diarrhea, and headache. Usually, your body can get over these symptoms and cure itself after 4-6 hours. In other worse cases, the medical assistant is necessary.
B.cereus growth can be prevented by storing rice in time and at suitable temperatures. When it comes to storing rice, there are two important numbers you need to consider: two hours and 4-60 degrees Celsius (40-140 degrees Fahrenheit).
Two hours is the time that you can allow your rice to breathe some room temperature air. Over this time milestone, you can start to consider throwing your rice away. But you can reclaim the edibility by reheating it at a temperature above 60 Celsius.
4-60 degrees Celsius (40-140 degrees Fahrenheit) is a suitable condition for B.cereus to expand its empire on your rice. So you would like to keep your rice at a temperature lower or higher than this range of heat.
More about food poisoning from rice and how to deal with it.
How To Make And Store Cold Rice Correctly
As I mentioned above, the two main keys to opening the "how to store rice effectively" box are time and temperature. You control these factors, and nothing can affect your rice, right?
Wrong! If you genuinely want to eat cold rice the correct way, you will need to know some other obstacles that you should get rid of. To maximize your cold rice lifetime, you can follow these steps of this procedure.
Step 1: Quick Way To Cool Your Rice Down
It is not strange when your mom yells at you for putting hot food in the refrigerator. That action can level down that chill machine and make it retire soon.
To lower the heat of rice within 2 hours, you can increase the surface area of rice so the heat can circulate faster and more efficiently. You will need a tray and a spatula for this step. If you do not own a tray, a large clean area will suffice.
You need to spread your rice on that tray and softly spread that rice. You will not want to put too much force on that spatula while spreading that rice. Too much pressure will smash your rice, and the rice will lock the moisture inside.
Step 2: Isolate Your Rice
After quick drying, your rice is now dehydrated, chilled, and fully ready for the cozy time. But should you refrigerate your rice? The problem is that dry rice can absorb moisture and smell in the refrigerator. In addition, oxygen can cause color changes in your rice or alter its texture.
You need something to help protect your rice, like an airtight container or bag with a ziplock. Your storing environment can even be ideal if you can vacuum your rice.
Step 3: Label It
It is still best that you could label your food so that you would know whether you should consume that rice or not. Refrigerated rice can keep its edibility for 4-6 days, so I recommend finishing your rice within that period.
You can consume your rice cold (like rice salad) or can reheat it by using a stove, a rice cooker, or a microwave.
Signs That Your Cold Rice Is Not Safe To Eat
Even when you have followed the perfect procedure for securing your rice, an accident might still happen. It is unavoidable and unpredictable. When your rice is spoiled or infested, it must be thrown away. In this section, I will give you some most common signs of bad rice.
Weird Smell And Mushy Texture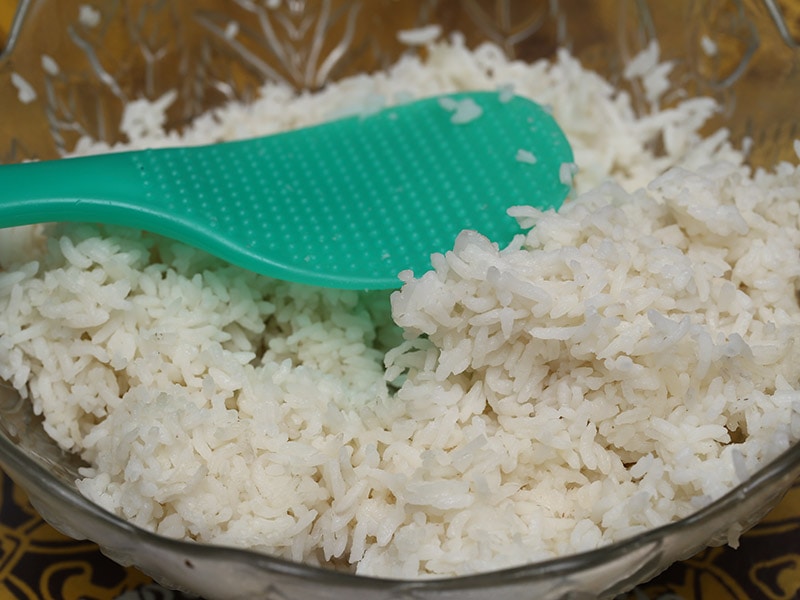 This smell comes from the fermentation of B.cereus, and it is a sign that your rice has been infested with the overgrowth of this bacteria. It breaks down sugar in your rice and then defecates its waste.
This smell can be described as rancid, unpleasant, and a bit sweet. Whenever your rice has this funny smell, you should toss your rice away.
Besides the smell, the fermentation of B.cereus also alters the texture and makes your rice sweat. Therefore, your rice becomes oily, mushy, and even gooey.
Color Change In Rice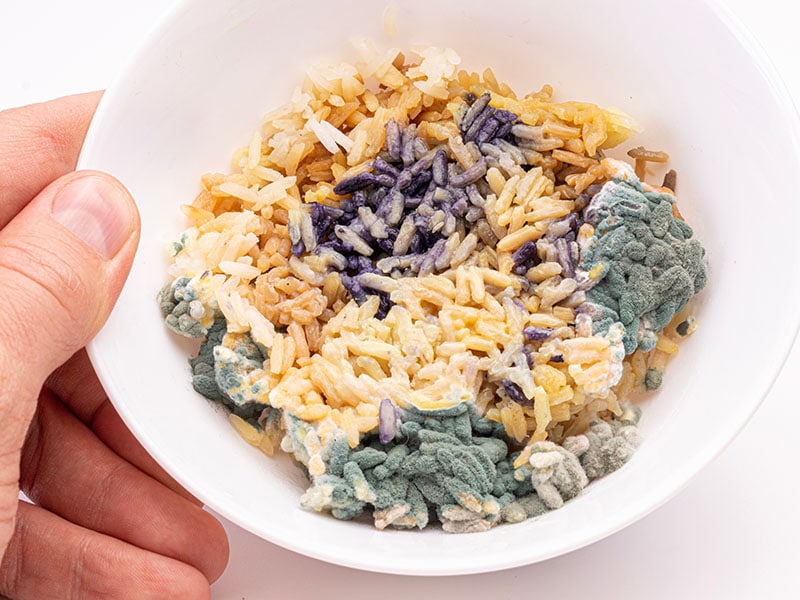 This sign only shows up when your rice has been cooked for at least two days. There are two types of color-changing in cooked rice.
The first type is when your rice is super infested by bacteria, and its waste is so dense that your rice's pure white has to turn into yellow.
Another factor for this kind of color change is molds. This fungus always finds your rice fascinating and will have the intention to consume it. You need to toss that rice away to avoid food poisoning from consuming moldy rice.
The second type of color-changing that you can find in your rice is its decoloration. This happens when you forget about your rice for too long (either in the cooker, outside, or in the refrigerator without proper cover).
Old Cold Rice
Old rice is something you want to show the door. Cooked rice can be stored for 4-6 days in the refrigerator. And if you put cooked rice in the freezer, you can eat it within six months.
When you exceed that mark, you will want to annihilate that rice. Old rice can contain fungus and other bacteria, which later can lead to food poisoning. Also, old rice has terrible texture and taste.
How To Eat Cold Rice The Right Way
You have learned how to make cold rice, how to store cold rice, and how to throw cold rice away, but do you know how to enjoy cold rice?
Eat When It's Stone Cold
People can make rice ice cream and rice salad with cold rice. You can eat it straight from the refrigerator if that is your kink.
With cold rice, which is just taken out from the refrigerator, you can season it with condiments and butter. In fact, people who want to make sushi need to refrigerate their rice first.
Reheat Your Cold Rice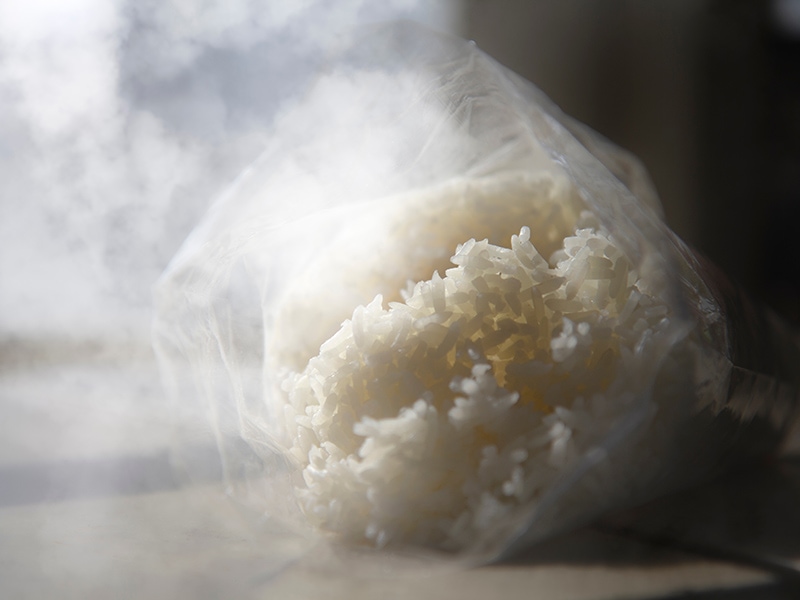 If you are not a fan of cold rice, you can reheat rice by many methods as well. You can use a cooker, microwave, or stove for reheating your rice. After that, you can eat your rice like freshly cooked rice.
The only difference between hot rice and cold rice is its aroma. Leftover rice tends to lose its smell and taste. Each method might take around 5 minutes to prepare and perform. When you reheat rice, you should add 1-2 spoons of water to moisten the rice.
Keeping the fluffy texture after reheating is actually easier than you think.
Other Cold Foods With Starch Retrogradation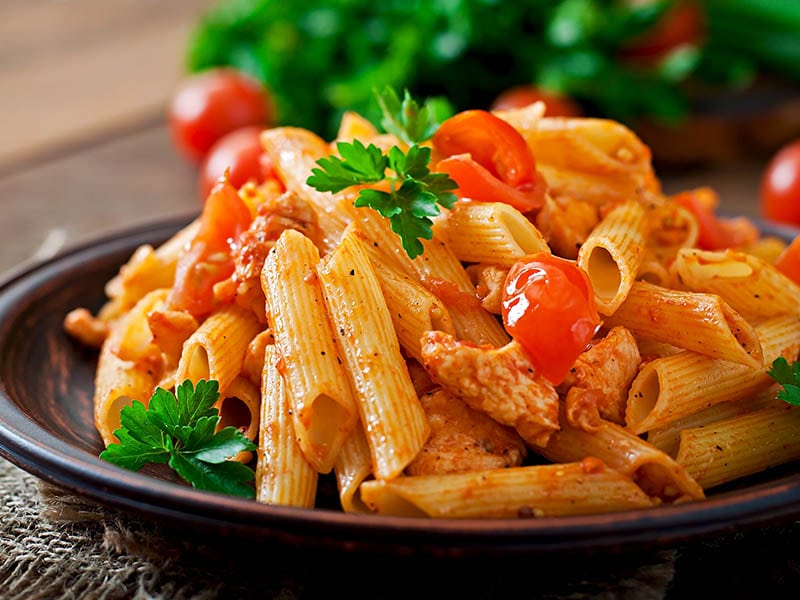 Starch retrogradation can happen with most starchy food. It means you can find retrograde starch in some vegetables, fruits, and all of the food in the staple group. Studies show that resistant starch exists a lot in moist-heated dishes. (1)
But each food has a different amount of resistant starch. Each cooking method also brings distinctive stats about retrograded starch in the rice.
For instance, parboiled cooked rice contains a lot of resistant starch, while bread only has traces of it. Other treatments performed during the flour-making process also decrease the amount of resistant starch in bread.
But resistant starch is no longer a problem since people can extrude it and add it to products like a supplement. Nowadays, you can find extracted starch everywhere. You can see them under names like potato starch or tapioca starch.
Resistant starch can be found in other food like oat, barley, etc.
Some Recipes With Cold Rice That You Must Try
After learning more about resistant starch, I believe that you are very hungry and ready to feast yourself. Here are four dishes that you can try to make from your cold rice.
Brown rain naturally contains a high amount of fiber, and after retrogradation, a lot of its amylose has turned into resistant starch. This food is perfect for you if you need a plan for weight loss.
If chocolate is your fondness, this rice pudding recipe will be the best for you. You can have this for breakfast or dessert. With this recipe, you should prepare short-grain or medium-grain for an extra creamy texture.
This recipe is a very traditional way from Korea to take care of the leftovers. Usually, you can see Koreans have this in the morning for breakfast. It is simple and tasty, so why don't you try to make it yourself?
You can watch this instructional guide on how to make Korean Rice Balls.
You are craving some chicken, but you still have some rice in the refrigerator from last night that you do not want to waste. Don't worry! Here is your cover, a delicious recipe for your ambition with chicken and rice.
FAQs
I am sure that knowing more about cold rice's secret has blown your mind away, but there are some more matters that you want to understand. This section is where I can tackle those troubles in your mind with wisdom and experience.
You Can And You Should Eat Cold Rice
Cold rice is not just lame like most of us still think it is. In actual fact, resistant starch will form during the cooling process, which makes cold rice more nutritious. And the nutrients won't be affected when you reheat it.
So that is the answer to today's question – can you eat cold rice. Learning something every day is enjoyable, and you might want to share this post with your family and friends. It has been a great journey. So stay tuned, and see you soon!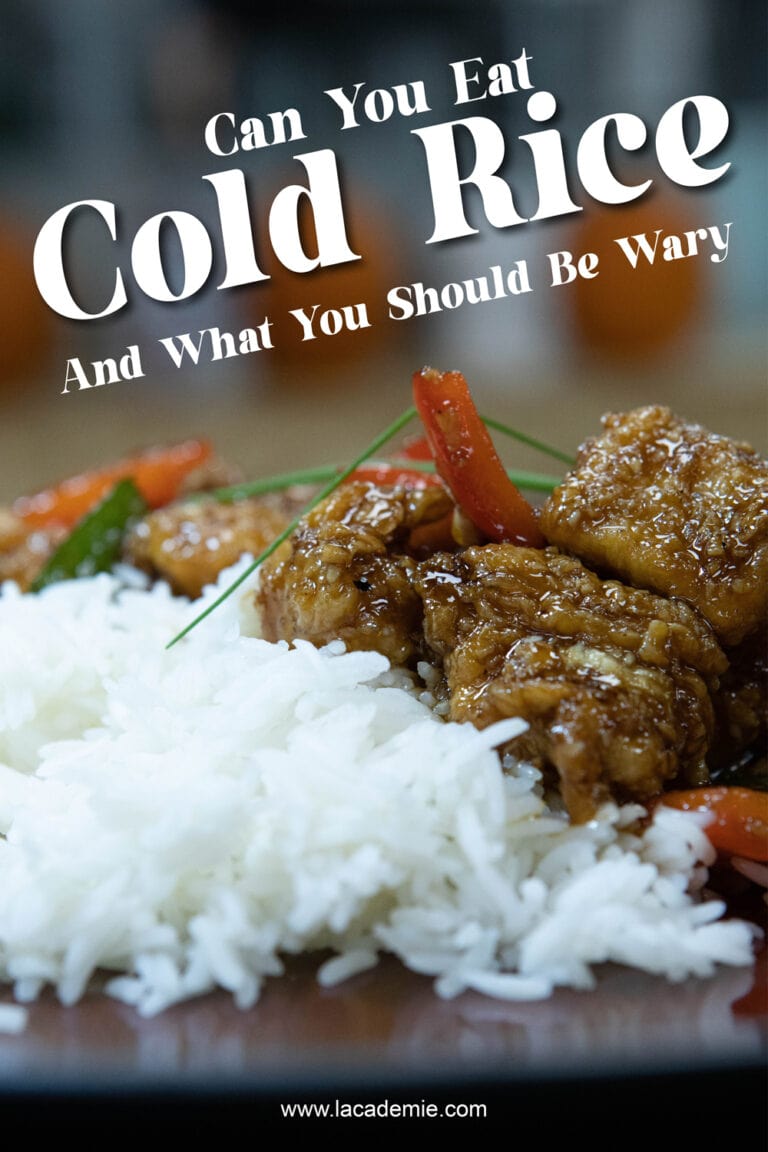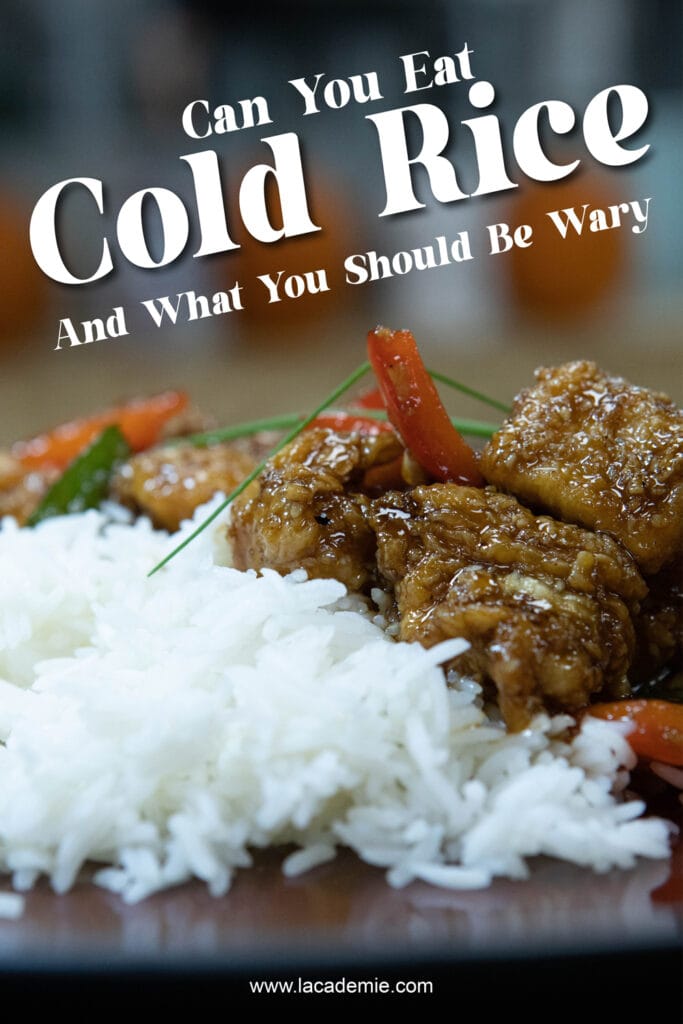 References
Sajilata, M., Singhal, R. and Kulkarni, P., 2006. Resistant Starch?A Review. Comprehensive Reviews in Food Science and Food Safety, 5(1), pp.1-17.
Gunnars, K., 2018. Resistant Starch 101 — Everything You Need to Know.
Roberts, M., 2022. 'Eat rice cold for fewer calories'.