Wondering about how to store rice most efficiently? If you're in that same situation, this post may best suit you – a complete guide for storing rice safe and cost-effective, simple but works for every particular case that you can apply immediately.
Storing rice doesn't require much knowledge like an expert, but it needs considerable effort and time if not planned carefully. So before taking any measures, you need to do some research on this post for more information!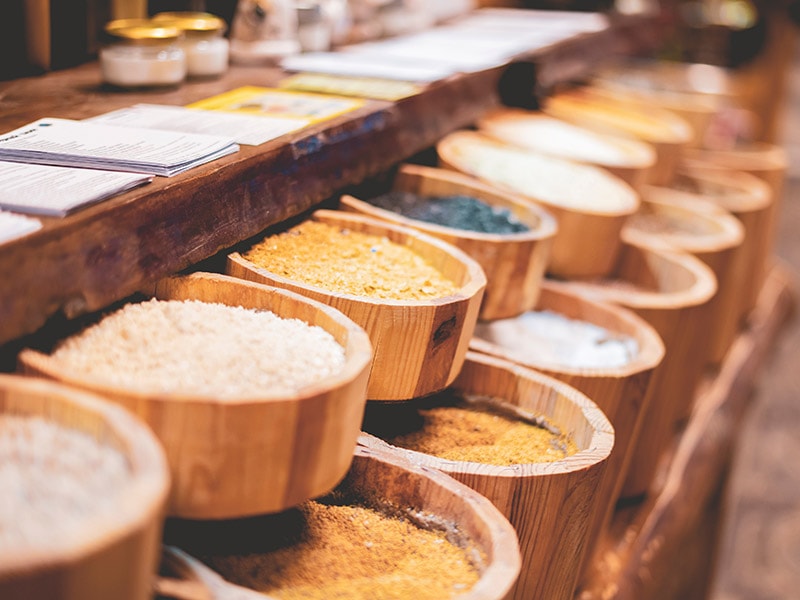 Things You Should Know About Rice
Rice is one of the most famous and oldest foods in the world. With annual production, rice serves as the main food source for half of the world's population.(1)
Nutrients in rice grains are very abundant, integrating almost all the nutrients needed by the body, such as protein, fiber, and starch. In particular, rice can be consumed in a continuous manner without any side effects.(1)
Since rice contains fiber, some people also wonder whether rice is classified as a veggie. The answer to this question, though, depends on your view of the term "vegetable".
Thanks to its outstanding properties, rice can be transformed and used in a variety of dishes of different cultures, from Porridge, Sushi in the East to Risotto, Paella in the West.
If you're following a vegan diet, you might be wondering if vegans can eat rice. Fortunately, rice is a nutritious and delicious food for everyone!
Common Types Of Rice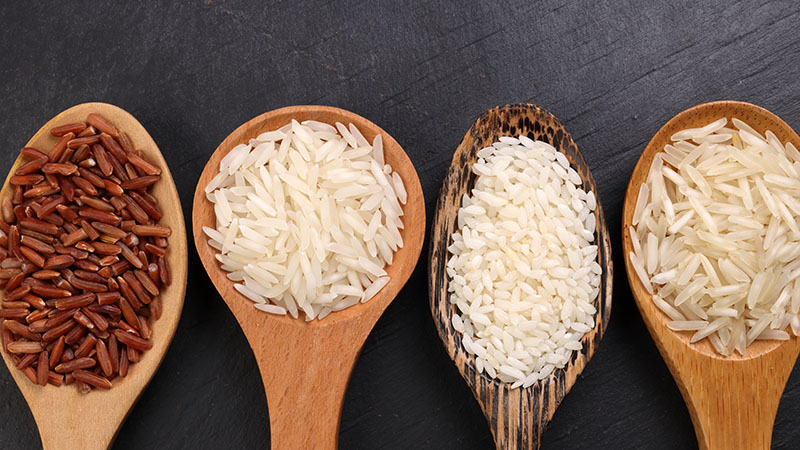 From ancient times, humans have considered rice to be one of the most important sources of food, from Asia to Europe, so it's not surprising that rice is universal throughout the world.
However, the total number of rice types doesn't matter, and you can easily classify them into two main categories based on their appearance features such as color and length.(2)
Classify Rice Based On Length
The length of rice can be placed into three categories, and each type diversifies into different products on the market.
Long-Grain Rice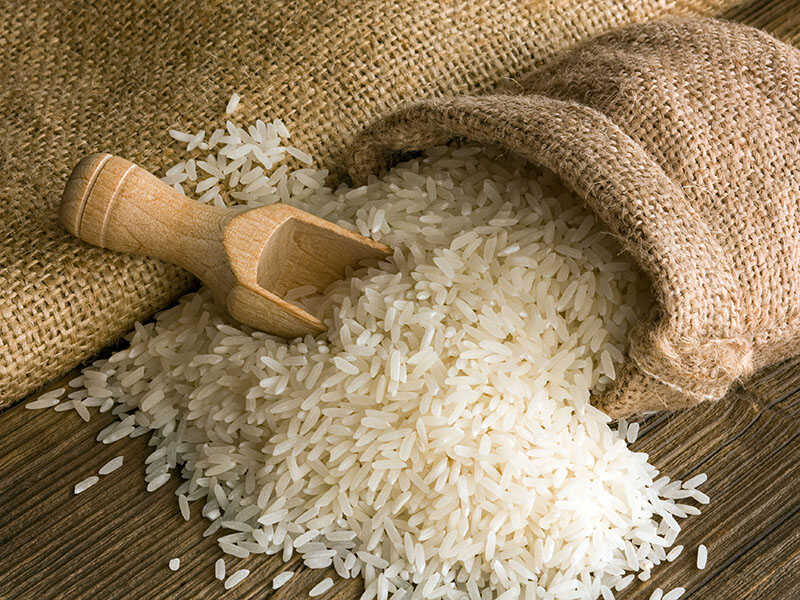 Rice has thinner grains and contains less starch. The length of it could be almost four to five times longer than its width. When cooked, it usually has a fluffy texture. Long grain rice is popular with many popular brands such as Iberia Jasmine Rice, Lundberg Family, etc.(1)
Medium-Grain Rice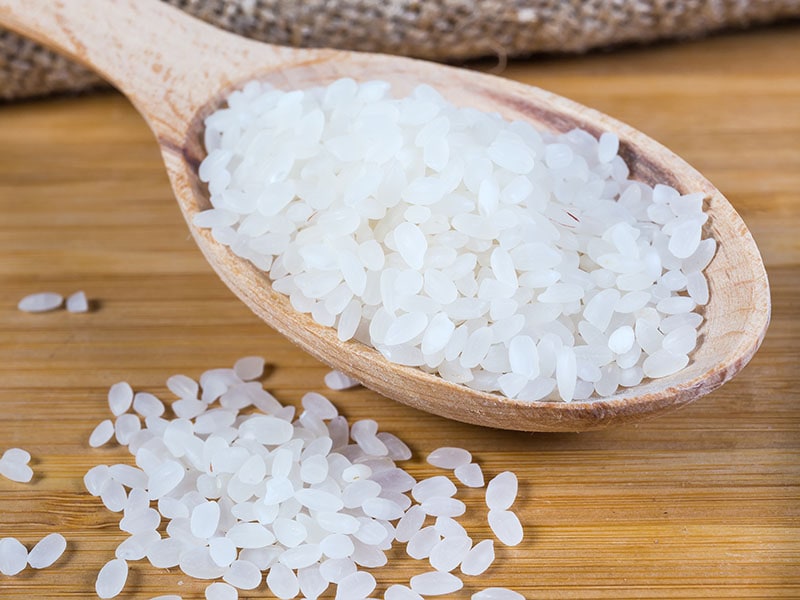 A relatively short rice that, after being cooked, has a soft texture but is not as sticky as short-grain rice. Its length is usually two to three times its width. With its adequate moist, pleasant flavor, typically used in products of Arborio, Valencia, etc.(1)
Short-Grain Rice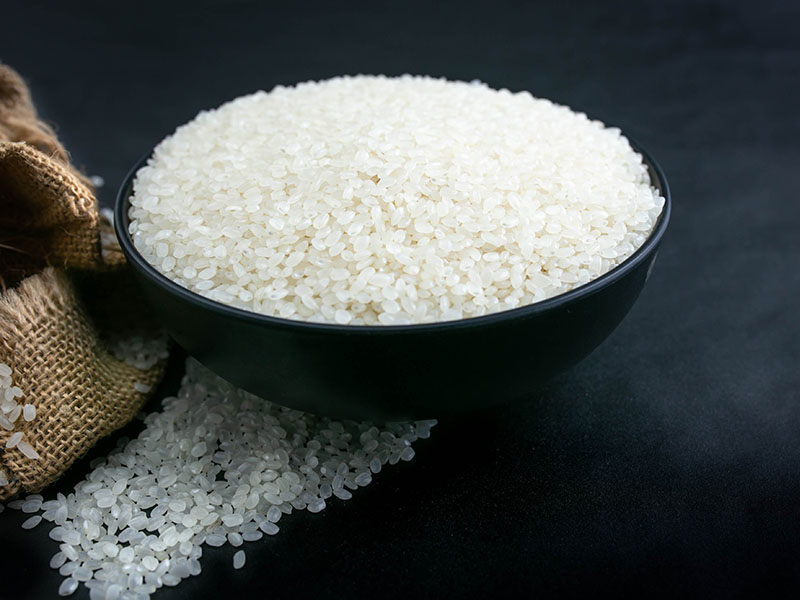 The name says it all, and this is a kind of rice with a small shape. But don't be fooled by its looks, it has the softest and sticky texture of all rice when cooked. If you want to try it, eat sushi, and surely, you will be amazed by the softness and stickiness of this rice grain in your mouth.(1)
Classify Rice Based On Color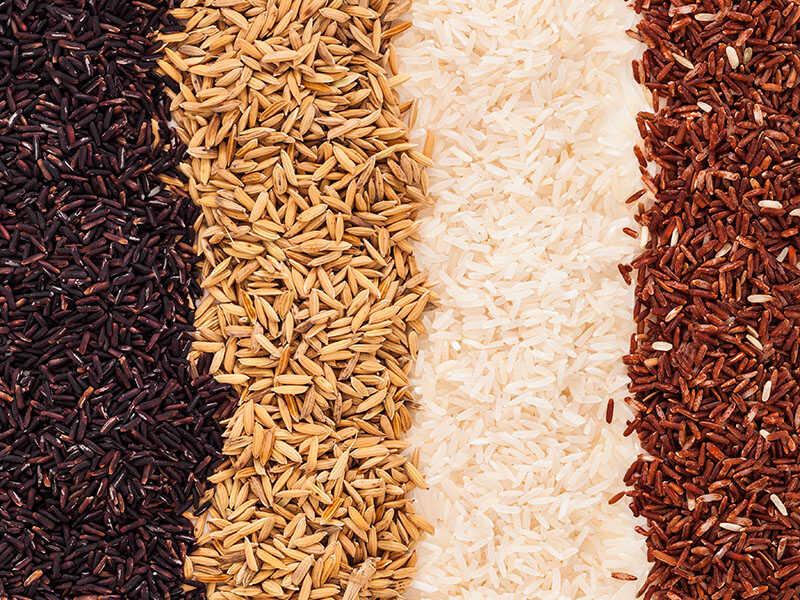 Just like the length classification, rice has four main colors, which are white, brown, red, and black to classify them into different categories. Below is brief information about each type of rice-based on its colors.
White Rice
White rice or regular rice is the most well-known and common rice on the market. Naturally, rice is brown after harvesting, but for it to be edible and look tasty, people put in milling processes and gather the famous white rice as we know.
Through milling processes, parts as husk, bran, germ are removed and only t6ge starch part for easy consumption. This makes white rice lose in the nutrient race.(2)
This video will satisfy your curiosity about how they made the rice you eat every day.
Brown Rice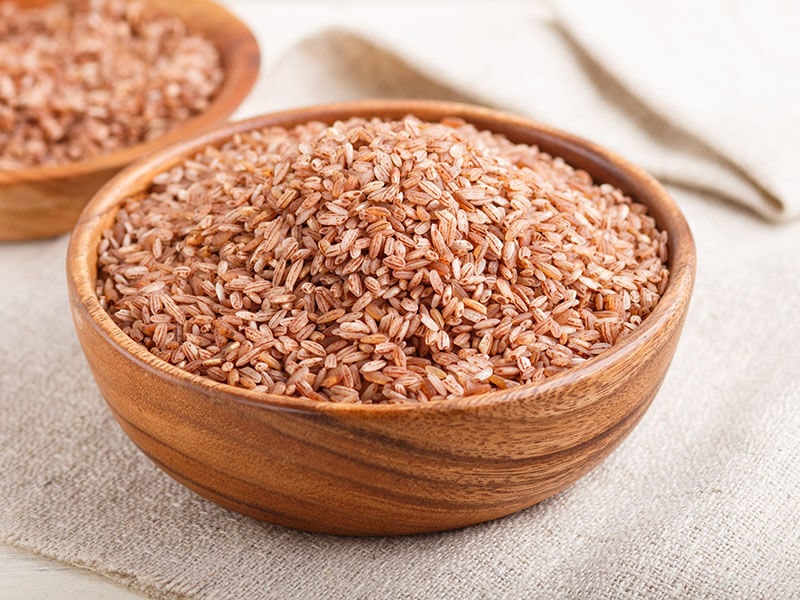 Brown rice is a whole grain, which means it has all of the nutrients due to the intact husk, bran, and germ. Consumption of brown rice is believed to have more nutrients than polished rice and white rice, but it's also harder to cook and preserve.(2)
Red Rice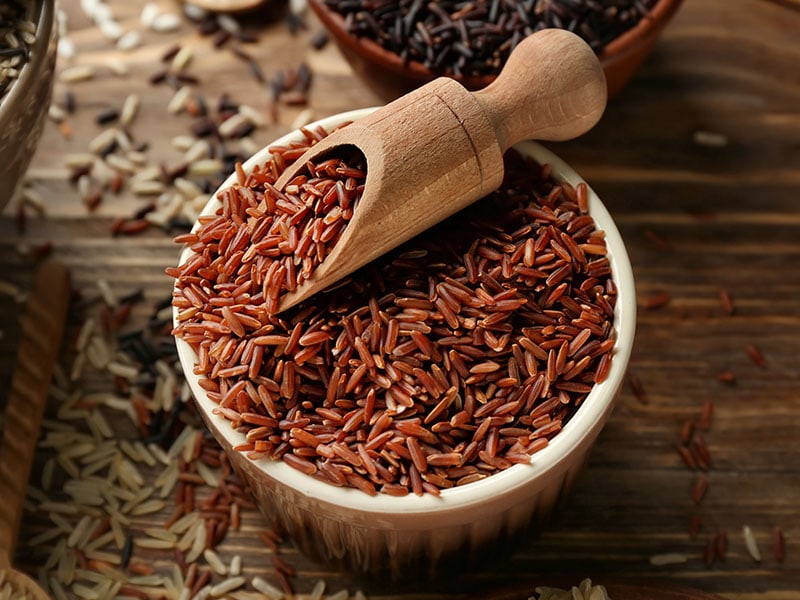 Red rice is a type of rice grown in deeply flooded areas, favored in Asian countries such as Thailand and India.
As the name suggests, red is the characteristic color of this rice, helping to create a sense of appetite when eating.
Like brown rice, red rice is rich in nutrients, even nearly 10 times more.(2)
Black Rice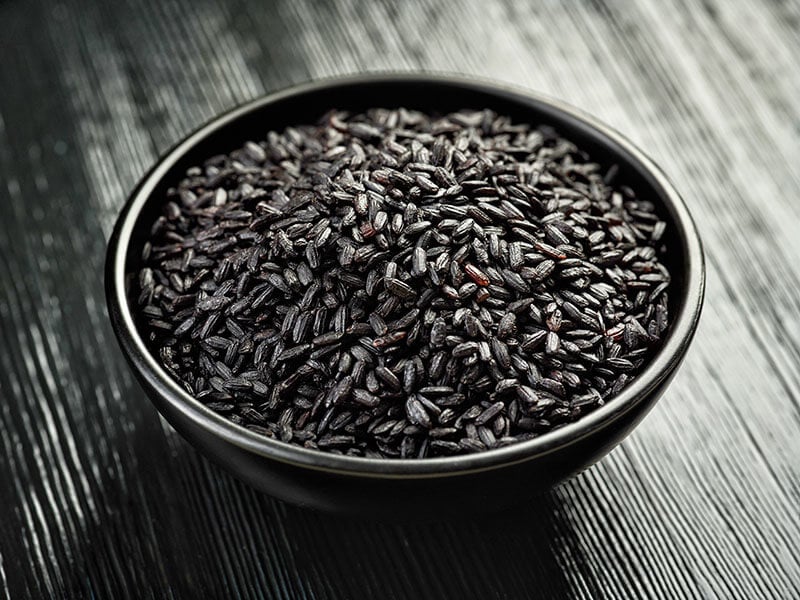 The rarest of all. Because of the special growing conditions, you only often see them being raised in Asian countries such as Japan, Thailand, and China.
Although the black color doesn't make it appetizing, it is in fact one of the most antioxidant-rich foods in the world. A powerful provider of nutrients.(2)
Necessary Preparations Before Placing Rice Into The Storage
Prior to putting all rice into the storage, you must consider some factors into account for things to go on smoothly as planned.
Planning Your Rice Storage Location
Like any other food, rice can be stored for long-term use. However, that only happens when rice is properly stored in an appropriate place. This is extremely necessary no matter what your intention is, short or long term, the assurance of storage place condition can satisfy 3 factors below is the first thing you need to check.
Temperature
The temperature of the storage place plays a very important role in the storage of rice. Many people still mistakenly believe that rice can be stored at normal temperatures. This is completely wrong.
Under normal temperature conditions without management, rice can be exposed to direct sunlight or water. These are two factors that lead to moldy rice.
Therefore, you need to ensure your storage place is a dry, cool place, without sudden temperature changes, not exposed to direct sunlight, and without high humidity.
The ideal temperature for storage is 40 degrees F, in which conditions rice will retain its flavor and nutrients for a long time.(3)
Air
If your storage isn't a sealed container that stops air from getting in, you should start looking for a new one. Why? Because the bacteria in the form of spores in rice can grow remarkably under normal air conditions.(3)
Therefore, what you need to do is make sure your storage is a sealed container, with no air in or out. For long time usage, adding oxygen absorbers regularly to the storage would be a good idea.
Rice Weevils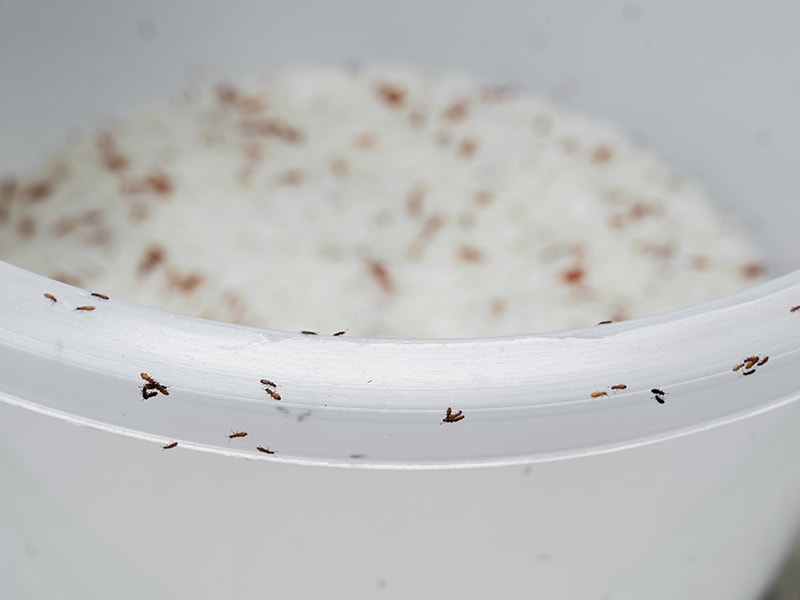 One of the most common reasons for rice spoilage is the attack of rice weevil.
In fact, rice weevils do not come from the outside environment, but they have already existed in the rice from the rice harvest period. After a while, under normal conditions, these rice weevil eggs hatch into black rice weevils.
Their presence in rice causes the rice to lose its nutritional value as well as its delicious taste. So what do you have to do to prevent them from destroying your precious food source? The most effective way to get rid of them is to inhibit their ability to develop.
Store rice in a sealed container that has been thoroughly cleaned, ensuring low temperature and a dry environment because high humidity is an ideal condition for rice weevils to breed exponentially. (4)
Checking Container Storage Condition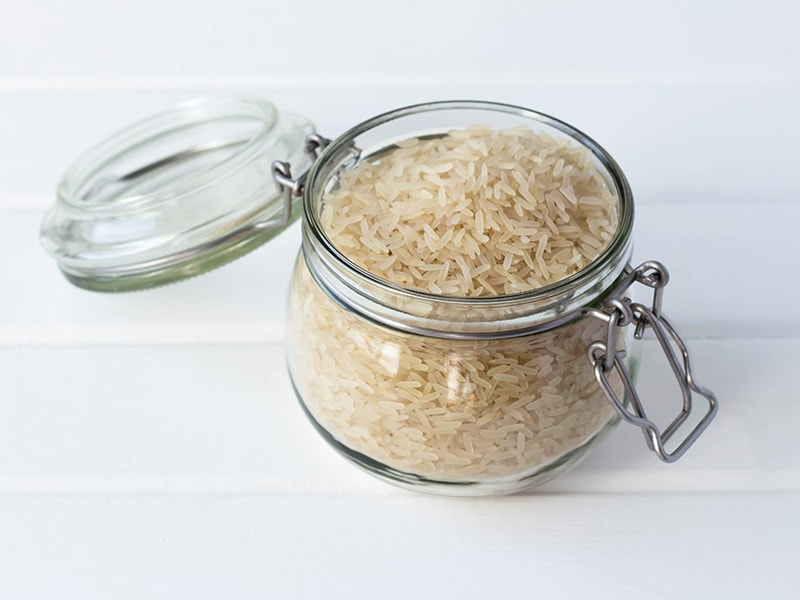 After planning the perfect environment for your storage, it's time to make sure you're having the right container. What would happen if you placed rice in a dirty container? Obviously, rice will be contaminated by bacterias from the container and immediately unable to be used anymore, right.
Or perhaps, the container is defective with a hole that you didn't check through? Airs and water can easily infiltrate and spoil the rice, or even worse, animals and insects can go in.
So, before putting all your rice into one place, make sure to take some time to check the storage conditions, whether it's a bucket, spice container, etc. Preparing is always easier than solving, right?
Which Container Is Right For You?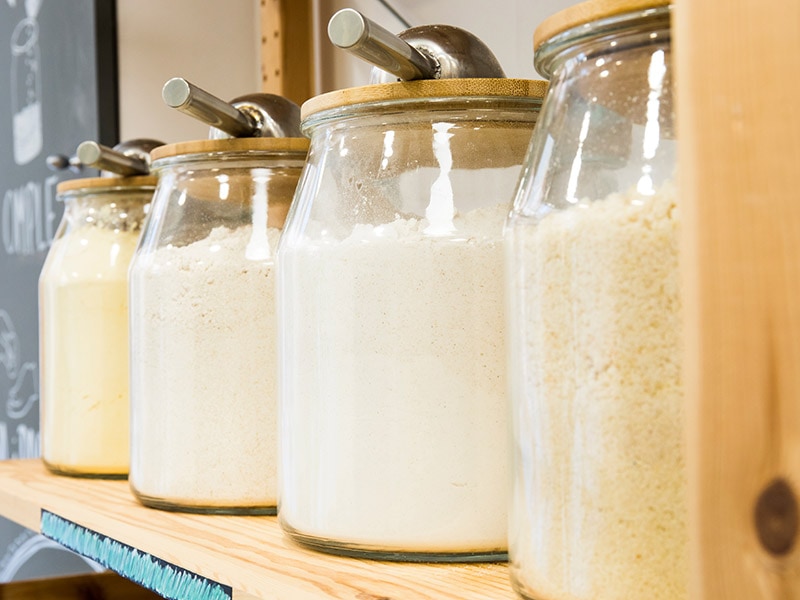 The best container for you depends on your purpose. If you don't want too much trouble with this one, you can simply buy the best rice storage containers on the market. They're all well designed specifically for preserving the flavor, status of rice, and a lot of other versatile features.
But, if possible, choose a transparent container. The reason is that you can easily observe the contents.
In case you want to save your pocket, the alternatives for you are various. From a huge bucket to a spice container, all works well according to your intentions. Just keep in mind that a durable seal is requisite to keep the air from infiltrating the container.
8 Easy Storing Rice Methods With Only Guaranteeing To Your Best Results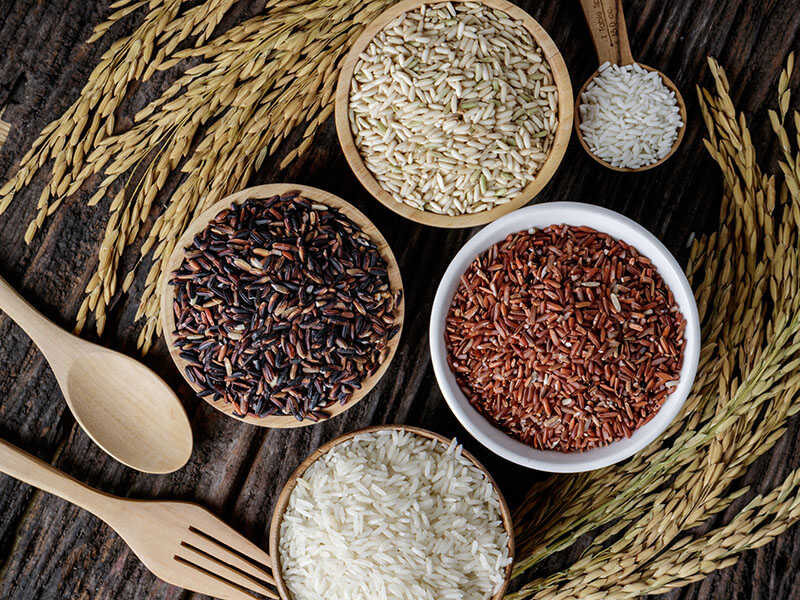 Okay, enough of the preparation, let's go to the main stage. Whether rice is cooked or uncooked, instant rice or regular rice, keeping it under proper preservation can maintain its best condition for years.
Following my step-by-step guidance, it's designed for everyone. Your job is just to choose the one that best matches your situation.
How To Store Uncooked Rice?
To preserve uncooked rice perfectly, you need to do a lot of steps to ensure that the taste and nutrition of the rice is preserved until it is used.
Regardless of the type of rice, the following methods work beautifully on all of them, and the only difference would be the effective storing time for each type.
Airtight Bags For Uncooked Rice
Easy and effective, this is the best method for your uncooked rice to extend its shelf life. With only a few minutes to prepare and carry out, the rice in airtight bags will stay with you for a very long time.
Step 1: Prepare Items
First, you should have in your hands some airtight bags that are sufficient for a long time.
I recommend buying airtight bags that are at least five millimeters thick. Using bags thinner than five millimeters thick and you might have the risk of it not sealing up properly or being punctured easily.
Second, you need Oxygen Absorbers. 400cc Oxygen Absorbers type is good enough.
Third, of course, containers. Where will you store your rice other than your container, right? Any containers that satisfy my above recommendations are good enough.
Last, hair straightener. I know it's weird but just hear me out. The hair straightener will help you to seal the airtight bags if you don't have a vacuum machine.
Step 2: Measure The Amount Of Rice Put In Each Bag
You need to measure the amount of rice just enough to fit an airtight bag because too much rice in a bag can degrade the storage quality of the bag in the long run.
The amount of rice in the bag depends on the size of your bag, but don't let the rice fill more than ¾ of the bag.
Step 3: Fill Rice Into The Bags
Use a clean cup or mug to pour rice into the bag. Make sure that the rice is not wet during the shifting. Because only a small amount of wet rice can spoil a whole bag of rice.
Step 4: Put Oxygen Absorbers Into The Bags
Remember to add TWO of them to each bag. In case one of them doesn't work, the other will take care of it.
Step 5: Seal The Bags
First, grab the top of the bag and try to squeeze into the gap to get as much air out as possible.
After holding and bending the part that has been compressed, use a hair straightener to press the bag horizontally to form a seal.
Remember to try to seal as close to the top of the bag as possible. In case you cut the bag to get rice to use, you will be able to re-seal the bag thanks to the remaining space.
Step 6: Put The Rice Bags In The Containers
Load the rice bags into the container and close the container's seal. Then, you can rest assured that your rice will always retain its flavor and nutrients.
Tired to read? This video is the perfect illustration of the airtight bags method.
Garlic And Its Benefit For Uncooked Rice Storing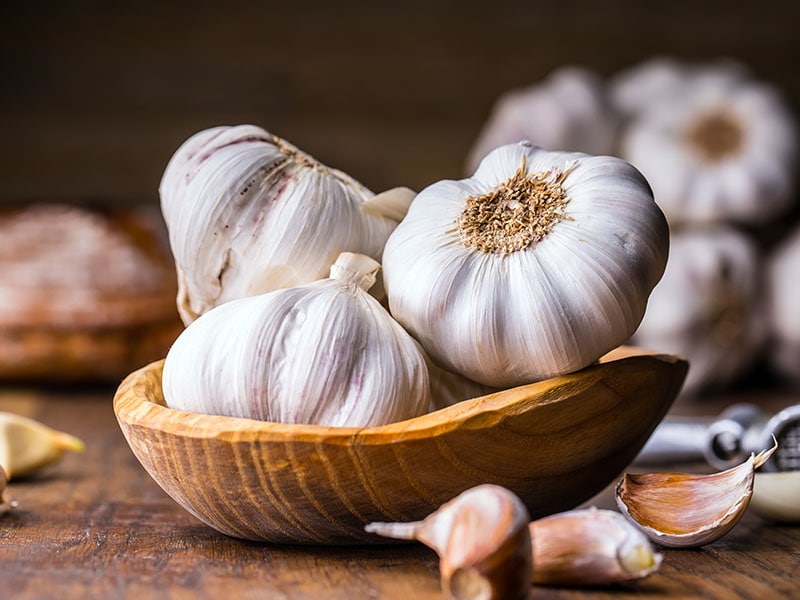 In case rice is not your most preferred and you only want to eat it in a couple of days before switching for something else. Using garlic for preserving the rice's quality in a short time instead of buying expensive oxygen absorbers sounds more reasonable.
The method is easy, you only need to place a few peeled garlic cloves into the rice container, and store them as usual. Garlic has potent antibacterial qualities, making it an excellent insect repellent and bacterium eliminator. Remember to take the garlic out when they're dried out.
Salt, The Cheap And Effective Ingredient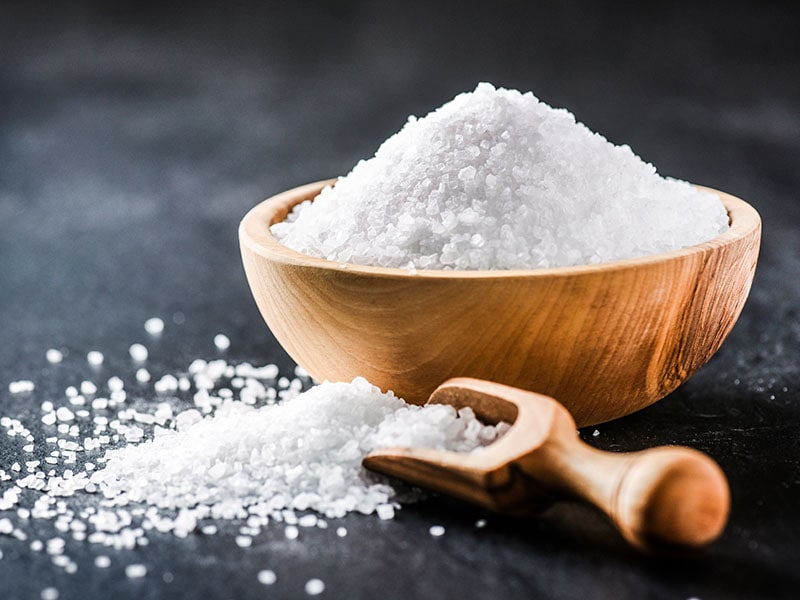 There is nothing cheaper and more effective than salt in storing rice. To test the effectiveness of salt, try sprinkling a little salt on the rice bowl, the salty taste will make termites go away.
Note that you should only sprinkle a moderate amount of salt because salt will make the rice salty and likely become moist again.
Why Don't We Try The Fridge?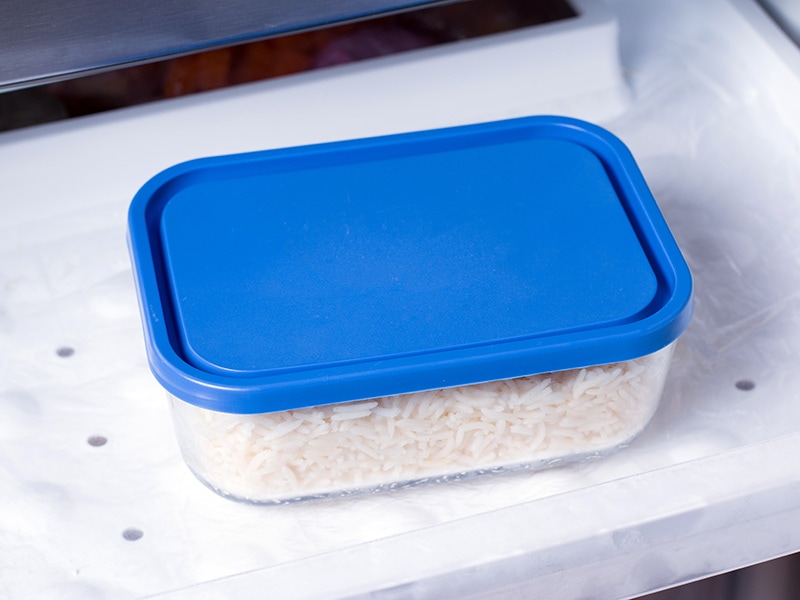 You should keep the rice in the refrigerator for 4-5 days before placing it in the containers or bags. The temperature in the refrigerator needs to be optimal for assisting rice in preventing moisture and eliminating termites from multiplying and developing.
Freezing is another option to store uncooked rice. Like refrigerating, freezing will protect your rice from potential harm and lengthen its shelf life.
Peppers Are Not Only For Eating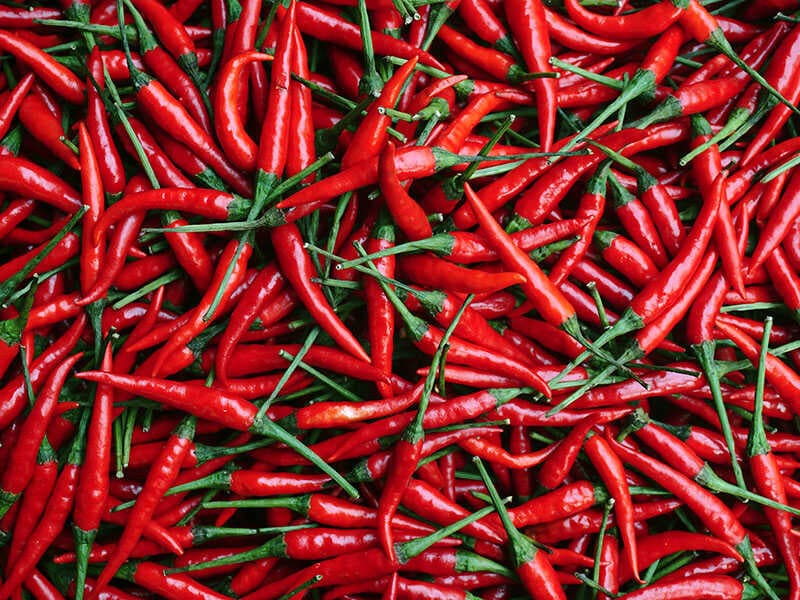 Yes, you're not reading it wrong, peppers can be used for storing rice. Just like garlic, the bactericidal properties of peppers work to prevent bacteria and termites from growing.
Therefore, peppers help to prevent the rice from becoming moldy and mildewed. So, what are you waiting for? Put a handful of dried chili peppers into your rice storage.
White Wine And Its Effect
One fascinating tip that many people are unaware of is the use of white wine to protect rice. In a glass, pour 50ml of white wine. White wine offers antibacterial capabilities while also repelling weevils and molds from your rice container.
How Long Can You Store Dry Rice?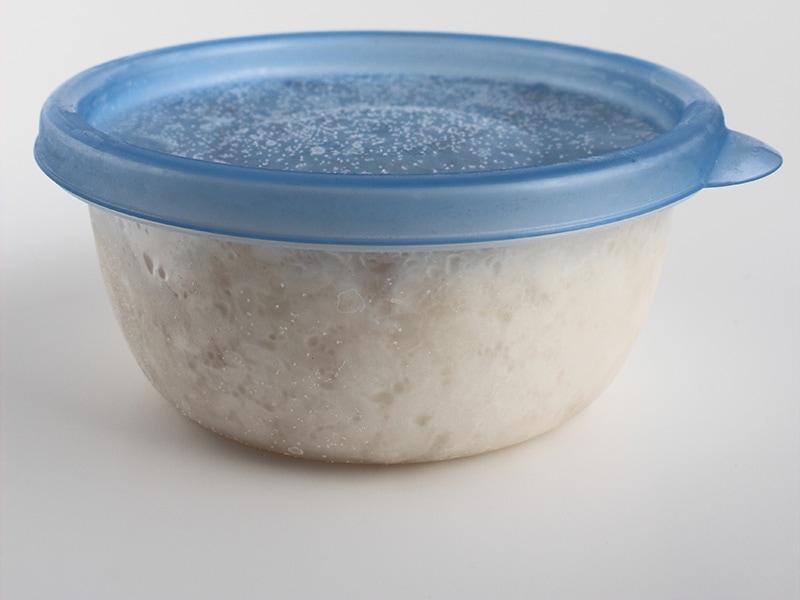 As I mentioned, temperature affects the quality of your storage. Also, because different rice types have their properties, the time for storing them varies.(5)
| Item | Storage Time (Pantry) | Storage Time (Fridge) | Storage Time (Freezer) |
| --- | --- | --- | --- |
| White Rice | Indefinite | Indefinite | Indefinite |
| Brown Rice | 3-6 months | 6-12 months | 12-18 months |
| Red Rice | 3-6 months | 6-12 months | 12-18 months |
| Black Rice | 3-6 months | 6-12 months | 12-18 months |
The white rice type has an indefinite shelf life as long as it doesn't have any contact with contaminants.
Contrary to white rice type, because of the whole-grain property, natural oils in the brown, red and black rice cause them to oxidize and spoil quicker than white rice.
To maximize the shelf life of rice, especially whole-grain types, it needs to be placed in a sealed airtight container.
Different environments lead to different storing times as the given table, so my best recommendation is to refrigerate or freeze the rice in an airtight container.
How To Store Instant Rice?
Basically, instant rice is just like any other regular rice, only that instant rice is precooked rice. It takes 1-7 minutes to finish.
The main purpose of instant rice is for the home cooking process, especially time-saving. Therefore, instant rice is defective in nutritious, flavored, and storing aspects.
But as I said, it is just like any other regular rice, so the method to store instant rice is just like them.
Step 1: Prepare Items And Space
Pick a place to be your designated storage with low temperature and moisture.
Make sure your rice containers have seals, and always put the seal on to prevent insects' infiltration.
Step 2: Put Instant Rice Bags Into The Containers
Put all the instant rice bags into the containers
Step 3: Place The Containers Into Your Storage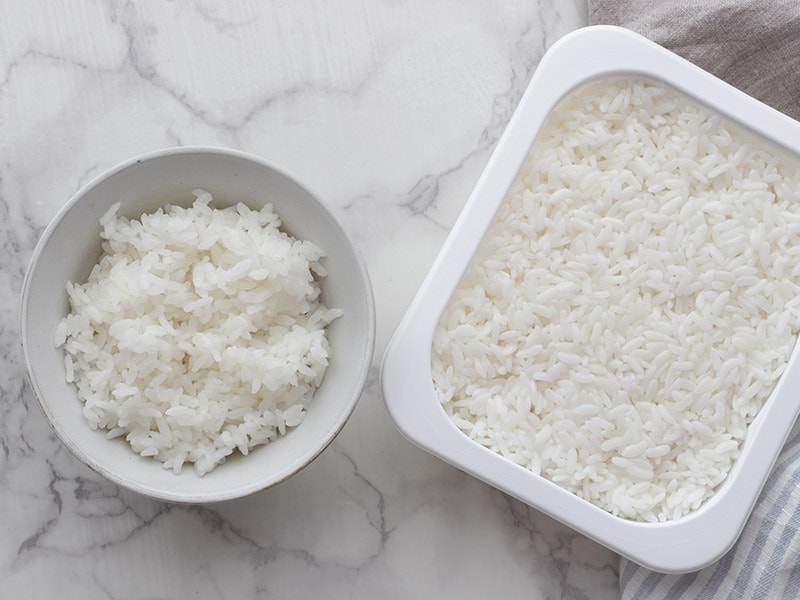 Depends on how long you want to store your instant rice to choose the storage location.
For improving your shelf life extension, storing rice within a refrigerator or freezer would be your ideal solution.
Keep in mind that the shelf life of instant rice is fixed, which is 2 years in room temperature condition. You can extend the storing time up to 5 years, just like white rice by the freezer, but don't view it as the best quality.(5)
The best buy date for Instant Rice is two years. After that, the rice will start to lose quality unless it is sealed with O2 absorbers.
How To Store Cooked Rice?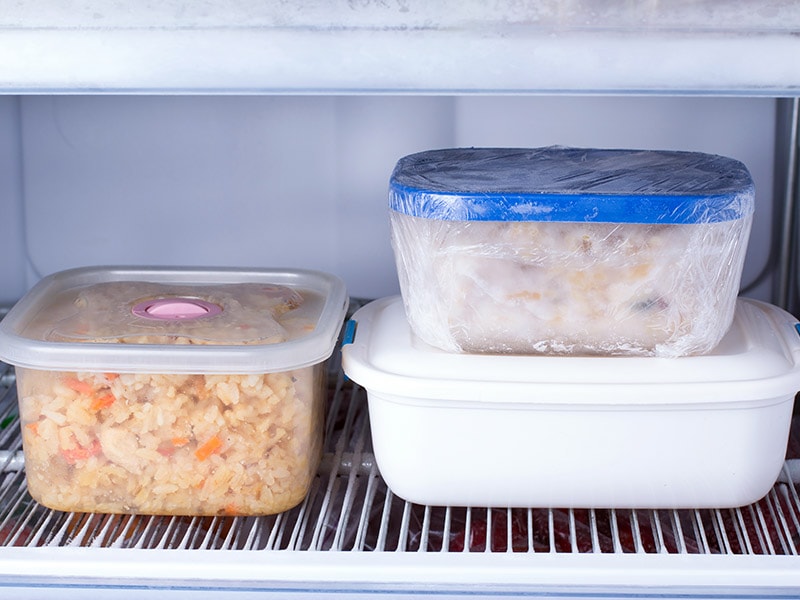 In case you just have finished your meal and found out there was some rice leftover, would you want to save it? Or maybe you want to prepare cooked rice to use when in need. Either way, you must store it carefully, or it would readily spoil.
In case you're wondering if you can leave rice open overnight, the short answer is no. There are four options that people usually choose to store their cooked rice.(6)
| Methods | Results | Effective Storing Time |
| --- | --- | --- |
| Use normal temperature (room temperature) to store cooked rice | Rice is easily spoiled because of the growth of Bacillus cereus spores | 2 hours |
| Place cooked rice in the cooker with "keep warm" function | Rice can be stored within a short range of time before the growth of bacterias begin | From 3 hours to 1 day |
| Keep cooked rice in the refrigerator | Preserve the condition of rice up to days, but the flavor when reheated is poorer than the original | 4 to 6 days |
| Store cooked rice in the freezer | The best option to choose. Preserving rice for a whole month without any problem. When reheated, the frozen rice comes out like freshly cooked rice | 6 months in rice best quality |
As the table shows, using freezers would be your best option. But remember, follow these steps before putting your rice into the freezer for the best result.
4 Simple Steps To Store Cooked Rice In The Fridge & The Freezer
To preserve the flavors and nutrition within the cooked rice, you need to follow exactly the following steps because it's extremely easy for cooked rice to spoil.
Step 1: Prepare Items
You can either use rice containers or airtight bags or even use both of them, like put the bags into the rice containers, and they're all fine.
But remember to choose the one that has seals that can prevent the air from going in.
Step 2: Get The Cooked Rice Pack As Soon As Possible
Once you've determined the rice leftovers, immediately wrap them up with steam and place them in the containers or bags, closing the lid to trap the steam and moisture of the rice within.
Step 3: Cooldown The Rice
If you place the still-warm lunch box in a frozen environment such as the freezer, the rice will immediately spoil because of the sudden temperature change.
So be sure to cool your rice containers completely before placing them in the fridge or freezer.
Step 4: Put In The Storage
Once cooled, your rice is ready to be stored for up to a month in the freezer or a few days in the fridge, so don't hesitate to put them in the freezer.
Choose a separate and dry area in your storage that is only for storing cooked rice.
See the perfect way to freeze your cooked rice up to months.
How To Reheat Rice Safely and Fastly?
I've shown you the ways to freeze rice, so it's pretty obvious that I also need to give you the way to reheat the frozen rice.
There are two ways to unfreeze the rice, choose the best option that fits your case, whether the microwave or stovetop can both help you.
Extremely Simple Steps For Using Microwave To Reheat Frozen Rice
This is the most common and simple method to reheat your rice perfectly. The rice being processed accordingly following steps will be like new rice.
Step 1: Prepare Items
Of course, a microwave is indispensable to this method.
Then, add some water to this reheating process, about 60ml of water for every cup of rice.
Lastly, a paper towel would be appreciated to get the best result if your rice containers don't have a lid with an air outlet.
Step 2: Add The Water And Paper Towel To Your Frozen Rice
Sprinkle over your frozen rice with the amount of water I recommend.
After the sprinkle, close your rice container lid with an open-air outlet, or you can use the prepared paper towel to cover the rice.
Step 3: Reheat The Rice In The Microwave
Let the rice reheat in the microwave for 30 seconds with a small proportion, 2-3 minutes if you're doing with a large proportion.
After the reheating time, open the microwave and observe the status of the rice. If it's warm and fluffy, then it's ready to serve. If it's not, continue to microwave for about 30 seconds until it's good.
This video shows you the best way to reheat your rice by microwave within 1 minute.
The Other Way To Reheat Your Frozen Rice With The Stovetop
In case you don't have a microwave at home, I suggest you can use the stovetop. It's not as convenient as the microwave but still comes in handy when needed.
Step 1: Prepare Items
For alternating the microwave, you need to have a colander and a stovetop. Next, you need a bowl, a lid, and an amount of water equal to one-fifth of the bowl.
Step 2: Get The Boiled Water
Add the water to the bowl and place them on the stovetop. Turn on the stovetop to boil the water.
Step 3: Using The Colander To Unfreeze The Rice
Once the water is ready, put the colander on the top of the bowl and place all your rice into the colander. Use a spoon to mix your rice evenly and spread it all over the colander for faster reheating.
Step 4: Close The Lid And Wait
After mixing your rice, close the colander with a lid and wait from 5-7 minutes.
Once you see the fluffy in the rice, open the lid to check if it is warm enough for eating. If it's not, close the lid and continue to reheat until it's edible.
Here's a video for you to watch step-by-step reheating rice by the stovetop.
How Do You Know Your Rice Has Gone Bad?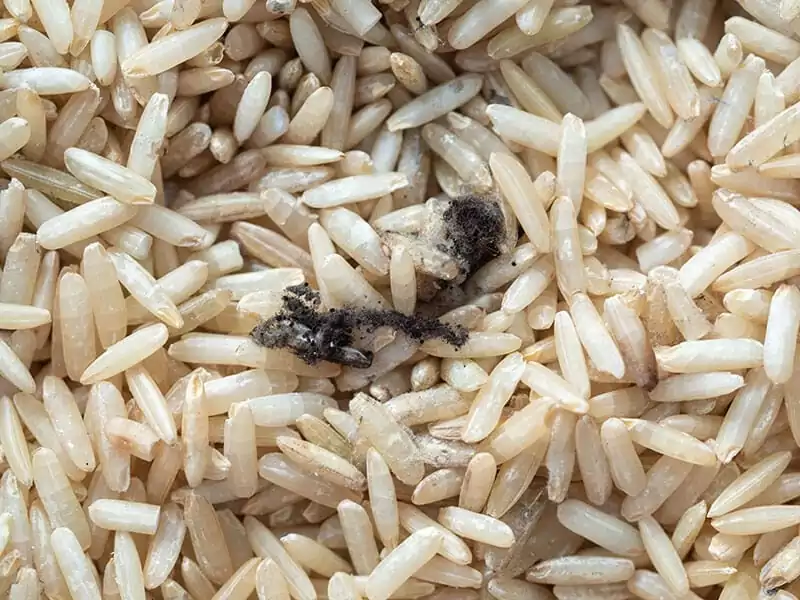 In case you want to determine if your rice is spoiled, try to look for the following signs:
Smell: Try smelling the bag of rice. If it doesn't have the natural aroma of rice but instead has a foul smell, the bag is spoiled.
Appearance: Damaged rice will have a deformed shape, will no longer have its normal soft, white appearance, but instead will be slimy or gooey.
Weevils: If you see rice weevils clearly, be sure to remove the entire rice bin immediately.
The above markings apply to all types of rice, from white rice to brown rice, from long grain to short grain. (5)
Risks Of Consuming Expired Rice
Rice that is out of date or contaminated with fungi or molds can create toxins that can lead to food poisoning.
Mild symptoms of food poisoning from consuming spoiled rice are vomiting, nausea, abdominal pain, and diarrhea. Continued consumption of this spoiled rice can lead to convulsions, coma, and potentially increase the risk of cancer.
Rice spoilage or mold infection is caused by the growth of the bacteria called Bacillus Cereus. They do not come from the outside environment but are already present in the form of spores in the rice.
Without the precautions I mentioned above, the Bacillus Cereus will grow continuously and rapidly, damaging your entire rice stock.
But don't worry, this Bacillus Cereus is only in the form of spores, which can be eliminated by processing rice at high temperatures. But they do not completely disappear and still have the ability to grow again under normal temperature conditions.
Therefore, you need to keep the rice in the refrigerator within 2 hours after cooking. Otherwise, the rice will likely spoil.(7)
How To Exterminate Rice Weevils Properly?
If you find rice weevils present in your rice, you need to follow these steps to get rid of them completely:
Step 1: Inspects The Infected Area
After completing the inspection of the infected area, throw away the rice bags with rice weevil inside immediately.
Step 2: Prepare Necessary Tools
You should prepare for yourself a long-sleeved clothe, safety masks, eyewear, and chemical resistant gloves.
Step 3: Evacuating From The Area
Make sure all people and animals are not in the treated areas
Step 4: Moving Uninfected Items
Transit boxes and bags of food that have not been attacked by the rice weevil out of the infected area
Step 5: Vacuum The Area
After moving all objects from the infested area, vacuum all cracks and crevices in the area. Remember to also clean the peg holes with a toothpick and vacuum.
Step 6: Discard Infested Items
Discard the vacuum bag after completion and disinfect the whole vacuum.
Step 7: Using Water To Clean The Area
Wipe the disinfected area with water, absolutely do not use chemical cleaners because they can cause rice weevils to prevent and keep away from the pesticides that you will soon apply.
Step 8: Use Specialized Insecticides For Rice Weevils
The common insecticides for rice weevils are Pyrid and Novacide. Since these insecticides are very potent and toxic, remember to use them only in open areas free from food and people.
Note that after applying pesticides, termites can still return. The resistance to rice weevils of the above chemicals can last up to 7 months.
Rice weevils are too hard to get rid of? Here are simple steps to get them all at once.
FAQs
In case you still wonder about many things that involve how to store rice efficiently, here are some extra information that you can see as references:
Storing Rice Isn't A Problem Anymore
And that's all you need to know to keep your rice fresh. Brief information about common types of rice and how to know where an ideal place to set up your storage is.
A cool and dry place or a freezer for long-term storage of uncooked and cooked rice, your choice! As long as you follow the steps outlined in the article, there should be no problem.
Well, now you know all the tricks to store rice efficiently, but there are still many people out there who are still struggling with this problem, and it could be a member of your family, friends.
Let's share these useful tips with everyone so that everyone can enjoy their meals without any troubles, aye!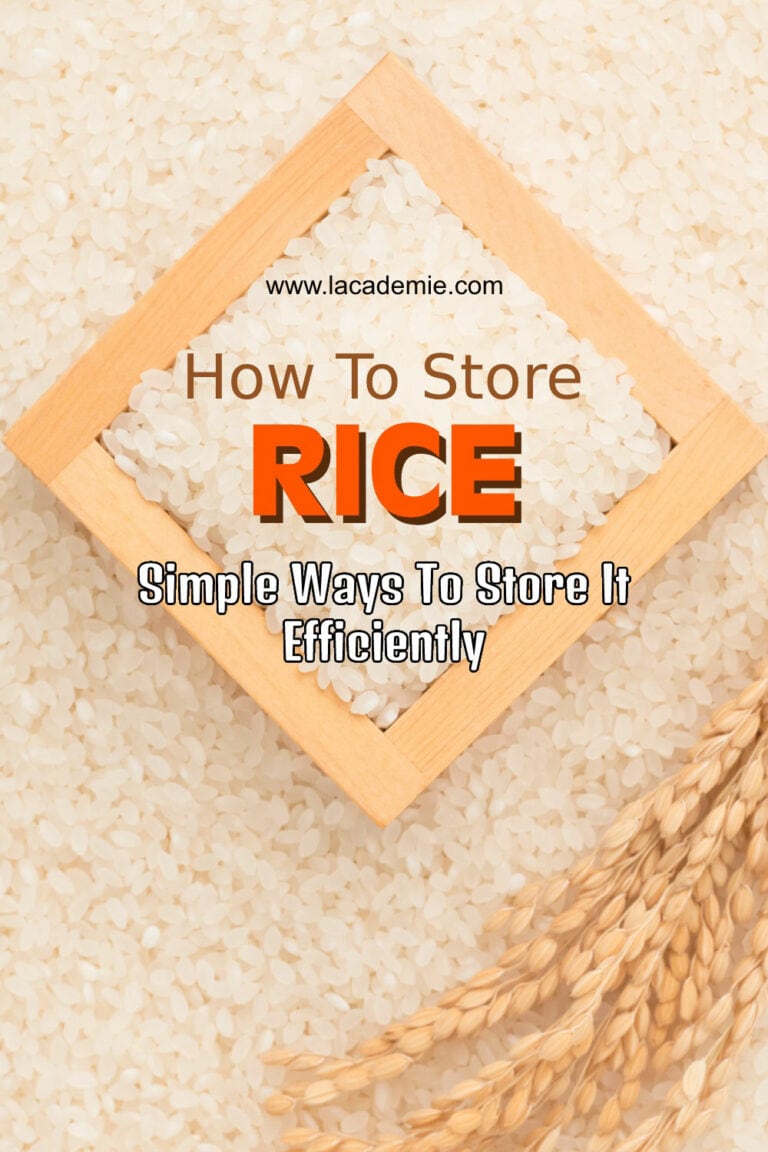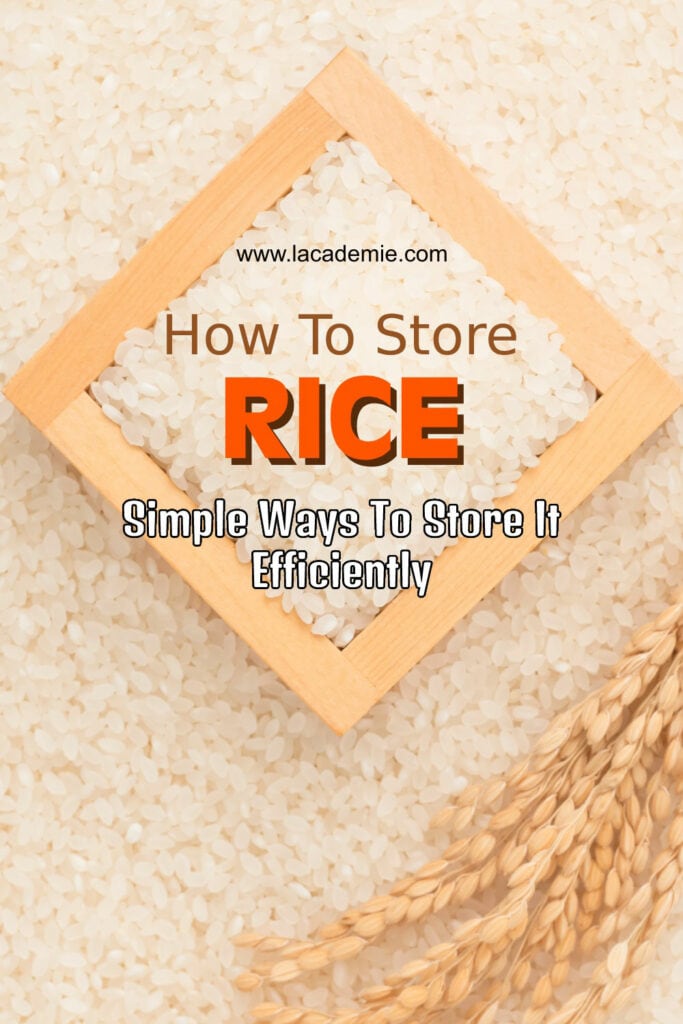 References
Rice – Wikipedia. (2022).
List of rice cultivars – Wikipedia. (2022).
University, U. (2022).
Rice Weevils. (2022).
Shelf-Stable Food Safety. (2022).
Leftovers and Food Safety. (2022).
What are Mycotoxins? : USDA ARS. (2022).