Jasmine vs. basmati rice, which variety will win? If I were you, I would be in a quandary, too. Both of them possess excellent qualities, playing an integral role in our daily meals. It's not easy to imagine what I would do without them.
Much like other people, I was a little puzzled to distinguish between jasmine and basmati rice at first. If you stop by my post for the exact reason, I am more than happy to help you out. You will learn how to cook a perfect batch of jasmine and basmati rice, too – it's easy!
What are you waiting for? Keep scrolling!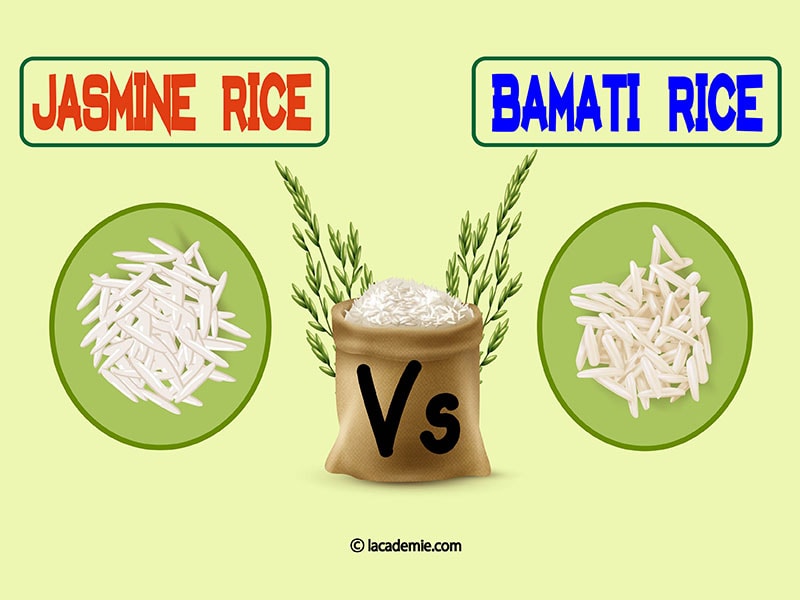 Jasmine Vs Basmati Rice – An Overview Of Differences
In short, jasmine and basmati rice are the two long-grain, aromatic varieties that share a lot in common, so they are usually mistaken when put side by side. However, looking at the details, they have very distinct characters.
Grain appearance
Aroma and flavor
Texture when cooked
Nutritional content
Number of varieties
Cooking method and how to serve
To begin with, you will learn about the origins of jasmine and basmati rice and a few things they have in common.
The Two Irreplaceable Long Grains Of Your Diet
Rice can throw you into total confusion as you are trying to pick the right type. Overall, they are all in white, sometimes brown or red, and it's not easy to distinguish all rice varieties, as there are roughly 40,000 available.
Many varieties attempt to stand out from the crowd with distinctive characteristics, and speaking of long-grain rice, you cannot fail to mention jasmine and basmati. These two grains are widely enjoyed in many parts of Asia and gradually the world.
Jasmine Rice
Jasmine rice is second to none to basmati rice. Native to Thailand, a country with strong production practices, this long-grain variety has become an indispensable part of many meals in Southeast Asia and worldwide.
Like basmati rice, jasmine rice also falls in the long-grain, aromatic category. Thus, people sometimes confuse this variety for another and vice versa. Jasmine rice also has a subtle floral aroma, but the cooked product has a stickier finish.
Basmati Rice
Basmati rice originates from India and Pakistan, yet the variety has now been cultivated in many other countries like America or Iran. The word basmati derives from a Hindi word that means "fragrant," so you can partially understand why people love it so much.
Due to its widespread popularity, it's not difficult to find premium basmati rice from the finest brands. With high-quality basmati rice virtually everywhere, anyone can get the chance to try out its delicate fragrance and the alluring taste.
Indeed, the reason it becomes popular is not just the aroma. It has a very distinctive taste, which is sometimes described as buttered popcorn. When cooked, the long grains are separate and do not clump together.
So far, they sound like the same thing, don't they? The next section will take a closer look at their dissimilarities to help you tell them apart.
Differences Between Jasmine And Basmati Rice
Surprisingly, jasmine and basmati rice are more distinct than you could have imagined. The table below will briefly emphasize the differences between them, followed by a comprehensive explanation to help you clarify your confusion.
| Differences | Jasmine Rice | Basmati Rice |
| --- | --- | --- |
| Grain appearance (uncooked) | Round ends, shorter than basmati rice grains | Sharp ends, longer than jasmine rice grains, more translucent than jasmine rice |
| Aroma (cooked) | Aroma stronger than jasmine rice, resembling pandan leaves, popcorn, nuts, or flowers | Aroma weaker than basmati rice, resembling nutty and floral scent |
| Texture (cooked) | Soft, plump, and chewy, the grains tend to clump together | Dry and fluffy, the grains do not clump together |
| Taste (cooked) | Nutty, but not as much as basmati rice, Slightly sweet | Nutty |
| Nutritional value | High in calories and glycemic index; Contains more fiber than basmati rice; Has less the amount of iron than basmati rice | Low in calories and glycemic index; Contains less fiber than jasmine rice; Has more the amount of iron found in jasmine rice |
| Varieties | 2 | 34 |
| Preparation method | Rinse for a few times | Soak for 30 minutes |
| Best cooking technique | Steaming or boiling | Absorption method or boiling in plain or salt water |
| Best for | Sweet and sour chicken, stir-fried beef, or salmon; Liquid foods like curry or stew | Chicken or seafood; Stir-fried, grilled dishes, and soup (if the grains are dry); Traditional rice dishes like biryani or pilaf |
Let's break down the differences between jasmine rice and basmati rice. The video below should be able to help you:
Grain Appearance
Although they are both classified as long-grain rice, you will notice a minor difference in appearance. Jasmine rice grains have round ends and are somewhat shorter than its counterpart, which is slim and has pointy ends.
You will also notice that basmati rice grains are more translucent when put next to their equivalents.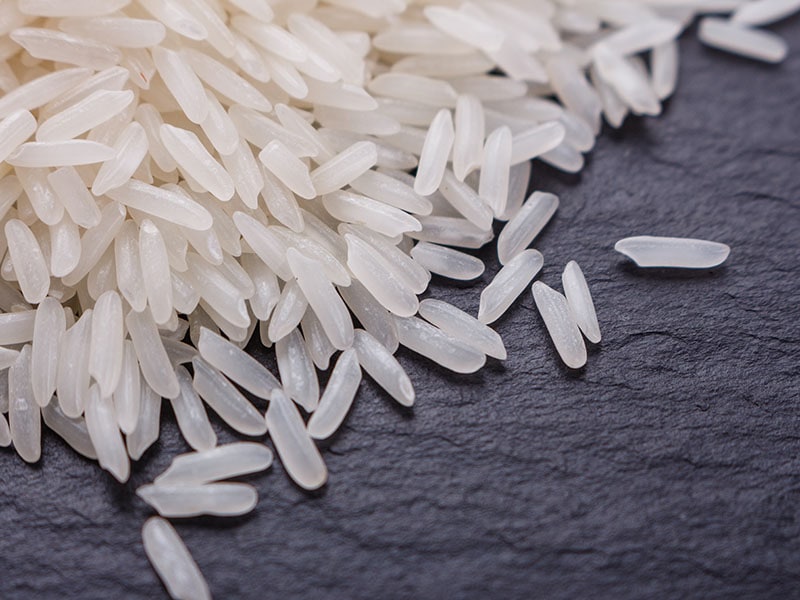 Aroma
Another feature that sets jasmine rice apart from basmati rice is the aroma. If you have a keen sense of smell, you can tell that basmati yields more aroma, although not too strong in general terms. It is redolent of nutty and floral scent to some people.
On the other hand, jasmine rice also makes you fall for it with its pandan-like scent with a subdued hint of flowers and popcorn smell. Despite being not too overpowering, I can be certain that they are more aromatic than other members of the long-grain family.
How do they become the favorite children of this big family? The answer is genetics. They both have a molecule called 2-acetyl-1-pyrroline, released when done to a turn to inform you that rice is ready. (1)
Texture
When raw, jasmine and basmati rice do not feel too much different. However, the textural contrast when they are cooked is pretty marked.
Since basmati rice grains have a high amylose content, they hold their shapes well when cooked. The grains are also fluffier, somewhat dry, and therefore don't cling together like short-rice varieties.
Meanwhile, jasmine rice loses its structure under high heat due to its significant amount of amylopectin, resulting in soft, plump grains with a chewy character. The grains are moister than basmati rice grains and tend to stick together, similar to sushi rice.
Taste
Yes, rice tastes bland, sometimes even boring, but it's not always the case. With basmati rice, you will get a nutty base that pairs well with many kinds of vegetables. Jasmine rice also tastes nutty but not as strong and has an underlying sweetness.
Therefore, plain rice is not meant to serve alone. In Asian households, it is often enjoyed with a multitude of meat and vegetable dishes. And as rice is a versatile ingredient, you can also use it to whip up some delectable dishes made with leftover rice.
Varieties
Jasmine rice has only two varieties, white and brown, but basmati rice has way more. It is estimated that there are roughly 34 hybrids of basmati rice in India, all different from each other regarding the appearance, taste, and nutrition properties. (2)
Some traditional basmati varieties include basmati 370 and basmati 385. However, they are now surpassed by new hybrids like Pusa Basmati 1121, a delightful blend between Type 3 and basmati 370. This is also one of the most pricey kinds of Basmati rice on the market.
Nutritional Value
In general, both jasmine and basmati rice are healthy inclusions to your diet. Refer to the chart below to find out the nutrition content found in each cup of cooked rice:
| Nutrient | Jasmine Rice | Basmati Rice |
| --- | --- | --- |
| Calories | 238 | 191 |
| Carbs | 45g | 4g |
| Protein | 5.3g | 5.6g |
| Fat | 3.5g | 0.6g |
| Sodium | 189mg | 199mg |
| Cholesterol | 0mg | 0mg |
| Iron | 1.47mg | 2.09mg |
| Fiber | 1g | 0.7g |
| Calcium | 14mg | 18mg |
| Potassium | 83mg | 51mg |
| Vitamin A | 144IU | 0IU |
| Vitamin C | 0mg | 0mg |
| Glycemic index (GI) | 109 | 58 |
As per the chart, basmati rice is surpassed by jasmine rice in the calorie department, so it is an ideal choice for those hitting the gym and trying to maintain their waistline. Both kinds of rice contain only complex carbs, so you should not be worried.
Another emphasis that should be given when choosing between jasmine and basmati rice is the glycemic index (GI), a number that shows how food containing carbs affects your blood sugar level after consuming. In short, the lower the GI, the better your health is. (3)
It's clear that basmati rice defeats jasmine rice in this area, with a GI of 58 to 109. Thus, basmati rice makes you feel full for longer and helps minimize the risk of heart-related diseases or type 2 diabetes.
White basmati rice has only 0.7g of fiber compared to jasmine rice, which has 1g. This gap is even wider when concerning their brown varieties (2,9g and 2g, respectively). Looking at the iron department, however, you can get more iron from basmati rice.
If you prioritize your health over flavors, you may want to try brown jasmine and basmati rice. These two varieties are an excellent source of nutrients like copper, phosphorus, and manganese, an element that helps form connective tissues in your body.
Preparation Method
A common problem people usually experience when cooking with basmati rice is that it can be undercooked or not cooked evenly. To resolve the issue, soak the rice before cooking for about half an hour, allowing the water to penetrate deeply into each grain.
As for jasmine rice, which is inherently moist, soaking is optional. You can rinse the rice for a few times under the tap until the water is no longer milky. If you skip this step, the grains are likely to clump together.
Best Cooking Technique
If you have a rice cooker, the ultimate appliance that can cook any rice in the world, you only need to learn how to use a rice cooker to prepare jasmine rice or basmati rice. Provided that you don't have it, you can cook jasmine and basmati rice on the stove, in a slow cooker, or even in a microwave.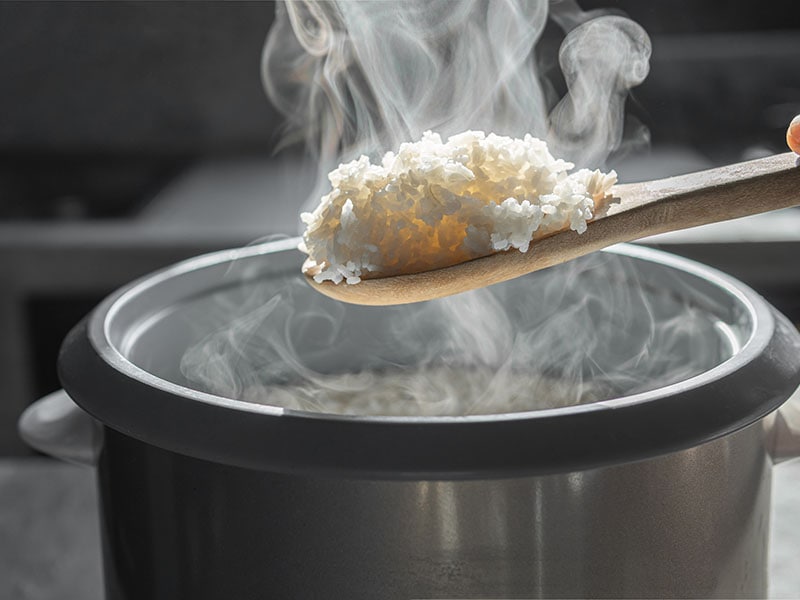 After soaking, basmati rice will cook up perfectly. You can boil it in plain water, but I prefer to do it with salted water to ensure even cooking. And remember, drain the excess water once rice has been fully cooked.
Another way to cook basmati rice is the absorption method. In layman's terms, it is steaming. While the rice is cooking, stir in a measured amount of water so that the grains soak up more water by the end. This technique can be applied to jasmine rice as well.
Alternatively, you can boil jasmine rice as the instructions given for basmati rice. Put the heat on low, then cover the pot to allow the water to penetrate deeply into every grain. You should have a perfect batch of rice after only 15 minutes.
Whatever you do, it's important to pay attention to the amount of water you use for cooking rice. Too much can make your rice soggy, while too little can make it dry and clumpy. Remember, the ratio between water and rice in rice cookers is very important.
Best To Make
Rice offers an awe-inspiring versatility, so you can be optimistic that it goes with almost anything on the dinner table. Yet, when it acts as a base in your recipe, a slight change in flavor and texture can be discernible, especially if you have picky guests coming over.
Basmati rice and Indian cuisine are a match made in heaven. In fact, basmati rice is one of the indispensable side dishes in Indian meals.
For example, you can whip up some spicy curries or stews and serve them over a bed of basmati rice. The grains can soak up much liquid and remain firm until the very last spoonful.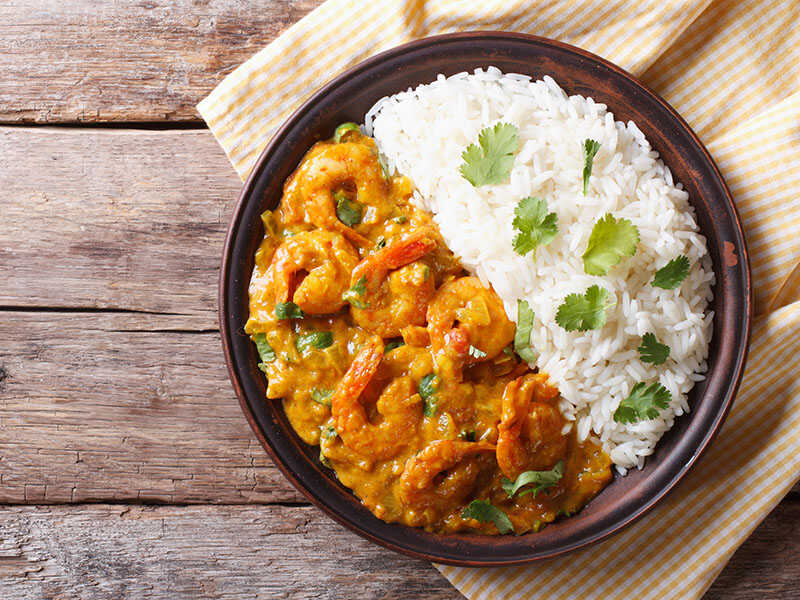 Jasmine rice is a constant companion for stir-fried dishes, grilled items, and sometimes soups, too, particularly when the grains are too dry to be eaten alone. With a somewhat sticky texture, it is also used as a substitute for sushi rice when in a pinch.
How To Cook Perfect Jasmine And Basmati Rice
Now that you have gained deeper insights into jasmine and basmati rice, you are ready to learn how to cook them to perfection. Cooking rice can be rather tricky, but with the guide provided below, I'm certain that the finished product will always be enjoyable.
The very first thing about cooking with rice is its ratio to water. The ratio will vary based on factors like grain length, cooking method, and so on. Generally, for each cup of jasmine and basmati rice, you will need one cup of water.
In case you don't want to play safe and need every grain to achieve utter perfection, the given chart will help you determine how much water you will need for a cup of rice.
| Type | Cooking Method | Rice To Water Ratio (Estimated) |
| --- | --- | --- |
| Jasmine Rice | Rice cooker | 1 cup of water |
| Jasmine Rice | Stovetop | 1 ¼ cup of water |
| Jasmine Rice | Slow cooker | 1 ¼ cup of water |
| Jasmine Rice | Instant pot | 1 cup of water |
| Basmati Rice | Rice cooker | 1 ½ cup of water |
| Basmati Rice | Stovetop | 1 ½ cup of water |
| Basmati Rice | Slow cooker | 1 cup of water |
| Basmati Rice | Instant pot | 1 cup of water |
If you have rinsed or soaked the rice before cooking, lessen the amount of water by half a cup. Conversely, if you purchase brown rice, increase the amount of water by half or one cup to ensure that the grains are thoroughly cooked.
Note: The table below is only an estimation and can be adjusted correspondingly.
And here are a few tips when something goes out of hand:
Dry, hard rice: If the grains are still crunchy, add an extra half or one cup of water to the mixture and put on a low simmer. Increasing the temperature will not do the trick.
Mushy rice: Has the rice absorbed too much liquid? Repurpose the product into a new one. You can make fried rice or add a few drops of vanilla extract and milk to the mixture to make a luscious rice pudding.
Burned rice: Unfortunately, if the rice at the bottom is burned, you can either make a new batch or loosen the crunchy parts by pouring hot water on them. The grains will loosen gradually. If the rice isn't burned but slightly toasted, you may still eat it.
Salty rice: Some people like to add a pinch of salt to the rice for an extra flavor. Did you happen to add more than needed? Cook up a new batch of rice and mix it with the salty batch.
With this guide, cooking jasmine and basmati rice is so straightforward.
FAQs
More questions about the dissimilarities between jasmine and basmati rice or how to cook them? The next section cannot be missed.
Step Up Your Rice Game
To most people, rice is a blank-canvas ingredient that props up other elements. Thus, it is not necessary to flavor rice. However, should you think it's a great idea and want to jazz it up a bit, here are some suggestions you don't want to miss:
Add some aromatic herbs
Simmer in a low-sodium broth
Mix in salsa
Add a knob of butter
Bring in the earthy spices like cinnamon and cumin
And sometimes, even a dash of salt is enough to enliven your batch of rice!
With this post, I believe that you have known the differences between jasmine and basmati rice. Provided that you have questions or want to contribute something I missed in this post, let me know via the comments. And yes, I'd love to know how your rice tastes, too!
References
En.wikipedia.org. 2021. 2-Acetyl-1-pyrroline – Wikipedia. [online] Available at: <https://en.wikipedia.org/wiki/2-Acetyl-1-pyrroline>.
Apeda.gov.in. 2021. Basmati rice. [online] Available at: <http://apeda.gov.in/apedawebsite/SubHead_Products/Basmati_Rice.htm>.
Healthline. 2021. Everything You Want to Know About the Low Glycemic Diet. [online] Available at: <https://www.healthline.com/nutrition/low-glycemic-diet>.