Perhaps you are an expert at cooking white rice, but do you know how to cook brown rice in a rice cooker properly? This type of rice is vastly different from your normal rice, leading to some significant changes in how to handle and cook them.
Brown rice is generally more nutritious than white rice. In return, cooking it to fluffy perfection is also more challenging. You may have an intuitive grasp of how to prepare white rice, but cooking brown rice requires a thorough guide for the best result. And that's exactly what you will find here.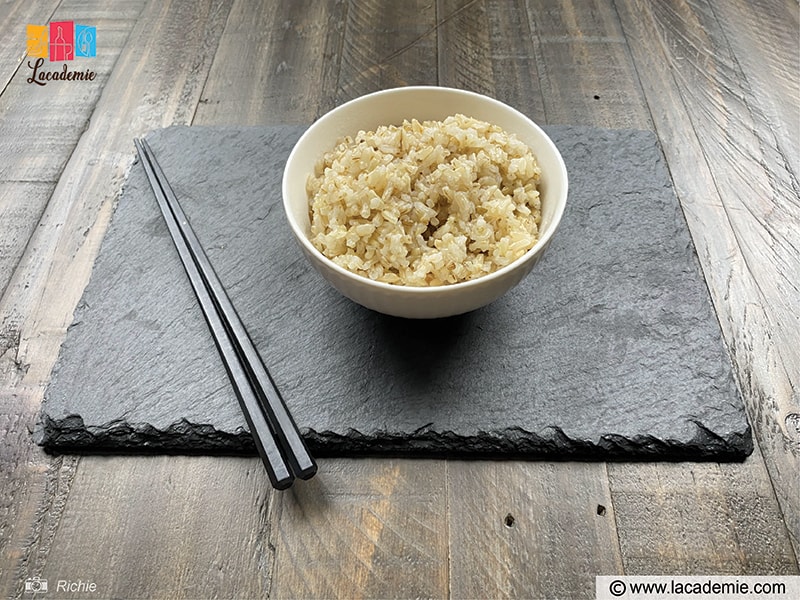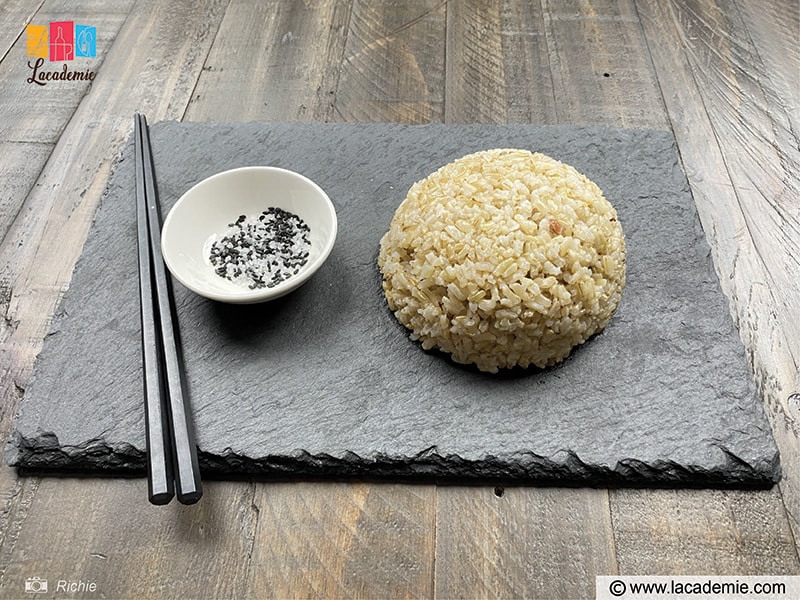 Why Is It Different To Cook Brown Rice?
It is popular knowledge that brown rice is more nutrient-dense than refined white rice. The reason behind this disparity is that the former still retains the bran and germ. However, those parts are both a blessing and a curse for brown rice.
On the bright side, the bran and germ are overflowing with fiber, antioxidants, vitamins, minerals, and other necessary substances. Brown rice has plenty of iron, magnesium, zinc, vitamin B6, and more. It is particularly beneficial if you want to keep your weight or blood sugar in check.
But the germ and the bran layer are relatively hard, making brown rice rather tough. As a result, this type of rice takes more time to cook or demands more elaborate preparation (more on that later). That's not the end: brown rice is also a little more difficult to digest, so people with sensitive stomachs may experience unpleasant conditions if consuming too much of it.
In short, refined rice has the nutrition hull stripped away, rendering it less nutritious yet easier to cook and digest. Meanwhile, cooking brown rice asks for more effort, but you stand to gain more health benefits from it. If you want to know the best way to prepare brown rice, let's read on.
Tools
Brown rice needs the same kitchen gadgets to cook as white one, so you don't have to prepare anything special. It is enough to prepare the following tools:
Rice cooker: Any type of rice cooker can perform this task perfectly, but you should choose a good brand to ensure your safety as well as the quality of the rice.
Rice paddle: to fluffy or scoop the rice. Brown rice is tougher than white rice, so choose a sturdy paddle.
Measuring cup: to pick the suitable amount of uncooked rice. Most rice cooker manufacturers include them with their products. Otherwise, you can easily buy one on the market. The one I use for this guide can hold 160 ml or 135 grams of uncooked rice.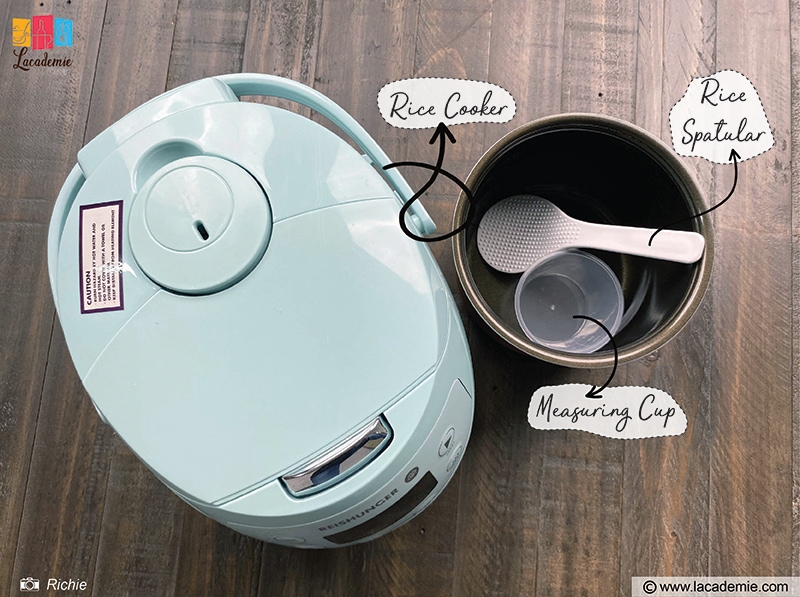 Ingredients
An easy trip to a supermarket or nearby grocery store will get you all of the necessary ingredients. That is, if you don't already have them in your pantry.
Brown rice: This guide uses the long-grain variety, which is the easiest type of rice to cook. If you prefer short- or medium-grain, you may decrease the amount of water a little.
Water: Normally, brown rice requires much more water to cook than other types of rice. But that isn't necessary in this case since you have to soften the rice by soaking it in water first. Therefore, this guide uses the same rice – water ratio as white rice.
Salt and olive oil/ sesame oil: Additional ingredients that will enhance the texture and flavor of the rice.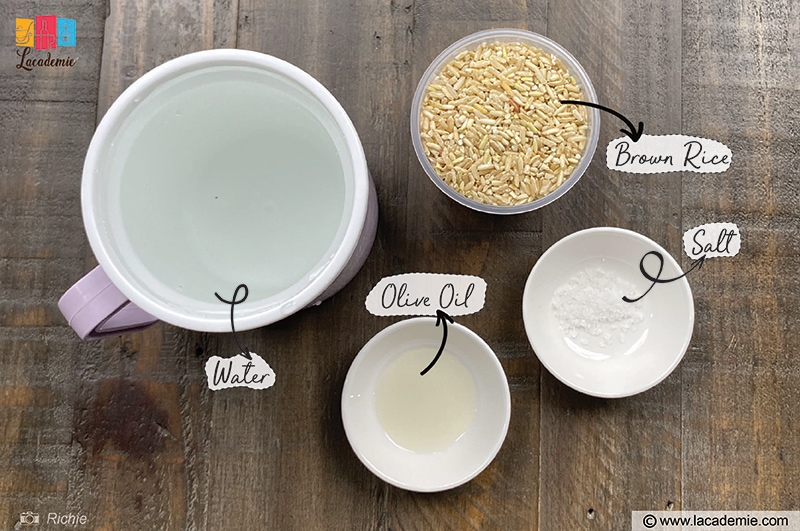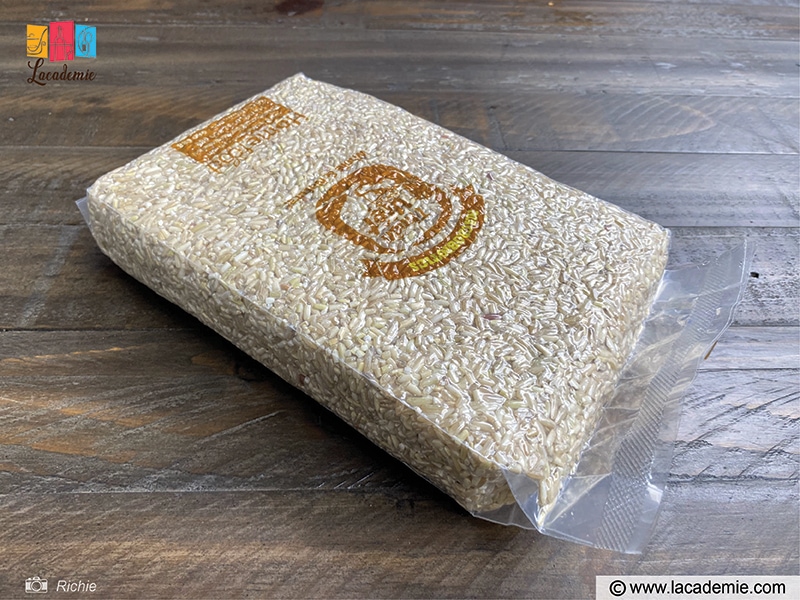 A Step-By-Step Guide For Cooking Brown Rice In A Rice Cooker
As I said earlier, brown rice needs some care and effort to cook perfectly. But with these instructions at your fingertips, that will be a piece of cake.
Step 1: Rinse The Rice
Portion out a suitable amount of rice with the measuring cup, then put it into the inner pot of the rice cooker or a bowl to rinse with clean water.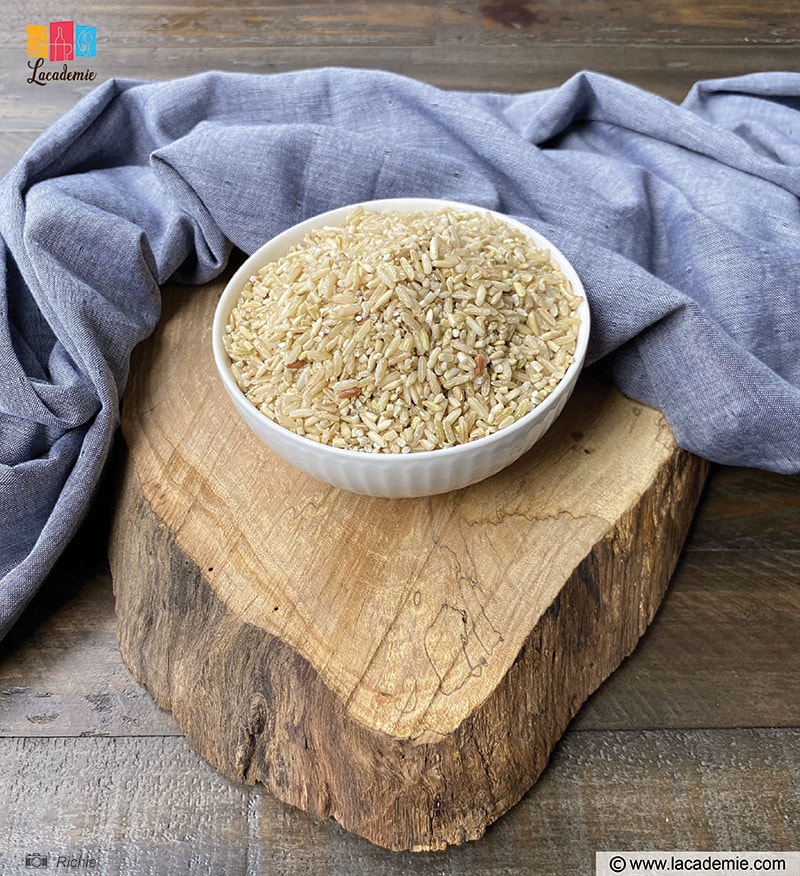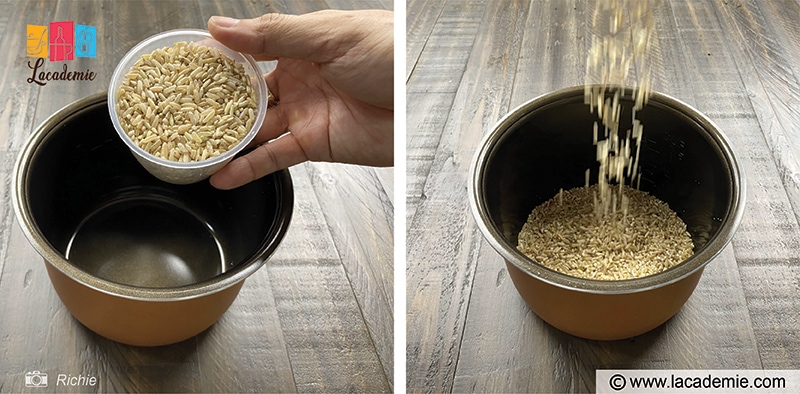 Use your hand to move the rice gently and pick out any floating piece of dirt from the rice. Drain the water that also contains excessive starch and contaminants from the pot.
Alternatively, you can pour the rice into a mesh strainer or sieve and put it under a running tap. The stream of water will wash the rice quite effectively, though this way may use a large amount of water.
Choose your favorite methods and do it 2 – 3 times. Don't overwash the rice, or you will accidentally remove the nutritious outer bran layer of brown rice, hard as it is. Washing the rice excessively also causes it to be more likely to dry out later.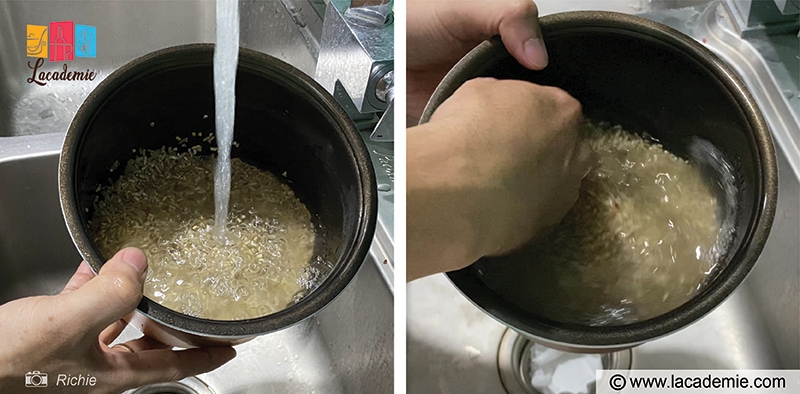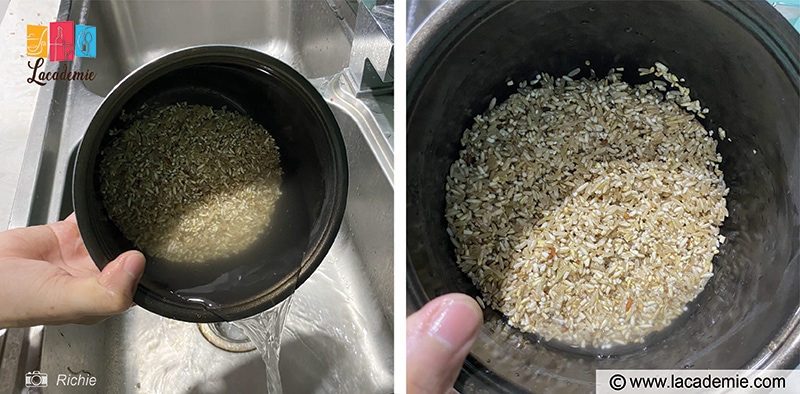 Here is the secret tip: After washing the brown rice, soak it in cold water for at least 30 minutes. Don't skip this step because doing so will significantly shorten the cooking time.
Step 2: Measure The Water
The rice texture depends on the amount of water you cook it with. Less water results in dryer rice, while if you increase the amount of water, your finished dish will be more moist and tender. Use this knowledge to your advantage.
Typically, you need to cook one part brown rice with two parts water or even more. However, since I have made the rice softer by soaking it in water, this recipe still uses the standard water-rice ratio of 1:1.
Since I cook 2 cups of rice, I go with 2 cups of water for a pot of perfectly fluffy rice that is neither too dry nor mushy. That means 270 grams of rice and 320 ml of water, respectively, in this case. Your measuring cup may have a different capacity; remember to follow the golden 1:1 ratio.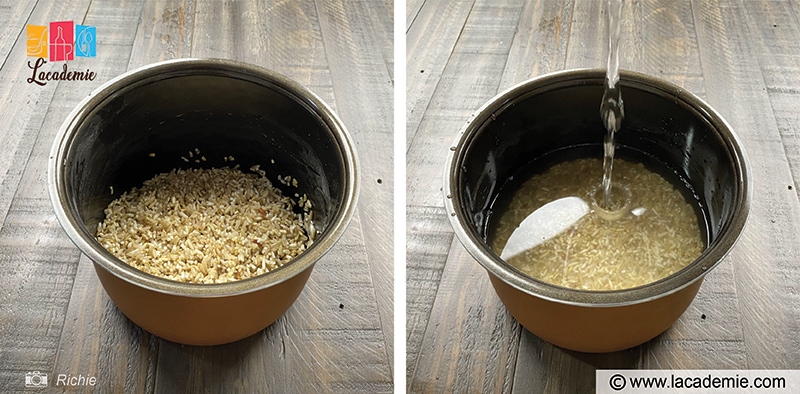 Step 3: Use The Rice Cooker
For safety purposes, dry the surface of the inner pot carefully with a towel before putting it back into the exterior pot.
You may skip this step, but adding ½ teaspoon of salt and a spoonful of olive oil or sesame oil will make your brown rice irresistible in terms of taste and appearance. Those ingredients also have practical effects: They make the rice less sticky, so you can wash the pot more easily after cooking.
Finally, close the lid and turn the rice cooker on. Leave it undisturbed for 45 minutes – 1 hour.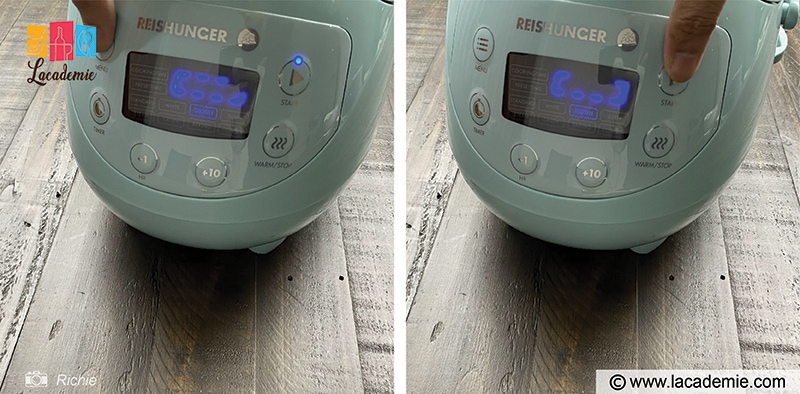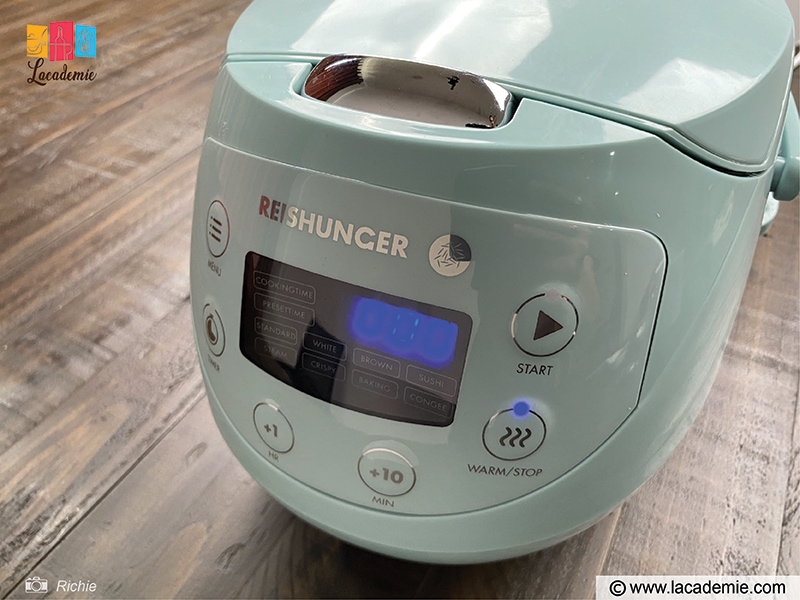 Step 4: Fluff The Rice
You can open the lid as soon as the cooked brown rice is ready. Otherwise, the rice cooker will automatically switch to "Warm" mode after its task is done, keeping your rice in the best condition until you want to enjoy it.
There are many ways to check whether rice is overcooked. But if you use a rice cooker, you can ensure that your rice will come out at its finest, as long as you apply the correct ratio of water and rice.
Unplug the rice cooker and open the lid. Be careful of the rising hot steam. Fluff the rice with a paddle (or a large spoon), plate it, and serve with your favorite dishes.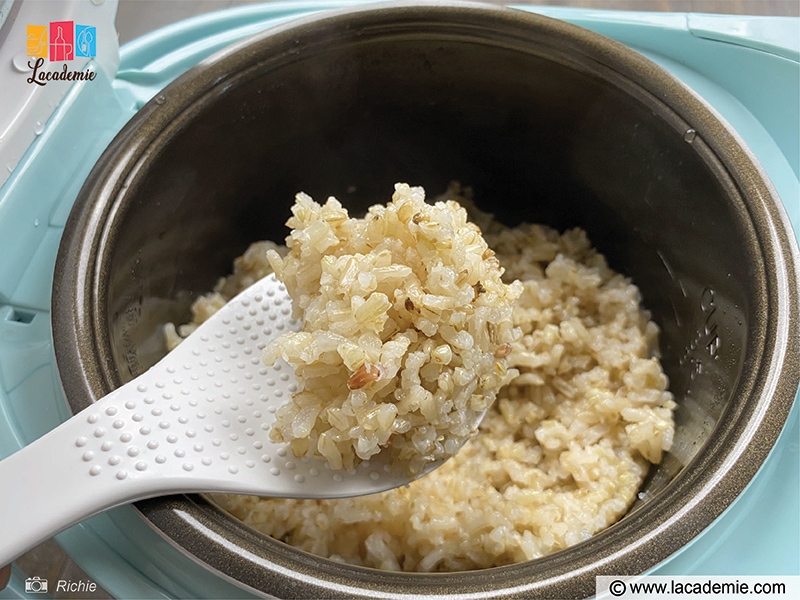 Note:
If you skip the soaking step, make sure that you use at least twice as much water and increase the cooking time by 15 – 30 minutes.
Brown rice is higher in fat and oil content than white rice, so it tends to spoil faster as well. In case you don't mean to eat cooked brown rice right away, don't leave it at room temperature for too long. This food can last for 3 – 4 days in the fridge.
Fluffy Brown Rice Is Yours Now
Cooking brown rice on the stovetop or with other kitchen appliances may present some difficulties. But with a specialized tool like a rice cooker, this task isn't intimidating at all. Now that you have my guide, having a bowl of warm, tender brown rice has never been easier.
Don't forget to share this post with anyone struggling with cooking this type of rice. I'm sure they will appreciate your thoughtfulness very much. If you have something to ask, just type it down, and I will try my best to answer it. Feel free to share with me how well your brown rice goes, too!
Nutrition Facts
2 servings per container
---
Amount Per ServingCalories478
% Daily Value *
Total Fat 5.4g

8

%
Cholesterol 0mg

0

%
Sodium 93mg

4

%
Potassium 281mg

9

%
Total Carbohydrate 96.6g

32

%

Dietary Fiber 4.4g

16

%
Sugars 1.1g

Protein 9.9g

18

%
---
* The % Daily Value tells you how much a nutrient in a serving of food contributes to a daily diet. 2,000 calories a day is used for general nutrition advice.