Vietnamese peanut sticky rice ("Xôi Đậu phộng" or "Xôi Lạc") is among the most worth-trying dishes of Vietnamese food culture. Made mainly from sweet rice and peanuts, it makes for a simple yet filling breakfast and an addicting snack to munch on during the day.
If you've never tried this delicacy before, today's post will bring you an easy recipe that anyone can create at home. Start your morning with this sweet, aromatic, and starchy treat once, and I'm sure you'll soon crave more.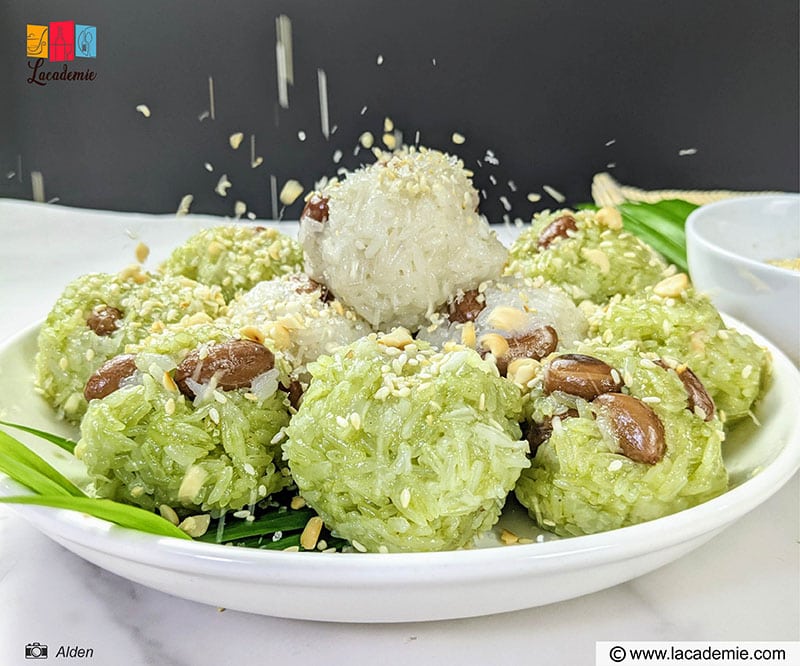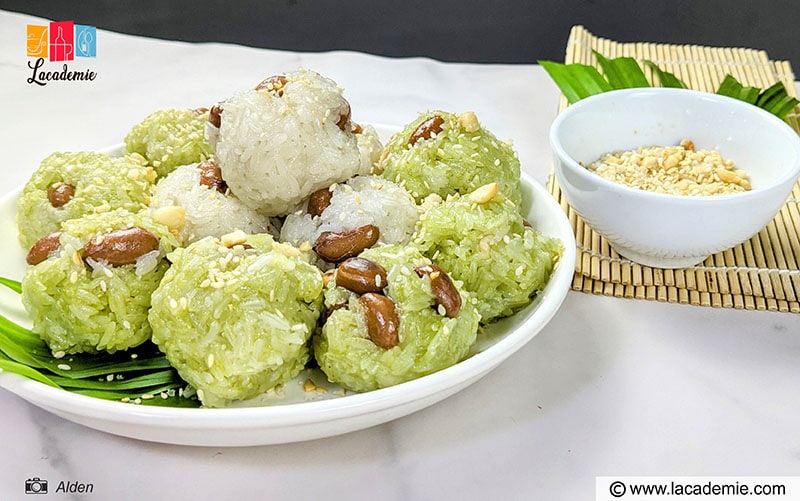 What Is Vietnamese Peanut Sticky Rice
"Xôi" is a quintessential treat in Vietnamese cuisine. Simply speaking, this dish is glutinous rice (also known as sticky rice) cooked to perfection. Using their endless creativity, the Vietnamese have come up with plenty of delicious variations of this classic treat.
Among the many variations, Xoi Dau Phong is one of the most well-loved ones. It has a signature stickiness from the glutinous rice and a charming flavor that's a combination of sweet and salty. Moreover, the nuttiness of peanuts and the creaminess of coconut milk are the cherries on top that perfect this dish.
Traditionally, Vietnamese peanut sticky rice has a whitish color adorned with brown peanuts. Besides this original version, I'll also show you how to make a green-colored variation that's infused with the essence of pandan leaves.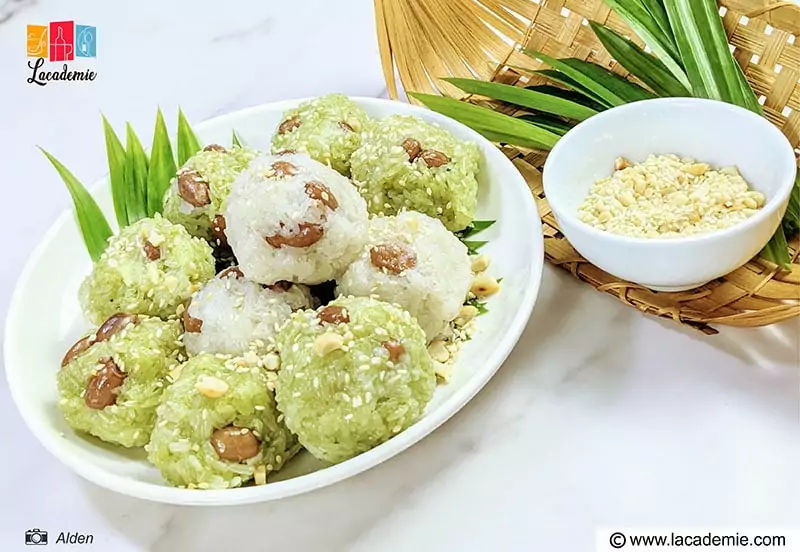 Tools
When it comes to cooking rice, it's natural to think of using a rice cooker. While some Xoi recipes are made with this device, I recommend steaming the rice on a stovetop for the most authentic flavor.
Steamer pot: For steaming the rice.
Pot: For boiling the peanuts.
Large bowl: For soaking the rice.
Mortar and pestle: For cruising the peanuts, which are necessary for making the sesame and salt topping.
Sieve: Use this tool to drain the rice. You need thoroughly drained and dry rice for the best result.
Pans: For stir-frying the sticky rice before steaming.
Spatula: A good tool for stirring in general. You can also use chopsticks.
Large spoon: For scooping the cooked sticky rice out.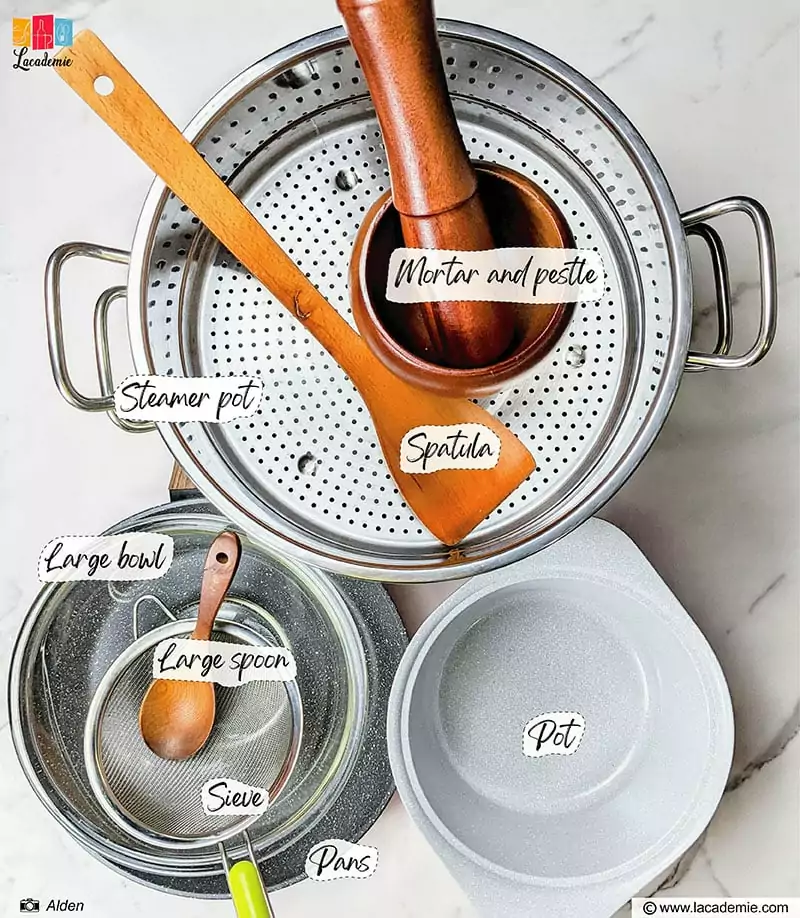 Ingredients
Glutinous rice and peanuts are the two most important ingredients in this recipe. Make sure that you select the correct rice type.
Glutinous rice: Be careful not to mistake glutinous rice for glutinous rice flour. You should look for the word "gạo nếp" (not "bột gạo nếp") on the package.
Raw peanuts: You'll need to boil the peanuts before adding steaming them with the rice.
Roasted peanuts: For making the sesame and salt topping.
Coconut milk: Add a delightful sweetness and creaminess to the rice.
Pandan leaf extract: Helps you make the pandan-infused variation, which has a unique green color.
Pandan leaves: Line your steamer basket with these leaves to add a lovely aroma to the rice.
White sesame seeds: For making the savory and sweet topping.
Salt and sugar: Basic seasonings for the rice and topping.
Water: Use warm water for soaking the rice and cold water for cleaning (about 4 times) and steaming it.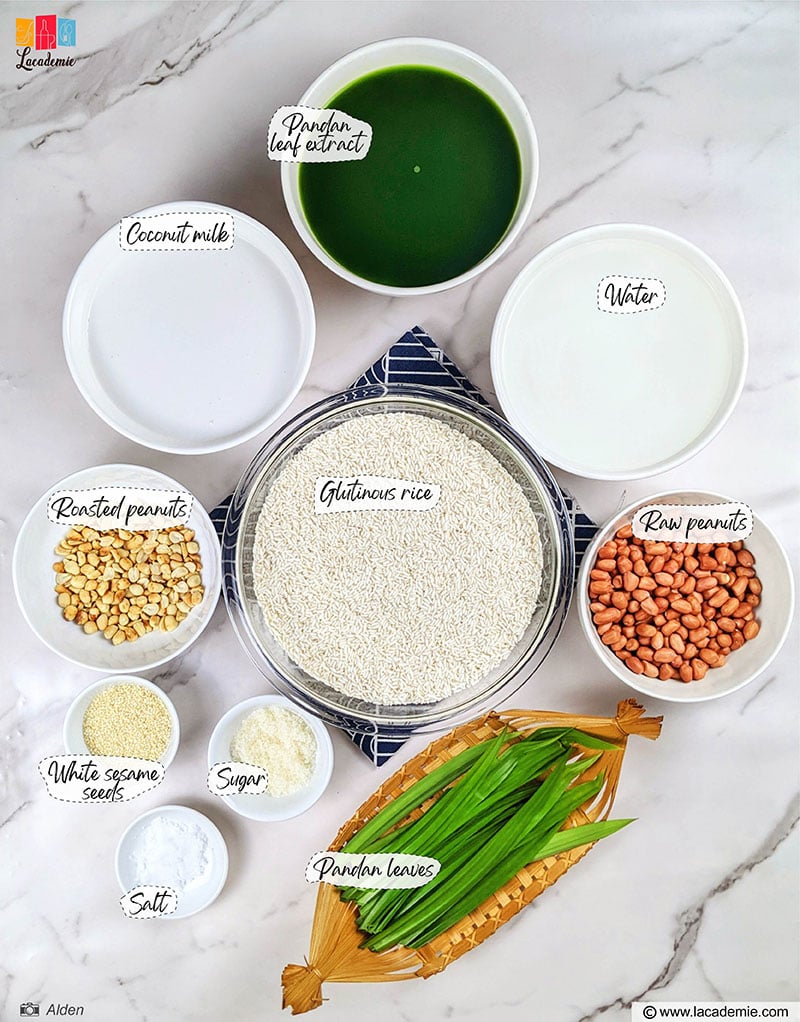 Directions
Are you ready to make this delicious Vietnamese treat? Let's gather the ingredients and start cooking.
Step 1: Prepare The Glutinous Rice
Soak the glutinous rice in warm water and stir well to clean the grains. Drain off the water once it turns cloudy.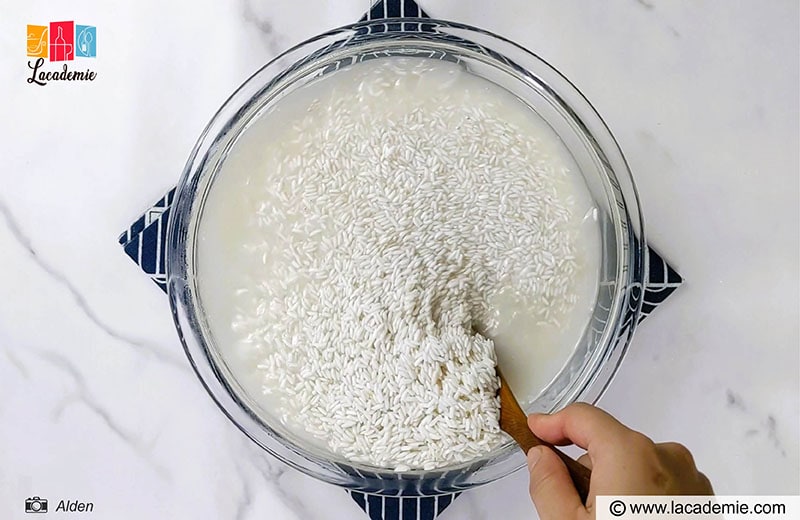 Next, pour in cold water, stir, and drain off the water once again. Repeat this process about 4 to 5 times to thoroughly clean the rice grains.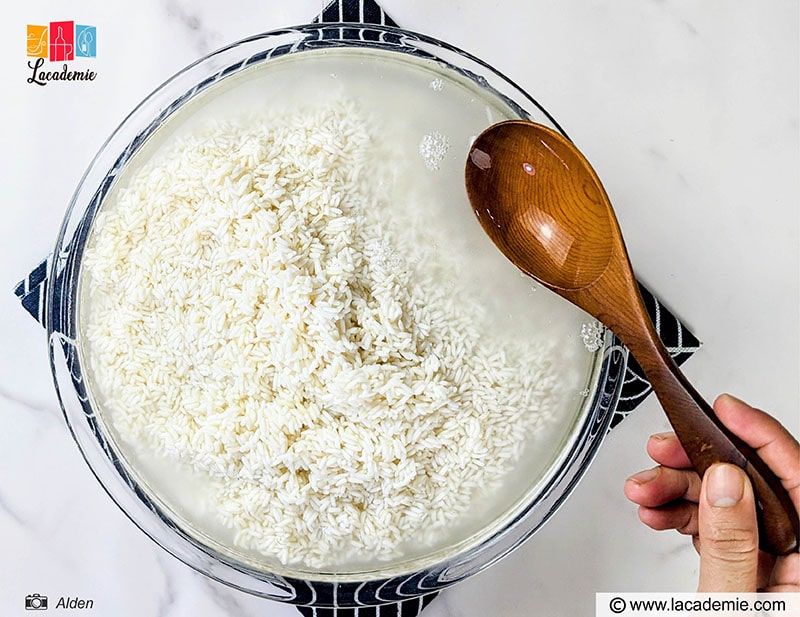 After soaking and cleaning the rice, use a strainer to drain the glutinous rice. Then, spread it evenly across a flat winnowing basket or a tray. Wait for the rice to dry, about 30 to 40 minutes.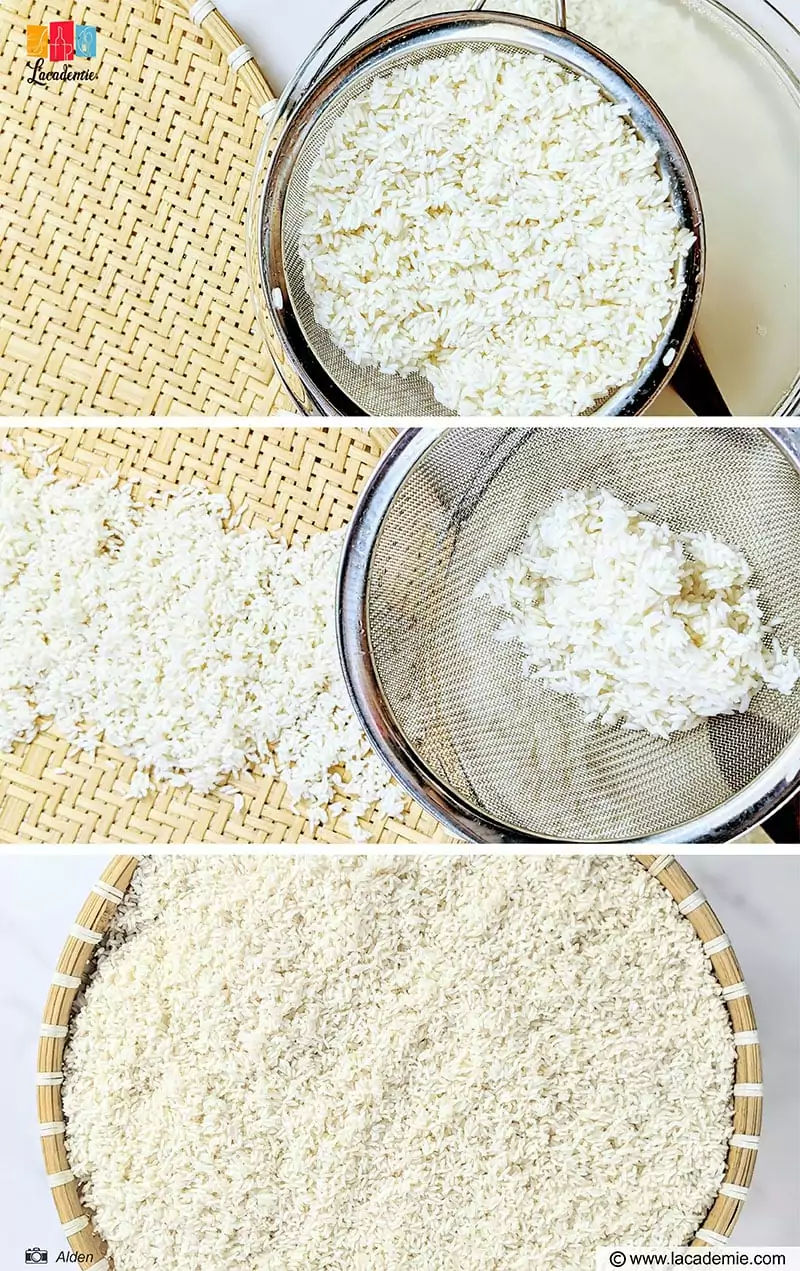 Note: You should let the rice dry completely so it can absorb the spices better.
Step 2: Cook The Peanuts
Boil the peanuts with 0.4 quarts (about 400 milliliters) of water for 45 to 60 minutes or until tender. You can adjust the cooking time so that the tenderness is to your liking.
Once cooked, remove the peanuts from the pot. Drain and wait for them to cool.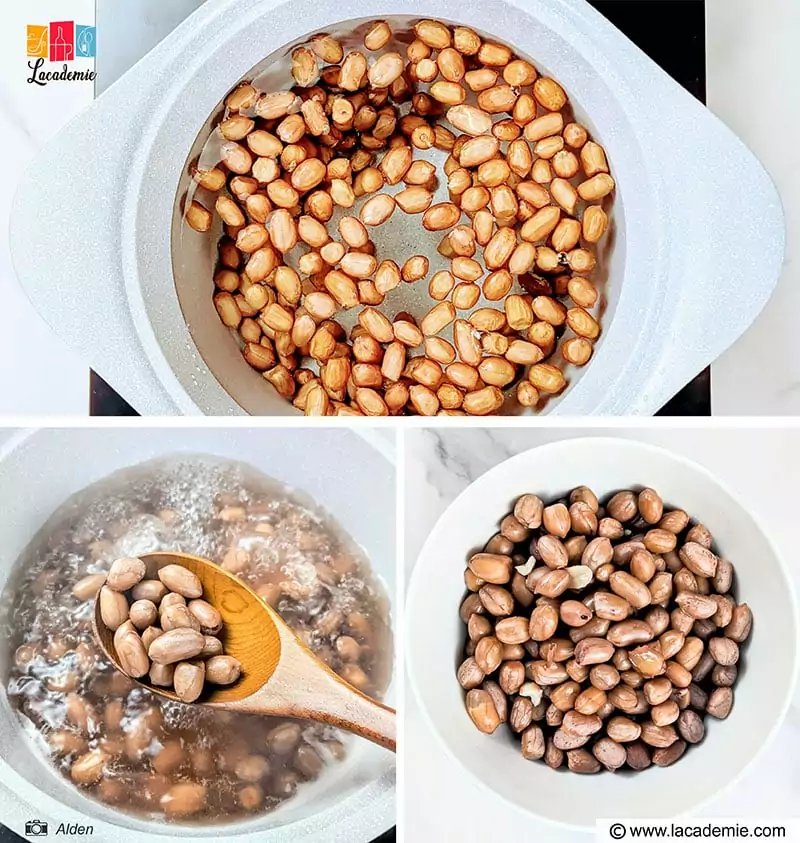 Step 3: Season The Rice
Separate the rice into 2 equal parts. You'll use the first portion to make the original, plain version and the other to make the pandan-flavored variation. Likewise, divide the coconut milk into 2 shares, 0.25 quarts (about 250 milliliters) each.
For the plain sticky rice, pour 0.25 quarts of coconut milk, 1 teaspoon of salt, and 1 tablespoon of sugar into the rice. Mix well and set aside.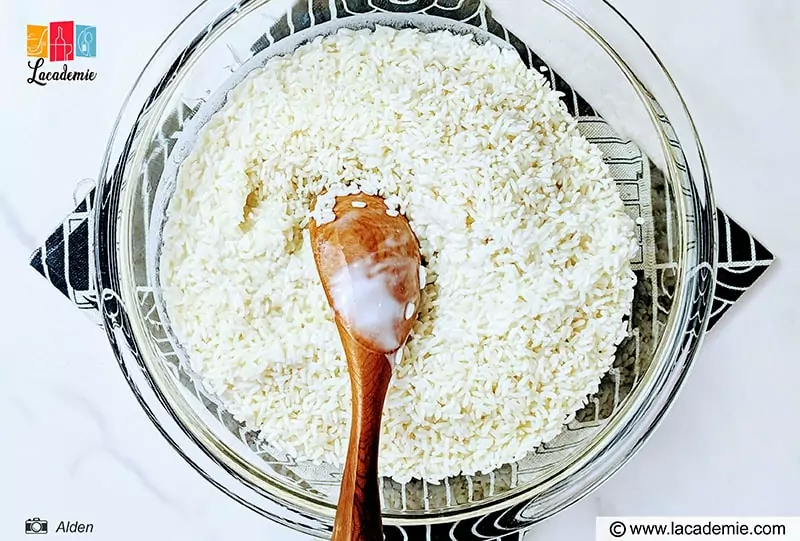 Repeat the first step for the pandan-flavored variation. Then, stir in the pandan leaf extract. Mix well and set aside.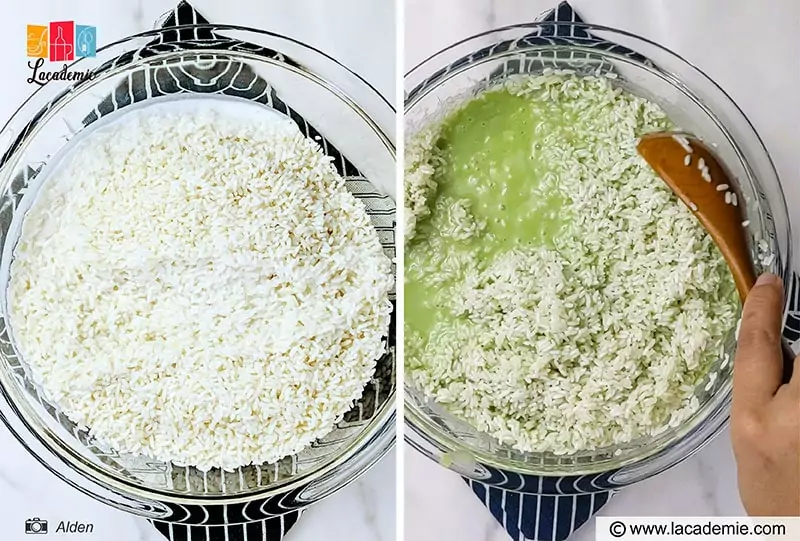 Step 4: Stir-Fry The Rice
For the plain version, pour the prepared rice into a large pan and stir-fry over medium heat until the grains have fully absorbed the coconut rice.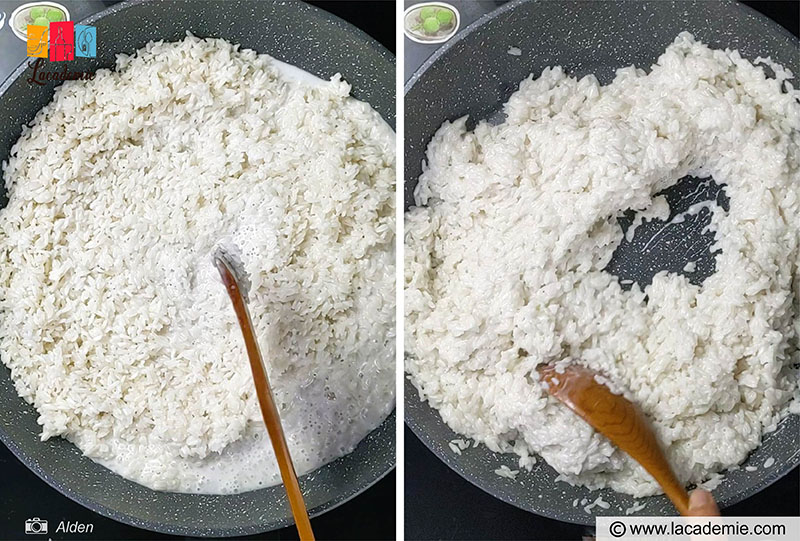 Once the rice is sticky and fragrant, add half of the boiled peanuts to the pan. Continue stirring to mix the peanuts with the rice.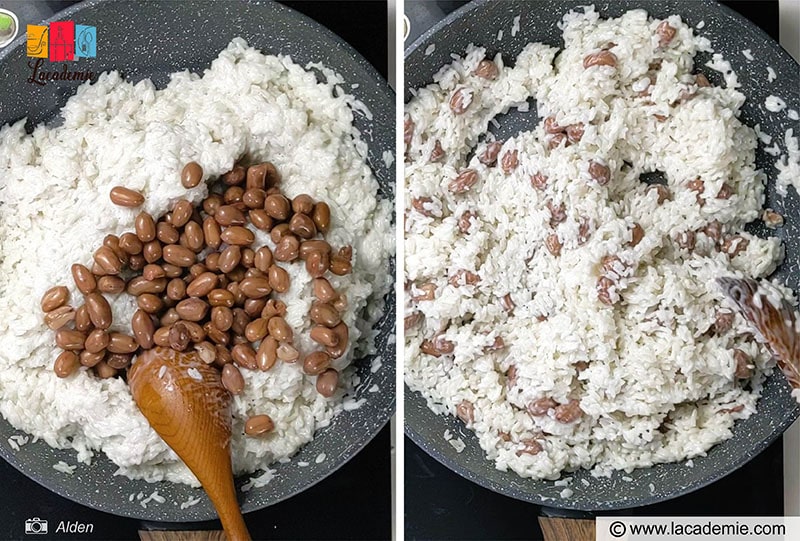 Repeat the above steps for the pandan-flavored version. However, you'll need to cook the glutinous rice for 2 to 3 minutes more.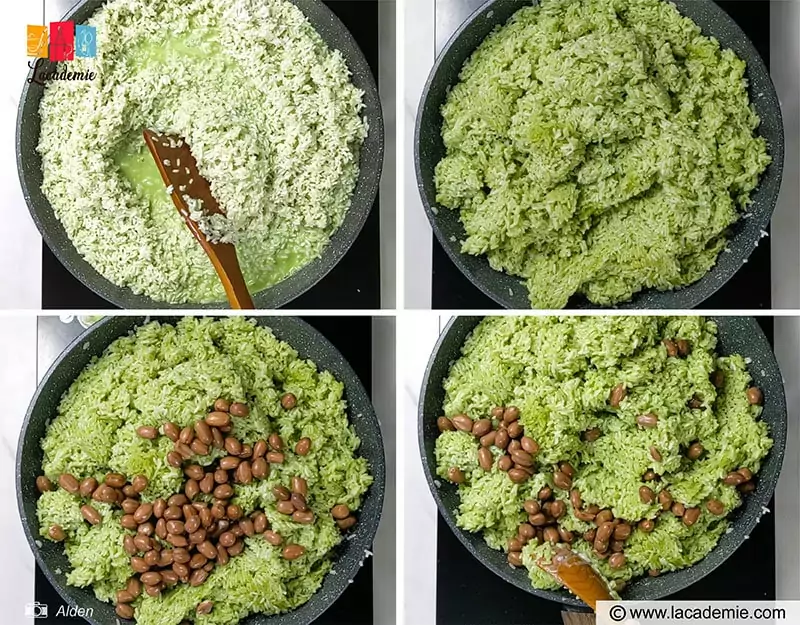 Step 5: Steam The Rice
Pour water into a steamer pot and set it on the stovetop. Spread a thin layer of pandan leaves on the steamer basket. Place the glutinous rice and peanuts mixture onto the basket. Arrange the pandan-flavored rice on one side of the basket and the plain rice on the other half.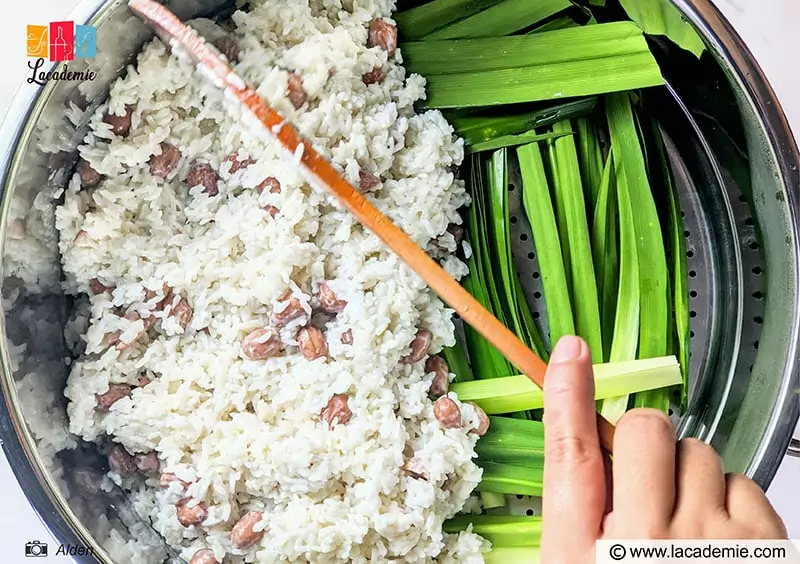 Cover the pot and steam the rice for about 20 minutes over low heat. After 20 minutes, open the lid to check the rice. If the grains are clear and slightly tender, stir them using a pair of chopsticks or a spatula.
Close the lid and continue steaming for another 10 minutes to thoroughly infuse the rice with the spices.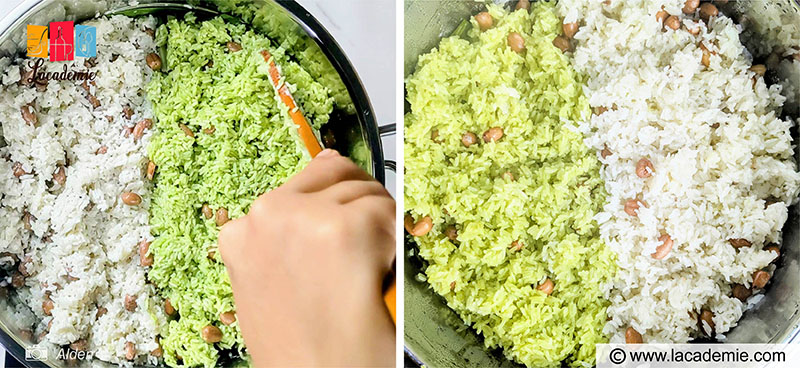 Step 6: Make The Sesame And Salt Topping
Roast the sesame seeds in a pan over medium heat until they turn slightly golden. This process usually takes about 3 minutes.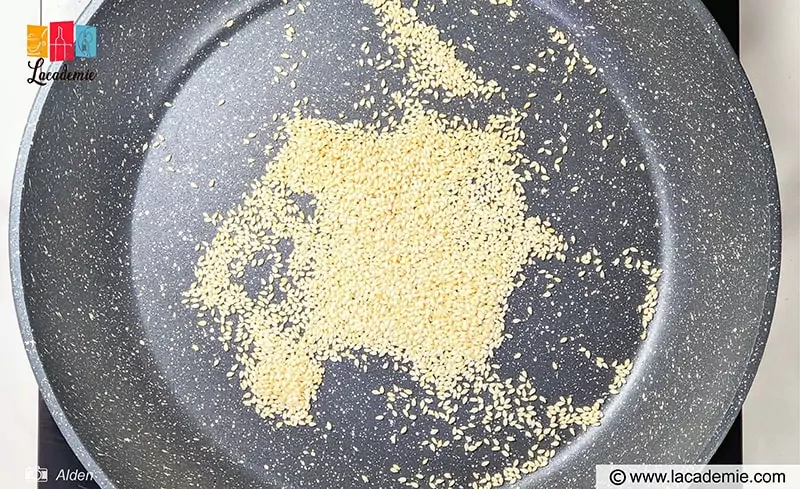 Crush the roasted peanuts (they don't need to be too fine). Add 1 tablespoon of sugar and 1 teaspoon of salt. Mix all ingredients well.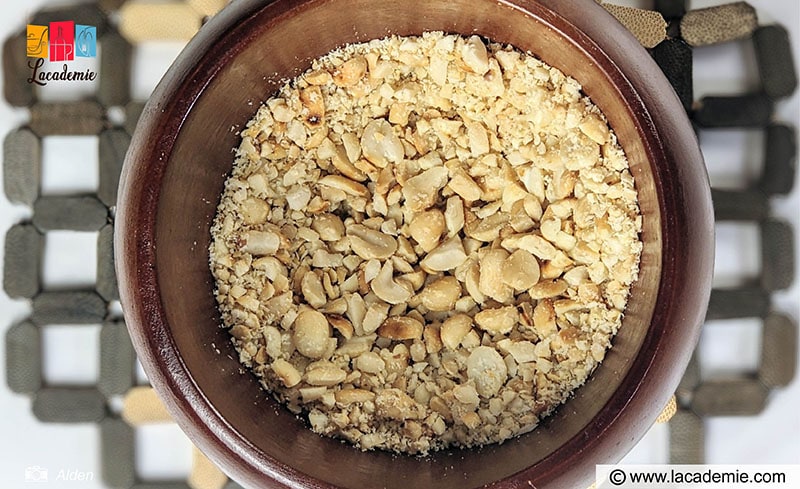 Step 7: Finish The Dish
When the sticky rice is fully cooked, open the lid, and scoop it out onto a plate. You can also use a mold to shape the rice into an eye-catching form or roll it into beautiful rice balls. Sprinkle your delicious sticky rice with the sesame and salt topping, and enjoy!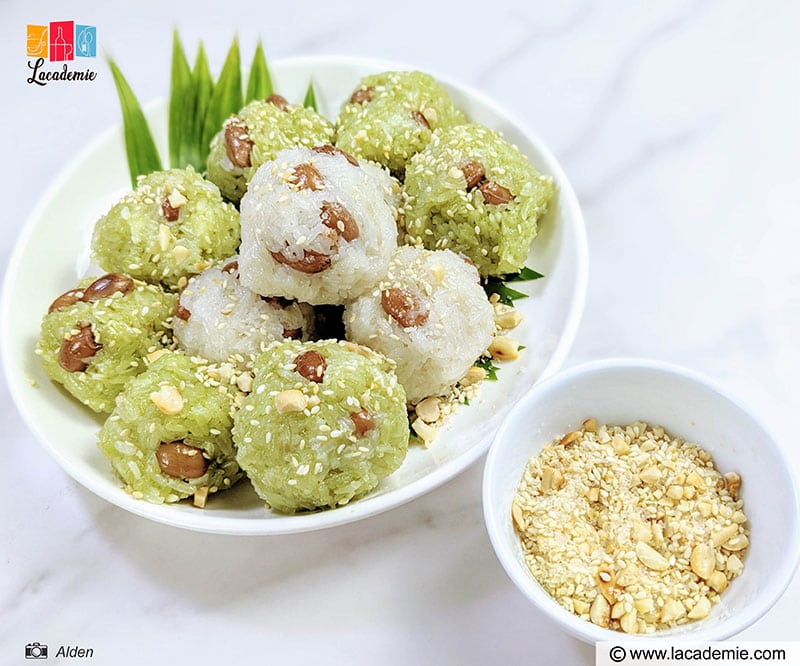 Extra Notes For The Best-Tasting Dish
Here are a couple of handy notes to help you have a better cooking experience. You can also make some small changes to the recipe to have a slightly different result.
Soaking the glutinous rice in boiled or hot water helps remove the dirt and ensure a smooth cooking experience. Doing this will also prevent the grains from being hard after steaming.
Although peanuts are a must-have for this recipe, you shouldn't add too much.
Besides the pandan-flavored variation, which has a distinct green color, you can also use magenta plant leaves to give the treat a nice purple color. In addition, butterfly pea flowers are a great choice if you want your rice to have a charming blue color.
Ideally, you should fill about ⅓ of the steamer pot with water. Note that too much water will result in mushy rice.
Handy Suggestions For Serving And Storing
While Vietnamese peanut sticky rice tastes great on its own, it will be extra delicious when paired with salted shredded pork (Cha Bong), Vietnamese pork bologna (Cha Lua), or Chinese sausage (Lap Xuong). If you have a sweet tooth, try serving the sticky rice with a mixture of grated coconut and sugar.
For storing leftover sticky rice, place it in a container and refrigerate for up to a week or freeze it for up to 4 months. As for the remaining sesame and salt topping, you can store it in an airtight container at room temperature.
Due to the nature of sticky rice, the dish will get harder and drier the longer you store them. So it's best that you consume the rice as soon as possible and microwave it for about 1 minute before serving.
Start Your Day With This Vietnamese Delight
There's nothing better than starting your morning with a bowl of hot and delicious Vietnamese peanut sticky rice. Depending on your preference, you can turn it into a sweet treat with extra coconut and sugar, or enjoy a savory dish with sausage and pork bologna.
What are your thoughts on this Vietnamese delicacy? Is your family loving it and asking for more? I bet that they are! If you enjoy today's recipe, please leave a comment and press the like button. Plus, it would be great if you could share this post with others as well!
Nutrition Facts
18 servings per container
---
Amount Per ServingCalories562
% Daily Value *
Total Fat 23.4g

36

%
Sodium 418mg

18

%
Potassium 327mg

10

%
Total Carbohydrate 75.3g

26

%

Dietary Fiber 4.2g

17

%
Sugars 4.1g

Protein 14.6g

30

%
---
* The % Daily Value tells you how much a nutrient in a serving of food contributes to a daily diet. 2,000 calories a day is used for general nutrition advice.