If you have a surplus of fried rice and do not know how to reheat fried rice properly, this post will save you! Fried rice is an easy and time-saving recipe that most people choose to make when not knowing what to eat.
Today, I will provide you some helpful tips to make your leftover fried rice taste as delicious as the first time you make it! Are you ready to take notes? Scroll down and explore some efficient ways to reheat fried rice!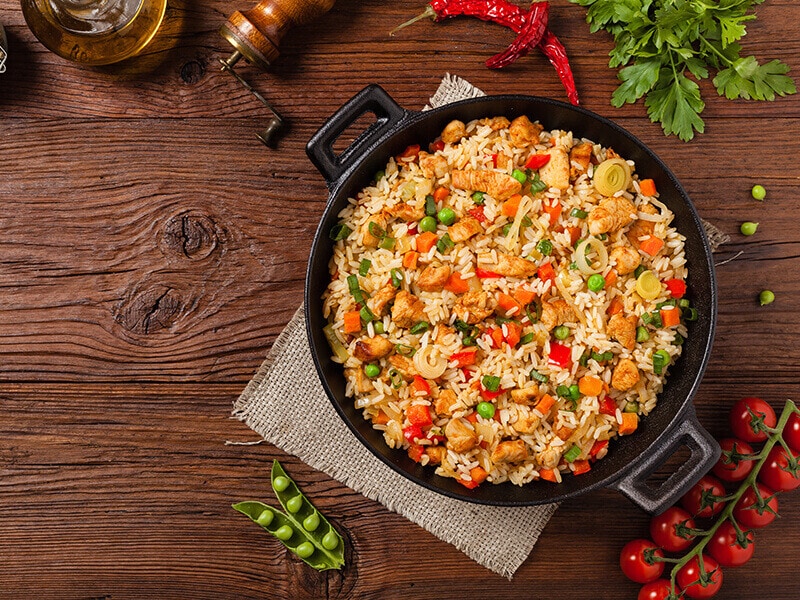 Mind-Blowing With These Reheating Fried Rice Ways!
You may have never heard about some of the following methods to reheat your leftover fried rice before. These reheating ways help your fried rice keep its flavor and texture. Don't miss it!
Use the microwave: It is the most popular way for those who take out the fried rice to work or school.
Use the stovetop: It is the best way to keep fried rice moist and delicious.
Use the oven: Although it takes time, it is also a decent way of reheating fried rice.
Use the air fryer: Using the air fryer to reheat fried rice works surprisingly.
Essential Knowledge For Reheating Fried Rice?
There are some essentials you need to know before kick-off your reheating fried rice process. The crucial thing is, you can not reheat the fried rice that is spoiled or low-quality. So, how do you know whether your fried rice is rotten or not? Check the information below!
How Long Does Fried Rice Last?
This table indicates fried rice shelf life information, including refrigerating fried rice and frozen one, provided that you manage to store rice in a correct manner. Please pay attention to the shelf life of fried rice to know when it is spoiled and discard it right away.
One common mistake that new home cooks tend to make is leaving rice out in the open overnight. While you can store uncooked rice at room temperature (with proper preparation), leftover fried rice shouldn't be stored this way.
Before your fried rice goes bad, you can consider turning it into another enticing dish to jazz up your meal. That's right; there are several dishes made from leftover rice that will make your remaining rice taste even better than when freshly cooked.
| | |
| --- | --- |
| Storage methods | Lifetime |
| Refrigerated fried rice | 5 – 7 days |
| Frozen fried rice | up to 6 months |
How To Tell If Your Fried Rice Is Bad?
After the expiration date listed in the table above, the quality of fried rice starts to degrade quickly. Even if the fried rice is made from premium white rice from leading brands, the quality will still deteriorate over time.
Some identifying signs of spoiled fried rice:
Smell: Spoiled fried rice will give out an off odor. It smells funny, unpleasant, and strange.
Texture: The texture of spoiled fried rice turns hard and clumpy. Sometimes it is slimy or gooey.
Growing molds: It is the worst symptom of spoiled fried rice. Toss it right away when it develops molds.
You should toss your leftover fried rice if it gives out an off odor and texture listed above.
4 Ways To Reheat Fried Rice For Your Consideration
Although some people might be interested in whether cold rice is safe to eat, most choose to reheat rice before consuming it. You can reheat your fried rice right away if it is refrigerated. However, if you store it by using the freezing method, you have to thaw it before rewarming to get the best result. You have two options to defrost frozen fried rice:
Take the fried rice from the freezer and leave it in the drawer of your refrigerator overnight to thaw it.
Defrost it more quickly by using the microwave. Place it in a microwave-safe bowl and put it in the microwave in 1 minute. Then, use a fork to break clumps up and put it back for one more
After thawing your fried rice well and carefully checking whether it is bad or not, check this table below to choose your most appropriate reheating method.
| | |
| --- | --- |
| Reheating methods | Time |
| Use the microwave | 5 minutes |
| Use the stovetop | 10 minutes |
| Use the oven | 15 – 20 minutes |
| Use the air fryer | 8 – 10 minutes |
1. Reheating Fried Rice By Using The Microwave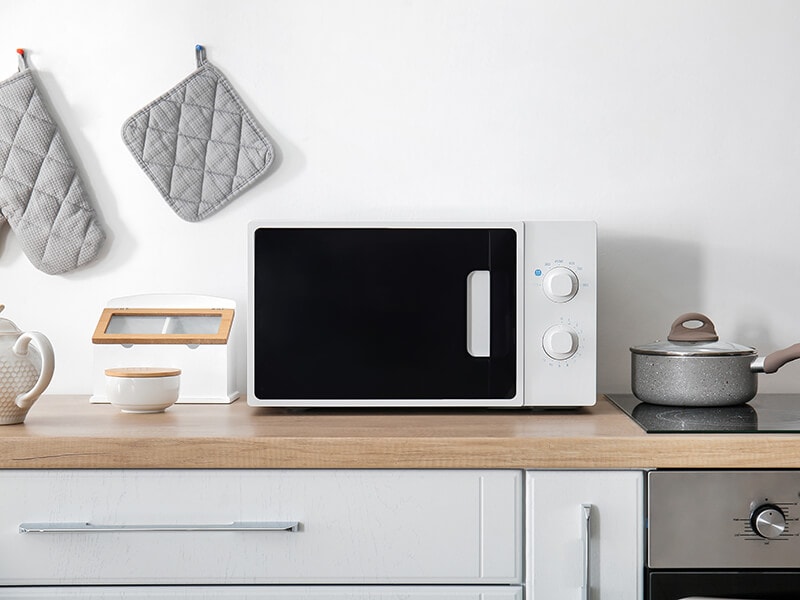 Microwaving leftover food is the most time-saving and popular reheating way; fried rice is not an exception. It would help if you prepared some things before kicking off this method:
A microwave
A Microwave-safe dish or bowl
A wet paper towel (Splatter guard, plastic wrap, or loose lid is acceptable)
Defrosted fried rice
Water
Oil or melted butter
If everything needed is available, here are the step-by-step instructions:
Step 1: Remove the defrosted fried rice out of the container. Then, place it into the microwave-safe dish or bowl.
Step 2: Add about one to two tablespoons of water or melted butter and mix it up. If there are some large clumps, use a fork to break them up.
Step 3: Cover the dish or bowl with a wet paper towel or the others mentioned above.
Step 4: Microwave fried rice for 2 minutes in the maximum heat
Step 5: After two minutes, take out and stir the fried rice and microwave it for another two minutes to make sure that it is thoroughly heated.
Step 6: Take your reheated fried rice out and enjoy!
You can also cook fried rice by using the microwave for a lazy day. Watch this video to know:
2. Using The Stovetop To Refry Fried Rice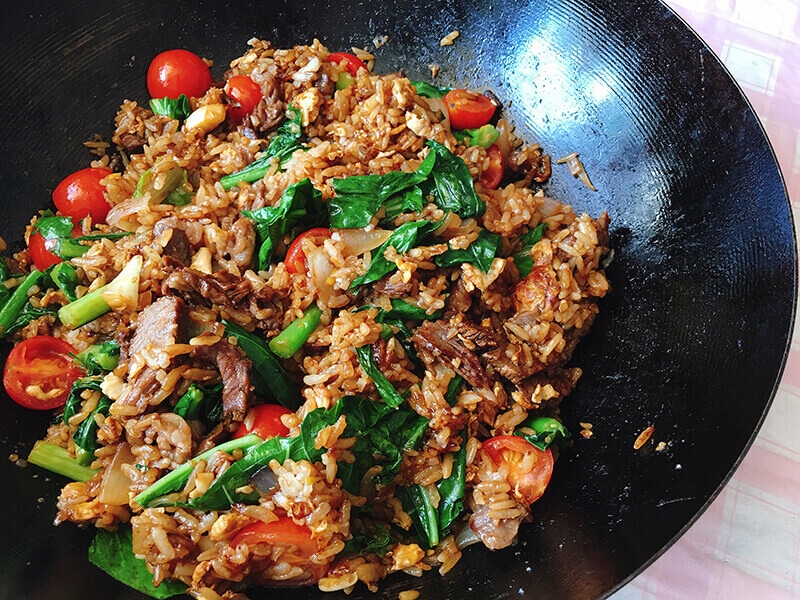 Re-frying rice is the best way to reheat it as it will retain the rice's texture and boost its flavor. This method also allows you to add extra ingredients into this mouth-watering Chinese side dish. No one will be able to guess that this is leftover fried rice from the previous meal.
But first, prepare these couple of things:
A wok (saucepan, skillet, or frying pan is acceptable)
Thawed fried rice
Additional extras (vegetables, meat, sausages, or spices) (optional)
Oil or butter
When everything is ready, let's fry it!
Step 1: Preheat the pan and add oil or butter to warm it up
Step 2 (Optional): Add your preferred vegetables or meat and sausages. Then, stir them until the vegetables are soft and the meat and sausages are golden browns.
Step 3: Add the fried rice to the pan; remember to break any large clumps up.
Step 4: Stir the fried rice evenly.
Step 5: You can add a tablespoon of water if your fried rice is dried out
Step 6: Take the reheated fried rice out and let it cool before enjoying your thoroughly reheated and tasty fried rice! You can also sprinkle some pepper flakes to enhance the flavor of your fried rice.
Let's learn how to re-frying fried rice easier! Watch this video:
Note: If you are sticking to a balanced diet and think this way requires too much oil, let me introduce the steam-frying method to reheat your fried rice!
For carrying out this steam-frying method, make sure you have these things:
A frying pan or other kinds of it
Leftover fried rice
Water or vegetable stock
A tight lid
Below are the step-by-step instructions for you to follow.
Step 1: Add the water or vegetable stock to the pan and warm it up.
Step 2: When the liquid boils, add the fried rice to the pan and stir it
Step 3: Put the lid on and lower the heat to medium heat.
Step 4: Let it cook for 10 minutes.
Step 5: Open the lid and check whether the fried rice is wholly reheated or not. Allow it to cool and enjoy!
3. Baking The Leftover Fried Rice In The Oven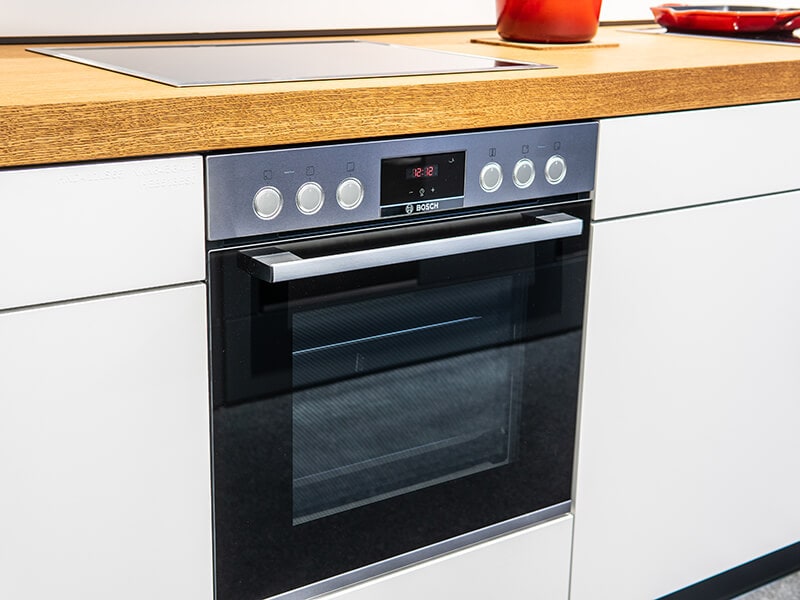 Every family has an oven just sitting around the house because of its multiple functions. You can use the oven to reheat the leftover fried rice. However, use it when you have time because it will take you 15 to 20 minutes.
If you do not mind spending time, grab these things to start to reheat fried rice by using the oven:
An oven
Leftover fried rice
An oven-safe casserole dish or oven-safe bowl
Aluminum foil or a tight lid
Water
Melted butter
Spices (optional)
If everything is prepared well, it is time to reheat your fried rice by following the steps below:
Step 1: Preheat the oven to 300 degrees Fahrenheit
Step 2: While waiting for the oven to preheat, mix the melted butter with spices (optional) and pour the mixture over the defrosted fried rice
Step 3: Spread the rice on an oven-safe casserole dish or oven-safe bowl
Step 4: Add one tablespoon of water and wrap the dish with aluminum foil or put the lid on the bowl
Step 5: Let it cook in the oven for 15 minutes.
Step 6: Remove the lid and let it bake for another 3 to 5 minutes to allow the steam to escape, and do not make your fried rice sticky. After that, take it out and enjoy!
4. Using The Air Fryer To Reheat Fried Rice Is Also A Good Idea!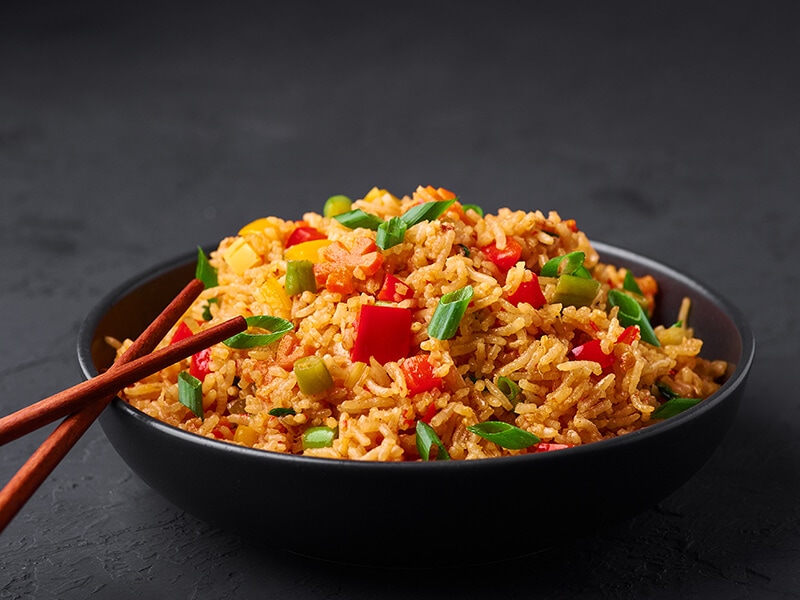 Maybe you never think of using the air fryer to reheat your fried rice, but it works surprisingly! Make sure that these simple things are available before starting:
An air fryer
Leftover fried rice
Spray cooking oil (extra virgin olive oil is preferred) (optional)
Here is the guide for you to follow:
Step 1: First, preheat the air fryer at 400 degrees Fahrenheit
Step 2: Spread the leftover fried rice in the air fryer basket evenly
Step 3 (Optional): Then, spray the cooking oil on the surface of the spread fried rice
Step 4: Reheat the fried rice at 200 – 250 degrees Fahrenheit for 8 to 10 minutes
Step 5: Check the fried rice carefully to know whether it is perfectly reheated or not before taking it out and serving.
Valuable Tips To Choose Suitable Reheating Method
There are various versions of fried rice, and each gives the best reheating result while using the most suitable method. Short on to clarify!
Vegetable Fried Rice: Because the vegetables require a shorter reheating time and become soggy and mushy easier, the microwave to reheat the vegetable fried rice is the best choice as it is the most time-saving method.
Chinese Fried Rice: Chinese food is always rich in fat. Therefore, reheating leftover Chinese fried rice by using the stovetop is the best idea since you do not have to add more oil or butter to make it moist.
Chicken Fried Rice: The chicken used in fried rice is not marinated deeply, and people prefer cutting it into large cubes. So, it will go bad easier and need longer reheating time. Therefore, you should reheat chicken fried rice by using the oven.
Brown Fried Rice: Brown rice is drier than white rice, and it dries out quickly. So, steam-fry brown rice if you want to reheat it. This lets the rice keep its moist and semi-soft texture. You can also choose high-quality brown rice from trustworthy brands to ensure your rice is always fluffy. (1)
Create A Brand New Dish With Fried Rice
Have you ever thought that you could turn your leftover fried rice into a whole new dish with a different and more fascinating flavor? I am grateful to introduce to you some excellent recipes that call for fried rice. Take notes and save for the next meal!
Fried rice frittata may sound strange to you, but it tastes beautiful. Frittata is also an easy and quick recipe. Enjoy your fried rice with the tasty flavor of whisked eggs!
Omurice appears in many restaurants or food courts everywhere since it is famous for its tasty flavor. It is also eye-catching with an egg coating outside the mouth-watering fried rice.
Find out the best way to make the perfect omurice! Let's see this video to know:
If you are craving some crispy food and have a day-old fried rice, this recipe is waiting for you! You can replace the cooked white rice in the recipe with your leftover fried rice.
2 Ways To Store Fried Rice Effectively
It would help if you stored fried rice properly to get the best reheating result. Keeping fried rice is quite easy for anyone to do; you can refrigerate or freeze it.
To refrigerate fried rice, let it cool down and place it in an airtight container before storing it in the refrigerator. Do not use the takeaway box if you buy fried rice outside; this kind of box is not airtight and causes your fried rice to spoil quickly.
You can also freeze fried rice by placing it in an airtight container. Another choice is a heavy-duty bag. Do not forget to push out as much air as possible.
Don't miss this delicious Chinese fried rice and how to freeze as well as reheat it:
FAQs
Below are some further questions you may have after reading this article. I hope you can find your answer in the following five answers.
I hope you will get the best reheating result by using my recommended methods. You need to know one more thing: do not leave fried rice out more than 2 hours before storing it because it will spoil faster.
Please like and share this post with your family and friends or anyone in need if you appreciate it. I was hoping you could share with me your result of the reheating methods mentioned above. If you have any different ideas, leave some words in the comment section.
Nutrition Facts
140 servings per container
Serving Size140 grams
---
Amount Per ServingCalories228
% Daily Value *
Total Fat 3.2g

5

%

Saturated Fat 0.7g

0

%
Trans Fat 0g

Cholesterol 32mg

11

%
Sodium 554mg

24

%
Potassium 123mg

4

%
Total Carbohydrate 43g

15

%

Dietary Fiber 1.5g

4

%
Sugars 0.6g

Protein 7g

15

%
---
Calcium

2

%
Iron

5

%
Vitamin D

1

%
Magnesium

3

%
* The % Daily Value tells you how much a nutrient in a serving of food contributes to a daily diet. 2,000 calories a day is used for general nutrition advice.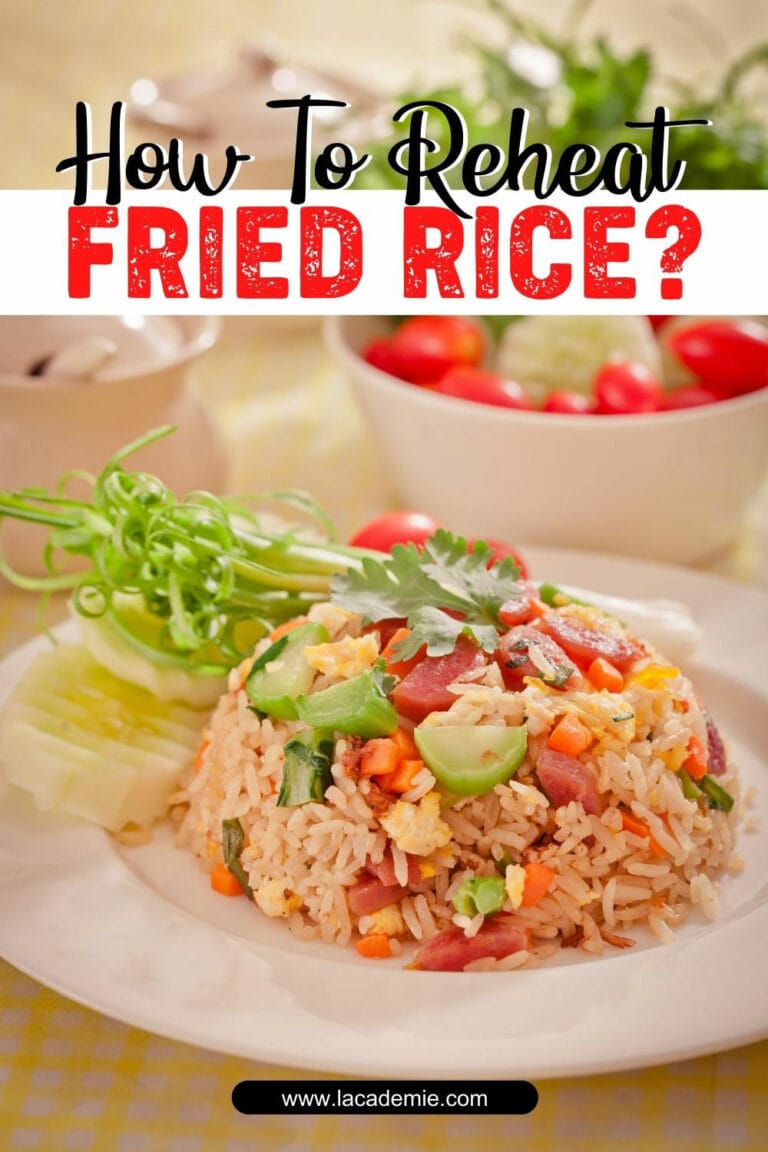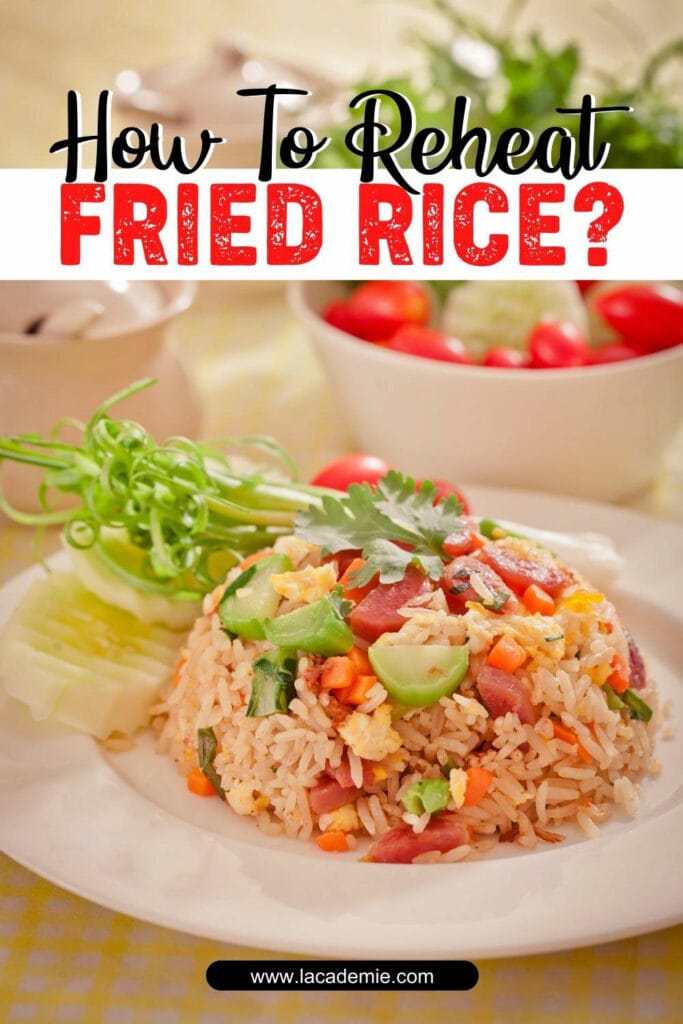 References
En.wikipedia.org. 2021. Fried rice – Wikipedia.