You have a lot of choices for what to serve with red beans and rice. Some are really good, others not so much. But how can you know which one is good without actually trying them out first?
Since no one wants to waste their delicious Louisiana rice dish, this is the list of more than 17 recipes that will make a suitable partner for your dish. Maybe you'll even find inspirations for kidney bean dishes, despite the differences between red beans and kidney beans.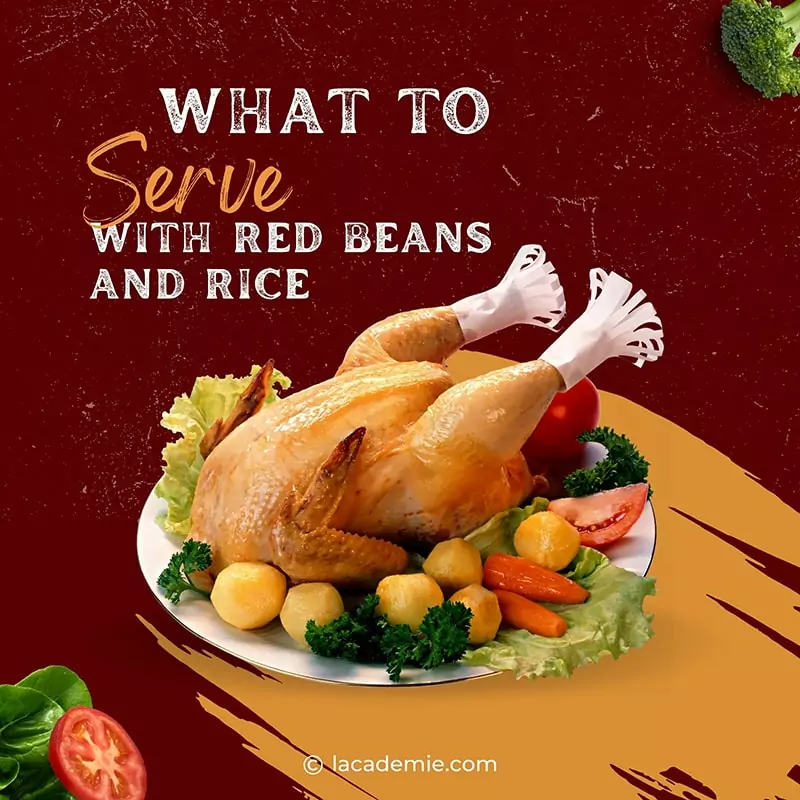 Best Dishes That Enhance The Flavors Of Red Beans And Rice
Did you know that you can cook red beans and rice from dried beans, as long as you see if dried beans go bad beforehand? The resulting dish will still taste amazing. Here are 18 recipes that can pair well with any red beans and rice recipe for you to try on your next Louisiana food day.
Got a cutting-edge rotisserie oven at home? If so, how about this roasted rotisserie-style chicken? Honestly, you can't go wrong with chicken since this dish is famous for being a crowd-favorite. For me, nothing beats a juicy, tender, yet crispy on the outside roasted chicken.
The great thing about roasted chicken is that you can season it however you like. Sweet, spicy, herbal, smoky, anything goes with this dish.
Learn how to roast your chicken like a professional chef. Watch this video:
If you're in a rush and have to quickly whip up something to pair with your tasty Cajun dish, this recipe is a perfect choice.
Your family will surely fall in love with the soft, buttery, and cheesy taste of these garlic biscuits. Plus, they are simple to make and will take you only 20 minutes (at the very best).
You can also make these biscuits a few days in advance. As long as you store them right, with the correct methods to rewarm biscuits, you'll have a hot and palatable treat that will definitely curb your hunger.
The next combination I think you would love is slow cooker beef brisket with red beans and rice.
With a slow cooker, the beef brisket will be packed full of flavor and practically melt in your mouth. Pair it with the classic Louisiana red beans dish, and you're in for a treat.
Sausage is one of (if not) the most popular foods to serve with red beans and rice. The reason for this is simple: sausages are tasty, cheap, easy to find, and sausage goes well with many dishes, which is pretty much anything you throw at them.
Some people recommend pairing Andouille sausage with this specific bean type and rice, but honestly, there is really no wrong type of sausage. So don't hesitate to "mix and match" to your heart's content.
Homemade sausage, no problem! Watch this video to know:
If you think meat is too hard on the stomach and salad is too plain, then you have to try this fried green tomatoes recipe.
At its core, this is still a tomato-based recipe, which means you'll still have all the health benefits of a light, refreshing and nutritious vegetable dish. However, with the help of some oil and a frying pan, your plain tomatoes will turn into a bowl full of crispy deliciousness.
How about some good old seafood to pair with your red beans and rice? Well, if your answer is yes, then this is the recipe for you.
Crispy, well-battered fried catfish with some spicy sauce is really a match made in heaven and a must-try for every food lover.
Many of you are surely no stranger to the Oktoberfest beer festival in Germany, and if that's the case, then you certainly know this dish. Crunchy on the outside, yet juicy and flavorful inside, ham hock is a prime example of a pork dish cooked to perfection.
Not only is ham hock (or Schweinshaxe in German) a vastly popular dish in the Oktoberfest, but it is also an exceptional choice for a dish that goes well with red beans and rice.
Here's another excellent seafood recipe for you to choose from. Shrimp scampi is famous for the garlic, butter, and wine sauce that will elevate any dish that it's served with. It's a dish that can be made with leftover shrimps and still takes the entire room by storm.
In addition, these little guys are low in carbs and rich in nutrition, which is the exact thing that everyone wants to hear about their food these days.
This recipe is a dream come true for pork lovers that don't have all the time in the world to cook their food. If you don't know the way to gauge pork chop's doneness, you can rely on an air-fryer to thoroughly cook your yummy, flavor-packed pork chops in 15 minutes.
Remember to slice your pork thin in order to fully enjoy the taste! Aside from red beans and rice, you should also serve some other companion foods with pork chops to make your meal even more enticing. After all, who says that you can only have one side dish?
Remember to slice your pork thin in order to fully enjoy the taste!
Nothing screams home more than a hearty, delicious dish of slow-cooked pot roast. After a long day at work, a dish of flavorful, melt-in-your-mouth pot roast paired with some red beans and rice is a perfect comfort food combo to come home to.
Nothing beats coming home to this delicious pot roast. Watch this video:
When cooked properly, smoked ribs can be so tender that it really falls off the bone before you even take a bite. Sink your teeth into the meat, and your tongue will be surrounded by a juicy, tasty feeling.
You can also cook these pork ribs in the oven if you don't have a smoker. In fact, the time length to cook pork ribs with ovens at 350F is quite short. So if you want an easy side dish for red beans and rice, I'd suggest prepping this dish with an oven instead.
The richness of the pork empowers the creaminess of red beans and rice, which bring you to a whole new level of gastronomy. Trust me; you won't be able to stop when you start eating.
This dish is often overlooked by meat lovers because "it's too boring".
However, by steaming instead of boiling the veggies, you will be able to keep their crunchiness, freshness, and natural flavors intact. Top it up with some butter, salt, or pepper, and you might want to cheat on your meat more than you think.
Beignet has always been a perfect treat for any occasion. However, you can make this typically sweet dish even more charming by adding a touch of cheese and some savory black pepper.
Even if you like the more traditional sweet beignets, it is undeniable that this savory version makes a better-suiting companion for your red beans and rice.
Pork chops are unarguably delicious. However, they sometimes have a little too much seasoning and might outshine any other dishes that are served with them. Well, worry not because this is not the case for the baked pork chops and red beans – rice combo!
If you want to go full vegetarian, then coleslaw paired with red beans and rice is the pairing that you don't want to miss.
Colorful, fresh, refreshing, not to mention surprisingly easy to make, coleslaw is the most fail-proof salad dish that will complement any dishes that it accompanies.
5 minutes are all you need to make a yummy dish of coleslaw. Watch this video:
Name one person that dislikes bacon. Well, if you can't find the answer, don't feel bad because neither do I.
The satisfying crunch of bacon combined with the slightly bitter but refreshing taste of collard greens truly creates a perfect side dish for any meal.
Have you ever got that one day when you're just too burned out to do anything, even when it's a simple thing as cutting your food? Well, pulled pork is the dish made for that particular day.
Although this tender, juicy pulled pork dish can be paired with anything, you'll be missing out if you haven't tried serving it with red beans and rice.
Buttery cornbread with cheddar cheese and jalapeno is a cheap, simple to make, and fulfilling treat that you'll regret not trying out. There must be a reason why this combination has been popular for a long time and is often considered a classic on its own.
In addition, you can also store them in the freezer for a surprisingly decent amount of time. You can always store a huge batch at home and have a quick bite whenever you like!
Eager to make your own jalapeno cheddar cornbread? Here's how:
So, What's Your Choice?
After reading through 18 delicious dishes, I'm sure that you have found more than a few good ones for your next meals. Of course, if you have the time, I'd recommend trying all of them since each of them will enhance your rice dish in its own unique way.
If you think that this article is helpful and want to see more like this in the future, remember to drop a like and share it with other people. Also, if you've successfully made any of the recipes mentioned above, don't hesitate to share your experience in the comment section.
Nutrition Facts
4 servings per container
---
Amount Per ServingCalories799
% Daily Value *
Total Fat 60.2g

93

%
Cholesterol 270mg

90

%
Sodium 242mg

11

%
Potassium 31mg

1

%
Total Carbohydrate 1.7g

1

%

Dietary Fiber 0.6g

0

%
Sugars 0.1g

Protein 63.3g

126

%
---
* The % Daily Value tells you how much a nutrient in a serving of food contributes to a daily diet. 2,000 calories a day is used for general nutrition advice.