What to serve with sausage are often hard to resist, thanks to their delish flavor. If you are finding sides when planning to hold a sausage party, you are in the right place.
Make your guests impressed with these flavorful but straightforward side dishes. Many people will beg you to reveal the unique recipes, and you will be a famous chef in the town. Don't go anywhere since the sides are waiting for you to explore.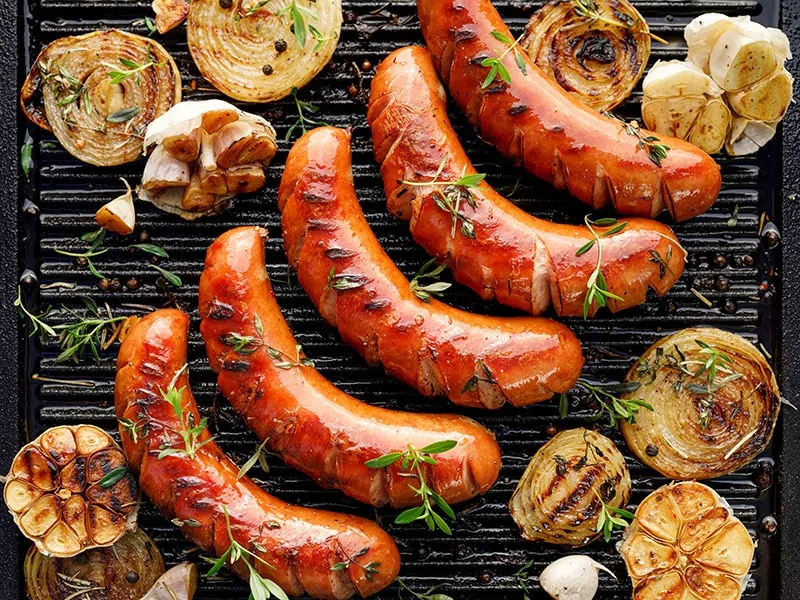 Discover 19 Delightful Yet Easy Side Dishes For Sausage
Do you have any ideas for side dishes to go with your sausage? I'll show you 19 side dishes that are appropriate for all families and ages.
Side Dishes With Potatoes
New Potato Salad
German Mustard Potato Salad
Rosemary and Garlic Baked Potato Wedges
Potato Chips
Barbecue Fries
Side Dishes With Other Vegetables
Roasted Pumpkin Salad
Grilled Vegetable
Cabbage In Instant Pot
Sauerkraut
Classic Coleslaw
Stewy White Beans
Corn On The Cob In The Instant Pot
Green Beans With Almonds
Baked Beans
Sauteed Onions And Peppers
Mac And Cheese Side Dishes
Mac And Cheese
Baked Cauliflower Mac and Cheese
Other Side Dishes
Applesauce
Creamy Polenta
Side Dishes To Pair With Sausage: A Delicious Wish List
These are the meals that elevate sausages from ordinary to extraordinary. And today, I'm going to show you 19 delectable recipes that will make every meal more fun and memorable.
Delectable Side Dishes With Potatoes You Need To Try
Potatoes are a common ingredient and are used in a lot of recipes with various cooking methods. Who says potatoes are plain and too boring to turn them into extremely delicious dishes? I will prove you are wrong via these sides.
Potato salad is a really simple dish to make. With a few methods, you'll be able to swiftly transform it into your delectable meal – the home chefs.
This meal can also be flavored with herbs. The most common are parsley and chives, although dill, coriander, and tarragon can all be used to good effect. You should do your experiments to discover the truth. Also, keep in mind that dill and tarragon are stronger herbs than others, so use them sparingly.
Let's blow your mind with this new potato salad recipe. Watch this video:
The Germans are known for their undying love for potatoes; one look at the most prevalent dishes in German cuisine, and you'll see this. When everyday potato salad seems a bit too ordinary for you, it's a good idea to venture out of your comfort zone and try this version instead.
Not only are salads fast and easy to cook, but they are also ideal for weather patterns. This is a fantastic four-season dish because both your hot and cold baked potato salad may be served.
Moreover, this fast and easy dinner may be prepared in no time with only a few items. You may use the dry mustard substitutes if you don't have authentic mustard in the kitchen. This vegetable, gluten-free, milk-free, and vegan pulp salad is a great compliment for sausage.
The potato side with a touch of rosemary and garlic and sausage acting as the main dish is a flavorful combination for fast dinners. This meal is not only simple to create but also improves the scent and attractiveness of sausages with rosemary leaves.
The wonderful fried garlic has become a favorite dining option both for the main meal as well as for a side dish. On Thanksgiving, tables may even be the crunchy, spongy, somewhat salty savor of potatoes.
The crunchy and salty blend of the fried ones is the perfect compliment for the sausage that creates a great combo. For me, it's much more fun to make my thin-leaf fries than start eating the regular chips offered at the grocery.
It may take your time, but not as hard as you think. It's just a little olive oil and sliced potatoes with a sprinkle of salt, pepper, and your preferred flavor.
Potato chips are suitable for almost any occasion. Serve it as a side dish for your family dinner, make it an appetizer for BBQ events, enjoy it as a fun snack during movie nights, etc. Just make sure that your chips are accompanied by sausage for a flawless meal.
Are you excited when hearing the crunchy sound of potato chips? Watch this video:
Want a new recipe to prepare your fries? Look no further; the perfect complement to your sausage will be these barbecue fries.
Don't worry about the heat since the oven will be in charge of the rest of the mission. All you need to do is to marinate your cut potatoes into mixed condiments and wait about 30 minutes to get a hot and crispy batch of potatoes.
This cooking method keeps your potatoes tight while preparing other foods like cheese, bacon, and chives at the same time.
Keep in mind to prepare a sour cream for dipping and run quickly to taste before your guests eat all of them.
Fresh And Healthy Side Dishes With Other Vegetables
Don't think that vegetables cannot create mouth-watering side dishes as these vegetable sides can run out before your sausages. You will make your party become the sky with all the bright stars on the table.
This salad just requires simple ingredients such as butternut squash, roasted cashew, bacon, and more. You can make a delicious sausage accompaniment.
This meal may also be made in a variety of ways, I will roast the pumpkin with garlic and pepper before combining it with the salad, use any balsamic from the shop, and the dish will become richer and more pleasant.
Hundreds of words cannot compare to a vivid instructing video, right?
Grilled vegetables is a simple name yet contains a lot of exciting things. This dish allows you to clean up your fridge with the leftover veggies or add any flavored ones and turn them into a perfect side dish to serve with sausages. It kills two birds with one stone.
Vegetables will improve the taste of sausage and offer your nutritional needs with the fiber you need. Onions, bell peppers, eggplants, courgettes, okra, and carrots are wonderful to grill and enjoy.
I am sure that no dish in this list can be easier than this cabbage in an instant pot. It will be a perfect puzzle for greasy sausages since you use a small piece of butter instead of oil. You can turn it into a vegan dish by using vegetable stock.
Cabbage is a vegetable that I believe everyone enjoys; therefore, why don't you start making it right today.
Sauerkraut is basically fermented cabbage . Although it didn't originate from Germany, sauerkraut has quickly become one of the most popular side dishes found in Germany. It's so popular that it's almost impossible to go to a German restaurant without seeing the dish.
Sauerkraut has nutritional and health advantages that go beyond raw cabbage because of the fermenting process it goes through. It's crispy and tangy, and it's ideal for topping with a beer braise ring or lining up a big sandwich.
The slightly sour flavor will reduce the fatty feeling when you consume sausages.
It is undeniable that cabbage is a versatile veggie; that's why you can cook various side dishes with it. The combination of sausage and coleslaw is never out of date; coleslaw offers you a sweet, nutty, fatty, and crunchy flavor, while sausages are fatty and savory.
This is a bright and refreshing taste for your meals. You just need to shred cabbage and carrots then toss them with a specific sauce. You will have a tasty side in a wink.
This recipe is versatile and quick to serve within more than 20 minutes. Besides the main star – white beans, you can add escarole, garlic, and rosemary to increase the dish's flavor.
Unlike other recipes that supplement escarole in the last step, you should stir it before adding white beans. This dish is best served hot with grated cheese and lemon juice.
The starchy taste from beans, the aromatic flavor from condiments, and soft escarole are three significant factors that will hold you to the last minute of the sausage party.
Although corn can be processed in many ways, I believe cooking corn into an instant pot is a good way to keep its nutrients and flavor. You don't need to use extra spice since corn alone is perfect.
The juicy and a little bit crunchy corn will make you shout why the simplest ingredients can create the tastiest dish.
When looking at the dish's name, you probably have guessed that this is a side dish from the land of France; and you're right. Best served during Thanksgiving, green beans and almonds are light and fresh green side dishes that will accentuate the flavor of your sausages.
You should blanch green beans before stir-frying, then adding lemon zest and juice to create a heavenly flavor. What's more fantastic than enjoying succulent green beans and nutty almonds at a sausage party?
Baked beans are perfect for private events with friends, and many people like them. Your sausage will be fitted with the deep BBQ taste of the beans.
This dish is really easy and fast to prepare. All you need are beans, bacon, brown sugar, sauce with onions, and jalapenos. Instead of using dry beans in the recipe, you may alternatively use canned baked beans.
A total miss is grilled sausage without sautéed peppers and onions. The ideal pairing may be claimed about these two plates.
Sauteed peppers and onions may not have such a fancy name as other side dishes, but that's a requirement for your sausages to spice up. When these two veggies are mixed, they will unleash their inherent sweetness.
So when you can't prepare other side dishes, the best alternative is sautéed peppers or onions, a simple, easy-to-make yet flavorful side.
Let's learn how to saute bell peppers with onions as a master chef! Watch this video:
Cheesy Mac And Cheese Side Dishes
Two types of mac and cheese side dishes below promise to bring you an unforgettable taste when served with sausages. If you are looking for a mouth-watering taste, give them a try.
Mac and cheese are a common dish, and there are several versions in various regions of the world. Naturally, there is no method to cook this food that is "right" or "wrong," so you may modify it fully in your manner when you prepare the dish.
What sausage do mac and cheese pair best with? Considering that one of the most prominent characteristics of longaniza is that it goes well with any pasta, I'd suggest serving the sausage with this creamy and cheesy dish. They're like a match made in heaven.
The outstanding cheesy and creamy taste with the eye-catchy yellow of mac and cheese will attract you at first sight. Don't forget to combine different cheese and cheese sauces to make it a top-notch side.
This meal appeals to the entire family and is enjoyed by both adults and children. If you're afraid of your mac and cheese plate getting cold, don't worry, you've got ways to reheat mac and cheese.
While the traditional method with macaroni and cheese sauce is delicious, it is not suitable for low-carb or gluten-free diets. Hence, baked cauliflower mac and cheese is a wonderful alternative.
You will use cauliflower instead of macaroni in this recipe, and I am sure your guests will love this modern style. Who cares about the ingredients while the flavor is unchanged and even much more delicious than traditional macaroni.
Other Delish Side Dishes That Water Your Mouth Water
You can diversify your sausage side dishes with these appetizing side dishes. Don't worry; they are hard and time-consuming to make since certain answers are below.
What could be better than combining the great applesauce with the salty and somewhat smoky sausages?
This applesauce tastes excellent and is super straightforward to make. You just need apples, sugar (optional), and water to make it. The best way is to make it in advance, refrigerate for up to 15 days, and you can serve it with sausages whenever you want.
A cinnamon stick can be a special highlight in this sauce with a warm, earthy, spicy taste with a citrus note.
Originating from Northern Italy, Polenta is a popular side dish for ravioli, another common dish in Italian cuisine. Creamy polenta will be an excellent combination for meaty sausages. Easy to make once you get the hang of it, polenta is a wonderful side that everyone will go crazy over.
Polenta has a rich, creamy flavor with a somewhat sweet buttery flavor. To diversify its taste, you can top with dried or chopped green herbs such as thyme, parsley or use different kinds of cheese. A little change in the recipe will open a new world of taste for your guests.
Visit Italy right on the table with this creamy Italian polenta recipe! Watch this video:
Let's Make Your Sausage Parties More Appetizing
All of the dishes listed above may be prepared at home to serve with sausages. They're straightforward to create! Cooking is not difficult if you focus on how to improve your skills day over day.
If you know of any other sausage side dishes, please let me know in the comments section below. Don't forget to share this article with your friends and encourage them to cook with you; then post your results in the box chat. I always eagerly anticipate hearing from you.
Nutrition Facts
4 servings per container
---
Amount Per ServingCalories253
% Daily Value *
Total Fat 18.1g

28

%
Sodium 47mg

2

%
Potassium 571mg

17

%
Total Carbohydrate 21.1g

8

%

Dietary Fiber 2.1g

8

%
Sugars 1.9g

Protein 2.5g

4

%
---
* The % Daily Value tells you how much a nutrient in a serving of food contributes to a daily diet. 2,000 calories a day is used for general nutrition advice.