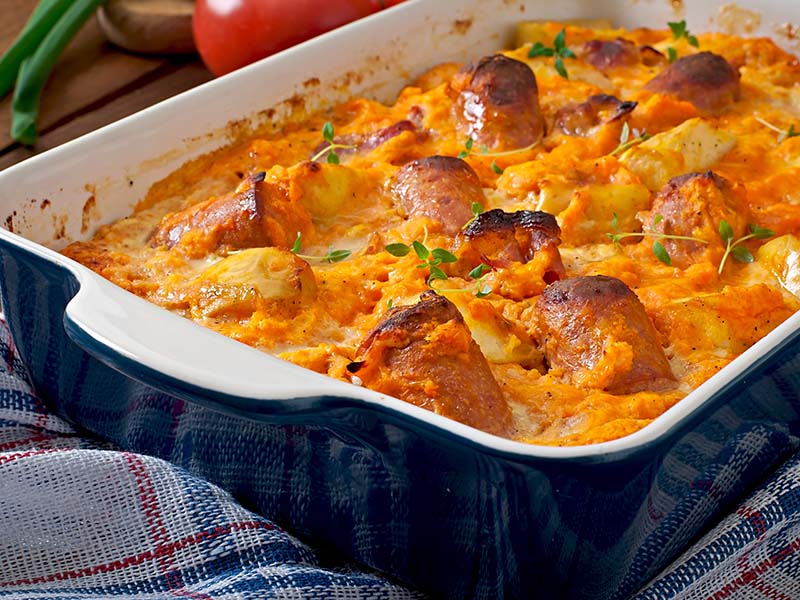 The following best sausage casseroles can be the great answers to your question of "What can I eat tonight?". You don't need to worry about the difficulty level of these delights since they are indeed easy to become your subsequent soul menus.
Besides sausages that are the must-have component in these delicacies, you still have many other options for its companions, such as veggies, eggs, or meats. It's undeniable that you and I all love comfort foods, so why not give these sausage-used casseroles a chance?
19 Foolproof Sausage Casseroles To Treat Your Family!
Find your new go-to casserole delicacies? All of my recommendations below are highly suggested. It's time to learn some new recipes and diversify your family meals. Enjoy!
Total time: Approximately 50 minutes.
What can you expect from this favorable, yellowish casserole? It'll be a mouthful of smoky, herby, and garlicky hints spread evenly on your tip tongue combined with a dominant richness.
Cook this Polish sausage-based casserole with Kielbasa (or smoked sausages, a Polish delight with a renowned U-shape), hash brown potatoes, and some dairy products. Cheddar cheese, sour cream, and butter are the frequently used ingredients here.
Yet, the sausages can be changed into diced ham, turkey, or cooked bacon (if you cannot find any sausage). For the side dishes of this American specialty, you should consider salads (with fruits or greens) and crispy bread.
As each portion of this recipe is pretty big, you might not be able to consume the whole thing at once. However, your Polish sausage casserole can last in the fridge for up to 3 or 4 days.
You won't regret making your first Polish sausage casserole through this guide!
Total time: About 1 hour 10 mins.
Nothing beats an overnight casserole dish for a weekday's delicious breakfast or the weekend's brunch; I promise this Italian delight is the one for you. Compared to the previous recipe, this delicacy has more veggies (like spinach and bell peppers).
These materials give a desired sweet and acidic taste to balance out the creaminess of full-fat milk and shredded cheeses (ricotta and parmesan).
The ideal sausages to use in this breakfast dish are the well-known Italian varieties (both sweet and hot will work). After tossing and mixing all ingredients, cover and chill the batch overnight before baking; this is also how the dish got its name.
This dish is quite adaptable since it can be eaten cold or warm. It is also safe to eat after 5 days in the cool compartment, so you may take a piece of it and enjoy it without reheating.
Total time: About 55 minutes.
Achieve supreme happiness with this Hairy Bikers sausage casserole recipe that you can effortlessly whip up in your own kitchen. The Britain-originated recipe has a unique name as it originates from a pretty famous cookbook named "Hairy Bikers".
However, the original version of this casserole is relatively hard for everyone to consume with the ale (a beer) added, and the ingredient lends a prominent bitterness. To make the dish more appealing, you should make a twist by ignoring the beer and using wine.
Red or white wine is both fine here. On the other hand, this casserole has a wide range of ingredients, and you can find whole pork sausages and butter beans together with condiments/spices.
To be honest, this casserole is high in calories with various nutritious ingredients contained; however, it's irresistibly tasty, and you can serve it for cheat days instead.
This is the authentic way to cook up some Hairy Bikers sausage casserole!
Total time: About 50 minutes.
This Pasta Bake With Sausage might change how you prepare your pasta-based casseroles from now on! The general idea to assemble this treat is to cook the pasta al-dente (cooked but still has a firm core) and mix it with a special tomato sauce before baking.
The topping is classic: melted mozzarella and parmesan. Combining these can lend your food an attractive golden brown top, stringy texture, and fruity/nutty and milky flavors.
This recipe is perfect for a meal-prep treat since you can prepare it ahead of time (separating the sauce and the pasta), freeze it, and use it later. Otherwise, baked Ziti tastes even better after resting for a while, so don't hesitate to store the leftovers if there are any.
Total time: About 40 minutes.
With smoked sausages and rice, make the finest one-pot casserole ever. There is nothing rice cannot match since this ubiquitous starch base can instantly balance any savory flavors. As a result, coupling rice with smoked, salty Kransky is a promising idea.
About Kransky, it's a spicy/hot sausage coming from Slovenia. The sausages typically include pork/bacon and provide a signature savory taste. When cooking them with rice, you can efficiently enhance the harmony of this delight and make it tastier.
If you can't get Kransky, switching to other smoked sausage types is also viable. However, rice is crucial. I advise that you use long-grain rice, but you may also use short-grain rice. Just keep in mind to use a smaller amount of water.
Total time: Approximately 1 hour 25 minutes.
This Italian-originated casserole is another take on using sausages and rice; yet, this dish and the previous one are different. Even though they all call for sausages, this exquisite Italian recipe requires different sausage variants.
The condensed cream of mushroom soup this treat's creaminess and natural sweetness. Add vegetables such as diced tomatoes and bell pepper to make your stew heartier. Moreover, as the sausages are already salty, the seasonings are minimal.
In case you are cutting down on the fat intake in your diet, neglect the pork/beef sausages and use the lean turkey ones. The poultry sausages lend a less greasy feeling for any eaters so that you can devour your soul food a bit more.
Total time: About 1 hour.
Fill your stomach with this sausage and red lentil casserole. Its deliciousness can easily please your taste buds, and the warmth can heat you immediately when the gravy rushes into your throat.
The components for your ideal dinner dish's gravy are the tomato puree (for a thicker, denser consistency) and stock (veggies or chicken, for a gorgeous depth). You can make a twist to make this recipe vegan by adding pork sausages to the plant-based variants.
Notably, opt for the high-quality sausages for this casserole as they are the soul of this dish. You won't want to take the risk and ruin your comfort food. Whenever there is any leftover, freeze it carefully, and it can last for up to 3 months.
It's another fail-proof way to make a sausage and red lentil casserole batch for your family.
Total time: Approximately 1 hour 20 minutes.
Served this sausage potato casserole with some honey biscuits or roasted green beans. This recipe can easily please your taste buds. These proposed companions bring a beloved veggie or honey's sweetness to the dish.
To prepare this favorable delicacy, you need to layer everything into the tray. Fortunately, you only need to layer the raw slices instead of pre-cooking the russet potatoes. After cooking, every component will blend well with each other.
The creamed dish harmonized with tartness from Worcestershire sauce lightens your whole palate. One astounding fact about this casserole is you can store it inside the freezer for up to 6 months.
Total time: Around 1 hour.
This creamy zucchini sausage casserole is so palatable that it will knock your socks off. I promise it's an ultimate casserole suggestion for Thanksgivings or any other family gathering meals.
Whether you are a zucchini lover, you can still enjoy this dish thoroughly as its taste is not dominant. Instead, the creamy, herby, and sour flavors from sour cream, butter, and herbed stuffing are pretty pronounced.
With Italian ground sausages, zucchini sausage casserole is a lot more filling. Moreover, you can store the leftovers in the fridge for 3 to 4 days so that you can have tasty, nutritious food ready for a few meals later.
Total time: 6 or 8 hours 5 minutes at most.
Another way to accomplish a casserole with potatoes is this crockpot recipe. Chopped Kielbasa (smoked sausages), hash browns (or fresh diced potatoes), and many kinds of cheese are must-included.
Dairy products (like sour cream and milk) are also essential, and you can reduce the amount if the consistency is a bit too runny for you.
Since this dish is pretty easy to make from scratch, and you just need to let the slow cooker/crockpot do their task, it can perfectly perform its best at any mealtime. Consider having it alone because there are enough carbohydrates, protein, and fibers for a meal.
Try making your sausage and potato casserole in a slow cooker this way today!
Total time: About 55 minutes.
This biscuit-topped casserole can speak my love language! Since it has a wide range of ingredients, from breakfast sausages, eggs, and milk to shredded cheese, the food provides enough energy for your first meal of the day.
Stir-fry your crumbled sausages for a few minutes before stacking them onto the biscuit dough (canned or handmade) on the pan's bottom to start making the food. You may also use the hot sausages to spice up your dish or alter them to bacon or ham.
After that, top the sausages with extra biscuits and pour in the Worcestershire sauce, milk, and egg mixture. If you wish to make the casserole ahead of time, assemble the batch the night before, put it in the cool compartment, and bake it the next day.
Total time: About 15 minutes.
Have you ever thought of making a vegetarian-friendly casserole with sausages? Actually, it's not a weird thing as you can find various vegetarian sausages in the market, and their tastes indeed resemble the meaty ones.
In this case, I suggest Quorn sausages. This recipe is somehow healthier since these "faux meat" sausages have less cholesterol and saturated fat. Aside from the links, chestnut mushrooms, peppers, and veggies stock also contribute to the food's palatableness.
The most notable thing here is if you are sensitive to mycoprotein-containing products, you shouldn't use Quorn sausages here. It would be better to utilize the other vegan or vegetarian variants.
Can you believe that you can learn to cook some Quorn sausage and beans casserole in only 1 minute?
Total time: About 1 hour 10 minutes.
There is hardly anything that can go wrong when it comes to an egg-based delight, and so does this sausage egg casserole.
To be more specific, you need to have diced sweet potatoes, chicken/turkey sausages, and fresh mushrooms. But they can never overpower your favorite egg taste. Spices like garlic powder, black pepper, and dried herbs (thyme) offer balanced notes to the treat.
From the first bite into this dish, you can immediately feel an impressive flavor punch from bell pepper's sweetness and kale's earthiness.
Don't forget to preheat the oven to 400 degrees F before baking to ensure having the best result. About the side dishes for this breakfast casserole, I personally think I think it's unnecessary. I'm sure this dish is already satisfied.
Total time: Approximately 1 hour 15 minutes.
This Tater tot casserole plate can straightforwardly warm up your stomach with some ketchup. This recommendation is so versatile that you can serve it for breakfasts, brunches, lunches, or dinners.
Don't worry about how filling this recipe is; the protein from sausages and dairy stuff (milk/cream) offers enough protein already. Moreover, the tater tots I suggest are the frozen, mini-sized ones, so you can save time preparing these potato products.
For the sausages, you can choose anything based on your preferences. Just be mindful to choose the ground form.
Total time: About 45 minutes.
Hash brown or fried chopped potatoes (formed into loaves) have been a prevalent and humble breakfast ingredient in Britain and America for centuries. However, this hash brown patty casserole bake tastes as if it comes straight from a restaurant since it's totally exquisite.
The critical point is to fry the hash browns and stir-fry the mixture of breakfast sausages and veggies (like mixed color bell peppers) separately. To layer the dish, the first layer should be hash browns; cheeses and sausages will go after.
In case you wish to have more hash browns in your casserole, feel free to do so. I promise this favorable delicacy can act ideally as your upcoming breakfast.
Let's make some hash brown patty casserole following this instruction now!
Total time: About 35 minutes.
This irresistible Croissant Omelet breakfast casserole will satisfy your savory cravings in the day's first meal. It's also an excellent recipe for a crowded family or sleepover guests after big gatherings.
Every ingredient is affordable, so you won't need to worry much about the budget. Don't let the name of this treat fool you. It might go with "croissant" in its name, but it's actually the crescent dinner rolls (or the main component of croissants).
Other ingredients of cheeses (cheddar and mozzarella), milk, ham, and crumbled sausages are also added. All of these things match pretty well with each other so that your bite into it will be gorgeously cheesy and creamy with notes of spiciness.
Total time: About 35 minutes.
Get this Italian keto-friendly sausage recipe by using all the low-carb ingredients. In a ketogenic diet, it's vital to opt for all the low carbs and high-fat foods for your meal. And you need to follow my suggestion with no consideration required.
In this particular ketogenic casserole, you can use any kinds of keto or sugarless sausages you have on hand. Both chicken and pork ones perform well in this favorable Italian delight.
Ensure that you utilize the sugar-free or keto marinara sauce and carefully check the product's label. Otherwise, if you are lactose intolerant, simply omit mozzarella. The overall can still be meaty, savory, and flavorful. Easy peasy!
Total time: Approximately 45 minutes.
As you might see in this delight's name, apple cider is a crucial part of this delicious dish. Yet, the overall flavors won't be overly sour because more components can help you milden the intensity, like the brown sugar and the sides.
Another "cider" in this casserole is the dry cider, a clear, alcoholic liquid with a noticeable astringency and bitterness. It might make you hesitant at first as hardly anyone loves their food to be bitter, but the taste is totally appealing with the presence of chicken stock.
For the food companions, you should pair it with crusty bread, rice, or mashes. These starch bases can effortlessly connect every feature of the delight together.
Agree or not, this sausage and cider casserole is tasty and is worth trying once.
Total time: About 50 minutes.
Let's round up the list with a noodle dish with pork sausages. It may be a delightful main dish for a gathering dinner and a lunch box meal that will make your friends/colleagues envy. Why not? Nobody can resist something that is both visually appealing and delicious.
The noodles used are not pasta; instead, I prefer using the egg-based ones with richer yellow color and mild egg-like taste. More importantly, the light richness of the special noodles helps them create a beautiful combination between them and the milk or cheeses.
Another good thing here is you can choose any cheese types you wish for as it doesn't severely affect your soul food. Last but not least, the crunchy breadcrumbs topped are totally a genius idea since they leave a gorgeous texture when chewing.
Make These Casseroles Once, And You Will Never Look Back!
Filled with good stuff only, the casseroles mentioned above with sausages are totally scrumptious, especially for meat lovers. So, please try giving all of my suggestions today a chance because I'm sure they are fun, filling, and family-friendly.
Share your comment about the foods here and give me any other better suggestions that you know. I'm willing to learn more about your favorites.
Don't forget to send this article to your friends or loved ones if you think it can benefit them. Thank you in advance.
Nutrition Facts
5 servings per container
---
Amount Per ServingCalories633
% Daily Value *
Total Fat 32.7g

51

%
Cholesterol 67mg

23

%
Sodium 964mg

41

%
Potassium 605mg

18

%
Total Carbohydrate 62.5g

21

%

Dietary Fiber 5.3g

22

%
Sugars 8.7g

Protein 23.7g

48

%
---
* The % Daily Value tells you how much a nutrient in a serving of food contributes to a daily diet. 2,000 calories a day is used for general nutrition advice.