Italian casseroles for meals? That's a wonderful idea. You will be surprised to see how Italian ingredients can enhance this popular type of food to the next level. Forget the American-style casserole because the Italian one is here to stay.
Of course, Italian casseroles still take a considerably long time to cook. However, read on to discover quite convenient ways to prepare those treasure troves of flavors and nutrients. Let's make and store them in the refrigerator for long-term enjoyment!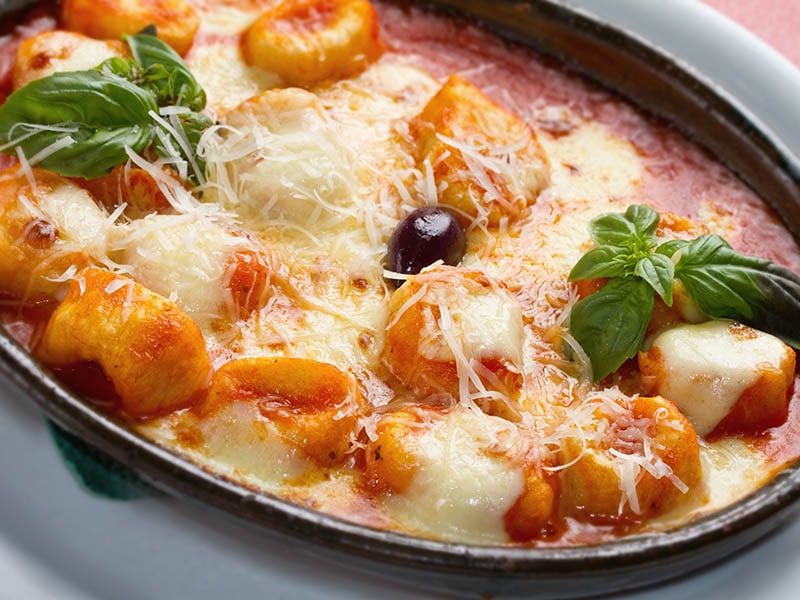 These Creative Casseroles From Italy Will Make You Happy
The following delicious casseroles will add a ton of flavors to your meals. They can be made from a wide variety of ingredients, so whether you're a hearty meat-eater or a veteran vegetarian, you'll always be spoiled for choices.
Total time: 40 minutes to 1 hour
This recipe works best with the big and highly absorptive Penne pasta, but ordinary egg noodles will do an admirable job. Similar to other traditional Italian dishes, the best noodle casserole requires Italian seasonings (a distinct blend of ground herbs) and cheese.
You can use ground beef or switch to turkey for a low-cholesterol recipe. Cook the meat in the skillet with spices, onions, tomato sauce, and veggies (if any). Meanwhile, let's boil the pasta or noodles in water until al dente and mix it with a fatty mixture of cream and cheese.
Now, combine the two mixtures of meat and noodles in a baking dish, with a layer of cheese and tomato sauce on top. Bake the whole thing for 20-30 minutes, and you can enjoy this rich, cheesy specialty.
Learn to cook noodle casserole the Italian way here.
Total time: 40 minutes to 1 hour 15 minutes
Beef is so popular that you may sometimes grow sick and tired of its taste. So why don't you give it a special makeover with this tasty ground beef casserole from the Bel Paese country? This versatile recipe can include traditional noodles or crispy Italian biscuits for a crunchier bite.
The making of this dish begins with simmering ground beef with onions, spaghetti sauce, and seasonings until tender and fragrant. Next, prepare the baking dish by lining its bottom with cream cheese and Mozzarella, one of the best Italian cheeses.
Now, place beef, veggies (if possible), noodles (or biscuits), and tomato sauce on the dish. When the casserole comes out of the oven, golden and steaming hot, about 20-30 minutes later, you're free to enjoy it. But remember to wait for it to cool off a bit.
Total time: 50 minutes
When it comes to tasty bread, the croissant-like crescent roll is a must-have fluffy delight for many people. There are many ways to enjoy this food, such as mixing it with sausages into this deliciously easy casserole.
That presents no problem thanks to Italy's large number of sausage varieties. Use your favorite pick for a true Italian experience, although conventional types won't spoil the taste of this dish.
After you've cooked the sausages until they are firm and reddish-pink, break them into small pieces. The next step is to whip up a combination of cheese, milk, eggs, and seasonings. Then, cover the bottom of the casserole dish with an open crescent roll.
On this surface, you should spread over crumbed sausages and the cheese-based sauce. After 35-40 minutes of baking, your scrumptious crescent roll casserole richened with savory sausage is ready to serve.
Total time: 1 hour 35 minutes
Everybody knows that Risotto is one of the most well-known Italian rice recipes. But are you aware that the country's chicken and rice casserole can rival it in terms of deliciousness?
If you have genuine Italian rice like the Carnaroli variety, that will be perfect. Otherwise, jasmine rice is enough to make your casserole achieve its mouth-watering reputation. Wash and drain your rice carefully while seasoning chicken (either whole or shredded) with potent spices.
Now, place everything on a buttered baking dish along with broth (or soup). Add some cheese and tomatoes if you want to diversify the taste. Finally, bake it to perfection.
Dive into this chicken and rice casserole recipe using Italian ingredients.
Total time: 1 hour 10 minutes
As the name indicates, you can prepare this nutritious Italian breakfast recipe at night for a hot, home-cooked meal the next morning. Your family will greatly appreciate it. Let's make breakfast great again!
You can add your favorite vegetables to this decadent sausage casserole dish. Begin with cooking the veggies and sausage lightly together with aromatic herbs and olive oil. Transfer it to the casserole dish for baking.
Of course, few casseroles are complete without a creamy mixture of cheese, eggs, and milk. Top your sausage and veggies with this sauce, and refrigerate the whole thing overnight. Bake it the following morning for a yummy meal that will keep you in high spirits the entire day.
Total time: 1 hour
Visiting any wedding party in Gallura (Sardinia), you may come across this visually stunning dish. While its name means "soup of Gallura", Zuppa Gallurese is an incredibly rich and fulfilling bread-based comfort food.
The famous Italian bread Ciabatta is the preferred choice for this recipe. But you don't need a fresh loaf; a stale one is good enough. In a baking dish, arrange alternating layers of bread and Italian cheese before drizzling a large amount of beef broth over them.
Finally, top the dish with some soft, oozy cheese and send it to the oven. About 45 minutes later, the cheese will melt over the crusty, flavor-packed dish and give out a fatty aroma that signals you can savor the casserole.
Total time: 45 minutes to 1 hour 10 minutes
In case you're fed up with the oily aftertaste of meat and cheese, I'm happy to introduce you to this Italian meatless delight. This one can bring a healthy and refreshing change to your everyday diet.
An impressive number of spices and herbs is vital to the success of this dish. Break your cupboard and give it everything you have: oregano, basil, rosemary, thyme, etc. Combine them in a bowl.
As for the vegetables, zucchini, beans, and eggplants are usually the main components but don't be afraid to add other types such as tomatoes or potatoes. Mix them carefully with the spices and bake the casserole in the oven.
Total time: 1 hour 10 minutes to 1 hour 15 minutes
This casserole, whose full name is Ziti al Forno, is representative of the best of Italian cuisine. It flawlessly combines the cooking style of southern Italy with the Neapolitan-style tomato-based sauce from the north.
It's a relatively straightforward process to bring this culinary wonder to your table. All you have to do is mix cooked Ziti or Penne pasta with cheese, seasonings, and tomato sauce. This recipe doesn't say no to the addition of browned beef or sausage.
Lastly, place all the ingredients in the baking dish, plus a topping of additional cheese and tomato sauce, before turning on the oven. 20 to 30 minutes are sufficient to bring the infusion of all the flavors to fruition.
Make baked Ziti casserole like a pro with this in-depth guide.
Total time: 55 minutes to 1 hour
Meatballs are already finger-licking in their pure form, but they can become so much more if you utilize them for this >easy Italian recipe. I recommend you buy prepared meatballs from the supermarket, although making your own batch is definitely fun and classy.
Preparation for this casserole involves mixing meatballs with marinara sauce, uncooked pasta, and seasonings. If you include Parmesan in the mix, the flavor will be creamier and more Italian. Next, bake it (ideally with tin foil) for 30-35 minutes.
But the dish is still far from complete. You have to top it with Mozzarella and bake it uncovered for another 5-10 minutes. The pasta should be well cooked and infused with cheese by now. Leave the casserole to rest for a few minutes before sinking your teeth into it.
Total time: 1 hour 15 minutes to 1 hour 25 minutes
Literally "oven-dish", Tiella is an iconic Italian casserole that comes in many varieties. Its principal ingredients vary considerably from one region to the next. What I'm going to tell you about is a well-liked and easy-to-make version that you can comfortably enjoy.
This recipe takes the form of a layered vegetable casserole consisting of tomatoes, onions, potatoes, etc. The starchy veggies should be diced and lightly cooked first. The next stage is to bake them along with other veggies in a cheese-and-herb-added olive oil mixture.
Some recipes call for boiled mussels or similar seafood, which will give your Tiella a delicious seafood sweetness. Nevertheless, you can comfortably cook the dish without them. 30-45 minutes of baking later, your casserole is ready to pair with bread for a complete meal.
Total time: 1 hour 10 minutes to 1 hour 25 minutes
Here is another appealing casserole recipe from Sicily, this time from the stunning city of Trapani. This dish is one of the most scrumptious and exciting Italian pasta recipes that you can create in your kitchen.
Wait, casserole with pasta? That's right because the making of this dish begins with boiling and draining Anelletti pasta. Setting it aside, let's focus on sauteing ground beef (or meat of your choice) with tomato sauce, onions, and seasonings into a savory but not too thick sauce.
Stir in the pasta with the meat sauce and some grated nutty Italian cheese in a baking dish. You know the final step: baking the whole thing until golden and ready to eat.
Total time: 1 hour to 1 hour 25 minutes
A reliable way to insult Italian cuisine is not knowing about Parmigiana, or Parmigiana di Melanzane. It is a southern Italian delicacy with eggplants. Many Italian recipes feature this veggie, but this one is where its mild sweetness and pleasantly grassy bitterness shine.
But for that to happen, you need to lightly grill eggplant slices with olive oil first. The next step is to arrange them alongside cheese and herb-added tomato sauce in a baking dish. You can add pine nuts, mushrooms, or bread crumbs to the casserole for a richer fare.
Bake everything for 20-40 minutes, or stop when the cheese topping melts into the bubbling tomato sauce. Serve it with a hearty helping of salad or bread.
Conquer the challenge of cooking Parmigiana with this walkthrough.
Total time: 40 to 50 minutes
You can't commend the best Italian chicken recipes without mentioning this one. If you plan to stick to a vegan lifestyle, it's best not to let this irresistible temptation get to your heart (or your stomach).
This dish obviously demands top-tier Parmesan, ideally the Parmigiano Reggiano type from northern Italy. Shred the cheese and some Mozzarella to combine with cooked chicken, Italian seasonings, tomato sauce, and perhaps some cooked pasta.
You can bake the dish with or without foil. The result is always the same: a golden casserole with a nutty and mildly fruity cheese-laden aroma that can seduce you to all kinds of sins. One bite of the juicy chicken will keep your mouth watering a lot.
Total time: 40 minutes
Made from huge pasta shells, Manicotti can guarantee you a steady source of energy. This type of pasta can be cooked in many ways, such as stuffed with meaty fillings or baked in a large casserole dish. Let's explore the latter option.
Any big, hollow, tube-shaped pasta can work for this recipe. In this case, go for the Rigatoni type. Cook it until firm to the bite, and mix it with other usual casserole ingredients, such as sausage, tomato sauce, ground beef, and cheese toppings. Oven-bake for about 20 minutes and enjoy.
Care For Casseroles? Go Italian!
If you are a fan of casseroles, I hope this article has provided you with more options on how to enjoy your favorite food. In case you're not, what do you think about converting? Give those delicious dishes a chance to win your heart.
Dating way back, Italian casseroles are a delicious gateway to this Mediterranean country's culture. When you concoct them at home, you're not just cooking food; you're honoring Italian cuisine and bringing it alive in your kitchen. Treasure every flavor-packed bite you take.
What does your Italian casserole turn out like? Feel free to tell me about your cooking experience in the comment section. Also, don't forget to share this post with your friends. Thank you, and have a good day!
Nutrition Facts
8 servings per container
---
Amount Per ServingCalories426
% Daily Value *
Total Fat 27.9g

42

%
Cholesterol 111mg

37

%
Sodium 981mg

41

%
Potassium 315mg

9

%
Total Carbohydrate 16.1g

6

%

Dietary Fiber 1.3g

4

%
Sugars 3.6g

Protein 28.9g

57

%
---
* The % Daily Value tells you how much a nutrient in a serving of food contributes to a daily diet. 2,000 calories a day is used for general nutrition advice.