If it is pretty tricky for you to discover the secret of French street foods yourself, you should refer to my today's recommendations. I will offer you all the most-suggested delicacies in this beautiful country that you should never neglect as a foodie.
Arriving in France, visitors will be overwhelmed by the beauty of the country's classic European character. Besides, you will be intrigued by the dishes sold on the streets of France. Let's immediately discover famous French street gastronomy for a chance to enjoy.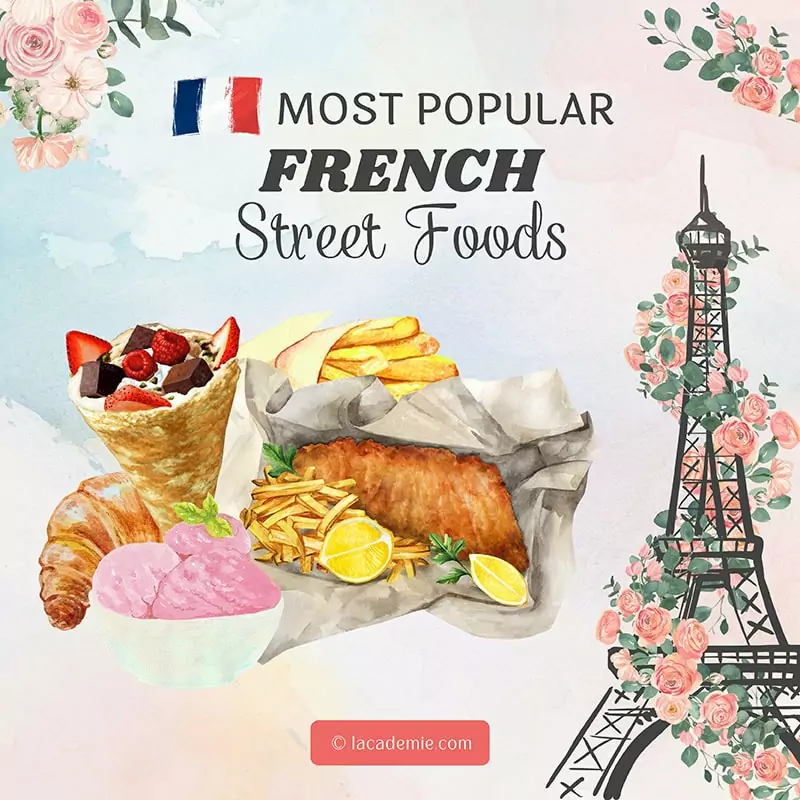 I will start today's list with some delectable French desserts. So if you are in the mood for something light and sweet, you should refer to the delicious foods here!
1. Crepes
(Thin French Pancakes)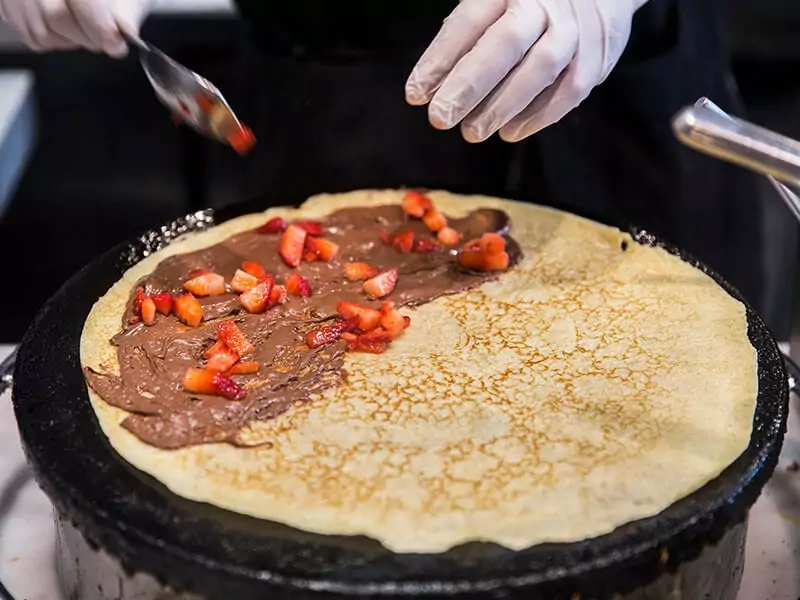 Once talking about French's food list or the most referred French dishes, people will never forget about Crepes. The exact theory behind the origin of this dish is quite unclear, but many people believe Crepes first appeared on the Brittany peninsula.
The story was about a housewife living in the 13th century who accidentally spilled her buckwheat porridge on a flat cooking stone (the original version of Crepes).
The timeline and the details might differ, but the fact that Crepes then became a widely-loved treat in France is always true. As the lives of French peasants improved, white flour has replaced buckwheat flour in the preparation of Crepes.
The dessert filling likewise becomes more varied and decadent with both savory and sweet alternatives. So, feel free to pick your favorites. If you don't know what to start with, you can opt for jambon, cheese, or simply whipped cream fillings with fresh fruits.
2. Marrons Glacé
(Candied Chestnuts)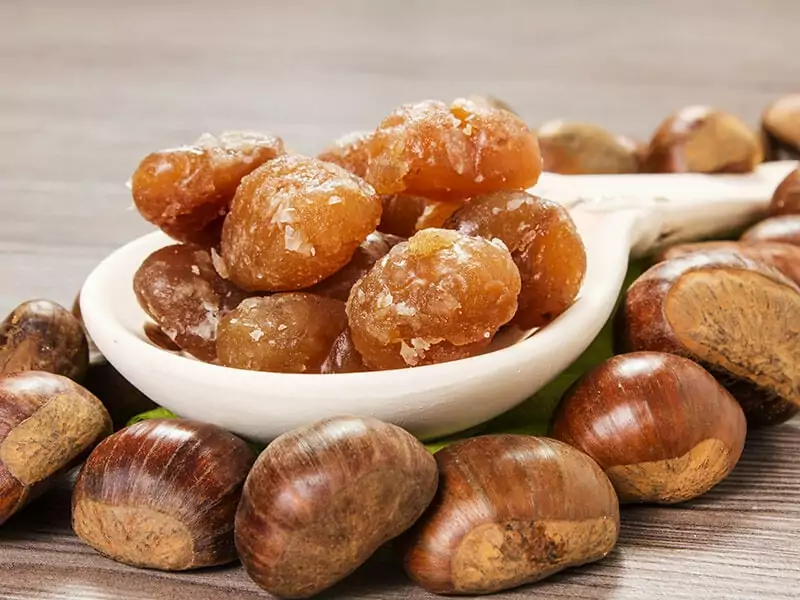 Marrons Glacé (candied chestnuts) are a famous sweet treat that has its origins in Southern France and Northern Italy regions. These areas are famous for chestnut production. The locals started to make this glazed chestnut delicacy in the 16th century.
The term "marrons" refers to a kind of sweet chestnut that is relatively bigger than other kinds of regular ones. Therefore, Marrons Glacé is pretty costly at the stores, but its taste will be worth every penny.
The lovely mild and rich taste of the chestnuts' interior can efficiently balance the sweet taste on the exterior. To best enjoy these beloved sugar-coated chestnuts, you should have them with tea on the side.
3. Gelato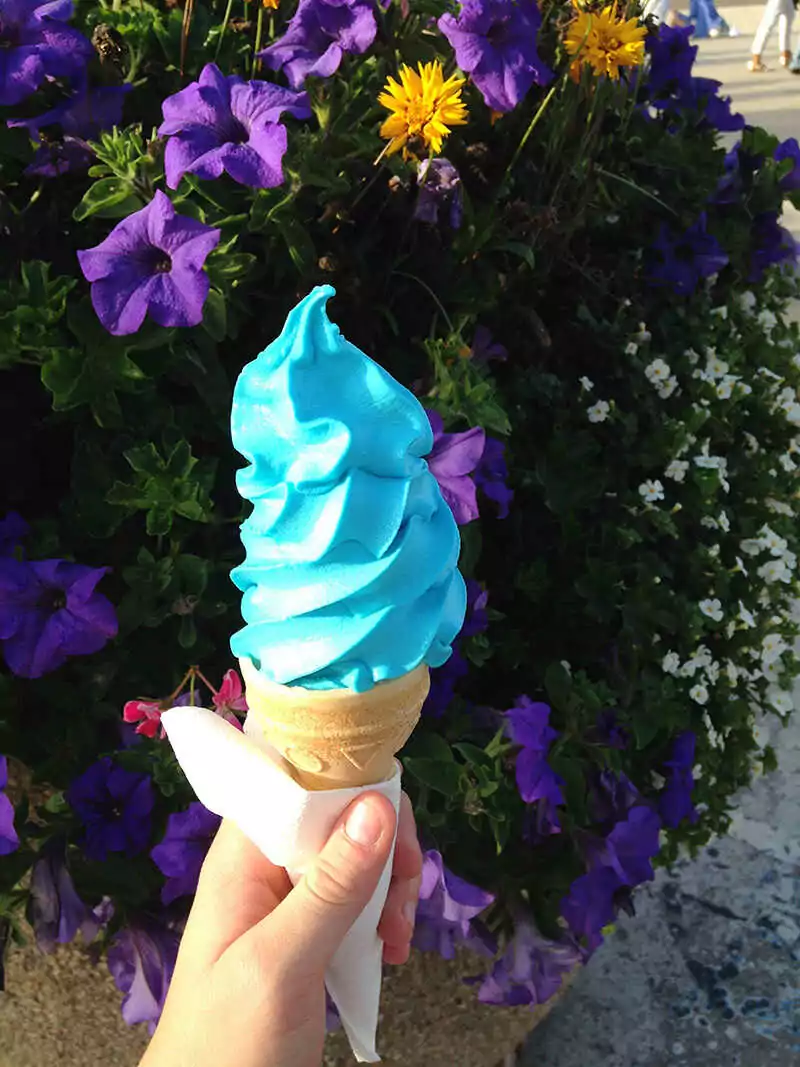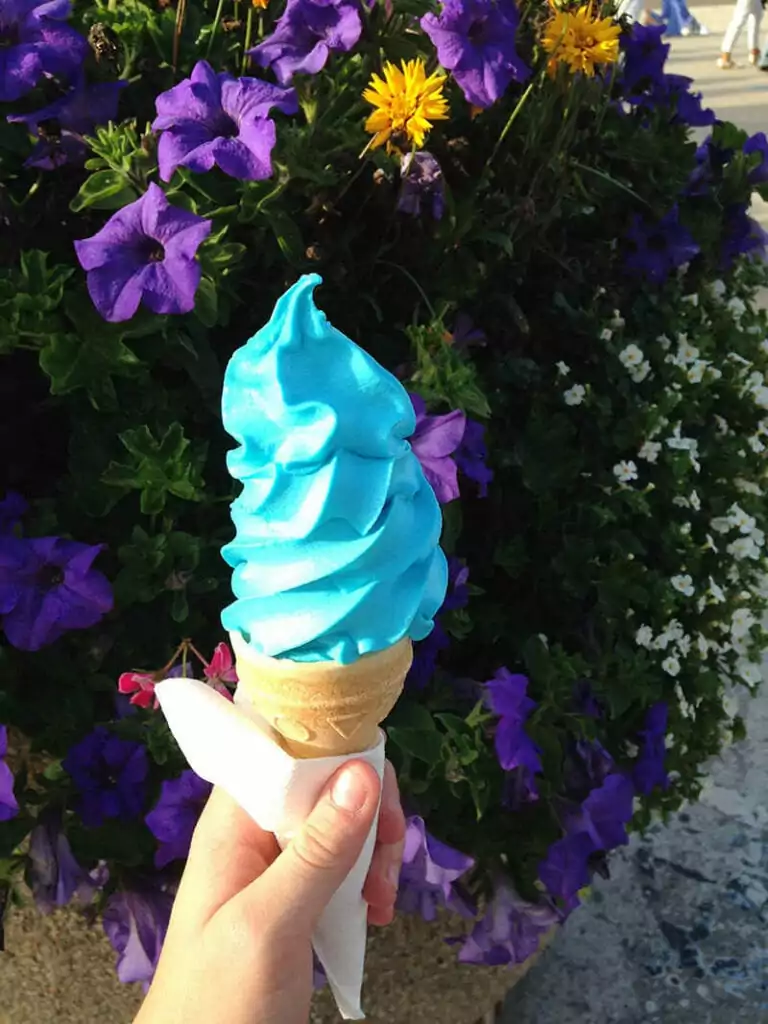 Many people associate Gelato with a delectable dessert from picturesque Italy rather than a French creation. However, Gelato's popularity is not confined to the boundaries of Italy; this ice cream is also an enticing cool treat on hot summer days in France.
The first Gelato store in Paris is Café Procope (or Le Procope). Francesco Procopio dei Coltelli, an Italian chef and the store owner, opened this store to sell his delectable recipe of ice cream.
His cold dessert was so famous in the late 17th century that it earned him French citizenship given by King Louis XIV. Later on, many inventions appeared that helped Gelato reach more people; yet, it would be best to taste the authentic handmade ones at the stores.
Besides the traditional flavors of Gelato, such as chocolate, vanilla, or nuts, you can now have more taste options from other kinds of fruits' extracts/syrups. Apples, strawberries, or lemons are some of those.
4. Croissants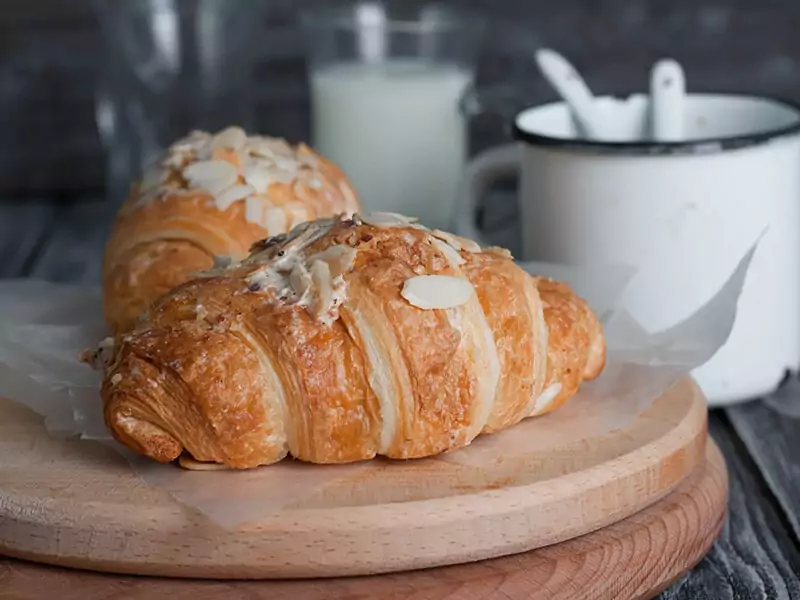 Nowadays, once referring to Croissants, you might immediately think of a special crescent sweet treat that stands for French famous cuisine. But the food actually wasn't a French creation.
The most popular origin theory says that an old Austrian dessert called Kipferl inspired the French chefs in the 19th century to re-create and develop new kinds of dessert. But the story of how that trend actually unfolded is lost to the passage of time.
If you've ever enjoyed Croissant once, then you surely understand why the cake is so famous. Basically, Croissant is just a very rustic breakfast delicacy consisting mainly of dough and dried fruits; the standard version is typically empty with no filling inside it or added butter on top.
To this day, people are still highly fond of this plain version. They say that the lightness and simplicity of the Croissant make it highly suitable for a healthy and light breakfast.
5. Pain Au Chocolat
(Chocolate Croissants)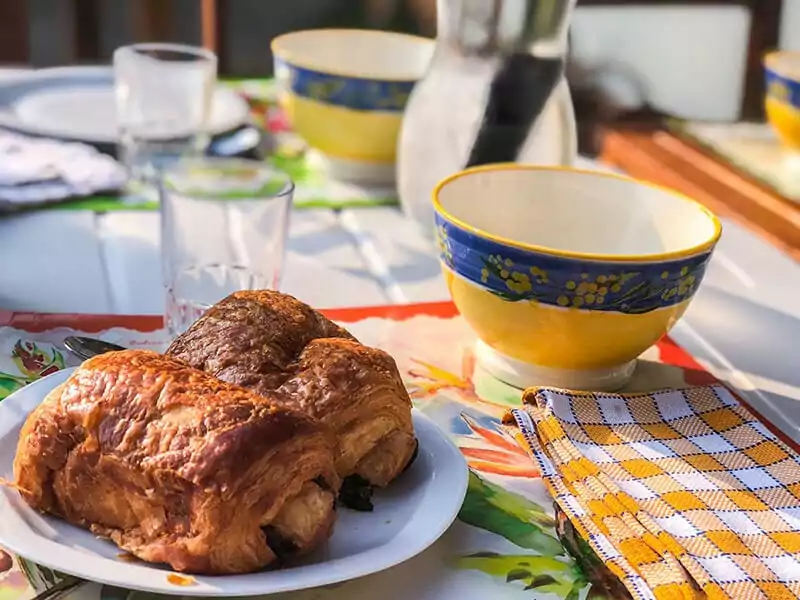 As you might see right away, Pain Au Chocolat and the traditional Croissant are quite similar in appearance. Actually, their ingredients are also relatively the same.
Both are significant puff pastry desserts and have roots related to the Austrian Kipferl. The most notable difference between them is the filling, and French people usually call it Pain Au Chocolat (meaning "Chocolate Bread") more than other names.
If you go to the Southern side of France, they might call it Chocolatine instead. The golden time to have Pain Au Chocolat is right after the sweet treat comes out of the oven or when it is still warm. Having it with a white, unsweetened milk cup will give you a toothsome meal.
6. Éclair or Eclairs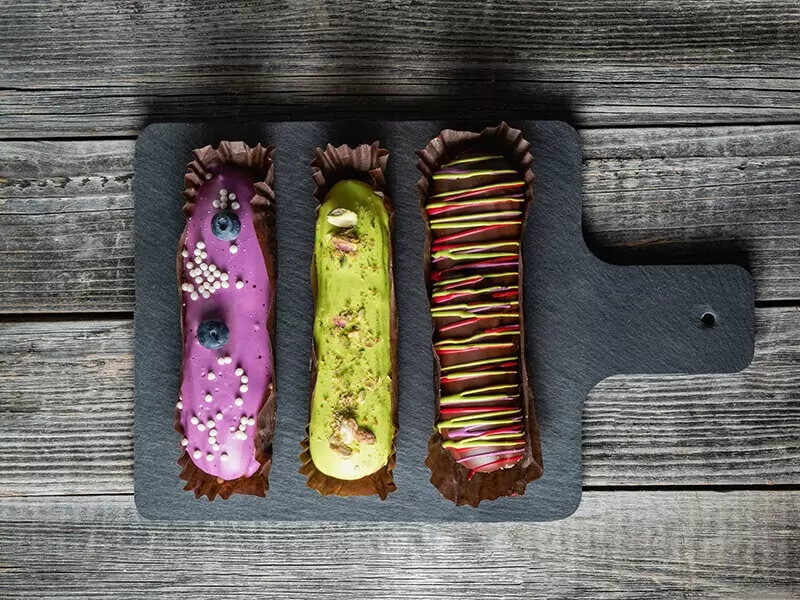 Eclairs is a delicious dessert born in the 19th century in France with a smooth, greasy, sweet, and seductive custard filling. Until the 1850s, this dish was often called Pain À La Duchesse or Petite Duchesse in France before having today's name, Eclairs.
Many historians believe that Antonin Carême, a famous French chef, was the first to make this treat; yet, there is still no solid confirmation until now. Basically, Eclairs have their exteriors made from puffy Choux dough.
After the shells cool down, bakers will put creamy fillings like custard or whipped cream inside the pastries and coat them with some icing. In some variations, they coat their Eclairs with dark chocolate and sprinkled chopped nuts.
---
Now, move to some palatable French street snacks or savory foods! In case you want to have something heartier for breakfast or dinner, these below recommended delicacies will be great.
7. Socca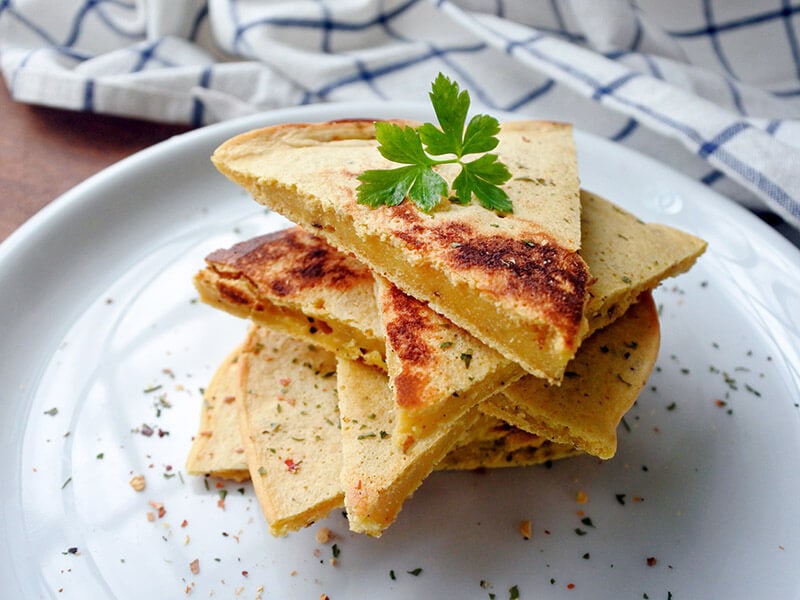 One of the attractive dishes in Nice you should not miss is the Socca cake. This type of cake is often sold near major tourist attractions in the region. Though hailing from Genoa, Italy, this cake boasts massive popularity in France.
Socca has a round shape made from chickpea flour, olive oil, salt, and pepper. The sellers will cut it into triangles, which may remind you of Pizza. You can have it as an appetizer with some rose wine on the side.
If you have the opportunity to visit the beautiful French city of Nice, stop by and watch the chefs make Socca cakes because this will be an interesting experience.
8. Croque-Monsieur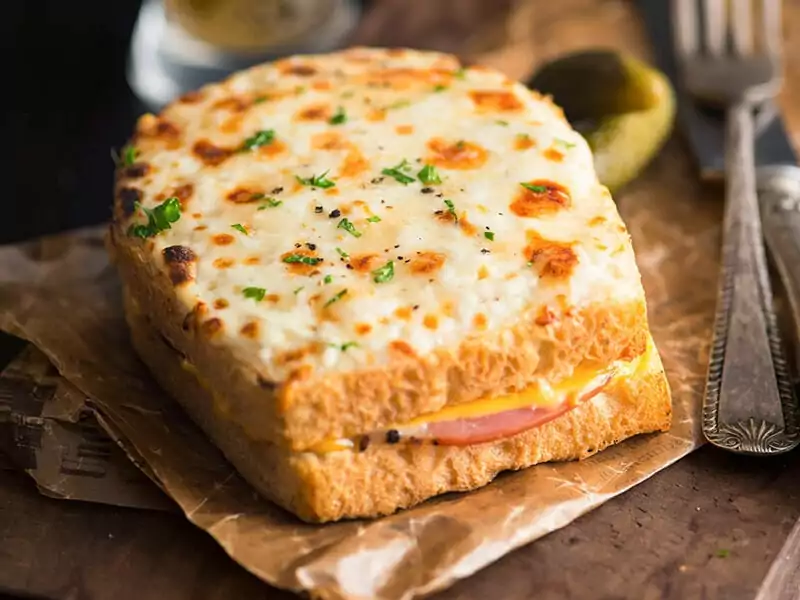 You might be familiar with ham and cheese sandwich since various varieties exist globally, but the true origins of this delicacy were in the French cafés and bars. French people in the past preferred to enjoy this toothsome sandwich as a quick and tasty French snack.
In short, a portion of Croque-Monsieur basically includes two slices of Pain De Mie (a traditional French bread), boiled ham, and plenty of cheese as both filling and topping. Therefore, Croque Monsieur might become your next favorite dish if you are a cheese lover.
The name of this delicious France-originated dish includes Croque (meaning "bite/crunch") and Monsieur (meaning "mister"), which partly tells you the best way to enjoy it.
As mentioned, Croque-Monsieur has many variations; there are one with poached/fried eggs as a topping and even those with bolognese or salsa sauce. All of them are tempting, and you might wish to try all of them in a lifetime.
9. Jambon-Beurre
(Ham And Butter Sandwich)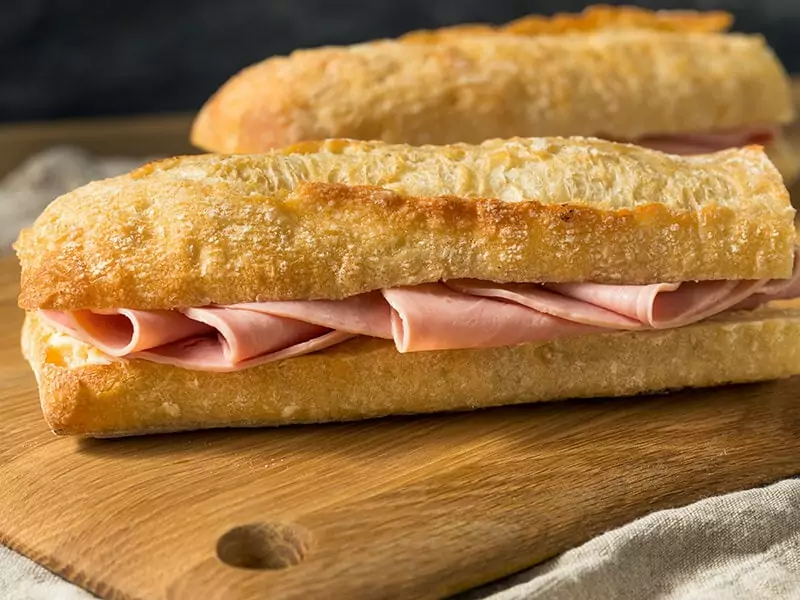 Although Jambon-Beurre is also a well-known French sandwich with ham included, it is totally different from Croque Monsieur. Instead of using bread slices, the chefs will make Jambon Beurre from the famous French Baguettes, butter slices, and high-quality ham.
Several documents indicate that the Jambon-Beurre became popular in Paris (mostly among laborers) in the late 19th century. Its popularity continuously increased until it peaked in the 1920s.
Nowadays, Jambon Beurre is recognized as one of the most popular breads in France. Besides the most basic one with only ham and butter, you can find other variations of this treat with cheese, spinach, or even French Fries.
10. Galette-Saucisse
(Sausages Wrapped In Crepes)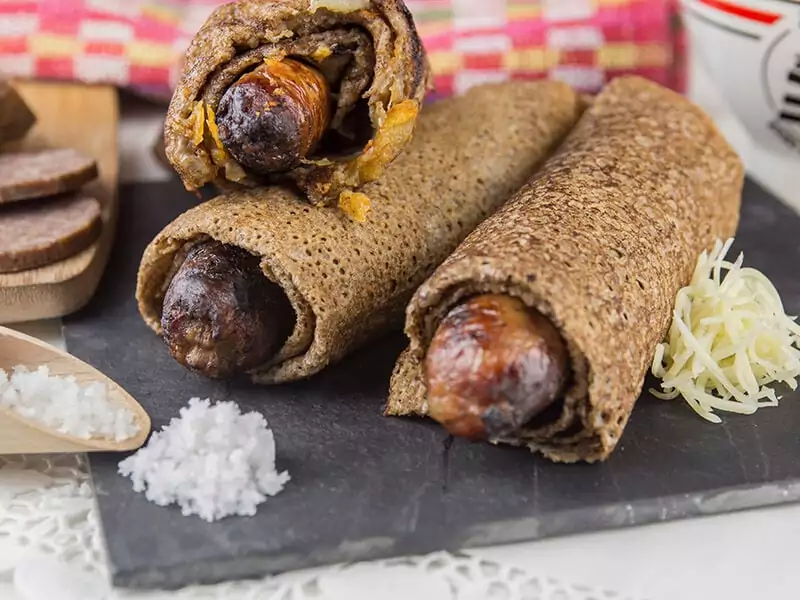 Originating from Upper Brittany, a French region during the 15th century, Galette-Saucisse has now spread all over this beautiful country. Basically, it consists of grilled pork sausages, a layer of Crepes wrapping outside, and some mustard to taste.
Vendors/cooks often prepared premade buckwheat Crepes to go with freshly grilled hot sausages. The result is a warm and appealing treat you can savor to chase away the cold weather. Add a touch of cheese and mustard for extra warmth.
11. Kir Cocktail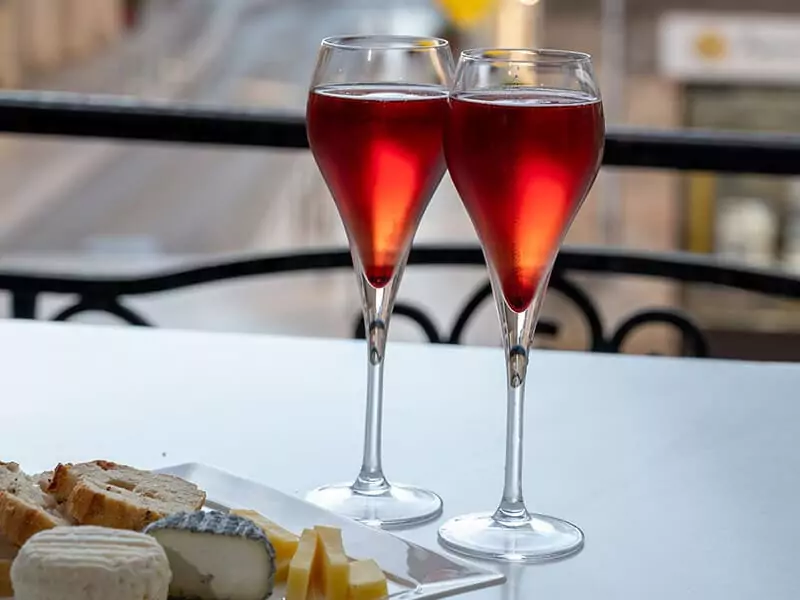 Do you like cocktails? Then, I highly recommend this French Kir. This favorable French drink has its name after a famous hero in Second World War II, priest Canon Félix Kir.
He was also the Mayor of the Burgundian town Dijon, the cocktail's birthplace, in the mid-20th century.
He loved the products from the region, so he tried to make a refreshing drink out of local white wine (from Aligoté grape) with Crème de Cassis (local blackcurrant liqueur). French people love having it for their traditional aperitifs.
Another version of this iconic French cocktail, Kir Royale, has Champagne instead of white wine from Burgundy. Both variations of this Kir Cocktails are lovely, so you should try them all if you are into alcoholic drinks.
12. French-Style Doner Kebabs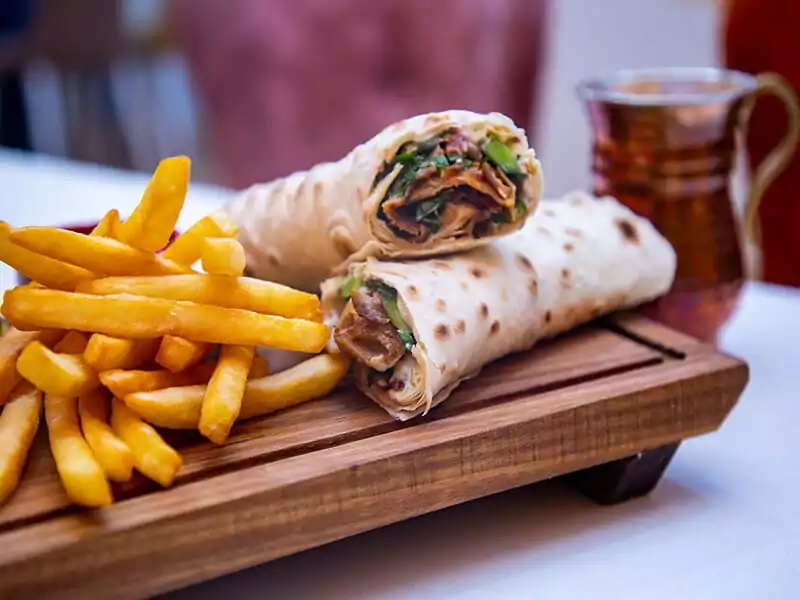 French Doner Kebabs often refer to a kind of stuffed rolled lavash flatbread (Doner Kebabs) that originated in Turkey. Turkish immigrants brought this delicacy to France in the late 1980s and made some twists to better suit French people's tastes.
Wandering around the streets of Paris, you can see how popular this Turkish-inspired street food is. People can have it at any meal of the day. It is one of France's most well – known street delicacies, whose fame is on par with pizza and hamburgers.
According to a 2014 survey, there are nearly 300 million portions of Doner Kebabs consumed every year in France. That's an impressive number.
In one typical portion, Kebab includes relatively simple ingredients with a crust made of dough that wraps the filling, usually including grilled meat and vegetables.
The rich, tangy white sauce will also be included to round off the taste. Once you have the first bite, you can experience an impressive flavor punch that you won't forget.
13. Poisson Frit Et Frites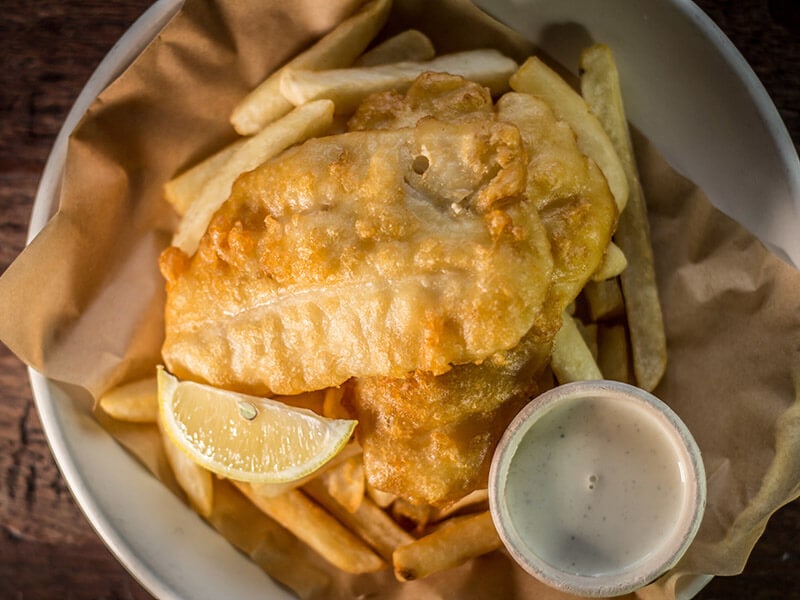 Poisson Frit Et Frites are a famous combo in England, but you can also find it on many French streets. After being developed as a popular meal among the old English working class, it came to France and gained a solid foothold in this country, which is known for fine cuisine.
The idea of making this delicacy is quite simple. All the cooks will do is meticulously fry the battered, marinated fish filets and English-style fries (with thicker cuts). After that, they will serve them together to you.
The sauce going with this dish might be different from store to store. My only tip for you when choosing this treat is to opt for those with cod or haddock fish. These two kinds of fish are the most recommended ingredients for the legendary snack.
14. Falafel
(Crispy Fried Chickpea Balls)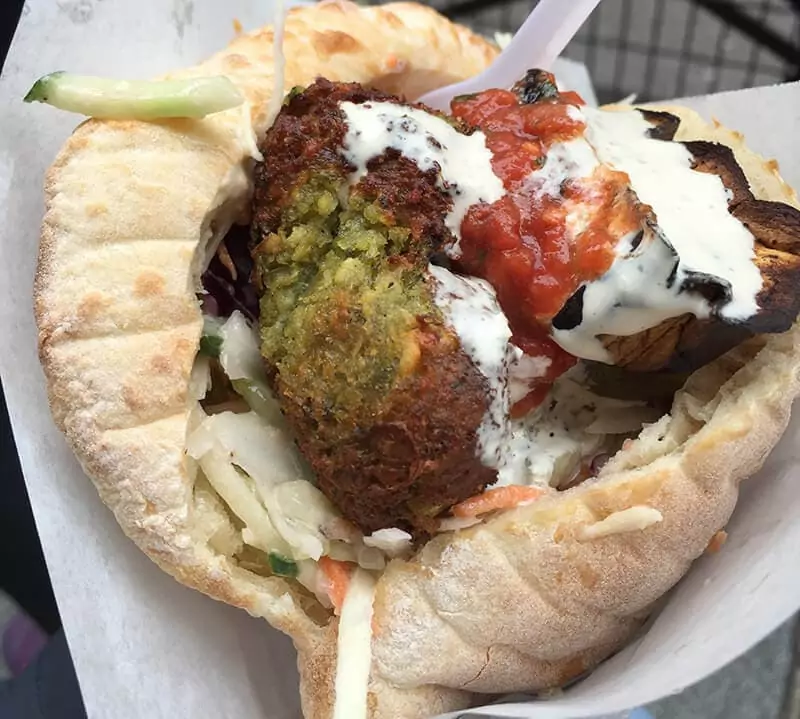 Curiously, Paris is home to some of the best Falafel in the world, despite the Middle Eastern origin of the dish. While there is no exact information about the origin of Falafel, it probably originated in Egypt or the Levant.
In contrast, the people of Israel believe that the ancient Jews invented Falafel. In France, people prefer preparing the Israel-style Falafel and keeping the essential ingredients in this dish, such as chickpea, some vegetables, or sesame.
Other components may vary depending on the restaurant, yet the quality is pretty similar. All of them are palatable. After gathering all the ingredients, the cooks will transform them into small balls before deep-frying in hot oil.
When serving, French sellers also offer you some crispy fried Falafel balls inside a cone made of flatbread with some special sauce on top. Eating a whole portion of this food can fill up your stomach right away.
15. French Fries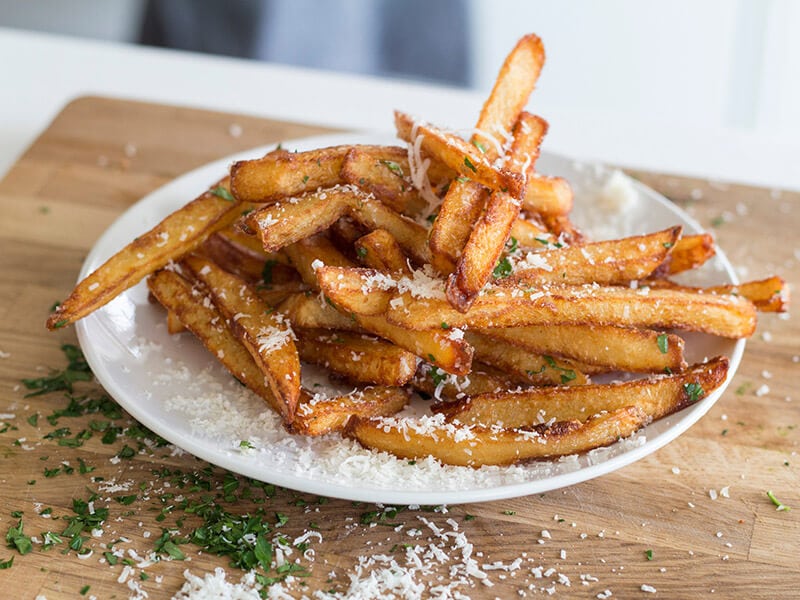 One surprising fact about French fries is that it didn't come from France: its motherland was actually Belgium. Belgians first thought of deep-frying potato slices/sticks in steaming hot oil in the 17th century before it accidentally became famous globally later.
Furthermore, the name French fries was actually from an American cookbook, not from the French. But even if the dish might not have their roots in France, French people immensely love it and.
Therefore, you can easily find it as the accompaniment for many savory dishes in the country, even ones that you may have no idea that they can go with French fries. This crispy street food can also be flavored with many kinds of seasonings such as truffle salt or cheese powder.
Bon Appétit! I Wish You A Good Taste Experience!
French cuisine has always resonated with foodies, and there is no reason for you to miss the opportunity to experience those delicacies. Believe me, their street foods, in particular, can easily appeal from the first time trying.
All the items I introduce to you today are pretty compact. Therefore, you can absolutely buy them like takeaways at many street vendors or small stores in this beautiful country. All you should do next is take your time, make a plan and pay a visit to France ASAP!