French sandwiches further cement the pride of France's centuries-old gastronomic cuisine. Sadly, people often overlook this bread-filled category in talks about haute cuisine.
Since France is famous for not only bread and pastries but also ham, butter, and cheese, the mix of flavorful fillings and crusty artisan bread generates an almost Parisian-like feast.
While it will always be better in France, the following French food ideas are superbly easy to duplicate at home in about an hour. Let's begin your day in style or bring a touch of Parisian to your lunch with these famous French sandwiches.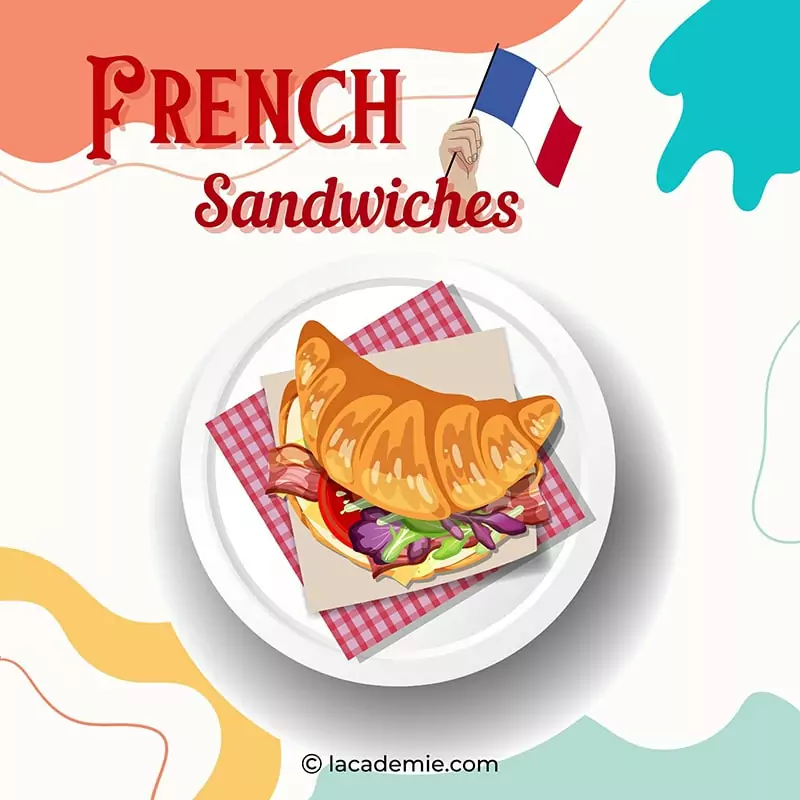 Best Compilation Of Must-Try French Sandwiches During Your Trip
The following list fully captures the beauty and genius of French sandwiches that you can easily find in various finest French cookbooks or on the internet. These recipes are must-try options during your next France vacation!
TOTAL TIME: 5 minutes (Preparation takes: 5 minutes)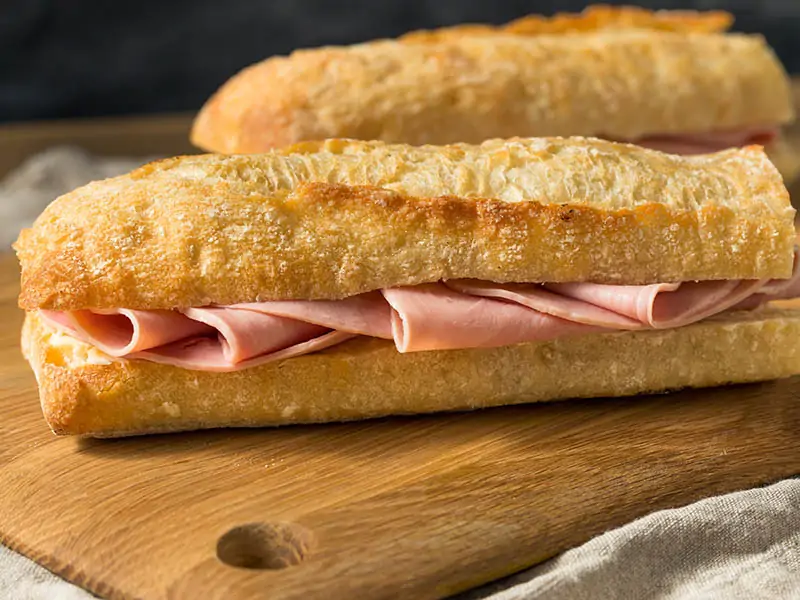 Jambon Beurre is the epitome of simplicity in French cuisine as it requires very few components, allowing you to focus on the quality of the making. Not to mention, the sandwich is trendy in the country, with more than three million served daily.
Simply put, Jambon Beurre is a ham and butter sandwiched on a baguette. Its preparation cannot be more straightforward with a baguette sliced lengthwise down the middle and filled with a bit of butter layering on thin slices of ham. That's all!
It is astonishing how two apparently innocuous ingredients have such divine results. Once you have gathered all the highest-quality ingredients, you are just five minutes away from a meal fit for a Parisian café.
Because Jambon Beurre is such a simple sandwich to pack and transport, it is ideal for picnics and potlucks. Additionally, it makes an excellent on-to-go breakfast!
Enjoy both the deliciousness and the fun in making Jambon Beurre.
TOTAL TIME: 30 minutes (Preparation takes: 15 minutes + Cooking lasts: 15 minutes)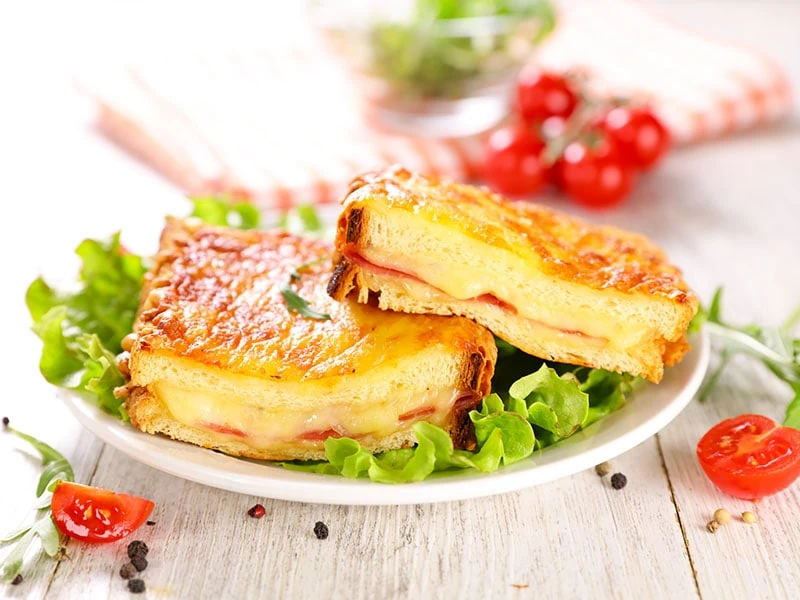 Croque Monsieur is a lunchtime classic French sandwich featuring toasted ham and creamy cheese covered with a Béchamel sauce – a classic sauce in French cuisine, and a smear of Dijon mustard. Brunchers worldwide hugely adore this ham and cheese sandwich.
The term "Croque" derives from the French verb "croquer", meaning "to crush", while "Monsieur" translates as "Mister". Altogether, the recipe's moniker refers to a gentlemen's sandwich. Yet, it is not just for gentlemen. It is for everyone!
The dish's origins remain unclear. A prevalent story reveals that it was born out of the mistake of French employees who left their lunch boxes too near to a hot radiator.
Another legend states that it is the invention of a Parisian cafe owner who was forced to improvise when he ran out of baguettes, which is unthinkable in France!
Whether it was an accident or the brainchild of an astute French chef, Croque Monsieur is undoubtedly a special dish that can make individuals get teary-eyed with emotion after eating it!
TOTAL TIME: 35 minutes (Preparation takes: 15 minutes + Cooking lasts: 20 minutes)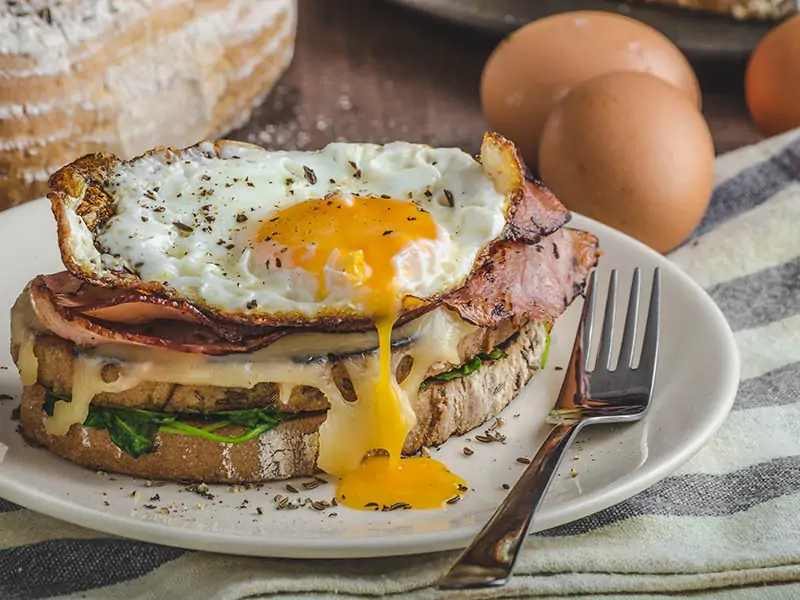 If you love Croque Monsieur, prepare yourself for its feminine version called Croque Madame. This recipe is a classic French dish featuring a sunny-side-up fried egg on top of an already sumptuous Croque Monsieur.
The addition of a fried egg makes the French breakfast dish more fulfilling. There is something so satisfactory and captivating about cutting into the egg and seeing its golden yolk drip down the opulent sandwich. Does that scene make you drool?
In fact, a cheese-laden, Béchamel-smothered Croque Madame is about as decadent as a sandwich can get. Like Croque Monsieur, serve this refined sandwich with a bowl of French onion soup and a tiny green salad to emulate a genuine Parisian meal.
Adding a sunny-side-up fried egg makes Croque Madame more decadent than ever before!
TOTAL TIME: 1 hour (Preparation takes: 45 minutes + Cooking lasts: 15 minutes)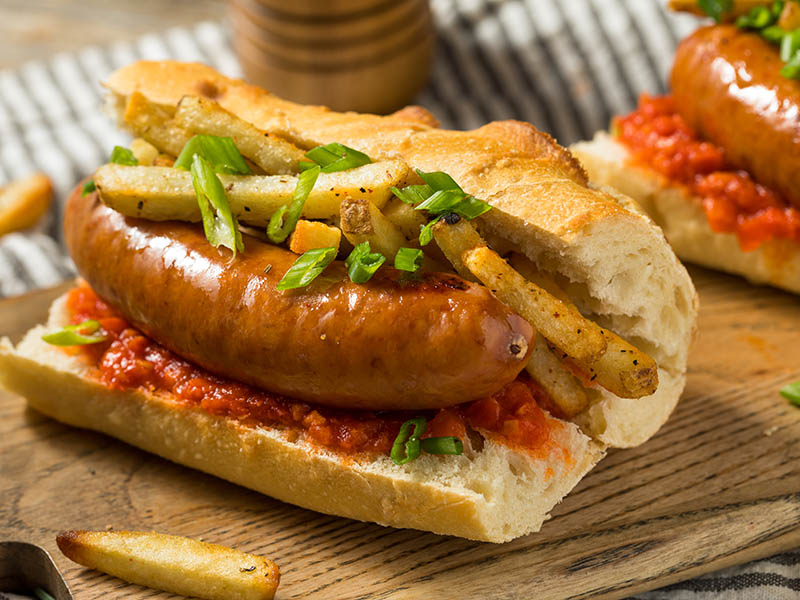 While in France, Merguez Frites Sausage Sandwich was on the menu of every food kiosk I passed. You can totally generate this fantastic recipe in your kitchen and recreate the vacation to Paris in your own home.
This Merguez Frites recipe is a renowned street item demonstrating how pervasive North African food has over French cuisine. The use of North African spicy lamb sausage is firm evidence.
This recipe calls for a small twist in the original Merguez sausage. Your first bite still features all the traditional components, such as cumin, harissa, fennel, coriander, cinnamon, and paprika, the succulent lamb taste is replaced with plant-based meat.
To serve, simply stuffing this cumin-infused sausage into sandwiches alongside frites is how you complete this recipe. It is a wise move to pair these Merguez Frites Sausage sandwiches with a crunchy slaw and a garlicky yogurt sauce. Nothing tops that!
TOTAL TIME: 40 minutes (Preparation takes: 20 minutes + Cooking lasts: 20 minutes)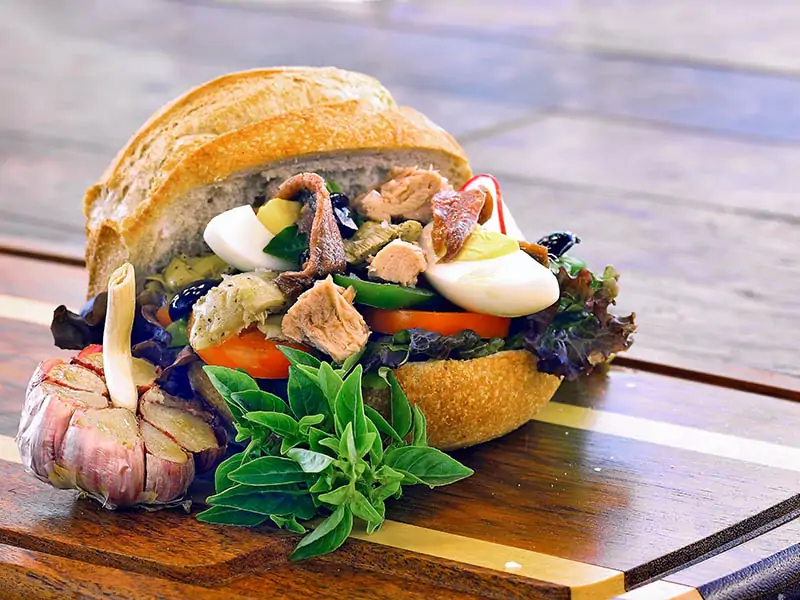 Pan Bagnet is a staple to the region surrounding Nice, especially France's Mediterranean coast. Plus, the beauty of this cold sandwich is that the longer you prepare it ahead, the better its taste becomes.
This French tuna sandwich calls for crusty bread, high-quality canned tuna, plus a few tasty toppings. To make tuna shine in this recipe, canned tuna packed in olive oil is highly recommended, thanks to its soft and moist characteristic.
Leaving it for up to a day is essential for the olive oil and tomato to combine and anchovies to dissolve into the bread. All components come together and form complex flavors in every bite.
Pan Bagnat translates as "bathed bread", an apt name given that the baguette absorbs moisture from the filling, resulting in one delectable and impressive sandwich brimming with marinated tuna, vegetables, anchovies, and sliced hard-boiled egg.
Besides its aesthetic look, Pan Bagnat is adored for its exquisite flavor. It is essential to let the sandwich rest for the flavors to mingle, making it the perfect make-ahead dish.
Pan Bagnat is the best make-ahead sandwich for your next outdoor camping trip!
TOTAL TIME: 10 minutes (Preparation takes: 5 minutes + Cooking lasts: 5 minutes)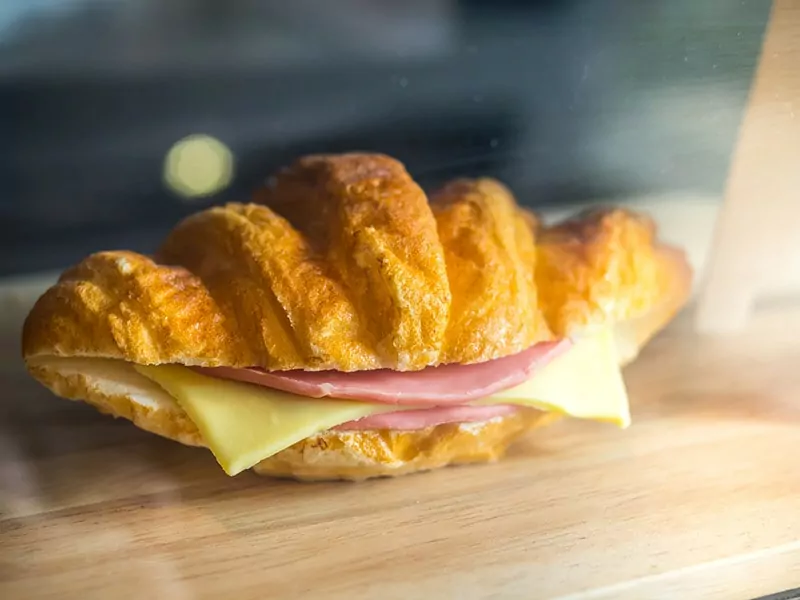 No morning French pastry can topple this brilliant ham and cheese croissant. This warm, flaky ham and cheese croissant is an appealing sandwich that can instantly transport you to a French restaurant.
It is straightforward to pull off this recipe. The technique is to bake the croissants for a few minutes in the oven to make them flaky and melt the cheese. The result is the greatest, most opulent ham and cheese croissants you have ever had.
In just ten minutes, you can fill your croissants with pink ham slices wrapping around Swiss cheese like Emmental, Gruyère. This practice prevents the cheese from spilling out during baking. Plus, it is always more fulfilling to watch the cheese drip out.
And one last note! Although these delectable croissants are perfect sandwiches for breakfast, don't limit the enjoyment there! Anytime you desire refreshing comfort food options, whether it is brunch, lunch, or dinner, let's spend 10 minutes to pull off this recipe!
TOTAL TIME: 5 minutes.
These French sandwiches are simply prosciutto and brie employed on a baguette with fig orange spread and veggies. This recipe proves that consuming a sandwich can be as sublime a gastronomic experience as eating the flakiest, buttery croissants.
A single bite into this amazing sandwich will instantly transport you to France. Delicious crusty cured meat and creamy brie cheese will give your taste buds a real treat of flavors.
The nice thing about this French food is you can maximize the complement choices with thinly sliced apple/pear or a handful of veggies (baby spinach, arugula, butter lettuce leaves). But if you want to keep it simple, just follow this recipe.
These French sandwiches are ideal for a picnic, thanks to its easily transportable trait. Whenever the pleasant weather comes and you are excited to go out and enjoy the beautiful outdoors with friends, don't forget to bring a few of these sandwiches along!
TOTAL TIME: 25 minutes (Preparation takes: 10 minutes + Cooking lasts: 15 minutes)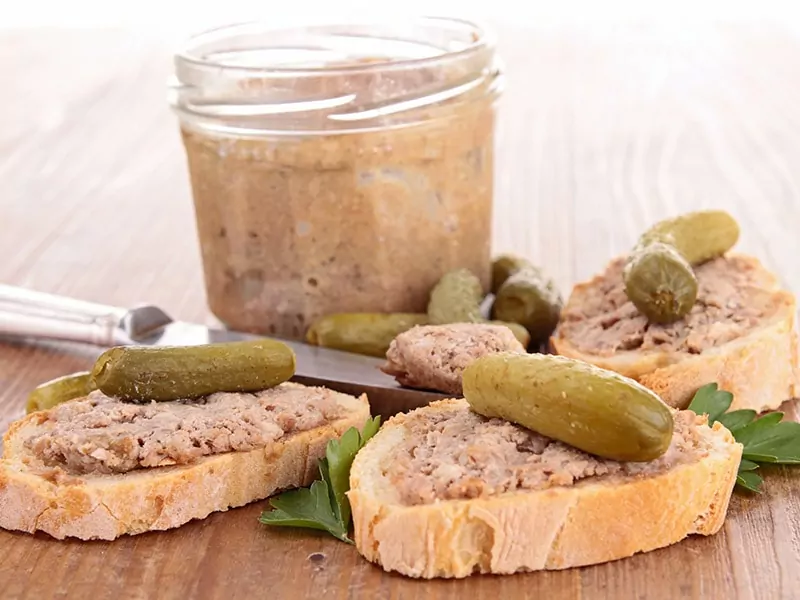 If you are looking for a way to transform pâté into a small meal or appetizer, look no further than this Pâté Cornichon Toasts recipe. You will see your Parisian friends' eyes lit up as you initiate a small discussion about this French sandwich.
To begin, slice a baguette lengthwise but not all the way through to create a book-like opening. Spread Dijon mustard and pâté on the bread. Then, top it with sliced cornichons – those tangy, small pickles that complement the pâté nicely.
Make sure to close and press down the bread to spread the contents out and push the pickles into the pâté. Cornichons' sourness beautifully balances the pâté's richness in this substantial French sandwich.
All in all, the luscious pâté, the acidic cornichons, and a trace of Dijon mustard combined wonderfully on a crusty baguette will tickle your nose, making it the must-try sandwich while you are in France.
Pâté Cornichon toasts feature the heavenly marriage of acidic cornichons and luscious pâté.
TOTAL TIME: 13 minutes (Preparation takes: 5 minutes + Cooking lasts: 8 minutes)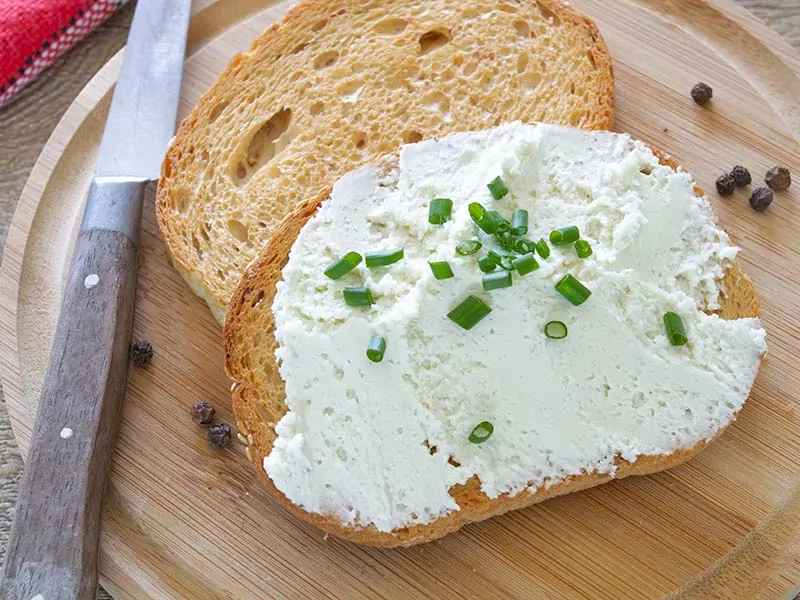 For those who are unfamiliar, tartine is a French term referring to an open-faced sandwich. From that understanding, a Tartine may be any sandwich made with any combination of components, even some that are not spreadable.
Roasted pepper Tartine with goat's cheese is an excellent introduction for you to the tartine world. As simple as it is, the recipe is regarded as the world's best tartine variation.
The combination of creamy French cheese with roasted sliced peppers on toasted sourdough bread is just irresistible! The pepper's aromas perfectly complement the goat's cheese and basil utilized in this delectable tea sandwich.
This French Tartine is a must-have choice for your next dinner gathering. Your family and friends will be blown away by the dish's impeccable flavors and textures.
TOTAL TIME: 57 minutes (Preparation takes: 45 minutes + Cooking lasts: 12 minutes)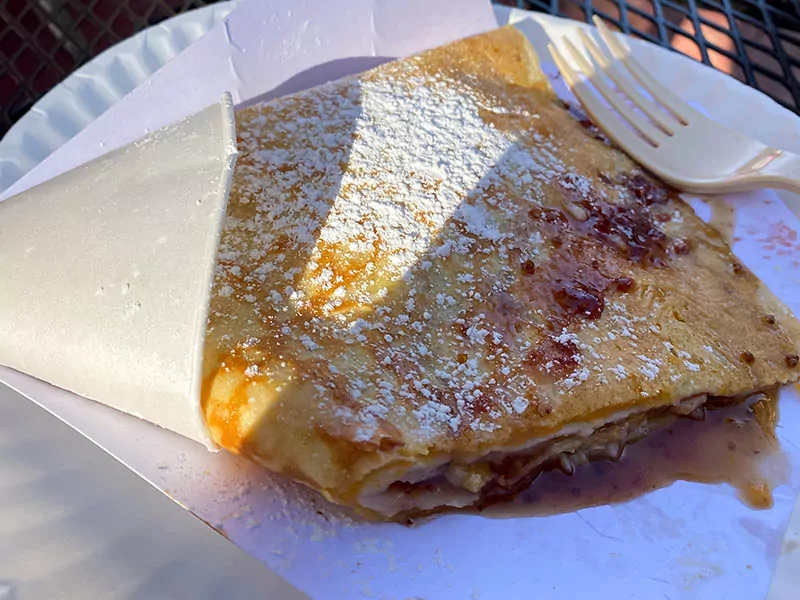 While some individuals do not consider Monte Cristo to be sandwiches, many contend that they are. With ooey cheese and yummy ham both coated in a crispy, buttery bread, this Monte Carlo sandwich is surely one of the world's greatest breakfast treats.
This sandwich recipe is a familiar name on many local French bistros and restaurants. However, don't be scared of crafting it at home, as it is deceptively easy. Some people even consider it to be a simplified render of the classic Croque Monsieur.
From the original recipe, it is possible to upgrade these crispy Monte Cristo sandwiches to the roll-up crepe version that is ideal for breakfast.
To serve, sprinkle your Monte Cristo crepes with powdered sugar. Don't forget to decorate it with fresh berry jam for drizzling or dipping. The ooey-gooey cheese, hot ham, and exquisite crepes will make the dish gone in a flash!
TOTAL TIME: 10 minutes.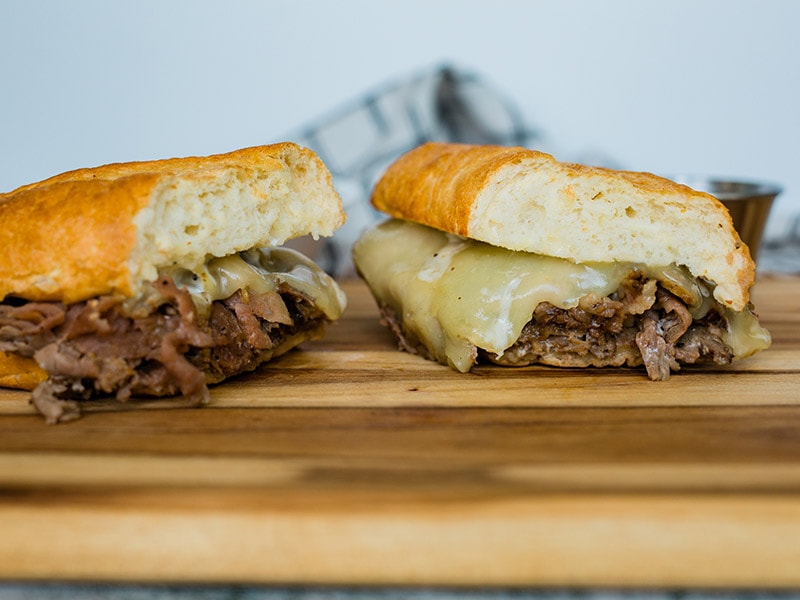 If you are a fan of Philly cheesesteaks, you are going to enjoy this French dip sandwich. It is a delectable dish comprised of a toasted baguette, tasty roast beef, and melted Swiss cheese.
Although the dish was developed in 1908 by two Los Angeles restaurants, the French offer the most important part by providing the crusty baguette, which acts as the canvas for the flavorful fillings.
This French sandwich involves just a few pantry-friendly ingredients and takes around ten minutes to prepare from scratch. The secret of this meal lies in its Au Jus (beef fluid). Dipping your beef-stuffed baguette into Au Jus creates incredible tastes.
Au Jus sauce aids in softening the crusty baguette, providing that delightful crunchy-on-the-outside, soft-on-the-inside texture. A spoonful of French dip sandwich is brimming with beef, flowing with Au Jus, and oozing with exquisite cheese.
Nothing is more satisfying than having crusty baguette brimming with beef chunks and Au Jus sauce.
TOTAL TIME: 22 minutes (Preparation takes: 6 minutes + Cooking lasts: 11 minutes + Inactive time: 5 minutes)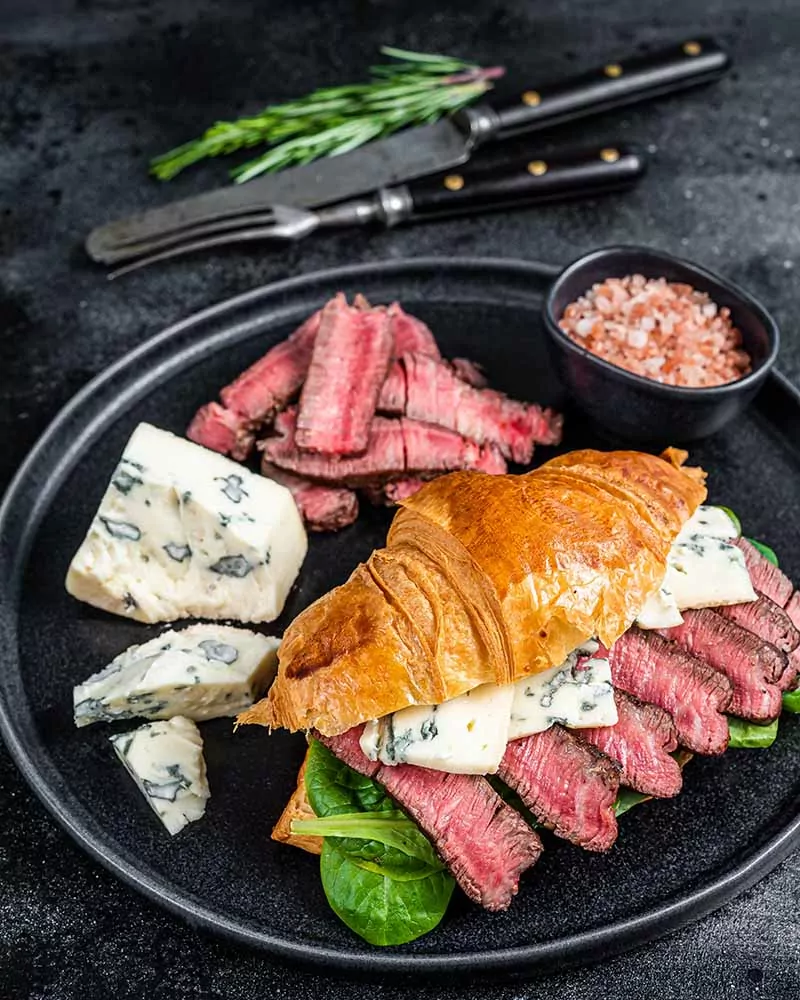 This Steak and cheese croissants recipe is another French sandwich to lust after! These delicacies are a hybrid between a French dip sandwich and a French tartine. So, if you are torn between the two, you should definitely pick this recipe.
This croissant sandwich is a ten, from its vibrant colors to the complementary flavors and textures. Not to mention, it earns additional points for being extremely easy to prepare.
However, an ideal steak and cheese sandwich requires three critical components: steak, cheese, and bread.
To begin, it is the steak, which is this recipe's most critical component. There is no need for an extremely costly cut of beef, but you should consider a high-quality piece of meat. Generally, ribeye or skirt steak works best for this French sandwich.
Then, pay attention to cheese. There is nothing more despised than enjoying a steak and cheese sandwich and being unable to taste or see any ooey-gooeyness. Thus, my advice is to use large quantities of robust and sharp cheese.
Last but not least, make sure to use an excellent kind of French bread. Pick a fresh and somewhat chewy kind. Among many choices in France, croissants are always the best choice.
Do These French Sandwiches Make You Drool?
Are those French sandwiches above too much to handle? They are not only superbly delicious but also appealing to watch. So, don't be embarrassed if you are drooling because of them.
It is your turn now! Drop a few lines in the comment section below to show me your most preferred recipes on my list. If you have some other French sandwiches outside of this complication's coverage, put them down as well. I would love to hear! Thank you!
Nutrition Facts
2 servings per container
---
Amount Per ServingCalories634
% Daily Value *
Total Fat 35.8g

54

%
Cholesterol 206mg

69

%
Sodium 1733mg

73

%
Potassium 688mg

20

%
Total Carbohydrate 46.9g

16

%

Dietary Fiber 4.4g

16

%
Sugars 7.5g

Protein 34g

68

%
---
Calcium

140

%
Iron

5

%
Vitamin D

15

%
* The % Daily Value tells you how much a nutrient in a serving of food contributes to a daily diet. 2,000 calories a day is used for general nutrition advice.