Russian food, a testament to the country's vast landscapes and storied history, offers a culinary experience that's both rich and diverse.
From the hearty warmth of dishes inspired by Siberian winters to the refined flavors of imperial banquets, Russian cuisine is a delightful tapestry of tastes and traditions.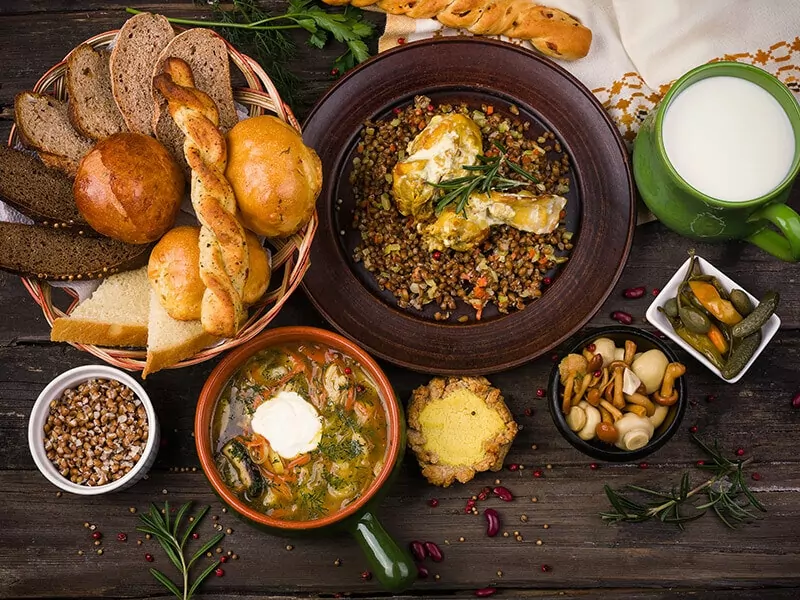 This guide illuminates the 49 most iconic Russian dishes that have stood the test of time.
Whether it's the savory allure of "Pelmeni" and "Borscht" or the sweet nuances of "Medovik" and "Pryanik", each dish showcases a facet of Russia's vibrant cultural heritage.
Dive in with us to savor the essence and diversity of Russian gastronomy.
1. Selyodka Pod Shuboy or Shuba (Dressed Herring)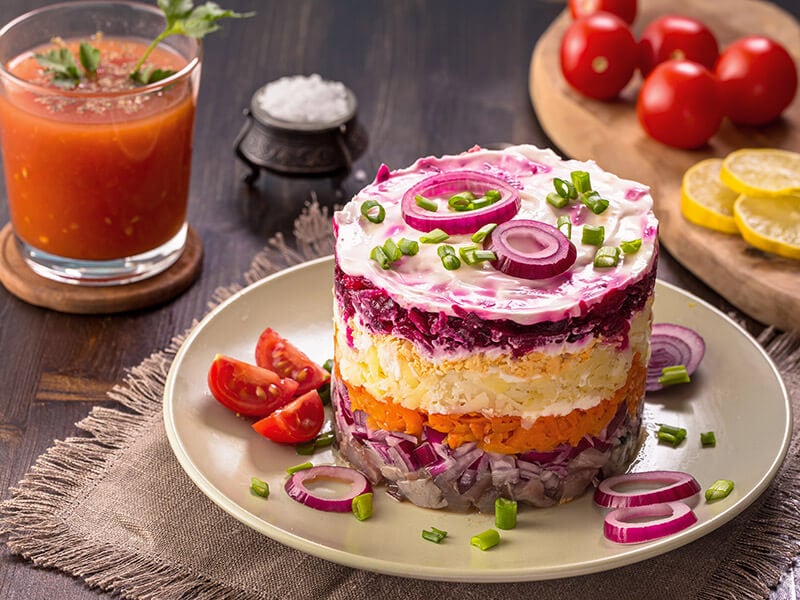 Shuba is probably the most unique salad that you have ever eaten. It looks just like a colorful and gorgeous cake. Who will not love it?
Dressed Herring originated in the 20th century in Russia. Since then, people often served it on New Year's Eve. It is also associated with Russian tradition. Potatoes are the most common food for workers and peasants, while beets have a red hue which reminds of the Russian flag.
The ingredients that create this adorable look are cabbage, carrots, beets, red onion, and potatoes. Go for it, and you will have the most memorable culinary experience.
2. Pirozhki (Mini-Pies)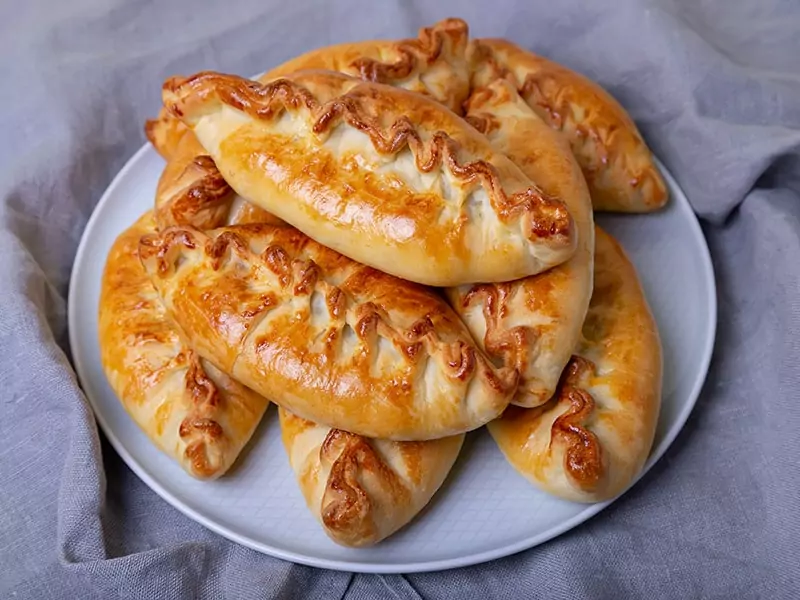 Street food is incredibly attractive. Here in Russia, you will see many people eating boat-shaped buns. They are pirozhki, the signature street food of Russia. They are prevalent in every food court. Each has a distinctive flavor.
Another notable feature of pirozhki is that their filling varies a lot. Some contain rice and spiced ground meat. Some others may have Parmesan cheese, potato, and caramelized onion.
3. Blini (Russian Pancakes)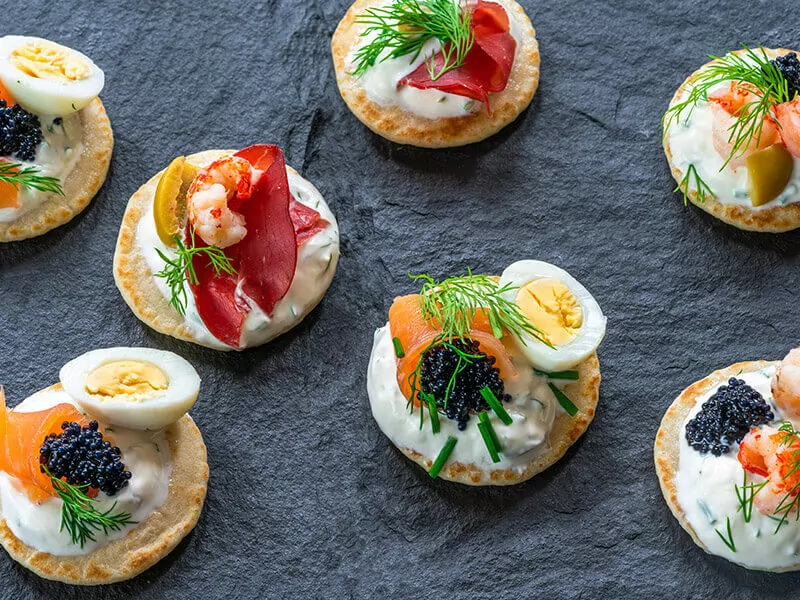 Blini is a traditional Russian dish that comes in the form of thin pancakes. This is a dish often served with caviar, smetana, butter, sour cream, and tvorog. Not only is it a ubiquitous part of Russian cuisine, but it is also a popular food in Slavic countries.
People often serve this dish with caviar as the star around Maslenitsa, generally held between February and March. So if you arrive in Russia at that period, don't forget to give it a try.
4. Mushroom Julienne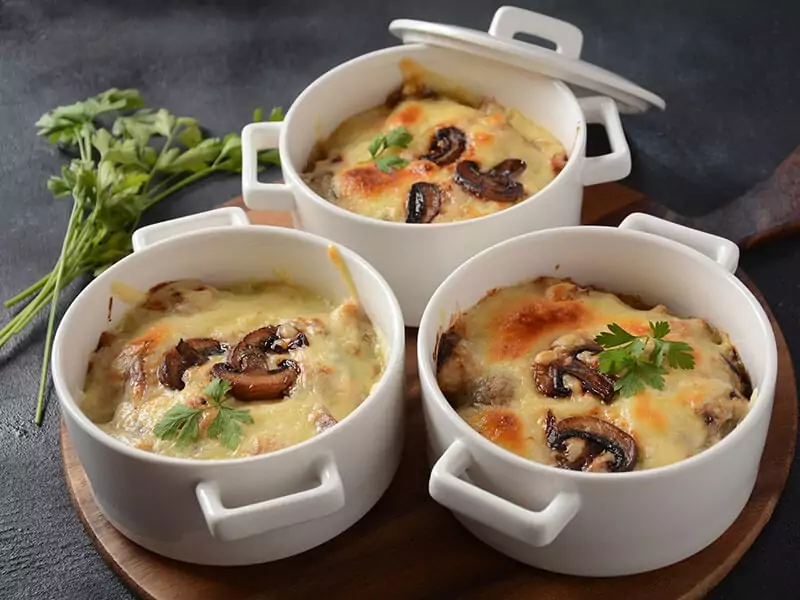 If you have a taste for mushrooms, you should never miss this dish when coming to Russia. Is there anything better than enjoying your favorite food in the country you love?
Mushroom julienne has an adorable appearance that is ideal for serving as an appetizer or side dish. It is rich, creamy, and cheesy. So enjoying it with a stick of baguette, salad, and a cup of wine will be a fascinating culinary experience.
5. Olivye (Russian Salad)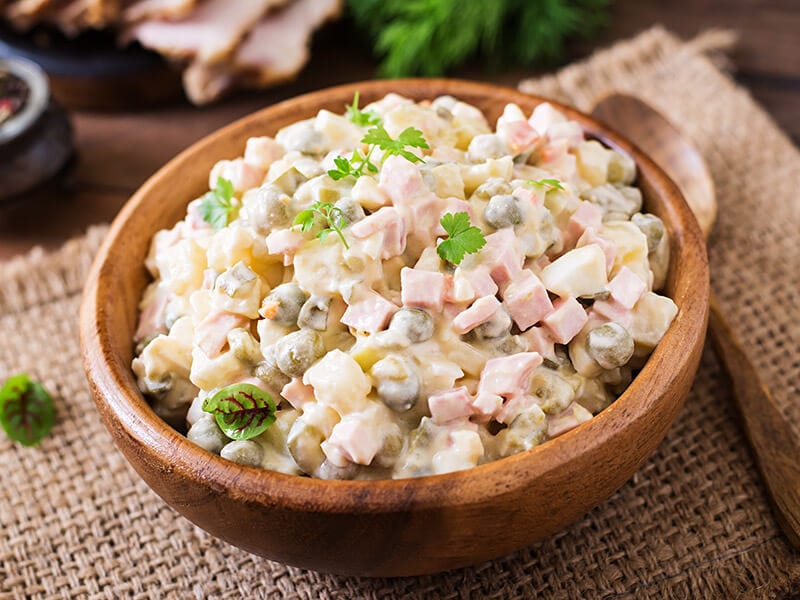 This great salad was named after its creator, Lucien Olivier, a Russian chef. It is different from the salad because of its rich and creamy nature. But that's why local people, as well as travelers, love it.
Olivye is always present on the dining table of Russian people on New Year's Eve, especially in salad buffets. They also serve it in winter. Not only is it popular in Russia, but it is also a traditional dish of other countries of the former USSR.
There are vegetables, eggs, mayonnaise, and meat such as smoked ham or chicken in this dish. It is not only delicious but also very healthy. Don't hesitate to give it a try!
6. Caviar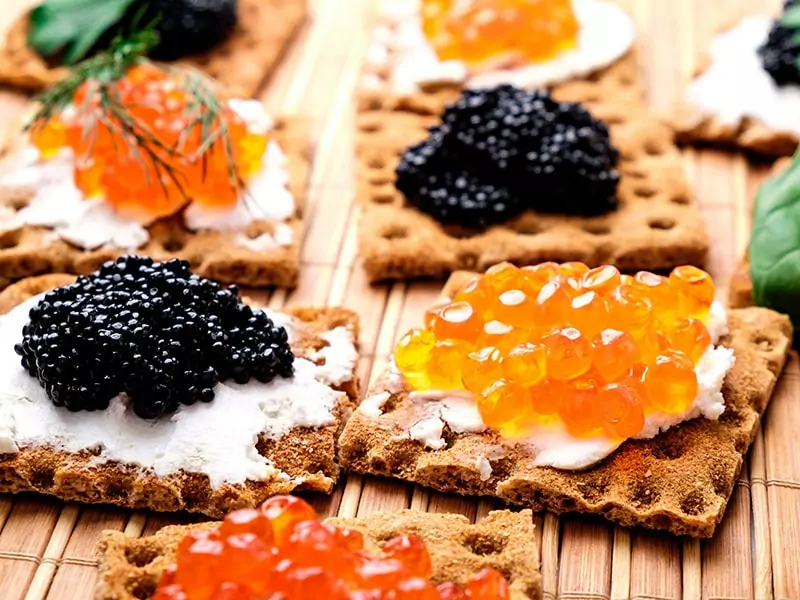 Centuries ago, Russian fishers discovered caviar in the Caspian sea. Since then, this exotic food has become a great delicacy of Russia, partly because of caviar's exquisite flavor. It is pretty expensive and typically present in luxurious restaurants.
Caviar simply refers to the fish eggs taken from various types of sturgeon. They are colorful and adorable. The way people garnished them also shows complexity and subtlety.
7. Mimoza (Mimosa Salad)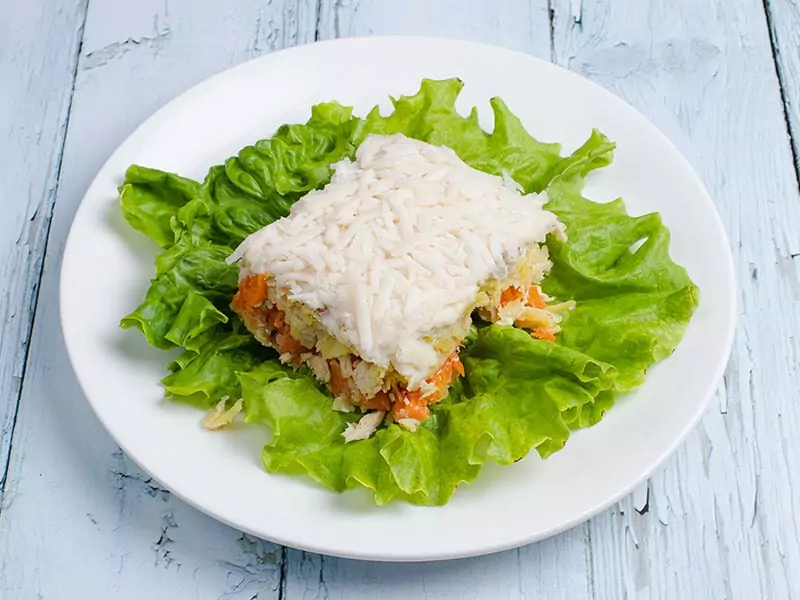 This classic Russian appetizer has a fancy name and a beautiful appearance. Its name is "mimoza" because it looks like a mimosa flower thanks to the yellow hue provided by the egg yolk. The history of this delicacy is still unknown, but it has gained a lot of popularity in the post-Soviet states.
Russian people serve mimoza in celebrations. They regard it as a symbol for spring because it looks like a blooming flower. Another reason why it is celebrated in Russia is that the ingredients used to cook it are just the basic ones so that anyone can make it.
8. Stroganina (Russian Raw Fish Dish)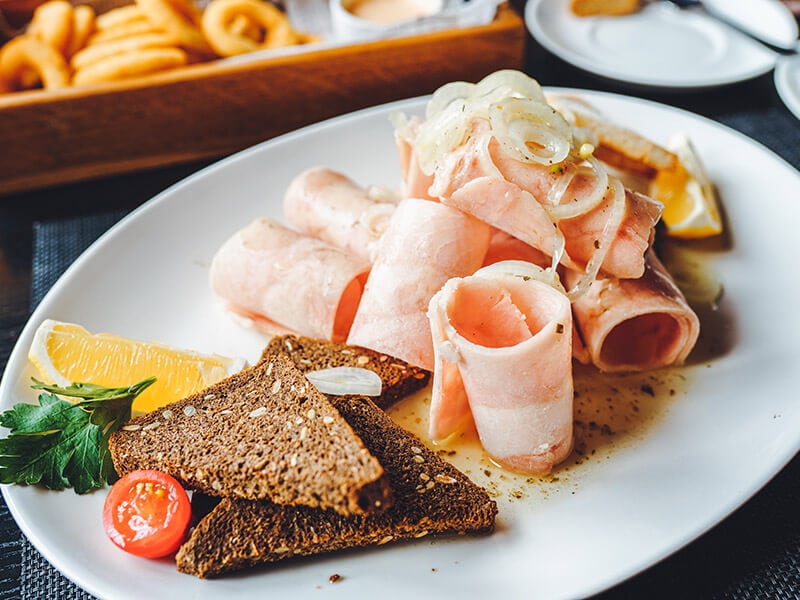 While Japan has sashimi, Russia has strogania. Its name came from the word "strogat", which means to cut thinly. It takes root in the Russian Arctic and consists of thin slices of muksun, omul, and nelma. It is also flavored with salt and pepper.
Eating raw fish does not seem so fancy. However, local people create such a dish to help survive during the cold winter days.
9. Coulibiac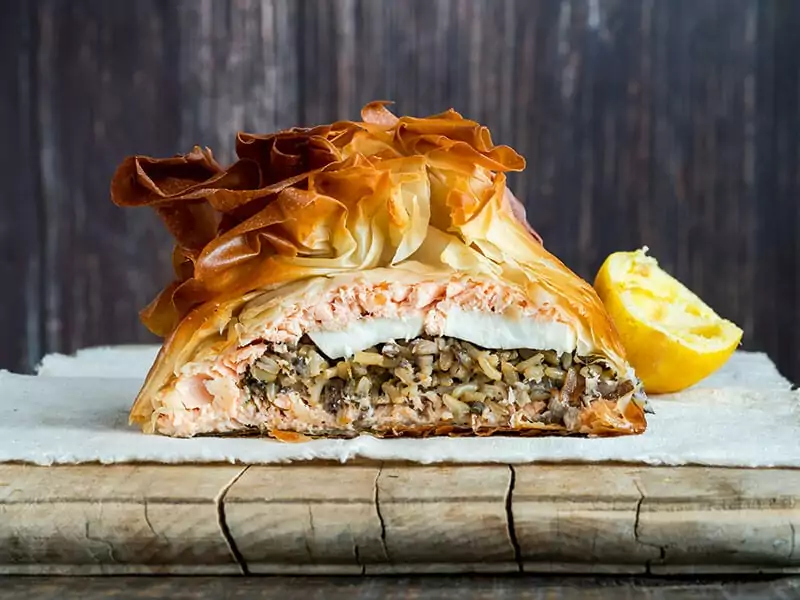 Coulibiac is an awesome savory pie that originated in Russia in the 17th century and soon became increasingly famous across the country.
This fulfilling pie consists of a thick and well-decorated dough filled with several ingredients such as rice, salmon, sturgeon, vegetables, and eggs. It is best served with a cup of tea so don't forget to get one to enjoy its best taste.
10. Rasstegai (Russian Savory Pastry)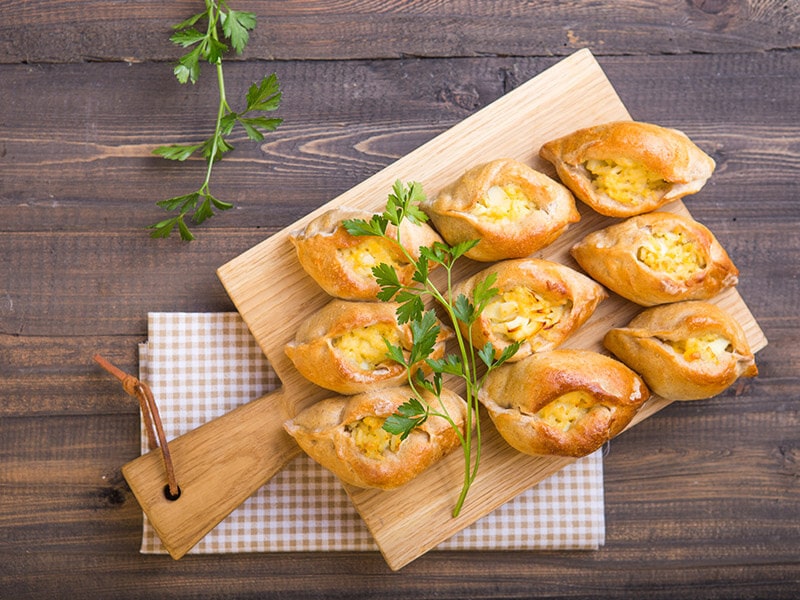 Rasstegai became popular in the tsarist times, which belong to the 14th century. It is particularly popular among the innkeepers in St. Petersburg and Moscow.
This dish has a stunning appearance that is very distinguishing. There are holes between the dough where the filling is placed. The filling typically includes salmon filet, butter, cream, herbs, and seasonings.
As you come to Russia, local people will recommend you serve it alongside ukha. This makes a mouth-watering meal that you can hardly forget for the rest of your life.
11. Sevruga Caviar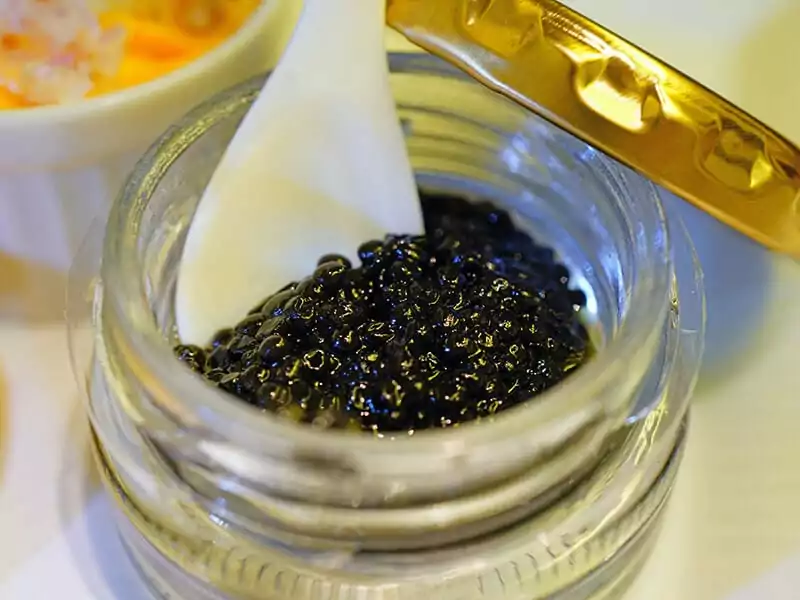 Among the varieties of caviar, sevruga caviar is one of the most expensive ones. The sevruga came from the Caspian and the Black Sea. The caviar beads have a beautiful black hue, which looks very luxurious.
In Russia, people often enjoy it with a wooden or pearl spoon. It is typically served with blini, bread, and potatoes. It is even better to have a cup of wine, such as vodka and Champagne.
12. Pelmeni (Russian Dumplings)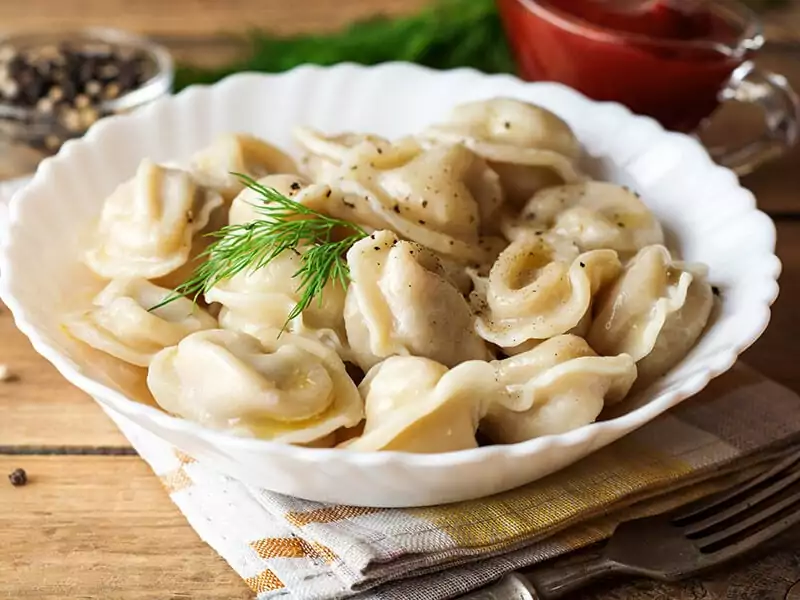 Dumplings are the Russian's favorite food. They originate in Ural and Siberia around the 14th century. The way it is cooked reflects the Siberian cooking tradition more. The Siberians created this dish to consume it for a long time during winter without relying on livestock.
In the Urals, people made it to serve on holiday or to bring along when going hunting in the taiga during winter months. Like common dumplings, they feature the flavorful filling wrapped in the dough. Typically, the filling for this dish includes ground pork or beef and eggs.
Pelmeni is so popular in Russia that you will see them everywhere, including food courts, restaurants, and family meals. The dish's popularity has also spread to the cuisine of Latvia and Poland. You should try them when coming to Russia.
13. Rassolnik (Russian Pickle Soup)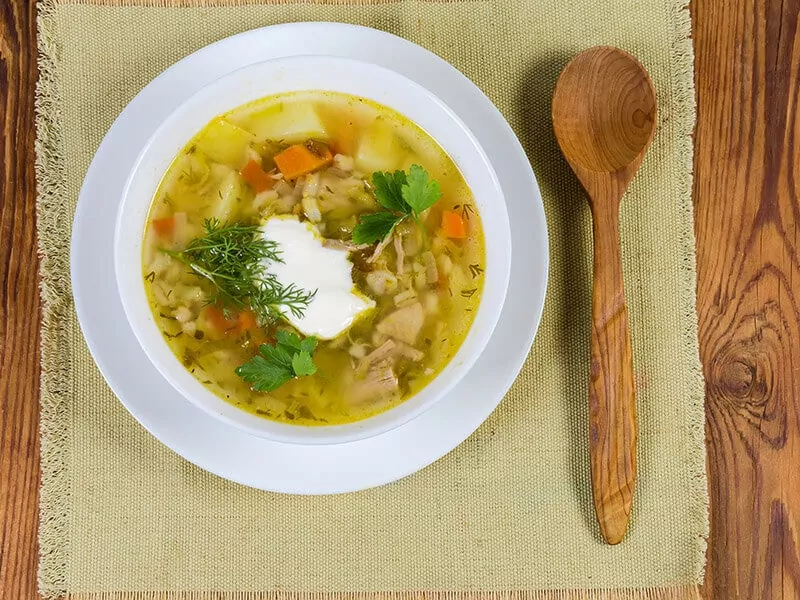 Rassolnik is another authentic Russian soup that you will definitely love. It emerged around the 15th century. This amazing dish contains beef, vegetables, typically dill and barley, and pickles.
Before the 19th century, fish was one of the ingredients, and the dish was named "kalya." After that, people did not use fish anymore and renamed it "rassolnik."
Have you ever eaten a soup that has pickles in it? They are the reason why rassolnik is special. This rich and hearty soup is nothing less than a perfect breakfast or dinner. Try it, and you will see how awesome it is! It is also a great cure for hangovers.
14. Shashlik (Russian Skewered Grilled Meat)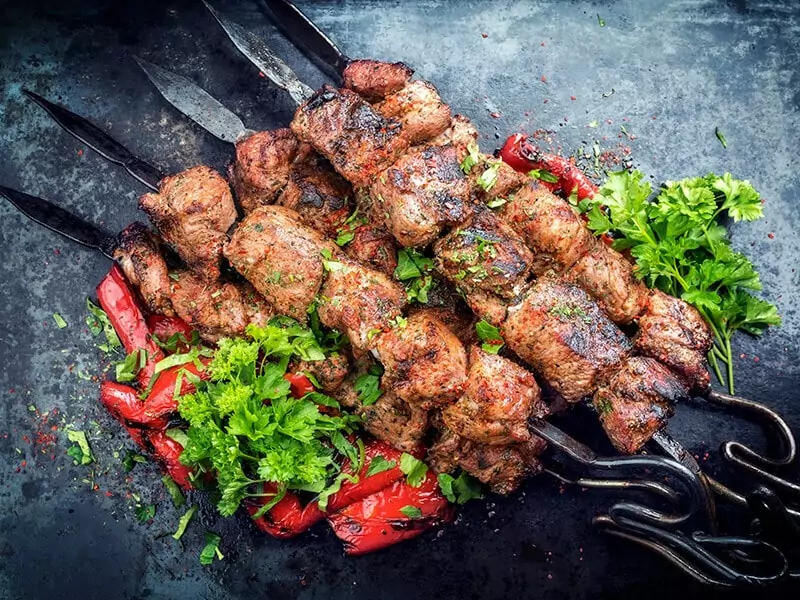 If you are planning a Russian BBQ party, then shashlik must be on your menu. People cube, skew and grill the meat to perfection in this amazing dish. Traditionally, people use lamb meat, but at present, pork and beef are also very common.
Shashlik is more popular than you think. Not only is it present at restaurants and outside parties, but you can also find these delicious skewers at street vendors.
Make sure you come to Moscow's Izmailovsky flea markets! You will see a lot of market stalls selling shashlik. Remember to eat when it has just been grilled. That's when it tastes best.
15. Okroshka (Russian Cold Soup)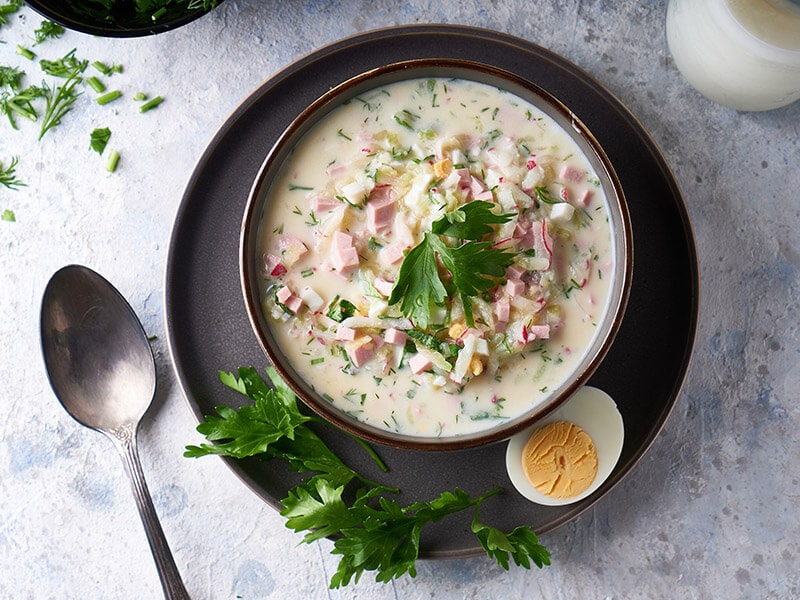 If you travel to Russia in summer, okroshka is a great meal that can help you beat the heat. This food with "O" as the first letter is a popular cold soup that contains meat, vegetables, and eggs. People often serve it with kvas, a traditional Russian non-alcoholic beverage.
The vegetables used in okroshka are often crunchy such as cucumbers and radishes, providing you a refreshing feeling in every taste. In hot summer, people add ice cubes to keep its coolness against the heat.
16. Beef Stroganov (Beef Stroganoff)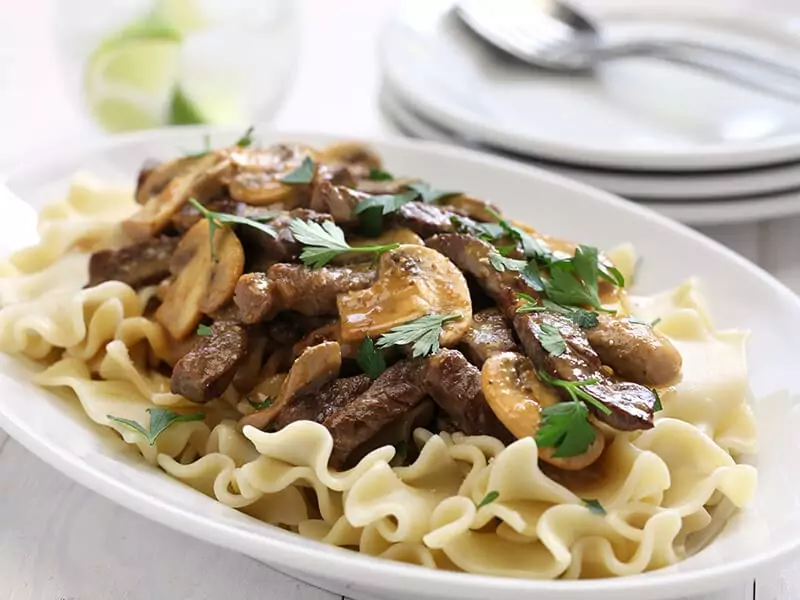 Beef stroganoff is a very famous dish in European countries and America. But do you know that it is actually native to Russia? This fact proves how fascinating Russian cuisine is. If you have tried it before, why not taste the original in Russia to see why it is a beloved dish?
When the Tsars governed Russia, it was a very wealthy country. In 1891, there was a young chef who made an impressive dish by sauteéd cuts of beef and served it with a sauce made of sour cream. That's how beef stroganov was born.
In detail, people made beef stroganoff by sauteing small cuts of beef with sour cream. People often served it with noodles. A dish of beef stroganoff makes a perfect Russian lunch recipe on your trip. I believe that its lovely flavor will never disappoint you.
17. Shchi (Cabbage Soup)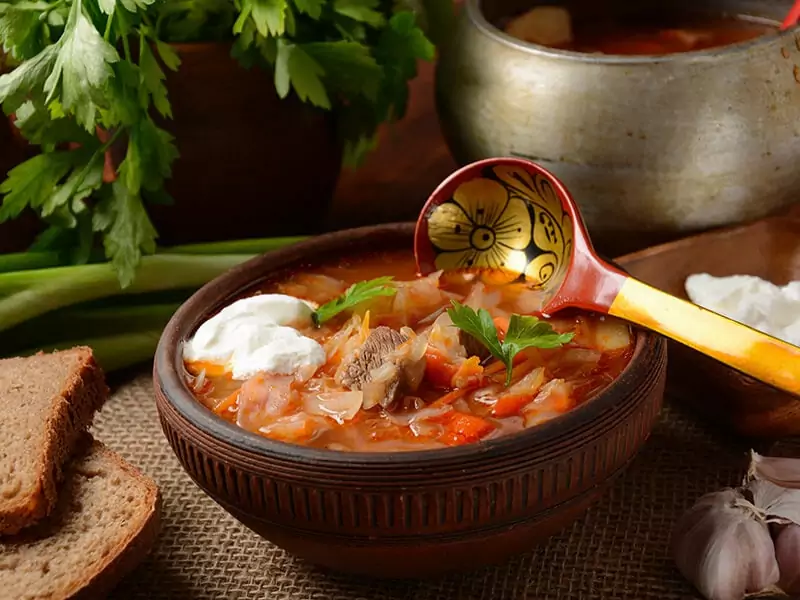 Shchi is a soup that mainly contains cabbages and fish or beef broth. It also has some meat-free versions so if you are craving a vegetable dish, it is one of your best Russian recipes to try. It also has some sour cream on the top to add some richness.
Russian consider this elegant soup as their national dish. It makes a perfect breakfast, lunch, or dinner. Each region has different versions so try as many as you can to experience the diversity.
There is one more thing that you need to know about shchi. People call it differently depending on the ingredients to make it.
If it contains meat, people will refer to it as "bogatye," which means "rich." In case they do not use meat, they will call it either "pustye," which means "empty," or "bednye," which means "poor..""
18. Solyanka Soup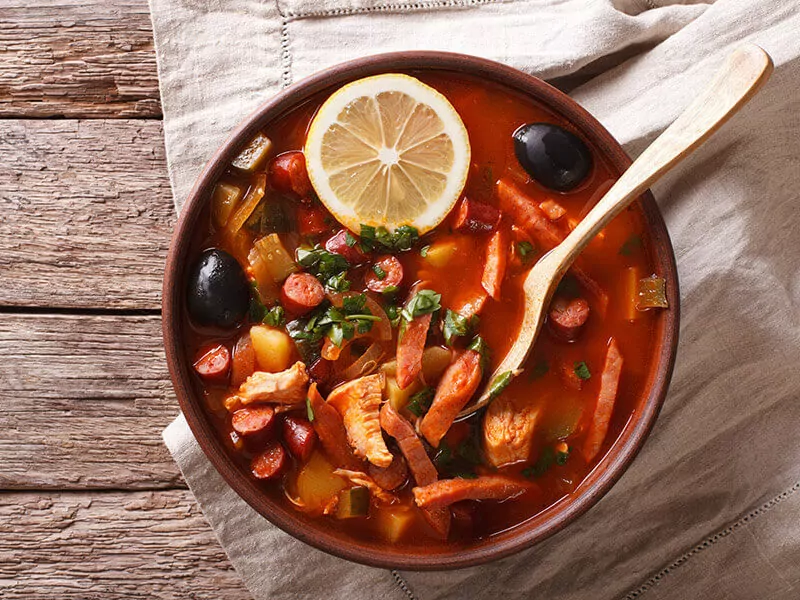 Most soups have a neutral, sometimes sweet, flavor. Solyanka, however, has a distinctive sour taste thanks to lemon juice. People often garnish it with some lime wedges to make it more refreshing. This amazing soup has its origin back in the 15th century in Russia.
This hearty and rich soup is perfect for a fulfilling breakfast, especially when the weather is cold. Its tangy taste will certainly wake you up.
19. Ukha (Russian Fish Soup)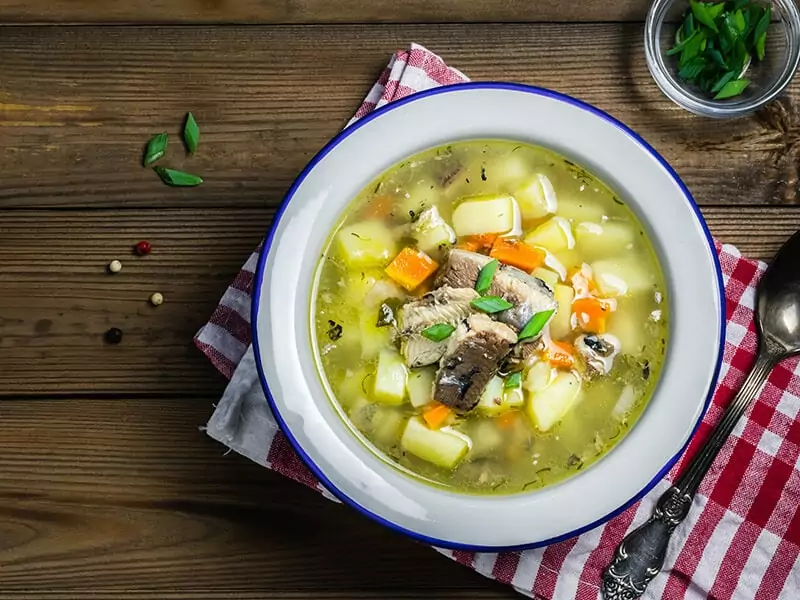 Russian cuisine does not just have beef soup and chicken soup. Fish soup is also a celebrated dish of this country. The name "Ukha' refers to fish broth. But as fish became increasingly popular, people took this name to refer to fish soup.
This food with "U" as the starter has a long history, it came in the 12th century and has continued to be one of the traditional Russian dinner recipes. Try it! There is nothing better than having a bowl of ukha on a late night.
20. Borscht (Russian Beet Soup)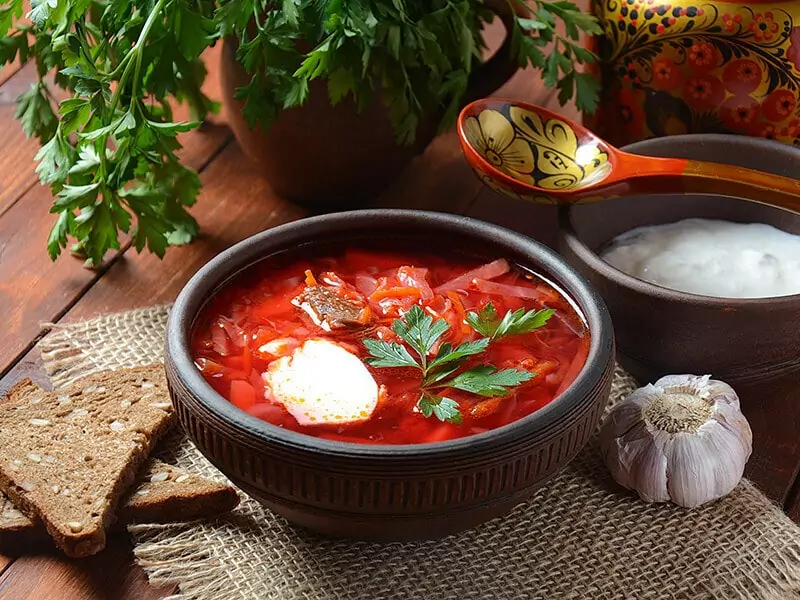 It is hard to imagine how Russian cuisine looks without borscht. Although its country of origin is Ukraine, it has been a traditional dish of Russia for many years.
This beautiful borscht is made of beetroot, so its color is incredibly charming. There is also beef or pork in the dish. On the top, there is a dollop of sour cream. Another interesting thing is that you can enjoy it both hot and cold.
Although borscht is a common dish in Russian cuisine, this is actually a traditional dish from Ukrainian cuisine. This beet soup usually goes with savory pampushky, a type of garlic bread that also originates from Ukrainian cuisine.
21. Pozharsky Cutlets (Fried Chickens)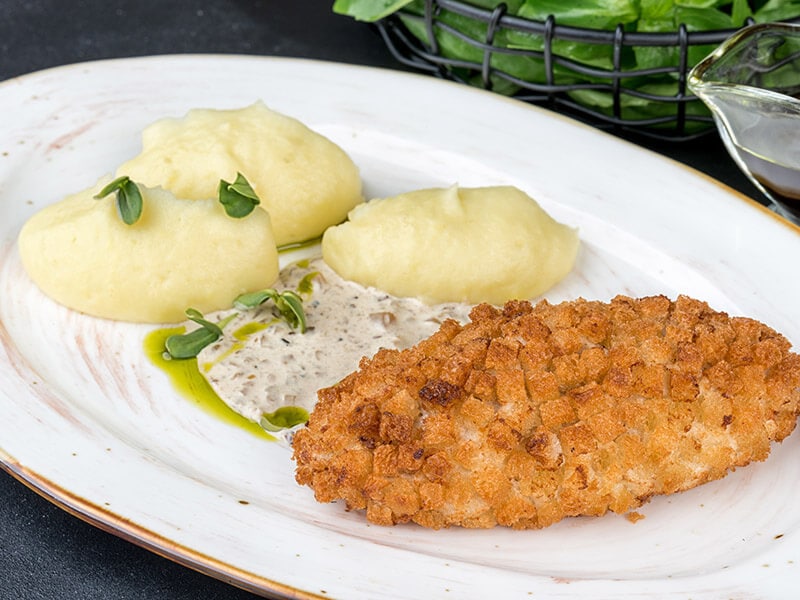 Pozharsky cutlet originated in the 19th century. It came from the Pozharsky family, who own an inn and a restaurant in Torzhok.
There are still controversies in terms of its detailed history. Some said that a poor French guest gave the recipe to the Pozharsky family as the fee for the room.
This amazing dish is simply a fried chicken dish. Its main ingredient is minced chicken or veal cutlets. People smother the meat with bread crumbs then fry them to perfection. They serve it with potato sauce to add a little bit of moisture.
22. Golubtsy (Russian Cabbage Rolls)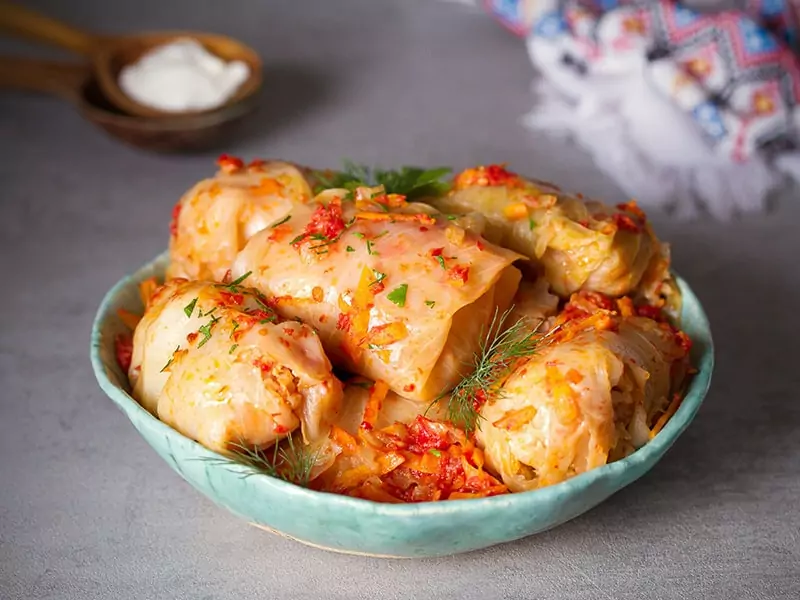 Golubtsy can be translated to "pigeons". However, it consists of beef and rice instead. Does that sound strange? Actually, its name came from a French dish that uses pigeons. The Russian adopted that name because of the similar cooking method.
To make golubtsy, people wrap the beef and rice in cabbage leaves and bake them on coals until perfection. This dish emerged in Russia around the 18th century. Now, it is a dish that is served on holiday and loved by local people and travelers.
23. Kasha (Porridge)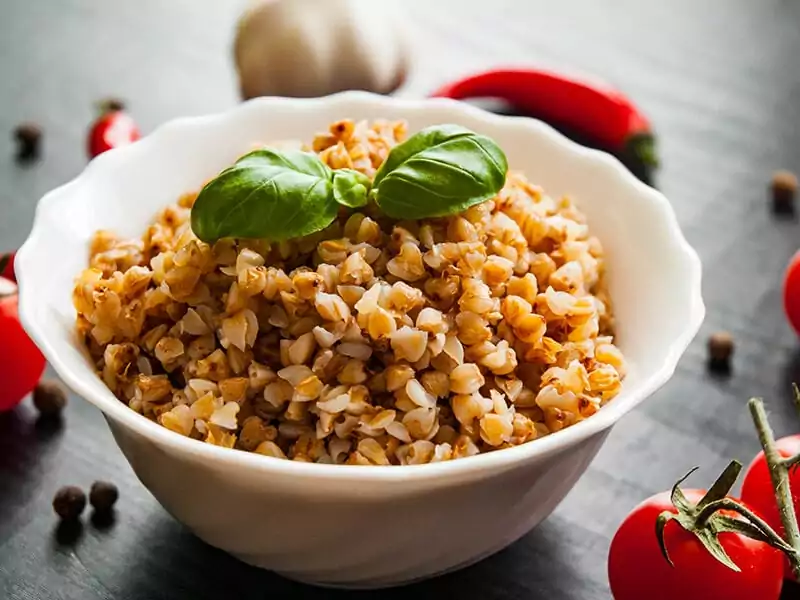 There is no better Russian breakfast dish than kasha. When you come to this country, you should definitely try it. Russian people often say "Shchi and Kasha are our food." That shows how much they love this dish. They particularly like the foods that contain groats.
According to the pagan tradition, porridge is the special gift of the Earth. So it has been an important staple of Russian meals for so many years. Kasha mainly consists of starchy ground plants such as grains and oats.
24. Syrniki (Cottage Cheese Pancake)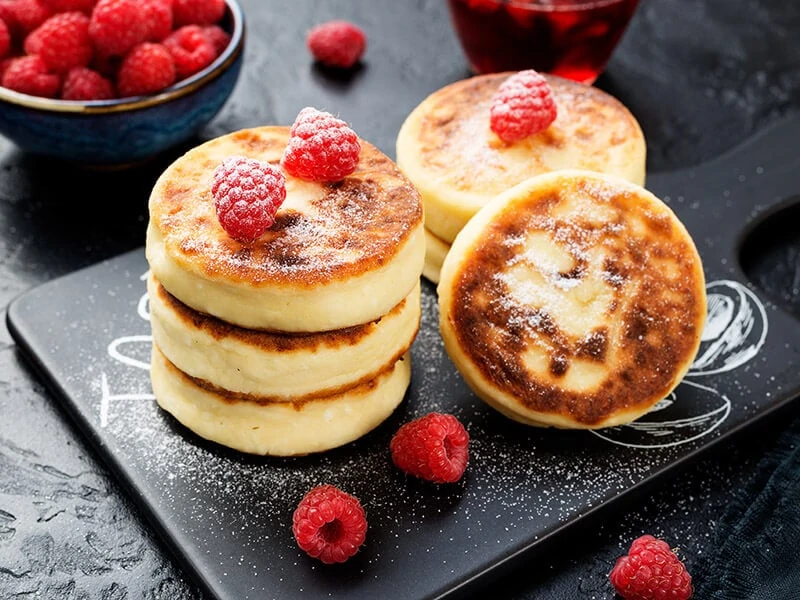 People regard syrniki as Russian-style cheese pancakes. The fluffy golden brown cheese pancakes are complemented by very distinct flavor from cottage cheese, fruit jam, applesauce, honey, and sour cream. It is a very popular breakfast in Russia.
These pancakes are soft on the outside and lightly sweet on the inside. It is a perfect choice if you prefer rich and moderate sweet desserts.
25. Guriev Kasha (Semolina Porridge)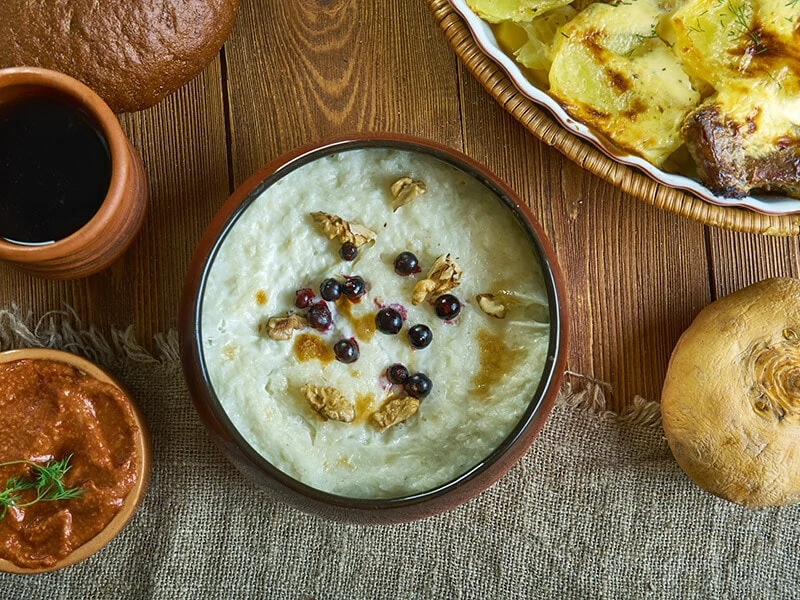 Guriev kasha was named after its creator, Dmitry Alexandrovich Guriev, who belonged to the Russian empire. Notably, it was Emperor Alexander III's favorite dessert. You now have a worthy reason to try it, don't you?
The main ingredients of guriev kasha are semolina and milk. People bake it until it turns to a golden color. It also contains dried fruits, honey, and candied nuts. You can enjoy it both warm and cold, which is perfect for any season.
26. Vatrushka (Cream Cheese Buns)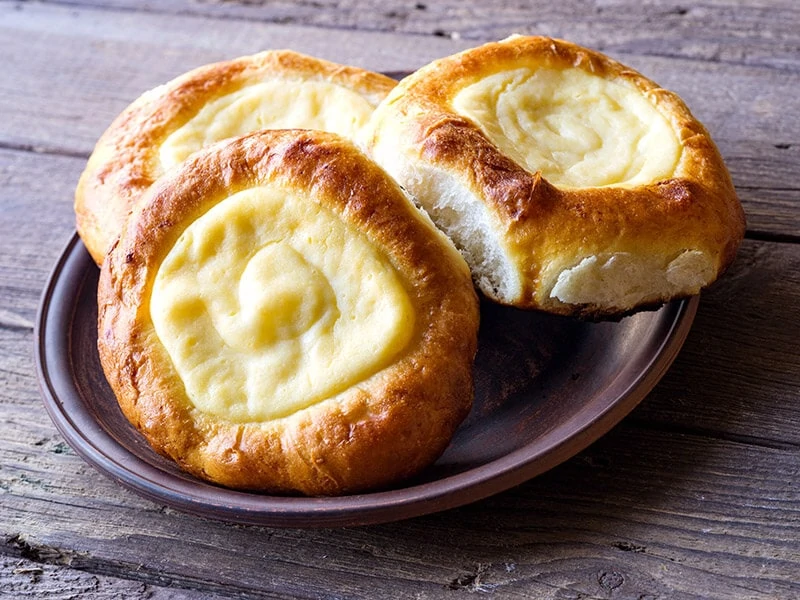 Vatrushka is a traditional dessert of Russia. It emerged in this country around the 18th century. This dish is the form of a ring-shaped pastry. The dough has an attractive brown color. The creamy filling consists of cream cheese, cottage cheese, and eggs.
People also called this dish "Russian sweet bread" because of its incredibly sweet flavor and fluffy and velvety texture. I am sure that it will catch your attention.
27. Paskha (Cheese Cake)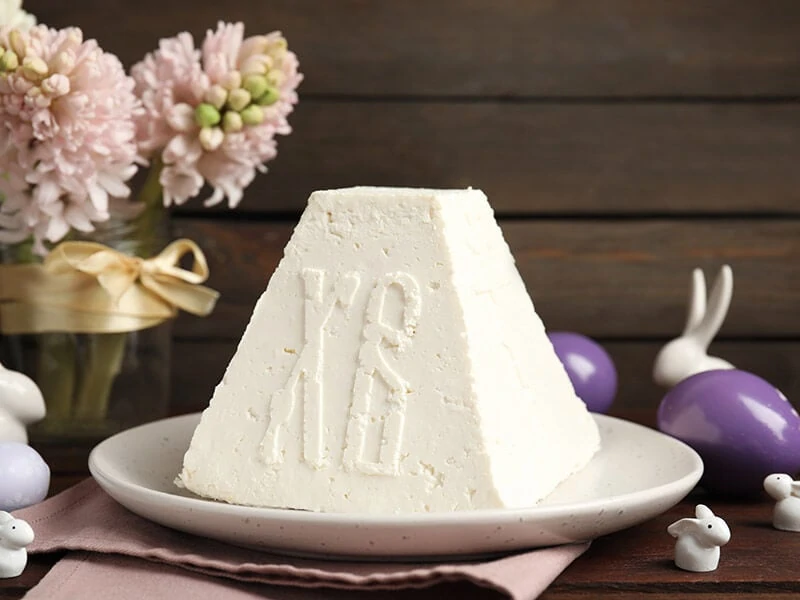 If you participate in some sorts of celebrations in Russia, typically Easter, you will probably see paskha there. It is a beautiful festive dessert that is religiously meaningful.
Paskha has a unique appearance. It looks like a piece of cheese with a pyramid shape. Sometimes a candle is placed on top of it. On each side, there is a symbol. Paskha is a dessert that is closely tied to Russian religious tradition, don't miss it!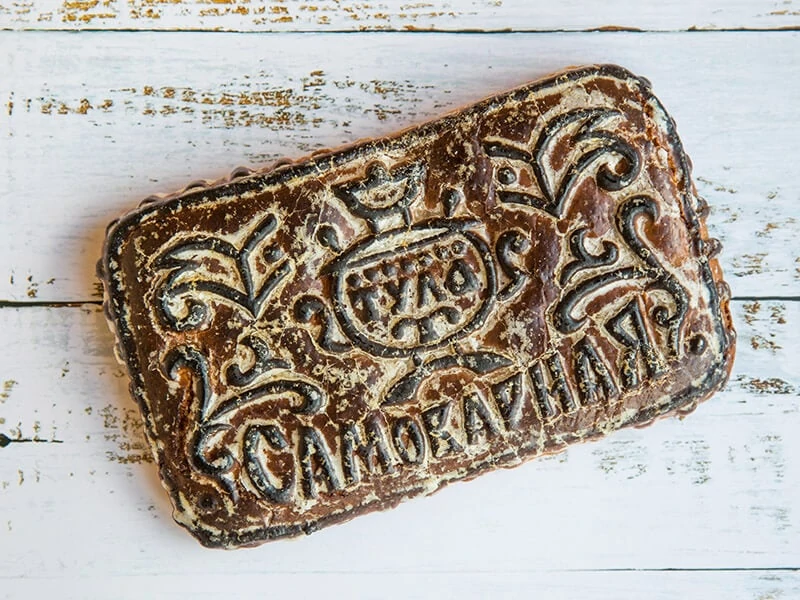 When Christmas comes, Russian people eat pryanik and drink tea. If you also do that, you will feel like you are a part of the great tradition. Is there anything better than that?
This great dessert takes root in Russia in the 4th century BC. It consists of honey, ginger, egg yolks and cinnamon. These adorable and delicious honey spice cookies will be your best Christmas retreat.
29. Kurnik (Savory Pirog)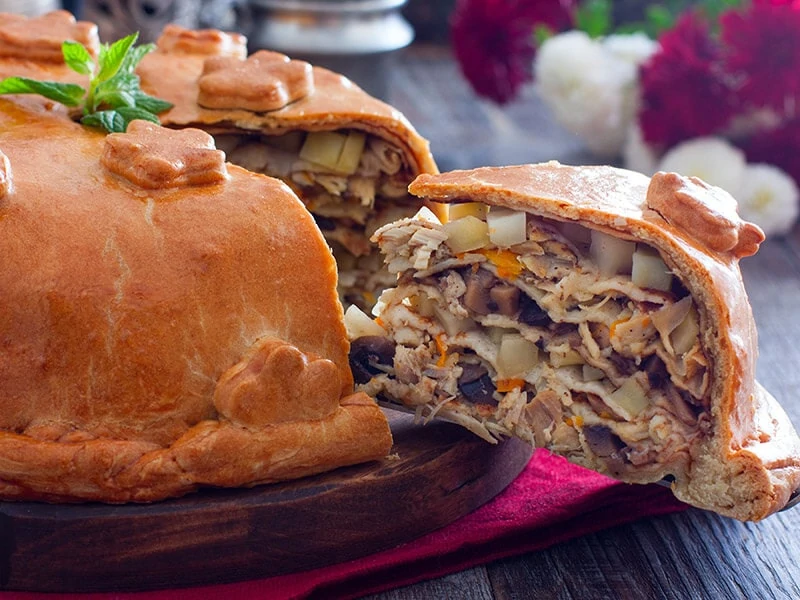 Kurnik is a luxurious traditional dish that was used to be the food for Russian royal families or wedding celebrations. Its gorgeous appearance makes a great visual interest for the dining table.
If you come to Café Pushkin, a famous dessert restaurant, you will see kurnik appear stunningly on the menu. This dish is native to the south of Russia. It was the Cossack people who lived there that invented it.
Its name means "chicken pirog" since chicken or turkey is the main ingredient of the filling. Its dough is also unique with various shapes embedded in it. Each has a meaning. You have no reason not to try it out.
30. Smetannik (Sour Cream Cake)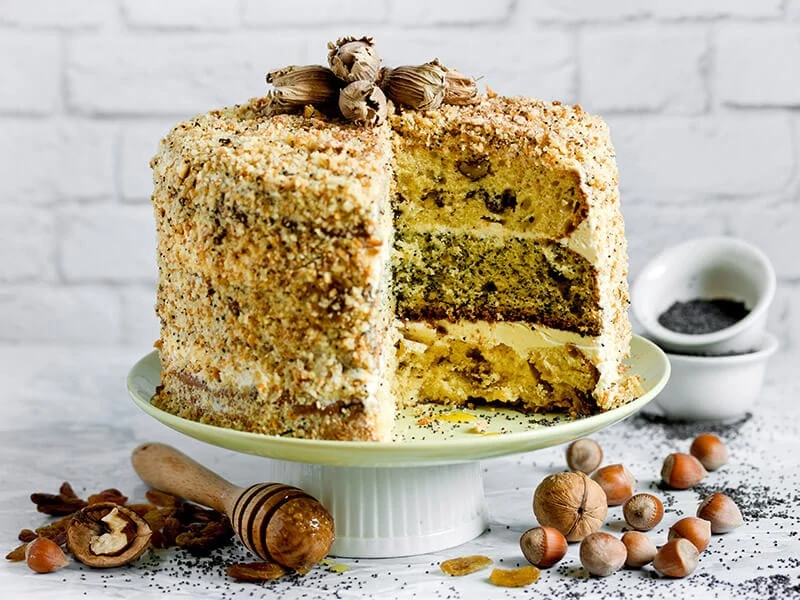 Smetannik is a beautiful cake made with sour cream and other typical baking ingredients. Its name came from the Slavic word for "sour cream." The dish is so delicious that it isn't just an iconic dish of Russia but also a popular delicacy in Moldova.
You can hardly believe the story behind it. It is incredibly unimaginable.
This cake was created by a chef but he is also a thief. He made a delicious cake and intended to steal it. When he got caught, he made up a story telling that he was planning to make a new cake recipe. Then all of this crime went away and smetannik was born.
31. Zefir (Russian Marshmallow)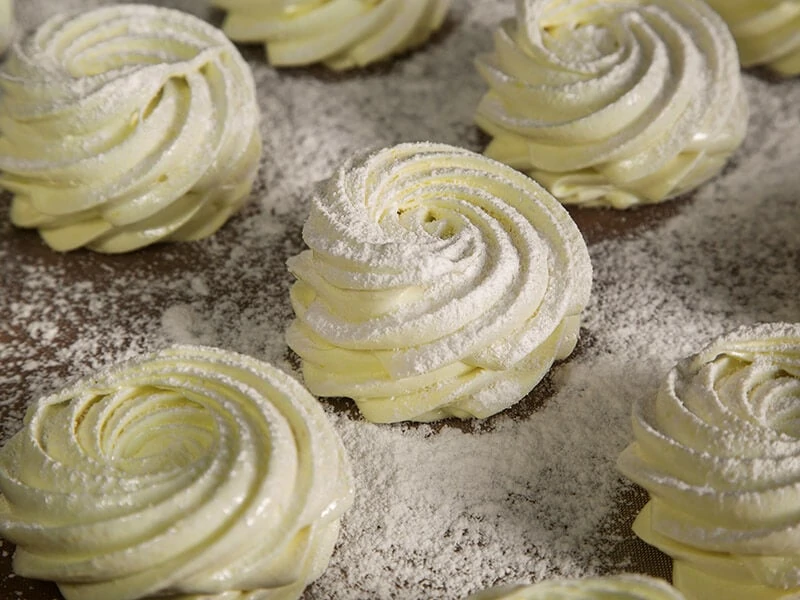 In the 14th century, Russia had a popular fruit dessert named pastila. 100 years ago, people added egg whites to it and whipped everything together, creating a yummy confectionery which is now known as zefir or zephyr.
Zefir has a very meaningful name. It was derived from the name of a legendary Greek god of the wind, named Zephyrus. This is because its texture is light and airy, just like a wind.
32. Oladyi (Pancakes)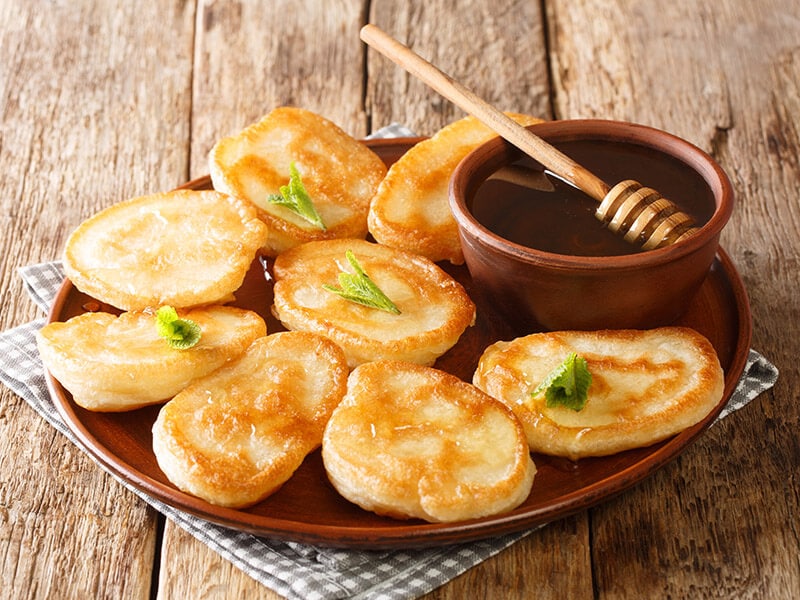 If you are looking for a Russian breakfast recipe that is quick but tasty, oladyi is an ideal choice. Such thick pancakes will provide you with enough energy to start a great travel day.
Oladyi appeared a long time ago. But it is officially recognized as a dish when being mentioned in a book called Domostroy in the 16th century. It is often served with sour cream, jam, honey, etc.
33. Limonnik (Lemon Pastry)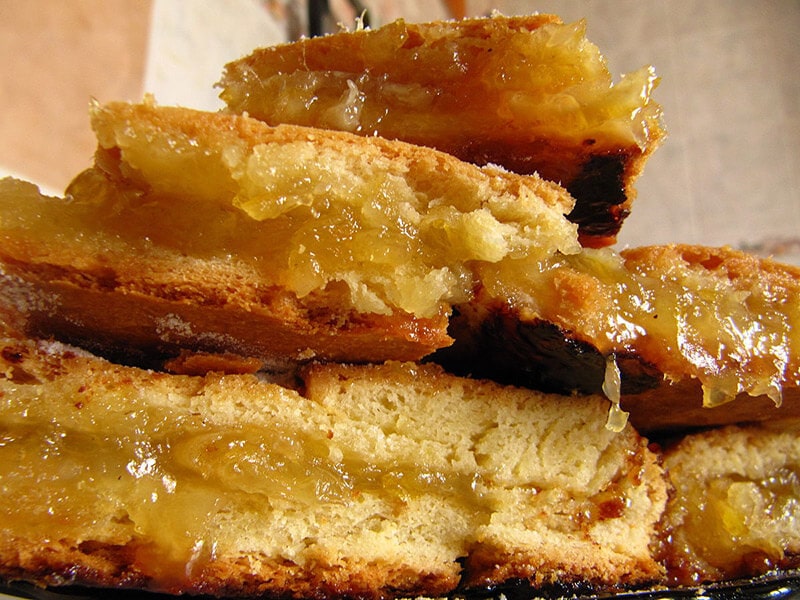 Who doesn't love a refreshing lemon pastry? I guess none. Limonnik, a famous dessert with mouthwatering lemon flavors, is the perfect treat for your summer in Russia.
The best thing about it is that it does not include eggs, which makes a perfect choice for vegetarians. Another great thing is that it is not too sweet but quite sour. Therefore, you don't have to worry about gaining more weight after your trip. Is there anything better than that?
34. Ptichye Moloko (Bird's Milk)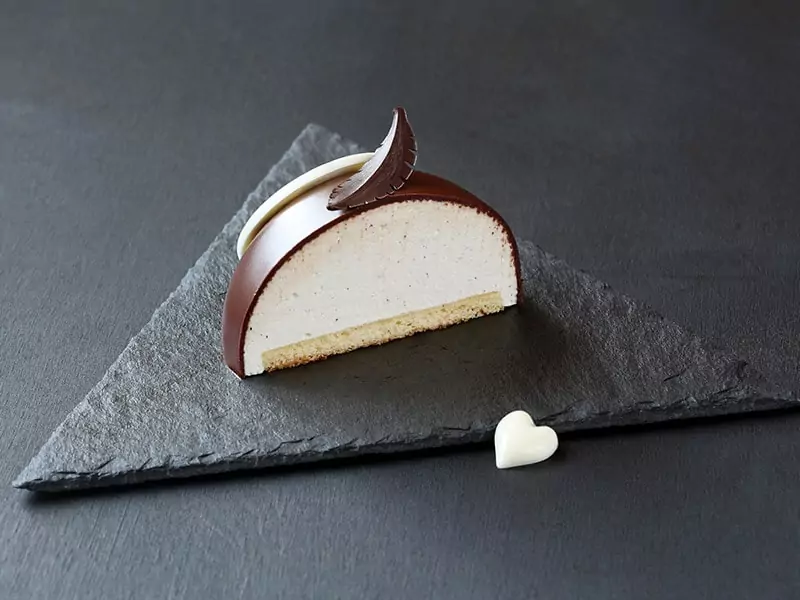 This dish has a weird name, doesn't it? Are you curious about the meaning? Well, the bird has no milk at all. But according to a legendary story, there was a princess who asked for suitors to find some bird's milk to test their loyalty.
The one who invented such a great dessert with a brain-hacking name is a chef in a restaurant in Moscow, named Vladimir Guralnik, in 1978. It has a creamy texture with an incredibly sweet chocolate layer on top.
35. Sharlotka (Russian Apple Cake)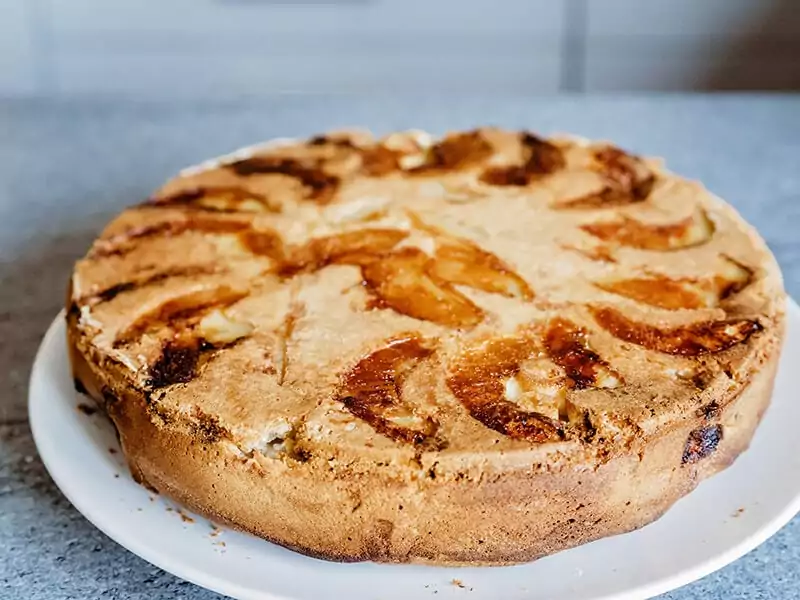 If you love the taste of apples, then sharlotka is an ideal option to go for. It originated in London around the 19th century. It was a French chef named Marie-Antoine Careme who invented it. She created it for the wife of Russian Czar Alexander I.
Sharlotka has long been considered a royal dessert due to its history. At first, people called it "Charlotte a la Parisienne" but they changed the name to "Charlotte Russe."
Although it is a royal dish, the ingredients to make it are very basic. They use baked apples, cinnamon, and vanilla to create a beautiful sweet flavor and a lovely aroma.
36. Sushki (Tea Bread)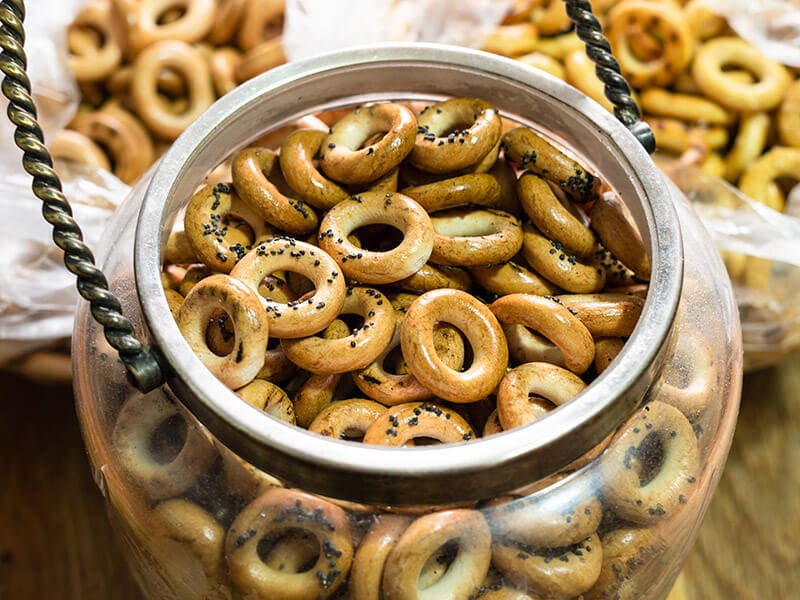 There is no better Russian dessert that is better enjoyed with tea than sushki. It has a beautiful ring shape and attractive golden-brown color that is perfect for a midday snack. Its name was derived from the Russian word "sushit", meaning "dry."
When you try sushki for the first time, bite it gently, or else it will hurt your teeth. But don't worry too much because you will get used to its toughness after trying it some more times. You could even be addicted to it.
37. Pastila (Apple Marshmallow)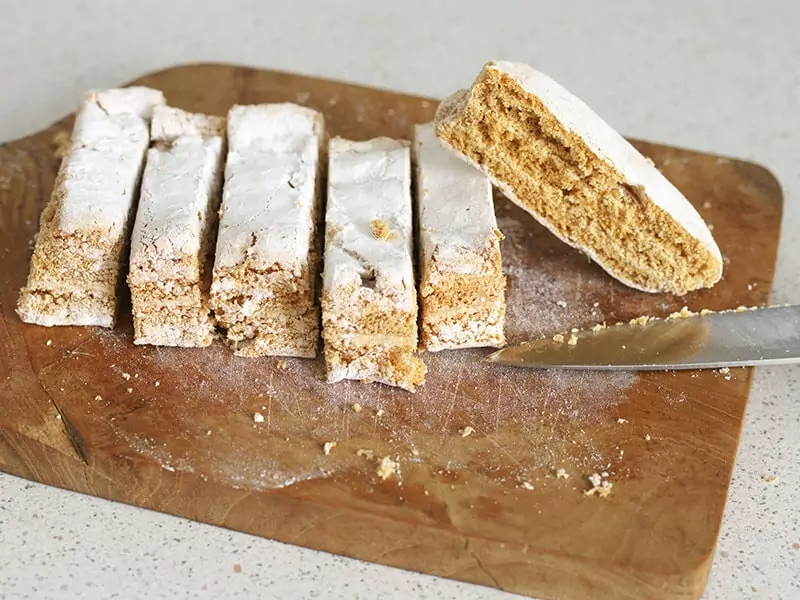 Pastila originated in the city of Kolomna in the 17th century. At the time, people created a dessert that could be stored for an extended amount of time so that they always had it in the cold winter months.
This dessert is made from apples, egg white, and sugar. It has a marshmallow-like texture and sweet taste that is incredibly yummy. Nowadays, people often enjoy it with a cup of tea to balance out the sweetness.
38. Medovik (Honey Cake)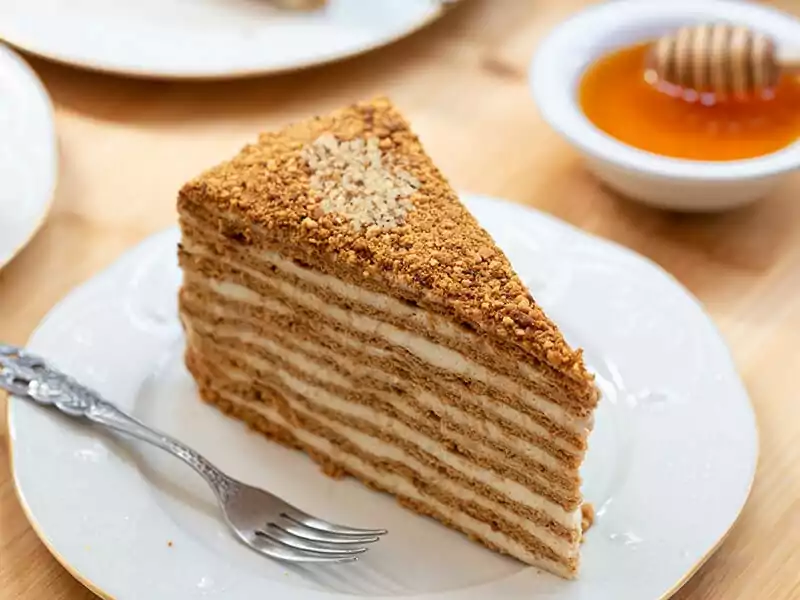 There is an interesting story behind this beautiful honey cake. Legend has it that, in the 19th century, a young chef first made it for the wife of Alexander I. But he didn't know that she hated honey.
The funny part is that when she tasted it, she immediately loved it but didn't recognize that it consists of honey. Soon after then, it gained popularity throughout the country.
Medovik contains plenty of thin layers of honey biscuit and sour cream and has a wonderfully delicious taste. Even those who hate honey could not resist it; of course, it will also seduce you.
39. Varenye (Russian Jam)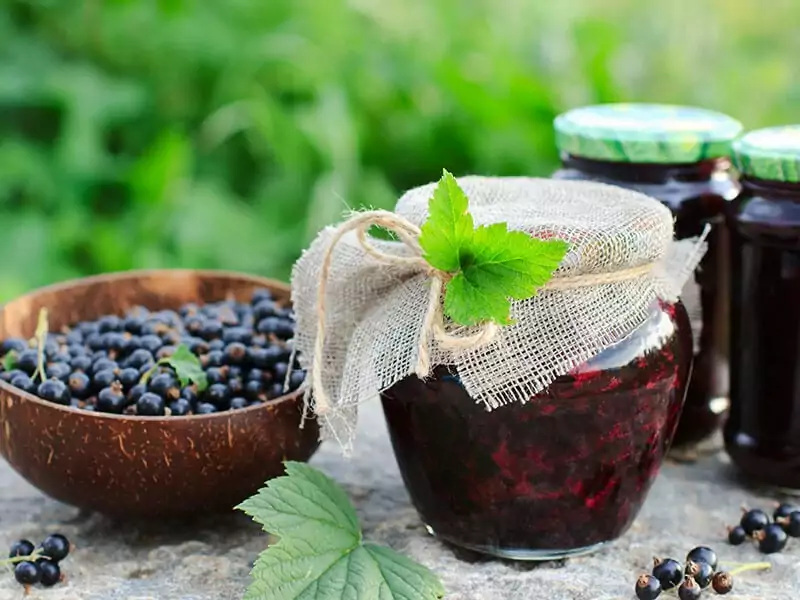 Varenye is perhaps one of the most common Russian dessert recipes. You will see it everywhere in Russia. Local people consider it to be a perfect companion of tea and blini.
Its name stems from a Slavic word, which indicates sweet fruit preserves. Varenye contains berries and other fruits. People mostly used honey to sweeten the fruits in the past since sugar was still expensive. From 1801 onwards, they started using sugar.
40. Kalmyk Tea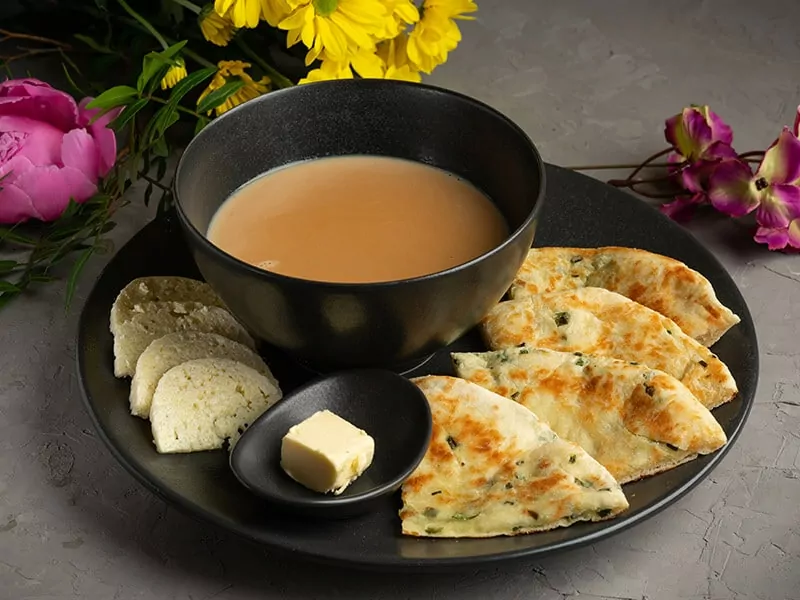 Do you know that in Russia, people pick a day to celebrate a kind of tea? The tea that has such special status is kalmyk tea, which is named after its region of origin, Kalmykia.
There are many theories about its history. One says that it was first created to cure the illness of a reformer. As he got better, he popularized its magical effect on other people. So it soon became a favorite morning drink of Russian people.
41. Coffee Raf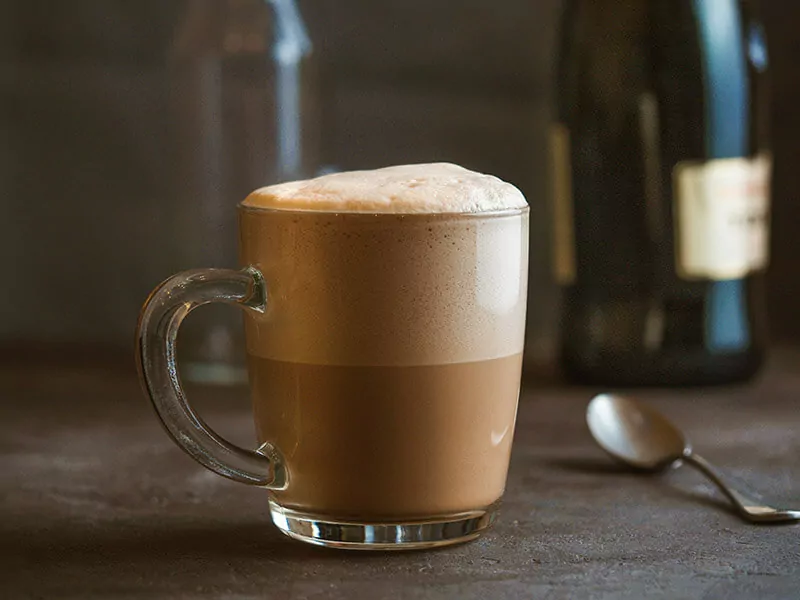 According to an old story, in the 1990s, there was a coffee shop in Moscow called. A customer named Rafael Timberbaev always ordered some milk to drink along with his coffee. As time went by, that drink became increasingly popular and was named after the customer.
The modern version of coffee raf contains espresso, milk, sugar, and cream. But the procedure is more special. People combine the ingredients together and steam the mixture, resulting in an elegant and tasty drink.
42. Sbiten (Russian Hot Honey Drink)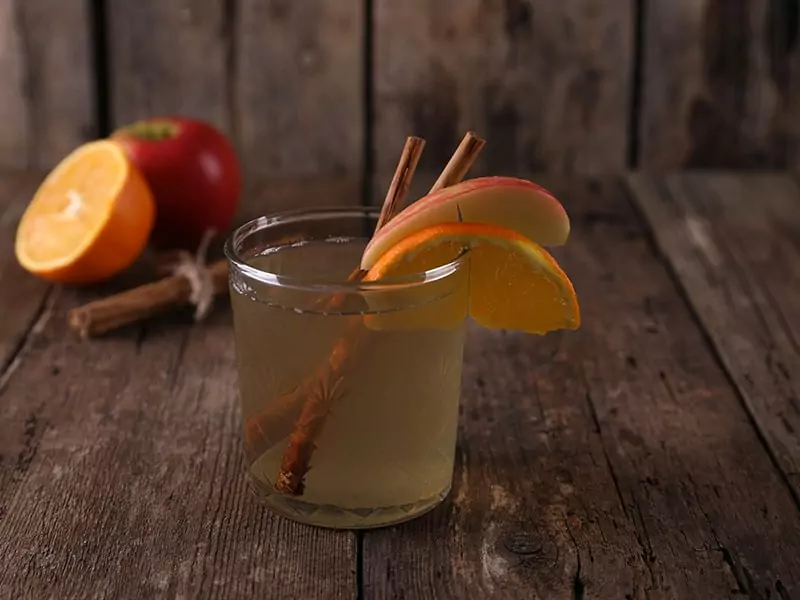 Sbiten is another healthy tea that you should never miss. It has been a celebrated tea in Russia for so many years. Apart from Rusia, it's also a revered delicacy in Belarus and Ukraine.
It emerged a long time ago, probably 1000 years ago but was first recorded in the 16th century in a book named Domostroy, a household rule book.
This drink consists of a set of dried herbs, namely mint, currant leaves, raspberry leaves, tarragon, and tutsan. If you arrive in Russia in winter, then a cup of sbiten every night will keep you warm, relaxed, and restful. Is there anything better than that?
43. Kvass (Fermentend Rye Bread Drink)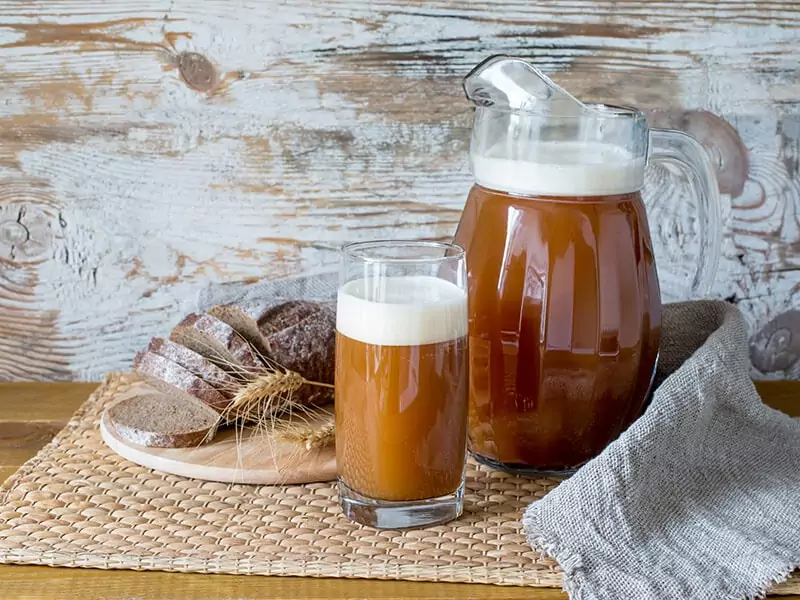 Kvass is an ancient Russian beverage. Its history can be traced back to 989 AD, when it was officially mentioned in the Primary Chronicle. Now you can find kvass in every corner of Russia.
This drink is produced from dried rye bread. It is not famous for the taste, but for the incredible health benefits it provides. In the past, Slavic peasants in Russia brought kvass along when they went to work because they believed that it could cure fatigue and make them more energetic.
The modern version of kvass has no more than 1% of alcohol so if your kids want to try it, let them do. Its pickley and moderately tart taste makes it an amazing summer retreat.
44. Yorsh (Beer And Vodka Cocktail)
Have you ever combined beer and vodka? If you haven't, are you curious about how the result would come out? Yorsh is the answer. This traditional drink will open your mind.
The origin of this fantastic drink is still unknown. But ," in the 17th century. The only recorded detail is its name, which means "ruffe." If you decide to get drunk, then a shot of yorsh will be more than satisfactory.
45. Kefir (Russian Fermented Milk Beverage)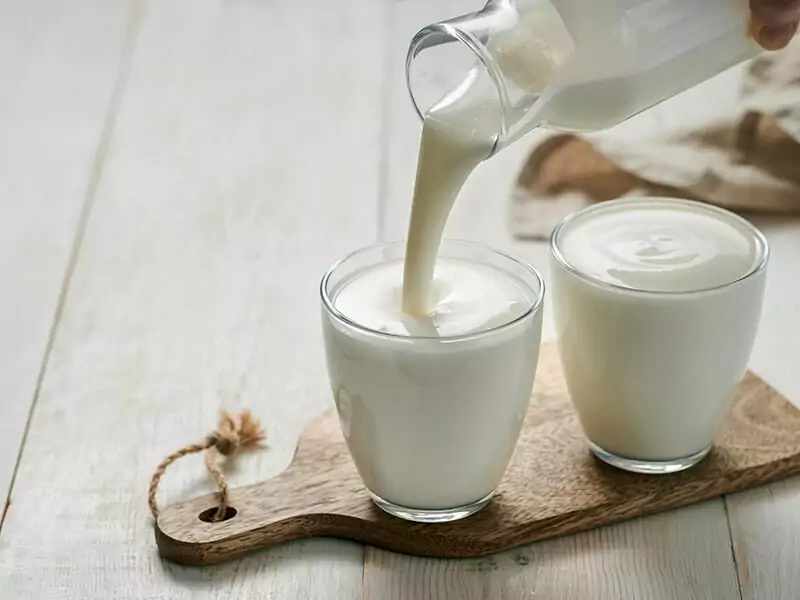 Kefir was invented by Nomadic people who lived in the Caucasus Mountains, which lie between Russian and Georgia territory. That's why some would compare this with a signature dish in Georgian cuisine – Matsoni, which is also a fermented milk product.
A long time ago, people farmed goats and cows and wondered how to keep the milk longer. Finally, they came up with the idea of fermenting it with kefir grains, resulting in an incredibly famous drink.
You can enjoy kefir by simply drinking it, pouring it over cereal, or using it as a salad dressing. Its versatility is the reason why local people love it so much.
46. Kompot (Fruit Beverage)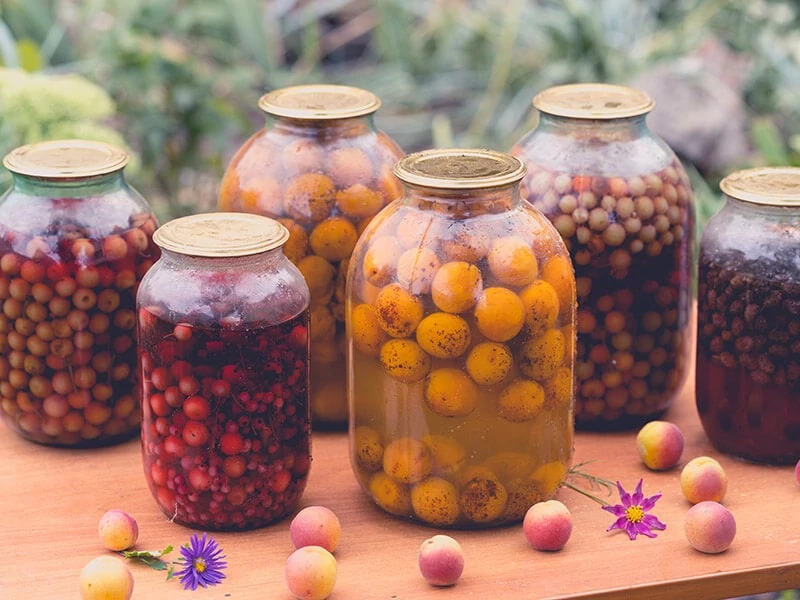 If you want to find a refreshing and fruity Russian drink, then I highly recommend kompot. It can always be your go-to treat because people make it using a unique preservation method that can keep it fresh for the entire year.
In addition to Russia, kompot is also a well-known drink in Poland, Bulgaria, Ukraine, and many European countries. 
This amazing drink originated in Russia around the 15th century. It comes in an attractive jar containing various types of fruits and a thick and sweet syrup created by water and sugar. A great thing about kompot is that you enjoy it hot, cold, and even at room temperature.
47. Starka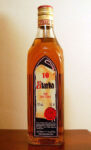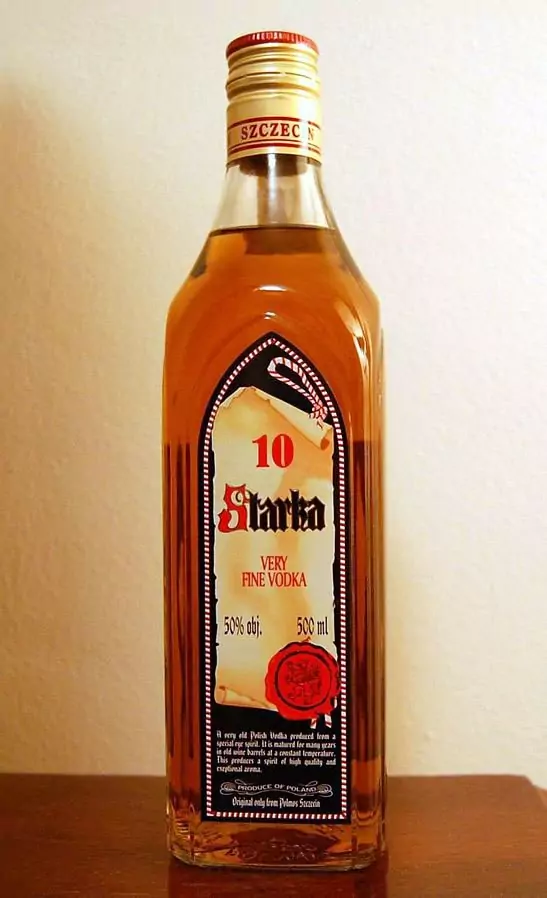 Forget about vodka or whisky when coming to Russia. You have a better option, which is starka. This delectable drink originated in the gastronomy of Lithuania, Poland, and western Russia in the 15th century. You should always have a shot of starka when enjoying the appetizers.
Starka was created thanks to a tradition of the Polish noble class. Accordingly, at the birthday of the child, the father will prepare a rye spirit, then store it in an oak barrel and bury it. They will serve it at their wedding.
48. Samogon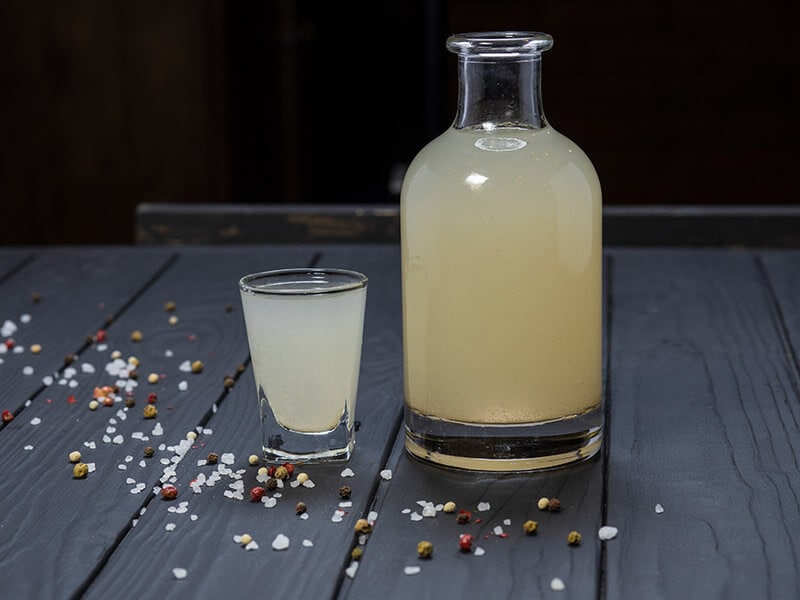 Among the most popular drinks in Russia, perhaps samogon has the most remarkable history. It is a moonshine originating in the 14th century and started out just as a drink for lower-class people in rural areas. Until now, people have considered it an illegal drink that every Russian loves.
The authorities did not support samogon not because it is of low quality or unhealthy but because the former king of Russia, Ivan, did not recognize any drink produced by the states.
What makes such a drink so popular is its distinctive flavor created by the mixture of plenty of humble ingredients, such as beets, corn, fruits, and sugar.
49. Kissel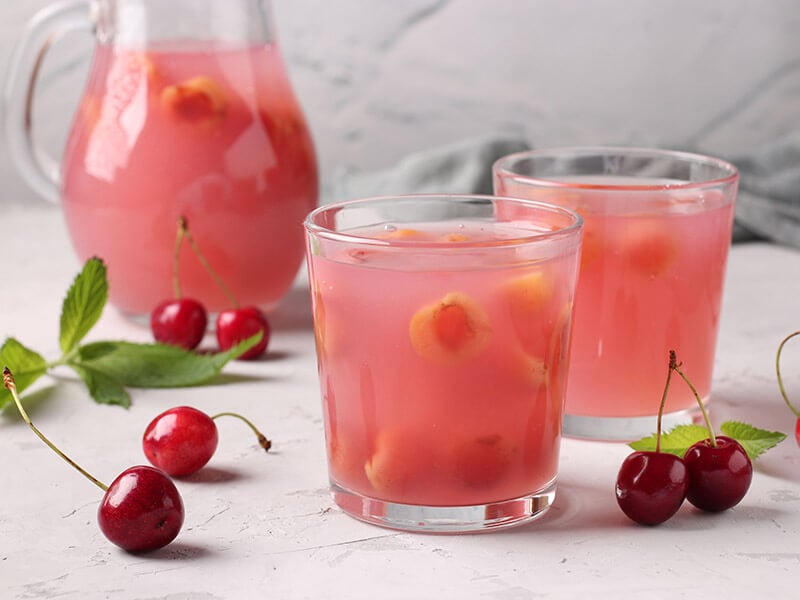 Kissel is one of the most-date drinks in Russia. People recognized it as an official recipe in the 12th century when the book Primary Chronicle was published. It is a fruit drink consisting of berries and cornstarch or potato starch.
The name "kissel" stems from a Russian word, kisliy, which means "sour." However, the fascinating truth is that it is rather sweet instead of sour, although it has some sour notes. Such a lovely flavor will be worth your try.
---
Are You In Love With Russian Cuisine Already
After taking a tour of the most famous dishes in Russia, I bet that now you are very excited and want to fly to Russia immediately. But make a good plan first. You already have a lot of options in mind. Pick your loved ones and add them to your plan.
If you are thinking of any delicious Russian dish that is not on the list, leave a comment below so that everyone else will get more ideas. And don't forget to share this article with your friends who are also planning a Russian trip.