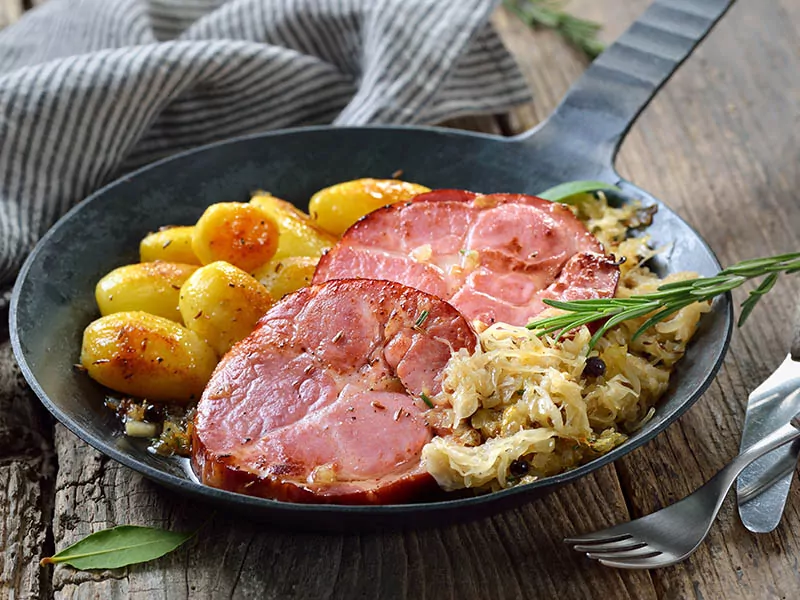 If you're a fan of German pork dishes, today's your lucky day! Since pork is the most well-loved type of meat in Germany, the locals include it in countless traditional recipes. Pork lovers can never go hungry in this country.
Pork tastes excellent regardless of how you prepare it. Whether roasted, grilled, fried, or made into a sausage, the results are always mind-blowing.
Now that you're ready to learn more about how to recreate exquisite German pork dishes at home, just read this article. Some of these dishes might take a few tries to master, but all your time and effort will be worth it in the end, trust me on this!
Up Your Cooking Game With These German Pork Dishes!
German foods are not that difficult to make once you have suitable recipes. So don't waste another second; take a look at these mouthwatering pork dishes and note down the ones you like most!
Total time: 16 minutes.
This crispy breaded and deep-fried pork cutlet will definitely make you drool! This dish is quite similar to the world-famous Tonkatsu from Japan, so if you're a fan of this Japanese delicacy, Schweineschnitzel won't disappoint!
The German pork Schnitzel often comes with egg dumplings and various sauces. It will also look amazing next to potato-based sides like fries or potato salad.
There are many variations of Schnitzel, each with its own unique sauce. For example, a rich mushroom gravy for Jägerschnitzel, a zesty bell pepper sauce for Zigeunerschnitzel, and a thick cream sauce for Rahmschnitzel. When served plain, it often comes with parsley and lemon.
Need to know more about German Schnitzel? Give this a watch!
Total time: 2 hours and 45 minutes (at most).
Originated in Bavaria, Schweinebraten is a famous German roast pork dish. These thick roasted pork slices usually come with various German side dishes like bread dumplings or potato dumplings, Sauerkraut, and gravy.
To make this filling dish, you will need to marinate the pork shoulder in pepper and minced garlic. Then, roast it for a long time to bring out the best flavors and the tenderness of the pork.
Quite similar to the British tradition of eating Sunday roast, the Germans also enjoy this meal in Sunday lunch with a massive pint of German beer on the side. But of course, you can prepare this dish on the weekdays as a way to treat yourself.
Total time: 3 hours and 20 minutes (at most).
Schweinshaxe is a well-loved roasted pork dish often found during Oktoberfest. It shares the same origin as Schweinebraten in Bavaria but has an entirely different look and taste.
Schweinshaxe is made from pork knuckles, a staple in traditional German recipes. The pork knuckle is roasted whole with its skin on to create a gorgeous golden brown crackling; meanwhile, the meat is still perfectly moist and tender.
To be honest, this dish is quite tricky to make at home since the skin of the knuckle orients vertically, making it hard to create crackling in a regular oven. The tips here are to leave the raw knuckle in the fridge overnight, prick the skin, stretch it with skewers, and use high heat.
Although it might take time and patience to recreate this dish, you will soon become a pro if you stick to the recipe and follow the tips above! Schweinshaxe tastes best with braised cabbage, roasted potatoes, or potato dumplings on the side.
You don't need much to make Schweinshaxe, just some patience and the right recipe!
Total time: 75 hours.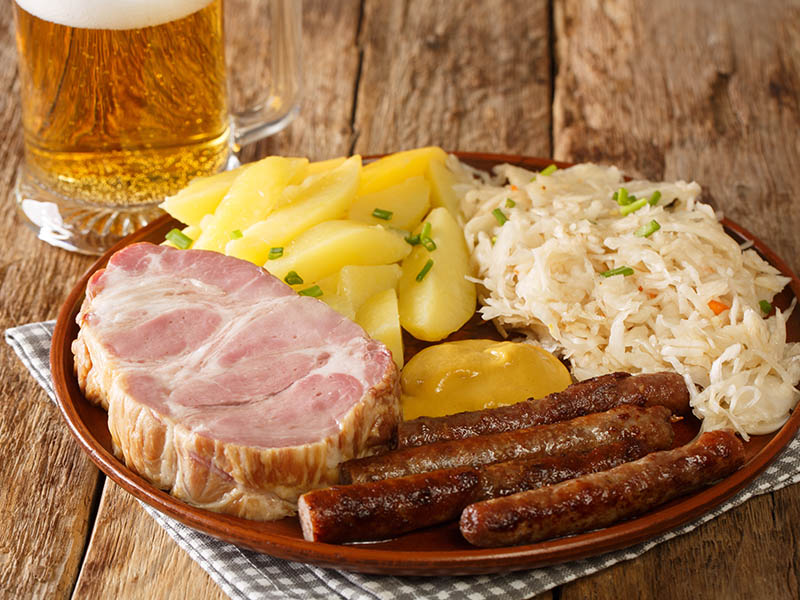 Also commonly found during Oktoberfest, Kassler is a traditional pork-based dish made with salt-cured and smoked pork loin or pork chop. Alder or beechwood is the most popular wood choice for this flavorful dish.
Kassler often comes in thick slides with mashed or boiled potatoes on the side. It goes perfectly with a jug of German beer, as all good meat does. You can also pair it with other refreshing German beverages if you like.
Locals often buy pre-cured and smoked Kassler, but that is not widely available in America or other foreign regions. Curing and smoking pork at home is quite time-consuming, but your hard work will be paid off once you take a bite of this delicacy!
Total time: 2 hours + 12 to 24 hours for marinating.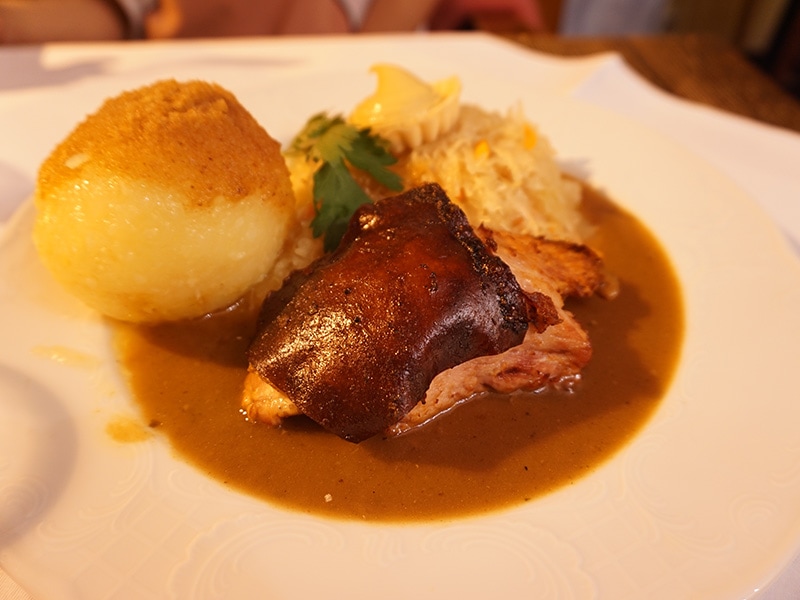 Yes, this is yet another German roasted pork dish, but in this one, the pig is cooked whole in the oven or sometimes on a spit.
Before cooking it, you must season the meat with various spices like ground ginger, cayenne pepper, coriander, and marjoram. While the pig is roasting, blast it with a honey and beer glaze to make it extra flavorful.
This stunning German dish usually makes its appearance during traditional festivals and acts as the centerpiece of an elaborate dinner table. I recommend serving Spanferkel with a side of salad and a sauce made from its dripping.
Roasting a whole pig might be a struggle, so check out this Spanferkel tutorial for more guidance!
Total time: 3 hours and 40 minutes.
The recipe for this dish may differ from region to region, but there is no denying that Schäufele is one of the best pork dishes in Germany.
This local delicacy calls for roasted pork shoulder; some recipes might recommend using smoked and cured pork shoulder to enhance its flavor. Schäufele works well with side dishes like potato dumplings, potato salad, onion, and vegetables.
Before letting the meat hit the oven, make criss-cross slashes on top of the rind. This will allow the seasonings to distribute evenly and make the meat juicy and flavorful.
Total time: 1 day and 32 minutes.
Here's another pork chop recipe that you can never resist: Schwenkbraten! You can use any pork cut for this dish, but the neck steak is the most ideal choice.
Similar to many other recipes I listed above, Schwenkbraten is best enjoyed with local side dishes like potato salads, roasted vegetables, and Brötchen rolls – a famous bread in Germany.
For this recipe, you will need to marinate your neck cuts for 1-3 days with onions, garlic, juniper berries, and various dried herbs and seasonings. A good Schwenkbraten should have a crispy outer layer while still juicy all the way.
Total time: 3 hours and 15 minutes (at most).
Known as the most iconic sausage in Germany, Bratwurst was first created in the 1300s as a way to use up and preserve scrap meat. But now, it is a delicacy enjoyed by Germans and the rest of the world.
Most Bratwurst these days contain only pork and pork fat; however, people also include veal or beef in the sausage mixture for added taste. It goes perfectly with Sauerkraut, potato salad, mustard, and of course, German beer.
If you have too many leftover Bratwurst sausages, I suggest turning them into Currywurst – a mouthwatering German snack made with grilled Bratwurst and curry ketchup sauce. This dish is super easy to make yet highly addicting!
Take a look at this detailed Bratwurst tutorial before you start cooking!
Total time: About 5 hours.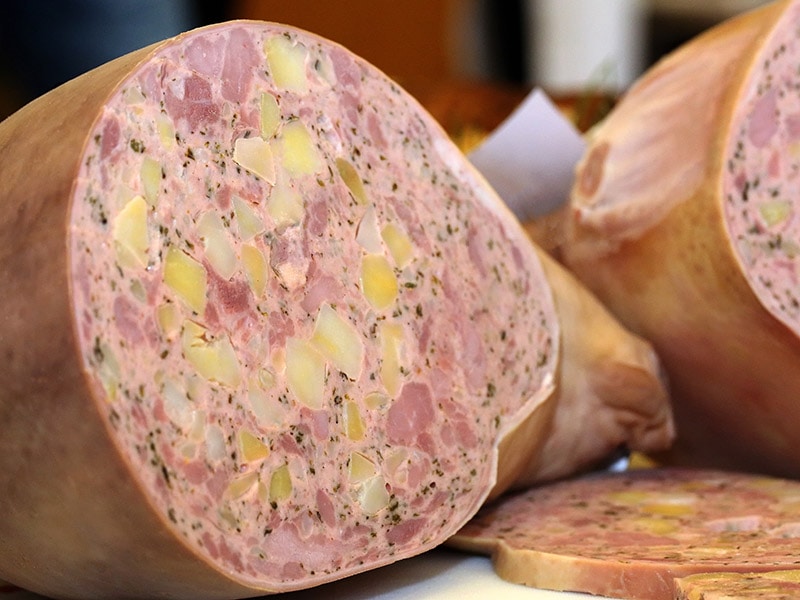 Although pig stomach might not be a familiar or appetizing ingredient, Saumagen is a delicious specialty that deserves more recognition. Just give this dish a try, and I bet you will fall in love after the first bite!
Considered one of the most distinct German dishes, Saumagen consists of a pig stomach casing and a filling mixture of potatoes, pork, eggs, and spices. This delicious delicacy pairs well with Sauerkraut, mashed potatoes, and a glass of white wine or cold beer.
Total time: 45 minutes.
Every country has its own meatball recipe, and that includes Germany. Served over a bed of Sauerkraut with sweet cream gravy, these delectable German meatballs are truly exceptional.
For this ultimate German comfort dish, you will need to prepare ground meat, parsley, onions, and Worcestershire sauce. Usually, these meatballs contain a mixture of pork and beef, but you can use only pork if you want.
If you're ready to become a German meatball pro, check this out!
Total time: 40-50 minutes.
If you're looking for another famous Oktoberfest food for your German-themed dinner party, take a look at this German pork medallions recipe!
This dish contains thick chunks of pork seared to perfection with a golden outer layer and a juicy and tender interior. Remember to top the pork medallions with a tangy sauce made from apple cider and mustard cream to complete this filling dish.
This, as you could expect, goes perfectly with a huge glass of cold beer to bring out the perfect German festive spirit. You can also add side dishes like mashed potatoes, boiled asparagus, or roasted Brussels sprouts.
It Looks Like You Will Have Pork For Dinner!
Don't just stand there; go to the nearest butcher shop and buy some pork right now! With the recipes above, making these yummy dishes at home should be a piece of cake.
Cooking with pork is a lot of fun, and I hope you enjoy it as much as I do. If you'd like to share your results with me, or if you want to add any helpful tips and methods, please do so in the comments section below. I'm excited to see what you come up with.
Also, don't forget to like this article and share it with friends if it's helpful. Your support means the world to me. Thank you in advance, and I hope to see you next time. Bye for now!
Nutrition Facts
4 servings per container
---
Amount Per ServingCalories393
% Daily Value *
Total Fat 16.7g

25

%
Cholesterol 148mg

50

%
Sodium 1205mg

51

%
Potassium 90mg

3

%
Total Carbohydrate 27.7g

9

%

Dietary Fiber 1.3g

4

%
Sugars 1.5g

Protein 32.5g

64

%
---
Calcium

53

%
Iron

2

%
Vitamin D

9

%
* The % Daily Value tells you how much a nutrient in a serving of food contributes to a daily diet. 2,000 calories a day is used for general nutrition advice.