Have you ever made these German soup recipes before? If not, you're missing out! Similar to its main dishes, the authentic soup recipes in Germany are all delectable and worth exploring.
From hearty and meaty soups to vegetarian-friendly ones, you will definitely find a recipe that suits your tastebud and available ingredients in this article. So if you're ready to learn everything you need to know about these delicacies, let's get started!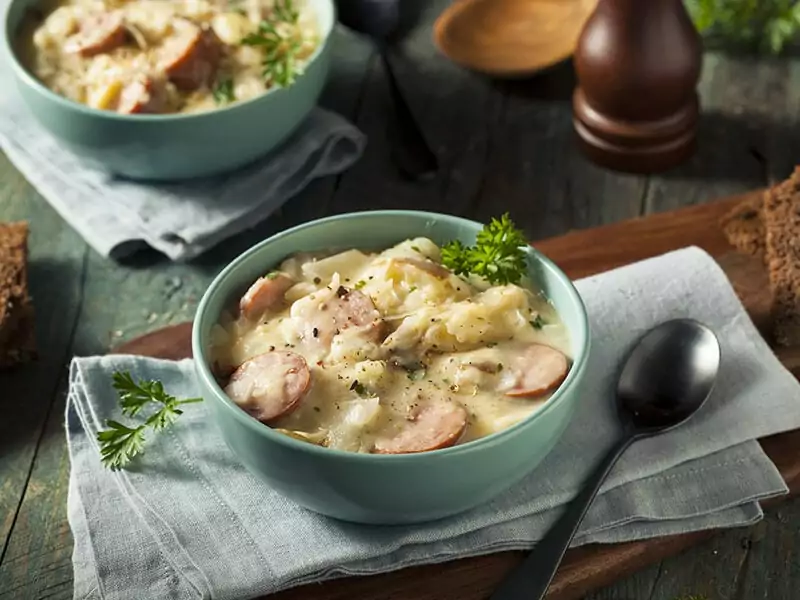 Don't waste your money visiting fancy German restaurants when you can make these recipes at home. Here are some of the best soup options in Germany:
(Goulash Soup)
Cooking time: Ready in 1 hour and 30 minutes.
Let's start this article strong with the most iconic traditional German soup of all time – Gulaschsuppe! This German goulash soup comprises many basic yet delicious components, such as beef, onions, herbs, and various spices.
German goulash is nearly identical to Hungarian goulash; however, the Hungarian version usually contains potatoes while the German one doesn't. Instead, the Germans will pair this dish with potatoes on the side.
Besides potatoes, you can also serve Gulaschsuppe with bread and buns. The bread will help you scoop up every last drop of this thick, curry-like soup.
Here is a recipe for Gulaschsuppe – the best goulash soup recipe in the world!
Cooking time: Ready in about 1 hour and 40 minutes.
Matzah ball soup is another must-try recipe. This unique chicken soup was first introduced to this country by Jewish people. Nowadays, not only is it a staple in Jewish cuisine, but it has also made its mark in Germany as a whole.
The Matzah balls are a tennis-sized bread dumpling made from matzo meal and vegetable oil or chicken fat. It is cooked in a simple chicken broth, which enhances the dish's flavor without upstaging the star of the show.
(Pancake Soup)
Cooking time: Ready in 25 minutes.
Flädlesuppe is a traditional German soup that originated in the Swabia region. Simple yet filling, this soup is undoubtedly one of the best comfort foods in German cuisine.
Even though the dish is called pancake soup, the pancake in this dish is not the typical sweet round cake Westerners eat every morning. Instead, Flädle pancakes come in long strips which closely resemble thick-cut noodles.
The Flädle, along with leeks, carrots, celery, and green onions, is cooked in beef broth. People sometimes replace the beef broth with chicken or vegetable broth. To make the dish even more mouthwatering, you can use fresh herbs as a garnish.
(Potato Soup with Sausage)
Cooking time: Ready in 55 minutes (at most).
Many European countries have their own version of potato soup, and Germany is no exception. And as expected, the Germans have also found a way to incorporate their iconic German sausage into this famous winter dish.
Kartoffelsuppe is the name the Germans use to call this potato soup. Besides potatoes, the key ingredients are bratwurst sausages, onions, celery, and carrots. People also use whipping cream to make the soup thick and creamy.
This potato soup already tastes terrific on its own. However, you can learn more from the locals and serve it with steamed dumplings to make it more filling.
Check out this tutorial and make yourself a bowl of Kartoffelsuppe for the winter!
(Chicken Noodles Soup)
Cooking time: Ready in 1 hour and 40 minutes.
Nudelsuppe is a very common appetizer in Germany. Although this dish looks very simple, it can surely tickle your taste bud.
Nudelsuppe is made of a rich beef or chicken broth, various vegetables, and egg noodles (usually Fadennudeln). To prevent the noodles from getting mushy, you should cook the chicken stock and noodles separately.
Depending on the type of broth, people also add diced or shredded chicken (or beef) to enhance the taste and appearance of the soup.
(Bread Soup)
Cooking time: Ready in 1 hour (at most).
Why must you throw away your day-old bread when you can turn them into a delicious soup? Brotsuppe is a super comforting dish made with stale bread and beef or vegetable stock. You can use any type of German bread you want, but I recommend Farmhouse bread.
Before cooking the bread with broth, you must toast the bread pieces in butter and saute them briefly with onions and garlic. This will give the broth extra flavor and aroma. You can also garnish it with chives and extra bread to make it more appealing.
(Beer Soup)
Cooking time: Ready in 30 minutes.
Yes, the stereotype is true; the Germans really love their beer. Not only do they often consume beer on a daily basis, but they also incorporate it in many classic recipes. One of the popular ones is Biersuppe or German beer soup.
This delicacy usually contains light or dark beer with additional ingredients, including veggie broth, potatoes, and cheese. There are many different ways to make Biersuppe; some recipes even call for various aromatic spices like cinnamon and caraway seeds.
After enjoying this soup for dinner, if you still have some left, you can make it into a German-themed meal the next morning. Don't need to reheat this beer soup because it tastes phenomenal, whether hot or cold.
Curious about how to make Biersuppe? This will help you out!
(Wedding Soup)
Cooking time: Ready in 2 hours and 30 minutes.
The name of this dish literally means "wedding soup" in German, with Hochzeit meaning "wedding" and Suppe meaning "soup". This recipe requires lots of ingredients and patience; however, everything will be worth it once you take a sip of this warm and soothing soup.
The ingredients for this famous wedding soup vary by location, but the most popular ones are beef broth, dumplings, egg noodles, and pancakes. You can also include currants or raisins for added taste, but these ingredients are not as common.
Although Hochzeitssuppe is traditionally saved for special occasions like weddings and anniversary parties, feel free to make it whenever you want.
(Lentil Soup)
Cooking time: Ready in 1 hour and 15 minutes (at most).
Here is another German vegetable soup that you have to try at least once: Linsensuppe, also known as lentil soup! Although this dish is popular in many other countries, the lentil soup recipe in Germany is undoubtedly one of the best.
Lentil is obviously the star of the show in this dish. Besides it, you also need some veggies like potatoes, onions, and carrots, as well as meat items like bacon or lamb chops. Linsensuppe tastes best when paired with German rye bread or bread rolls.
(Cabbage Soup)
Cooking time: Ready in 1 hour (at most).
Since cabbage is such a versatile ingredient, there are countless cabbage-based dishes in Germany. This delicious soup, known as Kohlsuppe in German, is one of them. So if you consider yourself a cabbage fan, you have to give this recipe a try.
Kohlsuppe is made with potatoes, creme fraiche, and of course, cabbage. The fresh and crunchy cabbage contrasts the soft potatoes, creating a mind-blowing food experience that can hardly forget.
Kohlsuppe is not only delicious, but it is also super easy to make!
Cooking time: Ready in 3 hours.
This dish might not be as popular at Kohlsuppe, but it is equally tasty and filling. The tanginess of cider vinegar, the sweetness of brown sugar, and the saltiness of smoky bacon all combine to create this fantastic soup.
You can serve it on whole-grain bread with grilled Swiss or extra-sharp white Cheddar cheese. It also works well with roasted pork or any other meat-based dishes.
(Sauerkraut Soup)
Cooking time: Ready in 50 minutes.
Sauerkraut is a well-known German side dish made from fermented raw cabbage. This local culinary symbol is already a popular meal in and of itself, but people also use it as a main ingredient in many dishes, including Sauerkrautsuppe.
Made with Sauerkraut, tomato paste, Pancetta bacon, and sour cream, Sauerkrautsuppe has a considerably more nuanced flavor compared to the cabbage soups I mentioned above.
This Sauerkraut soup is typically served as a meal starter with crusty bread or salad. Even if you're not a fan of Sauerkraut, I guarantee you will fall in love with this tangy, savory, and comforting soup.
If you want to try making Sauerkrautsuppe at home, check out this recipe!
(Bean Soup)
Cooking time: Ready in 2 hours and 10 minutes.
If you wish to experience authentic German food, you must give Bohnensuppe a try. This simple German green bean soup recipe is made with tons of chopped veggies, flavorful bacon, herbs, and lots of green beans.
This warm and fragrant peasant soup is the ideal dish on a cold day. To make the meal more complete, you can eat with some chewy bread on the side or a frosty stein of good German beer.
(Kohlrabi Soup)
Cooking time: Ready in 45 minutes.
Many people don't know this, but kohlrabi is one of Germany's most popular vegetables. So it should come as no surprise that it is the main ingredient in one of the most well-loved soups of this country.
This is one of the go-to recipes for Germans when they have some half-forgotten vegetables in the fridge. Potatoes, carrots, or leeks; anything can be mixed with kohlrabi to make a flavorful soup.
Once you have your veggies ready, just combine them with some good stock and cream, and you will have yourself a bowl of thick and creamy vegetable soup.
(Pumpkin Soup)
Cooking time: Ready in 1 hour and 30 minutes.
Although pumpkin-based foods might not be the first thing that springs to mind when people think of traditional German recipes, this soup is actually a ubiquitous dish in this country during falls.
This fall appetizer contains pumpkin (obviously), celery root, carrots, and onions. People also use heavy cream to thicken the soup and garnish it with roasted pumpkin seeds.
Just imagine sipping spoonfuls of this smooth, velvety, and creamy soup on a chilly day; now isn't that comforting?
(Barley Soup)
Cooking time: Ready in 1 hour (at most).
Graupensuppe, also known as German barley soup, is probably the healthiest dish on this list. Not only is barley rich in fiber and protein, but this particular cereal grain also has a tempting nutty flavor and chewy texture that many Germans enjoy.
Besides barley, Graupensuppe also contains various veggies like carrots, onions, and celery. Some recipes also call for bacon and sausages to make the soup more filling and flavorful. It is the ultimate comfort food in Germany, especially in the cold days of fall and winter.
Have a look at this quick and easy Graupensuppe recipe if you plan on making it at home!
(Oxtail Soup)
Cooking time: Ready in 5 hours.
Oxtail might not be the most common ingredient in many foreign countries' cuisine. But in Germany, it is a delicacy! Ochsenschwanzsuppe is loaded with rich meat and flavorful vegetables, creating a hearty soup that can warm up the windy days in Germany.
German oxtail soup is not an everyday dish in this country since it is very time-consuming to make. Instead, it is often served as a first course for special occasions such as wedding suppers, Christmas Day, or New Year's Eve.
There are two versions of Ochsenschwanzsuppe: one with a clear broth and one with a thick, creamy stew-like texture (commonly known as Gebundene Ochsenschwanzsuppe). Both of them are delicious in their own ways, but the latter is more popular in comparison.
Bring German Cuisine Right To Your Doorstep!
As you can see, Germany offers a ton of delicious traditional dishes that you can explore. And with the recipes listed above, you can now experience this country's gastronomic culture in the comfort of your own home.
Did you enjoy reading this article? If your answer is yes, don't forget to drop a like and send this article to your friends and loved ones. Also, feel free to ask me any questions about these soup recipes or German cuisine in the comment section below. Thank you and goodbye!
Nutrition Facts
4 servings per container
---
Amount Per ServingCalories472
% Daily Value *
Total Fat 30.1g

47

%
Cholesterol 93mg

31

%
Sodium 1145mg

48

%
Potassium 558mg

16

%
Total Carbohydrate 23.3g

8

%

Dietary Fiber 3.3g

12

%
Sugars 4.4g

Protein 20.9g

40

%
---
Calcium

625

%
Iron

1

%
Vitamin D

40

%
* The % Daily Value tells you how much a nutrient in a serving of food contributes to a daily diet. 2,000 calories a day is used for general nutrition advice.