Swiss desserts are not only tasty but also very easy to make. As long as you pick the right instruction and follow it strictly, you will be able to make a sweet treat that both looks beautiful and tastes great.
This article will introduce you to the recipes of the most popular desserts in beautiful Switzerland. I bet you will be fascinated by how simple the ingredients and procedure are. Let's get straight into it!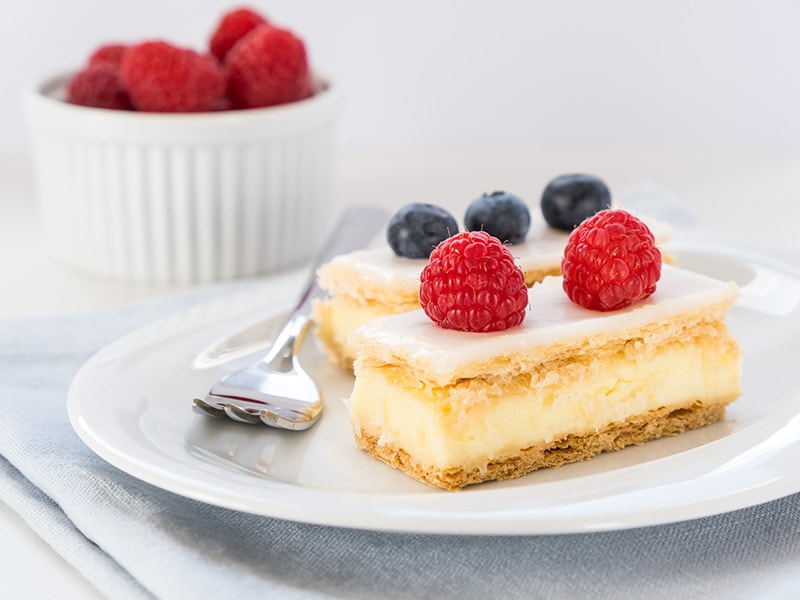 Cookies are a Swiss delicacy, especially at Christmas. Feel free to choose from the sweetness of chocolate and the warmth of anise. Even if you want some fruity notes in your cookies, these recipes will satisfy you.
Anise cookies are a typical Swiss food for Christmas. You can never find another cookie recipe that has the same flavor. Swiss anise cookies have a unique taste and appearance that will make you addicted once you try them.
The main star of this dessert is anise seeds. They provide a sweet and licorice-like taste that is unmistakable. Another notable ingredient is Kirsch, a clear strong alcohol made from cherries, and it adds a subtly bitter flavor and a cherry-like aroma.
These cookies have a half-moon shape that is just as distinguishing as their taste.
Let's learn how to create the unique shape of Swiss anise cookies!
Spitzbuben is a must-have dessert at any Swiss Christmas party. These cookies stand out from the others thanks to the jam or jelly filling in the middle. Such a filling not only adds a sweet overtone but also makes the cookies look more adorable.
You can choose any flavor you love for the filling. Swiss people like to use raspberry jam, lemon jam, or apple jam. The dough is flavored with almonds, creating a blend of nutty and sweet taste that will definitely please the crowd.
Switzerland is very famous for chocolate, especially chocolate cookies. Some people may think that there are some "magical ingredients" that make Swiss chocolate cookies so delicious. But that is not true at all.
This tasty recipe from Switzerland is simpler than anything. The main ingredients are dark chocolate, almond, and cinnamon. These cookies have a typical crispy texture combined with a distinctive sweet taste provided by chocolate and a lovely aroma from cinnamon.
Brunsli is traditionally served around Christmas, but you can enjoy it all year round. It is the perfect compliment for coffee, tea, and wine.
You need plenty of Brunsli on your Christmas party table.
Cookies are the must-have element of a dinner party. Make these iconic Swiss cookies and serve them along with your Swiss dinner recipes at your next party. I am sure it will disappear in a second. And your guests will keep asking for more.
Leckerli is a flavorful cookie recipe. It has a complex sweetness provided by the combination of honey and an abundance of spices, namely cinnamon, nutmeg, and cloves. Furthermore, candied lemon and orange rind make it more refreshing with some citrusy notes.
It doesn't stop there. This amazing desert also has a nutty taste, thanks to almonds. A little bit Kirsch finishes the dessert with a subtly bitter taste.
5 Swiss Cake Recipes That Makes A Statement
Besides cookies, Switzerland has plenty of other desserts that taste amazing. Here are the 5 most popular ones with cakes. Make sure you save your favorite recipe!
You can never find any other tart recipe that is easier to make than Swiss cherry tart. This recipe is incredibly simple, but the taste is also heavenly scrumptious. I believe that when you serve it to your family members, they will keep asking for more.
This incredible pie is one of the people's most loved Swiss breakfast recipes. Swiss cherry tart has a lovely sweet taste from sweet cherries that few can resist. That flavor is further complemented by the nutty taste of almonds and the soft texture.
While fresh cherries will taste the best, canned cherries are great for this recipe as well. Alternatively, you can switch up the recipe a bit by using sour cherries, peaches, apricot, apple, or plums.
Trust me! This seemingly simple classic recipe tastes way more delicious than you think.
It is hard to find anyone who can resist layered cake. The mix of textures is so delightful. When I tried Zuger Kirschtorte for the first time, I could hardly stop eating. Try it! I am sure that you will get the same wonderful experience.
This cake traditionally has 3 elements. Each accounts for a layer, namely sponge, buttercream, meringue, and kirsch syrup. It has enough richness, sweetness, and complexity. The top or outer layer is always packed with plenty of almonds, providing a slightly nutty taste.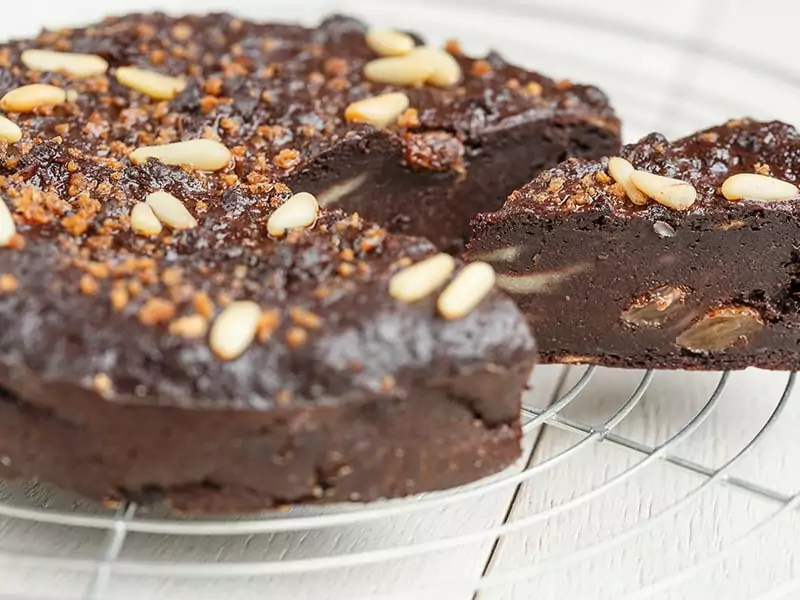 Torta Di Pane is a traditional Swiss coming from Ticino, a region that lies in the southern area of Switzerland. It features bread pudding made from Italian or French bread flavored with cocoa powder.
This dessert has a fluffy and slightly juicy texture. It is topped with some chopped nuts, so a nutty taste is a wonderful addition to the sweet flavor. I love to add raisins and spices to deepen the flavor and make it more complex.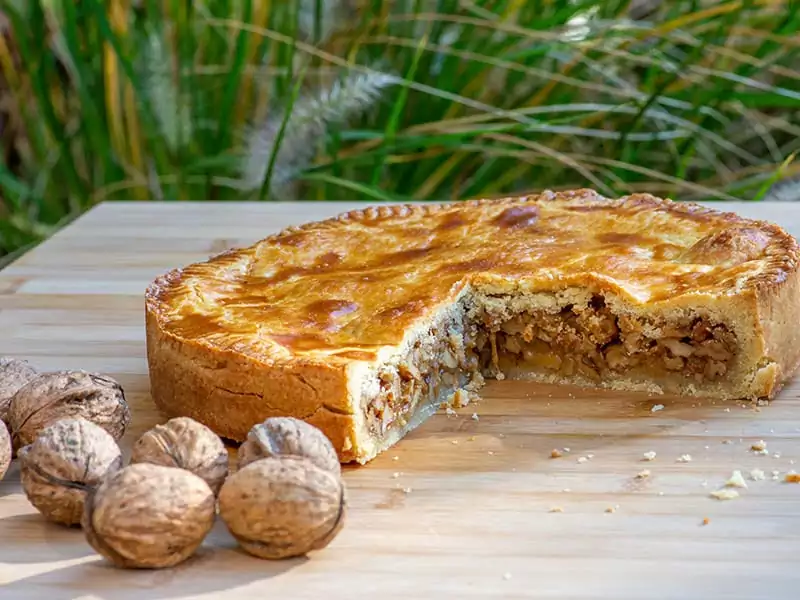 If you are finding a Swiss dessert to enjoy alongside your favorite coffee or other delectable Swiss beverages, go for Bündner Nusstorte. There is no better option than that. This cake is bursting with the nutty flavor of walnuts and the richness of the cream.
Bündner Nusstorte is designed for the crowd. It is a very large cake made of a crust and a delicate filling. It has a dense texture accompanied by the crunchiness of nuts and the chewiness of the crust.
This Swiss classic is perfect for the fall season when the weather is getting colder. There is nothing better than a slice of Bündner Nusstorte and a cup of coffee, isn't it?
Making Bündner Nusstorte does not take much time and effort.
When having a cup of tea in the afternoon, you probably want something very sweet to complement the earthy taste of tea. I have enjoyed it along with Swiss walnut and chocolate cake for years and never want to change to another because its flavor is so amazing.
This recipe features a beautifully garnished cake that will seduce anyone. The sponge chocolate cake is topped with walnuts, providing a burst of textures that will please your sweet tooth. After you try it, you will want to come back for it, just like I do.
2 Other Swiss Desserts That Will Rock Your World
If you are into something else, not cookies or cakes, here are my top suggestions. These 2 dishes are not only tasty but are also easy to make.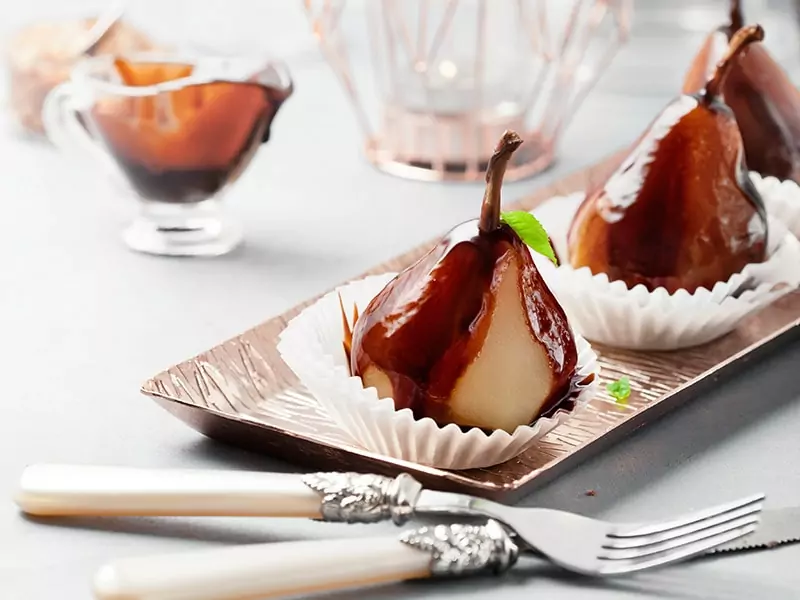 Have you ever seen any dessert that is made with just 3 ingredients? In Switzerland, people steam pears and then smother them in a delicious chocolate sauce. That charming pear dessert is Schoggibirnen, and it is extremely quick and easy to make.
The 3 elements of Schoggibirnen cannot be simpler. They are pears, chocolate, and butter. All you need to do is to make the sauce (super easy!) and pour it over the pears. Then what you get is a classic sweet treat that is irresistible.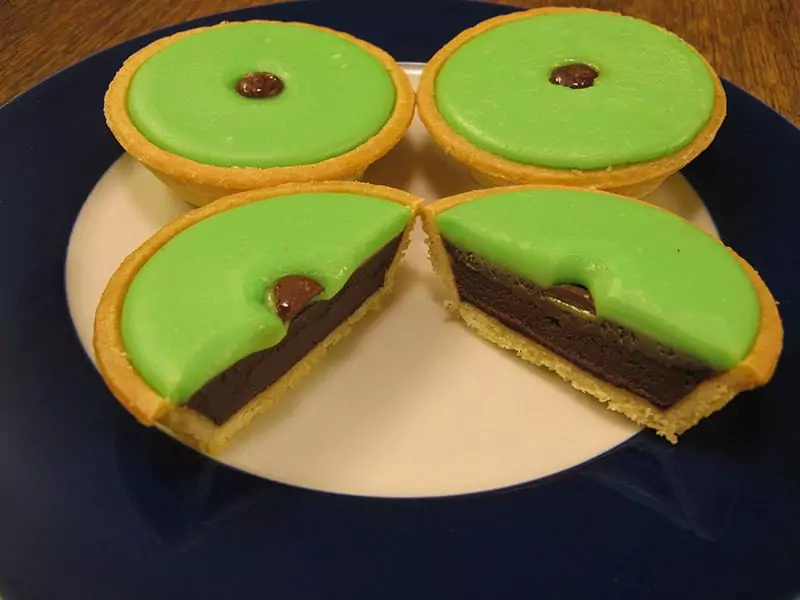 Carac features a round dough filled with chocolate and green icing on top. The dough has a nutty taste of almonds. And since the filling consists of purely dark chocolate, milk and butter, it has a distinctive sweet taste that is unmistakable.
Are you curious about where the magical green color comes from? Well, it is just food coloring. The top layer is made from sugar only. You can enjoy it any time you want, like after your favorite Swiss lunch recipes. Or if you have a chance to visit Switzerland, you can buy it at any pastry shop.
Come To Your Kitchen Now And Try These Recipes
I believe that you are feeling hungry now. Why not pick a recipe, rush to the kitchen, and make a delicious dessert to enjoy with a cup of tea? You may want to buy some essential ingredients first. I think maybe all of them are already available in your kitchen.
When you finish making the dessert, show me the result! I am very curious about that. I am sure that you will be successful. And don't forget to share these recipes with anyone who is also a fan of Swiss desserts.
Nutrition Facts
50 servings per container
---
Amount Per ServingCalories37
% Daily Value *
Total Fat 0.3g

0

%
Cholesterol 7mg

3

%
Sodium 14mg

1

%
Potassium 11mg

1

%
Total Carbohydrate 7.9g

3

%

Dietary Fiber 0.2g

0

%
Sugars 3.9g

Protein 0.8g

0

%
---
* The % Daily Value tells you how much a nutrient in a serving of food contributes to a daily diet. 2,000 calories a day is used for general nutrition advice.