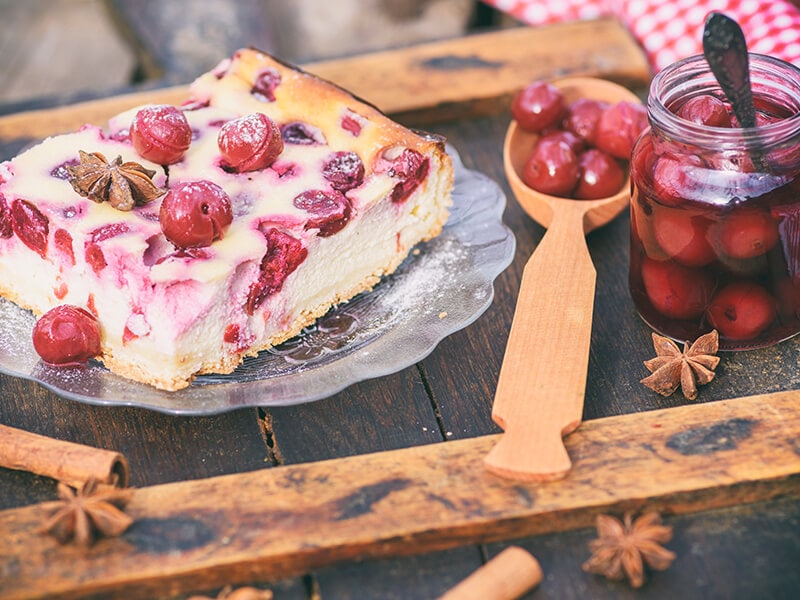 Canned cherry recipes are a versatile element that you can use extensively to make hundreds of unique recipes.
Unlike fresh cherries, canned cherries can be reserved for quite a long time and added to your dish around the year, but not all cherry varieties are suitable for canning. Overall, they allow you to enjoy a cherry pie whenever you crave it with a short cooking time.
My kids feel more excited if I put cherries on top of their desserts and be more than happy if I bake something which is a combination of cherry and chocolate – their two favorite things at the moment.
If your kids are a fan of cherry, I'd love to share a list of 24 recipes that have been tried and proven true.
Ready for the list? I bet you'll soon find our favorite canned cherry recipes, including cake, pastry, or others!
24 Yummy Canned Cherry Recipes To Make Right Now
Now that you've stocked up on delicious canned vegetables and fruits, it's understandable that you'd want to learn how to utilize them. Not sure what to do with your canned cherries? I've got you covered. Check it out below.
Cake Recipes
Chocolate Cherry Dump Cake
Heaven on Earth Cake
Cherry Dream Cake
Cherry Coke Cupcakes
Chocolate Cherry Cakes
Cherry Chocolate Bread
Red Velvet Cherry Cake
Pastry Recipe
Cherry Pie Bars
Sweet Cherry Pie
Black Forest Tart
Cherry Dumplings
Cranberry-Cherry Pie
Easy Cherry Cream Cheese Danish
Air Fryer Cherry Hand Pies
Cherry Donuts
Cherry Sweet Rolls
Others
Black Forest Pancakes
Cherry Crumble
Black Forest Waffles
Cherry Rhubarb Jam
Cherry Yogurt Parfaits
No-Bake Cherry Cheese Lasagna
Cherry Cheesecake Ice Cream
Cherry Cobbler
Classic Cherry Crisp
24 Canned Cherry Recipes That Are Perfect For All Occasions
Here are 24 timeless recipes that you might find helpful in a year, perfect for a family dinner to a holiday gathering.
Delightful Cake Recipes To Indulge Your Sweet Tooth
Let's begin with several tasty cake recipes. I bet some of them will bring back your childhood memories. Right?
All you need are three ingredients to make this chocolate cherry dump cake. At first sight, it's full of my two favorite things: cherry and chocolate. It is recommended to be served warm with one or two scoops of vanilla ice cream.
With just one bite, you can realize that the buttery, chocolatey, and cherry flavor of dump cake combines well with vanilla aroma and creates an irresistible, crowd-pleasing dessert.
You can also add in a few slices of pineapples to elevate this decadent dessert from cherries. The combination of two fruits will make dump cake much more appetizing, especially for those who aren't fond of sugary sweetness.
This out-of-this-world cake is super delicious and super easy to make. This recipe is oven-free; however, it requires chilling time for about 4-5 hours. For extra nutty flavor and crunchy texture, sprinkle almonds on top of the cake if you prefer.
Heaven on earth cake is a perfect idea for parties, potlucks, or church events.
People might eat with their eyes first, and this cake looks fabulous and tastes spectacular. Canned cherry, white chocolate pudding, and whipped topping come together in one cake and make it a hit at any party.
The great thing about this recipe is that it can be whipped up in no time and is exceptionally suitable for lazy days with your family and friends.
Made from a handful of basic ingredients, this cherry coke cupcake recipe is my suggestion for your next get-togethers or birthday parties.
Because it's pretty simple to make, it's perfect for novice bakers. You will use coke and cherry extract instead of water to make the cake batter in this recipe.
This recipe can be summed up in two words: irresistible and satisfying. Chocolate cherry cakes are moist and fudgy in the center while crispy in the corner. In my opinion, this treat is one of the best gifts for chocolate lovers.
As you might not know, it can stay fresh at room temperature for about 2 days, and if you want to keep it longer, store it in the fridge for an extended time.
I'm totally into chocolate and cherries; therefore, this recipe is a crazily delicious dessert for me. It's moist, sweet, and extremely addicting.
This bread loaf can be a perfect breakfast or an energy-boosting snack, which you will need after long working hours.
Similar to the brownie, you can make your red velvet version of most favorite desserts. All seem to taste good and look brilliant. Red velvet cherry cake is not an exception. It should be on the list of holiday baking goodies for the sake of your family's sweet tooth.
This yummy treat consists of a layer of freshly made cake, luscious cherry pie filling, and creamy whipped topping – no one is going to judge if you're already drooling as you read! Let's make a batch tonight!
Easy Pastry Recipes To Use Up Canned Cherries In Your Kitchen
Now, let's roll up your sleeves and get ready for the next section: pastry. Recipes for puff pastry treats often feature a buttery crust and gooey cherry filling, which can become troublesome for my waistline because one bite is never enough. If you are curious about them, you need this list.
I couldn't complete a list of canned cherry recipes without mentioning cherry pie bars. This treat features a luscious option for parties which you could make ahead to save extra time.
This simple sweet snack is pretty simple to make, and it takes you less than an hour to make up to 26 bars. Don't hesitate to try it as soon as you read this post.
Sometimes you just need a big cherry pie to have fun with kids on the weekend. Let me introduce you to this canned cherry pie which might be one of the most straightforward cherry pies you've ever tried in your life. It appears satisfying and comforting thanks to the sweet filling and buttery crust.
This recipe is undoubtedly for chocolate lovers with two decadent layers of chocolate and a luscious cherry topping. It might take time to make this black forest tart successfully, but it's guaranteed that this cake will bring a wonderful experience for your guests.
Cherry dumplings or Vareniki dumplings are a classic Ukrainian recipe. These adorable dumplings are filled with sweet canned cherries and served with a generous amount of sour cream and sugar.
I can tell you it's the juiciest dumpling you have ever tasted. People often consider it as a dessert – a satisfying way to end a meal, but I'd like to enjoy it as a fruity and wholesome dinner.
Cranberry-cherry pie might be on top of the holiday baking list when looking for a fresh yet crowd-friendly recipe. As you might not know, sweet cherries go along with tart cranberries, and this combination brings a traditional pie to the next level.
Want a simple recipe that delivers impressive results? Easy cherry cream cheese Danish is what you're looking for.
It's an excellent alternative for traditional Danish pastry and a simple way to indulge yourself at the weekend. The filling is a perfect combination of rich cream cheese and sweet cherry filling.
If you want to whip up a dessert with your air fryer, cherry hand pie is an ideal recipe to start with. It takes you only 15 minutes to complete, and make sure you get a better-than-expected result. No one can resist a bite of buttery pastry crust filled with luscious cherries.
Who doesn't love donuts? With this recipe, you indeed love them more. Maraschino cherries and cherry extract have brought the donut to the next level. These pinkish donuts deliver a wow experience to anyone who tries them.
This recipe calls for simple components which might be familiar with fans of cinnamon rolls and sweet rolls. The only difference is that they're stuffed with cherry pie filling and coated with sweet cherry glaze. Before serving, drizzle the icing all over the sweet rolls to polish their looks.
Other Unbelievably Good Dishes That's Seriously Make You Crave
Canned cherry recipes are countless, and you can create your own formula depending on your taste preference. Here are some examples of spontaneous canned cherry recipes which you might find interesting to try.
If you want to start a day boldly, I suggest you opt for some black forest pancakes because they might be able to keep you energized until lunch. Moreover, you will find them relatively easy to make and fun to taste.
These delicious pancakes look appealing and are a combination of sweet, fruit-filled, chocolaty, and creamy flavors.
This recipe might become your new favorite summer dessert. The best part? This recipe can be changed according to your sugar preference. I use rolled oats for the crumble part, which seems to make the dish healthier.
Feel free to top it with your favorite summer ice cream and enjoy it with your friends.
Kids will love these chocolate waffles topped with sweet cherries and smooth whipped cream. For the ultimate treat, you could drizzle the chocolate syrup all over the waffles.
This fantastic breakfast option could be one of your back-pocket recipes when you need to whip up something quick yet delicious.
To my surprise, cherry pie filling and fresh rhubarb are wonderful in this delectable jam. It's sweet with a hint of tartness and perfect for spreading on the bread.
It's said that lemon juice is essential at the end of the cooking process because it adds depth to the overall flavor.
Cherry yogurt parfait is another light and straightforward breakfast recipe you would love to make again and again. You can make it a night before and keep it in the fridge for freshness.
This scrumptious dessert tastes sweet, fruity, wholesome with both creamy and slightly crunchy texture. It consists of three layers: fresh cherry compote, velvety yogurt, and crumbly granola.
Let's enjoy this cherry cheese lasagna with a thick layer of rich cream cheese placed right on a layer of graham cracker crumbs and under many nutty pecans and cherry pie filling.
This recipe doesn't ask for an oven and can be easily achievable, even for beginners.
Chilling out with this cherry cheesecake ice cream is a fun way to enjoy hot summer days. You can prepare the homemade pie filling for this recipe, but a store-bought one is good enough to make this ice cream taste good and also save you a lot of time in the kitchen.
This recipe also works well for frozen cherries. Even if you don't know the proper technique to freeze cherries and end up with a batch of freezer burnt cherries, you can still turn these into a cold treat to entice everyone. Such a great way to salvage your improperly frozen cherries, huh?
This homey cobbler can win your heart with just one bite. It's a combination of a soft biscuit layer and delightful cherry filling. Making a cherry cobbler seems easier than cherry pie, so you can start with it first before being involved in a more challenging dish.
This quick and straightforward cherry crisp is advised to serve warm with a scoop of your favorite ice cream.
This recipe is perfect if you're in a hurry because it takes less than 30 minutes to finish. Moreover, you can prepare it with ingredients that are likely in your pantry, too.
Sweeten Your Days with Canned Cherry Recipes
Cherry pie, cherry cobbler, cherry cheesecake, cherry ice cream, etc. I can easily tell how many dishes I could relate to this wonderful summer produce.
Thanks to sweet flavor, cherry makes a simple and healthy snack, whether fresh or stored in cans.
I often use fresh cherries in cooking if they're in season. However, if not, I always keep my pantry full of canned cherry because I'm amazed at how versatile they are. Believe it or not, I can make something cherry on all occasions.
Most of my above recipes are easy to follow and require minimum ingredients, which you can find available in your kitchen or the nearest grocery store.
Cherry pie filling might pair well with dark or white chocolate, yogurt, and cheese, so feel free to stock your pantry with these things. This way, you can save a trip when you plan to bake a pie.
I find canned cherry products more convenient because I don't have to peel and pit each cherry before cooking. How about you?
What's your favorite recipe? Please share with me what you think about canned cherry recipes I've posted. I'd love to see what you come up with.
Nutrition Facts
2 servings per container
Serving Size2 bread loaves
---
Amount Per ServingCalories577
% Daily Value *
Total Fat 19.9g

30

%
Cholesterol 31mg

11

%
Sodium 23mg

1

%
Potassium 214mg

7

%
Total Carbohydrate 92.1g

31

%

Dietary Fiber 3.8g

12

%
Sugars 18g

Protein 10.7g

20

%
---
* The % Daily Value tells you how much a nutrient in a serving of food contributes to a daily diet. 2,000 calories a day is used for general nutrition advice.