Whenever cherry season rolls around, you can always expect to find a fresh batch of cherry dessert in your kitchen. Be it decadent chocolate cherry cake or crumbly cherry bars; these desserts always have a firm place in my kitchen.
But most cherry varieties are not available all year round; you may wish to know the right ways to freeze your fresh cherries. And whenever you need it, you can take them out and make a lot of heavenly desserts.
A significant reason why I love making cherry desserts is that they're pretty easy and therapeutic to make. After a long day in the office, I can always unwind myself by preparing some tasty desserts with cherries.
In my attempt to make everyone fall in love with these cherry desserts as I have, this post was born. It contains the best cherry desserts that I've had the pleasure to try.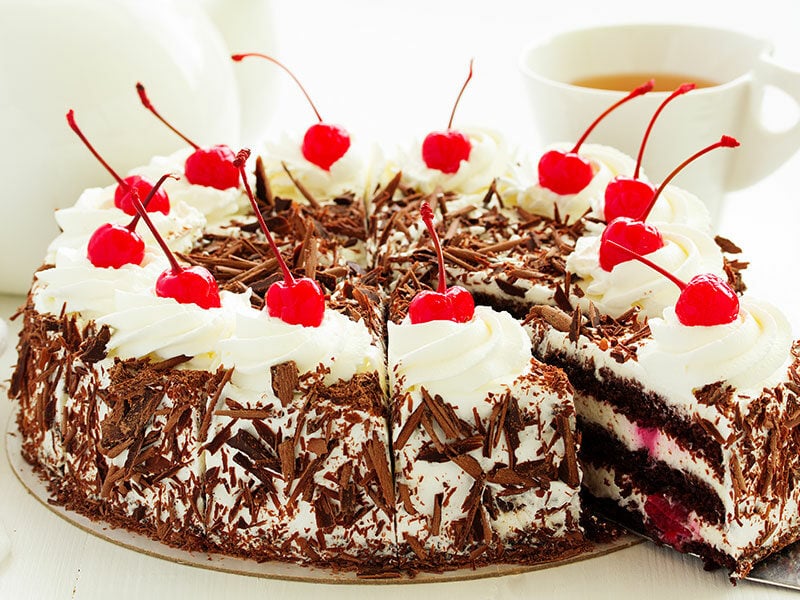 Astounding Cherry Desserts That Will Steal Your Hearts
When it comes to cherry desserts, there are several choices for you to consider. If you like fluffy desserts, cakes are the best choice for you. If you want something fresh and chilled for a hot day, cold cherry desserts will be right up your alley.
Cakes
Chocolate Cherry Loaf Cake
Black Forest Cake
Cherry Dump Cake
Pineapple Cherry Dump Cake
Mini Cherry Cheese Cake
Black Forest Pavlova
Maraschino Cherry Cake
Cold Cherry Desserts
Chocolate Cherry Brownie Parfaits
Cherry Ice Cream
Cherry Almond Smoothie
Cherry Limeade
Cherry Delight
Cherry Frozen Yogurt
Maraschino Cherry Almond Chocolate Cookies
Chocolate Cherry Cookies
Cherry Macarons
Cherry Almond Shortbread Cookies
Cherry Crumble Bars
Pastries
Cherry Danish
Cherry Strudel
Cherry Scones
Cherry Galette
Cherry Pie
Cherry Candies
White Chocolate Cherry Fudge
Cherry Coke Fudge
Amazing Cakes You Can Make With Cherry
Let's begin my list of the best cherry desserts with some fluffy, decadent cakes. Whatever it is that you're looking for, exquisite-looking cakes or a quick and simple treat, this section will have what you need.
For fans of fudgy desserts, this chocolate cherry loaf cake features chocolate chips and tangy cherries. Loaded with luscious flavors, this amazing cherry dessert is the definition of a sinful treat. The fluffy texture will make you sigh in contentment and reach for another slice.
With chocolate cherry loaf cake, I either glaze it with either some extra chocolate or coffee mix. Whatever option you opt for, the result is an irresistible treat that will leave a lasting impression on you for years to come.
I'm certain you'll love the recipe for a chocolate cherry loaf cake. You can see this video to know more:
Black forest cake is a fancy sweet course that you can serve at your family gathering and feel an incredible sense of pride.
With its exquisite look, the black forest cake looks like a noble gothic princess coming out of a fairy tale. Beautiful and luxurious, this cake will make everyone look in awe.
Thanks to the divine combination of chocolate, cream frosting, and fresh cherries, black forest cake truly lives up to its appearance. If there's any drawback about this dessert to be named, it's that there will never be enough cake to truly satisfy everyone on the table.
Making black forest cake can't get any easier than this. You can see this video to know more:
Cherry dump cake is an incredibly deceiving dessert. It looks plain and simple. If anything, it's downright impossible to make this dessert look beautiful or eye-catching. However, behind its ugly-duckling look, hides a harmonious symphony of flavors and aromas.
As you eat this cherry dump cake, its tastes will become more and more apparent and luscious – it's nothing short of a quick crescendo of exquisite flavors. Once the dump cake is finished, you'll be left with a note of satisfaction and a sense of longing.
If cherry dump cakes represent a harmonious symphony, pineapple cherry dump cakes are a bewitching duet of two succulent and wondrous fruits. With the addition of pineapples to the already delicious cherry dump cake, you'll get a dessert that no mortal can resist.
Like cherry dump cake, this fantastic dessert will make your taste buds sing with joy. When enjoying pineapple cherry dump cake, your palate will begin with a slow, andante tempo until it accelerates into a delightful allegro thanks to the burst of amazing flavors.
The perfect bite-sized dessert, these mini cherry cheesecakes are a delightful and appetizing treat. Their tiny size allows you to easily pop the whole cake into your mouth and savor the big flavors these mini cakes can bring about.
These mini cherry cheesecakes are perfect for large gatherings or big parties. They're also ideal for people who want just a bite of dessert rather than a large portion.
You can see this video to know more:
Black forest pavlova is the obscured sister of the more popular black forest cake. Despite its humble reputation, black forest pavlova still charms the heart of anyone who comes across it.
Black forest pavlova retains almost all the qualities that make its popular sister famous – tasty, decadent, and satisfying. While its look might not be as captivating, its crispy crust and soft center make pavlova a unique and enchanting dessert.
A pretty dessert that tastes just as good as it looks, maraschino cherry cake is a combination of Maraschino juice, cherries, and cream cheese. Thanks to its vibrant color, fluffy texture, and enticing taste, maraschino cherry cake will brighten your day with just the first bite.
If you're looking for something to give your loved ones on holidays or Valentine's Day, this tasty maraschino cherry cake will make a fantastic gift.
Irresistible Cherry Desserts Best Served Cold
These simple and tasty desserts will reach their full potential when served cold. So if you're looking for some cold desserts to chase the heat away, this is where you belong.
Chocolate cherry brownie parfait is one of those exquisite, complicated-looking desserts that use canned cherries for pie filling. However, they are actually incredibly easy and quick to prepare, as long as you have the required ingredients.
If you're in a pinch, you can even get store-bought brownies. Once you have all the required ingredients ready, all you have to do to make a luscious parfait is put everything together in a glass. If that doesn't speak like a quick, convenient dessert to you, I don't know what will.
Enjoy a fresh batch of ice cream by whipping up some homemade cherry ice cream with these easy recipes. Sweet, luscious, and enticing, cherry ice cream is a great treat to share with the whole family.
If you have plenty of cherries to spare, you can leave some fresh cherries behind to serve with the ice cream. Imagine taking a bite of the juicy, fresh cherry after downing some lush cherry ice cream – doesn't that sound amazing?
Cherry ice cream can't get any tastier if you make it with this recipe. You can see this video to know more:
Cherry almond smoothie is an excellent blend of cherries, bananas, and almond milk. Besides the three essential ingredients, you can add a handful of spinach or some riced cauliflower to boost the vitamins, minerals, and nutrients in this smoothie.
Aside from being the perfect dessert, cherry almond smoothie is also ideal as a breakfast. It's healthy, delicious, and packed with proteins and nutrients. Start your day with the perfect breakfast, and you'll feel energized and refreshed more than ever.
This flavor popping drink is all you need when the weather becomes too hot to handle. One gulp of this incredibly refreshing drink, and you'll forget the scorching heat outside.
Despite its bewitching and vibrant red color, there's no food coloring involved in this drink. In fact, you can make cherry limeade with 100% natural ingredients. So although cherry limeade might look like an indulgence, it's healthier than you might expect.
Cherry delight is a fanciful cake consisting of three luscious layers of sweets. On the bottom is a sheet of crispy cracker crumbs slated with a generous amount of thick cream cheese. And on the very top, you'll see a mouth-watering layer of sweet, syrupy cherries.
Even though you can serve cherry delight at room temperature, this dessert will taste best when you chill it in the fridge at least a few hours beforehand. If served cold, the cherry delight cake will make you feel like you're eating tangy ice cream with crumbly cookies and sugary syrup.
If plain yogurt is starting to get boring for you, it's time to spice it up with some fresh cherry flavors. Once you add some cherries and lemon juice into the yogurt, you'll have a new and exciting dessert to try. I'm sure that cherry frozen yogurt will become your new favorite treat.
While you can begin cherry yogurt with fresh cherries, it's best to use frozen ones, as they allow your treat to come together more quickly. Because this yogurt can last up to one month when stored in freezers, you should make this dessert in bulk.
Believe it or not, you can make crumbly cookies with cherries as the star. Share these cherry desserts with your loved ones; they certainly will be deeply impressed with your baking skills.
Loaded with chocolate chips and maraschino cherries, these pretty cookies are all you need. If you think the "marriage" between chocolate chips and cherries is already delicious, wait until almond extract is added to them. These "holy trinity" will make your cookies shine like no others.
As excessive moisture can make your cookies gummy and unappetizing, you should always make sure that the cherries are well drained. To do this, you can use a few clean napkins to soak up the extra moisture.
If you're someone who prefers fudgy cookies with cherries as the highlight, I'm sure you will love these decadent chocolate cherry cookies. These amazing treats start with a simple chocolate cookie and then topped with sweet cherries and drizzled with luscious chocolate sauce.
Chocolate cherry cookies offer a decadent, fudgy bite with a hint of fruity flavors from cherries. Cherries might not be the main ingredient in this recipe, but they're still an indispensable component, as they give the cookies a perfect balance in flavors and texture.
Macaron is a famous dessert of French people. These delectable sandwich cookies will make everyone gush with adoration due to their adorable looks and mouth-watering flavors. In fact, their cute, innocent look might make you so enchanted that you might not have the heart to eat them.
Of course, cherry macaroons aren't just about looks alone. After all, desserts should always be tasty. Their slightly crisp shells and creamy middles bring about an excellent dessert texture. And the swirl of chocolate and cherry flavors will keep you coming back for more.
Let's learn the correct way to make cherry macarons. You can see this video to know more:
Even though cherries and chocolate are the perfect couples, for some, the one true pair should be cherries and almonds. If you're one of these people, you'll certainly love these cherry almond shortbread cookies.
Cherry almond shortbread cookies are somewhat similar to cherry almond chocolate cookies but without the "third wheel" – chocolate. In a way, these shortbread cookies are healthier than their chocolate counterparts but still manage to retain all their lip-smacking goodness.
If I have to call cherry crumble bars in only one word, I will describe it as a "crowd-pleaser." Sweet cherry pie filling sandwiched between crunchy, crispy crusts. This mini, quirky snack offers a terrific bite-size treat, especially during the summer.
Despite its "tough" look, the cherry crumble bar will melt in your mouth if you hold it in long enough. The swirl of granulated sugar and the cherry pie filling will make you feel like you're eating a delectable treat from Willy Wonka's chocolate factory.
I'm sure these cherry pie crumble bars will steal your heart. You can see this video to know more:
Delicious Pastries With Cherries As The Star
Whether you have these as treats or breakfasts, there's no denying that these cherry desserts are a fantastic addition to your repertoire of baked goods.
Cherry Danish is a simple, unassuming puff pastry recipe for your desserts. Stuffed with gooey, lush cream cheese and cherry pie for a hearty filling, they are solutions to light up your boring days.
As delicious and exquisite as cherry danish sounds, it can be ready in less than 30 minutes. With 15 minutes of hands-off cooking, you can whip up some tasty and nutritious drinks to pair with cherry Danish. What a great way to start your morning.
Cherry strudel is a love story between crisp phyllo dough and juicy, tart cherries. When these two end up together, you'll have a beautiful, enticing, and incredible pastry to call your own.
Crispy and flaky, cherry strudel will surprise any unsuspecting soul with their delightful fillings. And once you get a bite of this sweet and savory pastry, you'll immediately fall head over heels with this incredible treat.
You can see this video to know more:
For some reason, I always associate cherry scones with cold mornings and a cup of coffee. On my days off during the winter, my favorite companions are these cherry scones, some steaming hot coffee, and a pile of fantasy books.
While munching on cherry scones while traveling to some fantasy lands might not be your favorite activity, you'll still be able to appreciate the appeal behind these crispy scones. Easy to prepare and delicious to the palates, cherry scones are truly great comfort food.
In this incredible galette, cherries and almonds meet again to create the ultimate fruit galette. Thanks to the age-old combination and a new, exciting twist on the galette, you'll end up with an amazing cherry dessert to curb your cravings.
Cherry galettes are a great summertime treat. When schools are over, and you get to spend more time with your children, nothing beats bonding over a mouth-watering cherry dessert.
At the end of the day, when exhaustion seeps into your bones, you might want something familiar and comforting, something that reminds you of sweet childhood days without a care in the world. In this case, cherry pies certainly check all the boxes.
As you can probably imagine, cherry pies are incredibly easy to make, especially if you're already familiar with making pies in the first place. And if you're not, these easy recipes will help you whip up delicious pies that taste like those you loved so much during your childhood.
Crunchy Cherry Candies You Can Enjoy As A Quick Snack
For some fantastic bite-sized easy cherry desserts, you should give this section a look. These cherry desserts might be tiny, but they sure pack big flavors beyond your imagination.
What's a better way to say "I love you" than to give your significant other these pretty, delicious treats when Valentine's day comes? Scratch that; you can give these fabulous cherry fudges to your loved ones on any occasion, even on a day where nothing special happens.
Indeed, this decadent white chocolate dessert idea is a great symbol of love and an amazing treat to share together. Be it a cold winter day or a hot summer afternoon; these cherry fudges will still be a perfect treat and a perfect gift.
Cherry coke fudge is a fantastic treat for the kids, but it doesn't mean that adults won't like these. Boasting an alluring cherry fudge base, this decadent dessert is finished with a Coca chocolate frosting. As a result, this fabulous fudge is so delicious that it'll be finished in a flash.
And to stay true to the fudge's cherry and coke flavors, I always serve this treat with fresh cherries and some bottles of soft drink. Is it a big indulgence? Yes, but it's also absolutely worth putting on a few pounds.
Can't finish all of these luscious fudge bars in one go? Then you can consider whether it's possible to store fudge in freezers if you want to extend the storage time for as long as possible. Other than that, putting the fudges inside the refrigerator is also a good way to store them.
As much as I want to hog all the cherry desserts for myself, I also love seeing how my friends' eyes light up with joy at the taste of these excellent desserts. Over time, I've come to believe that desserts taste best when they're shared over laughter and fond memories.
Even if you're living on your own, sweet cherry desserts also represent an excellent way to kick back, relax, and tell yourself, "Everything is alright." So, even though cherry desserts are indeed a sinful treat, they're also ideal for lifting your spirits and making you feel content and happy.
I've gone on long enough. Now, it's your turn. Make one of these easy cherry desserts, and come back to let me know the results in the comment section below. I look forward to hearing your story.
Nutrition Facts
12 servings per container
---
Amount Per ServingCalories262
% Daily Value *
Total Fat 10.2g

16

%
Cholesterol 47mg

16

%
Sodium 225mg

10

%
Potassium 163mg

5

%
Total Carbohydrate 41.4g

14

%

Dietary Fiber 1.8g

8

%
Sugars 26.7g

Protein 4.2g

9

%
---
Calcium

31

%
Iron

2

%
Vitamin D

4

%
* The % Daily Value tells you how much a nutrient in a serving of food contributes to a daily diet. 2,000 calories a day is used for general nutrition advice.