Dutch desserts have the most delicate and gentle flavor, reflecting the personality of Dutch citizens, friendly and hospitable. Cheese is one of the most typical ingredients in this country's cuisine, so you should expect an aggressive touch of creaminess.
If you are a fan of European foods, the following sweet courses are a scroll stopper holding you with their delicious taste. So, I believe that this is the right time to explore all of these specialties.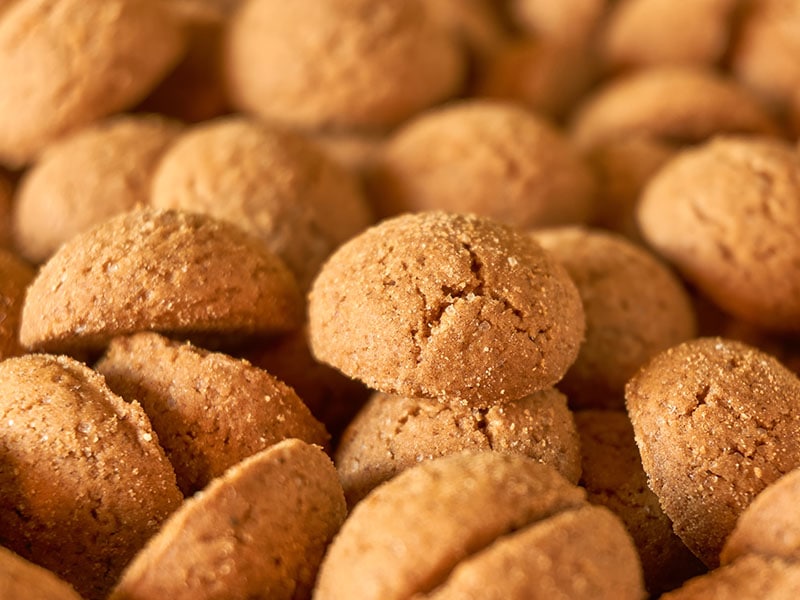 15 Yummy Dutch Desserts To Light Up Your Enchanting Meal
OMG! I can't wait to introduce the best Dutch specialties to you. Trust me; you won't regret trying them.
Let's start your morning with a delectable Dutch specialty. Unlike other pancakes, this Dutch baby pancake has golden brown edges with a flaky texture. The fresh blueberries will pop a juicy sweet juice for the whole dish.
In the center of the pancake, the texture is chewier and spongier. While other pancakes are usually fried on the pan, this one is baked for a beautiful scent spreading across the room.
Lemon juice, cinnamon sugar, fruit jam, or sweeteners will be the best option to add exciting flavor to this beautiful recipe.
Boterkoek is the Dutch word for 'butter cake' in English. The cake has a high proportion of butter added to evoke an irresistible buttery taste. Do you know that by adding sugar, you make this cake softer and moist?
The impressive lattice patterns on the surface of the cake are created by using a fork. Actually, if you want to make other patterns, just grab a fork and let your artist's soul guide the way.
Do you want to have a quick-and-easy Dutch specialty for lunch? These Dutch doughnuts are a great choice to refill energy in the middle of a hard-working day. Oliebollen has a cake-like interior and a crispy cover that you will adore.
The traditional Oliebollen recipe usually uses powdered sugar for the coating. However, you can add some raisins or berry filling to cover these tasty donut treats. These balls are a must-have dish to celebrate New Year in Holland.
These Dutch doughnuts will be a hit for your upcoming party!
Gevulde Koeken is a Dutch cookie recipe that is rich in buttery taste with a sweet and nutty almond filling. These tasty cookies are not only famous in Holland but also in neighboring countries.
Gevulde Koeken is like a sweet and crumbly tiny sandwich with two crunchy cookie doughs embracing the filling. The beautiful aroma and earthy taste of chopped almonds will finish this dish flawlessly.
Let's makea mesmerizing Dutch dish for your dinner. Hangop is an authentic Dutch recipe made by straining yogurt. The result is a beautiful, white, thick, and smooth paste perfect to finish your dinner table.
Pair this Hangop with a warm fruit compote (usually cherry) to balance the creaminess. Tossing the dessert with some fresh fruits is not a bad idea to add extra flavor. Believe me, this is not like any other yogurt you have had before.
Banketstaaf is a Christmas treat in Holland that has a beautiful flaky layered cover and a sophisticated rich filling. Its exterior is covered with chopped almonds to add an exciting crumbly texture to the dish.
In Holland, people usually have this sweet treat for breakfast with a hot cup of coffee. This pastry often appears with a log shape; however, on special occasions like Saint Nicholas day, people will make it into an O shape or M shape to celebrate the day.
Banketstaaf is perfect for serving warm or cold, depending on your taste. Bake some for your family, and you will have an enchanting and comfortable meal.
A bite from these slices of Banketstaaf will take you to the sweet paradise, I'm sure!
Have you ever tasted pancakes with a tiny version before? Try this wonderful Poffertjes from Holland for another breathtaking pancake recipe. These pancakes are fried on special cast iron to form a beautiful round shape.
These pancakes have a melt-in-the-mouth texture that is perfect to pair with butter or powdered sugar. Frying these pancakes needs a skillful hand to flip them without ruining their structure. So, remember to follow the instructions precisely while making Poffertjes.
Apple pie has various versions around the world, especially in the European region. In Holland, there is a unique apple pie recipe that you need to try right here! This amazing Dutch delicacy has an incredibly crumbly texture with a sweet apple filling.
The most interesting part is that you can pair this sweet treat with whipped cream or a cup of coffee, depending on the recipe you have chosen.
If you can't finish the whole pie, don't worry; just wrap it in a plastic container, and you can store it in the freezer for around four months.
This amazing Dutch gingerbread shortcrust cookie has many names. You can call them Speculaas, Speculoos, or Biscoff. These cookies are a little dry with a beautiful crumbly structure. Besides Dutch, it's also a well-loved treat in Belgium.
In Dutch, these cookies are also known as 'Windmill cookies' because they are traditionally shaped by bizarre wooden Windmill molds. These molds have plenty of authentic images relating to Holland's culture.
I bet your jaw will drop after seeing these magnificent Speculaas cookies.
Can I see your hands, waffle fans? Stroopwafels are a Dutch sweet specialty bathed in sweetened syrup which will drive your kids crazy. These waffles are thin with a slightly crispy structure.
Holland's citizens usually serve Stroopwafels on a hot cup of tea or coffee. The steam of the hot drink will soften the bottom of the waffle, creating extra texture while tasting this delicate dessert.
Jan Hagel Koekjes is an authentic Dutch oven recipe with a delicate nutty taste. To achieve the flat appearance of these cookies, you have to press the cookie dough on the baking sheet. The cookies will rise slightly in the oven, spreading an irresistible aroma.
The original texture of these cookies is a bit crunchy and crispy; however, you can make it a little soft and melty by adjusting the baking duration. Jan Hagel Koekjes is a fantastic choice to complete your next Christmas celebration.
Are you ready to discover the taste of these nutty Jan Hagel Koekjes?
This Dutch apple bread will give your picnic morning an exciting dish. Imagine waking up with a soft and airy loaf of bread packed with sweet apple chunks. This bread recipe tastes just like the famous apple pie.
The bread is an excellent gift to treat your relatives or family members. Use waxed paper to cover the bread, and your gift is ready to go. Dutch apple bread can be served alone or coated with a nice and smooth vanilla icing on top.
Pepernoten or Kruidnoten is a cookie recipe in Holland that is full of spice, amazing right? You can use both names to order this cookie in Holland, but Pepernoten will have a slightly different shape with a softer texture compared to Kruidnoten.
These tiny and tasty cookies are commonly used in Sinterklaas holiday for celebration. They are often made in bite-size pieces so that you can carry them everywhere. Adding them to your kid's lunch box is a fascinating idea.
There is a vegan recipe that you can try to fit your current diet. If you love your cookies to have a fragrant aroma, you can add some cinnamon while making them.
You will regret not trying this delicious Kruidnoten recipe.
Cracker pudding is a culinary delicacy from Pennsylvania Dutch with a thick texture and a slightly sweet flavor. This antique Dutch pudding will satisfy your hunger with a comforting feeling through every spoon.
The added cracker brings an exciting texture to this splendid pudding dessert. The pudding is a perfect standalone dish, but you can top it with whipped cream or fresh fruits like strawberries for a mesmerizing color.
Hagelslag is an amazing way to embellish your buttered bread with chocolate sprinkles. The sprinkles add a glamorous dark-brown color, making the cake look irresistible. Also, the crunchy texture from these tiny treats enhances the flavor of the bread.
Making this dessert is really easy; you can ask your kids to do this with you for an exciting cooking experience. Besides dark chocolate, white chocolate, anise, and berries are other flavors that you can choose to create this exquisite treat.
Eet Smakelijk!
Discovering new recipes will give you the most joyful time. You will have a chance to treat yourself to flavorful dishes worldwide. Gather your family members to help you out; such a unique family bonding activity, right?
What is your idea about the recommended recipes? Drop your opinion in the comment section; I'm grateful for your contribution. Goodbye and see you!
Nutrition Facts
4 servings per container
---
Amount Per ServingCalories231
% Daily Value *
Total Fat 11g

17

%
Cholesterol 159mg

53

%
Sodium 220mg

10

%
Potassium 175mg

5

%
Total Carbohydrate 25g

9

%

Dietary Fiber 1.1g

4

%
Sugars 11.5g

Protein 8g

16

%
---
Calcium

81

%
Iron

2

%
Vitamin D

31

%
* The % Daily Value tells you how much a nutrient in a serving of food contributes to a daily diet. 2,000 calories a day is used for general nutrition advice.